Well those four weeks flew by quickly! We have come to the end of the four-week, $100 Room Makeover Challenge. Has it really been four weeks??? Did I finish on time? Did I stay on budget?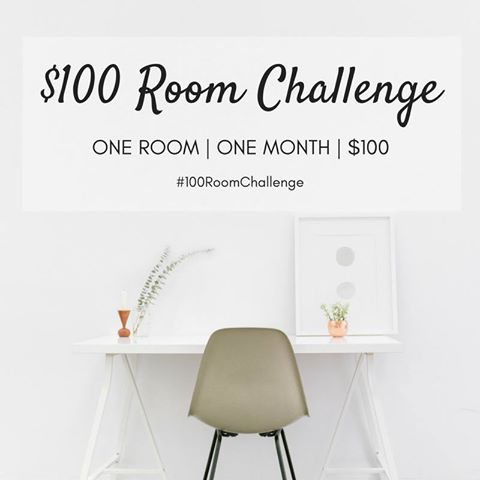 Yes and yes! Just barely to both but yes.
Do you remember what my hallway looked like before? Here's a reminder: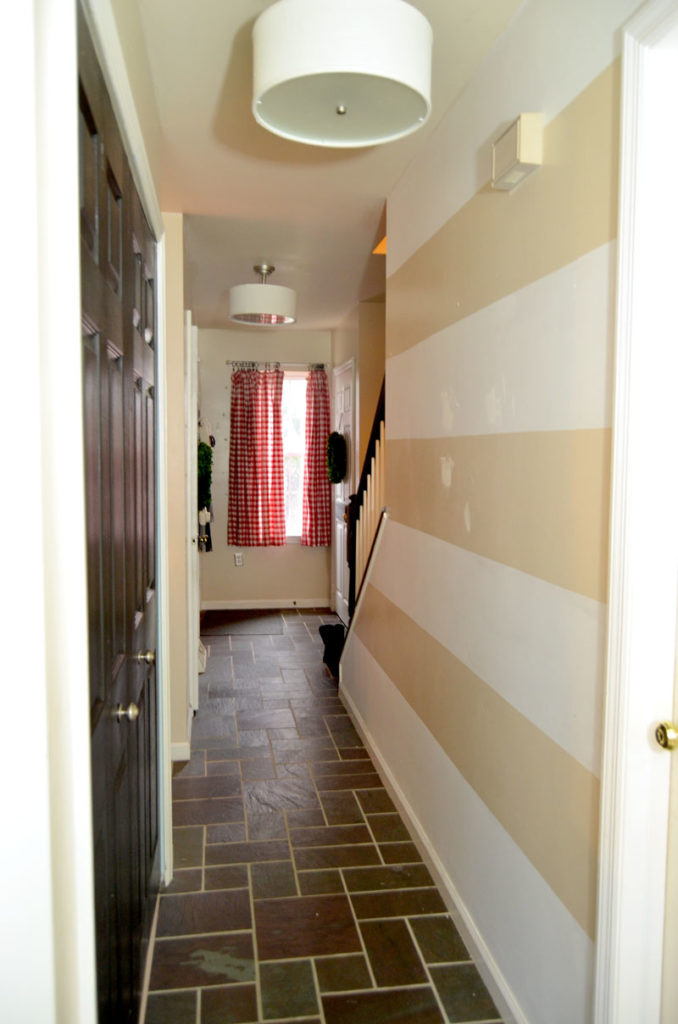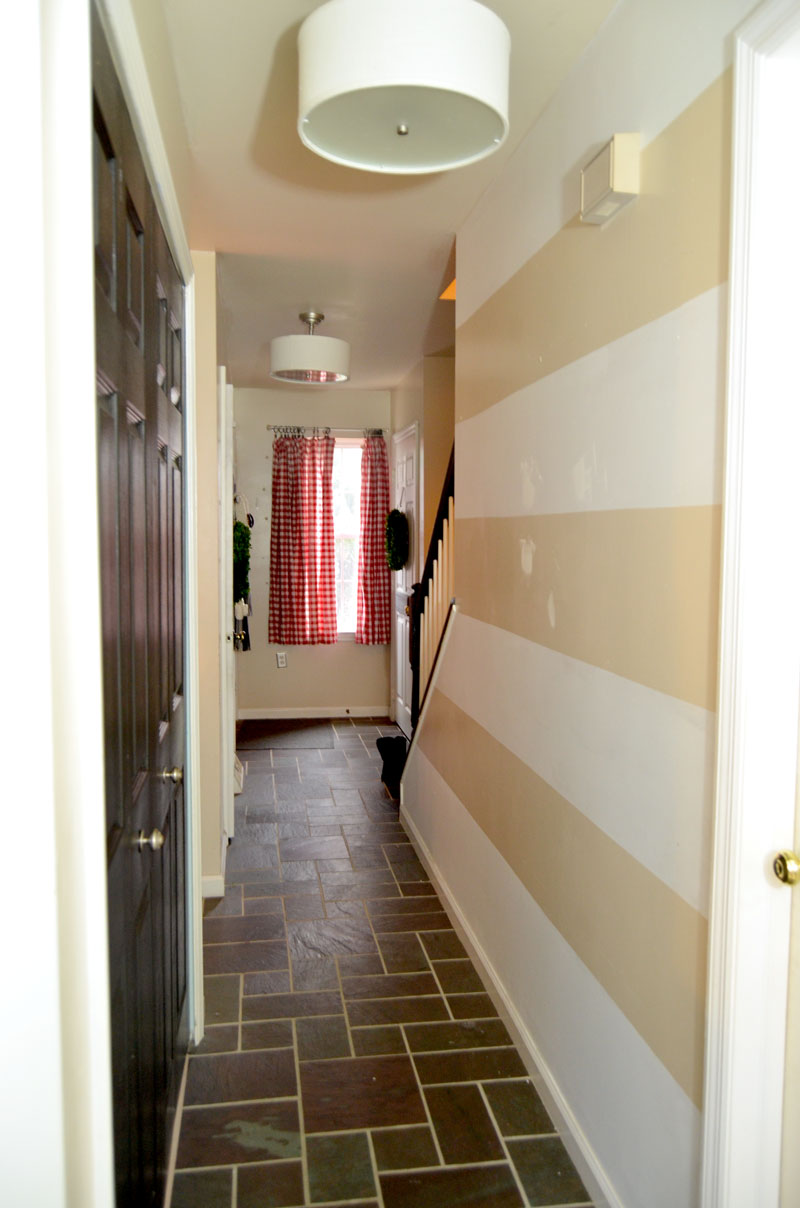 My plans were to:
Repair and paint the walls
Prime and paint the interior doors black (a task that I started 2 or 3 years ago and never finished)
Paint trim
Chalkboard wall
Find and hang curtains
Build the entryway bench
ReNew the grout
Decorate
I got everything done on the list except #7, I just ran out of time. But I'll do it . . . eventually ; )
Take a look at how my hallway looks now:
I was super busy this past week, making up for being away and getting behind on this space. Let me show you around: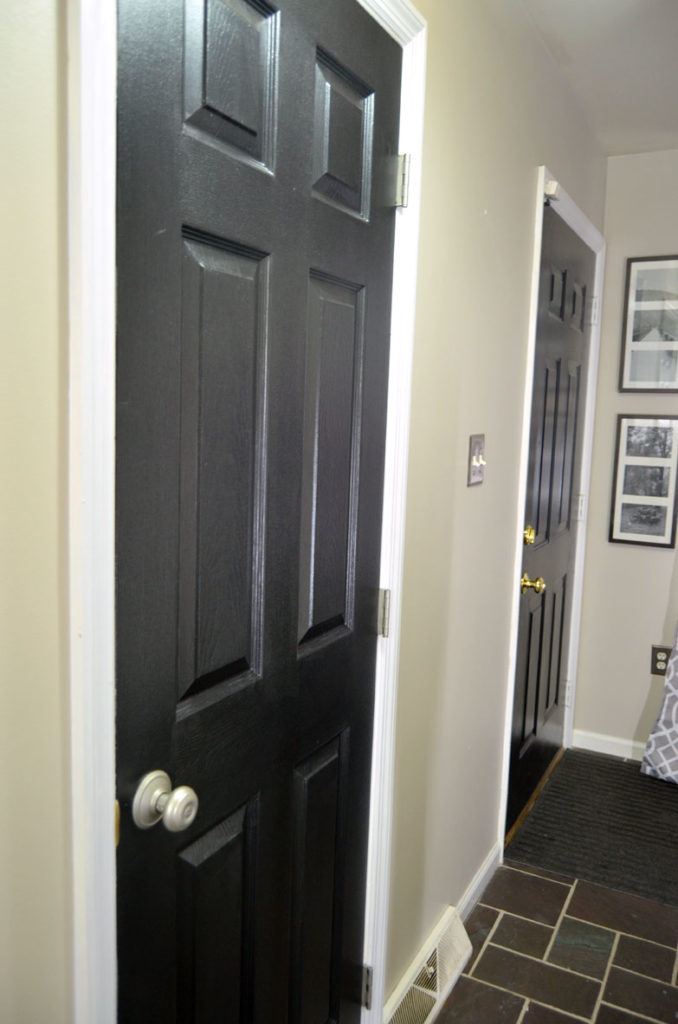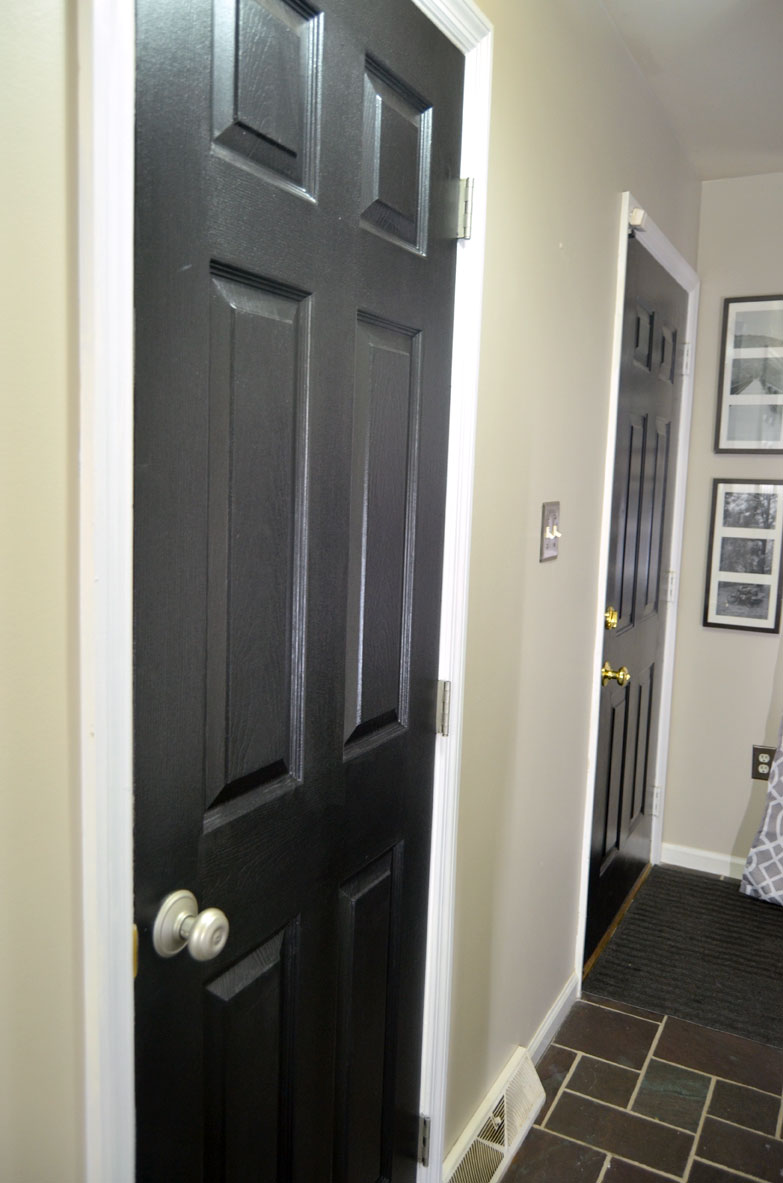 As I've said before, this is a hallway full of doors! Having all of the doors painted the same black color adds a calming, cohesive look to this space. Two of the five doors in this hallway were already painted black. I had to prime and paint the three remaining 6-panel doors. That took quite a bit of time. Especially since the weather wasn't cooperating and I had to set up saw horses in my family room and work on one door at a time!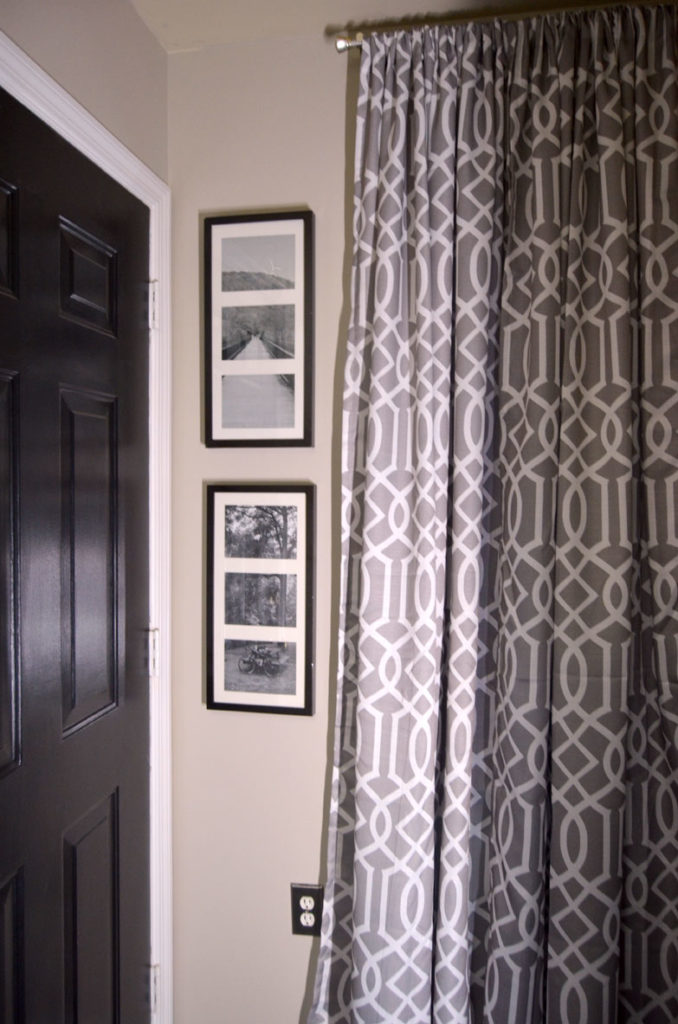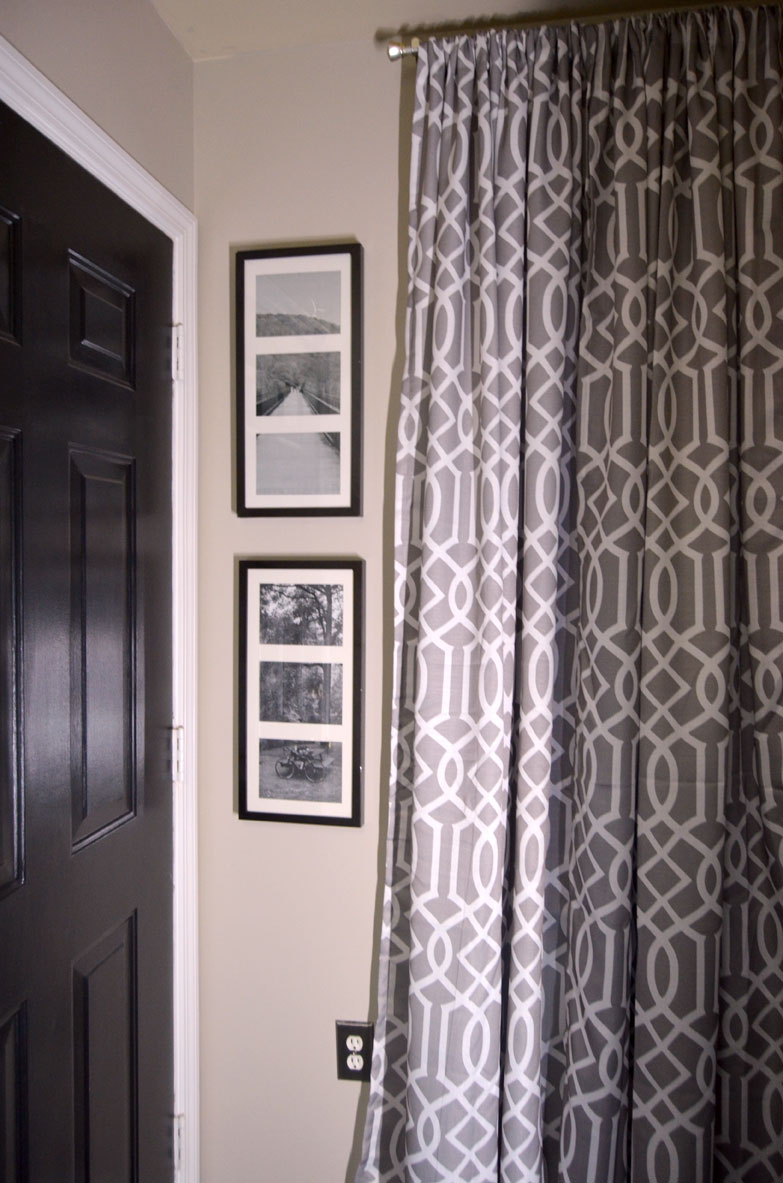 This post contains affiliate links for your convenience. Click here to read my full disclosure policy.
I am really liking the gray and white ironwork curtains that I ordered via "ship to store" at Walmart. As for decorating the space, the only other thing I did so far was to hang these two black and white photos in collage frames. See my tutorial on how to use one photo in a collage frame.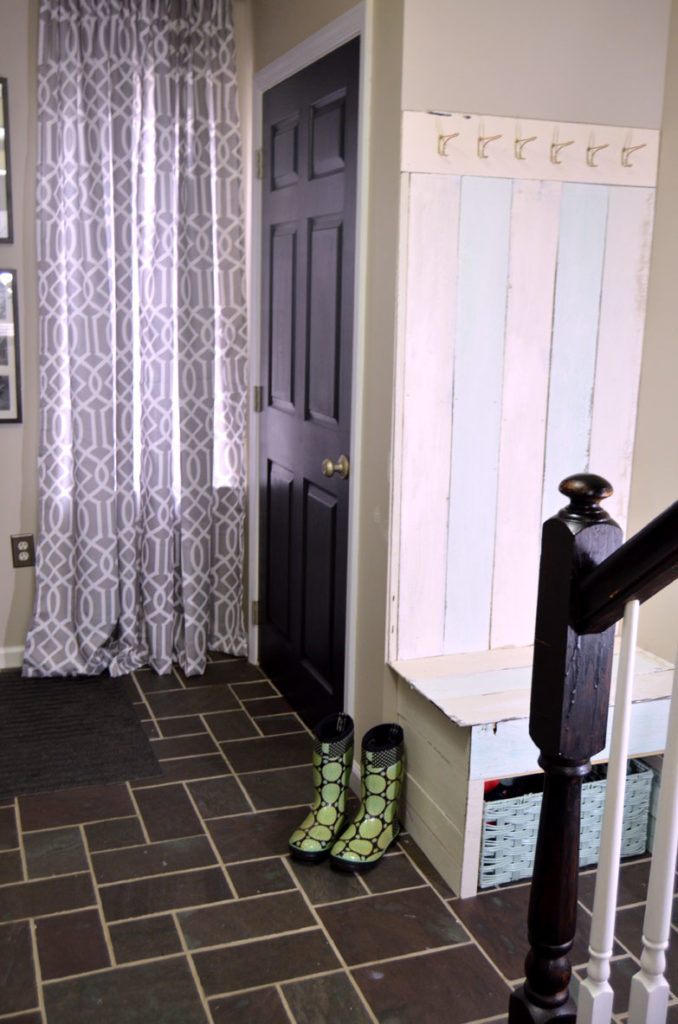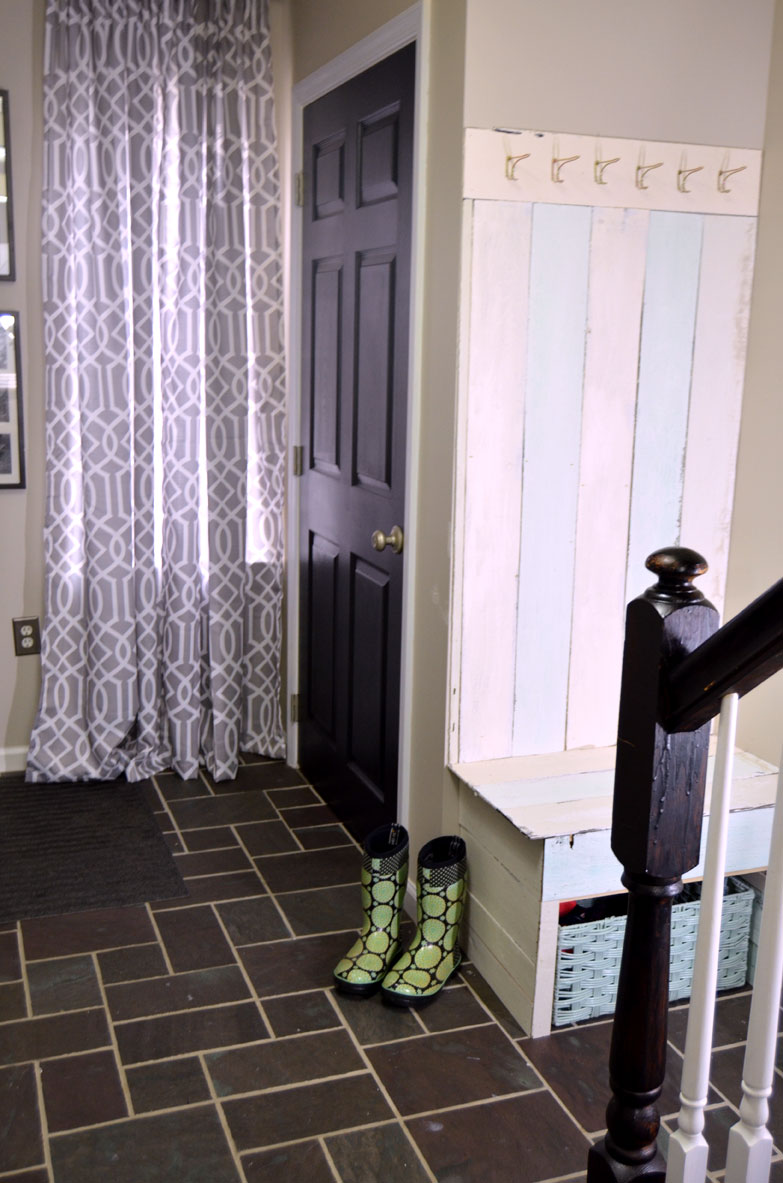 At the bottom of the staircase is my new entryway bench that I just finished. I'll have a full tutorial tomorrow as part of the January edition of the Power Tool Challenge showing how I made it with pallet wood. Be sure to come back tomorrow to see how easy it is to make.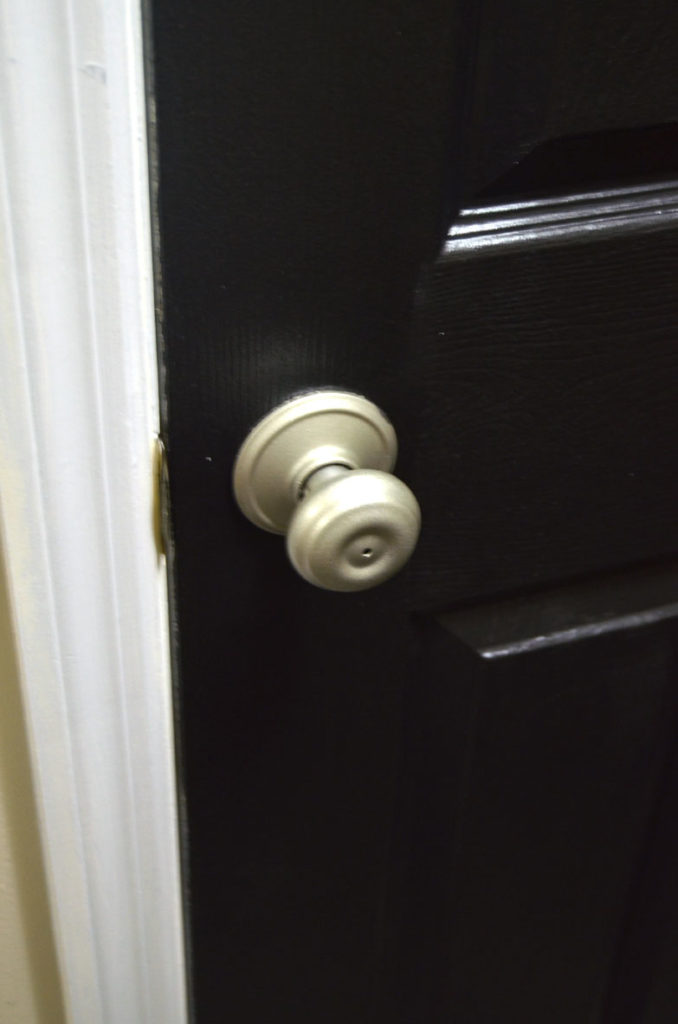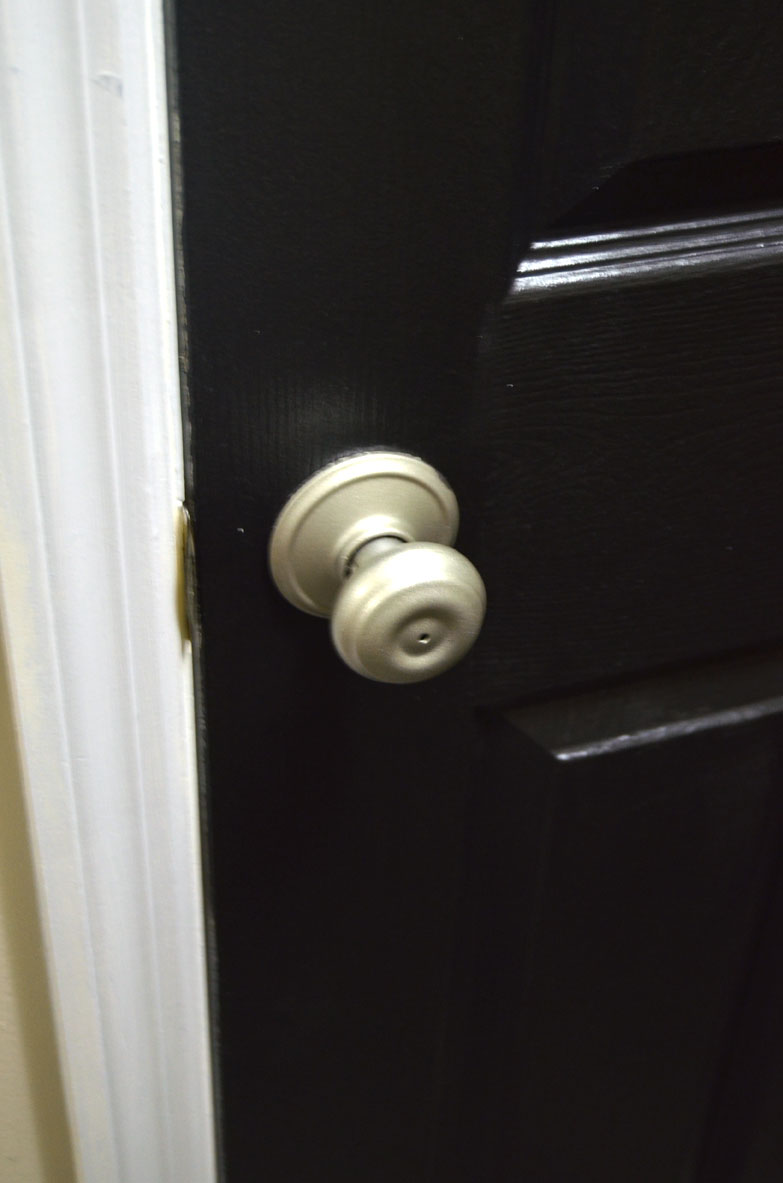 I saved quite a bit of money by spray painting the door hardware with Rust-Oleum Satin Nickel Metallic instead of buying new hardware. I even painted the brass hinges ; )
The previous owner had painted over some of the hinges with the door paint and also painted over some of the vents with the wall paint (why do people do that?).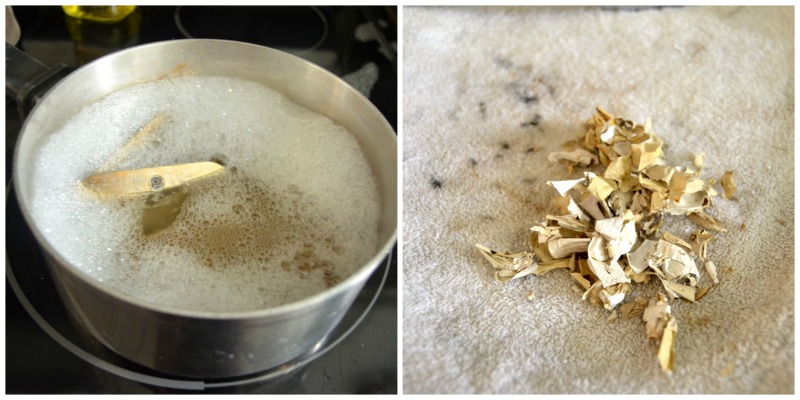 Here's an easy to remove that old paint. Simmer the hardware in soapy water for about an hour or two. The paint will soften and peel off. Works every time!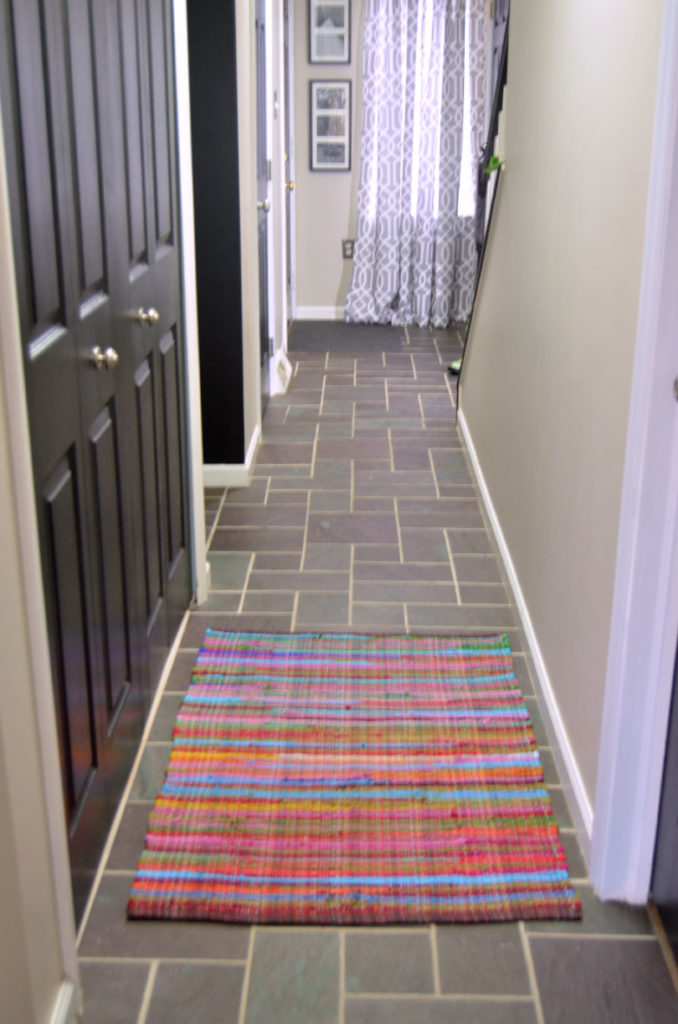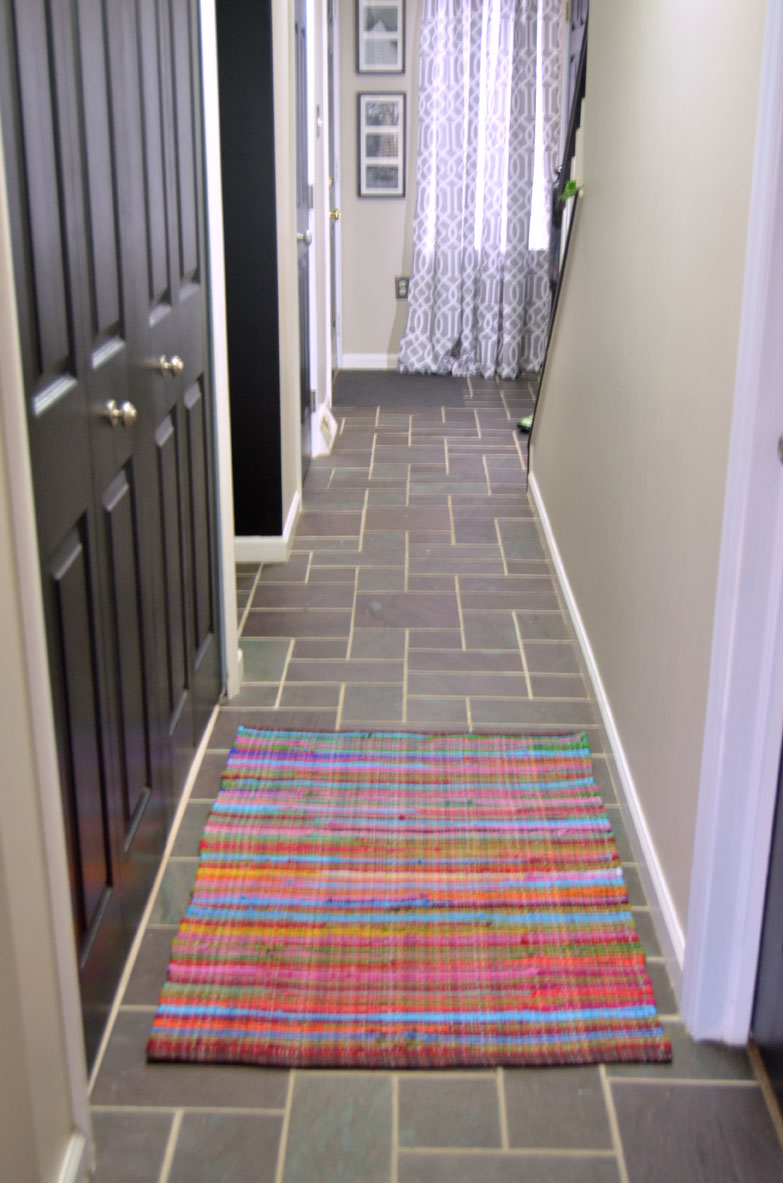 One thing I'm not sure I'm crazy about is this rug. Since this space is full of pretty much all black, white, and gray, I thought a bright colored rug would add a pop of color. Well it does but it just doesn't look right to me. What do you think? Should I take it back and find something more neutral? I can add pops of color by adding pretty artwork to the walls.
So how did I do budget-wise?
rug $10
spray paint $10
curtains $30
primer $8
painters tape $6
hooks & basket for bench $27
TOTAL $91
And did I get everything done? Well almost. There is still a bit of touch-up painting to do. There are no photos of it, but I did paint the chalkboard wall. And as mentioned, I didn't get to the grout. It really doesn't look too bad and I just ran out of time.
Click here to see my glam laundry room makeover that's behind those black bi-fold doors. I promise it's the most glamour laundry closet that you'll ever see!
A big thank you goes out to Erin from Lemons, Lavender & Laundry for hosting this challenge! Please visit my friends to see their completed spaces. You may just get some ideas to use to make over a space in your home.