This is a sponsored post written by me on behalf of Nationwide Mutual Insurance Company. All opinions are 100% mine.
Nationwide provided me with information regarding its In The Nation blog post.
Today I want to talk about stuff. We all have stuff. Belongings that are a part of our everyday lives. Question for you: if all of a sudden all of the stuff that you own was instantly gone – vanished – could you list them all? You don't know that they are going to vanish. It just happens. Poof. Gone. I think we would be in such a state of shock that there would be no way to list all of our stuff that is gone!
Maybe we should do something about that. Something to make it easier to recall and list all of our possessions.
Making a detailed list of what we own. A home inventory. Yes, a home inventory. How valuable would that be! If disaster strikes (God forbid), a home inventory would ensure that we won't miss anything when we have to list what we may have lost due to fire, theft, flood, etc.
But how do we make this home inventory? Well, let's start by gathering together the tools that we will use for documenting what we own. We will also need to figure out how we will store that inventory list once it's made. The method that we choose to document our home inventory will dictate how we will store it.
If we choose to document with pen and paper (a notebook) and use a traditional camera, we'll need to store the inventory list and photo card in a location like a safety deposit box, with an attorney, or a family member or close friend.
It is suggested to make THREE copies of the home inventory: one to keep at home, one each for the close friend, attorney, or relative. This improves the chances that one record will be easily obtainable should the need arise.
The same goes for if we decide to document our property digitally. Make duplicates and store one in the cloud.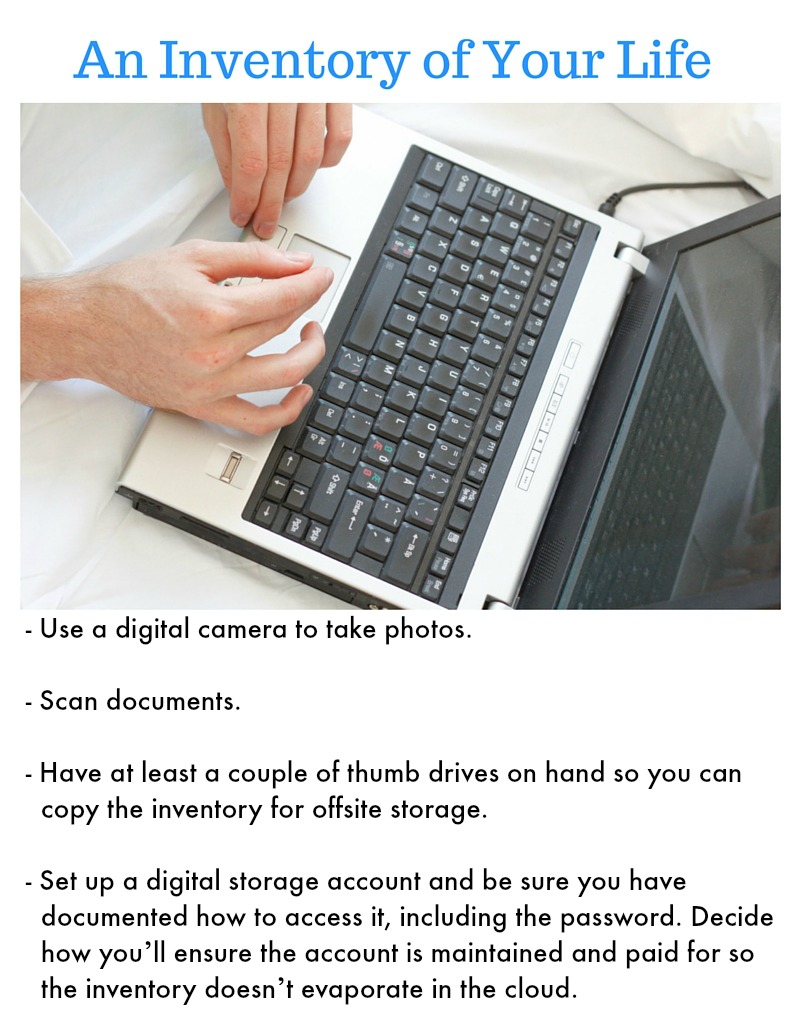 Taking inventory: An Inventory of Your Life
The easiest way to start taking inventory is the same way you would clean: Room by room. And once you've set up a process, use that same process in each room. Now my process or system is probably going to be a little different from yours. Just like I probably clean my rooms in a different way than you do. Find your groove and do what works for you. Just be sure others can interpret the information that you have gathered!
Take multiple photos of each room from different angles. Try standing in the doorway and slowly rotate, taking overlapping photos. This way will ensure that the entire room is captured.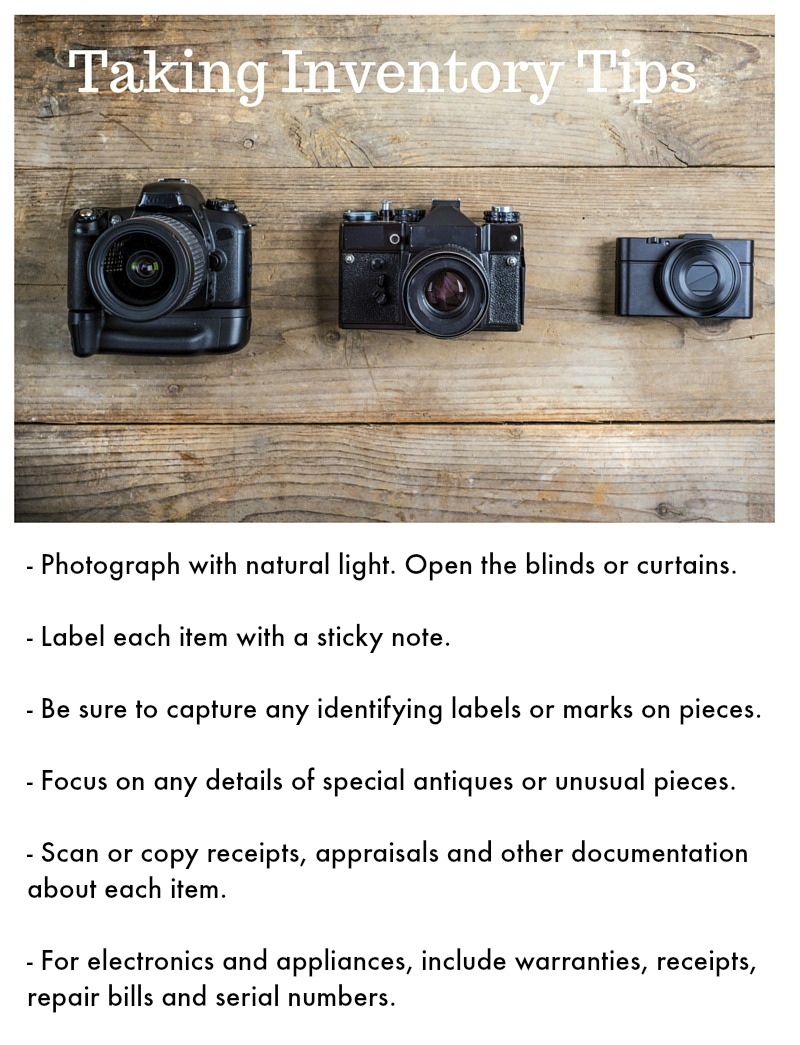 Organize the inventory
Include a cover sheet that explains how you organized and tagged items.
Create a subfolder for each room.
Group all the documentation for each item, from photos to repair bills.
Be sure you refer to each item with the term on its sticky note label. For instance, if the label says, "antique wooden rocking chair" use the phrase "antique wooden rocking chair" on all related documents, appraisals and receipts.
Remember to make a copy of the inventory to include with your other important legal documents, (even if you are storing digital copies in the cloud), and with legal advisers or family members. Also, be sure your Will includes access information, including passwords, to your inventory, no matter where it is stored.
I hope this article inspires you to take inventory of your life! And I hope you never have to use it!