I am delighted to be here today at Create and Babble!  Thank you, Jeanie, for inviting me to share a glimpse of Red Cottage Chronicles with your readers!  I choose this caramelized puff pastry to share with you today.
The weather this winter has been like a good old fashioned Canadian winter.  Snow, cold, wind, repeat!  Watching the snow whip around on the weekend made me really crave a warm apple dessert.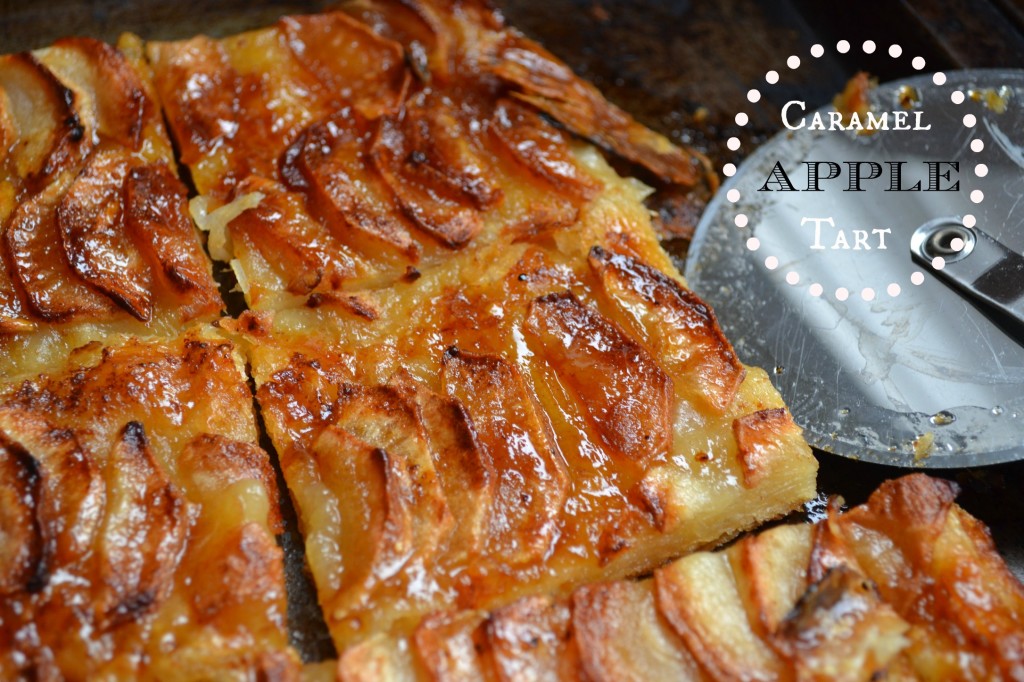 There is nothing like the smell of baking apples to make the house feel warm and cozy.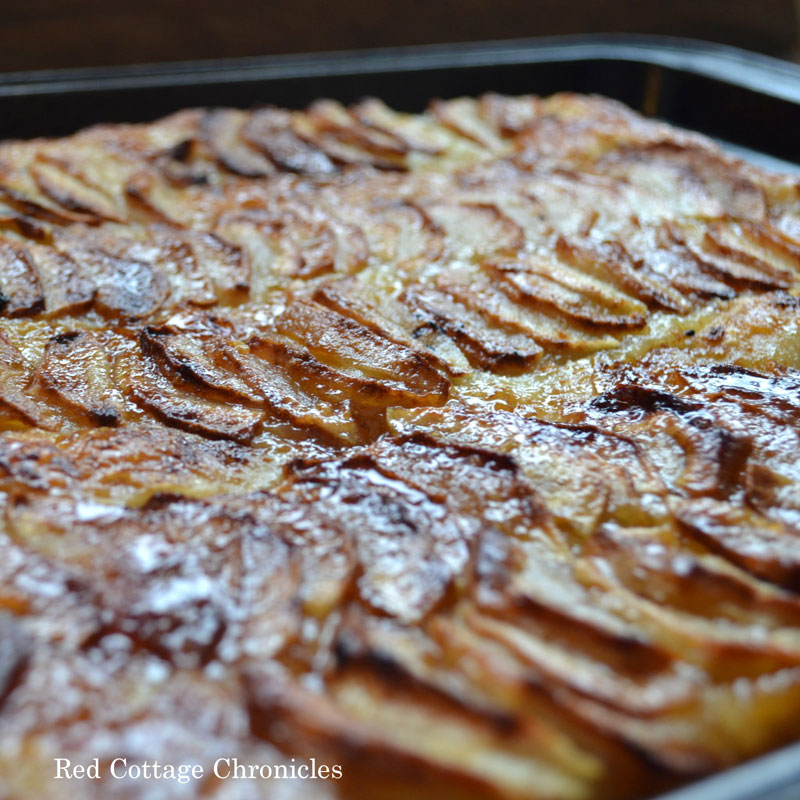 This tart comes together easily when you use pre-made frozen puff pastry (defrosted of course).  But if you have a bit of extra time, making a quick puff pastry dough is well worth the effort.  Those flakey layers of pastry just soak up the butter and sugar and make it subtly sweet.  The recipe is adapted from one of my favorite cookbooks by James Peterson called Baking, 350 Recipes and Techniques.  There are hundreds of photos that really give a new baker confidence in improving their skills.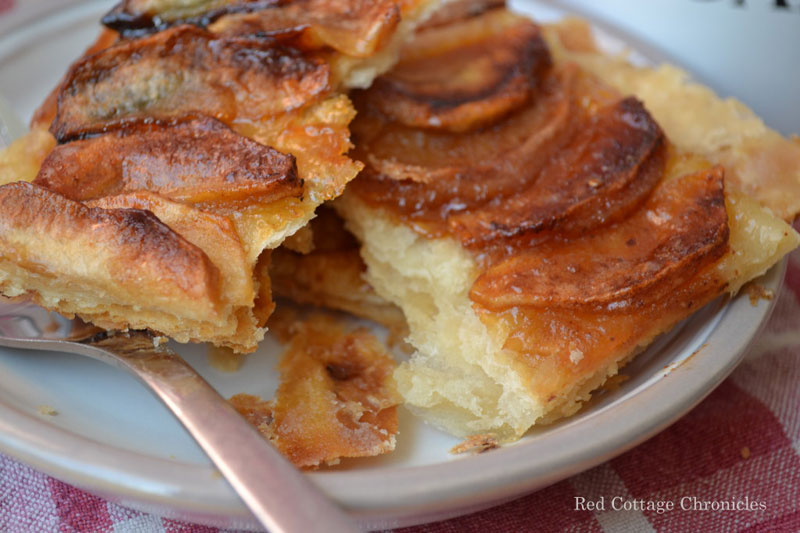 I find the process of baking is very therapeutic.  There is nothing like working out your frustrations by manipulating dough, slicing up some fruit and knowing you actually get sweet reward at the end of the process.  I love how you can put something in the oven looking like this…..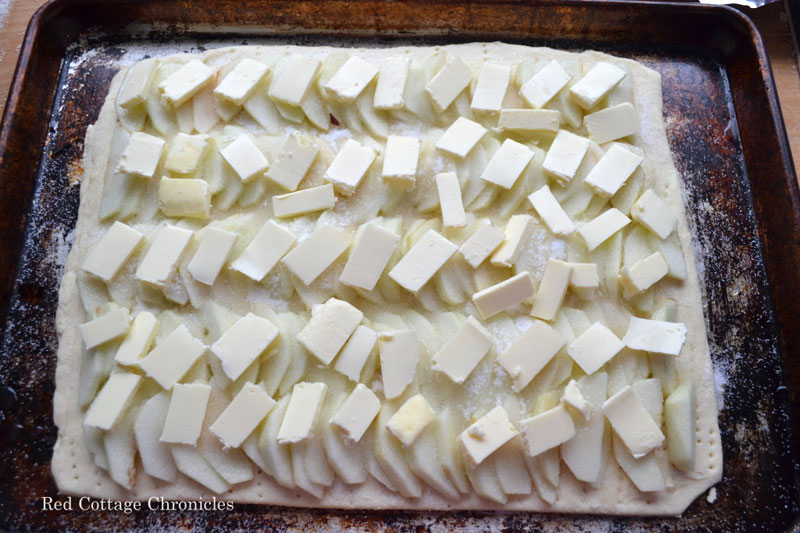 ……….and it comes out looking like this!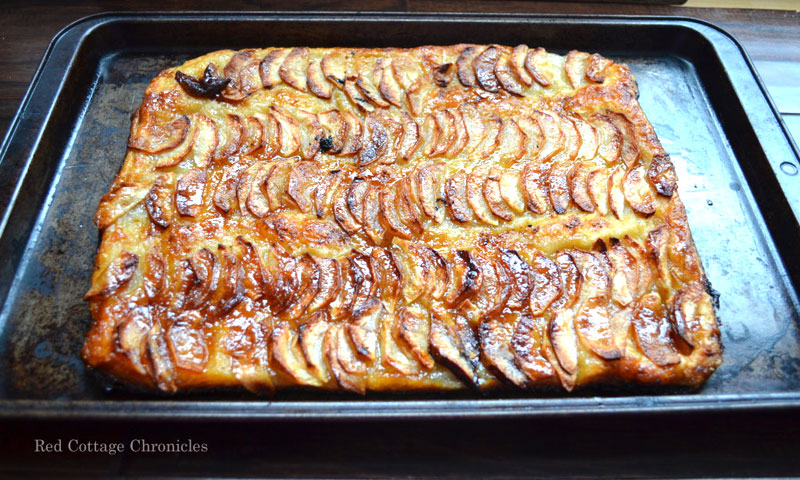 The apples crisp up on the outside as the sugar and butter turn into a golden caramel, while they are still tender on the inside!   The tart bakes for a total of 50 minutes at 475 degrees, but be sure to check it after about 20 minutes to make sure none of the apple slices have been pushed off the edges if the pastry puffs up.  Simply pierce the puffed tart with a fork or paring knife and slide the apples back in place.
A jelly roll pan with a lip around the edge is essential as the sugar and butter melt into the pan, it won't up all over the bottom of your oven.  I also found that basting these juices over the tart help the top get a nice caramelized finish.  Don't be alarmed if the apples around the edge crisp up a bit too much.  I recommend trimming away all four edges of the tart to make a crisp and tidy presentation.  If your family is anything like mine, those edges won't go to waste!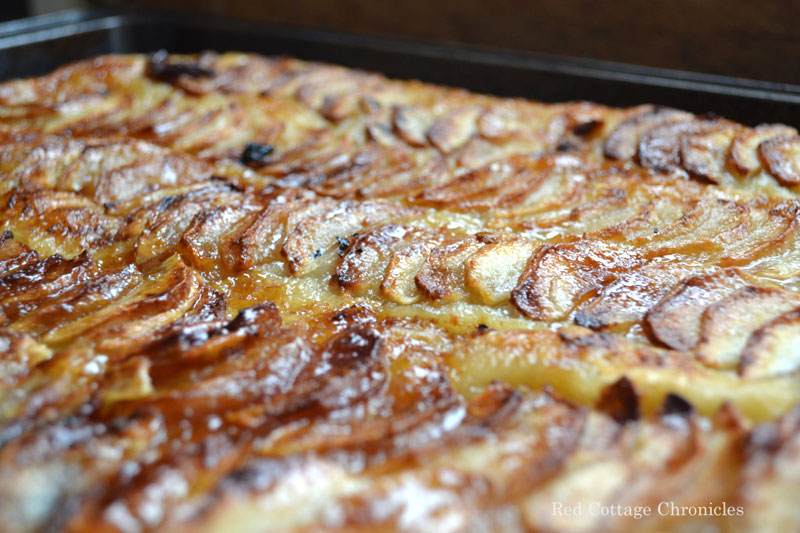 If it wasn't -28 degrees (celcius) outside, ice cream would have paired very well scooped over the top of a big, warm slice or two.  It equally goes well with a slice of aged cheddar.
The fragrance of sweet, caramel apples lingered in the kitchen all afternoon.  The blowing snow and howling wind doesn't seem so bad anymore!
ENJOY!
If you are looking for more sweet inspiration I would love to have you come on over to Red Cottage Chronicles and have a look around!  Feel free to browse the recipe index for some inspiration of your own.

Caramel Apple Tart
Prep time: 20 mins
Cook time: 50 mins
Total time: 1 hour 10 mins
Adapted from James Peterson's Baking, 350 recipes and techniques
Ingredients
1 pkg frozen puff pastry dough (defrosted)
2 pounds apples (McIntosh or Golden Delicious)
1/2 cup sugar
1/2 cup (1 stick) room temperature butter, sliced thin
Instructions
Preheat oven to 425 degrees, sprinkle water on a by 17 inch jelly roll pan (with edges so liquid won't run off) and set aside.
Roll the puff pastry dough out on a lightly floured surface to measure roughly 11 by 14 inches. Drape the dough over a rolling pin and transfer dough to prepared pan.
Dock the dough by piercing all over with a fork.
Peel and core the apples and slice thinly.
Arrange the apples over the dough, changing the direction of the dough with each row. You should get 4 to 5 rows, depending upon the size of the apples.
Sprinkle the sugar over the apples. Top with slices of butter placed evenly over the apples and sugar.
Place the pan in the oven and after 20 minutes check the tart for any apples that may have been pushed off the edges of the tart due to raising dough. Simply poke the raised dough with a fork or knife and slide apples back into place.
The baking tray will be covered in liquid. Baste the liquid back over the tart and continue baking for 30 more minutes.
Remove from oven to a cooling rack. Wait a few minutes before sliding a metal spatula under tart to loosen any spots that may have stuck.
You can clean up the edges by trimming with a sharp knife or pizza wheel.
Best enjoyed warm from the oven!