This shop has been compensated by Collective Bias, Inc. and its advertiser. All opinions are mine alone. #DIYOilChange #CollectiveBias
Please use standard safety procedures when changing your oil. You should always refer to your own car's manual before changing your oil."
When #2 son decided he wanted to become an auto mechanic it was no surprise. Ever since he was little, he has been obsessed with anything with an engine and wheels. It is his passion. How I feel about DIY and crafting is how he feels about working on cars! So of course one of my thoughts was: THIS IS GREAT!!! NO MORE CAR REPAIR BILLS! A LIFETIME OF FREE CAR MAINTENANCE – WOO HOO!!!!!
Except it really doesn't really work that way. Womp womp : (
Because his job is an hour away and he works 12 and sometimes 14 hour days, he doesn't have much free time to work on mom's car. So when the oil change indicator light came on recently letting me know that an oil change was due, he suggested that since I'm a DIYer anyway that I should learn how to change my own oil.
WHAT????
I don't know anything about changing oil!
Well I do now! I know, right??? And I was surprised at how easy it was. Let me show you what I did:
First things first: I needed the oil. My son advised me that Walmart has very good prices on motor oil.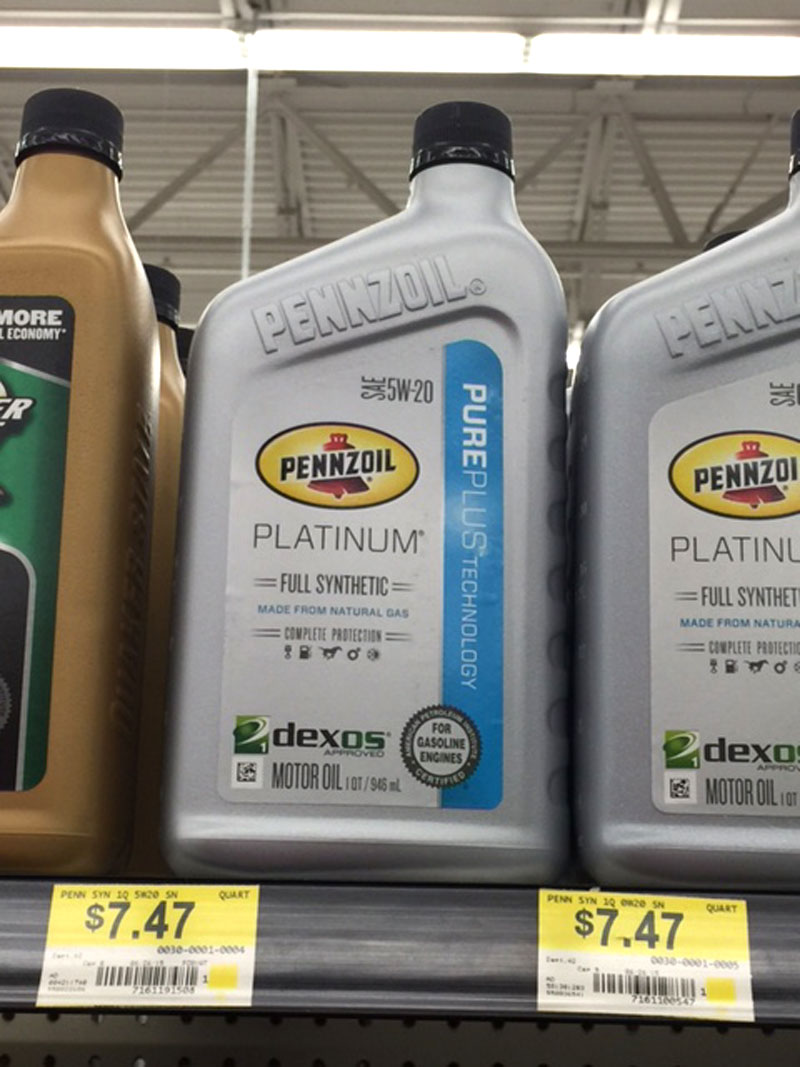 I referred to my owner's manual to find out the recommended weight and grade oil that I needed.  I chose Pennzoil Platinum full synthetic motor oil because it's a high-quality oil that has been specially designed to give engines complete protection. I also understand that Pennzoil offers excellent performance in extreme temperatures. Now I'm not in Alaska, but we do experience pretty extreme temperatures here in the Northeast!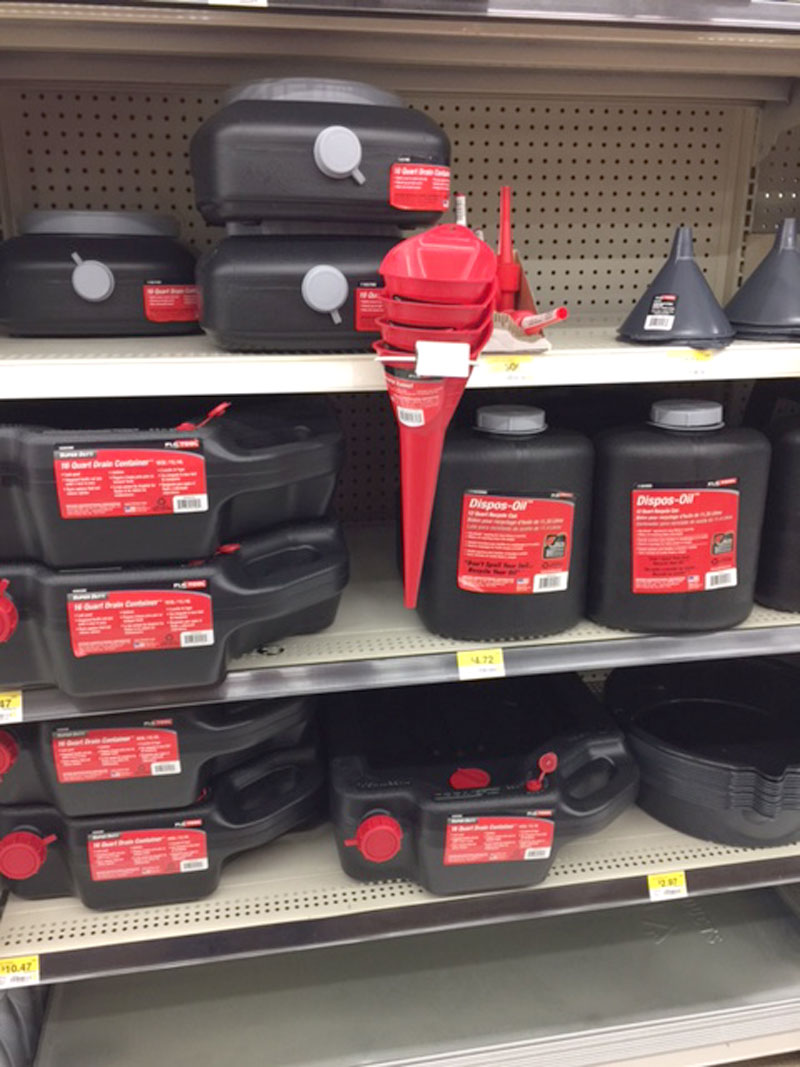 While I was at Walmart, I couldn't help but look around and checked out the oil-changing gadgets, but my son assured me that he had everything I needed to change my oil and all I needed to get was the oil and an oil filter.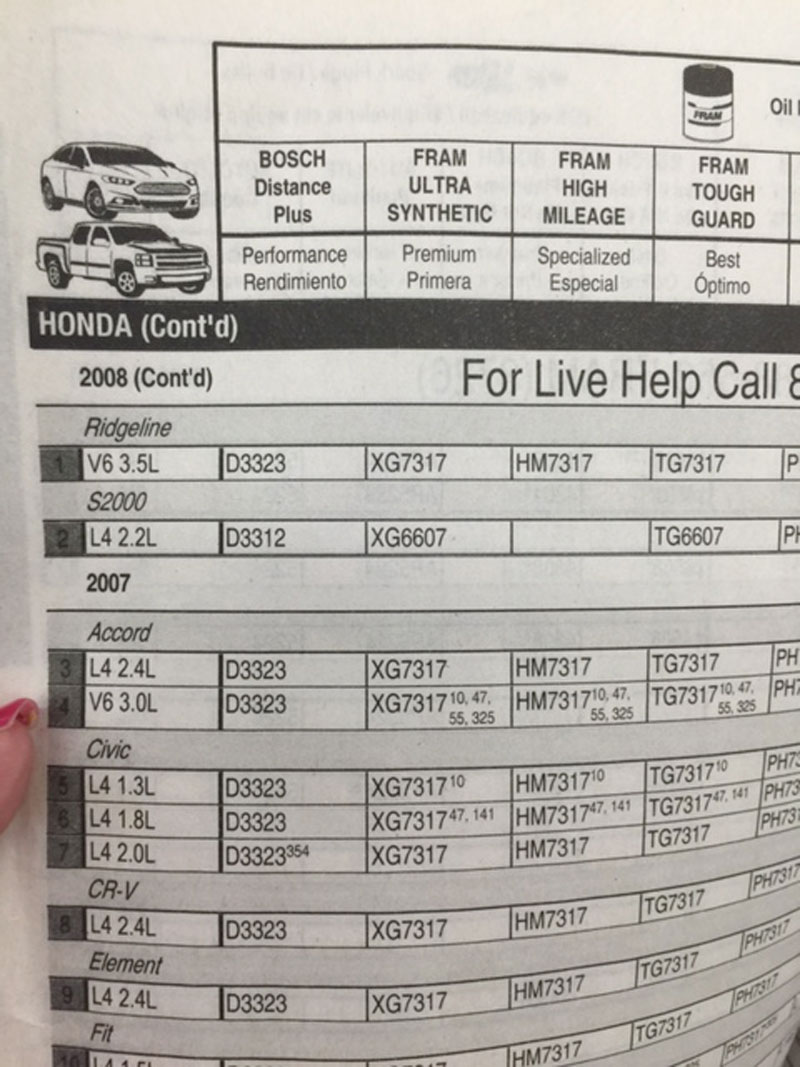 There are books hanging right there in the aisle with the oil filters. I just had to look up my car's year and model and it told me which oil filter I needed to buy.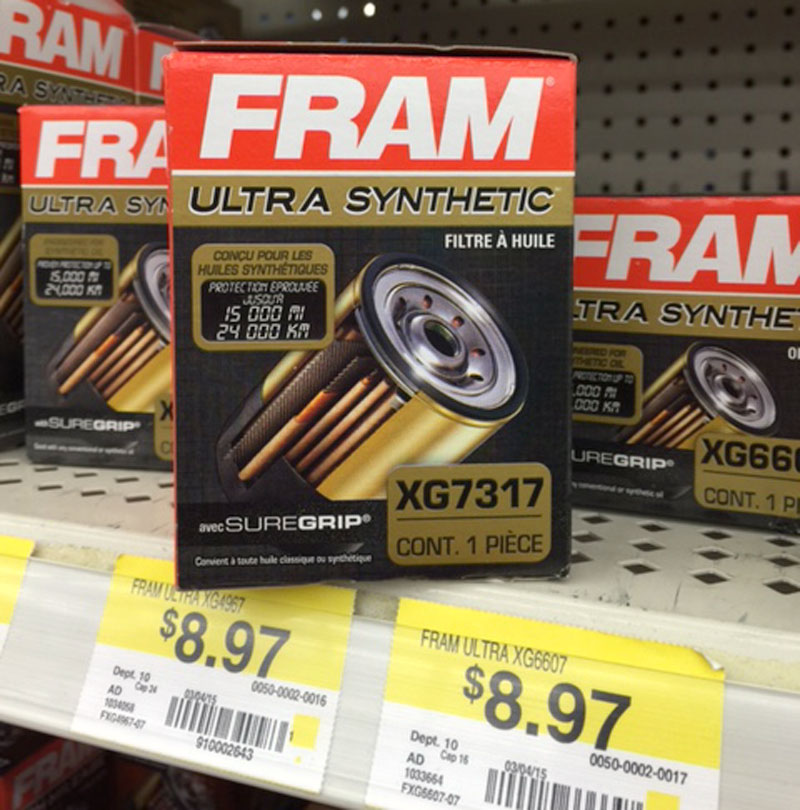 So that's what an oil filter looks like. (Not what I had pictured at all ; )
Next up: go home and change the oil.
But not so fast. I had to let the engine cool down so I waited an hour and then #1 son and I got to work!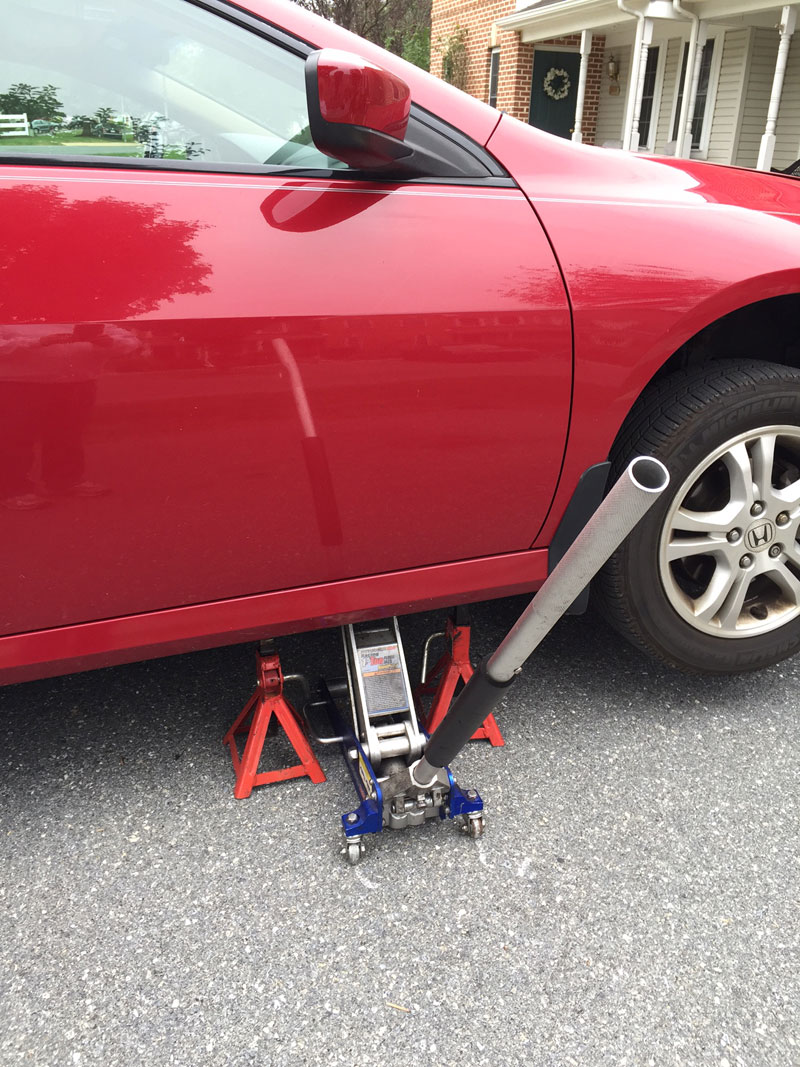 (Yes, #1 son was my advisor and helper for my first oil change!)
Okay, so the engine is cool and it's time to raise the car so I can crawl underneath. we used #2 son's jack to lift my car behind the right, front wheel . . .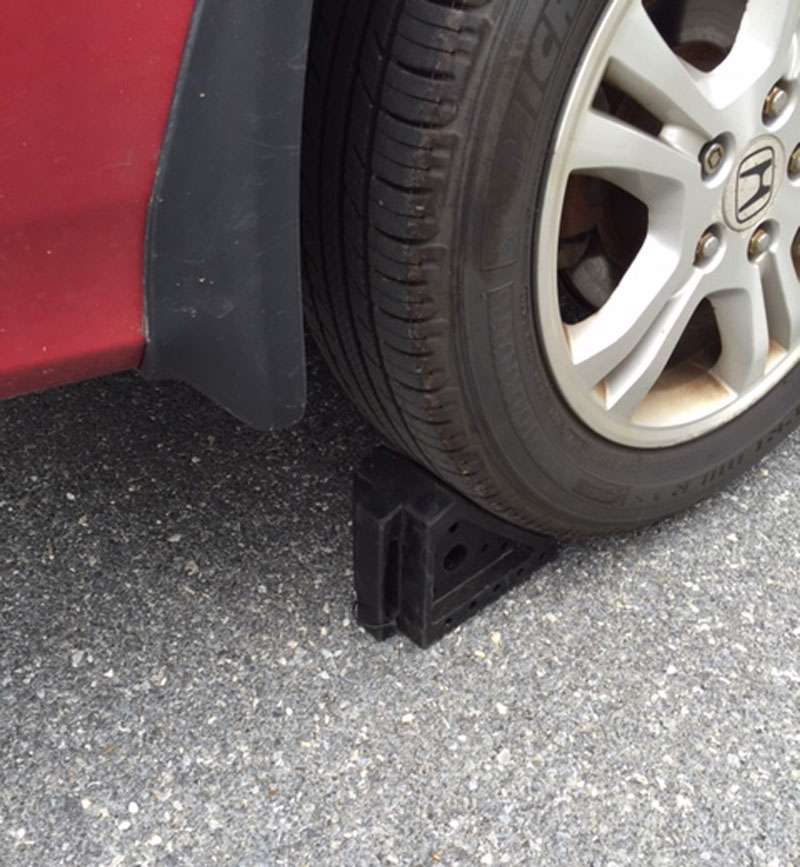 . . .  and placed "chucks" behind the other three wheels for safety.
Next, it was time to get under the car. This was the part I was most uneasy about.
But first I had a "light bulb" moment. I grabbed a large piece of cardboard from the basement. It's a lot easier to slide yourself on cardboard than it is on pavement or cement! So there I am, underneath my car looking for the oil plug to remove it.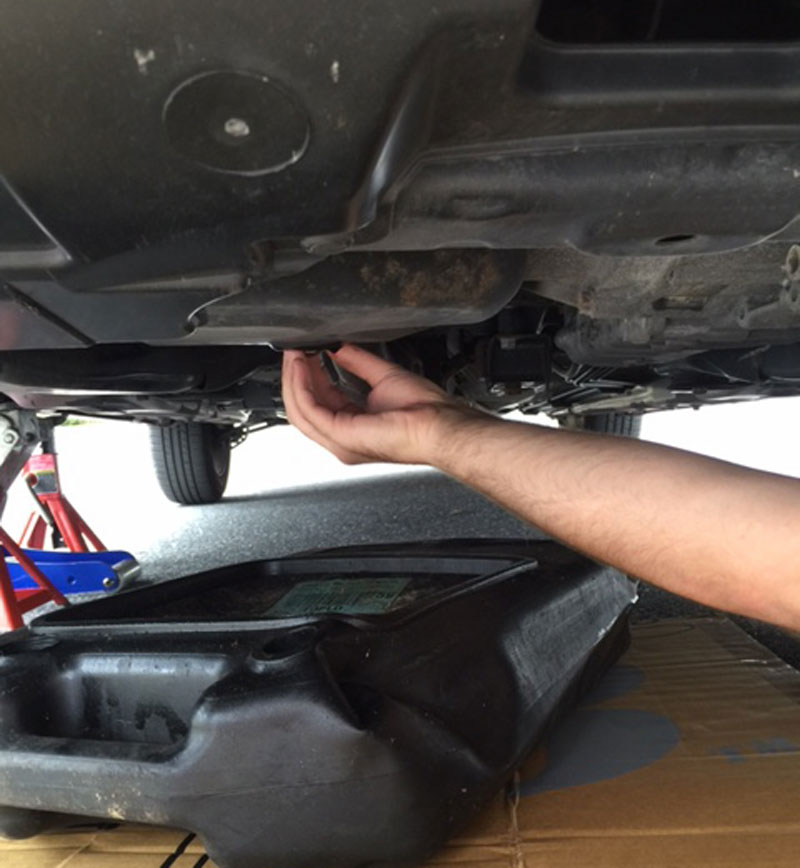 We had the oil pan positioned under the old oil filter and plug, ready to catch the old, dirty oil.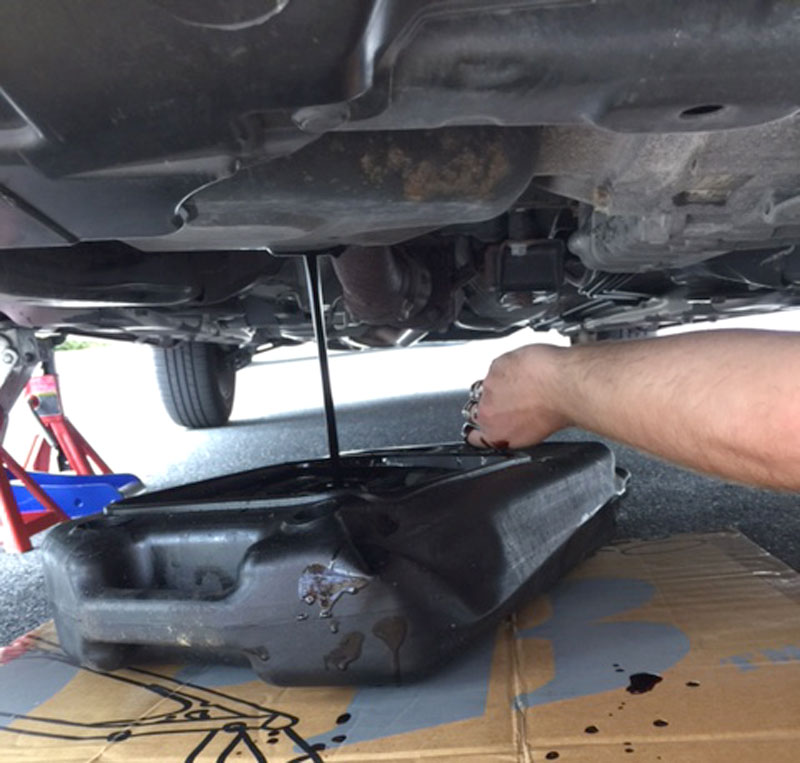 And there it goes! Look at the black, dirty oil. (and it turns out the cardboard was good to catch any stray oil drips, too!)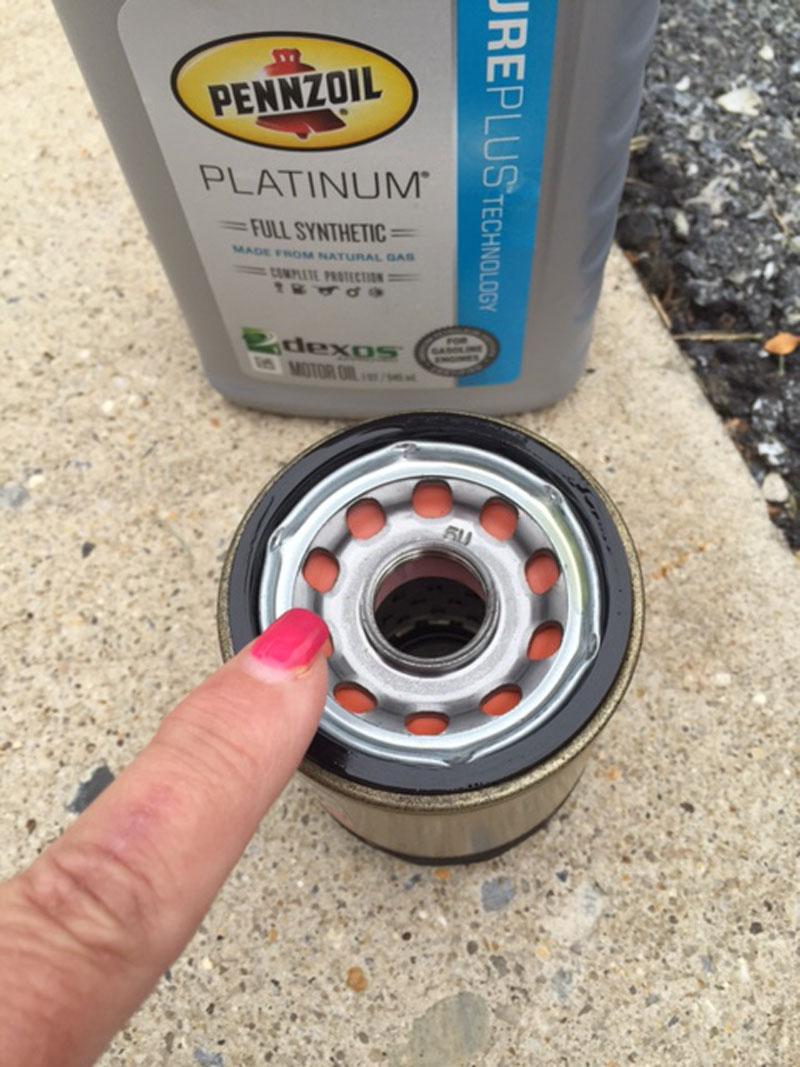 Then it was time to put in the new oil filter. But first son #1 told me to "prime" it with oil. That meant I needed to dip my finger in the new oil and rub that finger around the edge of the new oil filter as shown above. Easy enough! Then back under the car to install the new oil filter.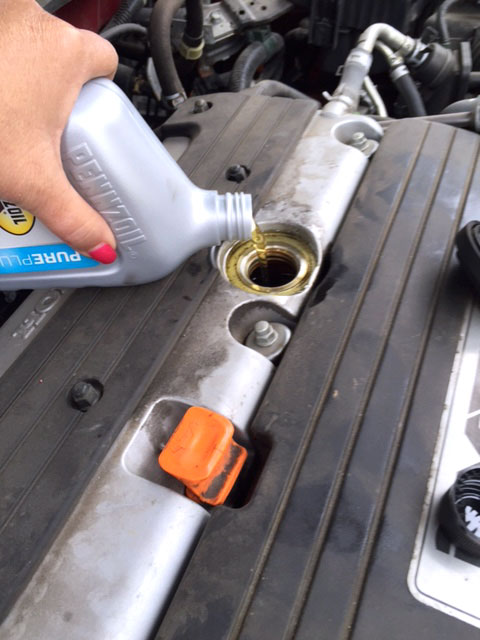 Then it was time to add the oil. Look at that nice, clean oil! My car holds 4-1/2 quarts of oil, so in they went. No problem!