This month's Power Tool Challenge is a little different. Oh we're still making a project using our favorite power tools to encourage you to learn and use power tools. The difference this month is that we're sending the project that we make to a fellow participant in the challenge. How fun!


I made some DIY pallet wood Christmas wall art. I don't really know what to call them. Reclaimed wood shadow box? Framed shadow boxes? Pallet wood wall boxes? I don't know. But anyway, I want to show you how to make them. For free.
Yup. Free. As long as you have some pallet wood and plywood scraps laying around.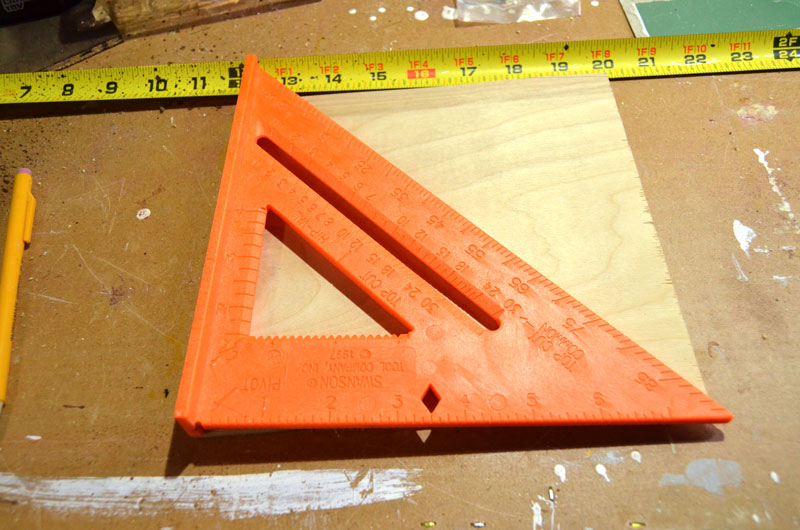 So first you need to cut the plywood backing for the box. This can be any size and shape you want. I made three that are 8″ square. And I also made some bigger rectangular ones. It just depends on the size of your plywood scraps.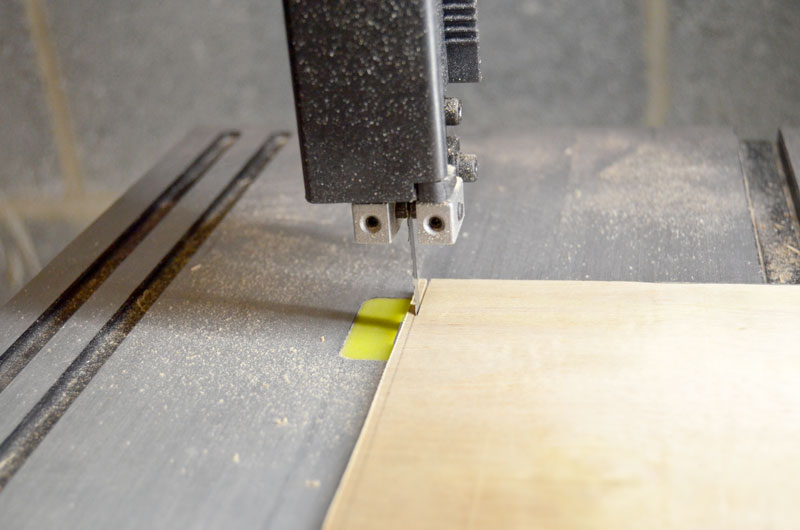 This post contains affiliate links.
I used my bandsaw to cut my pieces. I want to stop right here and say something about my Ryobi Band Saw. Why did I wait so long to get one of these???? This is now my most favorite power tool. It is by far one of the least intimating ways to cut wood. If you don't have one I highly recommend that you put this on the top of your list for Santa!
In fact, you may be able to get one for free! WHAT???? Ryobi Power Tools and I are giving away $300 worth of YOUR CHOICE of power tools! See all the deets at the bottom of this post. 
Okay, now back to the shadow boxes. You've got the backing cut. Now you need to make it pretty. Here's what I did.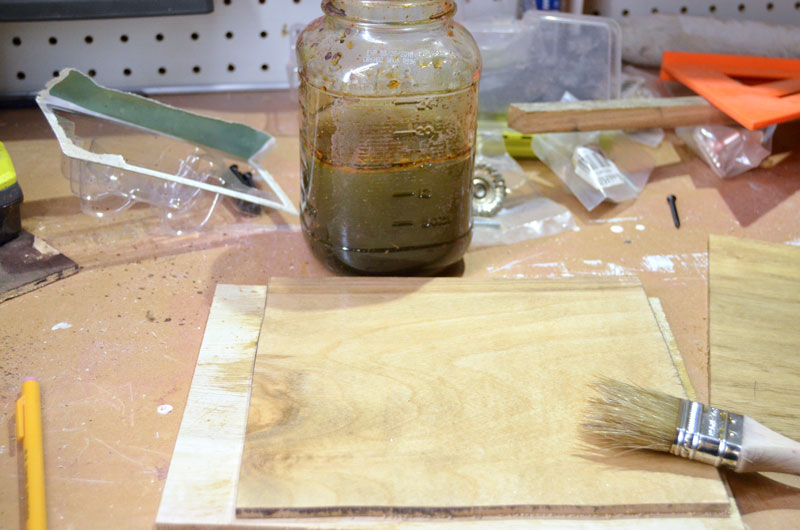 I made some of the backing pieces look as old as the pallet wood by brushing on some homemade stain. You've probably heard of that concoction of vinegar and steel wool. After it dries the wood looks old!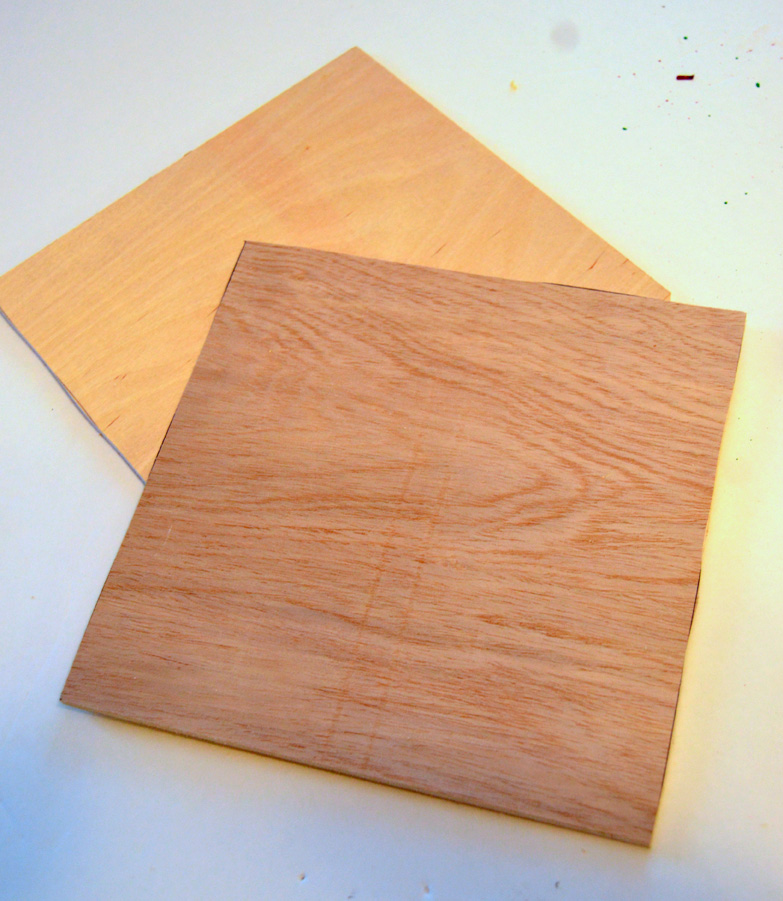 Others I left in their natural state.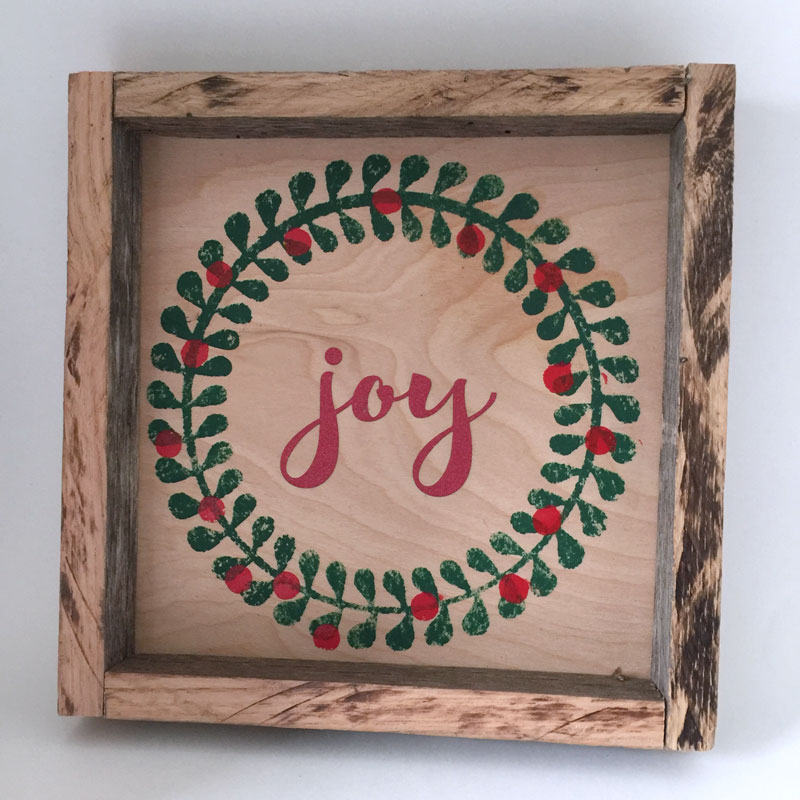 This one was made using a stencil that I made with my Silhouette® machine. I consider my Cameo® to be one of my power tools, too!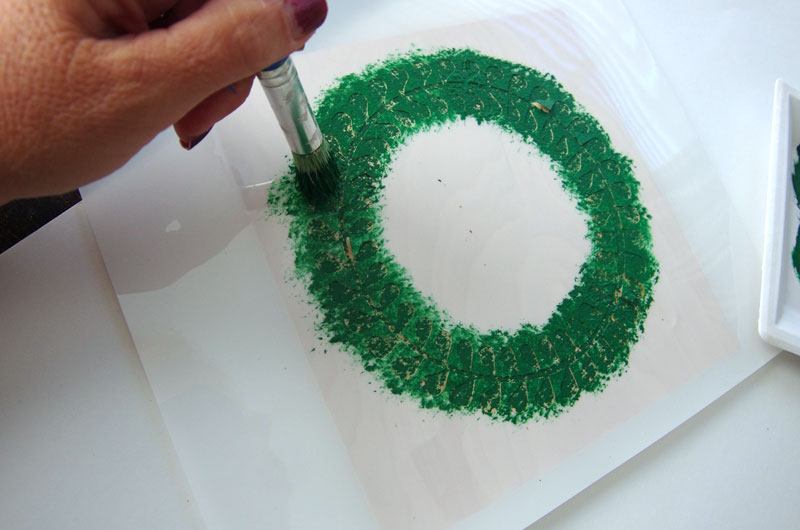 Stencils can be made from vinyl, contact paper, or in this case stencil blanks.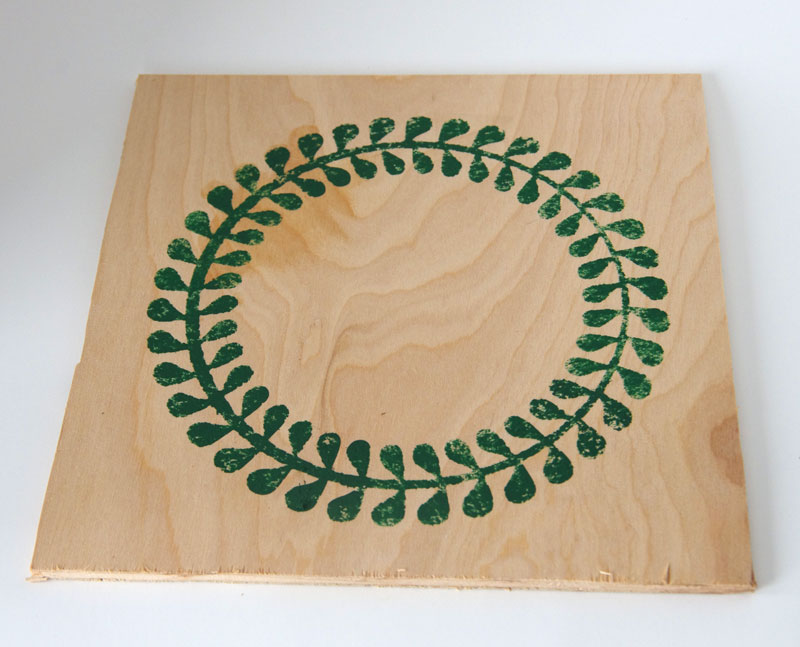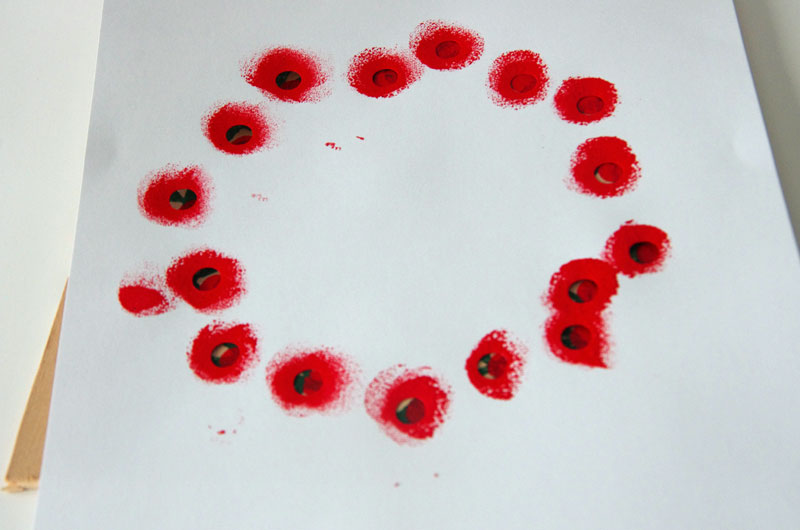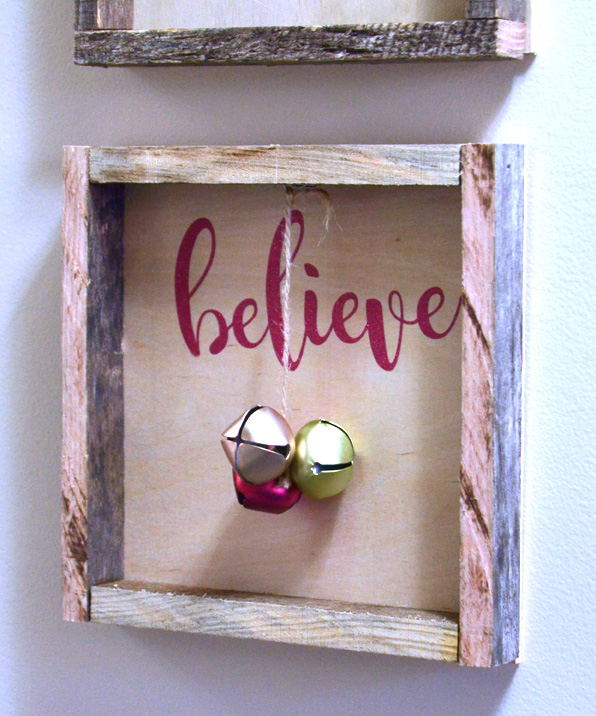 Do you like this one? Again using my Silhouette® machine, I cut "believe" out of glitter vinyl and then I hung three bells from a length of twine.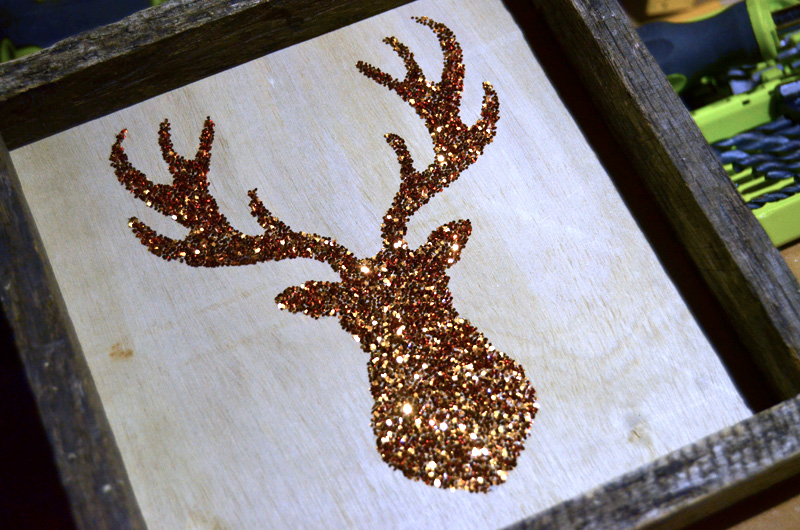 How about some glitter!!!
To make this one, I cut the reindeer shape out of Silhouette's double-sided adhesive.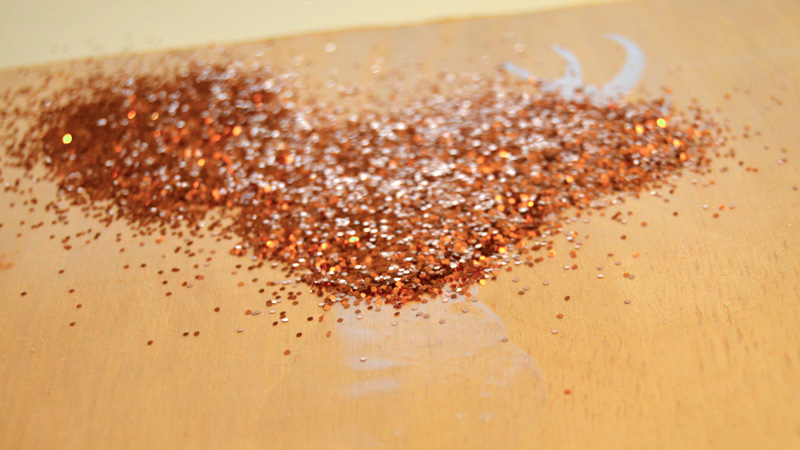 If you look closely at the photo above, you can see the clear adhesive shape on the wood. You just dump on the glitter and tap the excess off.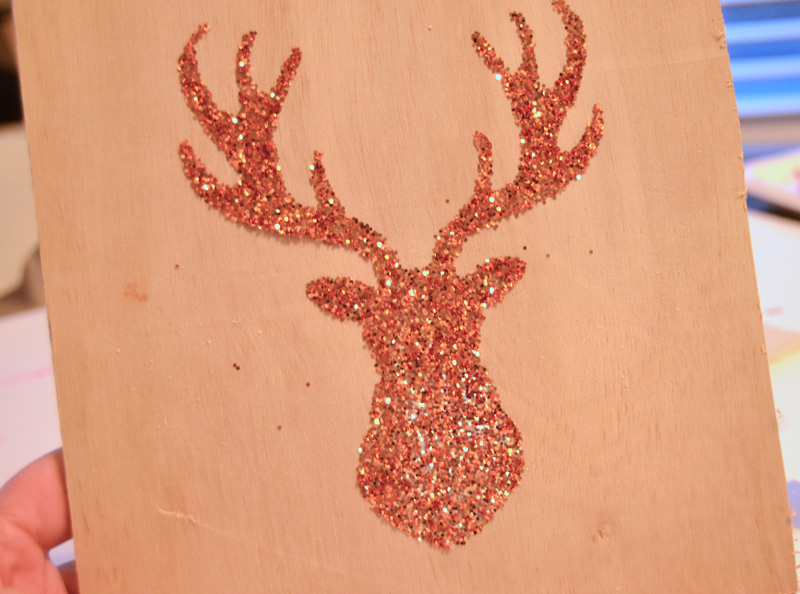 I love using this method of applying glitter. No messy glues and look at those sharp lines!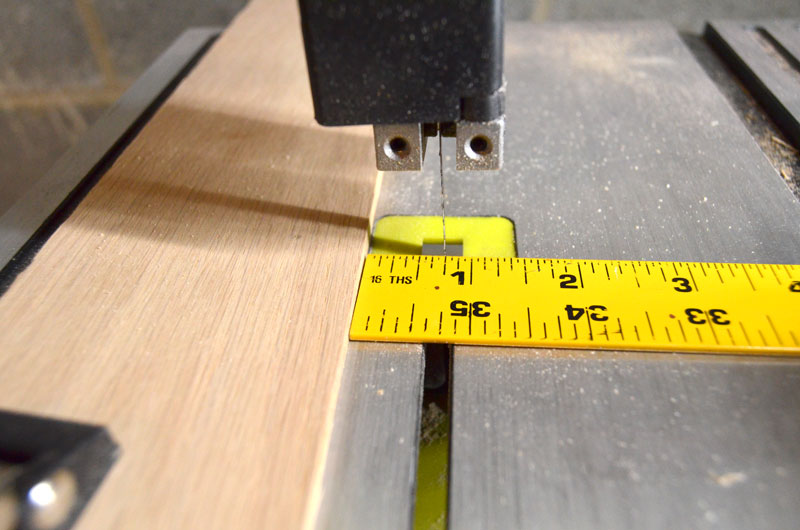 Next it's time to make the frames. Again I used my bandsaw. TIP: To make sure that the width off all of the frame pieces were consistent, I clamped on a straight piece of wood onto the bandsaw table, 3/4″ away from the bandsaw blade.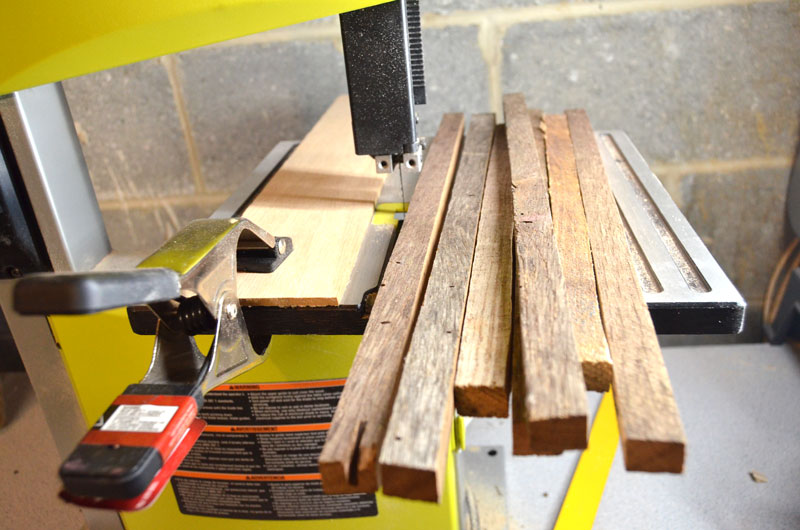 Now I have a bunch of pieces of frame ready to cut to size.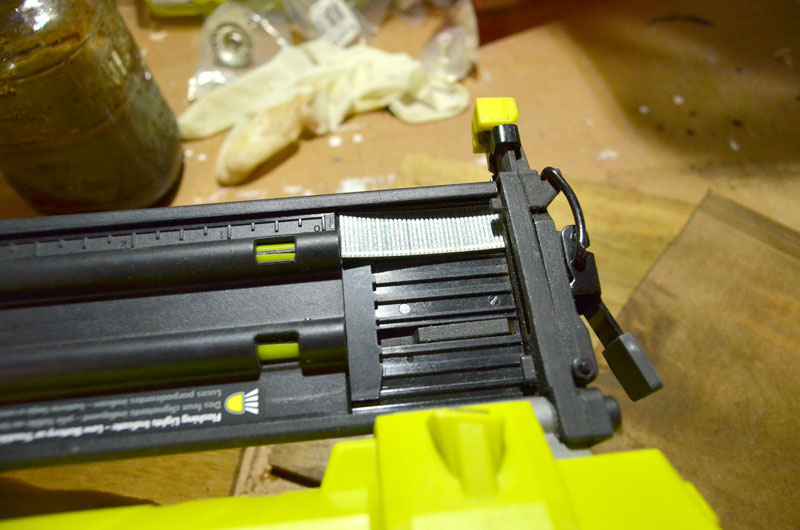 The last thing to do is cut the frame pieces to size and attach to the plywood backing. I used my Ryobi Airstrike Brad Nailer with 3/4″ brad nails.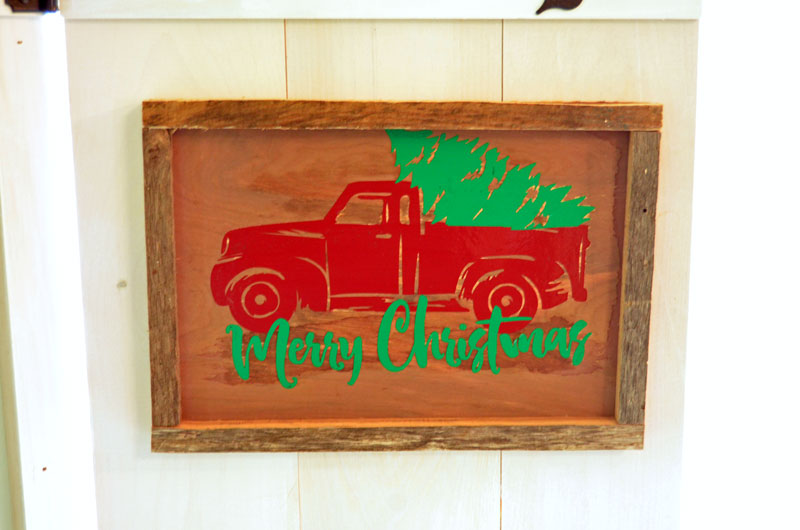 The red truck design is vinyl cut with my Silhouette® Cameo.
Now it's time to see the gifts that my friends have made: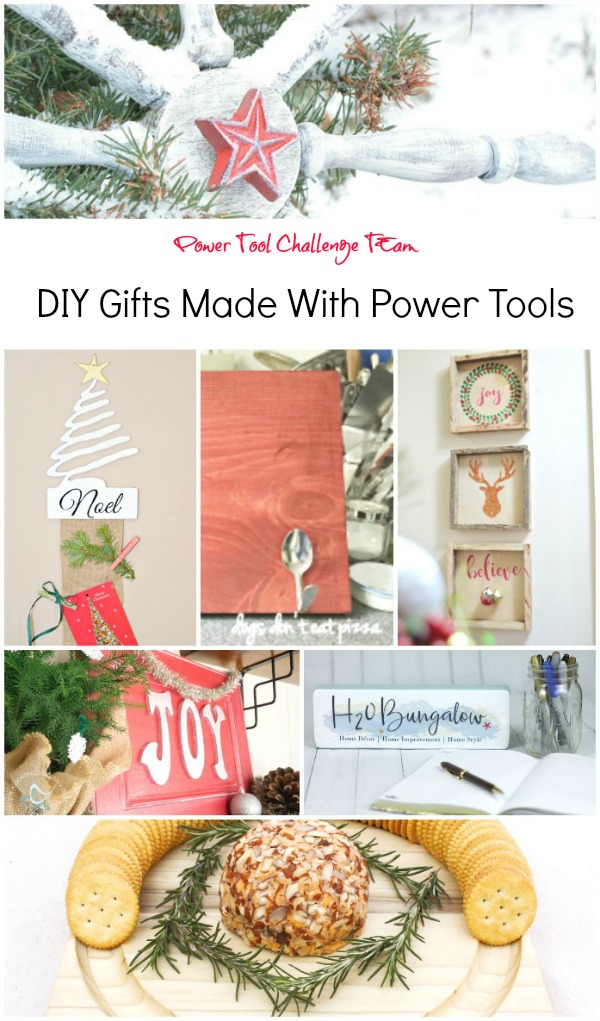 Wooden Chair Spindle Snowflake by Interior Frugalista
Hanging Christmas Card Holder by H2OBungalow
DIY Cookbook Stand by Dogs Don't Eat Pizza
Repurposed Cabinet Door Joy Plaque by Designed Decor
Textured Photo Transfers To Wood Blocks by The Kim Six Fix
DIY Cheese and Crackers Serving Board by Virginia Sweet Pea
Now about that $300 worth of power tools! As I said, RYOBI and I have teamed up to give one of my readers their choice of $300 worth of power tools. There are a couple of rules: you must live in the continental United States, be at least 18 years of age, and choose power tools only – not outdoor tools.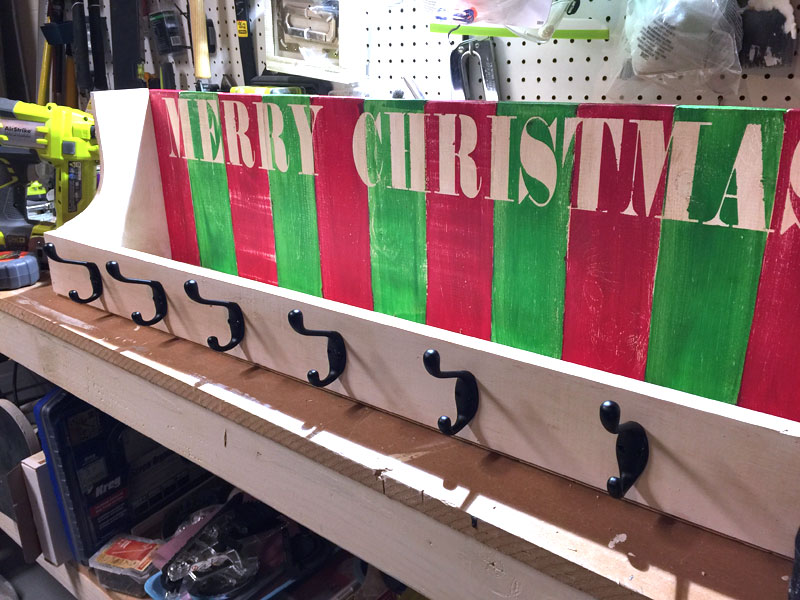 Before  you enter below, please check out my latest project on RYOBI NATION. I made this extra large Christmas coat rack. This will not only hold a houseful of guest coats, it will also hold their hats, gloves and scarves.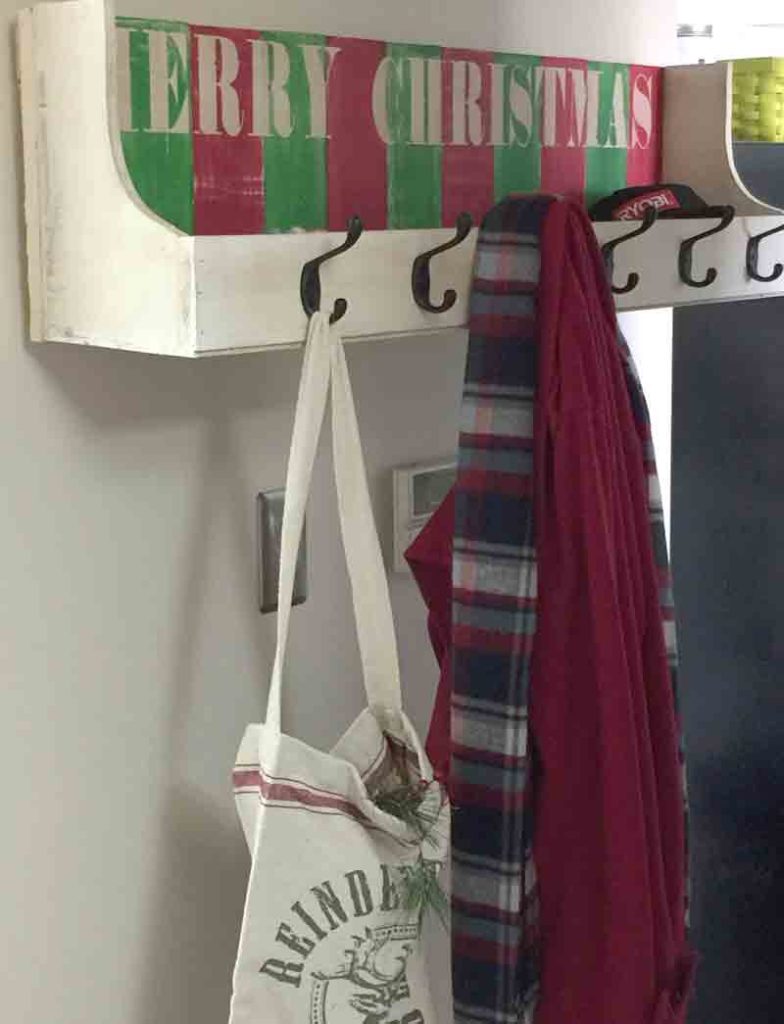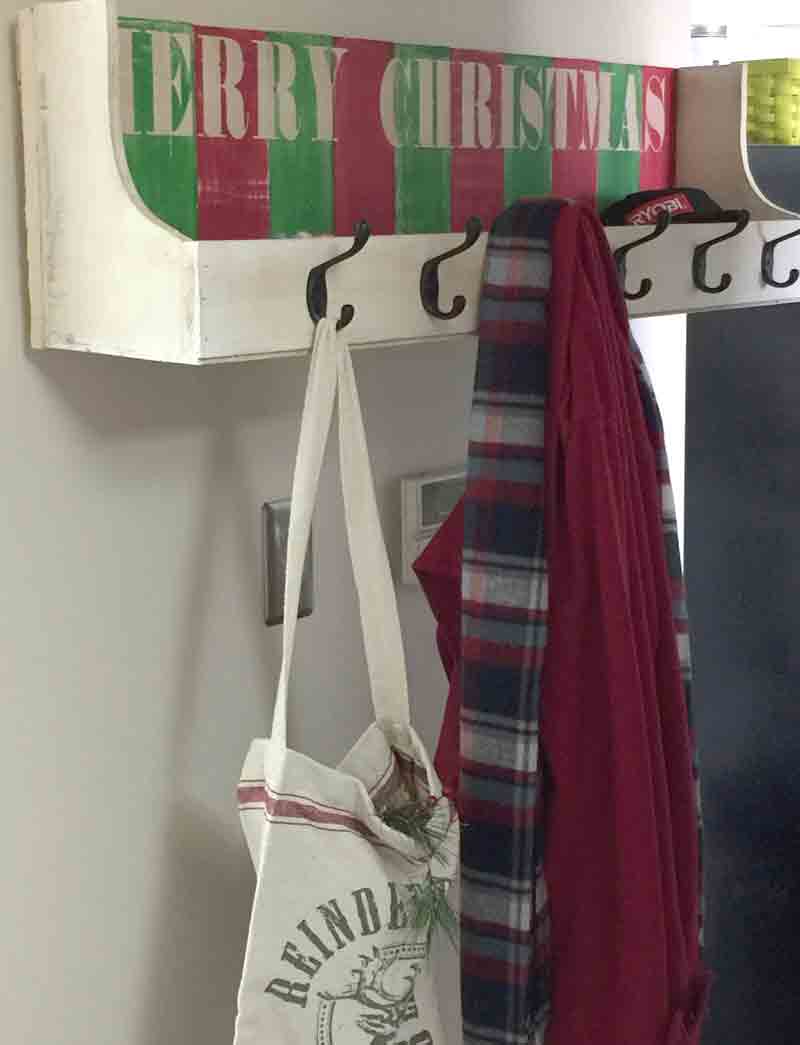 And when the party is over, use it to hang Christmas stockings!