Making one of these growth chart rulers has been on my to-do list for a long time. When I received an email notification that my daughter sent me three Pinterest pins that were images of growth chart rulers, I got the hint ; )

At first I thought I'd make one for each of my grandchildren, but Dan thought it would be better to have a family keepsake with all the kid's growth recorded on one ruler. Smart guy.
So without further ado, here is how to make a growth chart ruler – or at least how I made one.
You will need:
a long board
black sharpie
painter's tape
measuring tape
a straight edge
sand paper
stain
For the wood: I happened to have a piece of 1 x 6 x 5. Ideally a 6′ length would be better. I felt safe with the 5′ length since no one in my family is over 6 feet. Watch, now my grandson will end up over six feet just because of Nanny's 6′ board ; )  The board will be attached to the wall one foot up from the floor.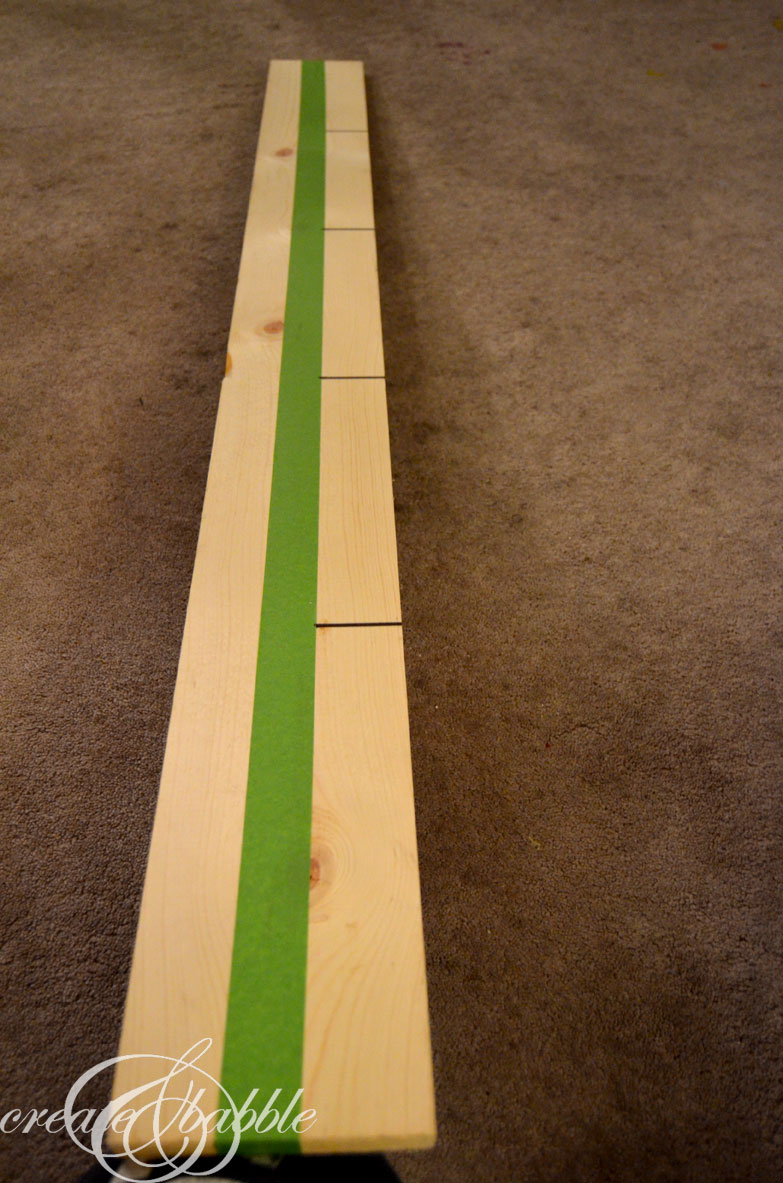 The first thing I did was place a strip of painter's tape down the middle of the board. Then I marked off the 12″ mark lightly with a pencil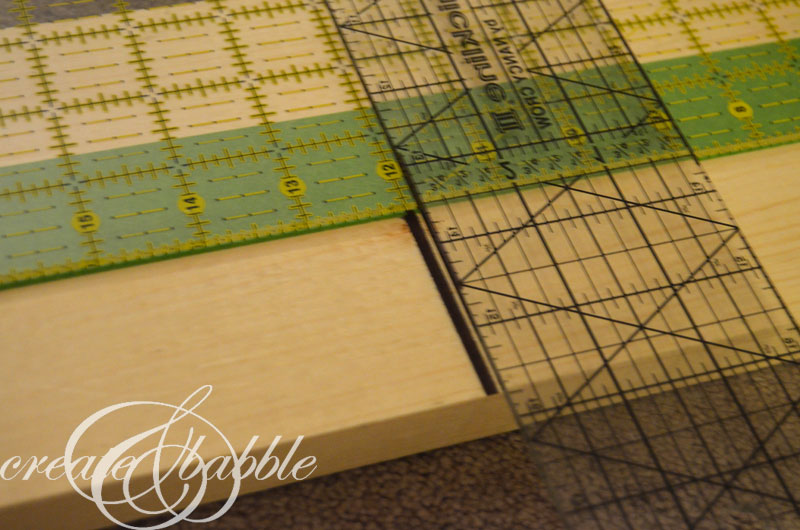 Then I drew a line against a straight edge from the painter's tape to the edge of the board with a black Sharpie. (Quilting square are handy for so much more than quilting, you know!)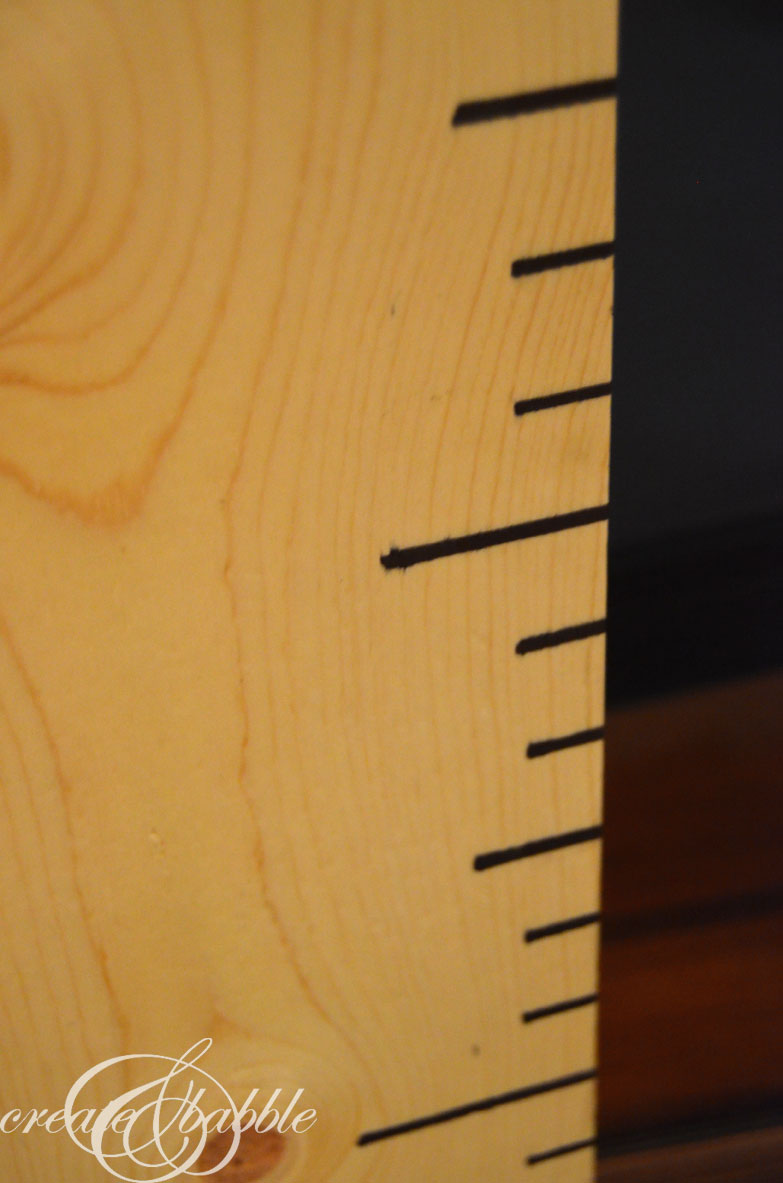 Next, I placed a second strip of painters tape down, covering about half of the length of the 12″ marks. Then I made Sharpie lines at 6″ intervals. I repeated that same step for the inch marks. I don't know why I didn't take pictures of that!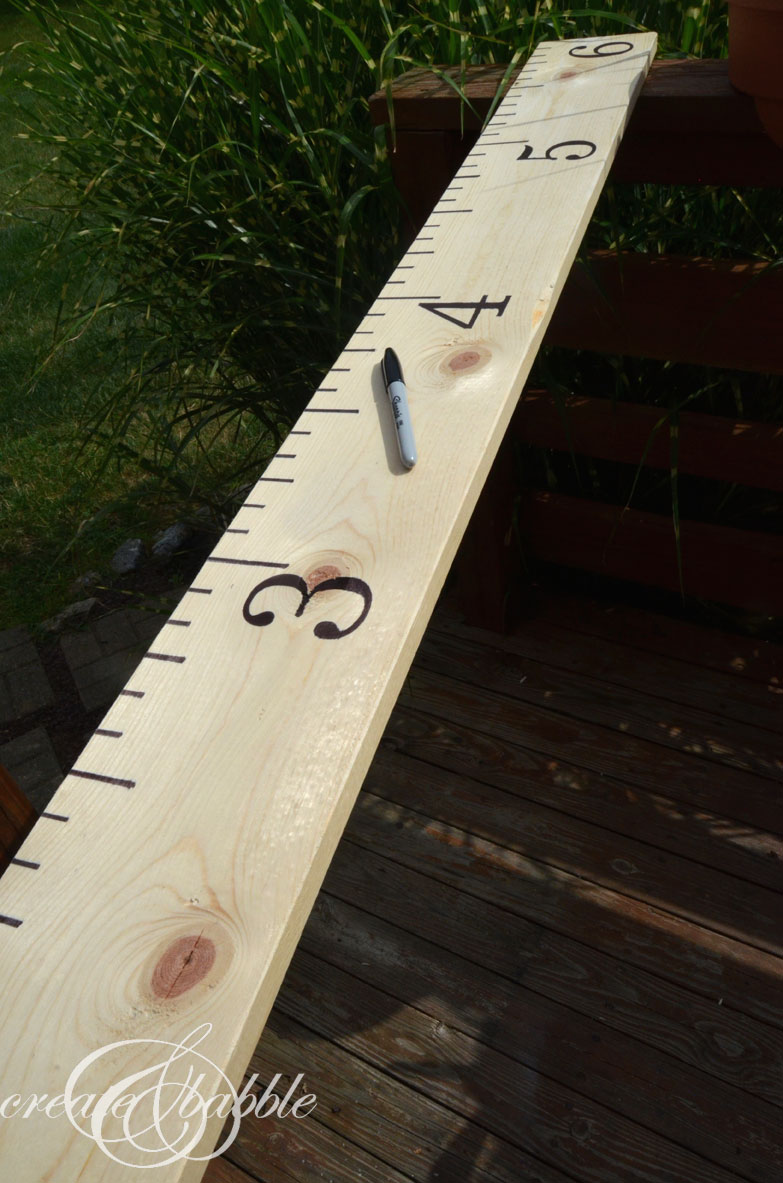 Once all the lines were drawn, I took the board outside to finish it. Laying it across the railings on the deck made it easier to stain and stencil. (I need saw horses: in case Santa is reading this 😉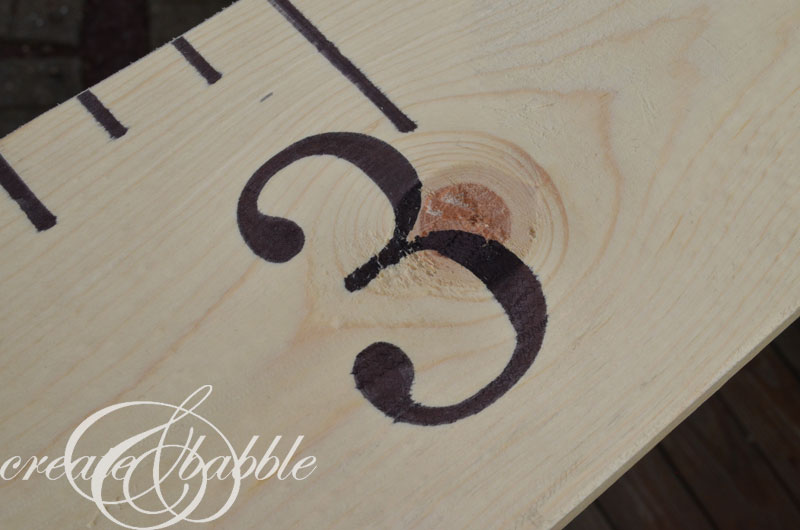 I just placed the paper stencil down on the board and traced inside the edge with a black Sharpie then filled it in using a thicker Sharpie.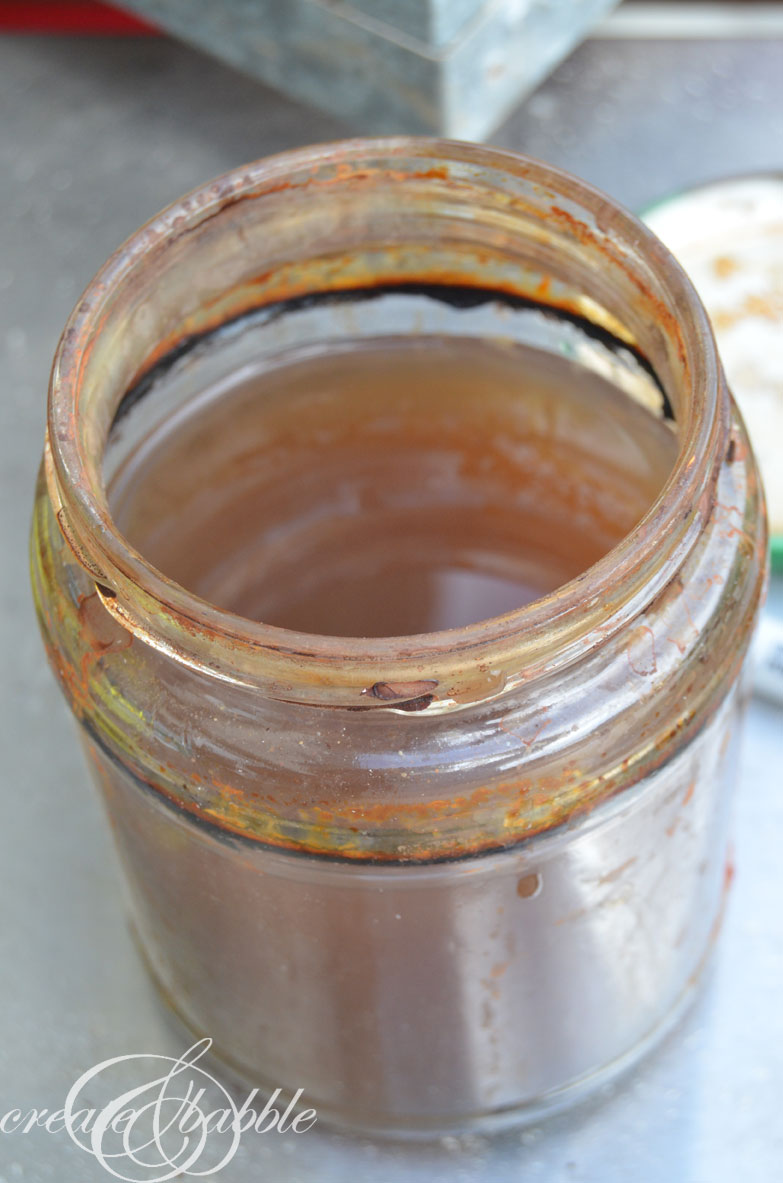 Now for the stinky part. Yes, I mean stinky as in it smells bad. Really bad. It's homemade stain that's supposed to make wood look aged. I put some steel wool in a jar with vinegar and let it sit on my counter for a couple of days. And listened to it hiss and moan. I'm serious. It was making noises. I took off the lid because I was afraid it was going to explode or something. Anyway, after a day or so it makes this stinky solution.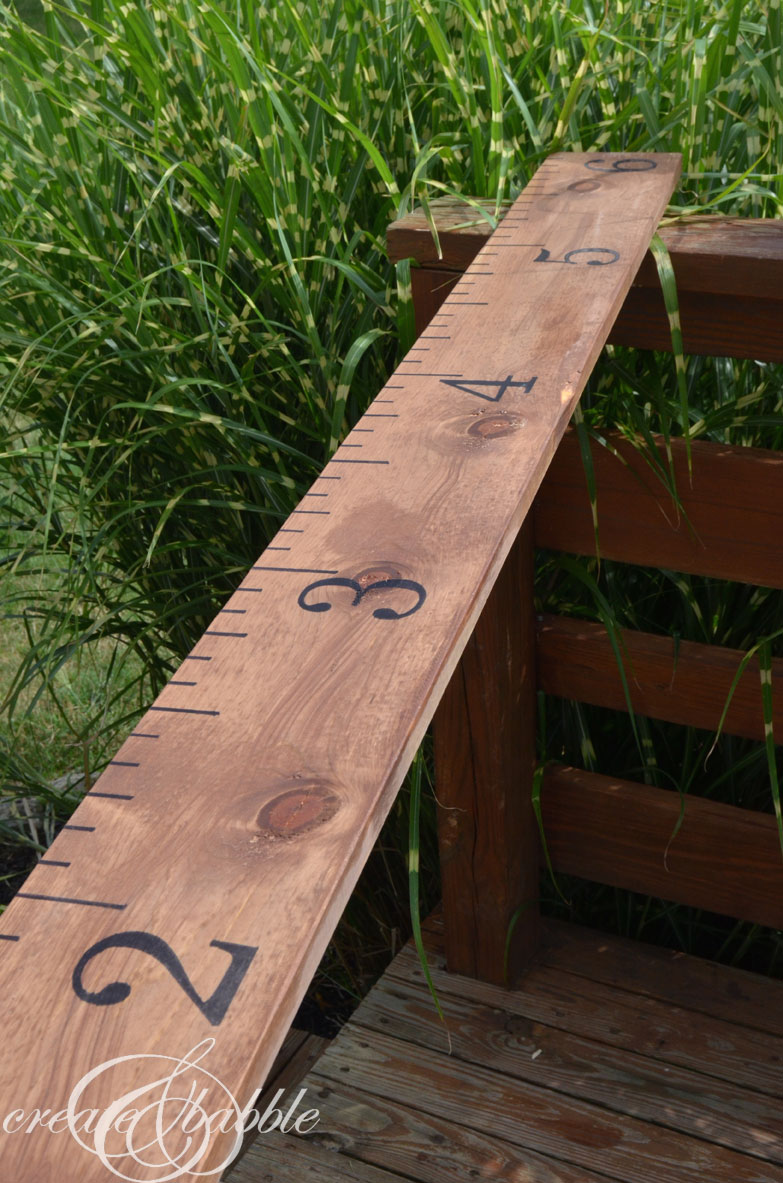 So wearing two pairs of rubber gloves, I rubbed said stinky solution on the board and this is how it looks after one coat.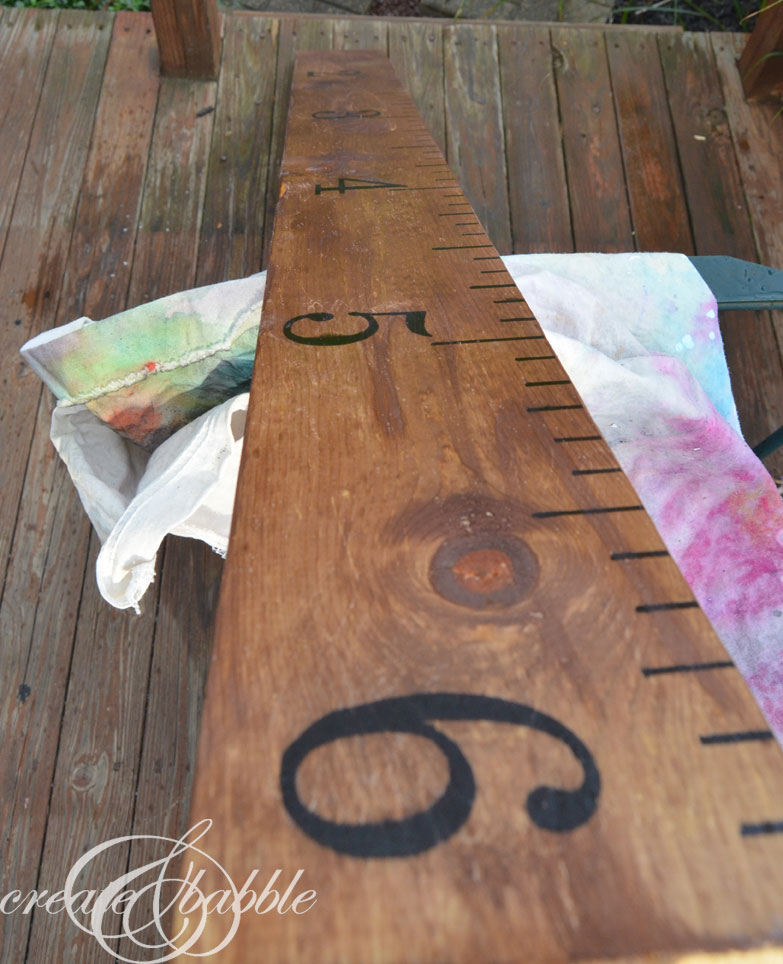 Two coats. And the stink does go away after it's dry. Thank goodness.
Have you ever tried the stinky stain? I was hoping for more of a gray, weathered color. Maybe I let the steel wool in too long, But in any case, I like how the ruler turned out. And if my grandson grows to be over 6′ tall…well my daughter will have to add an addition to the ruler ; )