Dollar Store Designs are back and I've got something a little different. I usually look for items in the dollar store that I can jazz up, paint, hack, or try to makeover into some really cool piece of home decor. This time I'm working with dollar store sneakers and a Sharpie and making some wearable "art". And I do use that term "art" loosely. An artist I am not.
I may earn money or products from the companies/products mentioned in this post at no additional cost to you. As always I only recommend products and services that I use and love.
But check out what I did with my dollar store sneakers and a Sharpie
:

Pretty cute. What do you think? If you have school-age kids or grandkids, I say buy a pair of $5 sneakers, a Sharpie paint pen, and let them get creative!
Here's how I did it. First I bought a pair of sneakers for $5 at my local Dollar General. Do you call them sneakers or tennis shoes. I grew up in western Pennsylvania where we called them tennis shoes. But when I moved to Lancaster County, everyone here calls them sneakers. So it stuck. I lost most of my "Pittsburghese" after I moved. I no longer say "yinz", pop (for soda), slippy (for slippery), but I might still say "crick" instead of creek ; )
Anyhow, back to the sneakers. At first I thought I'd use a stencil for the hearts. But after thinking about that for three seconds, I thought: I'm no artist but I can draw a heart shape for Peter's sake!". But I was worried about the placement of those hearts. If I freehanded them willy-nilly, the placement might be off. I was picturing a bunch of hearts smooshed together in one area, and then sparse in another.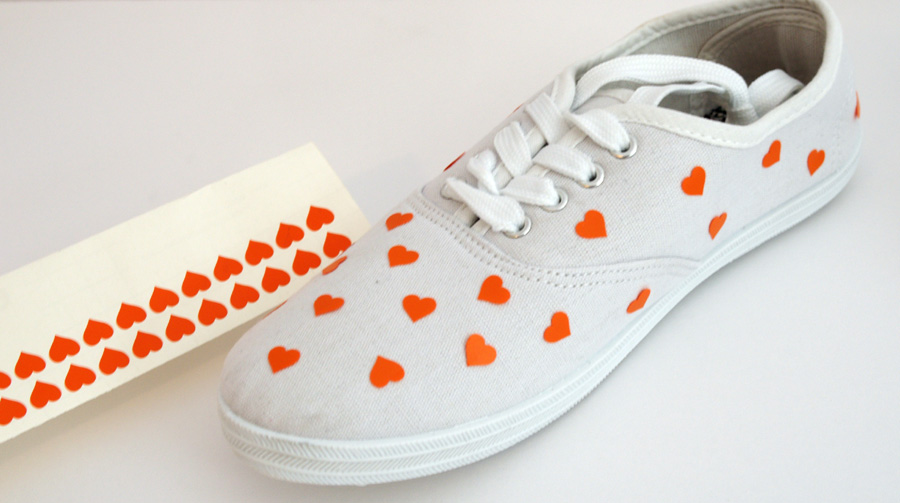 Then I remembered seeing what my fellow blogger and friend Lauren from The Thinking Closet did in this post. That Lauren is so smart! So I proceeded to cut out a bunch (50 to be exact) of the little vinyl hearts using some scrap vinyl and my Cricut Maker. (If you don't have a Cricut or Silhouette you can use stickers. And they don't have to be hearts. They can be any shape. Just something to mark the placement of the drawn-on hearts.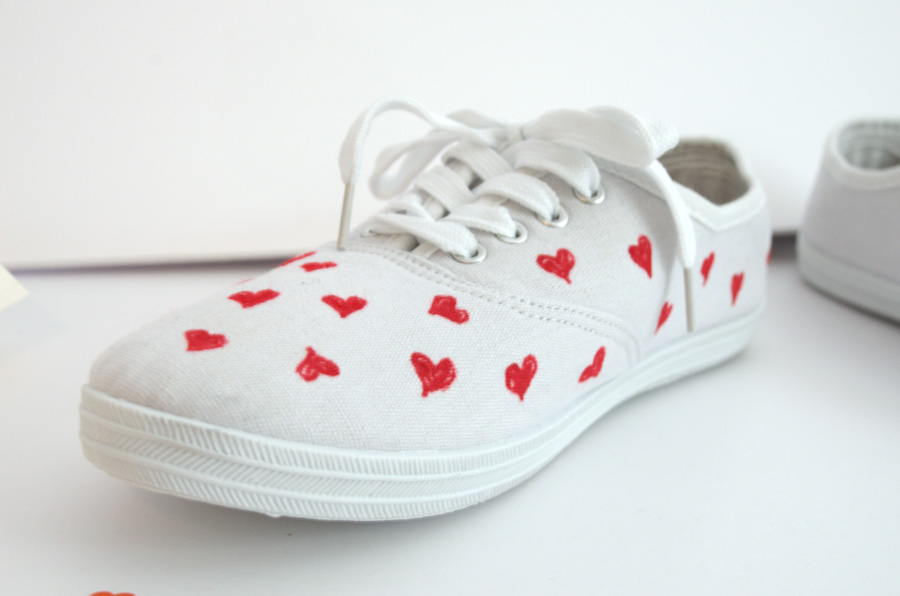 Once my sneakers were randomly covered with orange hearts ?, I grabbed my red Sharpie paint pen and got to work. It took about 2 minutes, if that. I just lifted off the vinyl hearts one at a time and then drew the heart shape with the paint pen where the sticker was.  Notice that I didn't completely fill each heart shape. I like the hand-drawn look. How about you?

What would you draw on your sneakers?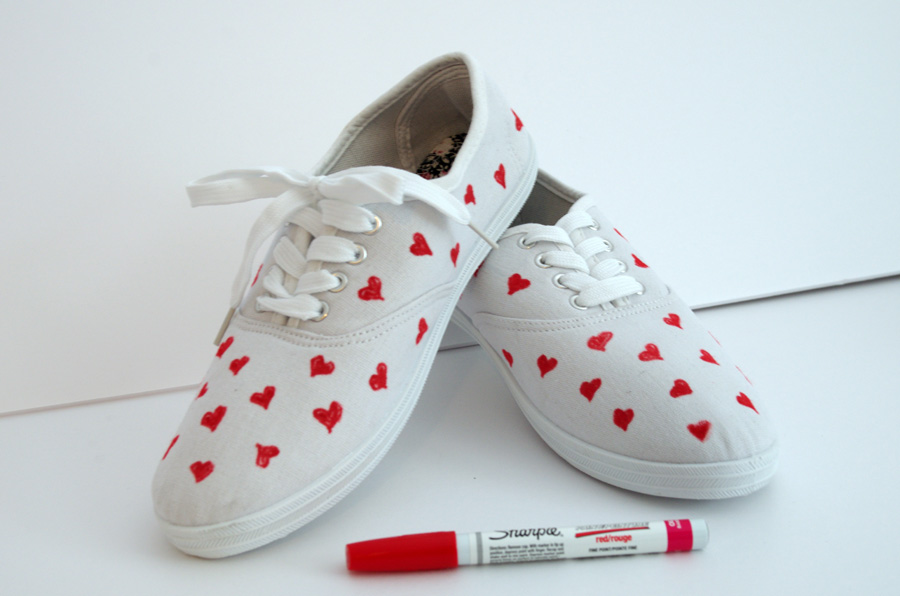 Let's see what my friends have made:
Dog Bowl Mat My Repurposed Life
Spring Bunting Wreath The DIY Village
DIY Cactus Wreath Mad in Crafts
Hanging Planters H2O Bungalow
Fern Wreath Refresh Restyle
Nautical Style Candle Holder Petticoat Junktion
Wedding Mason Jars The Country Chic Cottage
Dilly Dilly Etched Beer Steins The Kim Six Fix