Have you heard of the Fab Furniture Flippin' contest? Every month a group of bloggers submit a furniture makeover project.
There is a different sponsor and theme every month and this month's sponsor is D Lawless Hardware. The theme is Icing on the Cake. I decided to enter my fabric covered nightstand that I just finished.
Take a look at the before photo of the nightstand that I bought at my neighborhood yard sale for $5. It needs a little love.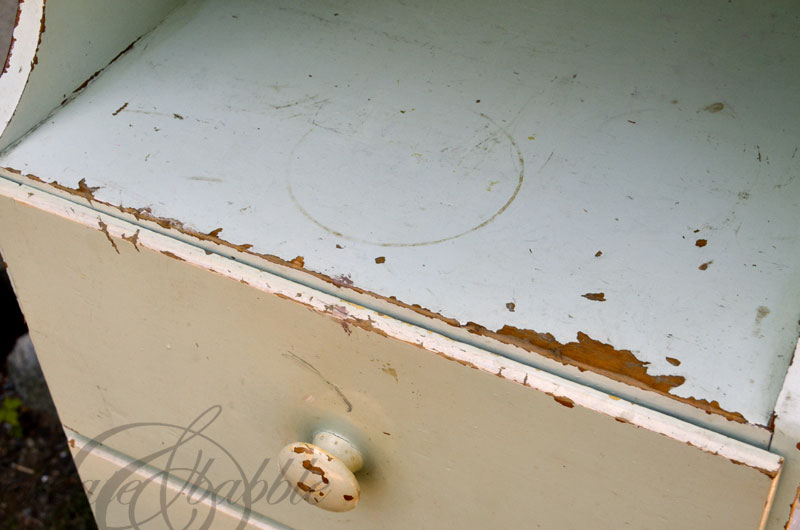 While I didn't mind the chippy paint or even the paint color, I did have a problem with the water rings . . .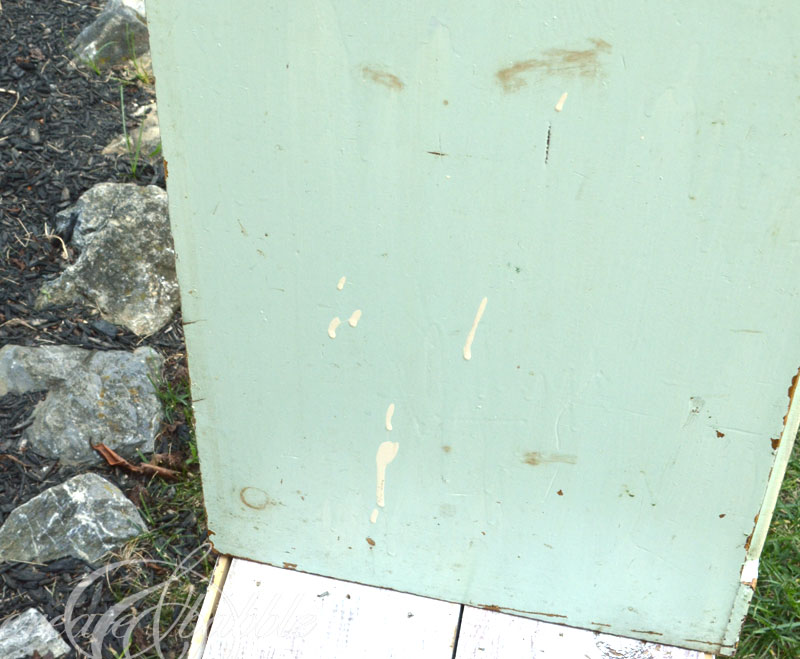 . . . and the drips of paint on the side. Not to mention the dirt and grime.
So of course I was going to clean it up and paint it. But then I had an idea. Why not decoupage it? At first I thought paper, but then I thought why not fabric? I could envision the type of fabric that I wanted. I wanted floral. And I also wanted it to be vintage-looking. I went to a thrift store in search of vintage sheets. No luck. But then I found the perfect fabric at JoAnn's. And there was just enough left on the bolt for my project.
I made the patterns for the fabric by laying the night stand on brown craft paper, then tracing it.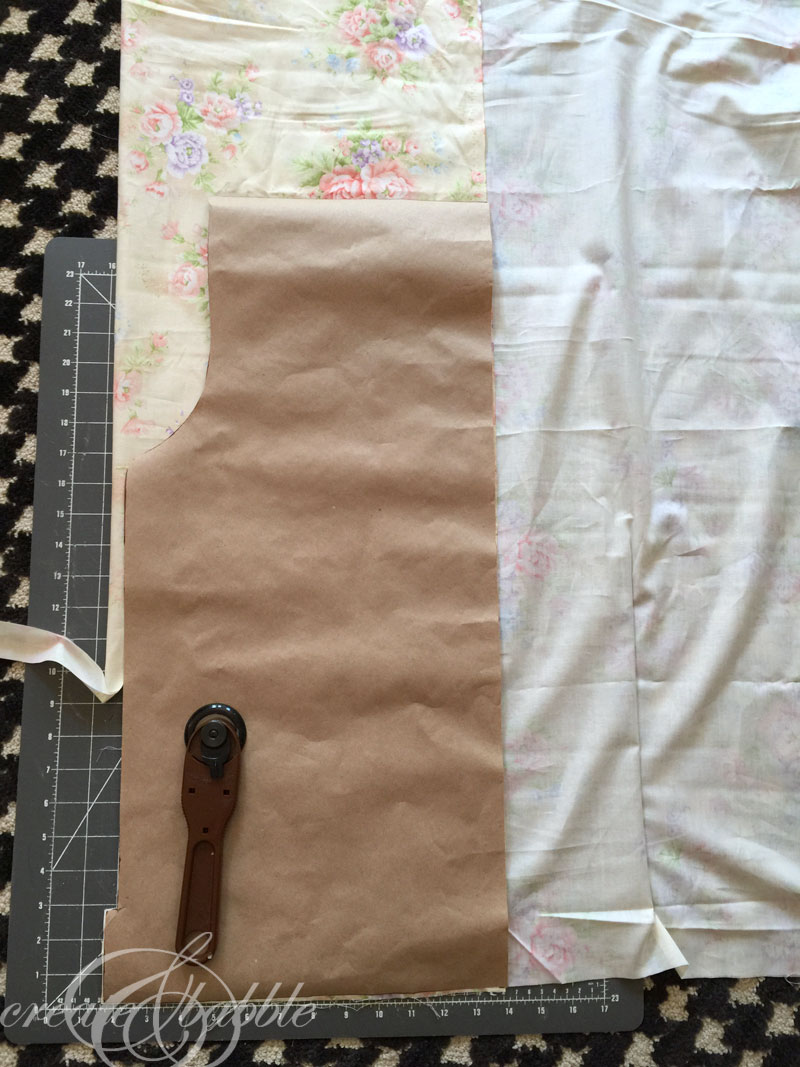 Once all of my pattern pieces were cut out of the craft paper, I laid the pattern pieces on the fabric and cut.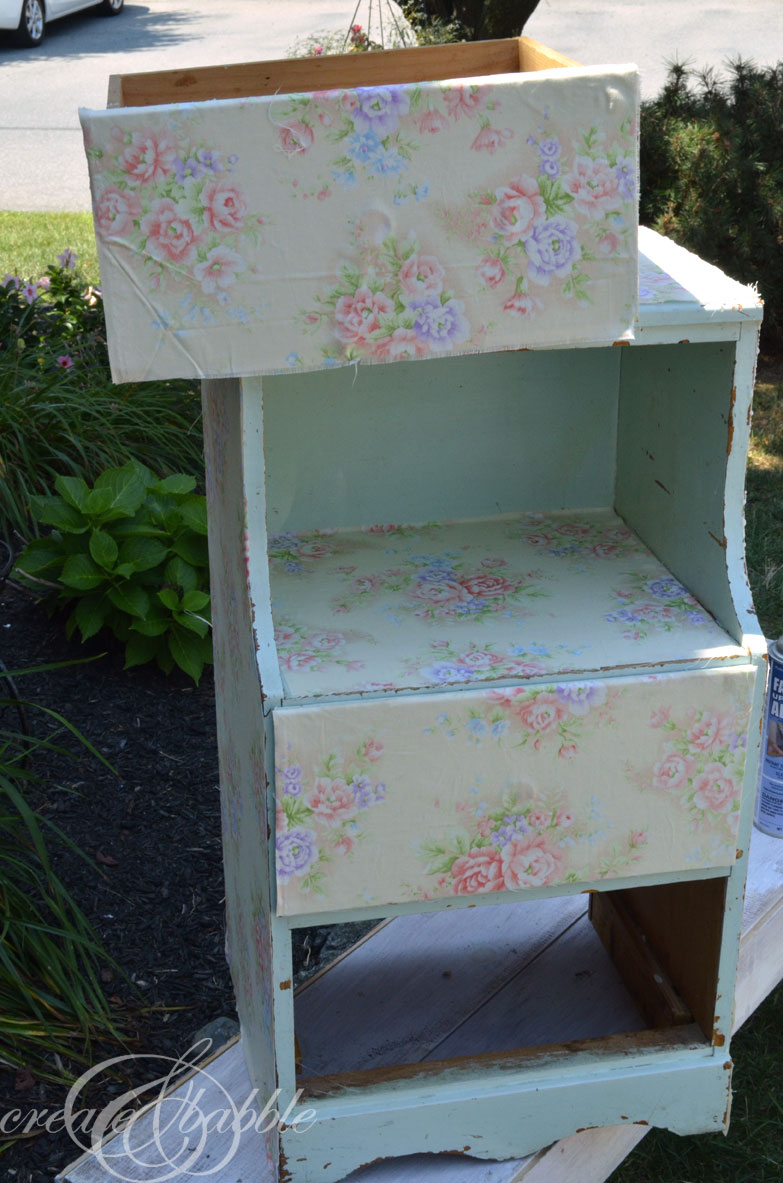 I adhered the fabric using a spray upholstery adhesive that I found at JoAnn's (but you could also use watered down white glue or Mod Podge).Once all of the fabric pieces were attached, I brushed on a fairly heavy coat of Mod Podge. Once it was completely dry, I trimmed off the any excess fabric to get a clean edge.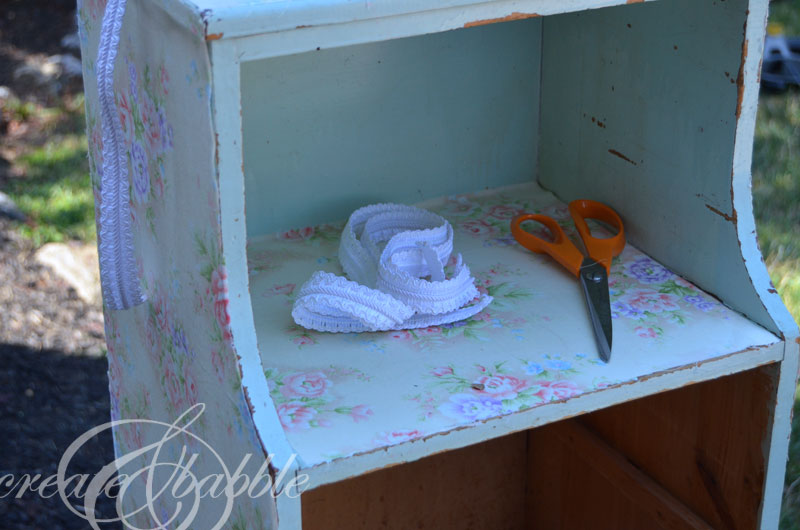 Now it's time for the "icing on the cake".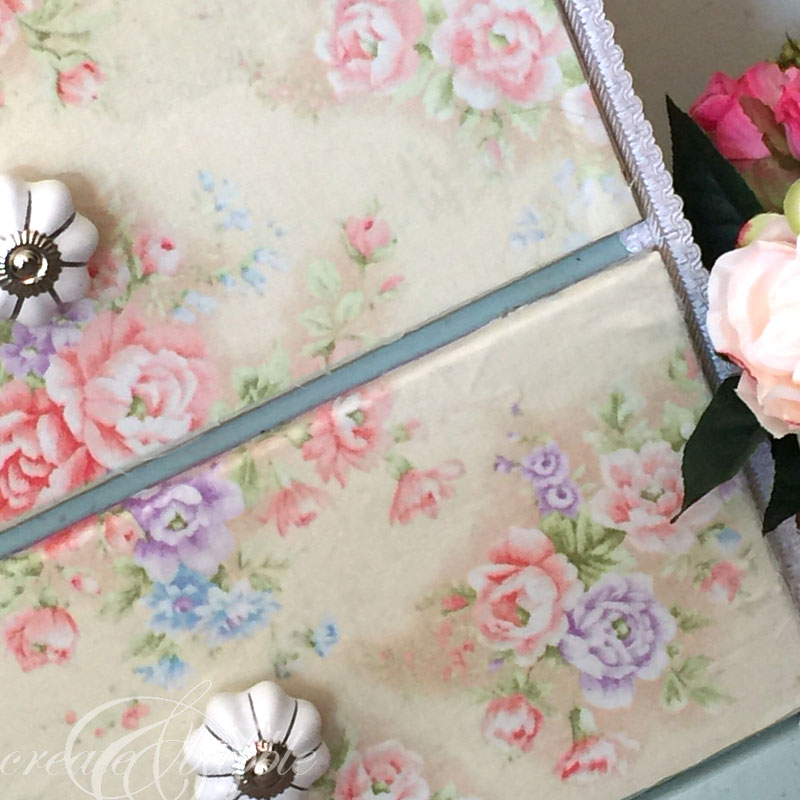 I hot-glued a pretty trim to the edges and added the pretty drawer pulls that I got from D Lawless Hardware. Aren't they just perfect against that fabric! I love 'em!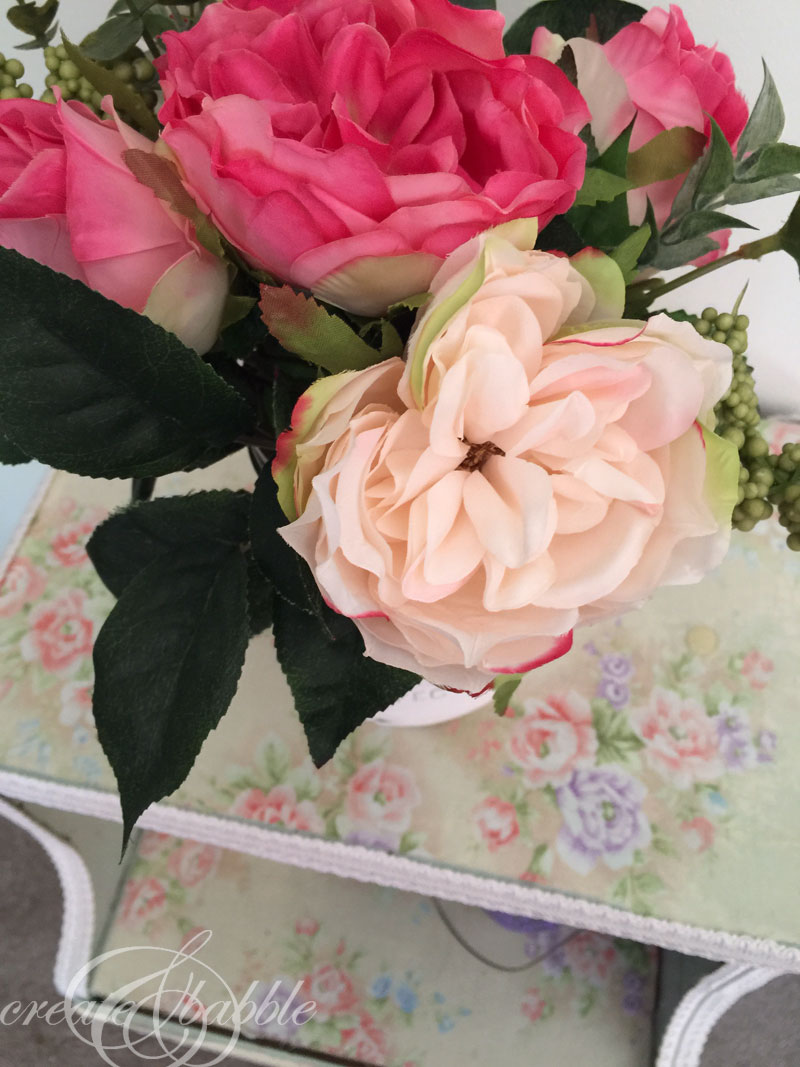 I love how this night stand turned out with the vintage-looking floral fabric.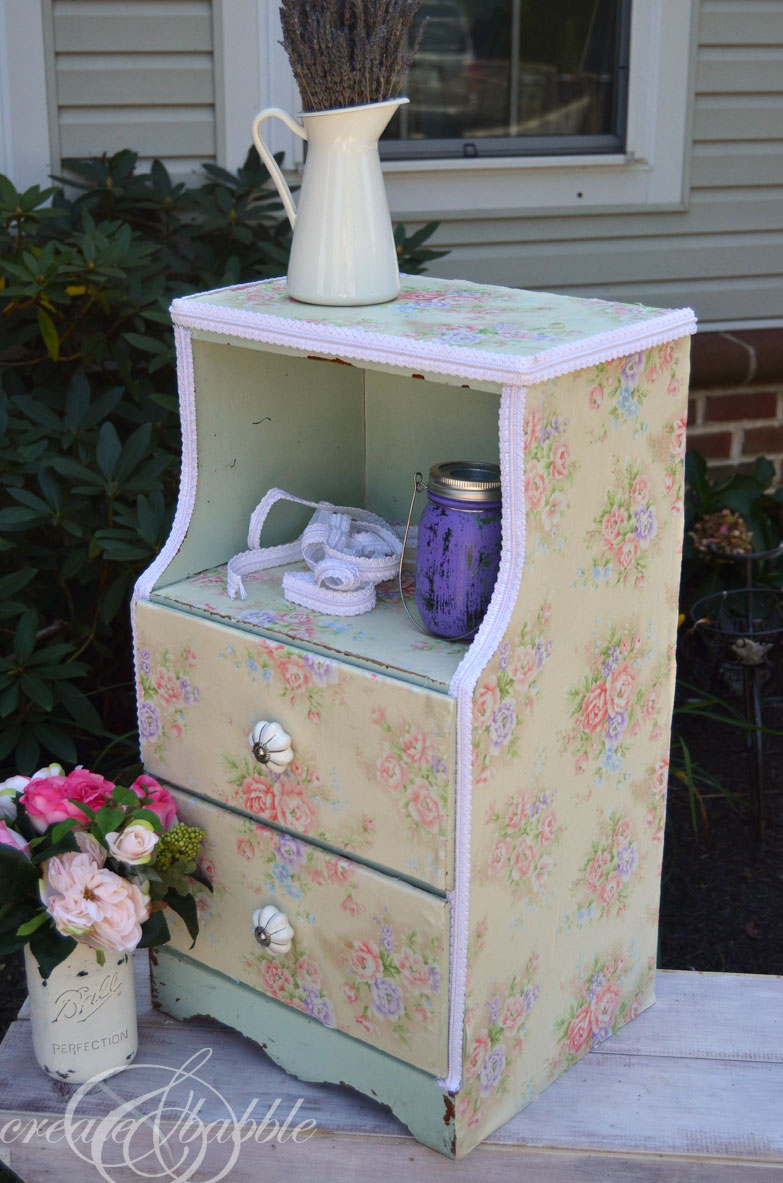 And the trim and drawer knobs were the perfect icing on the cake!
A huge thank you to D Lawless for the complimentary hardware!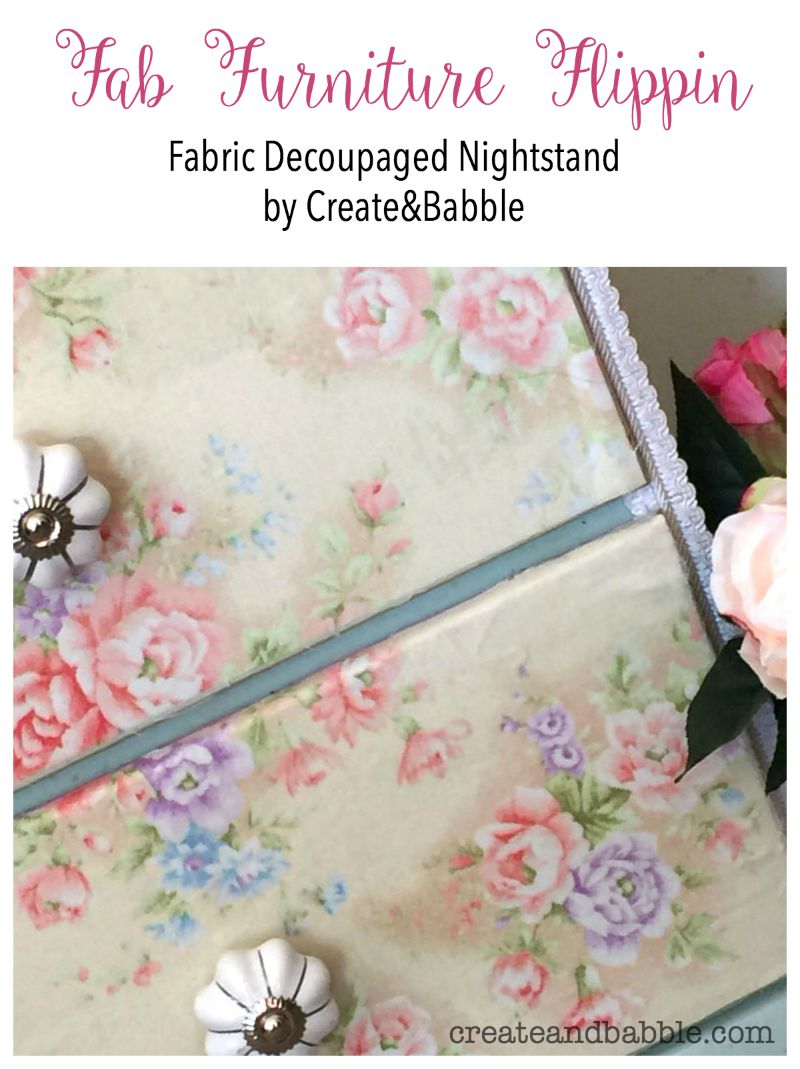 If you like this nightstand makeover, I'd love YOU if you would Pin it!  Thank you so much!
Please visit the hosts of the Fab Furniture Flippin' Contest and check out all of the other amazing projects!
Evey's Creations
Anastasia Vintage
Ciburbanity
Fern Avenue
Thirty-Eighth Street
Dandelion Patina
Sharing at Shabbilicious Friday, Feathered Nest Friday,