When my friends asked if I was interested in participating in a blog hop about Christmas Tablescapes, I thought: "why not?". I love looking at pretty Christmas Tablescapes. They inspire me to create an inviting, pretty, but practical dining space. I also love joining in with my blogging friends and it's been so long since I have done a blog hop. One of the last ones was this Christmas Tree Ornaments from last year.
Five Pretty Christmas Tablescapes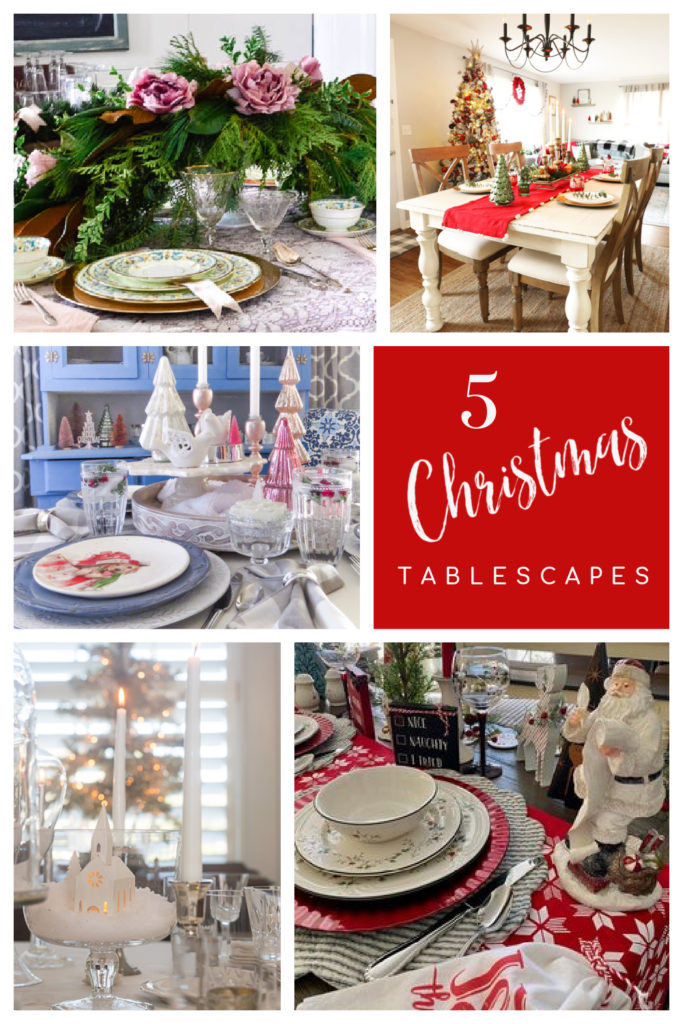 Take a look at mine:
I know what you might be thinking. Ah, Jeanie …. there are only two place settings on this little table. Right you are! It's 2020 and it looks like it's going to be just Dan and me for Christmas Dinner this year. And also since it's 2020, Dan has been working from home since March. And since I am currently occupying the two extra bedrooms with my office in one, and my chalk room in another, his only choice was to set up his work-from-home-space on the big farmhouse table.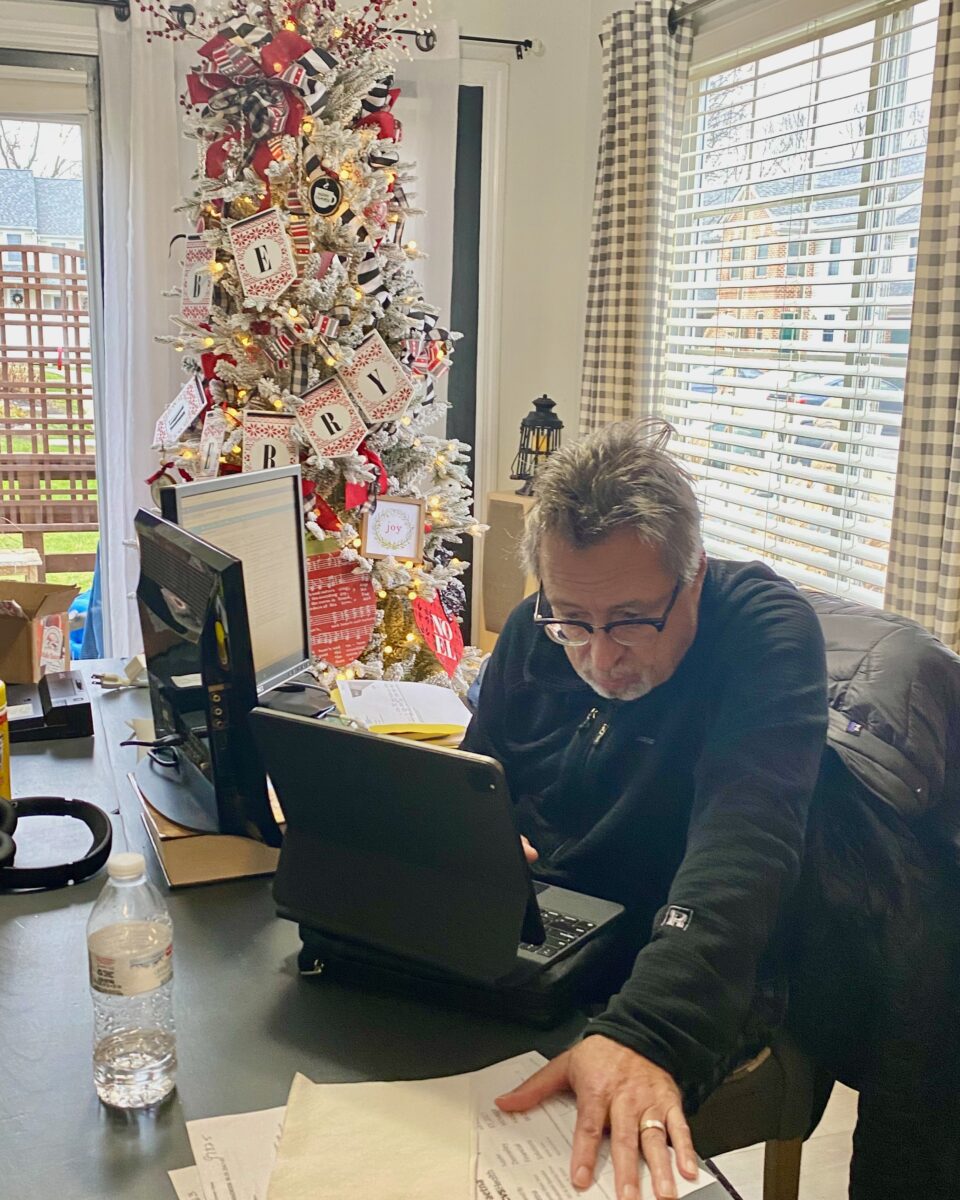 Dan kindly offered to move his computers but I thought that since it's going to be just the two of us for Christmas dinner, we will most likely eat where you usually do. At the coffee table. We got one of those "lift-top" coffee tables and it's perfect for the two of us.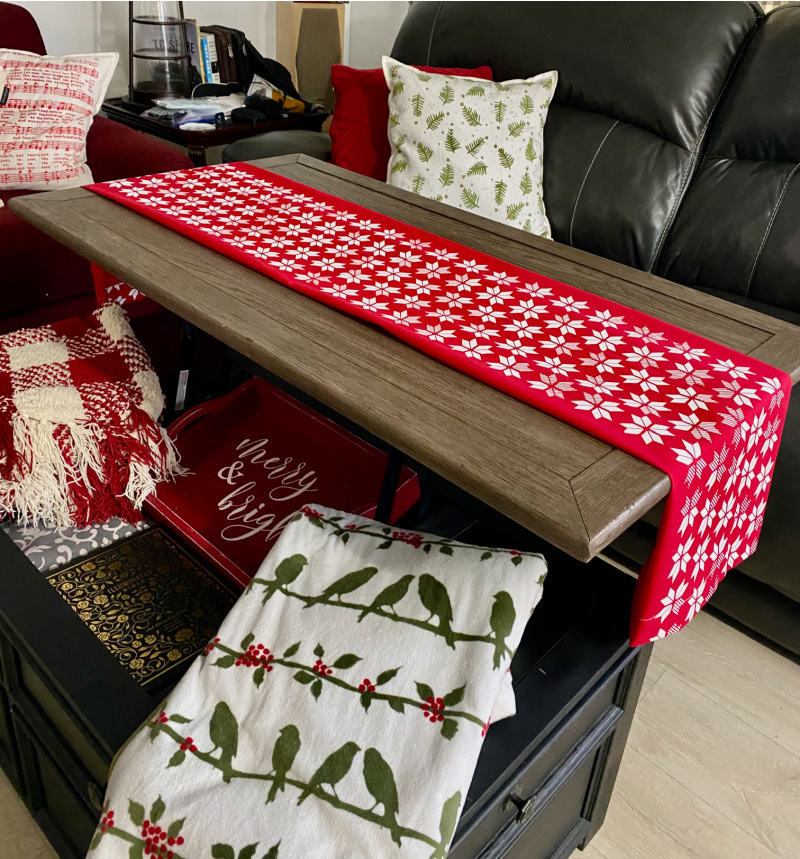 I started by placing a table runner that I made using red cotton fabric that I had inked on a quilt star pattern using a reusable adhesive stencil from Chalk Couture and white ink. (If you are unfamiliar with this technique, please visit my Facebook page. I am on "live" just about every day with crafting how-to's and ideas.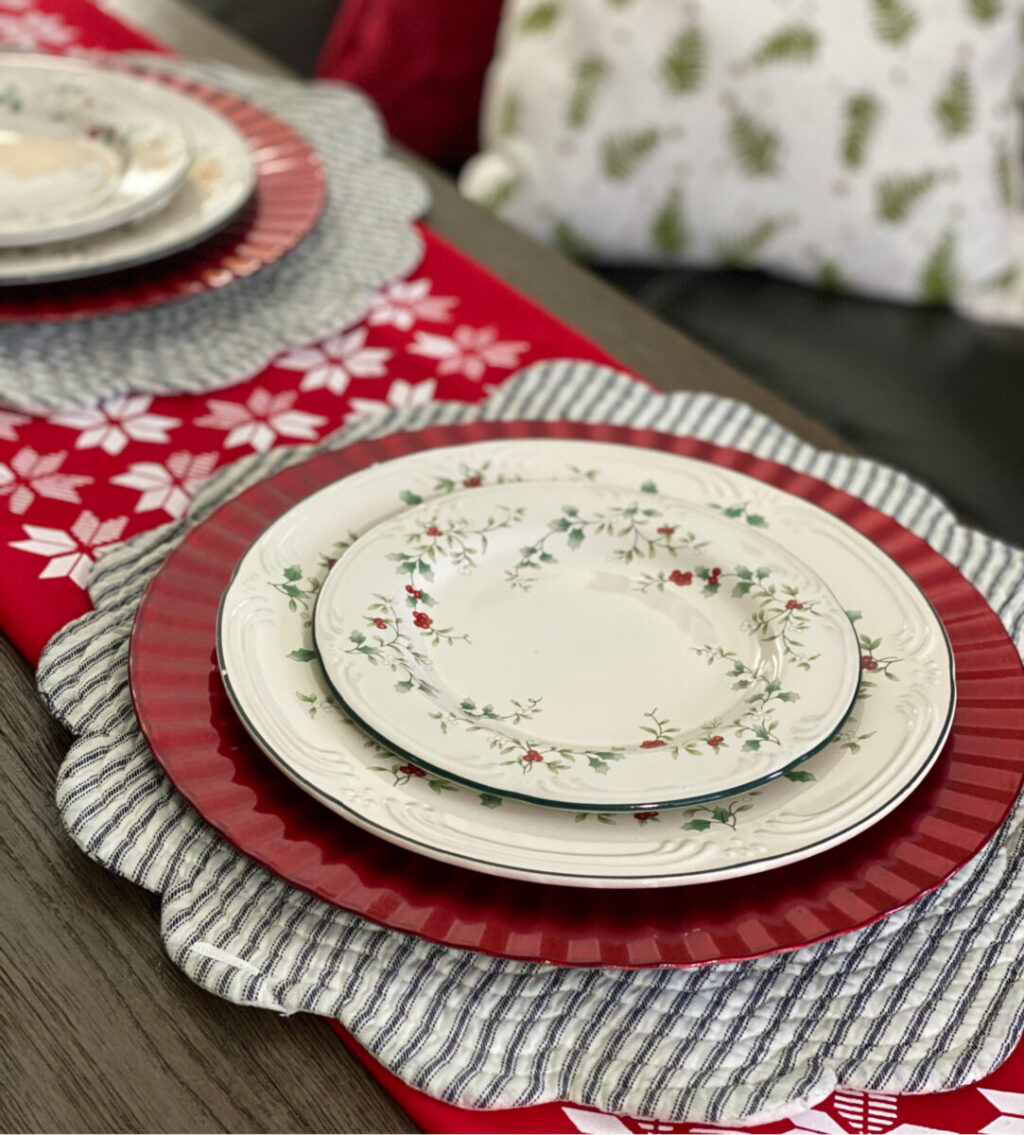 Next, I add placemats, red plastic chargers, and my Christmas dinnerware. The dishes are part of the Winterberry collection by Pfaltzgraff. Then I just started adding a few of my favorite things.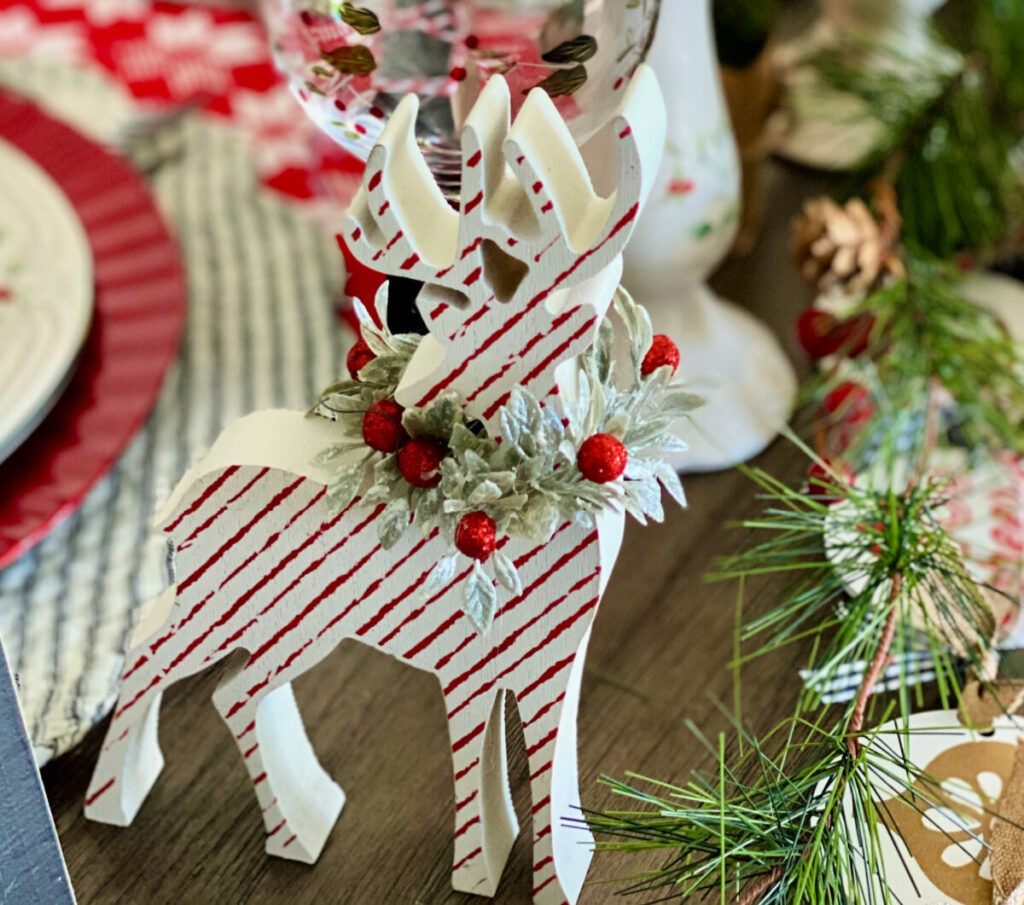 I made a lot of my own Christmas decor using my favorite crafting products from Chalk Couture. Like the wooden reindeer …..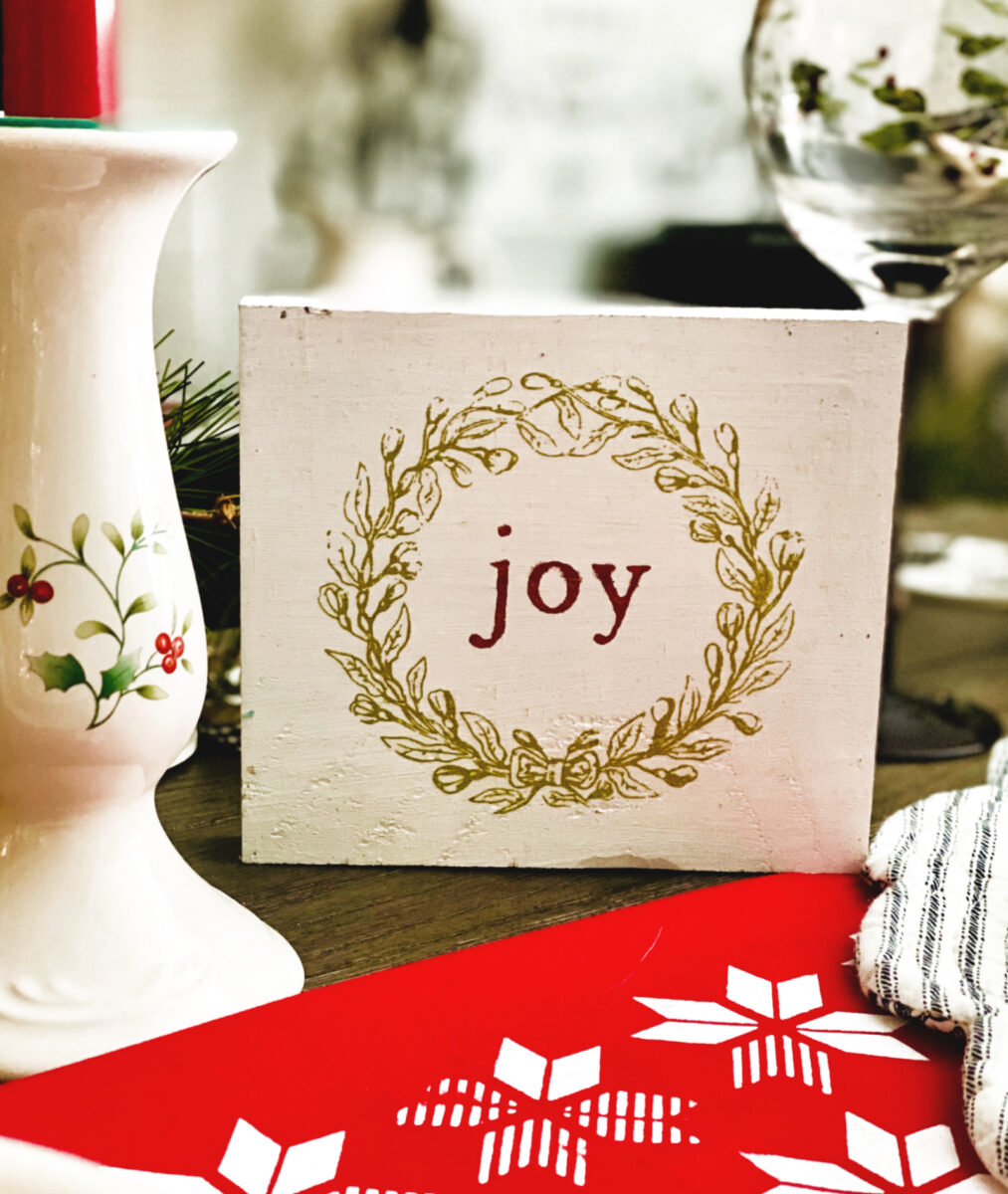 . . . and these cute shelf-sitters. I added my favorite Santa figurine who is busy checking his list.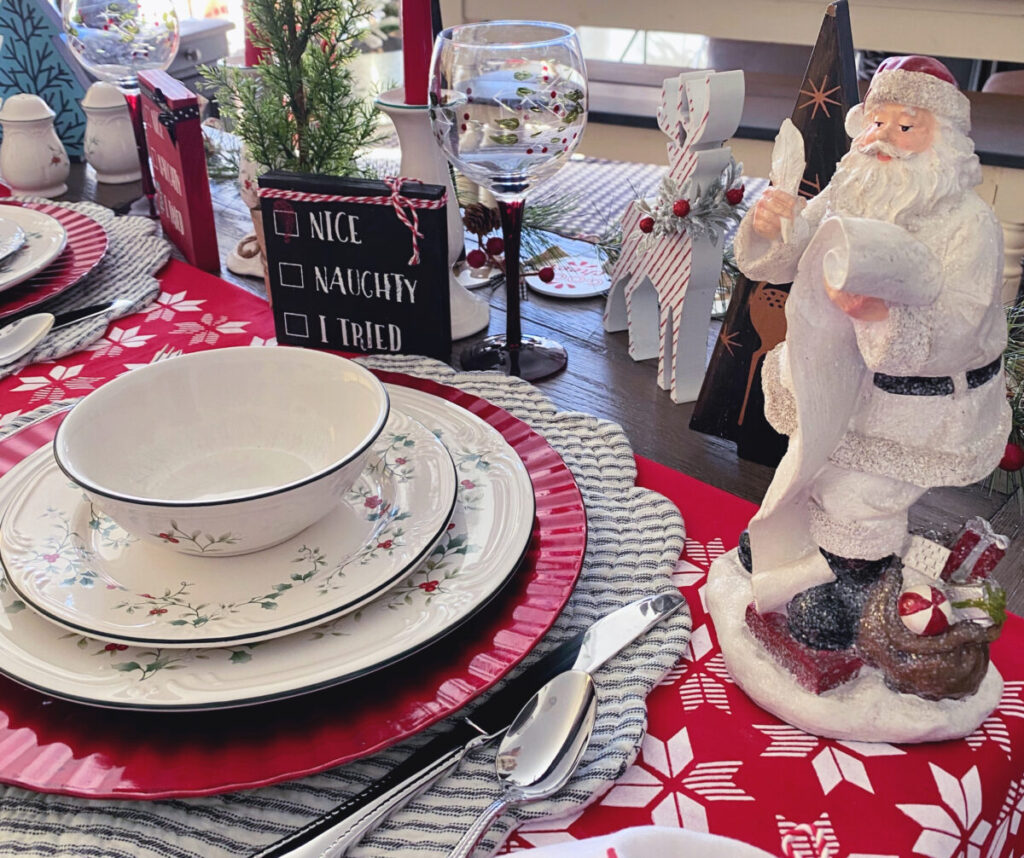 As you can see, my husband has been nice, hahaha! Me, well, I try!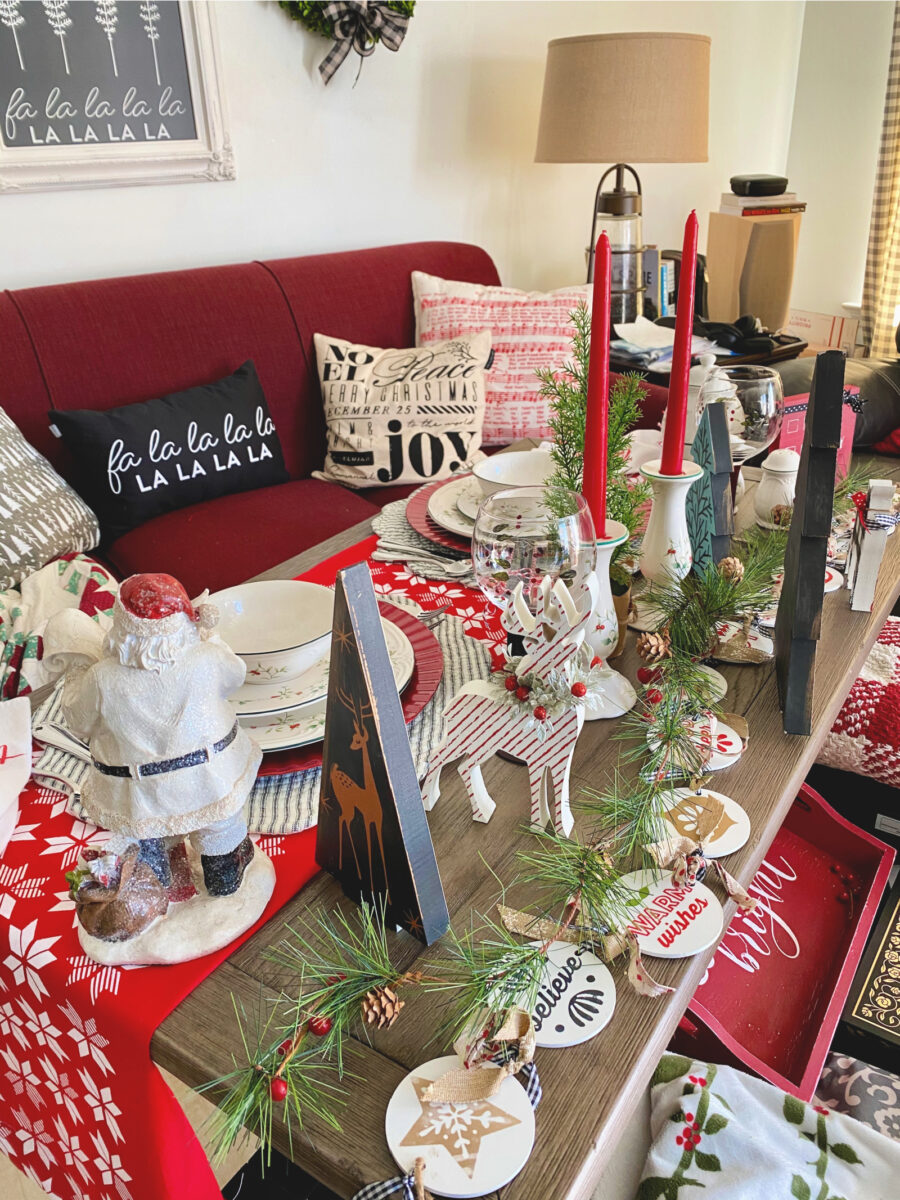 I finished it off with some chalked wooden trees, a garland made of ribbon and chalkable chips that I made last year, and some greenery. To make it extra cozy, I added the pillows to the sofa. And yes, I made those covers too using Chalk Couture reusable stencils and permanent ink.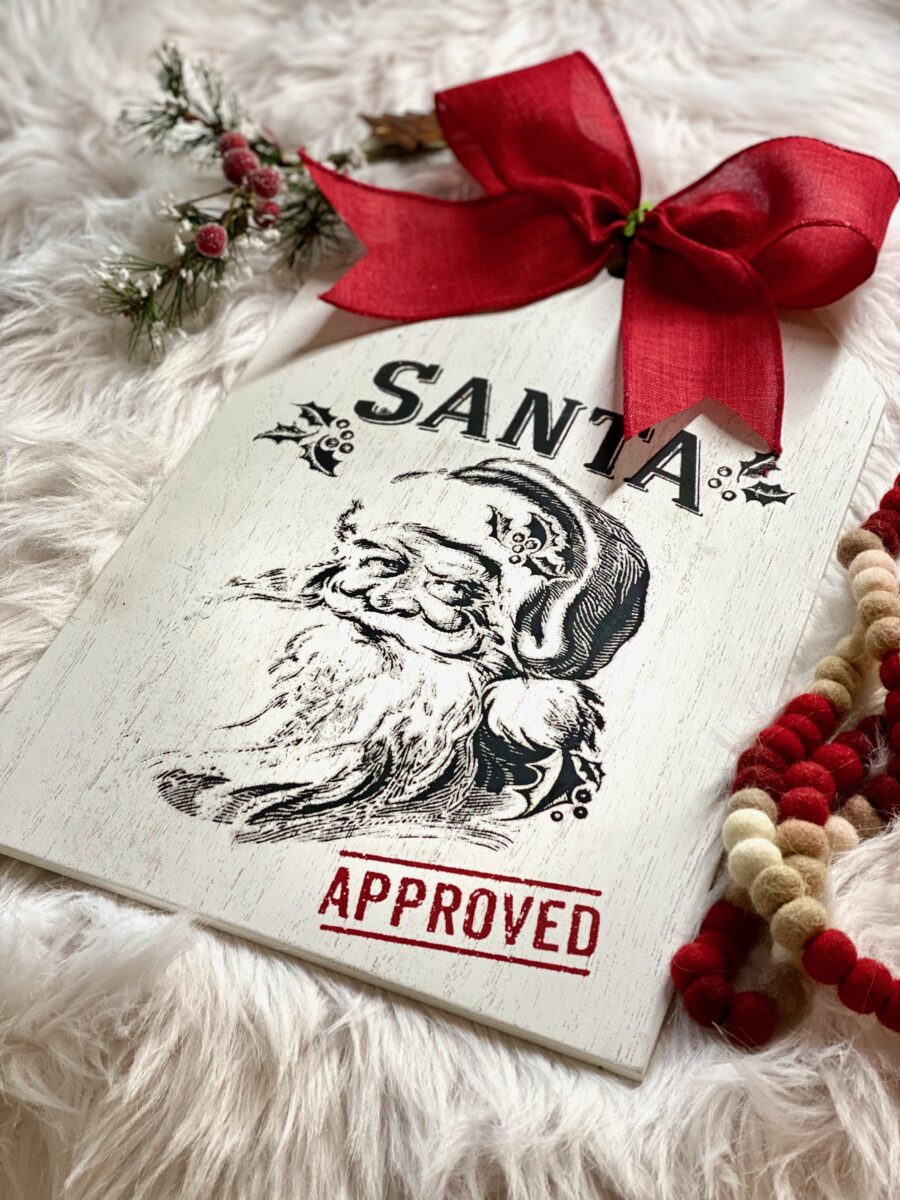 Even Santa approves!!!
Please follow the recommended guidelines and have only your household members at your Christmas table this year. If that means it's just you, or just you and your spouse, you can still make it special. Even if it's only on TV trays or the coffee table in front of the television. It can still be special and you'll get to be with your extended family for Christmas next year. Let's all just practice social distancing, wear our masks when we go out, and wash our hands frequently so that 2021 is a better year for all of us!
Please click on my friends' posts at the bottom of this article for even more inspiration.
4 MORE CHRISTMAS TABLESCAPES TO INSPIRE YOU THIS SEASON
HAPPILY EVER AFTER ETC * WEEKEND CRAFT * RED COTTAGE CHRONICLES * NOURISH & NESTLE