I am excited to take on the challenge of posting ideas for you to use this holiday season for the next 12 days!
Some of these projects you may have seen before here on Create & Babble and some are new. And if you're new here, they will all be new! So sit back, relax, and pick up some wonderfully creative ideas for you, your family, and your home this Christmas season!
---
Welcome to the third annual 12 Days of Christmas Blog Hop!
Stop by every day from December first through the twelfth for new ideas you can use to make your season brighter!
Meet Your Hosts
They have all been busy as Elves creating, decorating, cooking and crafting tons of new ideas for you to try this holiday season!
Shirley~Intelligent Domestications I Alli~An Alli Event I Michelle~Our Crafty Mom I Marie~DIY Adulation 
Erlene~My Pinterventures I Beverly~Across The Blvd. I Debra~Shoppe No. 5 I Victoria~Dazzle While Frazzled
Megan~C'mon Get Crafty I Michelle~Michelle James Designs I Amanda~Domestically Creative
Deborah~Salvage Sister & Mister I Jeanie~Create & Babble I Sherry~Olives & Okra
Jenny~Cookies Coffee & Crafts I Emily~Domestic Deadline I Bonbon~Farmhouse 40
Leanna~Of Faeries & Fauna I Pam Larmore~P.S. I Love You Crafts I Kelly~North Country Nest I Marie~The Inspiration Vault
Gail~Purple Hues and Me I Lynne~My Family Thyme I Karen~Dragonfly and Lily Pads I Trisha~Blowing Away Out West
Tomika~Life In Pumps I Rachee~Say it, "Rah-Shay" I Lorrin~Embrace The Perfect Mess 
Jaime~Love Jaime I Serena~The Weekend Jaunts I Terri~Christmas Tree Lane I Jessica~A Southern Mother 
Sam~Raggedy Bits I Cyn~Creative Cynchronicity
Valeria~Val Event Gal I Yami~The Latina Next Door I Jeannee~Centsably Creative I Tania~Little Vintage Cottage
 Lauren~Wonderfully Made I Vanessa~DIY 180 I Kimberly~A Wonderful Thought I Kim~Everyday Parties I Erica~Erica Ever After
Dru~

Polka Dot Poplars
---
Here are two of my favorite handmade ornaments from this year and from a Christmas past:
These DIY GLITTER ORNAMENTS are a favorite and they "go viral" on Pinterest every single year!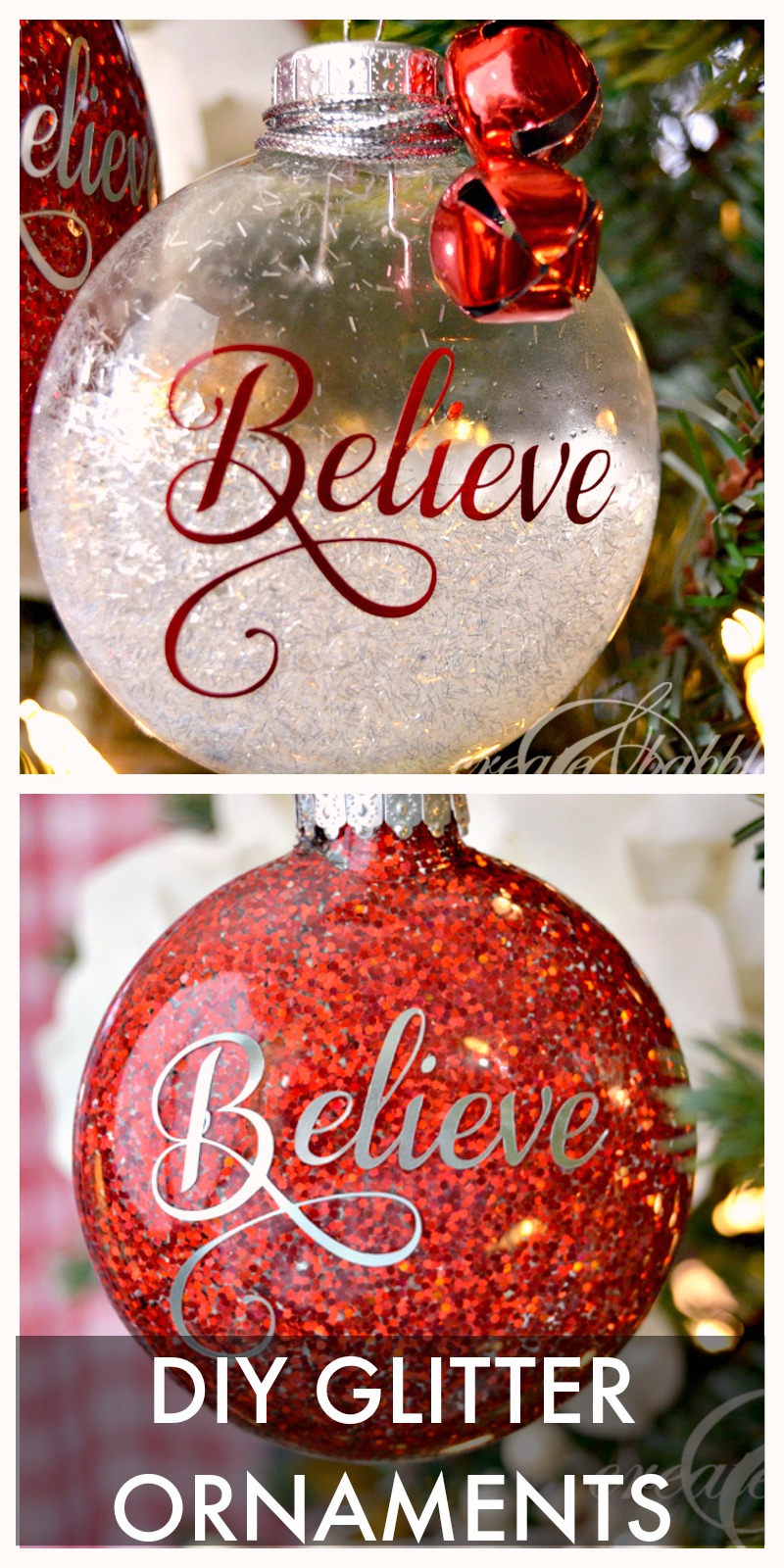 They are super simple to make. The kids can even join in on the fun.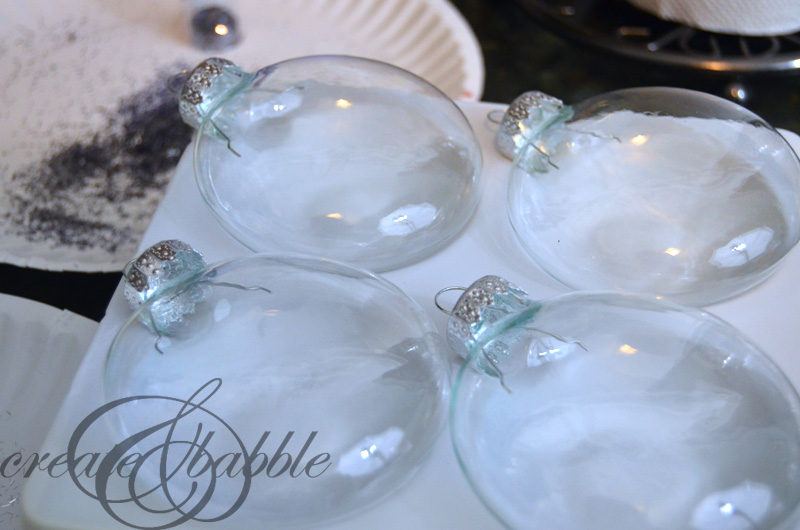 Just grab some clear plastic or glass ornaments and remove the caps.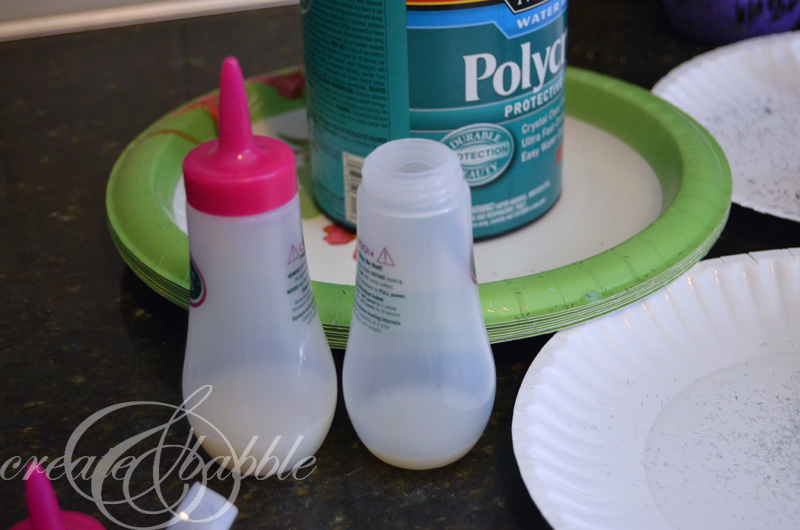 Fill some squirt bottles with a little bit of Minwax Polycrylic.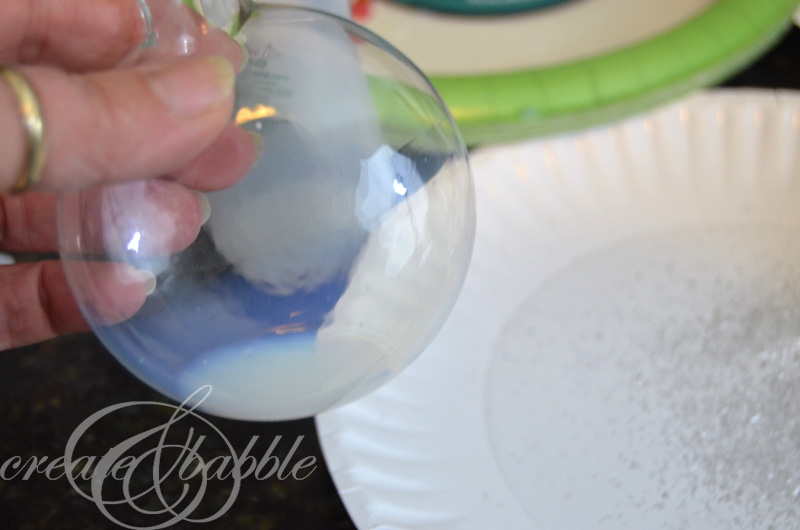 Squirt in a few drops of the Minwax Polycrylic and roll the ornament around to coat the inside. I covered then entire ornament for some, and only halfway up on others. Just remember, a little Polycrylic goes a long way.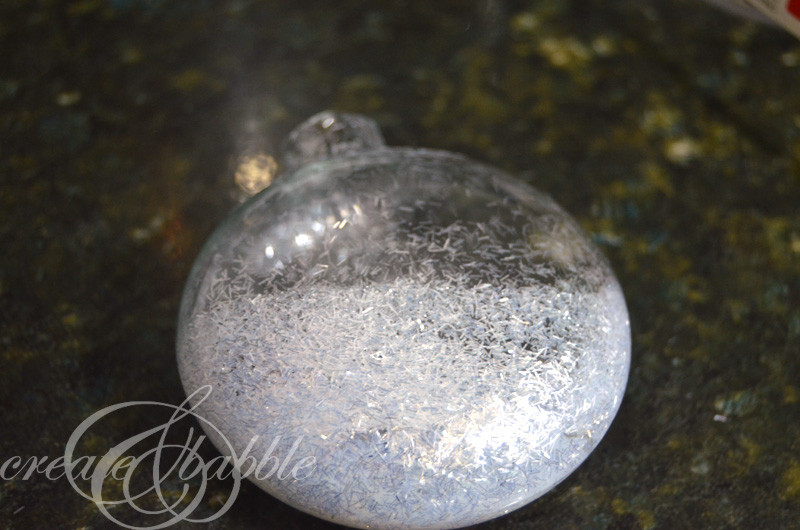 Next, just pour in the glitter, put your thumb over the opening, then shake. Dump out excess glitter onto a paper plate.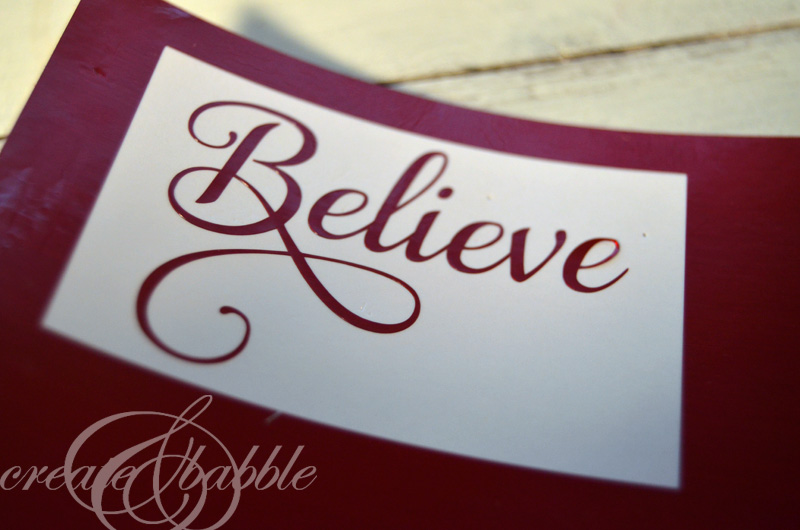 Now glittered ornaments are fine just plain and glittery. But I couldn't stop there. I enlisted the aid of my trusty Silhouette® Cameo and cut out the work "believe" from some shiny vinyl and also from Silhouette's printable silver foil.  I used the Samantha font with a fancy, scrolly "B".

I also tied two red, shiny jingle bells to the neck of the ornaments with some pretty silver cording.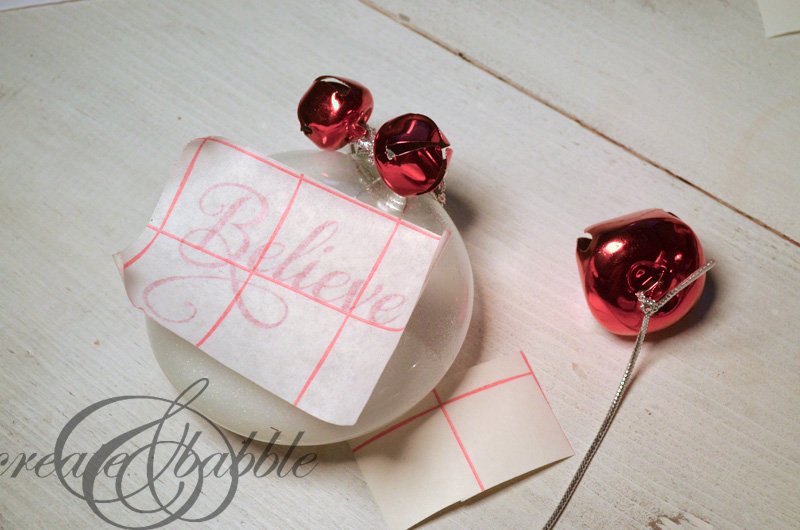 Lastly, I applied the vinyl shape onto the ornament with transfer paper.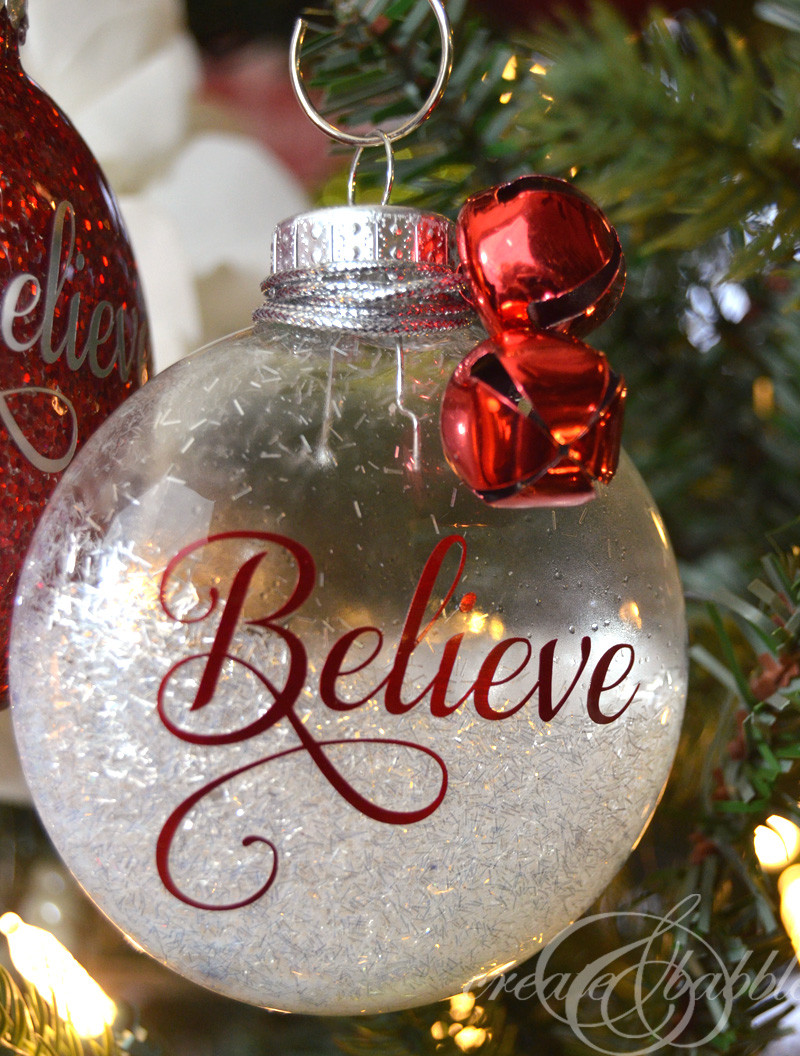 This ornament is filled halfway with a flaky white and silver glitter . . .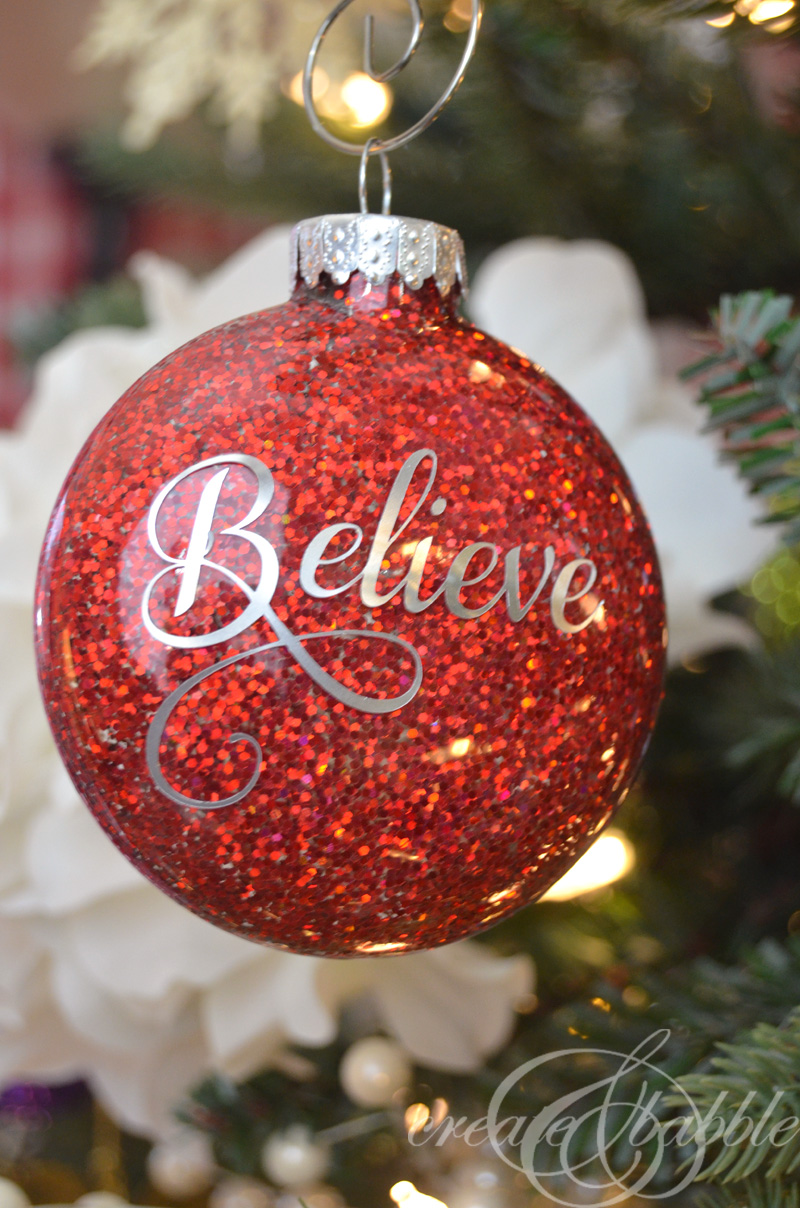 . . .  and this one is filled all up all the way with red glitter and the word shape was cut from the printable silver foil.
I have to say that the printable foil weeds so easily! And because it's thicker than vinyl I could remove it from the backing without using transfer paper.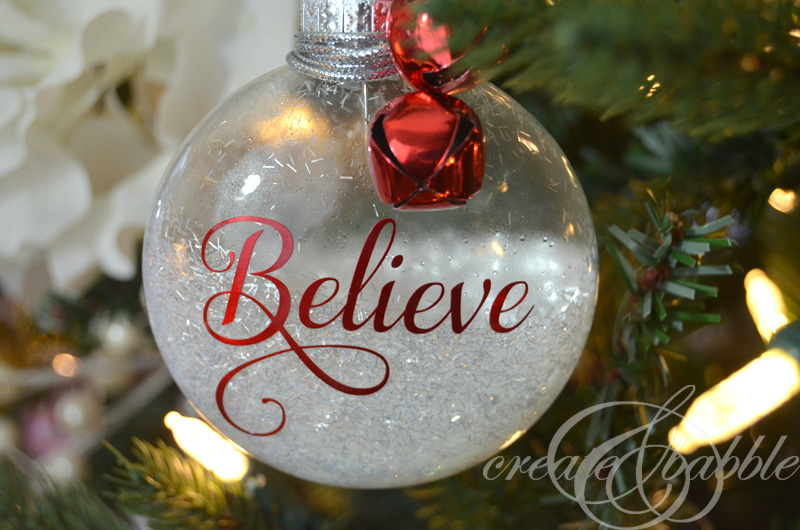 You may also like these Rae Dunn-inspired ornaments too!
---
Be sure to visit our fellow 12 Days of Christmas Bloggers below for even more creative ideas this holiday season!