Hello friends and welcome to the first Dollar Store Design Squad challenge.
Today's project for the Dollar Store Design is not really a project at all. Not unless you consider opening up four boxes of inexpensive ornaments and dumping them into a $1 plastic bin a project.
But it did solve a problem.
Here was my decor problem.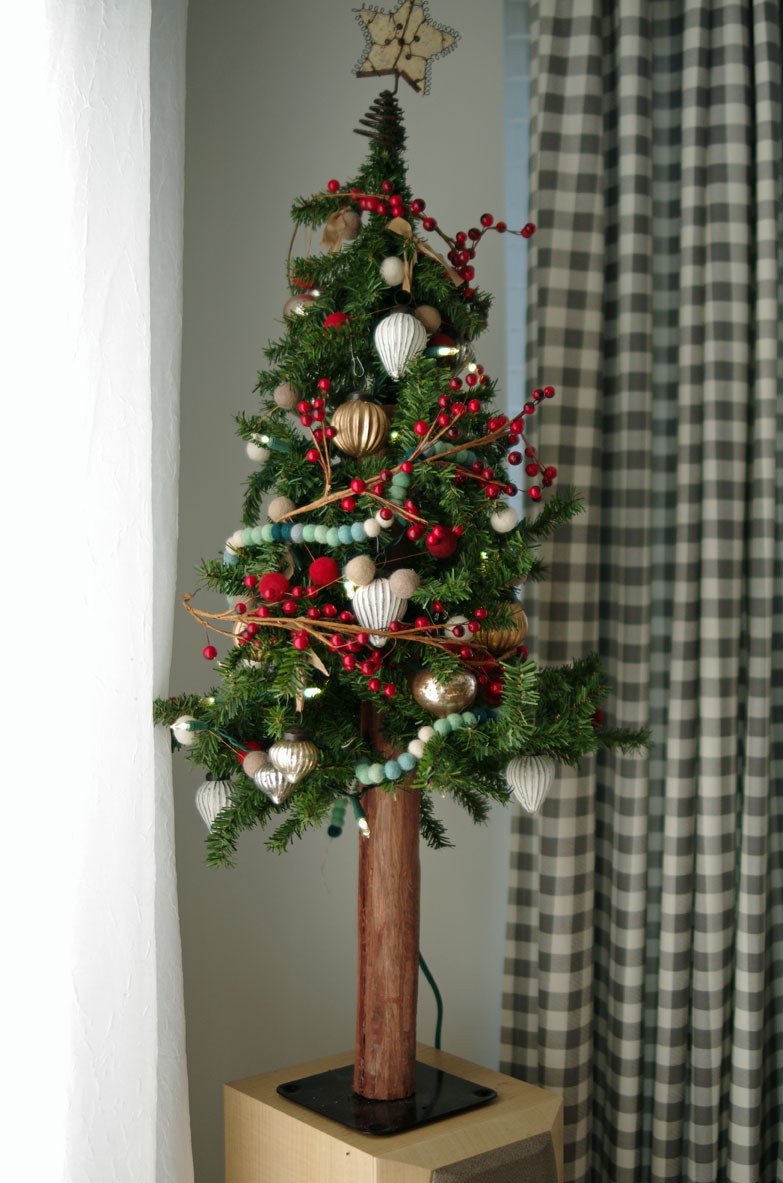 An artificial tree with an ugly base.
This tree needed to be anchored in something. But what? A basket? No. A wooden box? Yes, I guess I could build a wooden box. But I was looking for a quicker solution.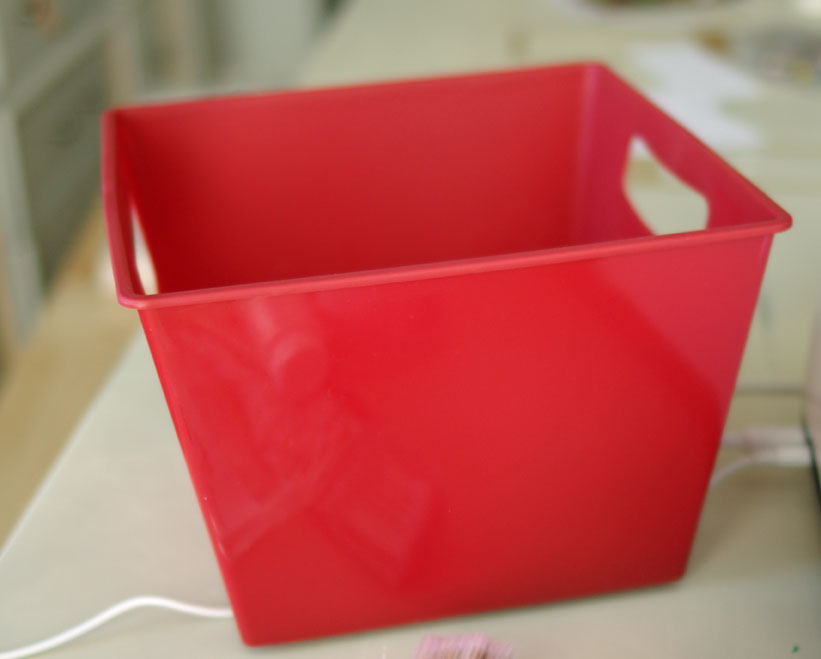 So I looked around and saw this red plastic bin that I had picked up at the Dollar Tree. This bin was not slated for any specific use. I bought it 'cause it was a dollar. And I liked it.
I promptly lifted up the tree and inserted it into the plastic bin. It was a perfect fit.
But it needed something. Something to fill the bin. Then it hit me! How about a bunch of ornaments that coordinate with the ornaments on the tree?!? Brilliant.
And pretty. And inexpensive. I got two boxes of small ornaments and two boxes of larger ornaments. First I bunched up a wad of bubble wrap and placed that in the bottom of the bin and then poured in the ornaments. Big ones first!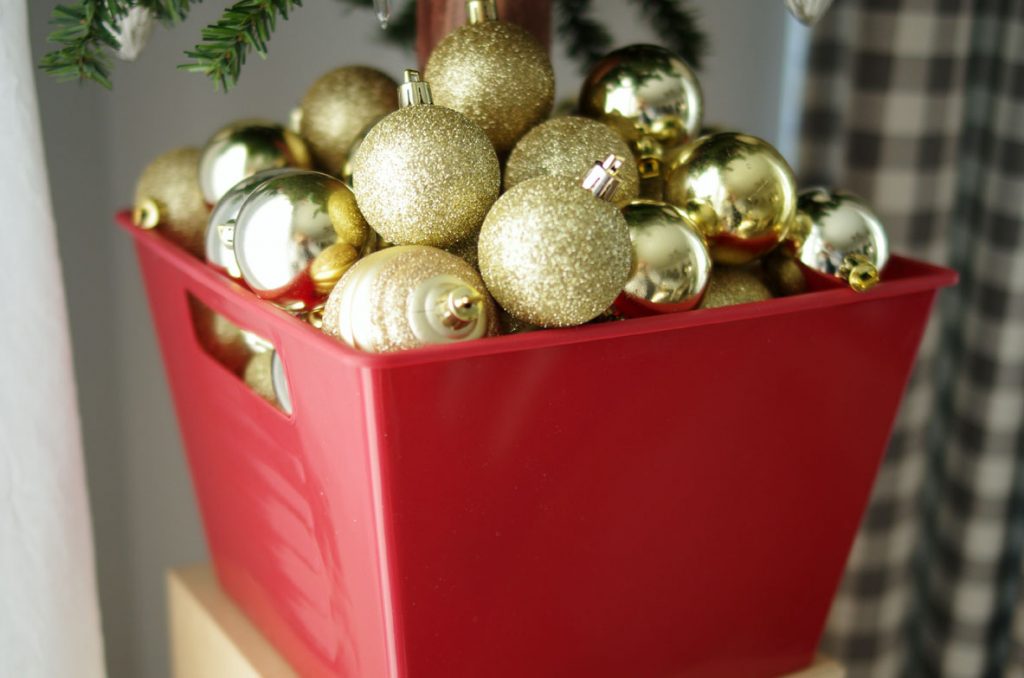 I love how it looks. What do you think? Sometimes you just have to think outside the box to find a quick and inexpensive design solution. Dollar stores are wonderful resources for such solutions!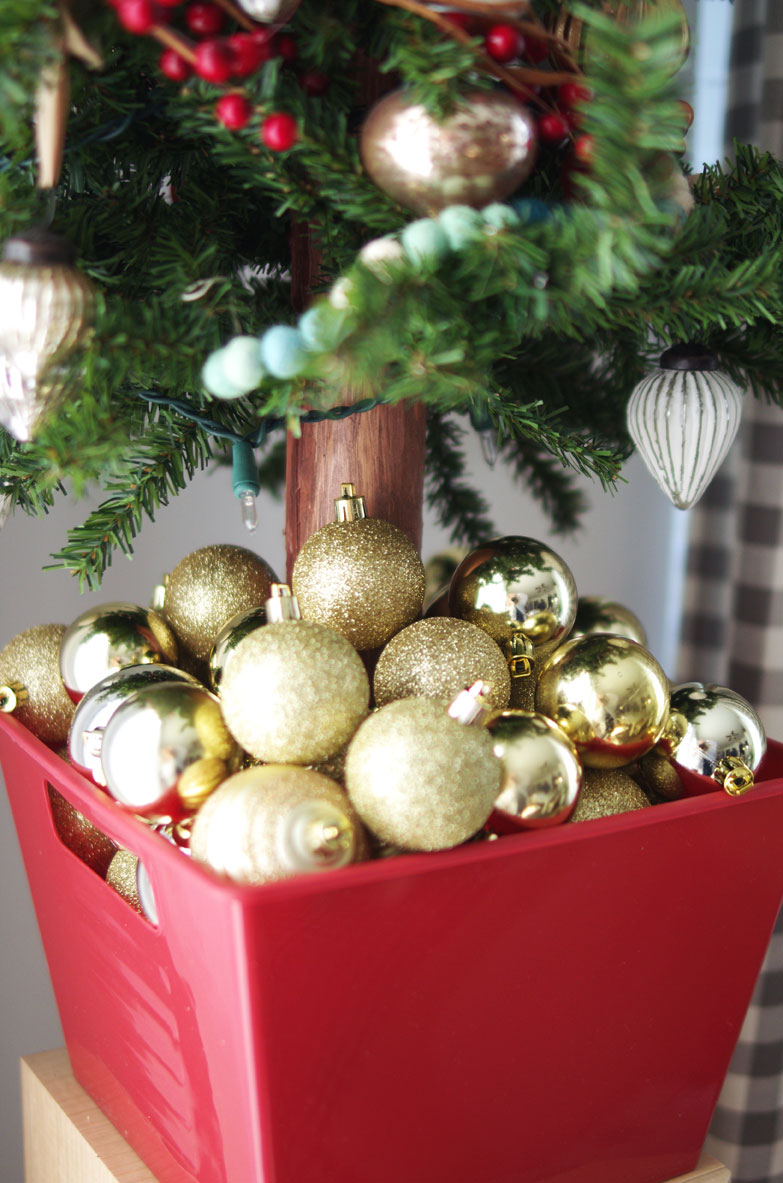 I'm looking forward to sharing more Dollar Store Design ideas with you every other month with some of my favorite bloggers.
Now let's see their Dollar Store Design ideas:
Dollar Store New Year Eve's Decorations Mad In Crafts
Dollar Store Bathroom Tray The DIY Bungalow
Hot Chocolate In a Jar Gift Idea The Country Chic Cottage
Dollar Store Nutcracker Makeover The DIY Village
Dollar Store Garland Christmas Tree My Repurposed Life
Dollar Store Christmas Tree Base Idea Create and Babble (you are here)
Pie Plate and Pizza Pan Snowman The Kim Six Fix
Gingerbread House Snow Globe Refresh Restyle
You may also enjoy these dollar store items ideas: