Ever since I've decided to embrace the color of my bedroom walls after I hacked my Ikea dresser, I want to re-decorate the entire room. Well, I guess it's not redecorate since I never really did anything to that room since I bought the house. It's high time, don't you think! Future plans include making a headboard, new linens, curtains…the list goes on and on. I'll wait until after the New Year to get started on all of that. But in the meantime I'm making small changes. Like this dresser mirror that I made with items from the dollar store.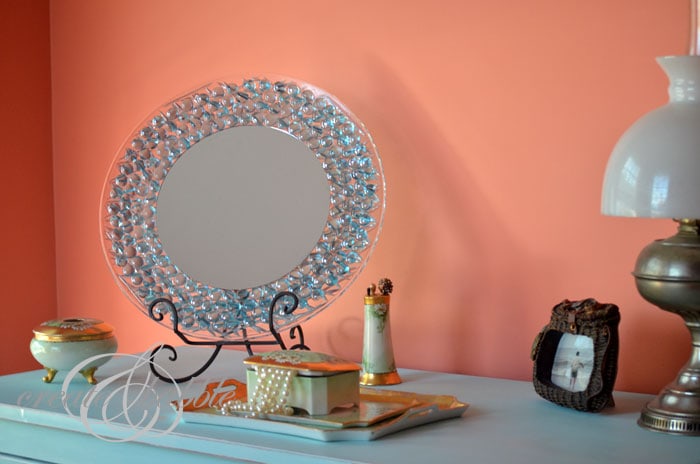 I was thrilled with how the dresser turned out but it was missing something: a mirror above it.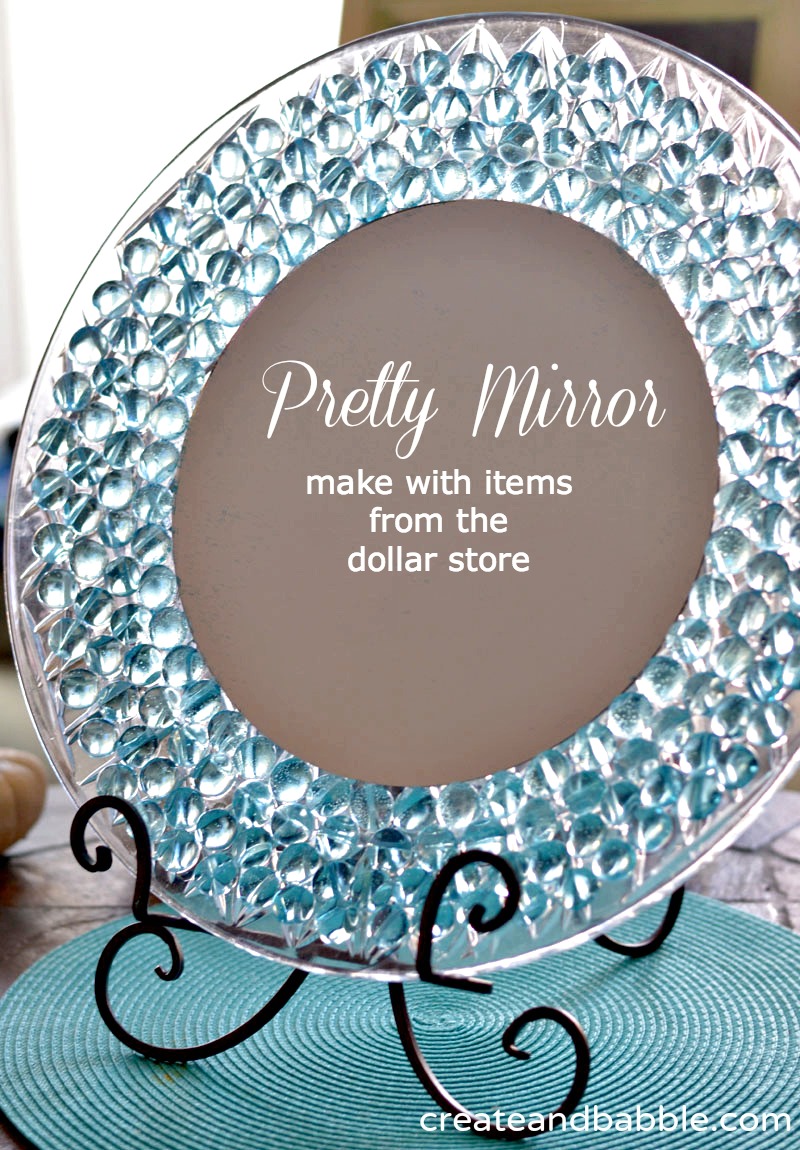 This post contains affiliate links.
Through a series of craft fails and happy accidents, I ended making the mirror using a cheap plastic tray (similar to these) that I keep in my craft closet as a template for large circles. The round mirror I bought months ago in hopes of jumping on the starburst mirror bandwagon, but I couldn't come up with an original idea! I've had the glass gems forever. I got the glass gems at my local dollar store, but you can also get them here.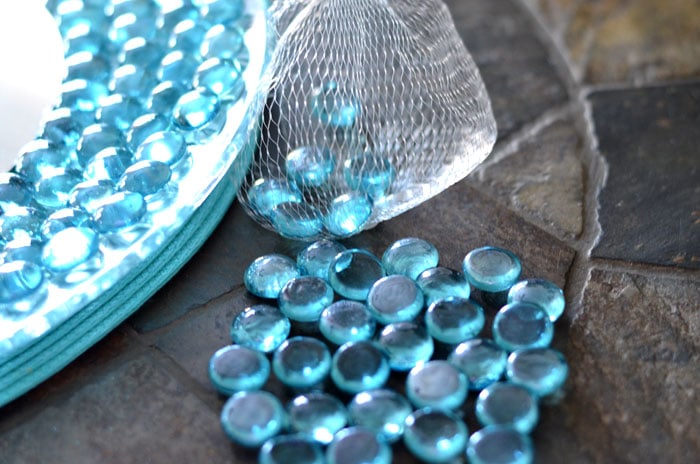 The mirror was incredibly easy to make. I just put it all together with E6000 glue and Glu6 Original and let it cure overnight before propping it up in the stand. I originally thought I would hang it on the wall, but because of all the glass beads on it, it's pretty heavy and it turns out that putting it in a plate stand works perfectly.
Materials:
I started by gluing the mirror to the center of the tray, then glued the gems around the mirror. I ended up with four rows of gems to fill the tray. I let it lay flat overnight for the glue to cure.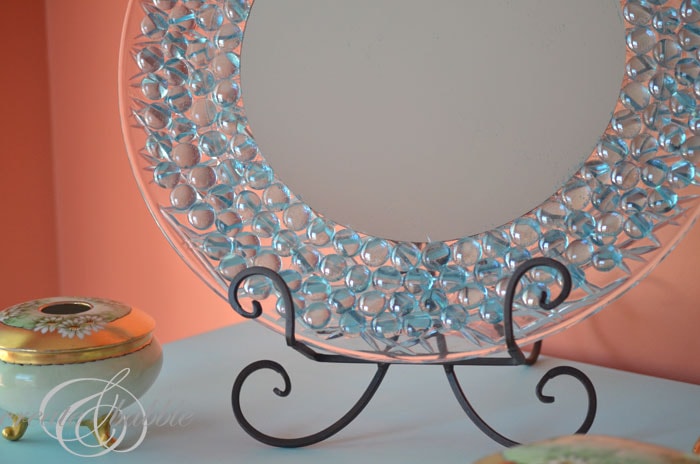 I had my doubts at first about how this would turn out, but I must say I love it! It looks great on my dresser and I think it adds just the right amount of sparkle and glam to my bedroom.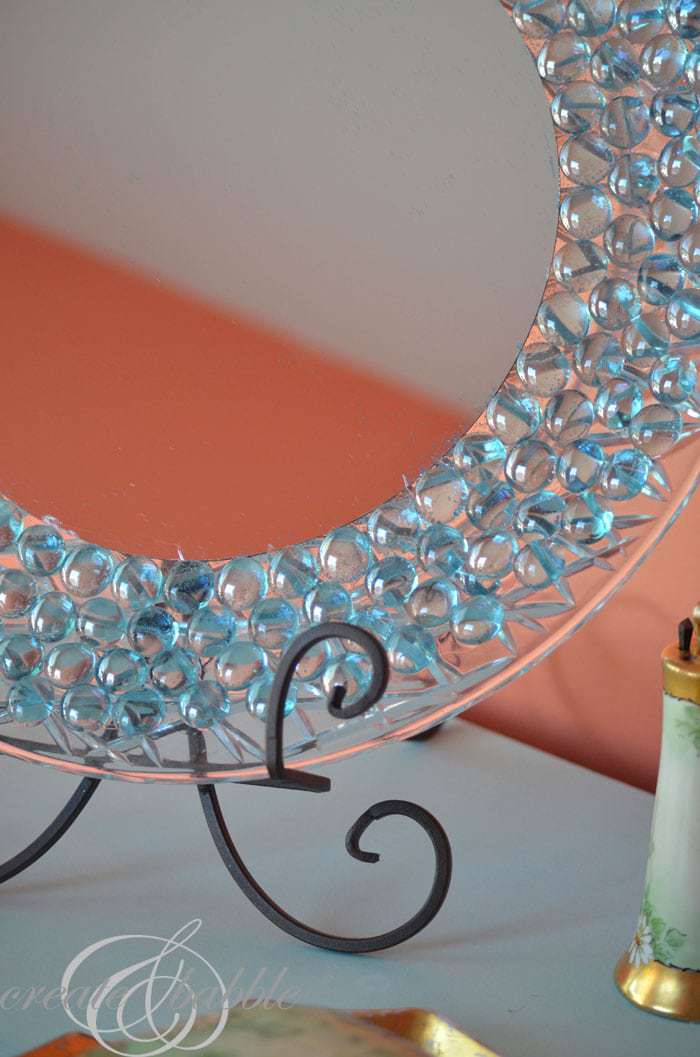 This post originally appeared on Or So She Says.

Looking for more dollar store crafts? You may like this pretty floral footed plate, fabric scrap wreath, or monogrammed eyeglass case.