Many of the products written about in this post have been given to me. The story and the opinions expressed within are my own. There are affiliate links in this post. Please see my disclosure policy here.
Welcome to our first annual Haven Conference SWAG Challenge!
What is a SWAG Challenge you ask???
Allow me to explain. Every year for the last three years I (and a bunch of other awesome DIY/Home bloggers gather in Atlanta for the Haven Conference. We talk, hug, eat, drink . . . oh and we also go to classes and workshops! And there are lots of wonderful brands that work with bloggers there. Brands like Ryobi, Osborne Wood Products, DecoArt, Amy Howard, Liberty Hardware, Moen, the list goes on and on.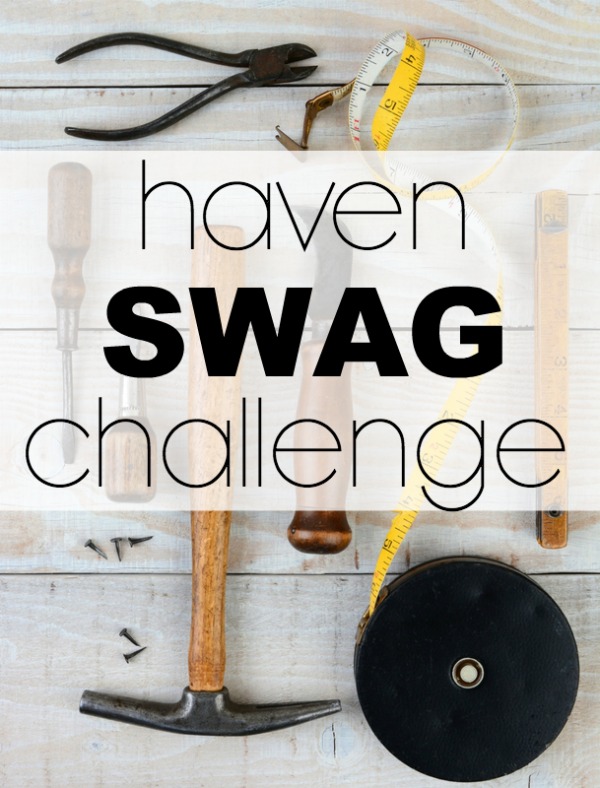 And these wonderful brands give us stuff. Stuff We All Get. SWAG!
There's a few problems with getting all this swag. And I use the word "problems" loosely. First you gotta get it home. And you know how picky the airlines can be about this sort of thing. There are weight concerns, are these tin snips a weapon concerns? And on and on.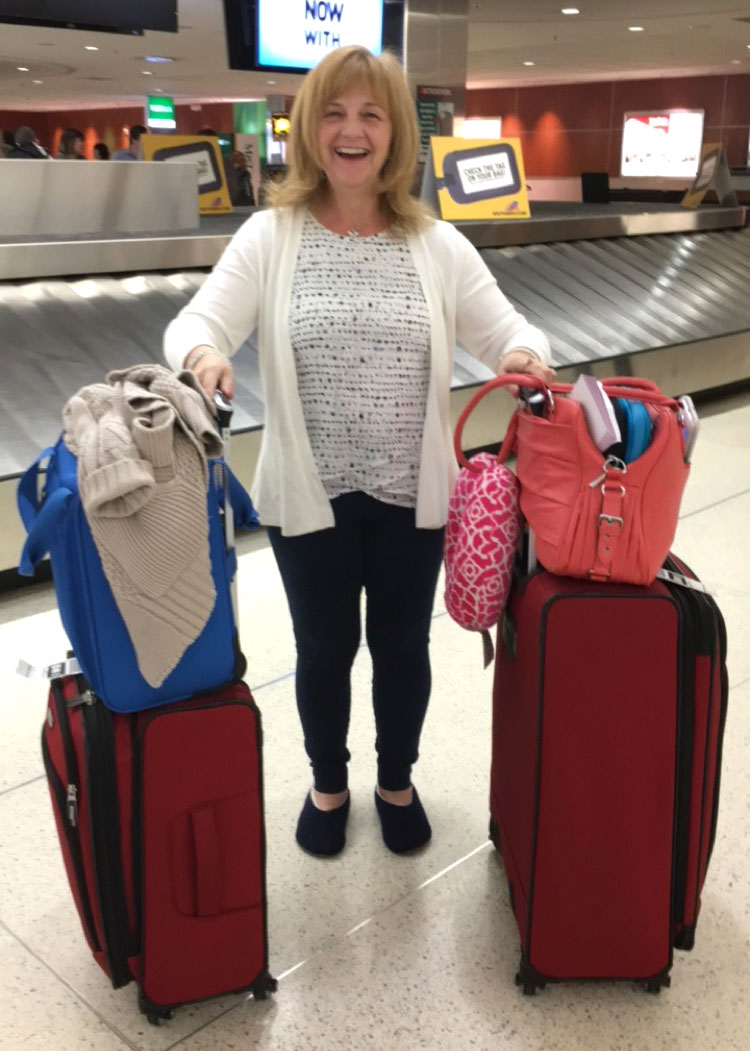 Then once you get it home then what? I've heard many a blogger admit to putting the bag of swag in a corner never to be seen or touched again. What????? That's just wrong!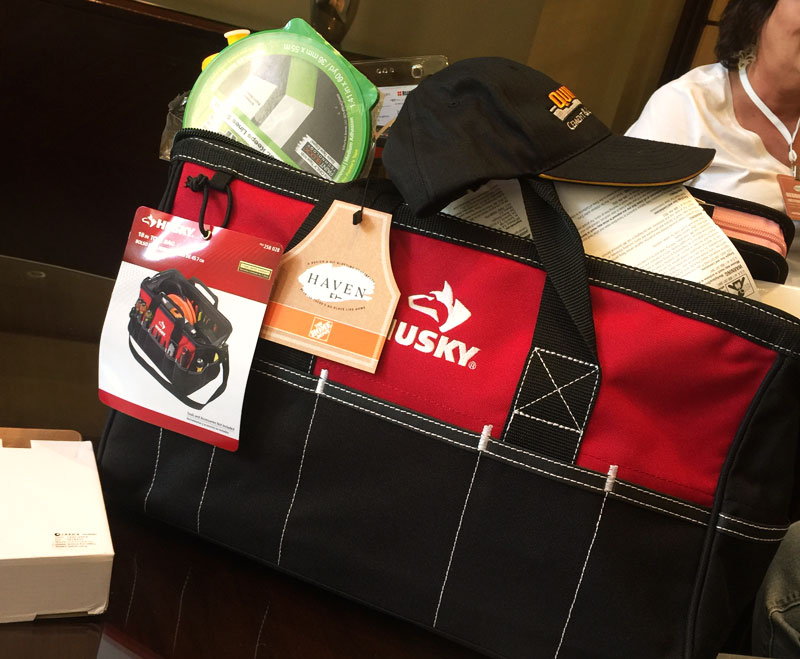 Not me. It may take me a while – some times over a year or more  (see the salvaged wood shelf as an example), but I use it eventually. Well most of it.
So I had this bright idea to encourage my fellow bloggers (and me) to use their SWAG. Make something with one or more SWAG items and let's show each other and our readers what we can make with a little thought, creativity, and a freebie or two (or more!).
What did I make? Two things actually.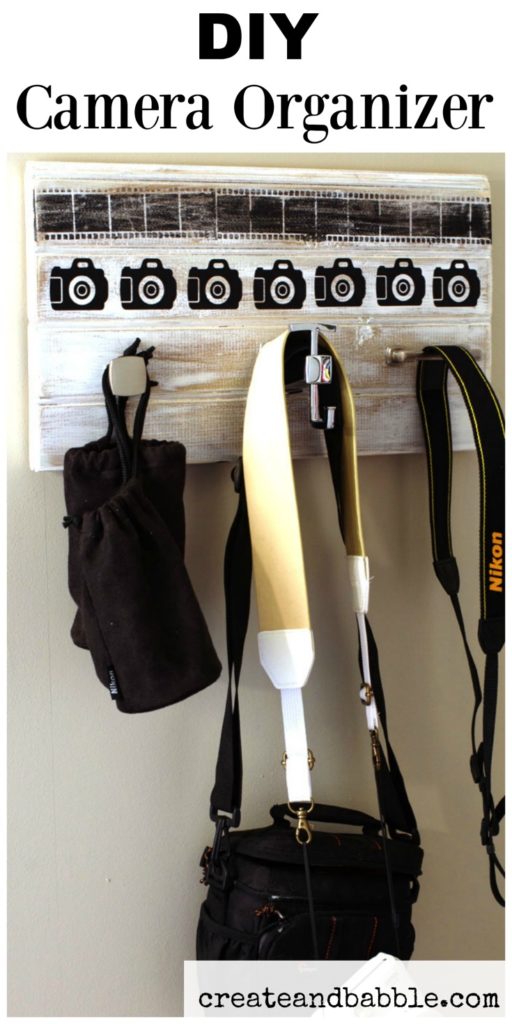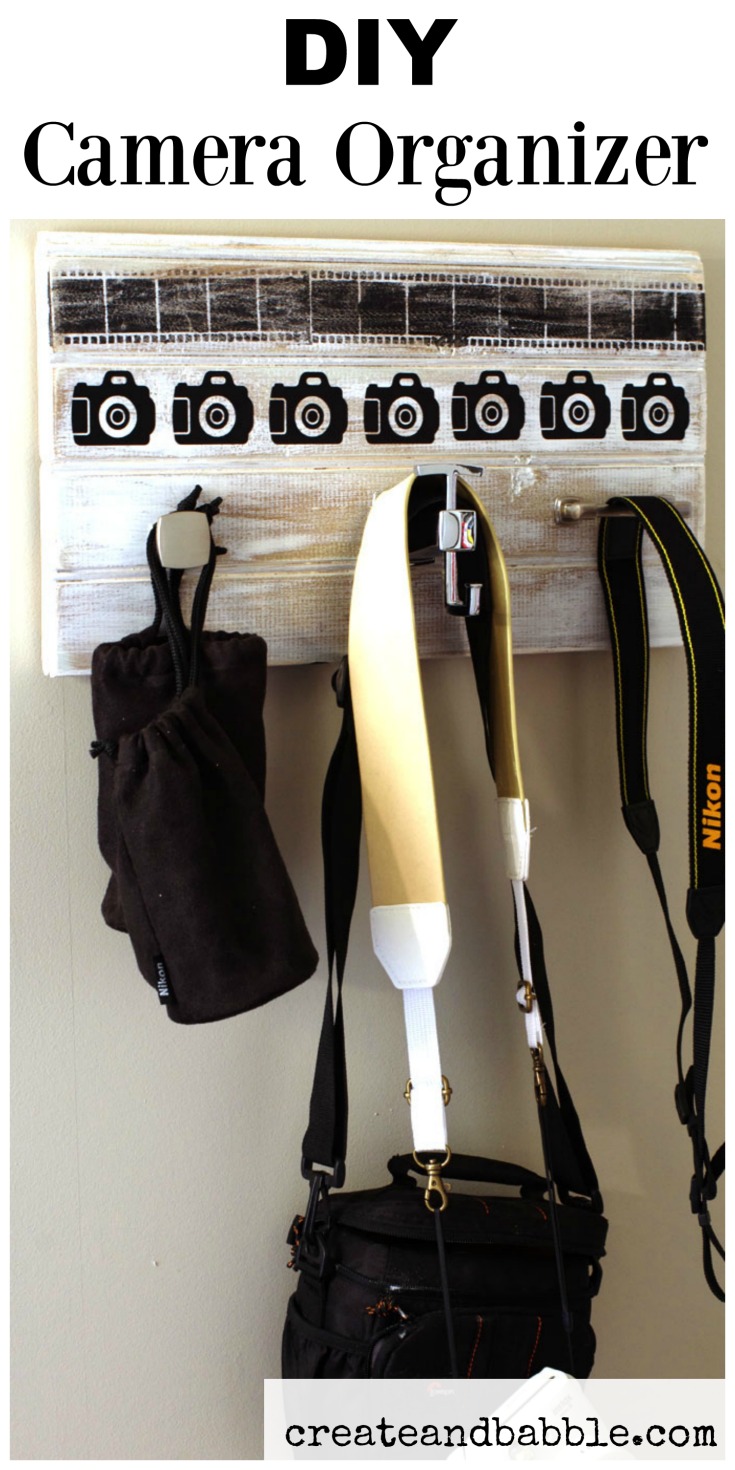 First I made this DIY Camera Accessory Wall Organizer. I needed this! I have a camera bag in every room of this house I swear! Okay, maybe not EVERY room, but still!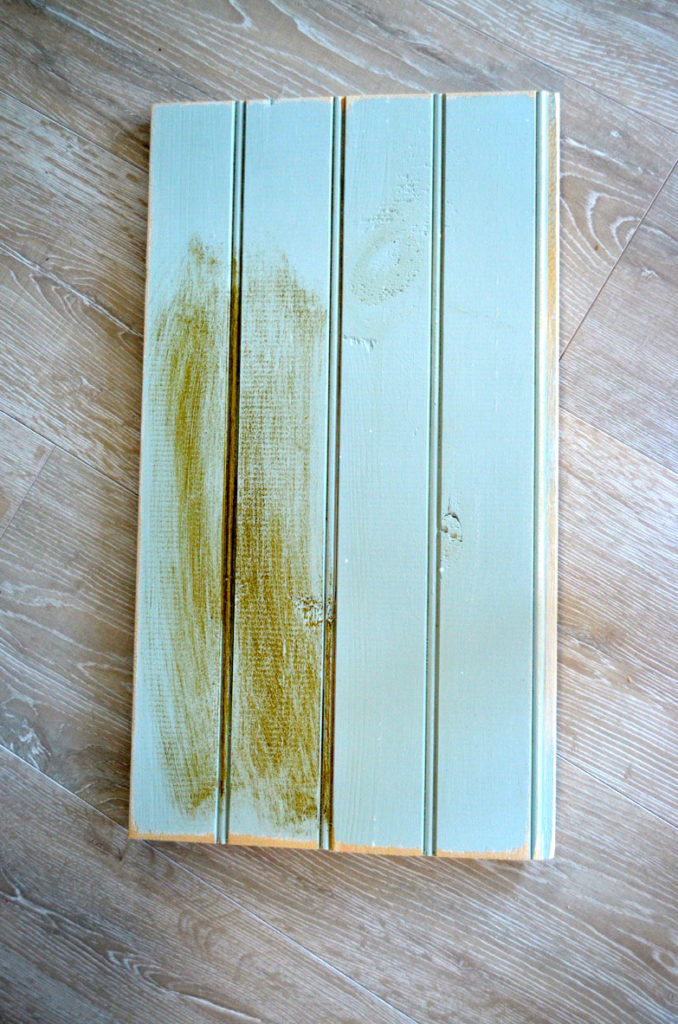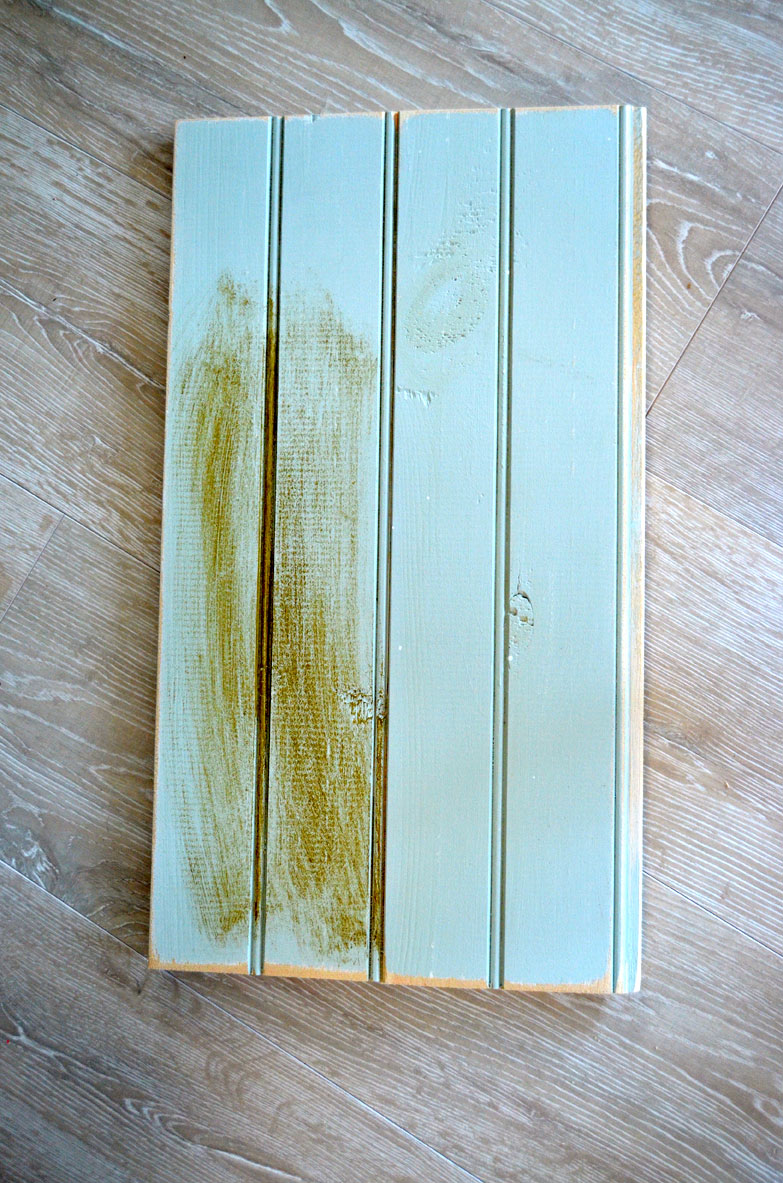 It was easy to make. I found some scrap tongue and groove wood in the basement. I cut two pieces to the same size with my Ryobi Miter Saw and then glued them together.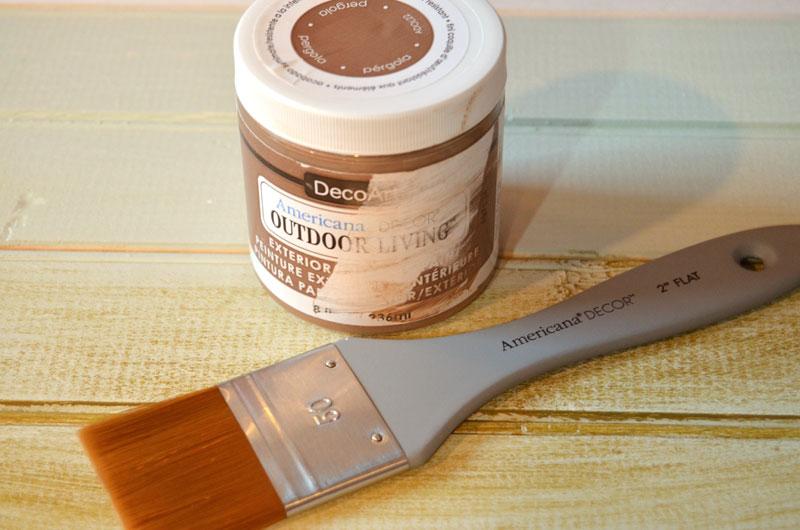 After the glue was dry I painted a base coat using DECO ART Americana Decor® Outdoor Living™ paint in Pergola.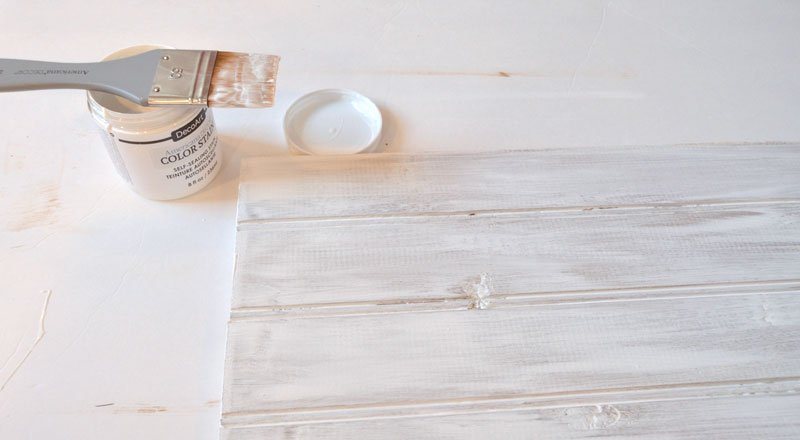 Once that coat of paint was dry, I brushed on a light coat of DecoArt Americana Decor Color Stain in White. When that layer was dry, I sanded it smooth using my Ryobi Sander.
Now it was time to add the hardware. SWAG hardware.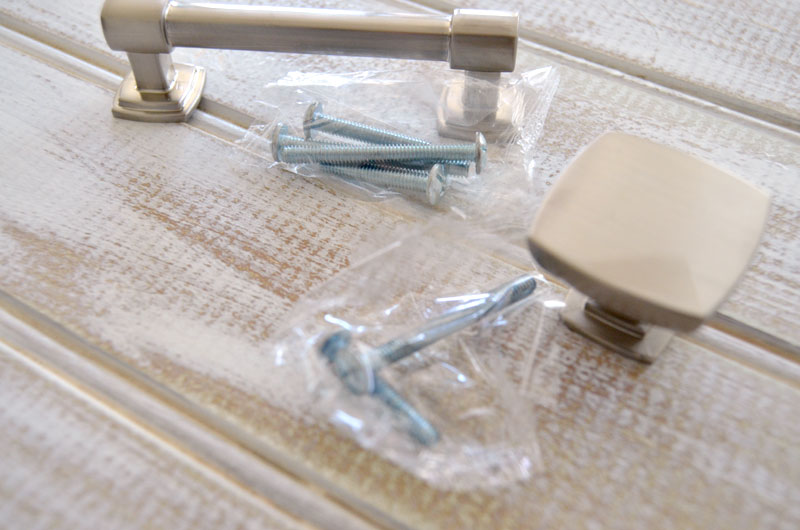 We received these two pretty pieces from Liberty Hardware . . .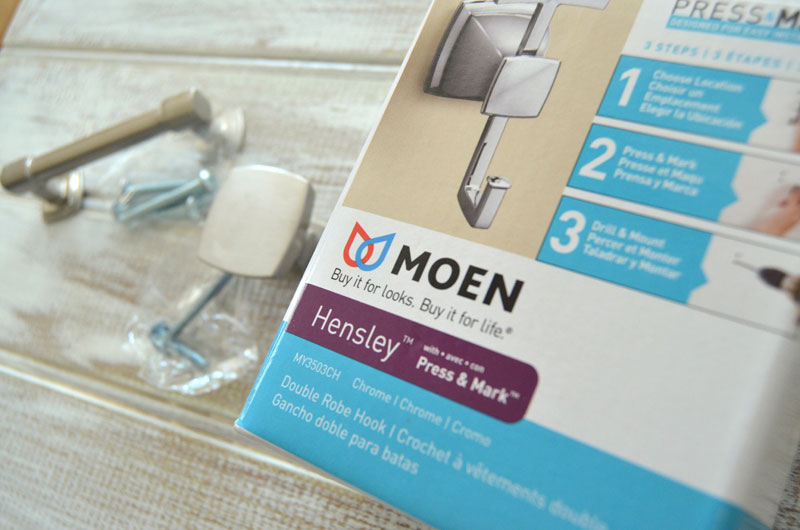 . . . and Moen gave us this Hensley™ Press & Mark™ Double Robe Hook.
I need to say that the Press & Mark™ is the best thing that has happened to bathroom hardware! So smart of Moen! You press down and it leaves tiny little marks so you know where to drill the holes – genius!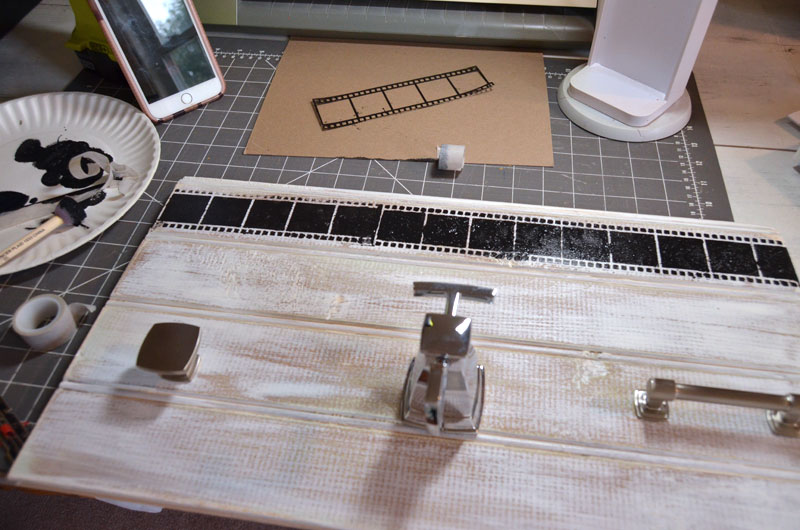 Okay, so once all of the pretty hardware was attached to the board, it was time to add the fun camera-like details. Otherwise it would look like a board with some random hardware on it, right?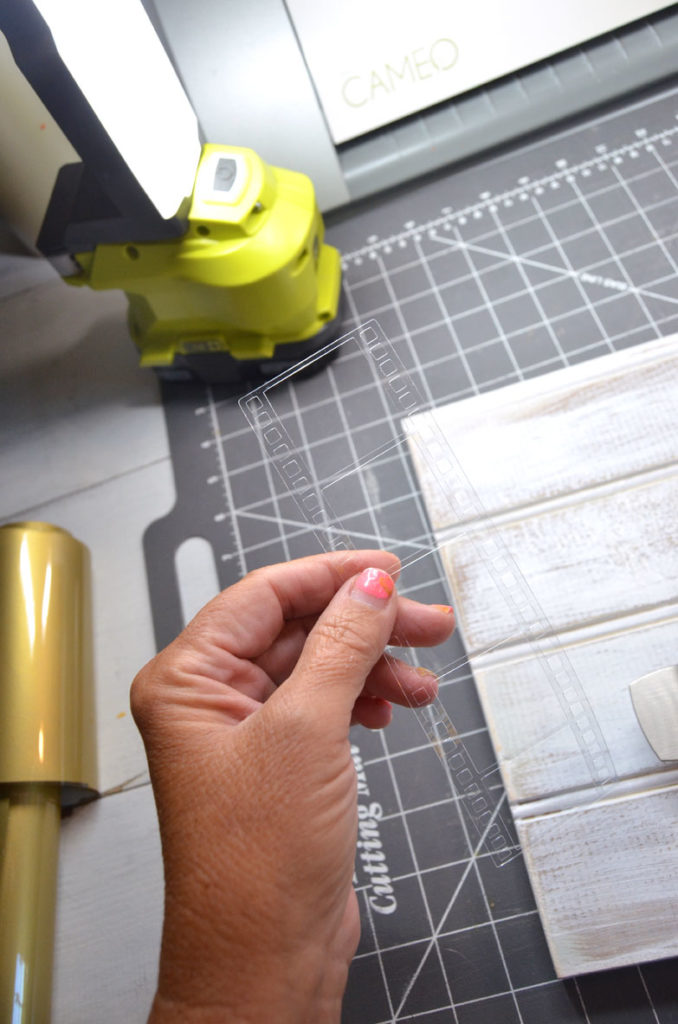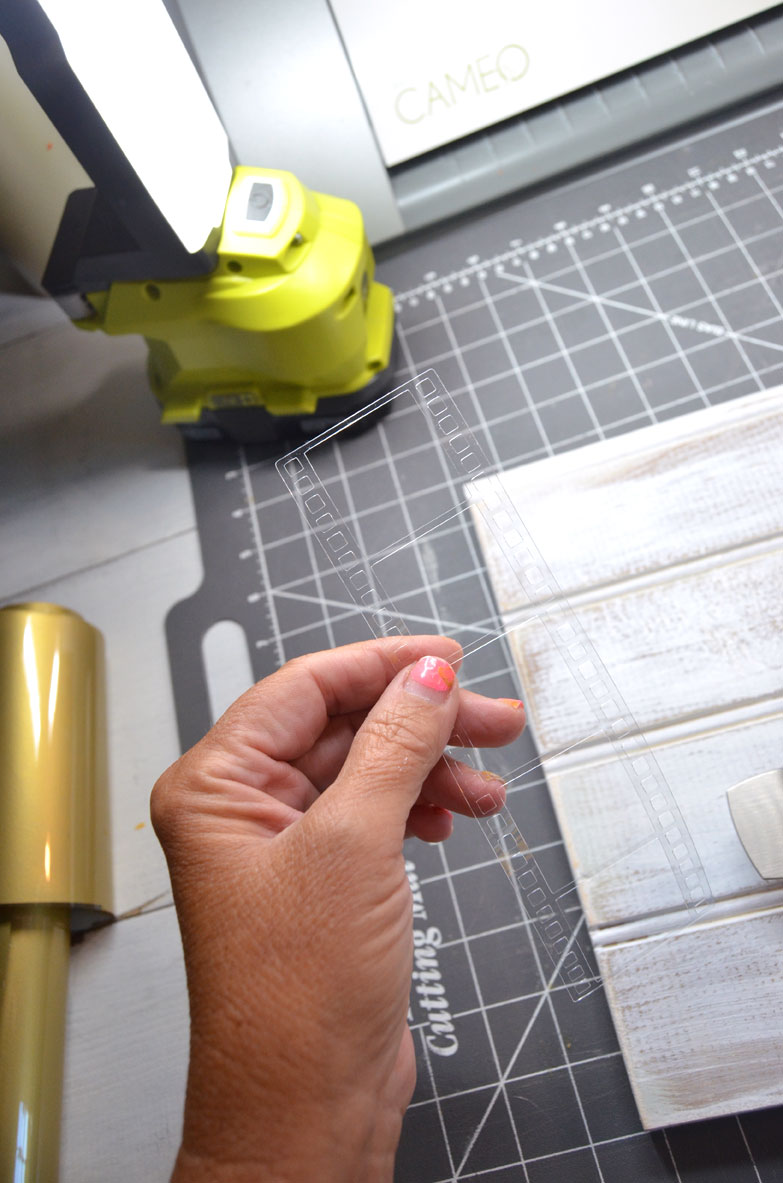 I made a "film" stencil with my Silhouette Cameo®. (No, Silhouette America was not a sponsor – but they should be! However Cricut WAS there 😉 )
Next I cut out some vinyl cameras and put them across the board, under the film.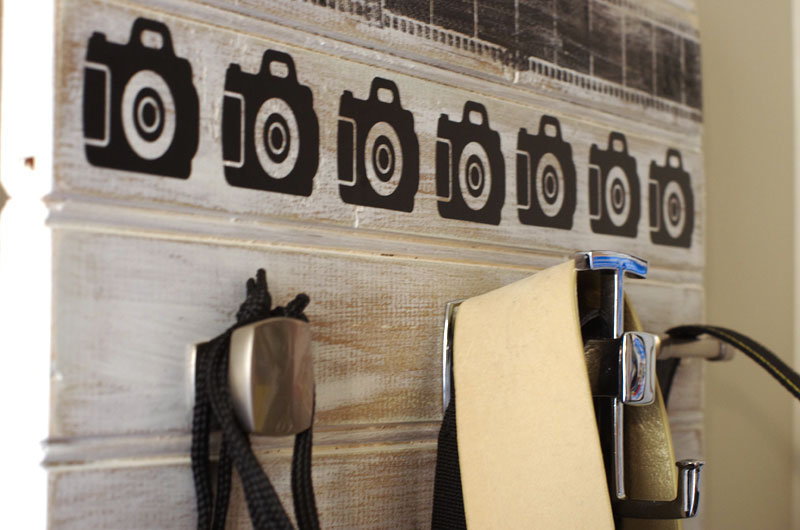 And now I have a cool-looking camera organizer. Now it should be a bit easier for me to find the bag or camera that I'm looking for!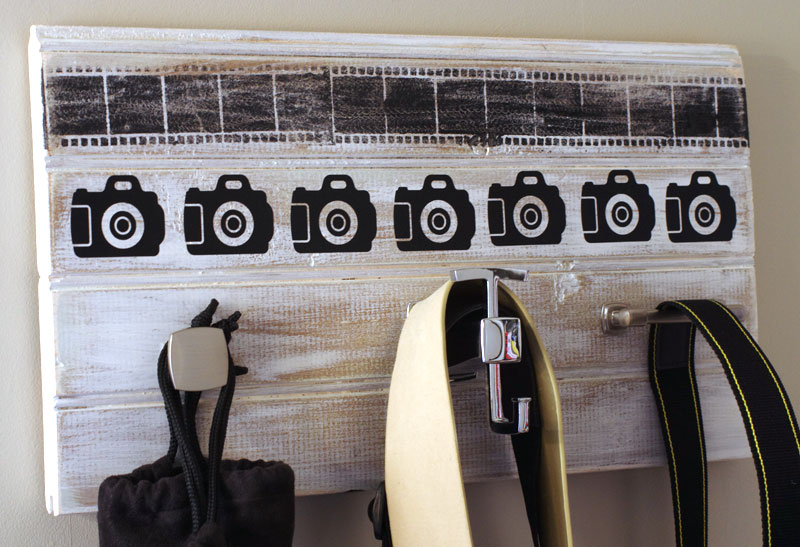 Next up is this sweet flower box.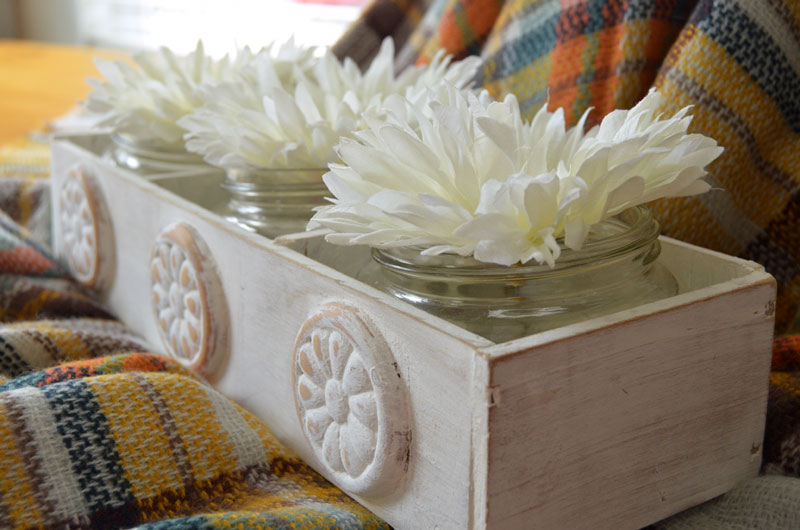 Isn't it the cutest???
I simply made a box using leftover thin plywood scraps, making sure it would hold three of those cute, little mason jars.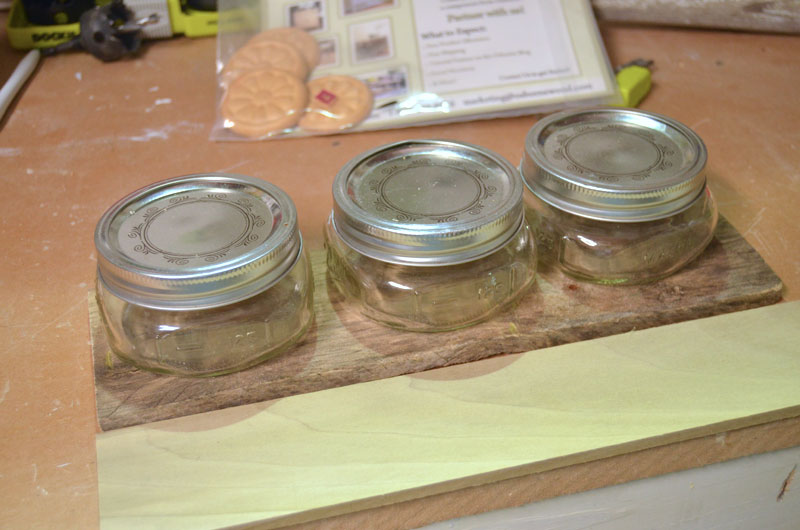 The box was put together with wood glue and a Ryobi Cordless Brad Nailer with 1″ brad nails.
So where's the SWAG you say???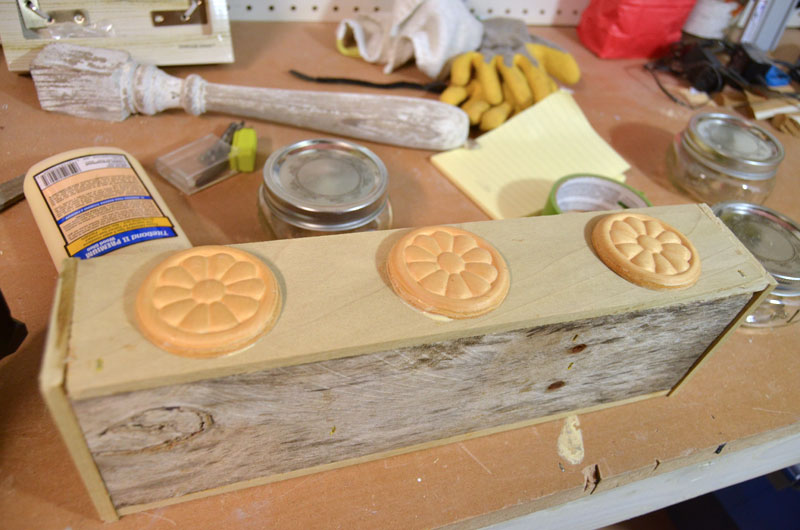 Osborne Wood Products gave us those pretty wooden rosettes. I am so excited at this point to see how this works out!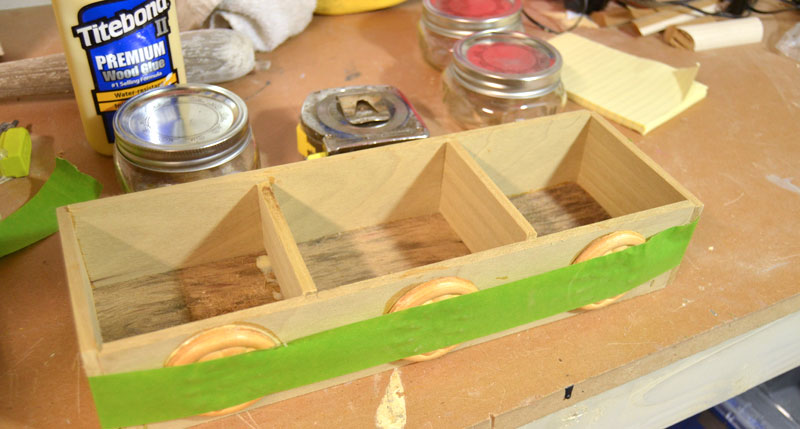 I attached them with wood glue and wrapped a piece of FROG TAPE around the front and sides to keep the wood rosettes in place until they dried.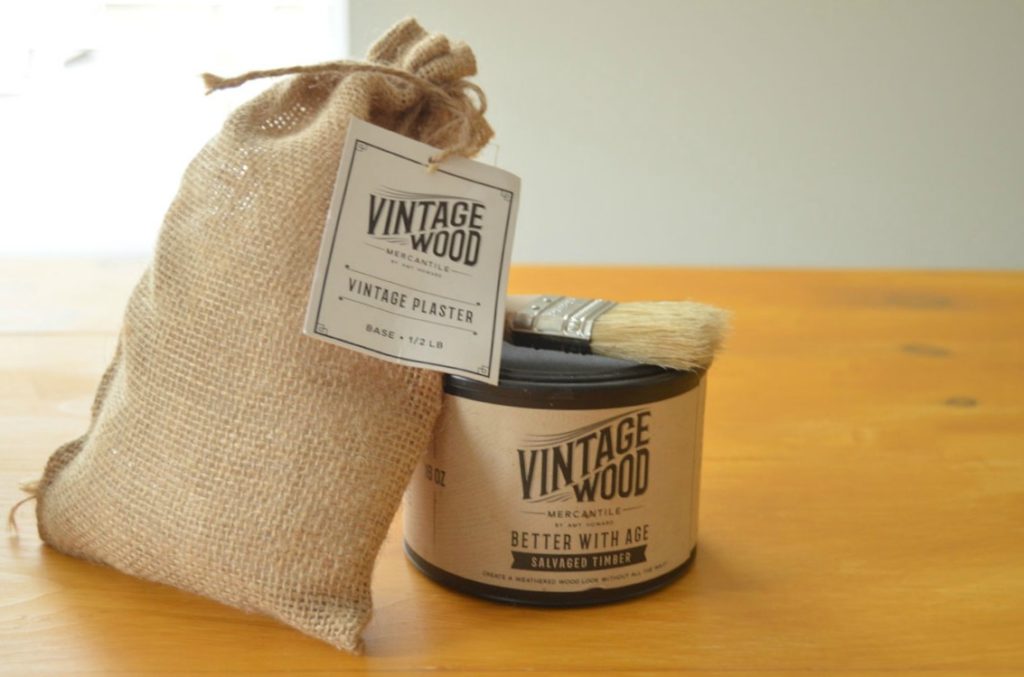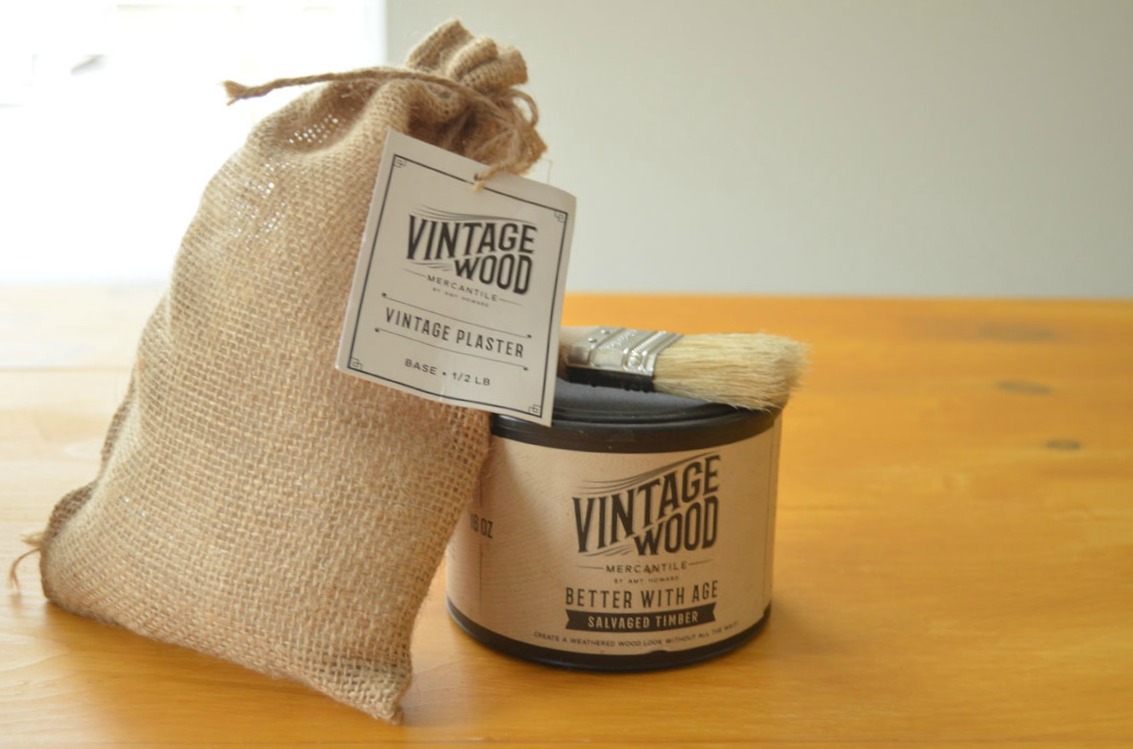 Once the piece was dry, I gave the wood an aged look by using Better With Age by Amy Howard. This stuff is amazing. I used it on that shelf that I told you about earlier. It's the easiest way to make new, raw wood look like old, salvaged wood.
After the Better With Age had a chance to dry, I applied a coat of Vintage Plaster by Amy Howard.
You apply the Vintage Plaster and then scrape it off with a putty knife, leaving the plaster to fill in the grooves of the grain. I love this aged look!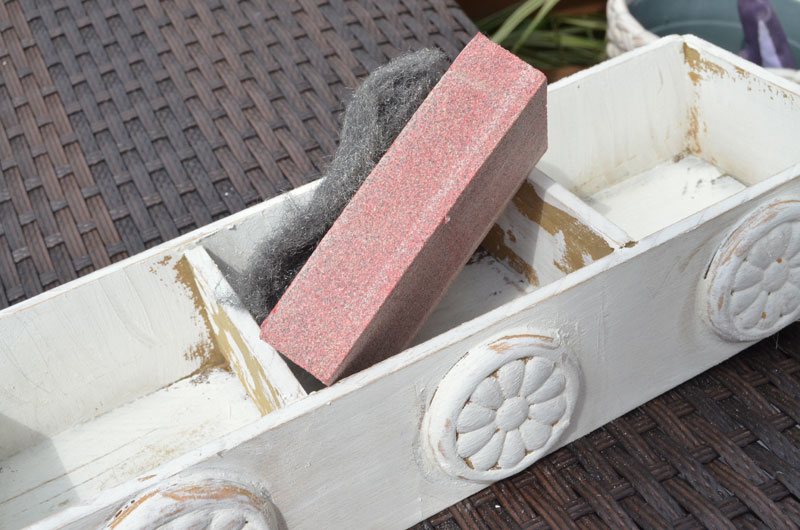 After the plaster is dry, lightly sand to a smooth finish.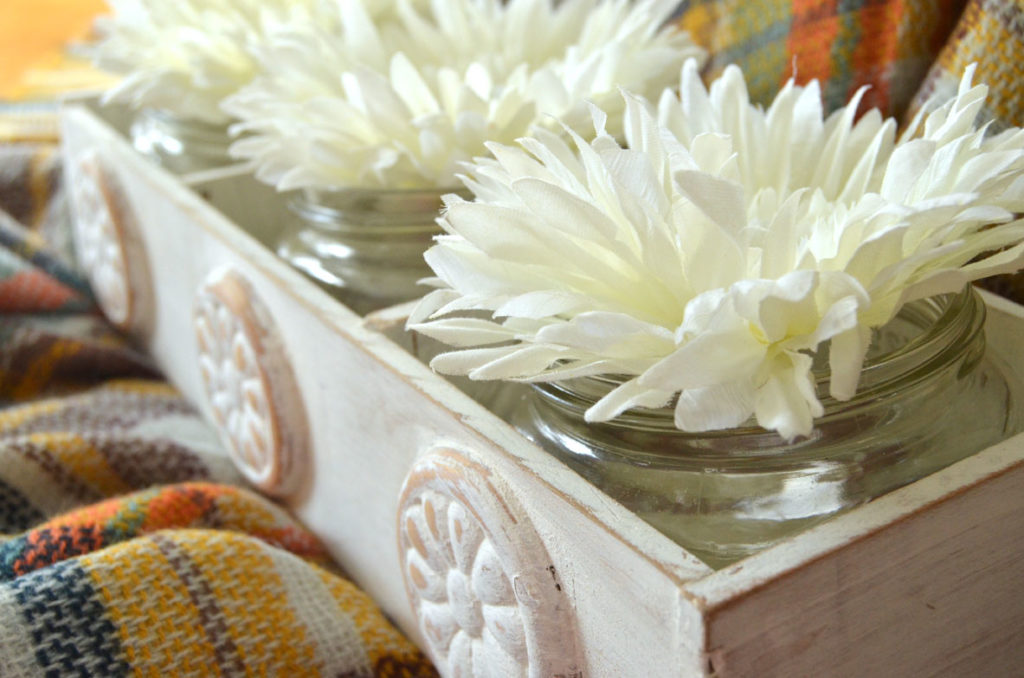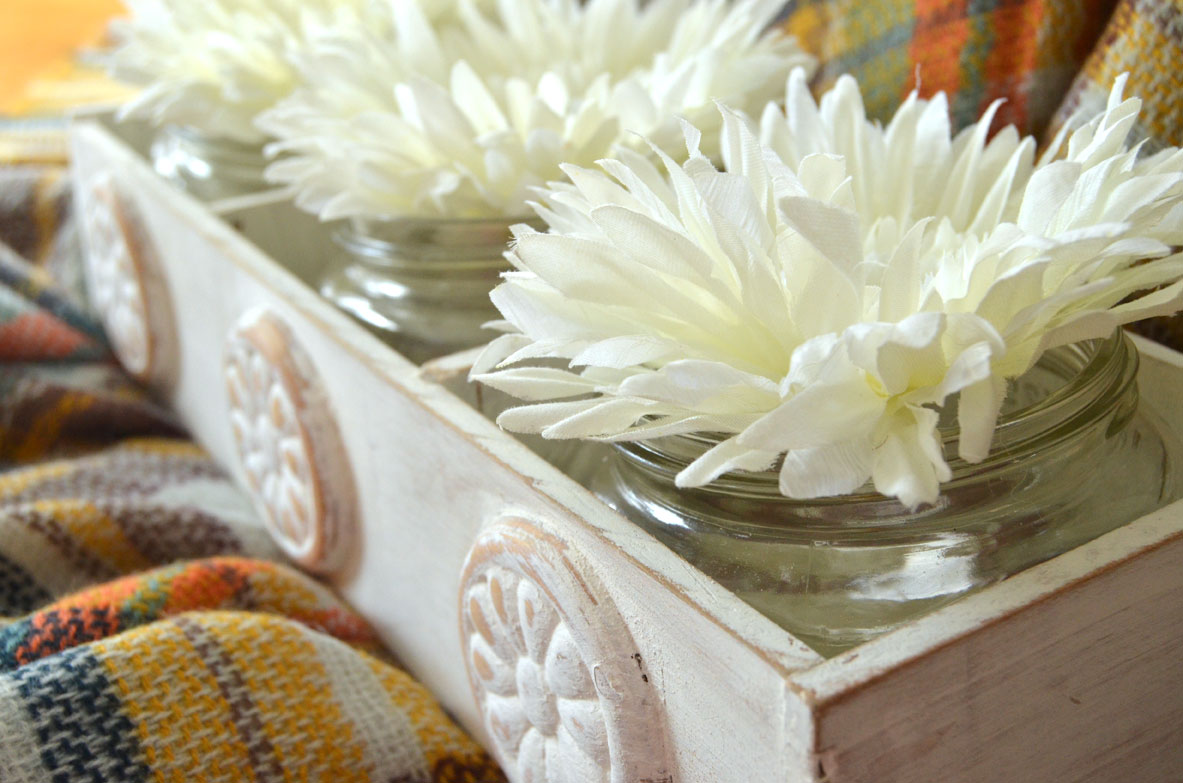 I added the jars back in with a faux flower. You could also fill the jars with homemade stuff like body butter, dips, etc. and give as a gift.


I counted EIGHT swag items that I used in these two projects. Now let's see what my fellow Haven Maven friends have made. Just click on the images below to be taken to their projects.