There is a brand new thrift store in my town and I love it. It's huge! Not only is it huge, it's so nicely organized. And clean. But best of all: it doesn't smelly funny. You know what I mean. You've been in those thrift stores, right? They smell a little funky? Not this one. It is big, bright, clean, like I said, well organized, and it smells nice ; ) A great place to get old sweaters (that don't smell funny). Especially on Wednesdays. Everything is 50% off on Wednesdays!

I went this past Wednesday and picked up some old red and green sweaters to make Christmas Stockings! Want to learn how to make Christmas stockings from old sweaters? Great – you're in the right place!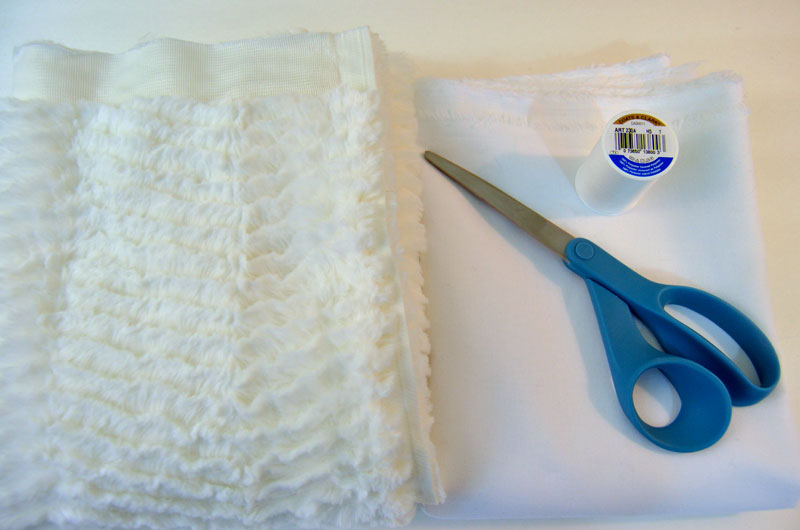 Here's what you'll need (this list contains affiliate links):
some old sweaters
cotton or cotton-like fabric for lining
fuzzy or furry fabric for the cuff (optional)
a stocking to use as a pattern
paper (for pattern)
scissors for cutting sweaters and cotton fabric (not the scissors you use to cut paper)
sewing machine (you don't need mad sewing skills for this project – just straight stitching)
needle for hand sewing (don't panic – just to sew ribbon loop at the top for hanging)
Step One – Make a stocking pattern
This is easy. Simply grab an old stocking and trace it onto a large piece of paper. If your piece of paper is too small, no worries. Just tape a few pieces together. Even newspaper or tissue paper will work fine.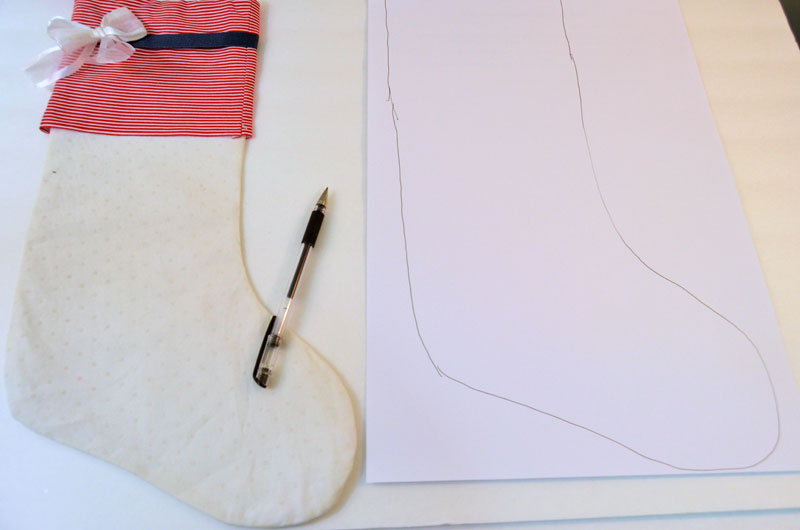 Then cut it out – leaving about a half inch border. Like the image below: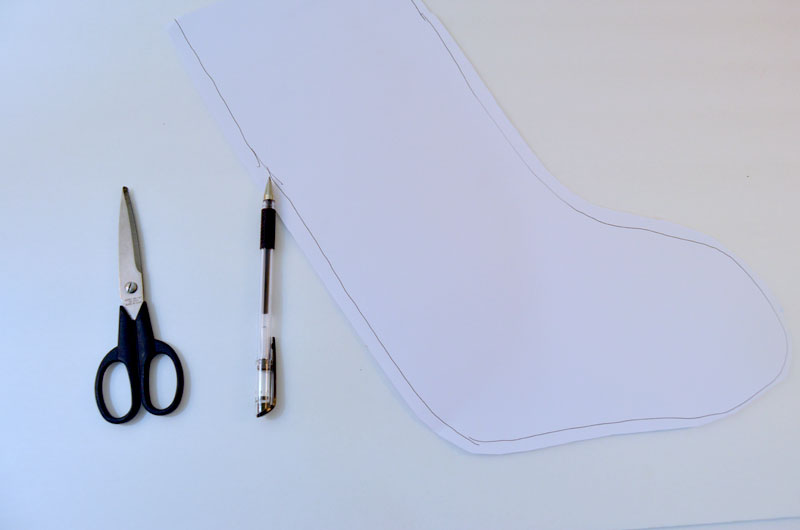 That extra space is the seam allowance. You still with me? Good! See – it's easy so far, right? Right!
Step One is done!
Step Two – Cut stocking pattern out of sweaters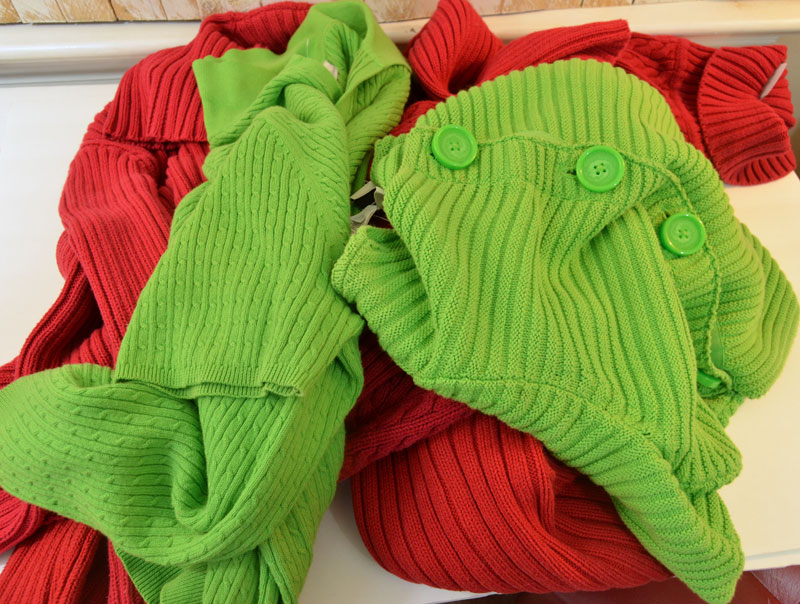 Grab one of your old sweaters and lay it down flat.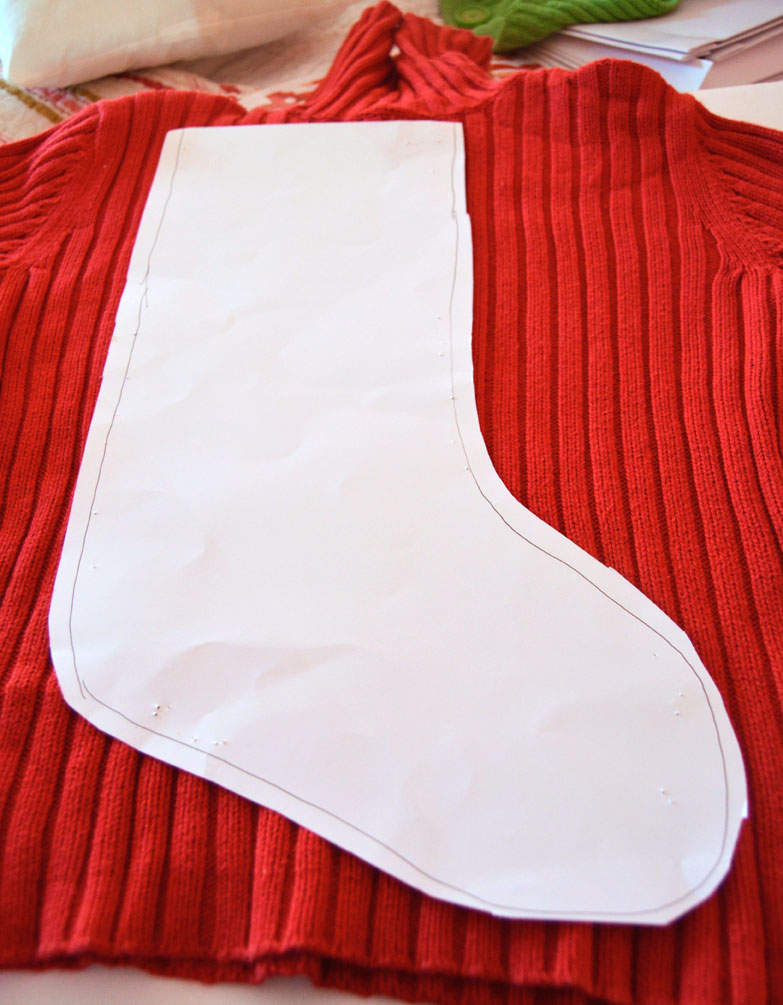 Place the pattern on top of the sweater.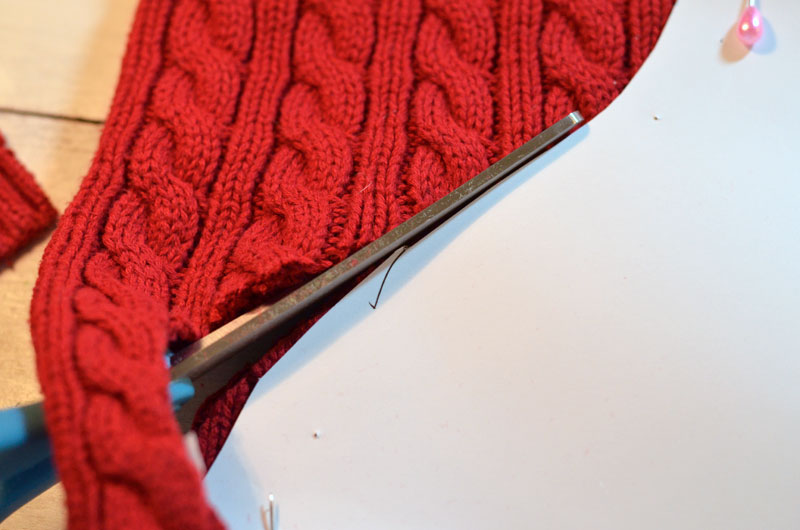 Pin pattern to sweater and cut out the stocking shape.
Step 2 is done. You still there? Yay!!!!
Step 3 – Cut out the stocking lining pieces
Here's the good news: This is step is done exactly like Step 2 EXCEPT instead of laying the sweater down flat, etc., you're going to lay down a folded length of the cotton lining fabric.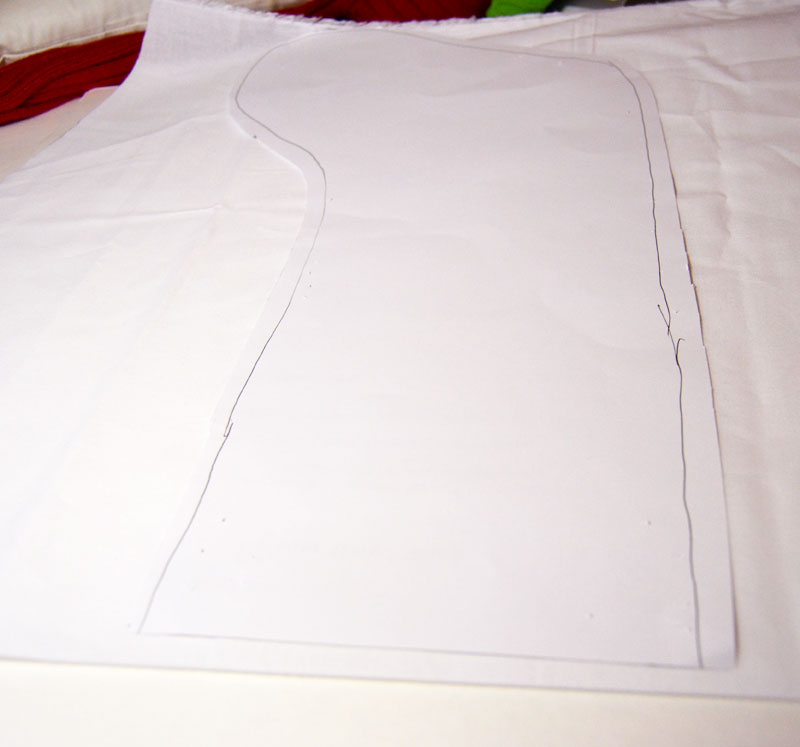 Step 3 is done! Now onto . . .
Step 4 – Sew the lining to the sweater piece
Don't let the word "lining" scare you. (it used to scare me, too ; ) – it's just an extra step that we're doing to ensure that the sweater stocking doesn't get all stretched out and look all sad and saggy hanging from the mantel once Santa fills it up!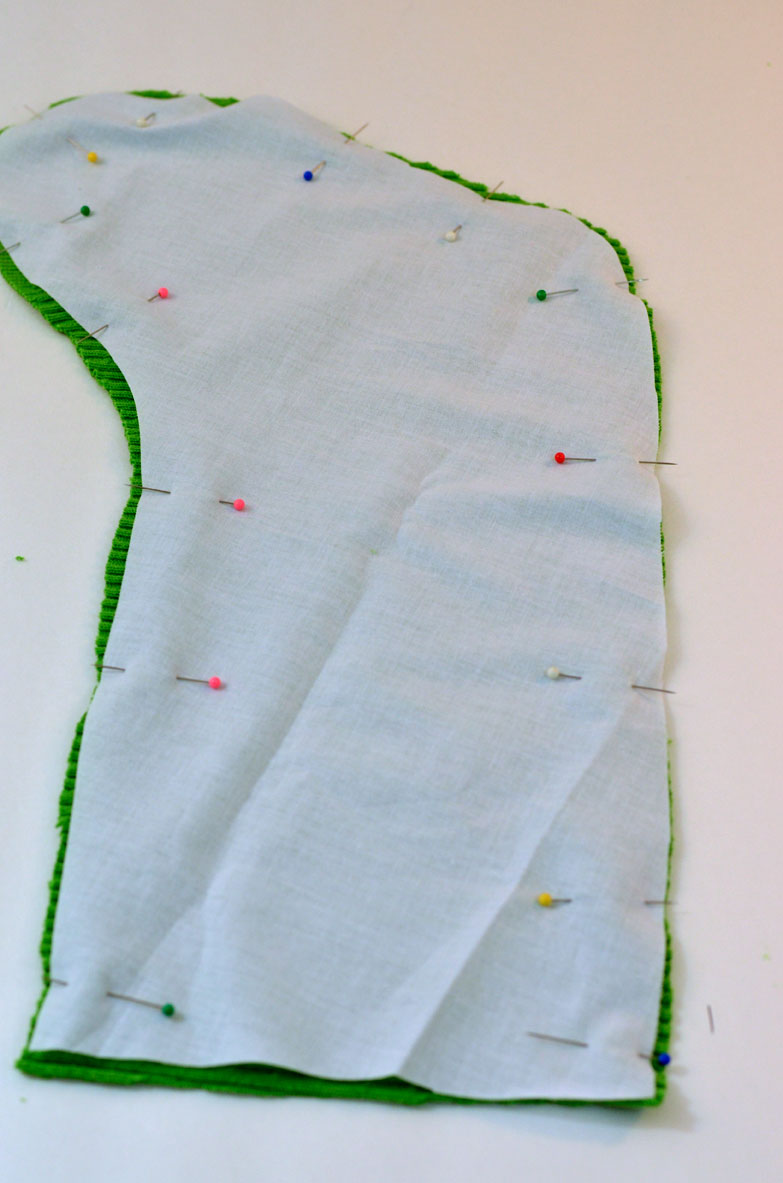 Just take a piece of the lining fabric and pin it to the WRONG side of a sweater stocking piece.
Now take it over to the sewing machine and stitch, staying close to the edge of the lining fabric (about a quarter inch or so).
Step 5 – Woo hoo! We made it to Step 5 – Sewing the stocking together!
We're in the home stretch now – almost there!
Place the two stocking pieces together (sweater sides facing each other), then pin and stitch.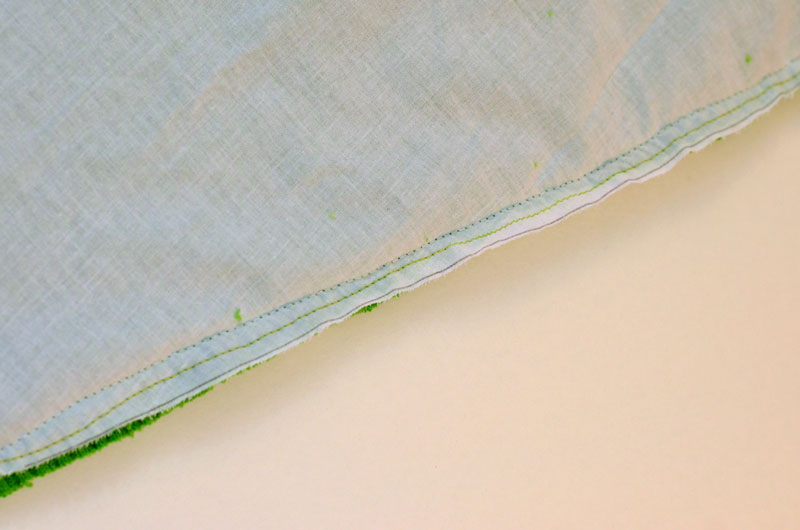 Now turn the stocking right side out and it should look something like this: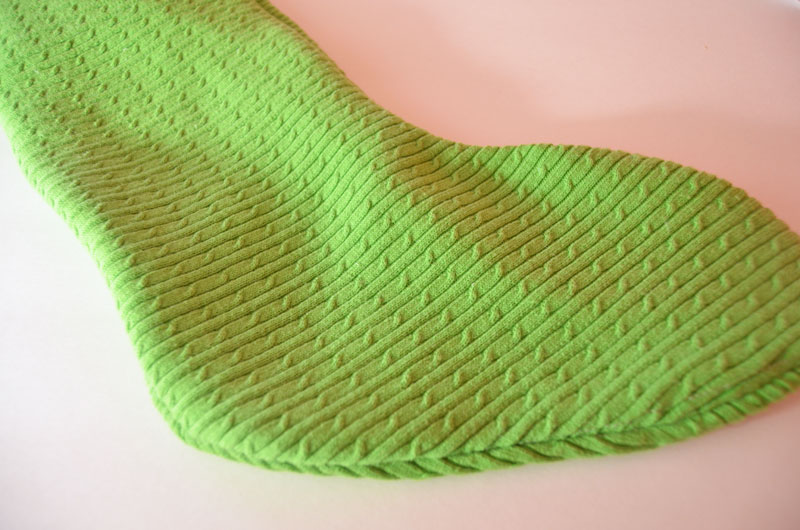 Now you could just turn down and stitch a hem into the top of the stocking and hand sew on a loop, BUT . . .
Don't you think it would look better with a furry cuff??? If you agree, then there's just one more step!
Step 6 – Cut out and sew on the cuff
You are almost done!
All you need to do is measure the width of the top of your stocking. Take that measurement and double it. Then add an inch.
My stocking measured 7″ across the top. Two times 7″ = 14″ + 1″ = 15″.
Cut out a piece of the cuff fabric to 5″ (or however long you want the cuff to be) X whatever your measurement is. My cuff piece was cut to 5″ x 15″.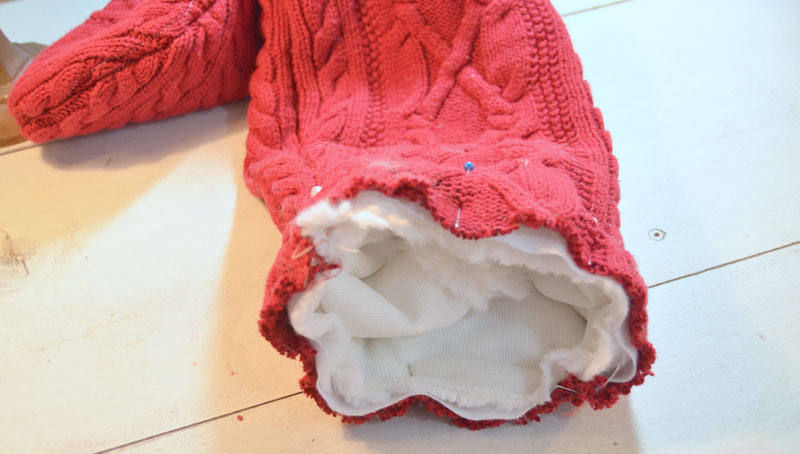 Now pin the cuff piece to the INSIDE of the stocking with the RIGHT SIDE of the cuff facing the WRONG SIDE of the stocking. See photo above. Stitch.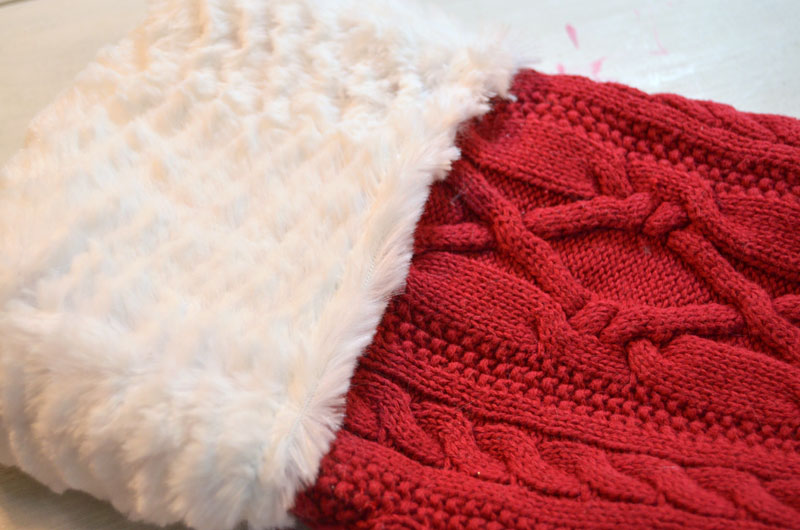 Turn the cuff to the outside.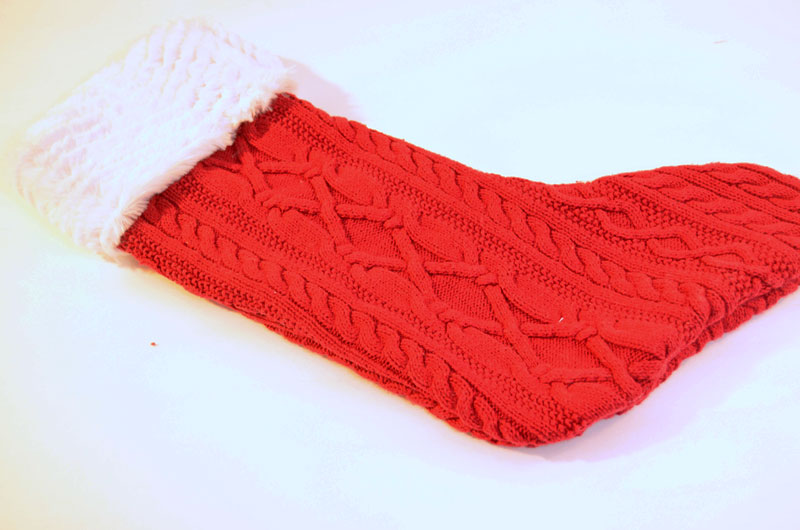 And one last step is to hand sew on a loop of ribbon or a plastic ring for hanging.
You did it! You made a one-of-a-kind most-awesome Christmas Stocking!!!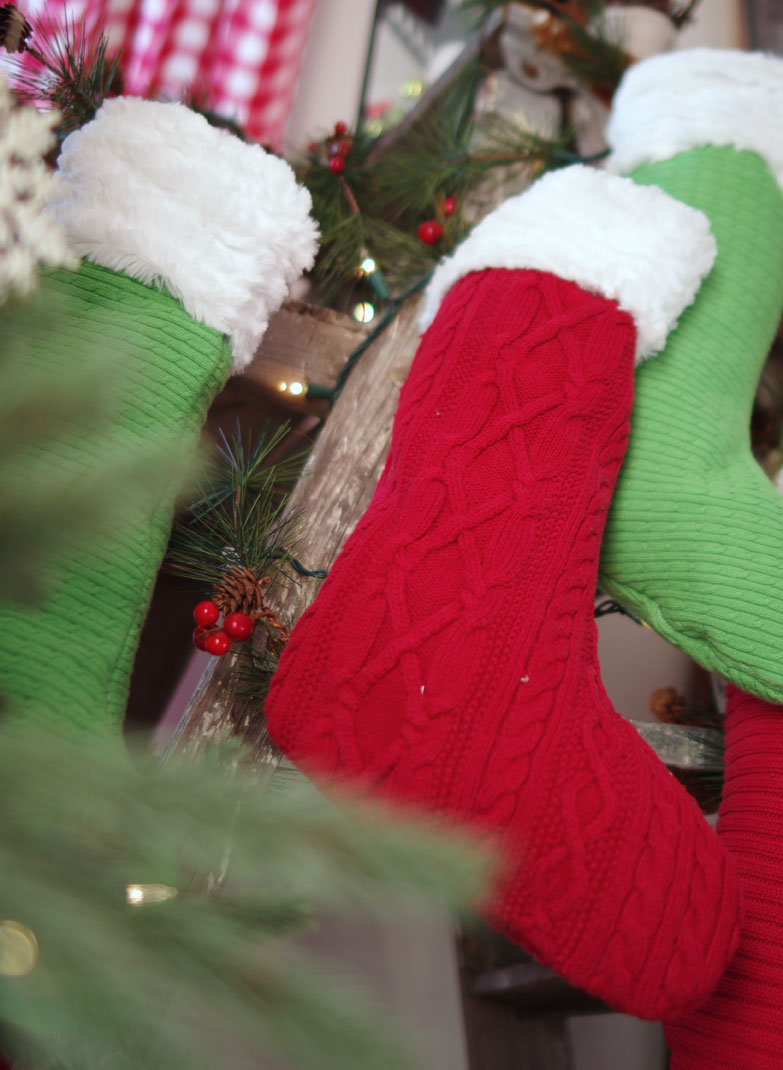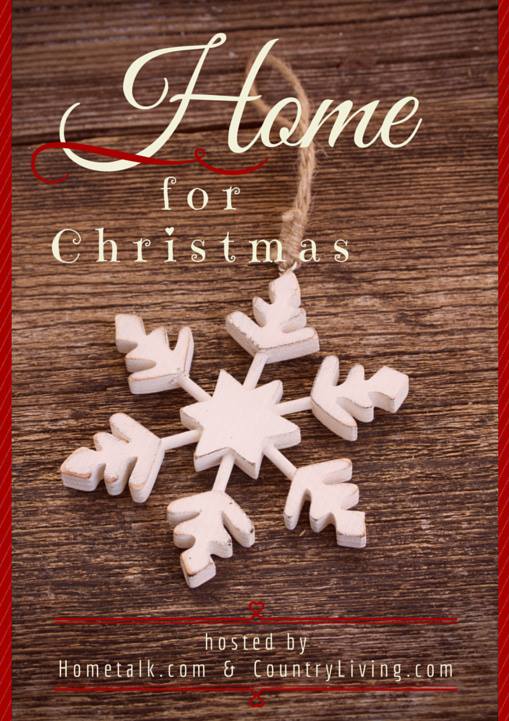 I am thrilled to be participating in a mega blog hop today with dozens and dozens of other talented bloggers. This blog hop is sponsored by Hometalk and Country Living. Please be sure to visit the other participants in this Home for Christmas Blog Hop!
Linking up to these fun parties:
Something To Talk About / GRAND Social / Inspire Me Monday / Project Inspired / You're Going to Love It Tuesday / The Scoop / Show & Share / From Dream to Reality / Remodelaholics Anonymous Link Party / Wow Us Wednesdays / Hit Me With Your Best Shot / You're Going to Love It / Something to Talk About / Moonlight & Mason Jars / Project Parade / Create It Thursday / Creative Spark / This is How We Roll / Shabbilicious Friday / The Creative Circle / Feathered Nest Friday / Creativity Unleashed / Weekend Retreat / Friday Finds / Link Party Palooza / Party Junk / Share it One More Time / Skip The Housework / Best DIY Project & Recipe Party / Best of the Weekend / Inspired by You