I have a collection of snowmen that I started many years ago but I have not added to it in years. Until now. I can't wait to show you how to make a primitive wooden snowman like the one I just made.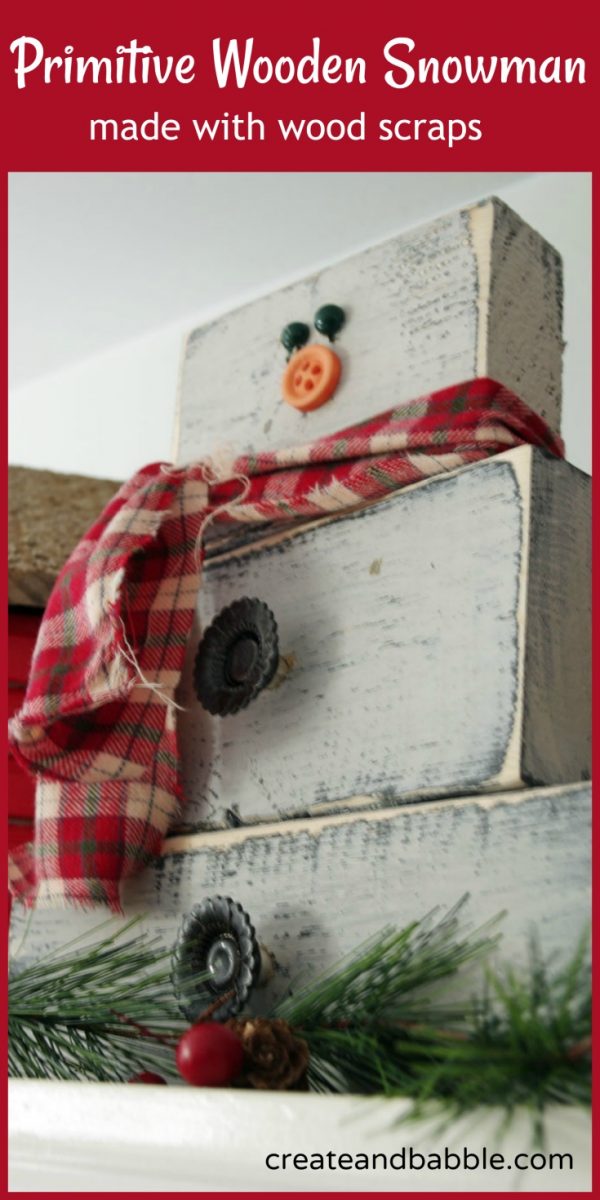 I just added this cute guy to my collection and I love it! It's super easy to make and you can use scrap wood to make it too. Which saves $$$! And who doesn't want to save money at this time of  year. In fact, I didn't spend a dime to make this snowman. Now that's my kind of craft!
---
Welcome to the third annual 12 Days of Christmas Blog Hop! Today is the Third Day of Christmas Blog Hop!
Stop by every day from December first through the twelfth for new ideas you can use to make your season brighter!
Meet Your Hosts
They have all been busy as Elves creating, decorating, cooking and crafting tons of new ideas for you to try this holiday season!
Shirley~Intelligent Domestications I Alli~An Alli Event I Michelle~Our Crafty Mom I Marie~DIY Adulation 
Erlene~My Pinterventures I Beverly~Across The Blvd. I Debra~Shoppe No. 5 I Victoria~Dazzle While Frazzled
Megan~C'mon Get Crafty I Michelle~Michelle James Designs I Amanda~Domestically Creative
Deborah~Salvage Sister & Mister I Jeanie~Create & Babble I Sherry~Olives & Okra
Jenny~Cookies Coffee & Crafts I Emily~Domestic Deadline I Bonbon~Farmhouse 40
Leanna~Of Faeries & Fauna I Pam Larmore~P.S. I Love You Crafts I Kelly~North Country Nest I
Marie~The Inspiration Vault I Gail~Purple Hues and Me I Lynne~My Family Thyme I
Karen~Dragonfly and Lily Pads I Trisha~Blowing Away Out West Lorrin~Embrace The Perfect Mess I
Terri~Christmas Tree Lane I Sam~Raggedy Bits I Cyn~Creative Cynchronicity  Valeria~Val Event Gal 
Yami~The Latina Next Door I Jeannee~Centsably Creative I Tania~Little Vintage Cottage
 Lauren~Wonderfully Made I Vanessa~DIY 180 I Kimberly~A Wonderful Thought I
Kim~Everyday Parties  I Dru~Polka Dot Poplars
---
To make a primitive wooden snowman you will need:
2 x 4 wood scraps cut to  5″, 7″ and 9″ lengths
dark paint or stain
white or light paint
sandpaper
buttons
knobs
hot glue
fabric scrap for scarf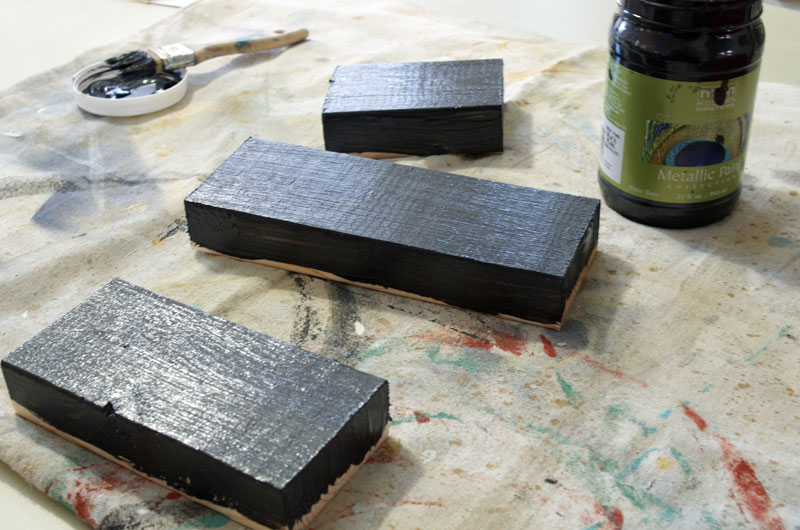 Start by painting the wood scraps with a dark paint (or stain).  Allow to dry.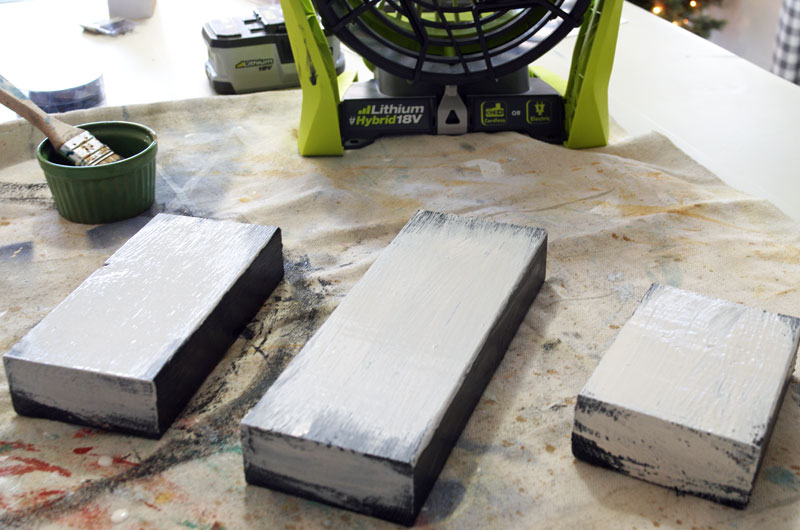 Now add a light coat of a white or light colored paint. Allow that coat to dry. (I helped the drying process along with my RYOBI portable fan
!)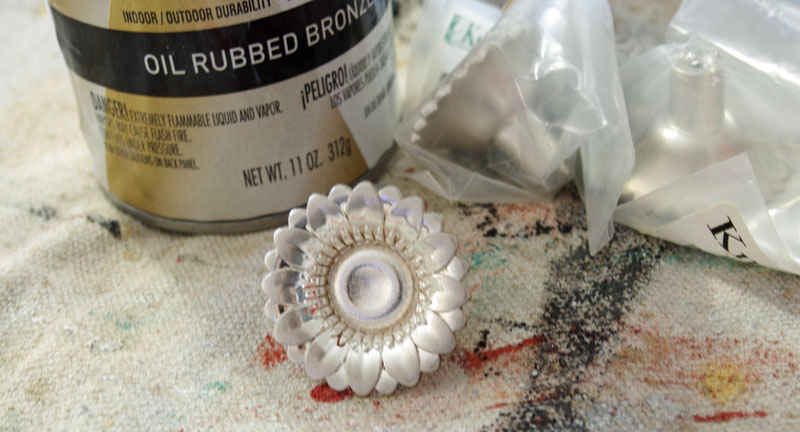 While the paint was drying, I looked through my hardware stash and found some drawer knobs that I had previously received from D Lawless Hardware. The only problem was they were a little bright and new-looking. Nothing a a coat of Oil Rubbed Bronze spray paint
couldn't fix!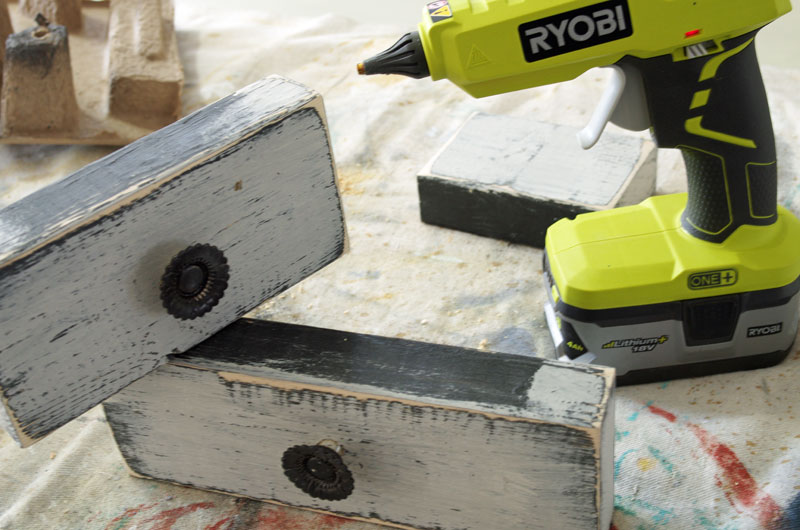 Once the paint was dry I sanded the edges of the wood pieces to reveal the black and wood underneath. Then using my power drill
, I drilled holes and used my hot glue gun
to attached the painted knobs to the wood pieces.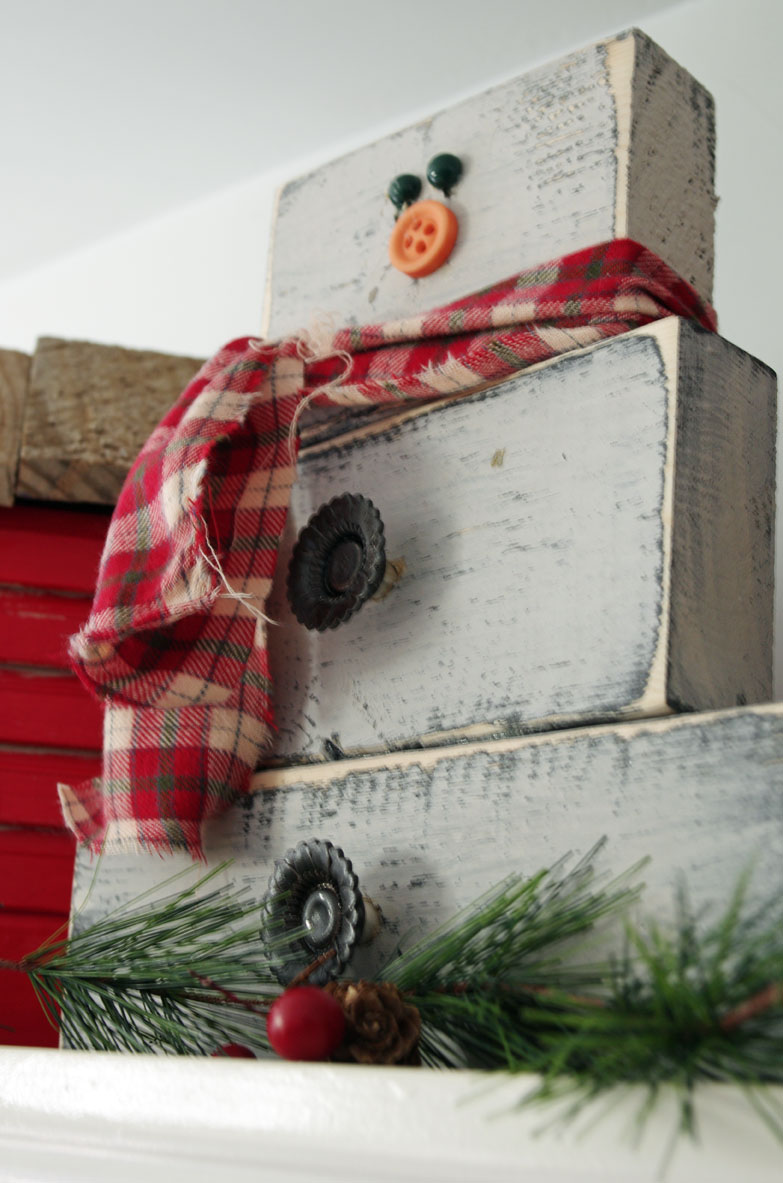 Lastly, I glued the three pieces of wood together, tied a scrap of fabric around the "neck", and hot glued on buttons for the eyes and nose.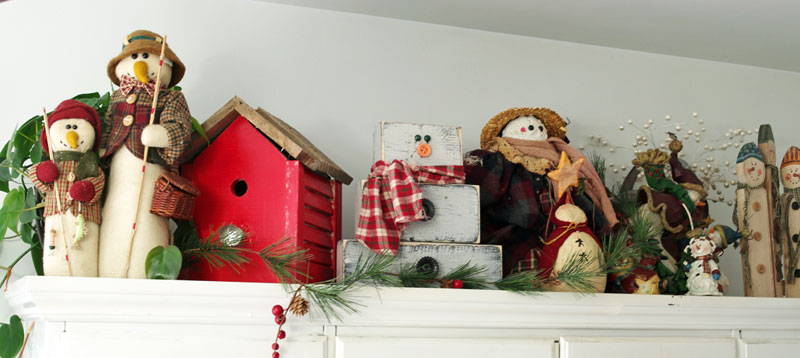 I had just the spot for my new primitive snowman on top of the hutch, right beside the red birdhouse that I made out of an old thrift store shutter.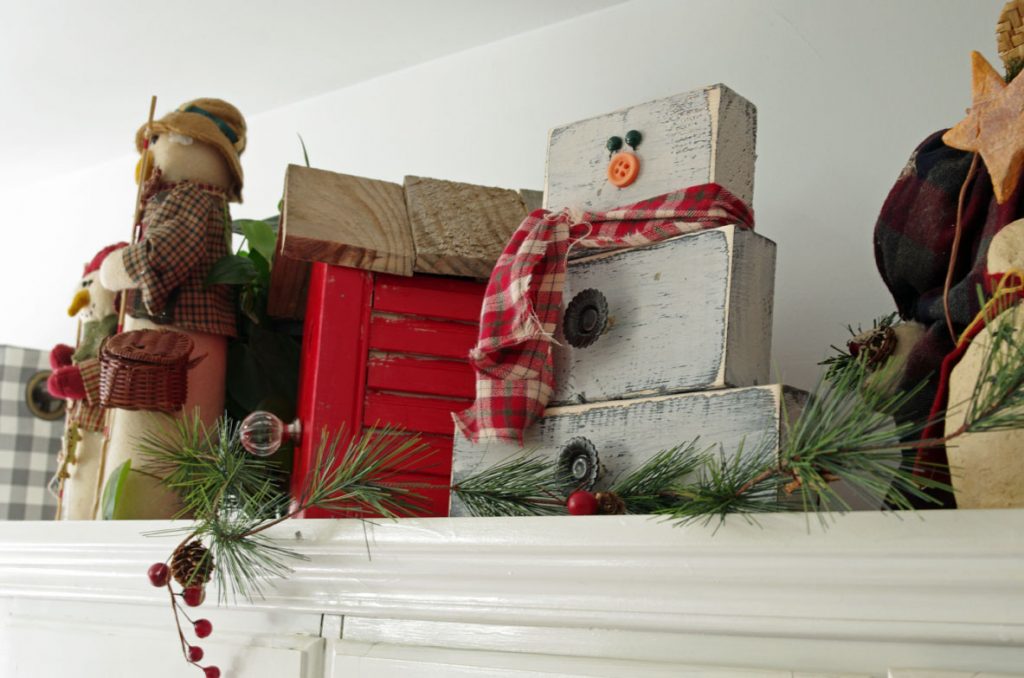 ---
Be sure to visit our fellow 12 Days of Christmas Bloggers below for even more creative ideas this holiday season!