Hello, everyone!  I'm Mrs. Smith, and am thrilled to be sharing my latest series Foods I've Never Made with you.  Thank you so much, Jeanie, for having me!
As much as I love exploring new flavors in the kitchen, there are still some things I have yet to try my hand at.
Like gumbo!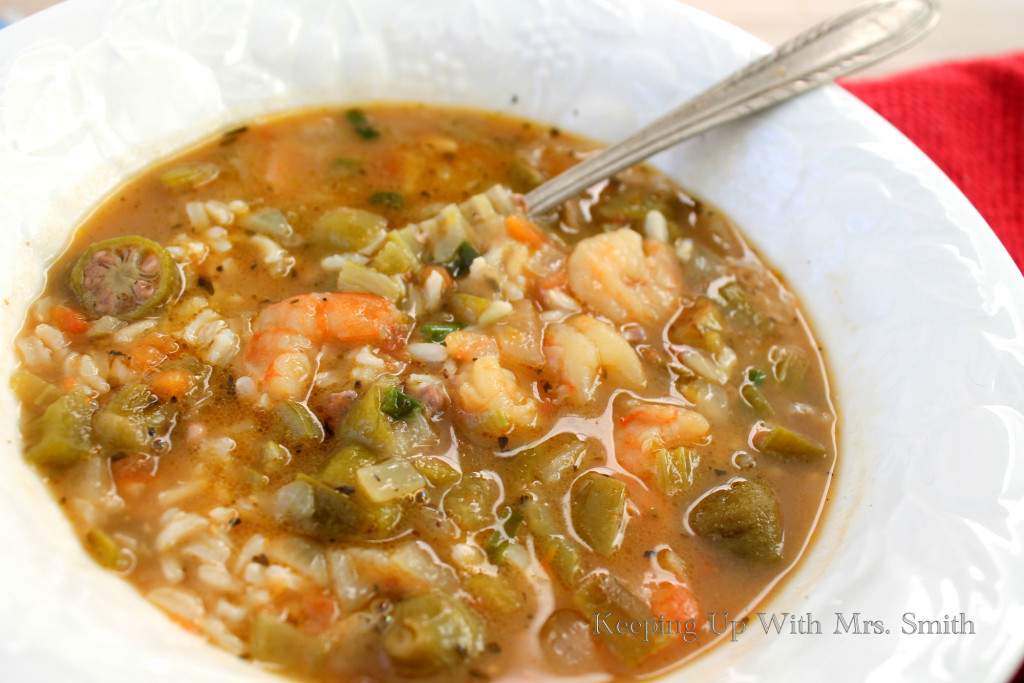 Growing up on the Mexico border, I had neither heard of nor eaten Cajun food.  In fact, I was 21 before I finally visited a Cajun restaurant…and had NO IDEA what to order.  🙂
A few years later, I was thumbing through an issue of Fine Cooking Magazine when I landed on an article about gumbo.  Even though I'd never had a bowl of the stuff, the recipe and vibrant photos of Poppy Tooker's Seafood Gumbo convinced me that I just had to try it.
That was six years ago.
Refusing to wait another year, I pulled out my soup pot, sliced up some okra and got to work.  The results were totally worth the wait!  This recipe is definitely a keeper, and I hope you enjoy it as much as I do.
Poppy Tooker's Seafood Gumbo
Whenever I try a new recipe, I like to prep all my ingredients first.  So let's cut up some vegetables, shall we?
Prep the Veggies
You will need:
1 large onion, chopped (about 2 cups)
2 stalks of celery, chopped (about 1 cup)
1 medium bell pepper, chopped (about 1 cup)
1 pound fresh or thawed frozen okra (about 4 cups)
1-2 large garlic cloves, minced (not shown)
Reserve the trimmings from the onion and celery and set aside.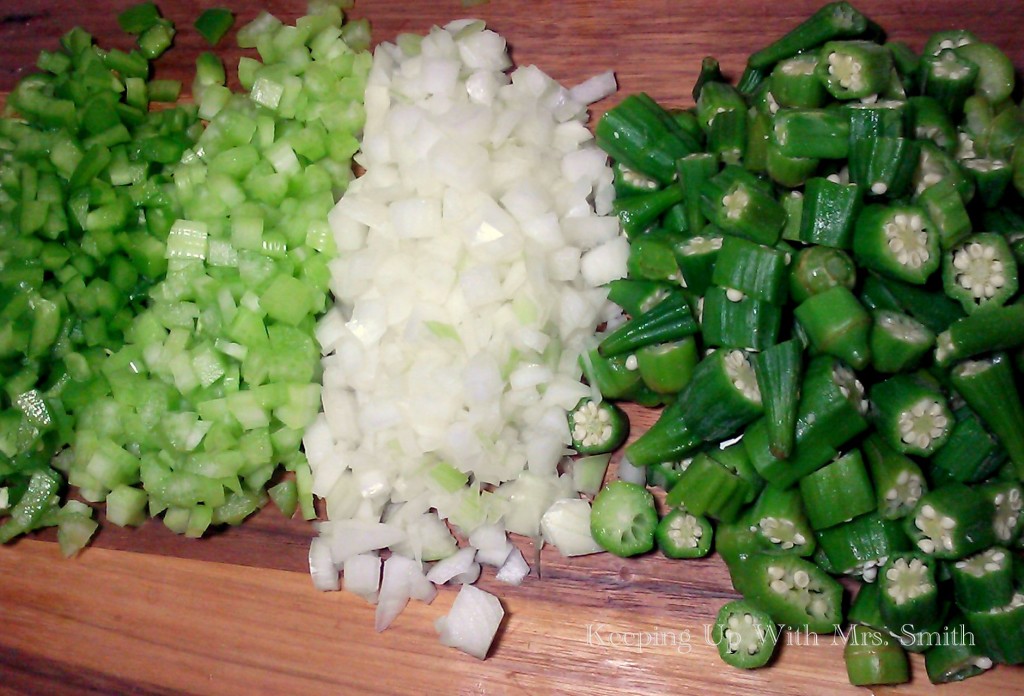 Next, peel and devein 1-1/2 pounds of shrimp.  Reserve the shells and set aside. 
Place the shrimp in the fridge.
Prepare the Shrimp Stock
Place the reserved shrimp shells and onion/celery trimmings in a large pot.  Cover with 9 cups of water.
Cook's Note: I actually used half chicken broth (4-1/2 cups) and half water (4-1/2).
Bring to a a boil over high heat, then reduce to a vigorous simmer, and cook, uncovered, for 10 minutes.  Strain and set aside.  (This makes about 2 quarts.)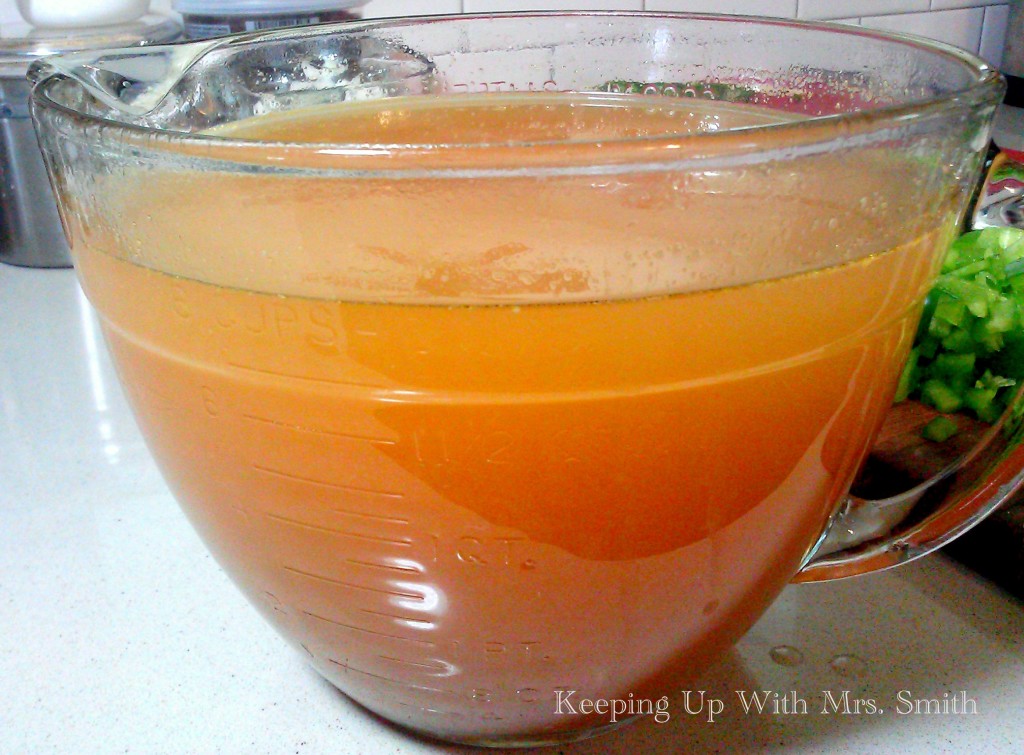 Fry the Okra
In a large skillet, heat 1/4 cup vegetable oil over medium-high heat.
Place half the okra in the skillet, and fry, untouched, for 1-2 minutes until the okra begins to brown. Stir and cook another 2-3 minutes until golden.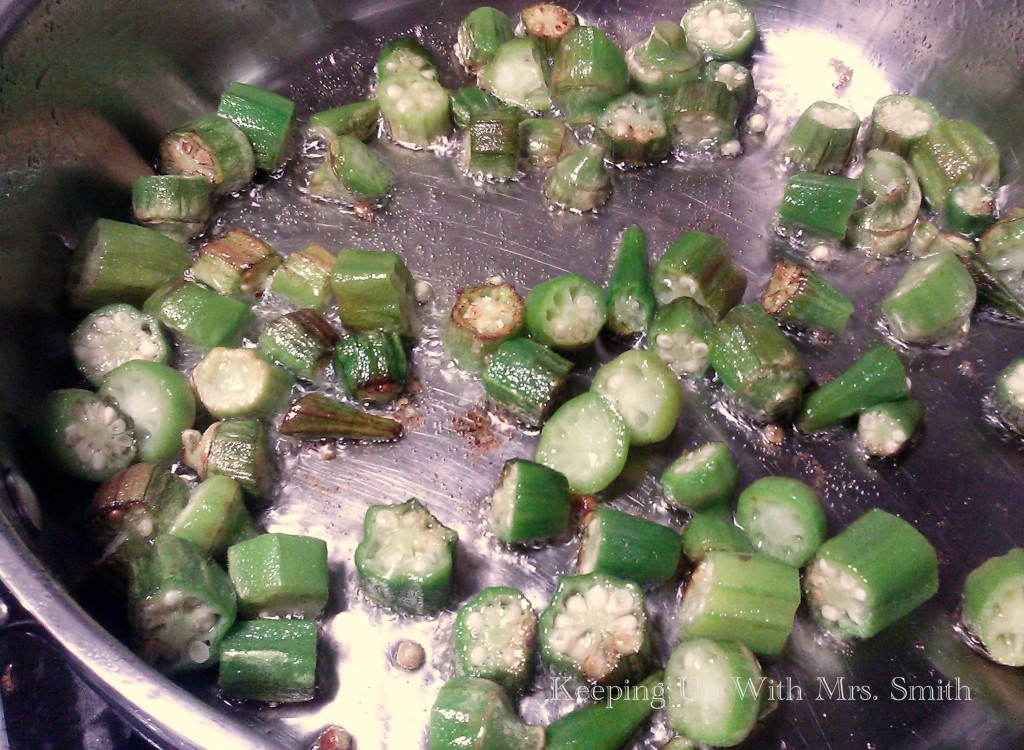 Drain okra on a thick layer of paper towels, and repeat with the second batch.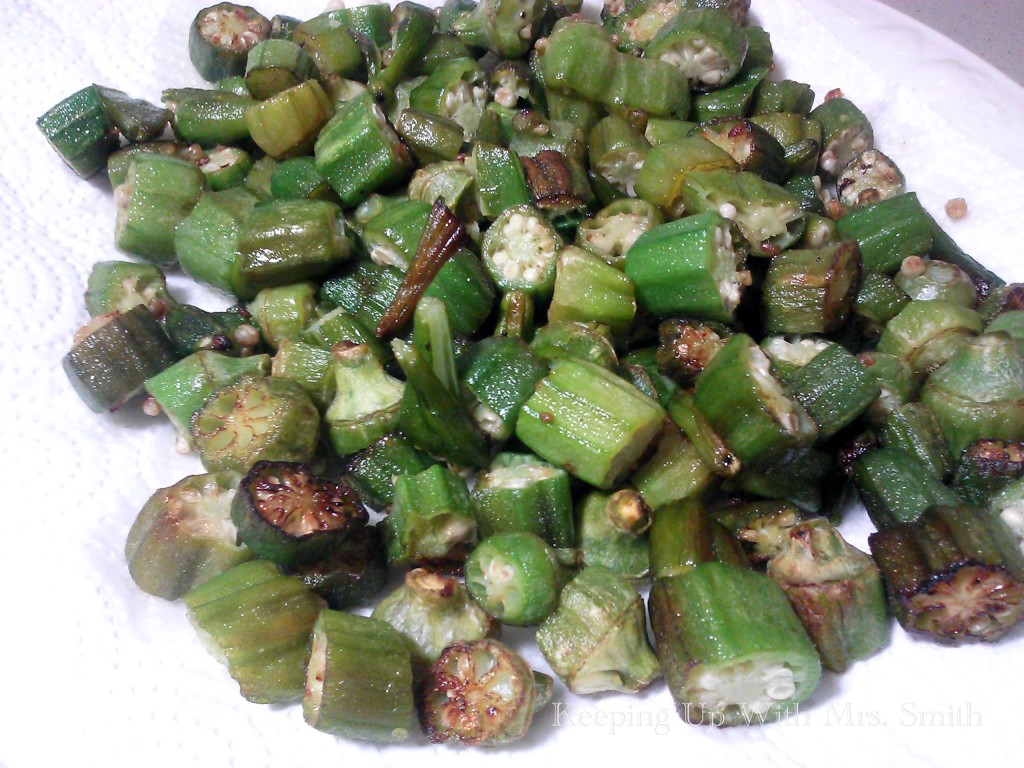 Make the Roux
In a large pot or Dutch oven, heat 6 tablespoons of vegetable oil over medium-high heat.
Once the oil is hot, add 1/2 cup flour and stir constantly with a wooden spoon until the roux becomes a deep caramel color, about 5 minutes.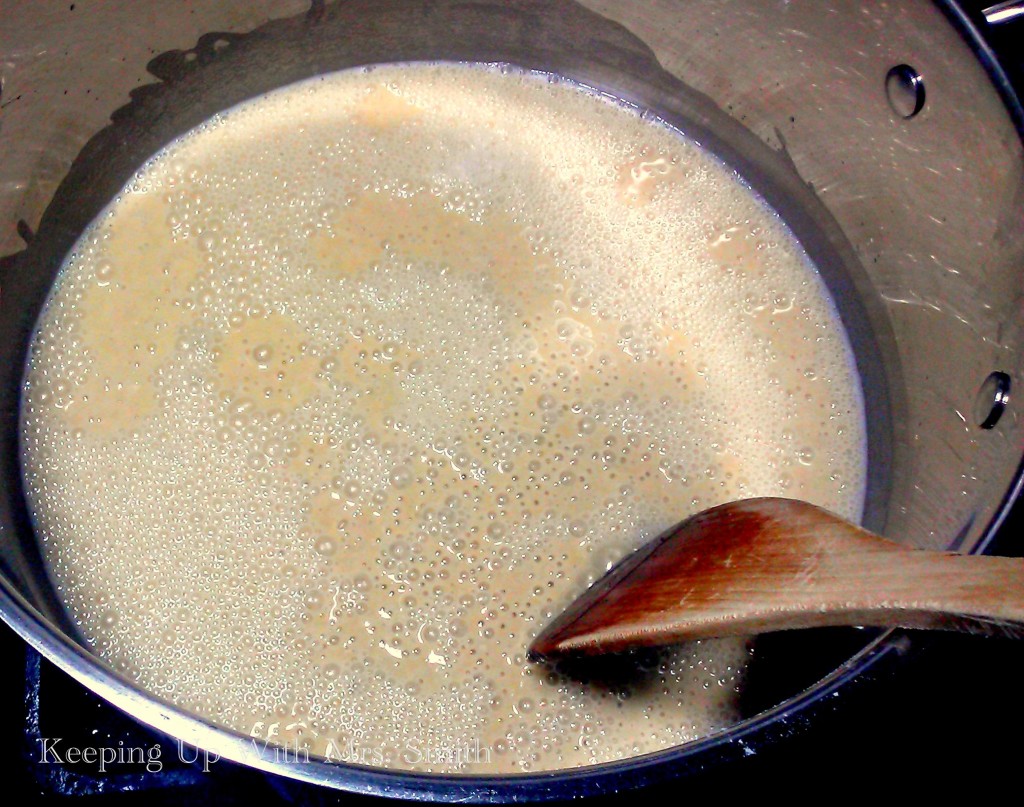 Add the onion and stir 3 minutes until the roux becomes deep brown in color.
Then add the celery, bell pepper and garlic and cook another 5 minutes, stirring often, until veggies are slightly softened.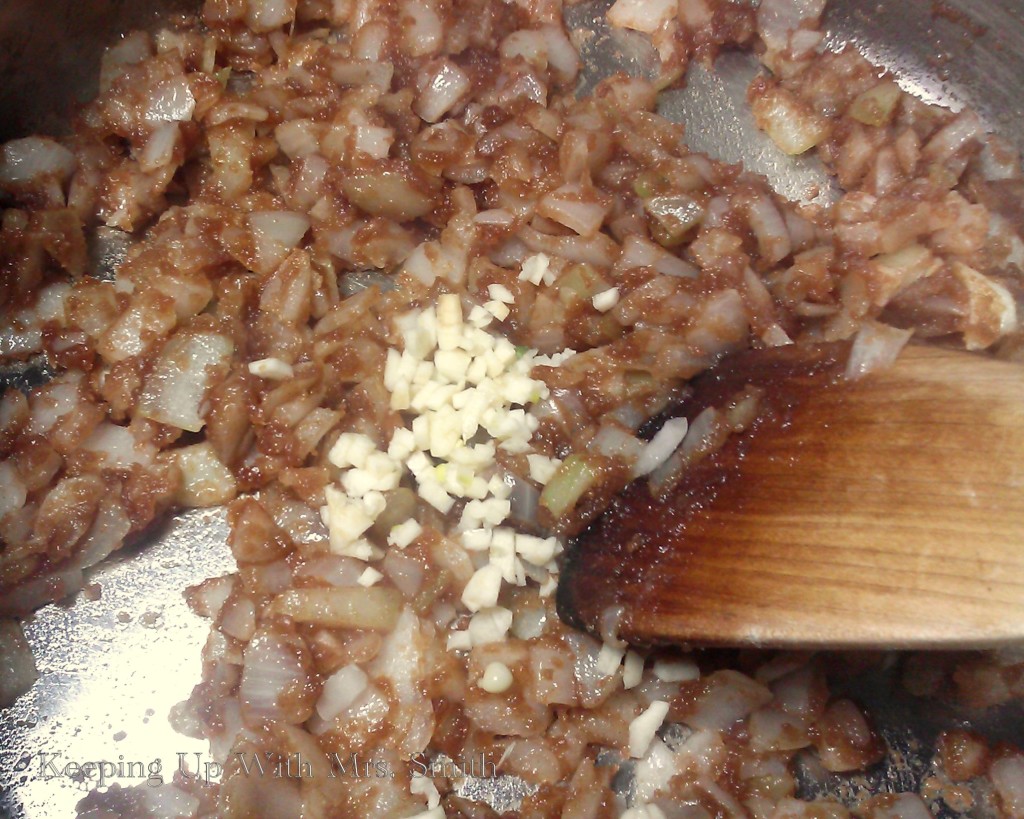 Next, stir in:
the 2 quarts shrimp stock
the fried okra
1 cup crushed tomatoes
1 Tablespoon dried thyme
1 bay leaf
1-1/2 teaspoon salt
1 teaspoon black pepper
1/4 teaspoon cayenne pepper, optional
Lower heat to medium-low and simmer, uncovered, for 45 minutes, stirring occasionally.
Before Serving
Five minutes before serving, remove bay leaf and add:
the peeled shrimp
1/2 lump crabmeat (NOT imitation)
1 cup fresh shucked oysters
1/2 cup thinly sliced scallions
Stir and cover, allowing the heat of the soup to cook the seafood.
Cook's Note: Since I was on a budget, I included neither the crab nor the oysters. However, this did not hinder my friends and I from polishing off the pot. 🙂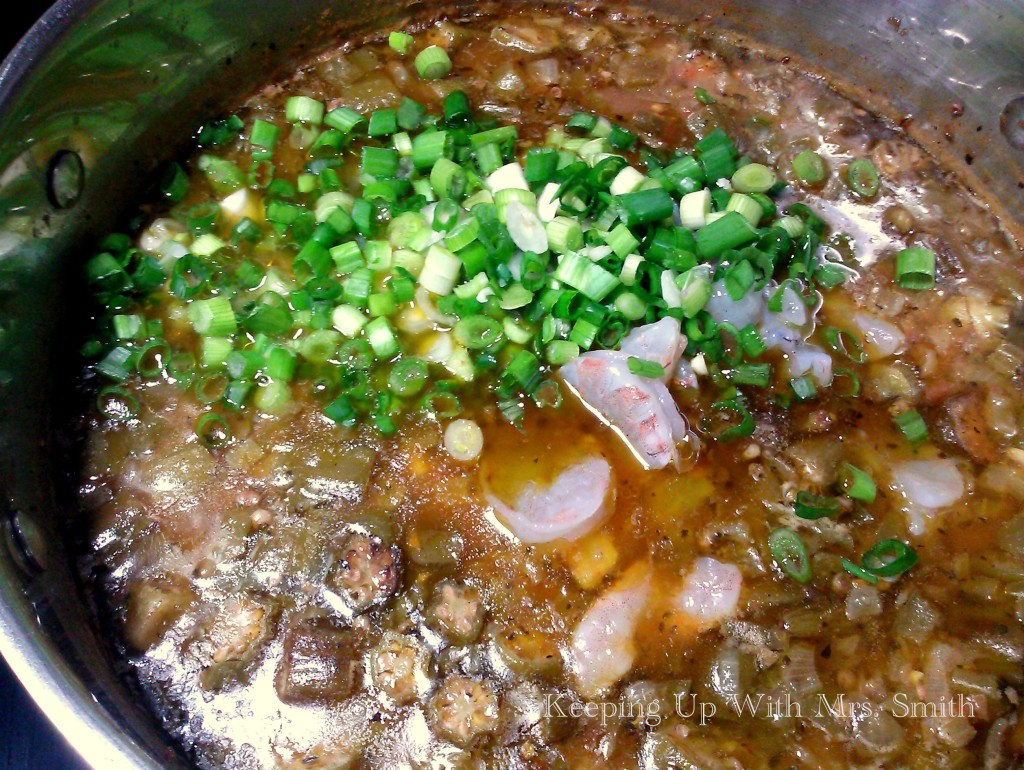 Serve over white or brown rice and a few dashed of Tabasco sauce.  (If you love brown rice but have trouble cooking it, here is a great recipe for fluffy brown rice!)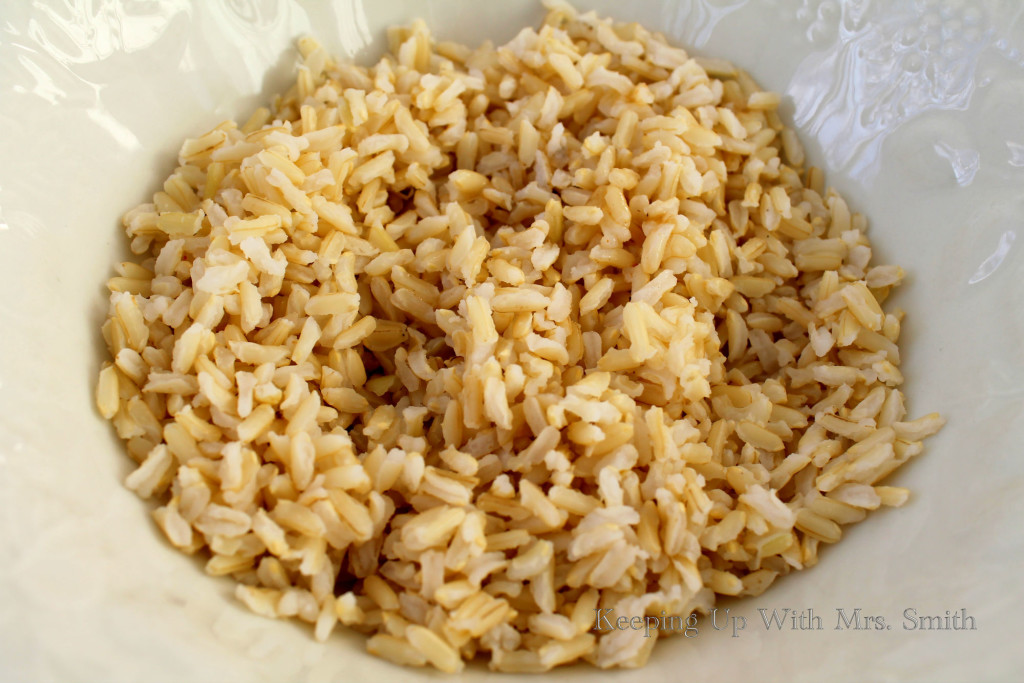 Share with friends on a cold day and congratulate yourself on a pot well done.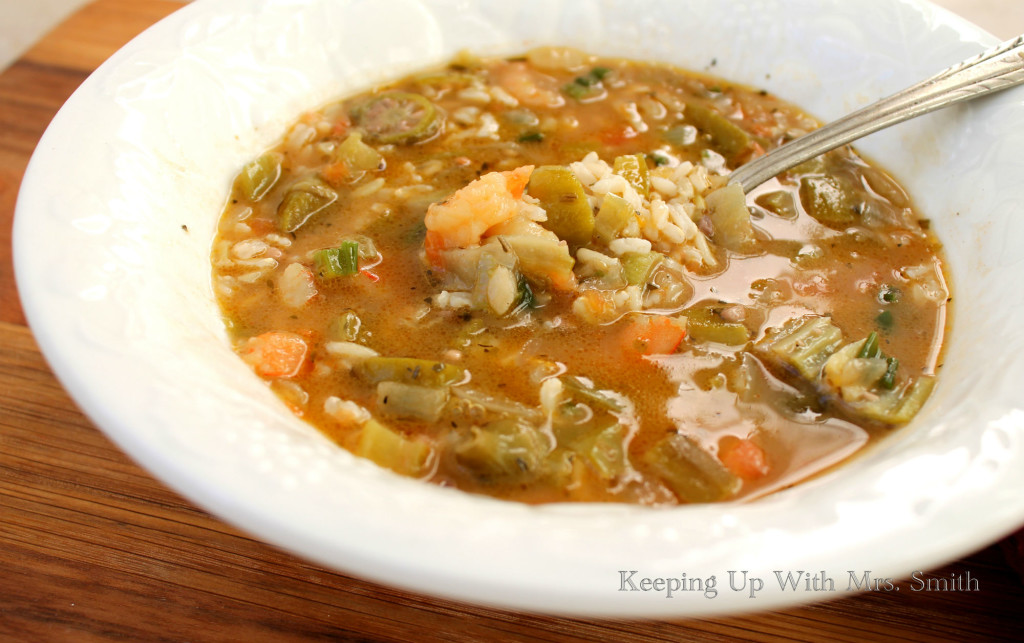 The untweaked, unadulterated version for Poppy Tooker's Seafood Gumbo can be found at www.finecooking.com.
A review of my tweaks:
I used half chicken broth and half water in my seafood stock
I added 2 cloves of garlic
I reduced the amount of salt from 2 teaspoons to 1-1/2 teaspoons
1 added 1/4 teaspoon cayenne pepper
I omitted the crab and oysters
Thank you all for letting me share my kitchen adventures with you!  Join me next week when I cook something else I have never made before…