I am participating in a compensated campaign with Chadwicks of Boston. The styling and the written words about the pretty gingham dress from Chadwicks of Boston are my own.
Who remembers seeing the Chadwicks of Boston catalogs that came in the mail? I do! Well something at Chadwicks of Boston has changed. Don't worry – they are still trusted, still reliable, but they now have modern designs that fit Every Body!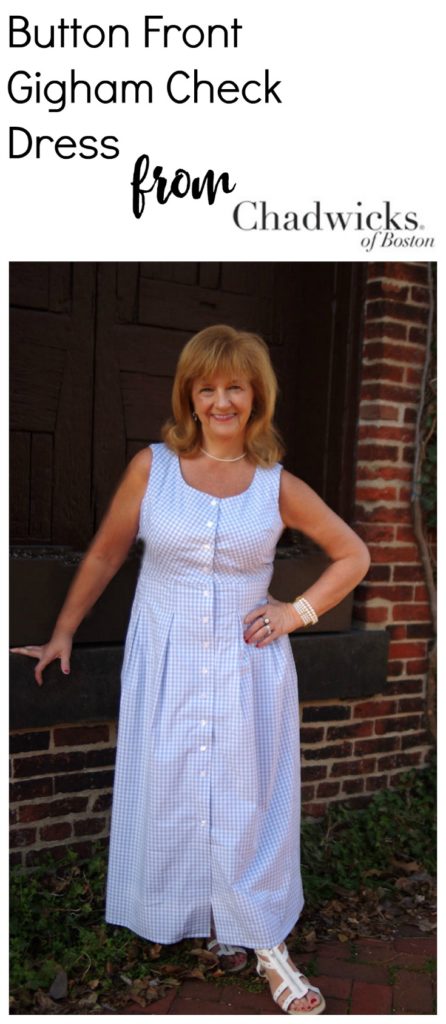 It took me about a minute to decide that I wanted this Button Front Gingham Checked Dress.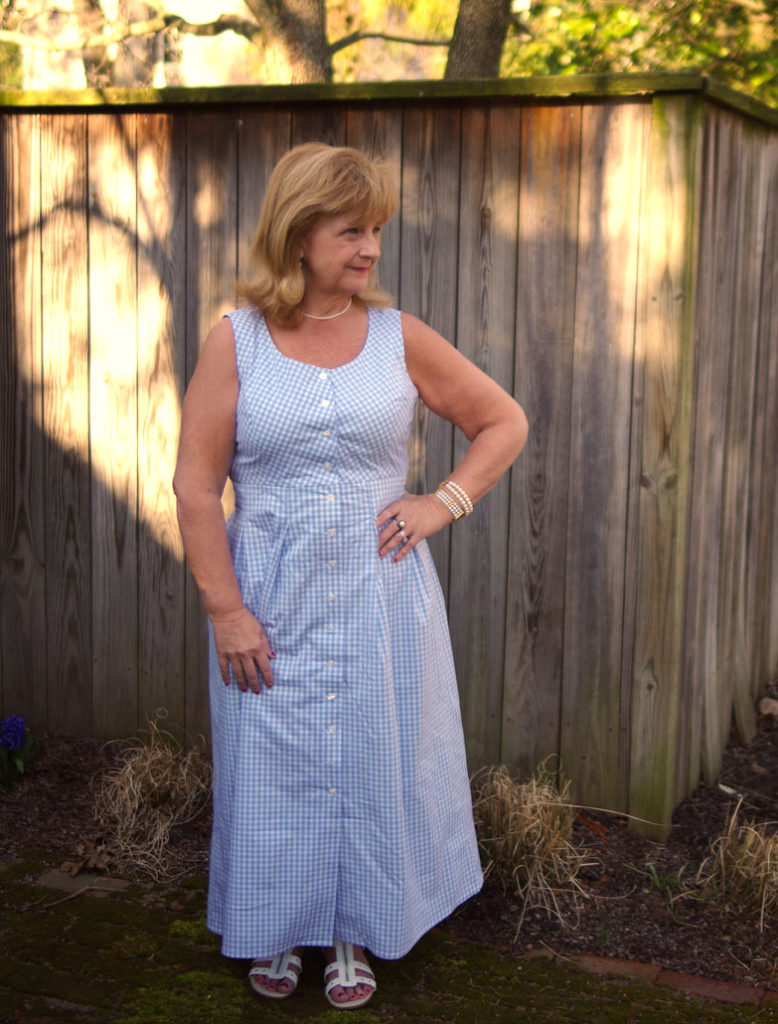 I love the classic light blue gingham check. This pretty gingham dress just says "Spring" to me. The fitted bodice and A-line style is extremely flattering for every figure.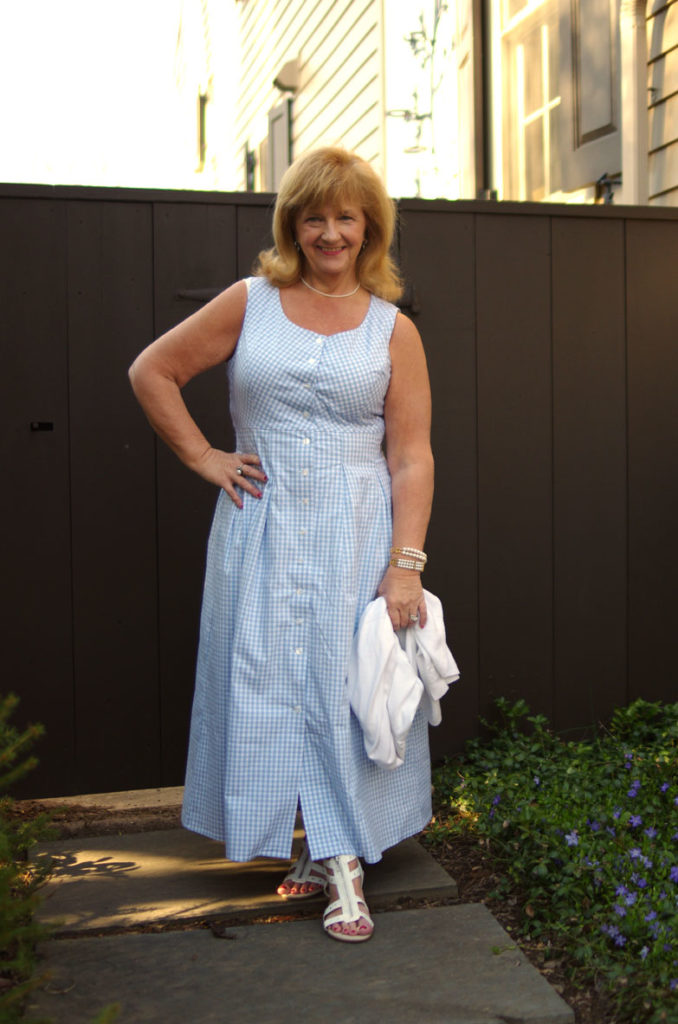 I ordered mine in a "petite" size and as you can see, it's still very long! (I am 5'1″) I will probably shorten this so as not to be overwhelmed by it. (If you don't normally wear a Petite size, just keep the length of this in mind when ordering.)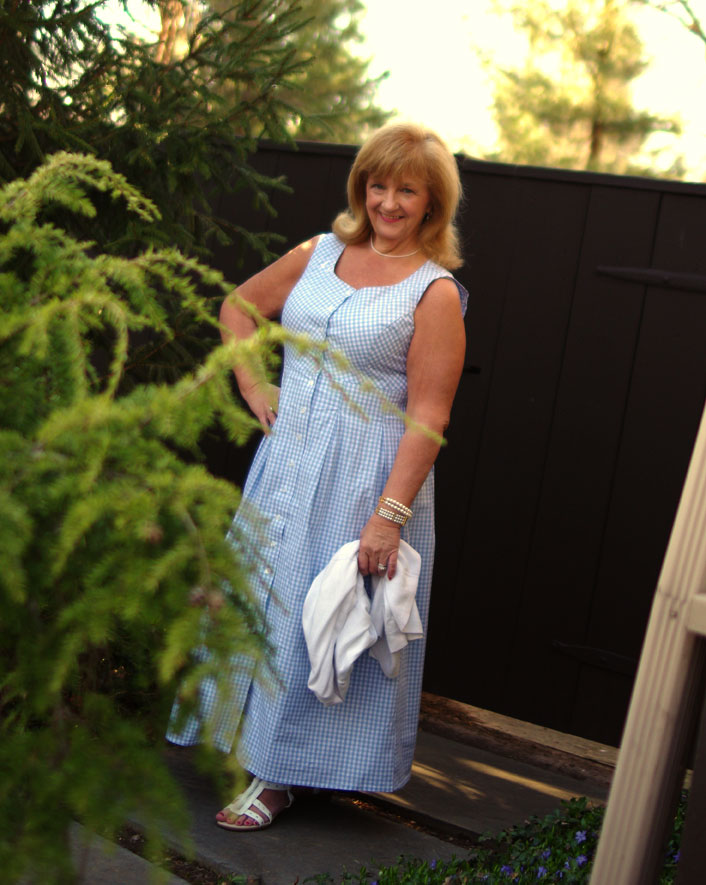 I love the scoop neck and wide straps of this dress. I didn't have to wear a strapless bra and that's big win for me! It's not skimpy at all and would look fabulous on every body. This dress would be perfect to wear to a summer wedding, just add some jewelry and high heels and you'll look incredible.
On the other hand, this dress would be appropriate for a less formal event too. How about pairing it with strappy, flat sandals for a daytime event like a picnic or family reunion. Or even a stroll on the beach in bare feet!
Please know that this dress is machine washable – yay! And I was so impressed by how well this dress is made. It is fully lined with a polyester lining.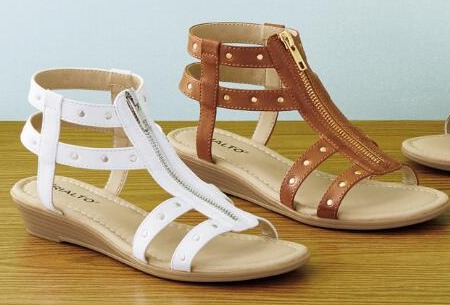 Did you notice the cool, gladiator sandals peeking out at the bottom of the dress? Aren't they the cutest!!! I adore these sandals and they are so comfortable! I think I want to order another pair in a different color!
Chadwicks of Boston is offering a 20% discount to readers of Create & Babble!

I owe a big thanks to hubby for being my photographer for this shoot! Funny story: when we were done taking pictures in Marietta, (a neighboring village near us), we went to one of our favorite pubs for dinner.  As we were walking in someone commented on how coordinated we were looking.  l looked at my husband wearing a light blue and white striped shirt! We matched perfectly and hadn't even noticed. We should have had that fellow take a picture of us!
Now head on over to Chadwicks of Boston and check out all of their affordable Spring fashions! I'd love to hear what you find! Let me know in the comments what your favorites are!