If you are here for the first time Welcome! My name is Jeanie. I am a recent empty-nester who also recently retired early so I've got lots of time on my hands to do what I love most: do it yourself projects (diys), crafts, room makeovers and home decorating projects. I just love to make things – pretty things!
This is my third go-round with the One Room Challenge®. I learned so much from my first two attempts and I hope that this third time will be the best one yet!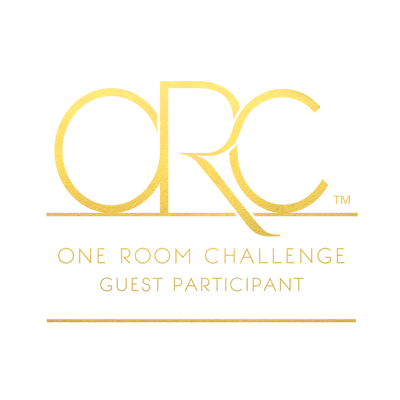 The One Room Challenge® (ORC®) is a bi-annual event, put on by Linda from Calling It Home. Over the course of six weeks, 20 design bloggers make over a room and share weekly updates on the progress of their rooms on Wednesdays. On Thursdays, the rest of us Guest Participants, link up our weekly updates. We cheer each other on through the chaos of making over a room in six short weeks!
Last fall I made over my laundry closet. I know that sounds rather boring, but trust me. That laundry room is anything but boring. Seriously! Go check it out! It's the most glam laundry closet that you ever did see! It was so much fun because it's a small space that's hidden behind bi-fold doors so I went a little crazy behind those doors and gave my laundry closet a glam makeover. I love it!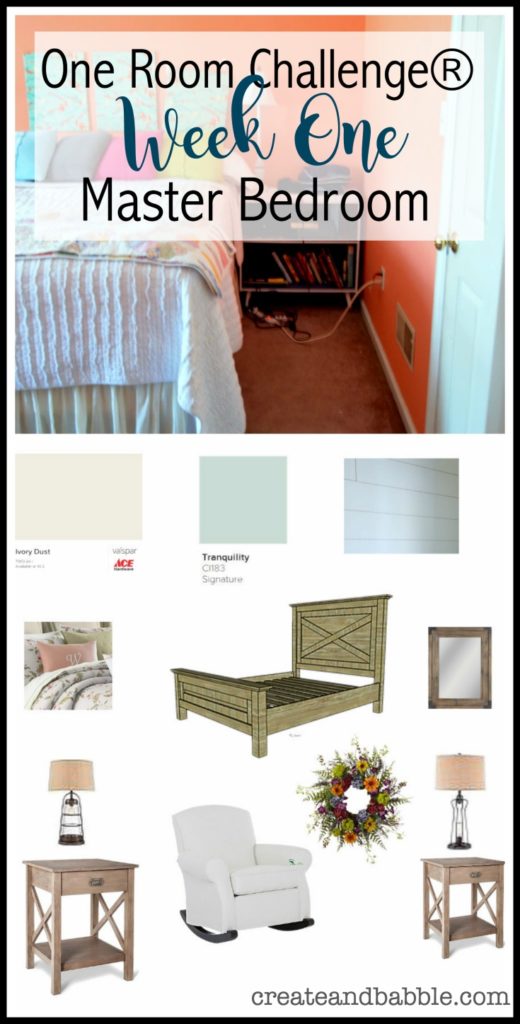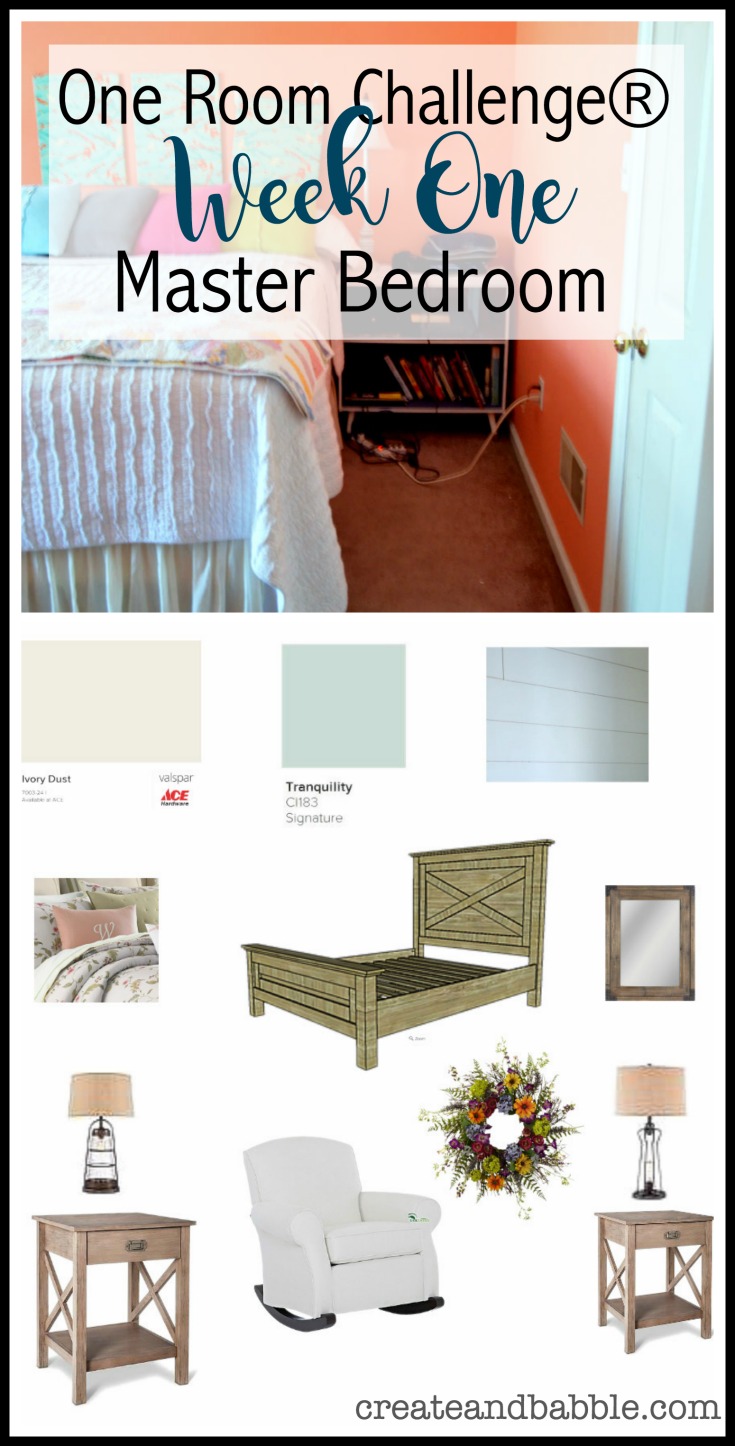 Okay, now let's get to the room that I'm going to makeover: The orange master bedroom. If you're a regular around here, you've seen this room before. To be fair, it's probably not
really
orange. Maybe more of a bright coral? Doesn't matter. I've put up with it for
long
enough. And just so you know: I did
NOT
choose that color. I inherited it from the previous owners. What
were
they thinking??? I'm going to give them the benefit of the doubt and say that's probably
not
the color that they had in mind. But once it was up – they went with it.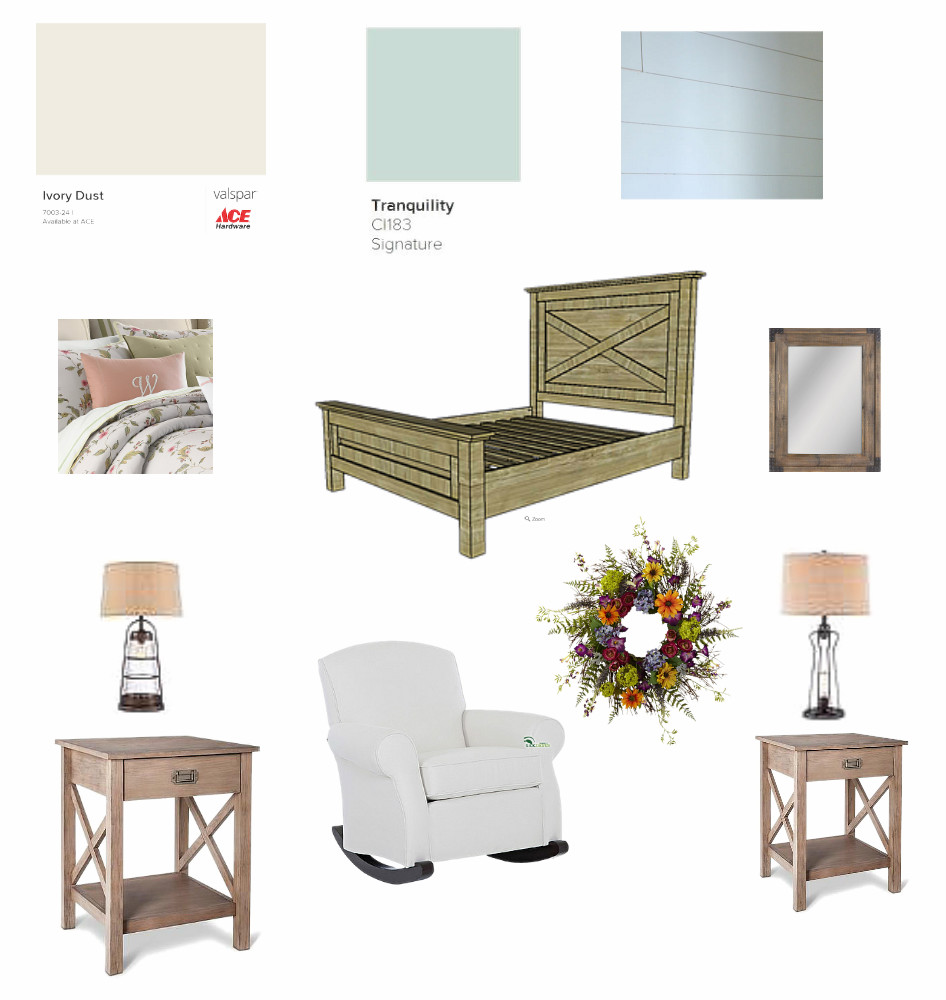 But I am done with it. Finally! I've been living with an orange master bedroom ever since I bought this house back in 2008. I knew back then that this room would be on the list for a makeover and I'm happy to say that it's time!
THE PLAN (in no particular order):
Get rid of the orange!
Build two side tables to coordinate with bed
Find two farmhouse style table lamps and a coordinating floor lamp
Paint the upholstered rocking chair
New bedding
Build a framed mirror
Install a faux ship-lap wall behind bed
Make pretty wall art
New curtains
Make "L" shaped window seats and create a reading nook in the "bump out"
Get rid of a chest of drawers
THE BUDGET:
I am hoping to stay under $1,000. Wish me luck!
SPONSORS:
I am proud to be partnering with the following brands:
Lamps Plus / RYOBI Nation / Silk Plants Direct / Valspar / Amy Howard At Home