For this month's Silhouette Challenge, I am working with one of my favorite mediums: Glitter Heat Transfer Vinyl. I use it instead of rhinestones and I love this stuff. I guess it's not fair to really call it a challenge since I've worked with it before. But this is my first "glitter vinyl instead of rhinestones" Christmas Pillow.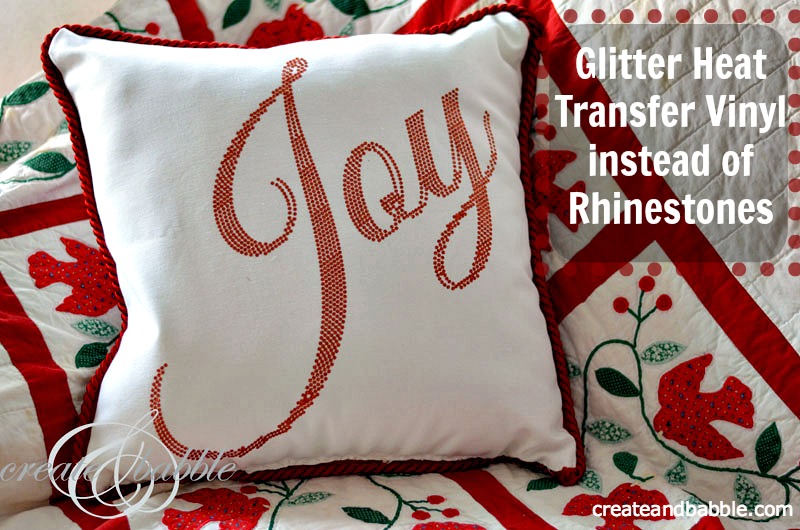 It's been Christmas craft crazy here at Create & Babble. I've got so many projects going on at the same time. But I'm excited to have this Christmas Pillow done and tell you how I did it.
Here are the steps to create a rhinestone word design in the Silhouette Designer Edition software:
use the "text" tool and type your word using the font of your choice (I used typed Great Vibes)
weld the letters together
adjust to the size you need
open the Rhinestone window and chose the style of your rhinestones (I used linear fill)
adjust the size and spacing of the rhinestone holes until you get the look you want
flip the shape horizontally (don't forget that part!)
load vinyl without cutting mat into Silhouette with the sparkly side down (use load media – not load cutting mat)
cut heat transfer vinyl using speed: 3  blade: 3  thickness: 33
I find that weeding heat transfer glitter vinyl is so much easier than regular wall vinyl. I did lose a couple "rhinestones" in the weeding process, but I just cut a few extra and popped them into place.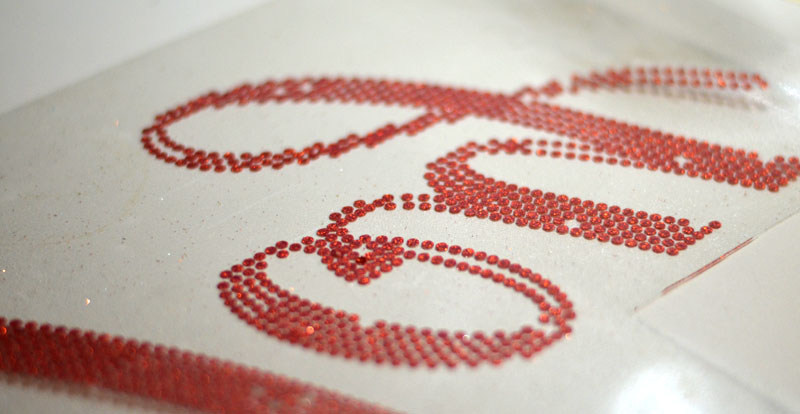 After the weeding was done, I placed the design, plastic backing side up, on my  20″ square piece of white cotton fabric and covered it with another piece of the same fabric that would be the back of the pillow. (You have to cover it with something or the iron will melt the plastic backing) Then using a lot of pressure, I pressed down and held the hot, dry iron for about 10-15 seconds. Then I repositioned the iron and repeated the pressing until the entire design was pressed. The plastic backing of the glitter vinyl releases very easily and the little circles of glitter vinyl that are adhered to the fabric look so much like rhinestones! Look at the sparkle!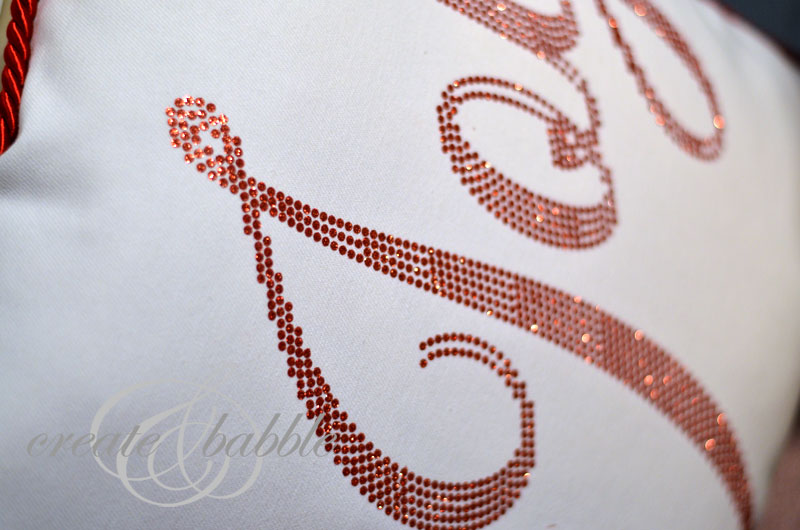 Now I don't know about you, but I have no desire to set all the rhinestones that would be needed for a design like this. I tried it once and failed miserably. I just don't have the "touch" or patience.
Now here's where I got fancy: to finish the pillow, I machine-stitched a red cording trim to the edges of the back section of the pillow. This is the first time I have ever done that and I must say it was a little tricky around the corners! Then with right sides together, I machine-stitched three sides of the four sides of the pillow, leaving one side open to insert the pillow form. The last step was to hand sew the bottom opening.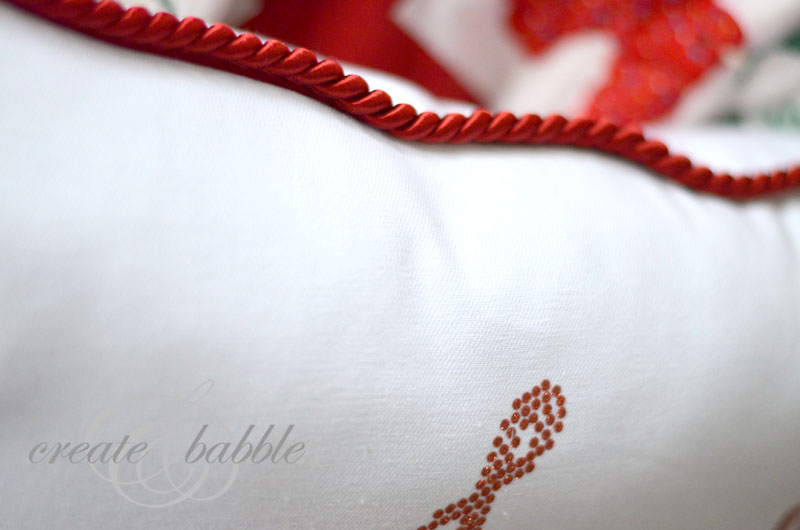 I got out my old Partridge quilt and put it on the big green snuggle chair in the corner of my living room. This will be a nice, cozy spot to snuggle up and read with my grandson.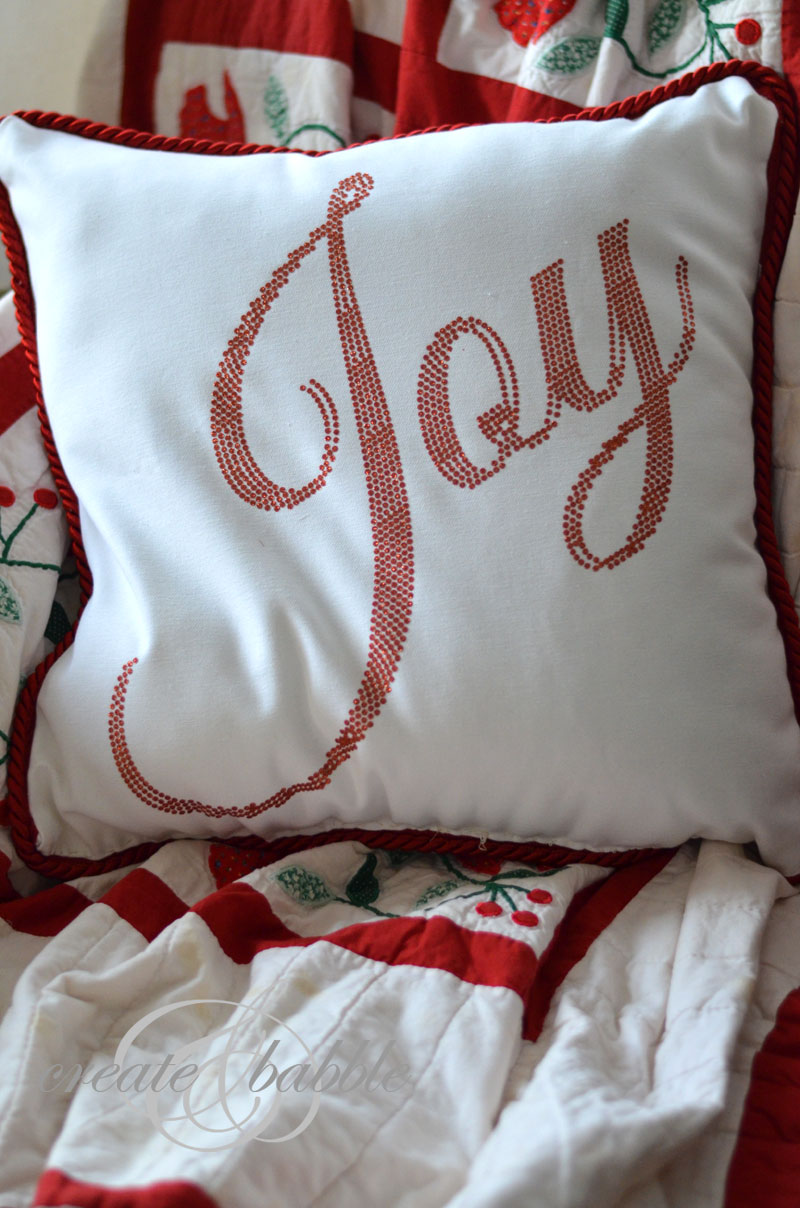 Want to Check Out More Silhouette Projects?
My Silhouette Challenge buddies are all sharing projects today on their blogs, so peruse the links below for a blog-hopping good time.
DIY Ironing Board Hangerby The Turquoise Home
Silhouette Challenge: Time Zone Bathroom Artby Nearly Handmade
Santa's Christmas Countdownby Tried & True
Nautical Anchor Pillow Tutorialby The Thinking Closet
Christmas Card Ornament with Free Cut Fileby unOriginalMom
Thanksgiving and Christmas Dual Signby Architecture of a Mom
Itching to Etchby Get Silvered
Snowman Tag ~ Silhouette Challengeby Whats Next Ma
Thanksgiving Signby Chicken Scratch NY
DIY Horse Silhouette Pillowby Rain on a Tin Roof
Sketching on Fabricby The Sensory Emporium
Paper Leaf Garlandby Lil' Mrs. Tori
DIY Blessing Board – Silhouette Challengeby One Tough Mother
Glass Painting with Reverse Stencilsby Givemeapaintbrush
Chalkboard Thankful Treeby Cutesy Crafts
Bottoms Up! MYO Wine Tagby From Wine to Whine
'Happy Holly-days' Tags for the Swapby An Elegant Touch…
Thank You for Dinner (Card)by Everyday Paper
Advent Star Christmas Countdownby My Favorite Finds
Geometric Fabric Bowlsby Please Excuse My Craftermath…
Paper Carnivalby Home At Eight
Silhouette Cameo Tutorial: Dual Sided Business Cardsby Black and White Obsession
In Case of Emergency Baby Bag Tagsby Tossed Salad Life
Christmas On My Mindby Creative Turn
Jingle all the Way!by My Paper Craze
Christmas Lights Garlandby Making Home Base
We Are Thankfulby 4 You With Love
Seattle Skyline Silhouette by Sowdering About in Seattle
DIY Stenciled Mugsby Coley's Corner
Do you have a Silhouette machine?
Looking for Silhouette inspiration, support, trouble-shooting? Interested in joining us for our group posting event next month? Then, we'd love to have you join our Silhouette Challenge Facebook group. To join, simply fill out the new member request form, and Lauren from The Thinking Closet will get you squared away.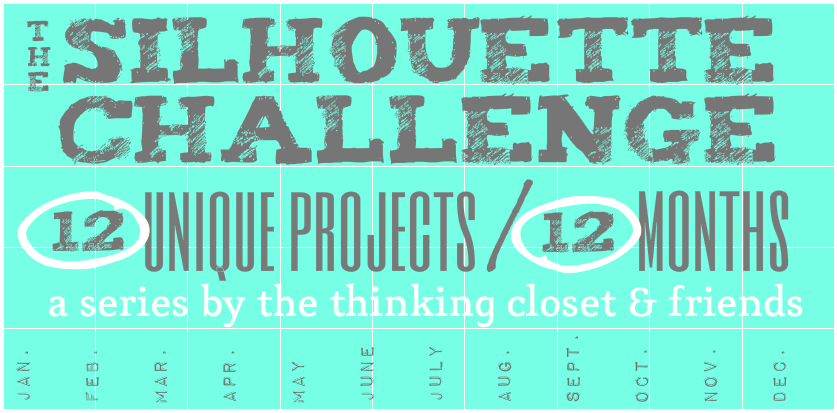 I link to these great parties: