I may earn money or products from the companies mentioned in this post at no additional cost to you. As always I only recommend products and services that I use and love.
There is nothing like watching the faces of little children on Christmas morning discovering that Santa did indeed come and drop off toys during the night. This year my grandson is six years old and we know the magic won't last much longer. That is why I made stenciled Santa Sacks. If there's a tiny doubt, maybe the sight of an official-looking sack from the North Pole that is personalized with his name will erase any doubt. At least this year ; )
Be sure to read all the way down to the end. I have a special surprise for ya!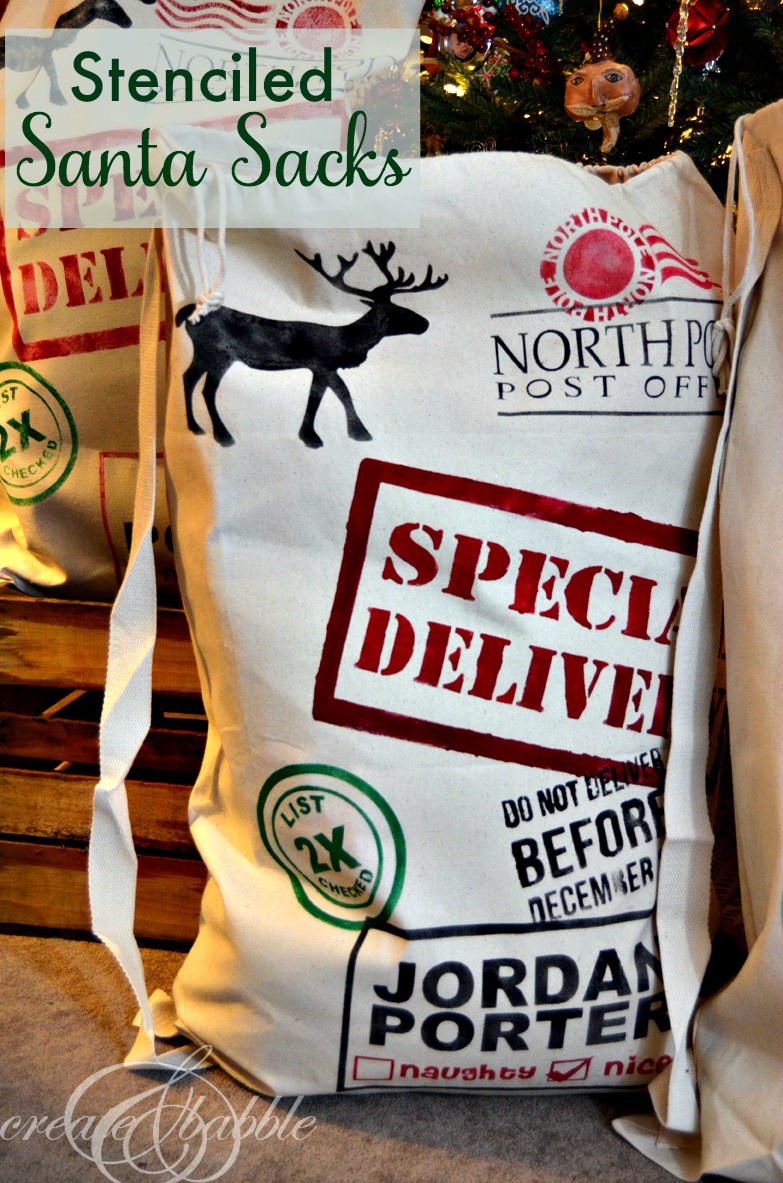 There are many great tutorials out there for making these sacks. I have seen many made with vinyl. In fact, I considered using heat transfer vinyl but since I don't own a heat press and I needed to make three of these sacks – well that was too much time spent over an ironing board for me! (Santa, if you're reading this, a heat press is on my list — and I've been really good!)
I decided to make stencils instead. I thought that the uneven look of paint stenciled on the bags would give an almost authentic appearance of the words being stamped onto the bags.  You know, by tiny elves. With big stamps and ink pads.
The first thing I had to do was find the right bags. I ordered mine online through Tote Bag Factory. They're a very nice quality for the price.
Once I received the bags, I measured how big of a design I would need: 18″ x 26″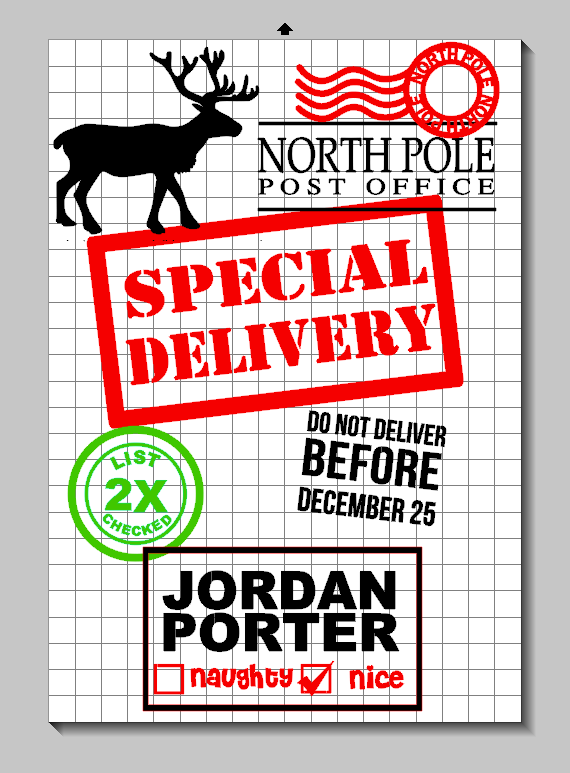 In Silhouette Studio, I created an 18 x 26 workspace and starting creating my shapes.
The inspiration for my design came from multiple places. One of them was from Brooklyn Limestone. They offer a free printable that can be printed onto transfer sheets. In fact I used the reindeer from her design and traced it to create a cut shape.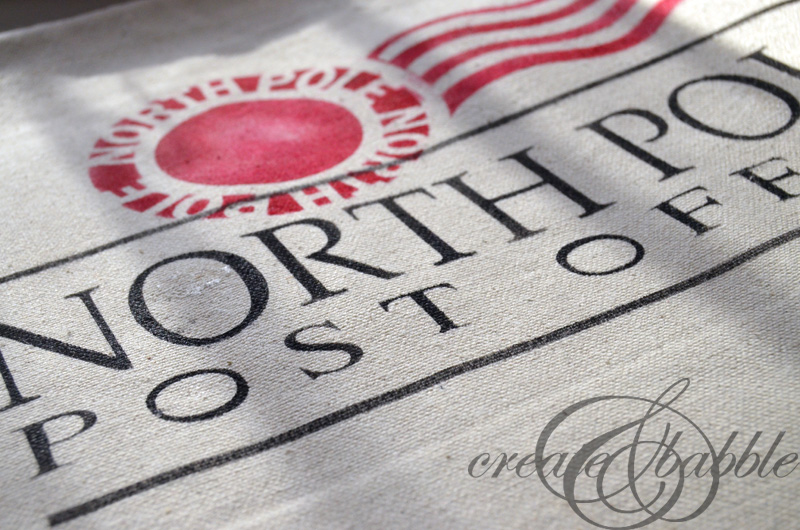 The postal stamp and the check boxes are from the Silhouette® Online Store. Everything else I made in Studio.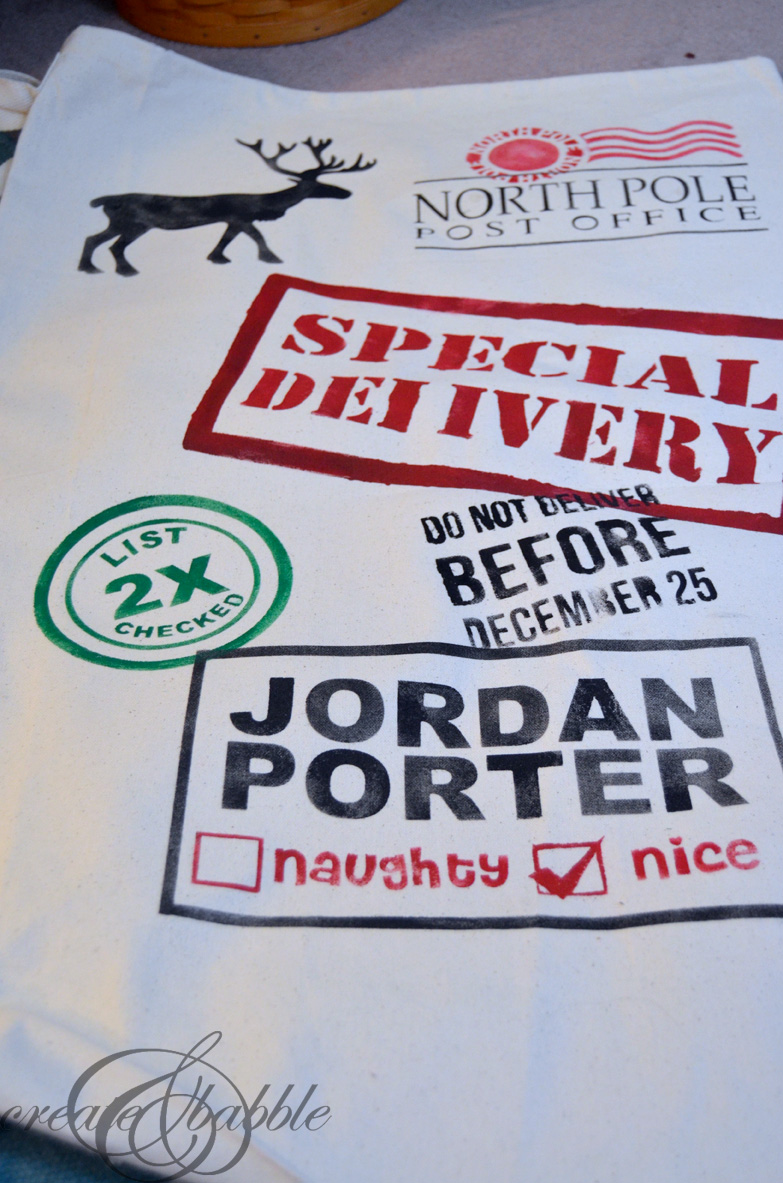 To make the letters stencil-friendly, I used the knife tool to make a slice through letters that have a "hole".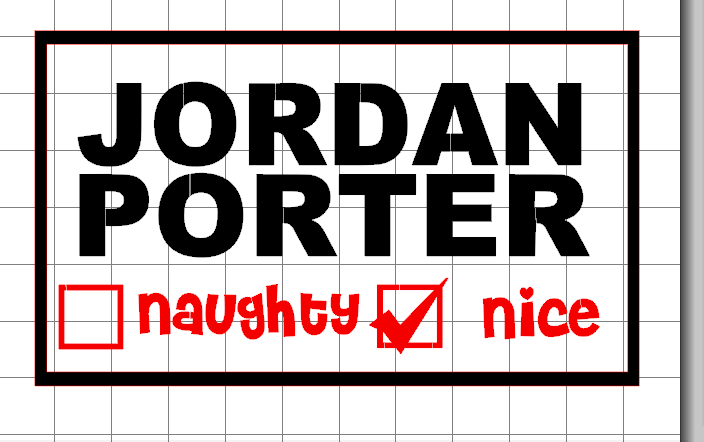 If you look closely at the photo above, you can see the small white line through the letters with holes.
After all of the designs were made and placed where I wanted them on the 18″ x 26″ drawing space, I copied and pasted each one onto a new drawing space sized to fit the size of my stencil blanks. I used the Show-Off brand of stencil blanks that are 12″ x 18″.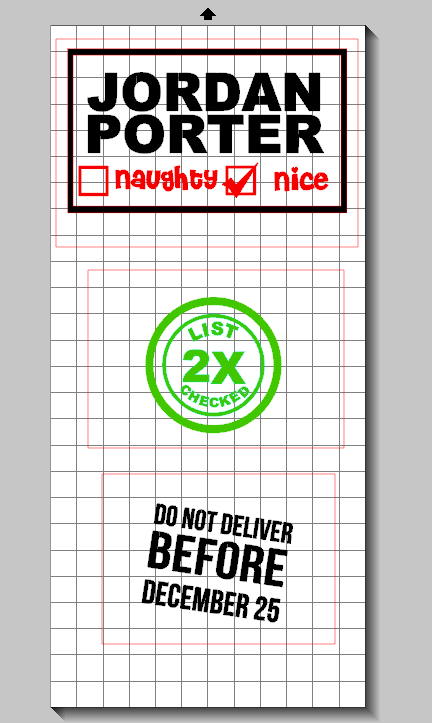 I drew rectangles around each shape to create a border on each stencil piece.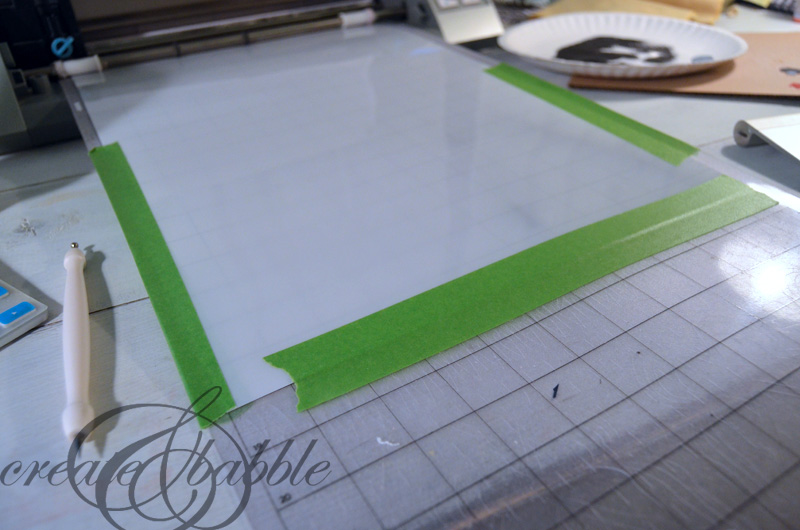 Here's a little tip for you. If your stencil material is sliding around on your not-so-sticky-anymore cutting mat, use a little painter's tape along the edges. Works like a charm! I do the same thing with glitter card stock.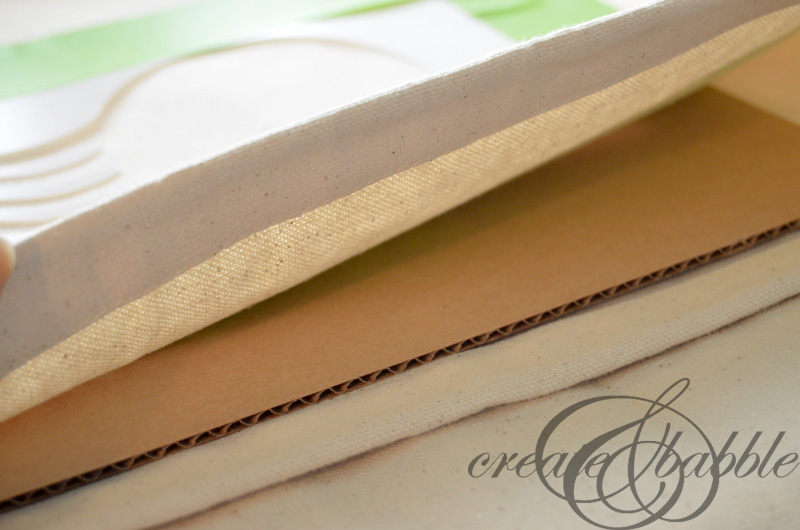 I started off using a piece of cardboard inside the bag in case the paint bled through, but then forgot about it later. The bags I used are really thick and I didn't have any issues with paint seeping through.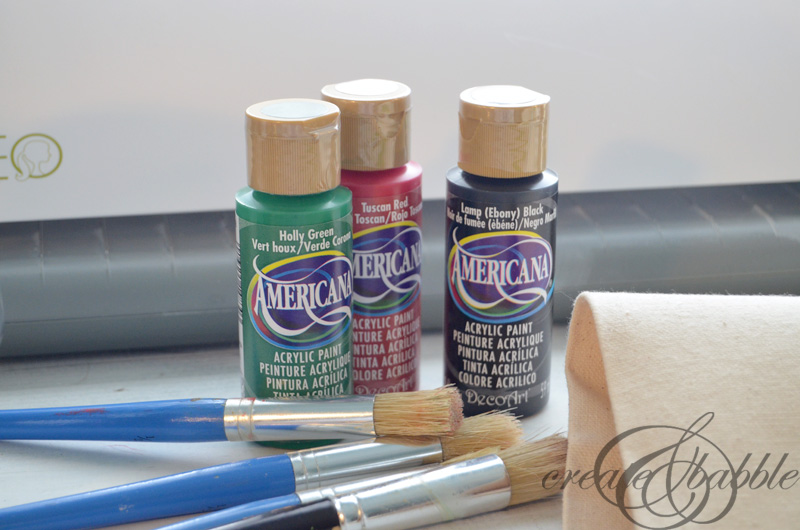 To keep things simple (and less messy), I only used three colors of paint. I chose Americana Acrylic Paint by DecoArt: Holly Green, Tuscan Red and Black.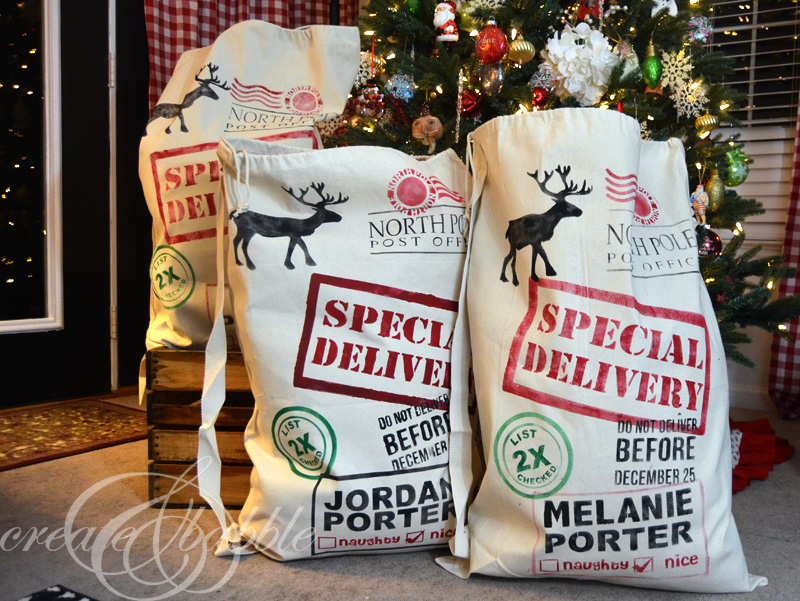 The more I did, the faster and better I got at it. I was little heavy handed with the red paint on Jordan's ; ) I don't think he'll notice. The trick to stenciling is to keep the stencil brush relatively dry.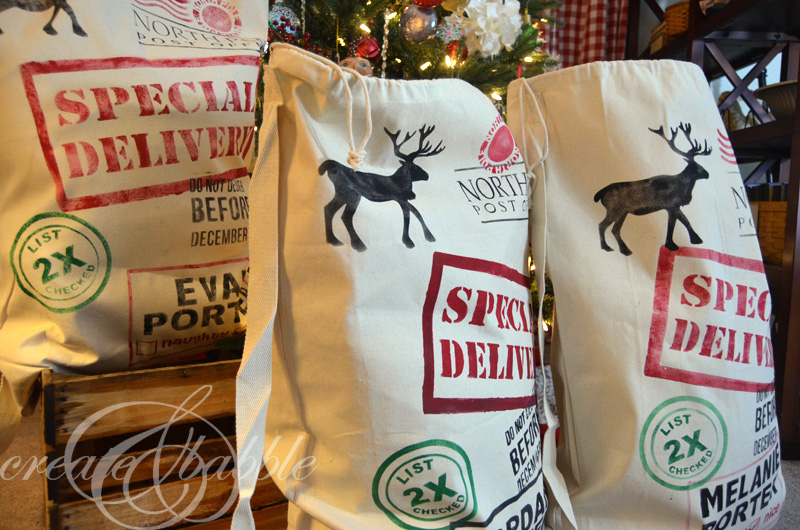 I cannot wait to see those three little precious faces on Christmas morning when they see what Santa left for them!
Want to Check Out More Silhouette Projects?
My Silhouette Challenge friends and I are all sharing projects on our blogs today, so peruse the projects below for a wealth of Silhouette inspiration!
1. Pineapples and Pinecones // 2. Simply Kelly Designs // 3. Architecture of a Mom // 4. Just a Girl and Her Blog // 5. Two Purple Couches // 6. Chicken Scratch NY // 7. Creative Ramblings // 8. One Dog Woof // 9. Ginger Snap Crafts // 10. The Thinking Closet // 11. Please Excuse My Craftermath… // 12. Designer Trapped in a Lawyer's Body // 13. weekend craft // 14. Dragonfly & Lily Pads // 15. Practically Functional // 16. Living My Given Life // 17. My Paper Craze // 18. The Kim Six Fix // 19. Home At Eight // 20. Queen of Everything // 21. Tried & True // 22. McCall Manor // 23. unOriginal Mom // 24. Create it. Go! // 25. From Wine to Whine // 26. GetSilvered // 27. It's Always Ruetten // 28. Nearly Handmade // 29. Mama Sonshine // 30. Silhouette School // 31. It Happens in a Blink // 32. Create & Babble // 33. Sowdering About // 34. Where The Smiles Have Been // 35. My Favorite Finds // 36. Lil' Mrs. Tori // 37. Designed Decor
Silhouette Giveaway!
Here's the promised surprise!  My Silhouette Challenge buddies, in partnership with Silhouette America, are hosting a mega-huge giveaway for not one…but two winners!  The prizes up for grabs?
First prize: The NEW Silhouette Cameo Machine and Designer Edition Super Bundle!  $406.93 value.
Silhouette CAMEO®
Designer Edition Software
Dust Cover
$25 Download Card
Four Essential Silhouette Tools (hook, spatula, scraper, pick-me-up™)
Second prize: Silhouette Portrait Machine and Rhinestone Starter Kit!  $219.98 value.
Pretty sweet, huh?  We want you to have the chance to get that Silhouette machine that might still be on your wish list.
To enter: just complete the entries in the Rafflecopter widget below or at this link.  Because of my many blog friends who helped make this giveaway possible, you have 42 potential entries, which means a lot of winning power.  So, hurry up and enter!
{This giveaway runs from today through Monday, December 15th at 11:59p eastern and is open to anyone 18 years of age or older with a U.S. or Canada mailing address. You can read the rest of the terms and conditions in the widget below.}
a Rafflecopter giveaway

I link to these great parties:
Inspiration Monday  / Project Inspired  / The Scoop / Inspire Me Monday / Inspire Me Tuesday / From Dream to Reality / Hit Me With Your Best Shot/ One Project at a Time / Twirl and Take a Bow / The Fun in Functional / Show and Share /  Whimsy Wednesday /  Whatever Goes Wednesday /  Wow Us Wednesdays / Inspire Us Thursday / Creativity Unleashed / Creative Spark / Handmade Hangout / Weekly Creative /  Freedom Fridays / Feathered Nest Friday / Link Party Palooza / The Party Bunch / Furniture Feature Friday / Party Junk / Anything Blue Friday / Think Pink Sunday / Finding The Pretty & Delicious / Making Monday  /  That DIY Party / Bewitch Me & Titi / nifty thrifty Sunday / Share It Sunday / Remodelaholic