My readers are the best! I always knew that but they really came through last week when I asked in my newsletter for their suggestions of what to see, do, and eat while I was in New Orleans for the first time. They had so many suggestions that I couldn't possibly do them all. But I do plan on going back at least one more time with my husband. Hopefully many more! There is just so much to see and do that you can't possibly fit everything into one visit! So between my readers and me here is a Top Ten Must-See List for New Orleans.
I got there pretty late on Saturday night (around 10pm) so when I finally got to my hotel (Embassy Suites on Julia Street), I ordered room service: cajun wings (which were way too hot for me) and cheese fries. The fries were delicious – not healthy – but yummy!
In the morning I took off on my first adventure with two blogging friends. We went on a bus tour that was recommended. We chose to do the Super City Tour. This tour seemed to cover a lot of the highlights of the entire City. The cost was right at $34. The driver was very entertaining and knowledgeable.

We were able to get off the bus at two locations: one of the old above-ground cemeteries and also at City Park.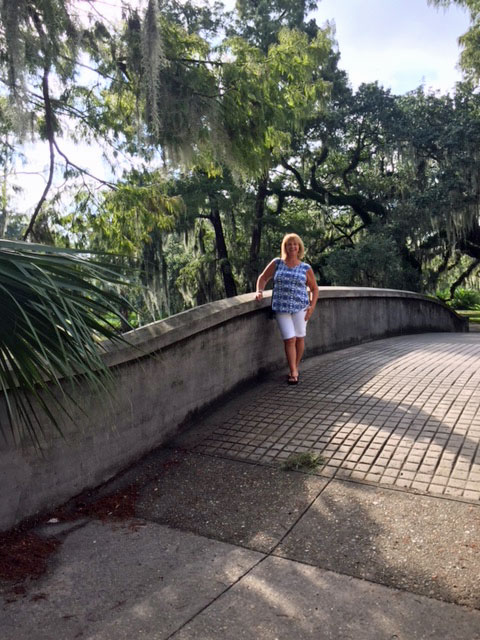 The bus tour began and ended in the French Quarter at Toulouse St. & the Mississippi River – at the Steamboat Natchez Dock. We ate lunch nearby at the French Market Restaurant and Bar. I had the Red Beans and Rice with Sausage. It was amazing! The PoBoy looked delicious too!
After lunch, we walked to the Market and spent quite a bit of time walking and shopping! The timing was perfect, it stormed while we were walking through the Market. That was the only time it rained while I was in New Orleans.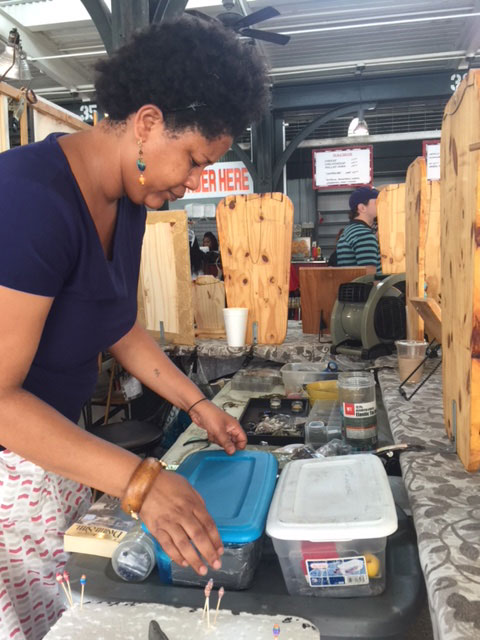 I enjoyed talking to the local artisans, many of whom were making their products right there in their booths.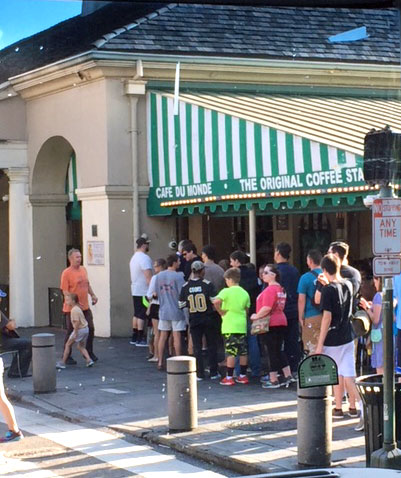 On the way back to the hotel, we stopped at Cafe du Monde. I just had to see what all the fuss was about and get an order of beignets. They were not what I expected. They were heavy and dry. For some reason I was imagining light and flaky. Beignets (or at least the ones I had) are not light and flaky. They are more like a cake donut with lots and lots of powdered sugar.
On Monday morning I passed on the hotel's free breakfast and walked to The Ruby Slipper Cafe on Magazine Street for the best breakfast I've ever had! It all started with a Mimosa. But not any ordinary Mimosa. This one was made with Blood Orange juice and it was delightful!
While I was taking my time enjoying that Mimosa, I struck up a conversation at the bar (they put all single patrons at the bar) with a nice woman from Texas. She was a retired professor and as it turns out she likes building and repurposing furniture too! She had already ordered her breakfast and when her Specialty Benedicts came I knew that I had to get the same thing and I was not disappointed!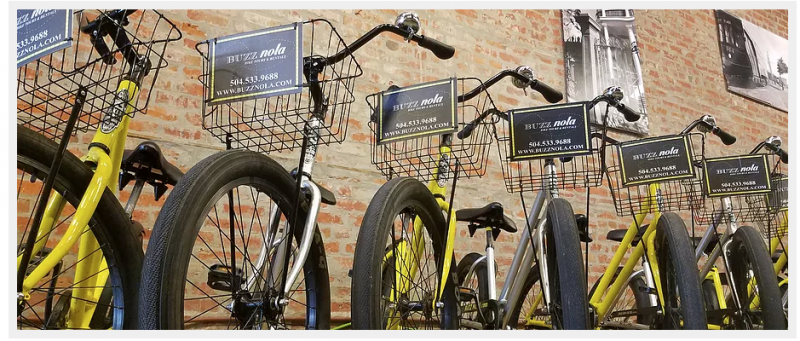 I had done a little research on tours before I left home and something that caught my attention was a bicycle tour. Specifically a bicycle tour that used electric-assist bikes. My husband and I have had a few conversations about these bikes and agree that they are a wonderful invention and there will come a day when we will probably slowly make the shift over to electric-assist bikes. Not yet! But some day. For baby-boomers (who are approaching our 60s and even 70s) these eBikes will extend our bicycling days for years hopefully. I also think that having an eBike would open up more riding possibilities for us now – even before we "need" them. I think of the destinations that require pedaling hills that I'm just not up to or even just for longer rides. So, when I saw that there were tours in NOLA using these bikes I knew then and there that I was going to sign up for one of these tours. Unfortunately no one else in my group was interested  ? so I'd have to go alone. Oh well. Maybe there would be a small group that I could join.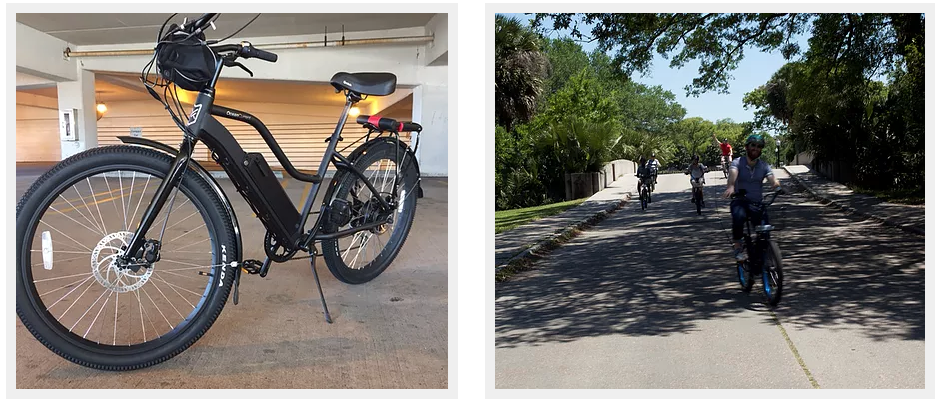 As luck would have it, when I left The Ruby Slipper, I came upon Buzz NOLA Bike Tours & Rentals and they were getting ready to leave on a 18-mile tour. There were only two couples going so I joined them and their guide. They quickly got an eBike set up for me and soon we were on our way!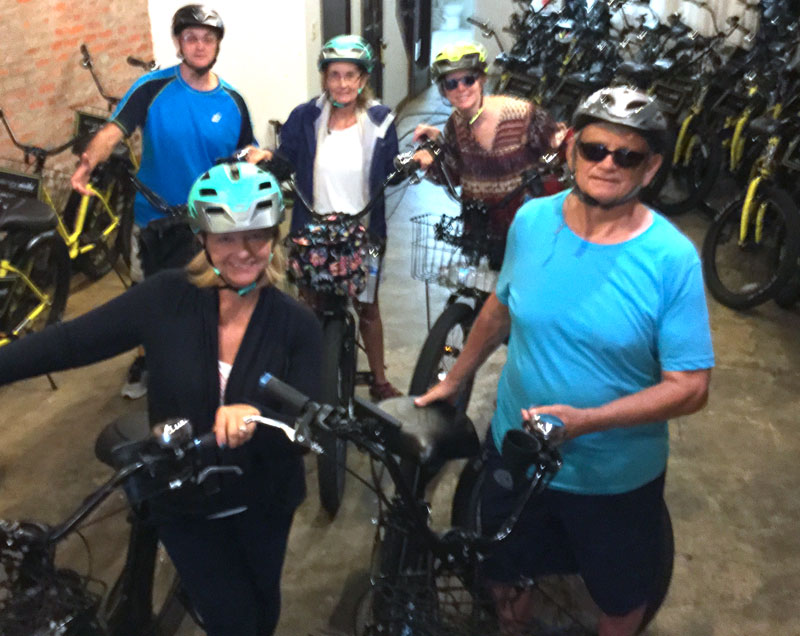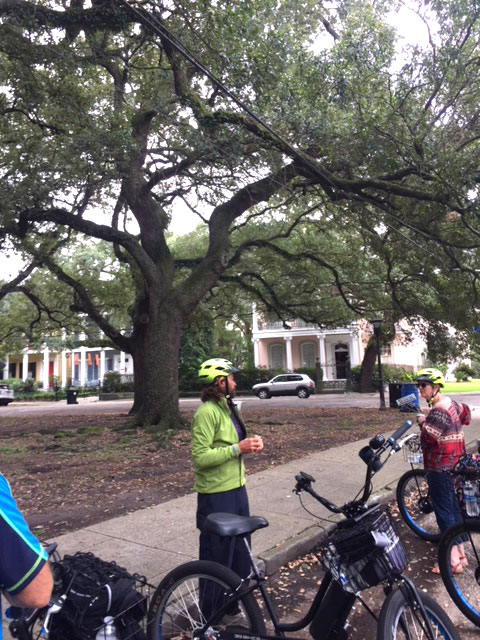 Our guide was funny, smart, informative, and safety was a top priority. I felt safe during the entire ride. We covered a lot of the same areas that I saw from the bus the day before but it was such a better experience from a bike! We rode around the streets in the garden district that the busses can't get to. It was fabulous and I can't recommend it enough. The bikes were very comfortable and so easy to ride. You do not need to be an experienced cyclist to enjoy this tour. If you can balance a bicycle, you can ride one of these bikes!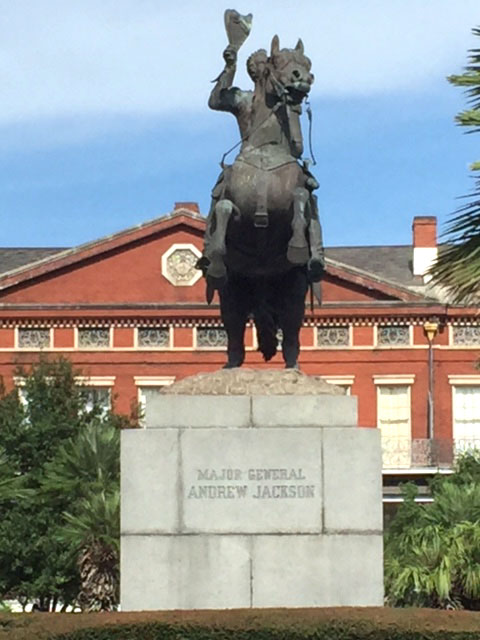 After the bike tour, I took a Lyft ride back to the French Quarter. I wanted to take a closer look at Jackson Square and go into the St. Louis Cathedral. But first, lunch! I went to the City Grocery and got one of their original muffulettas. It smells so good in there and the muffuletta did not disappoint. Muffulettas are certainly not to everyone's liking, but if you like ham, salami, and olives – you're going to love it!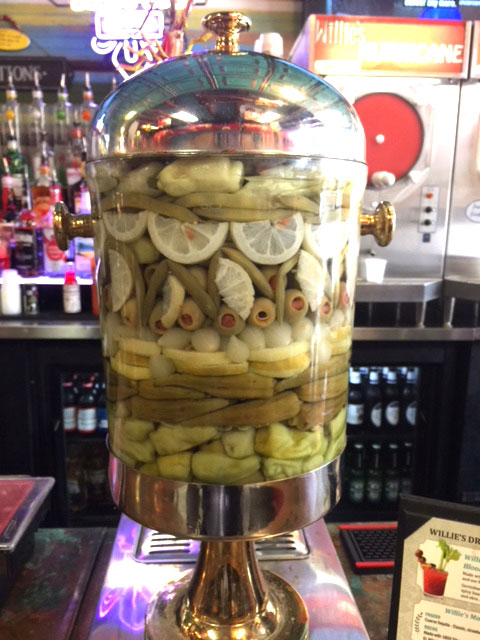 I love Bloody Marys and when saw this jar of infused vodka . . . well I just HAD to get one to go with my muffuletta!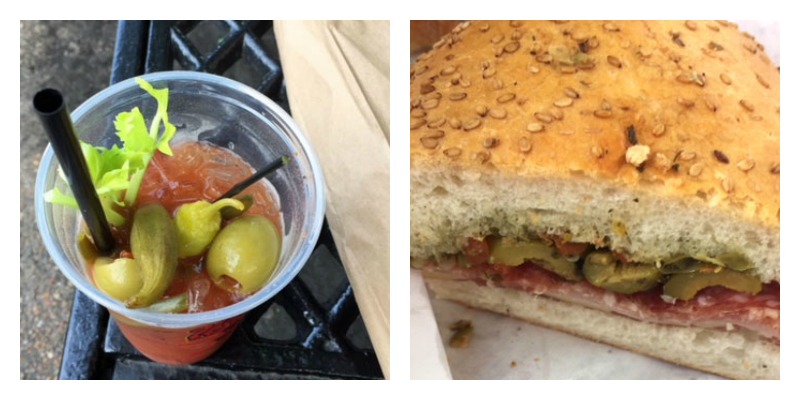 I enjoyed half of my half muffuletta and Bloody Mary on a bench in Jackson Square ? before heading into the Cathedral which was gorgeous.
About the restaurants: One thing that the bike tour guide said surprised me. He said that the Popeye's in New Orleans was considered a local restaurant and that the fare there was nothing like the Popeye's at home. I didn't try it so I can't vouch for that statement. But I will say this: We had dinner at the Bubba Gump's in New Orleans and it was just like any other Bubba Gump's that I've been to. My advice? Skip it. Nothing special.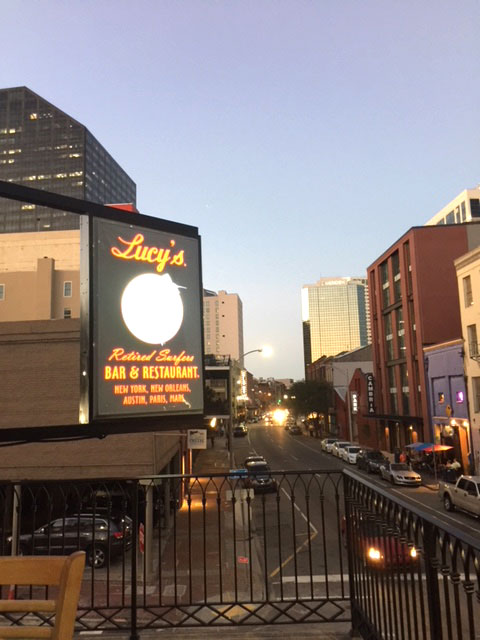 The last night we were there, we had dinner at Lucy's Retired Surfer's Cafe. They had a buffet set up for us and it was very good.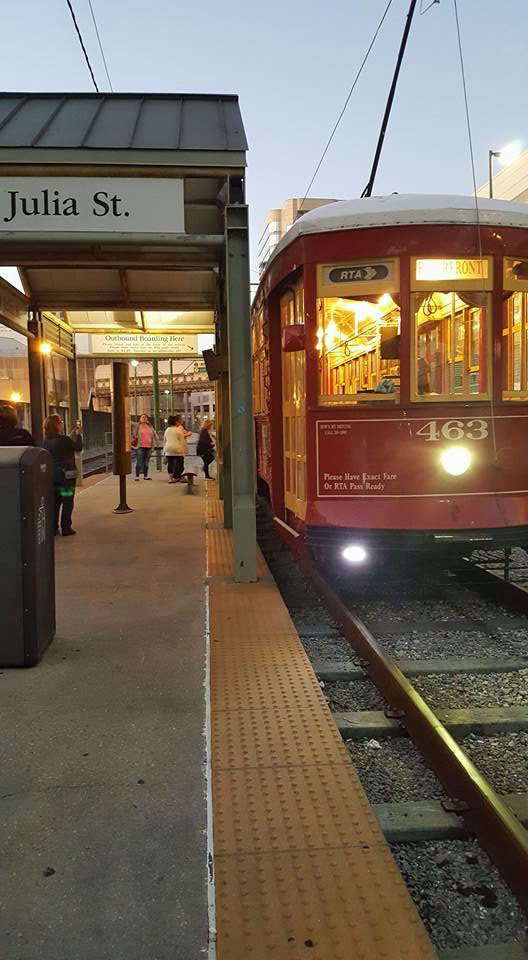 After dinner, a few of us took the street car back to the French Quarter. I traveled 1,000 miles to New Orleans. I had to walk just a couple of blocks of Bourbon Street! It was fun. The music, the smells, the people, the heavy police presence. ?There's only Bourbon Street and I couldn't leave without visiting it!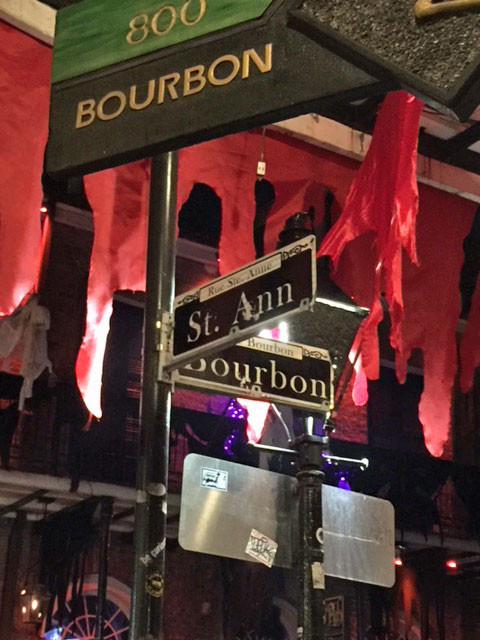 Top 10 Must-See List for New Orleans
Visit Central Grocery and get a muffuletta
Enjoy breakfast or lunch at The Ruby Slipper on Magazine Street
Try the cafe du lait and beignets at Cafe du Monde
Visit City Park
Go on a bicycle tour
People watch on a bench in Jackson Square
See one of the above-ground cemeterys
Walk along Bourbon Street
Visit the Garden District
Ride a streetcar
Please add your New Orleans favorites in the comment section below!