This post contains affiliate links for your convenience. Click here to read my full disclosure policy. Therm O Web has provided me with some of the products used in this post. All opinions are my own.
As I've mentioned recently, I am getting back into my crafting roots this year. Oh don't worry all you DIY fans, I'm not going to stop building things around here. Oh no. I love woodworking too much to stop!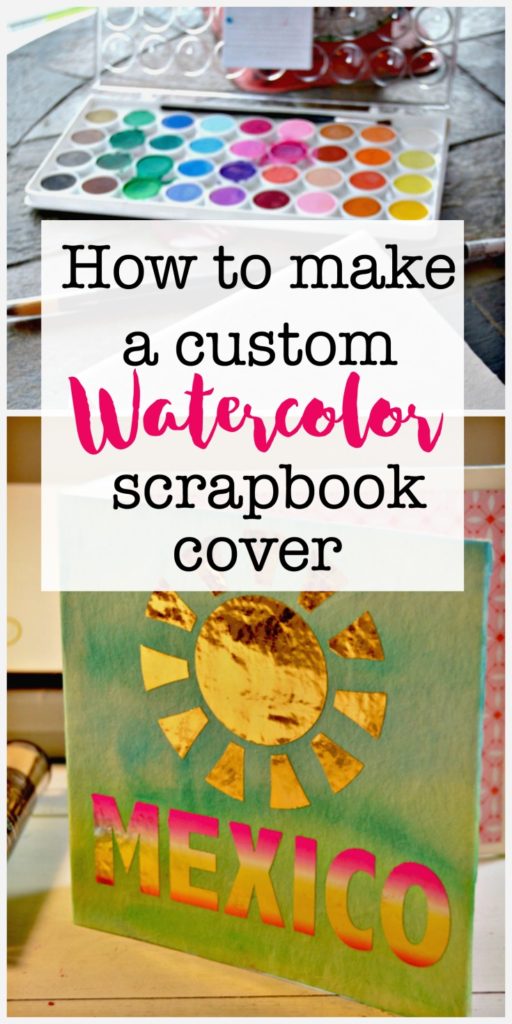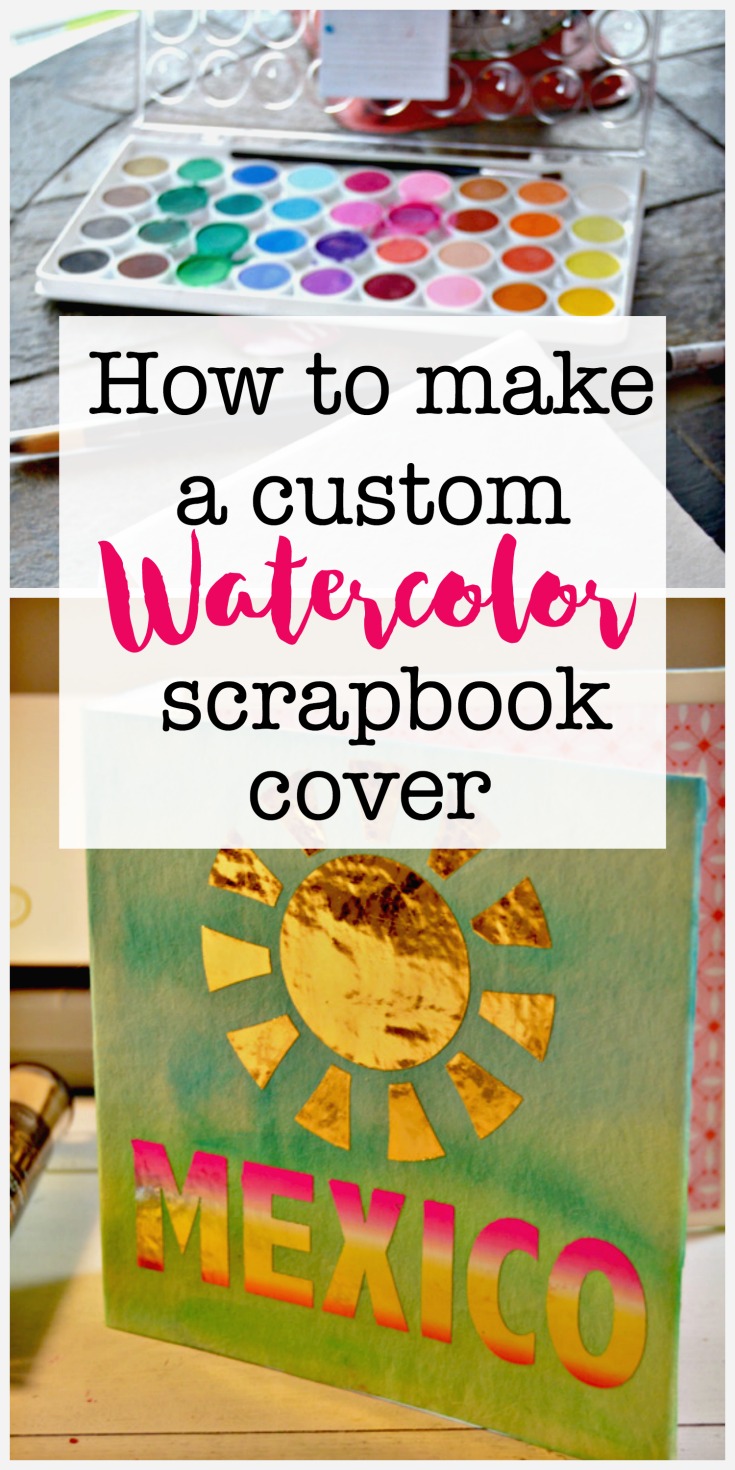 It just means that I'll be making scrapbooks, memory books, photo albums – whatever you want to call them – more often and I'll be making them in my "me time".  It's a hobby and I love it. And because I love making pretty things, these books are going to be pretty! So while I won't be turning Create & Babble into a scrapbooking blog, I will be sharing a few of the tips and tricks, new products, and some really cool ideas that I discover from time to time. Like this watercolor scrapbook cover below: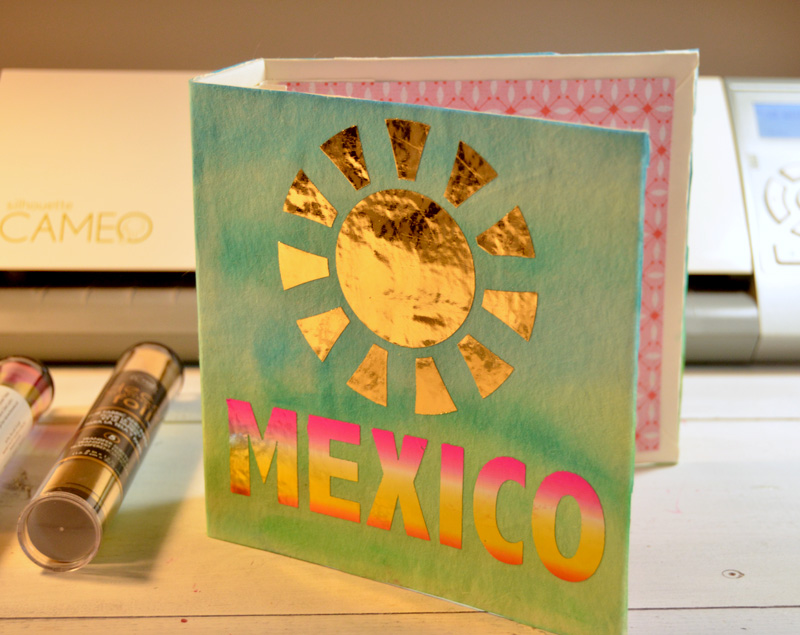 Isn't it pretty? And to me it screams: Mexico!
Dan and I went on a week-long vacation last August to an all-inclusive resort in the Riviera Maya – which we loved by the way! (And just in case you're interested, we booked through the trip through Cheap Caribbean.)
I had our favorite photos printed and made this little scrapbook to hold them.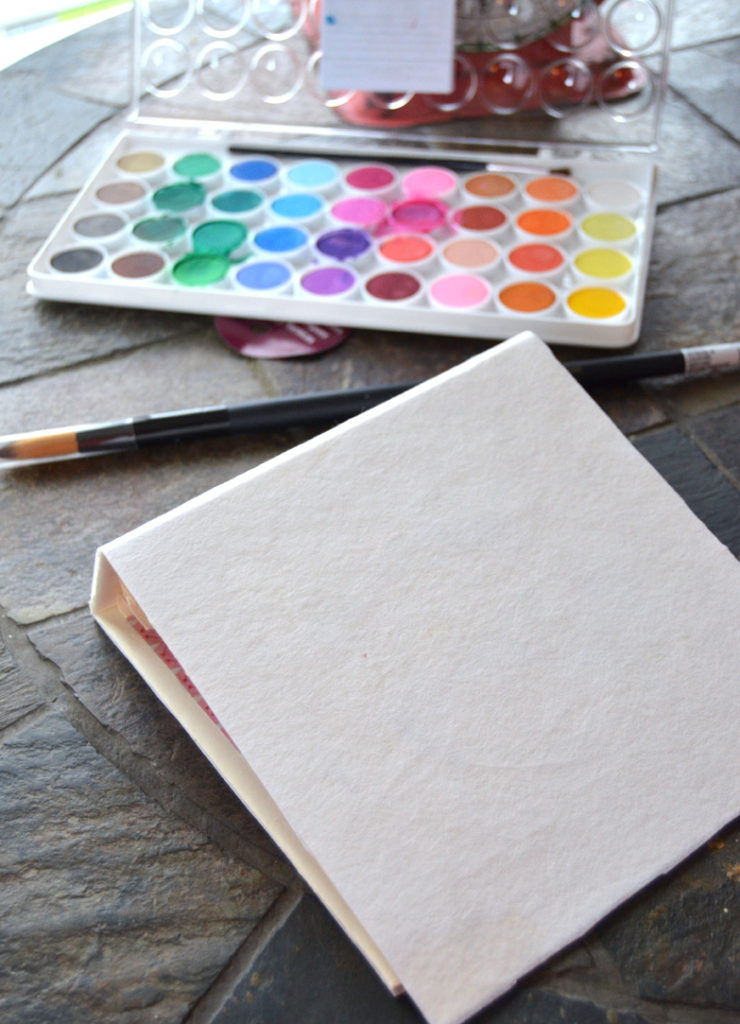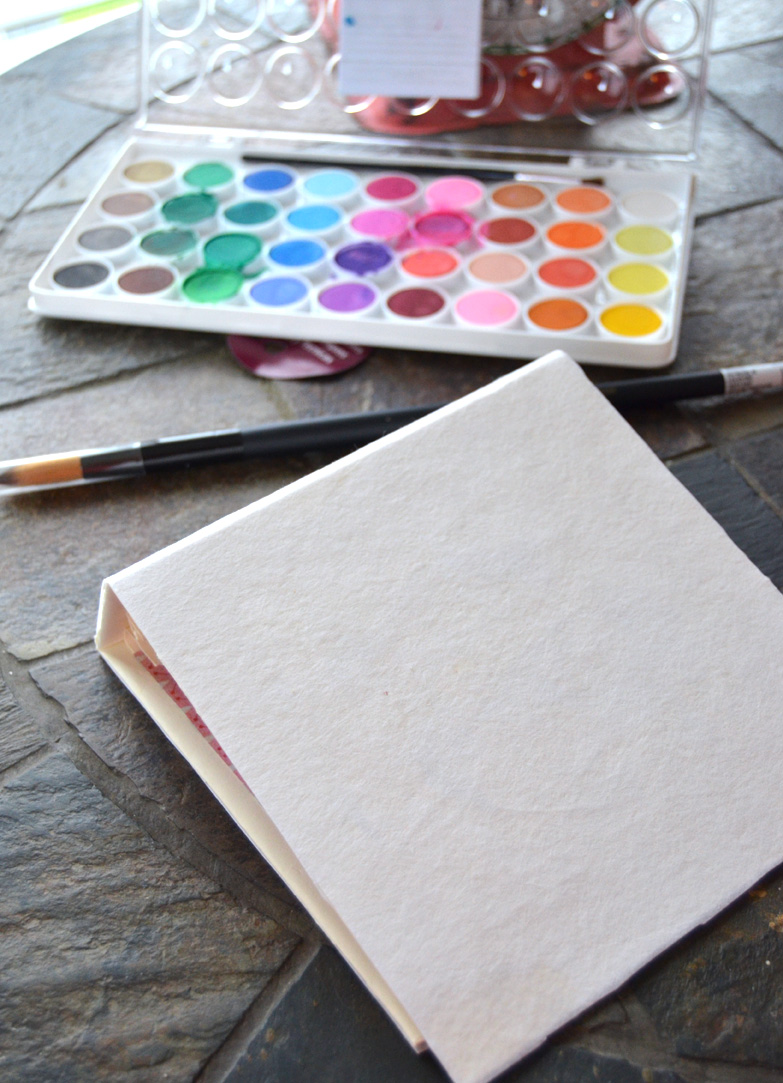 A friend showed me how to make this photo book but you can find something similar in the Silhouette Online store or search YouTube for tutorials.


I found the one above which is just like it. Or you can use an pre-made album.
Here are the supplies you will need:
scrapbook or photo album (home made or pre-made)
paint brushes
water
electronic cutter (I used Silhouette Cameo)
Here are the steps to make a water color photo album cover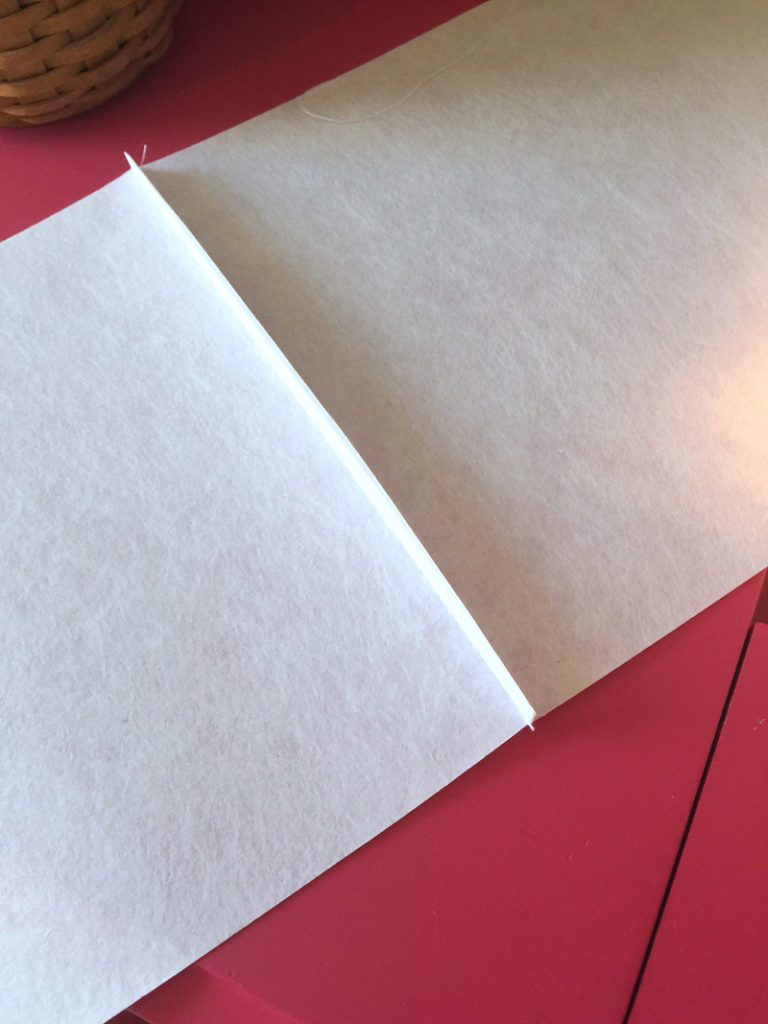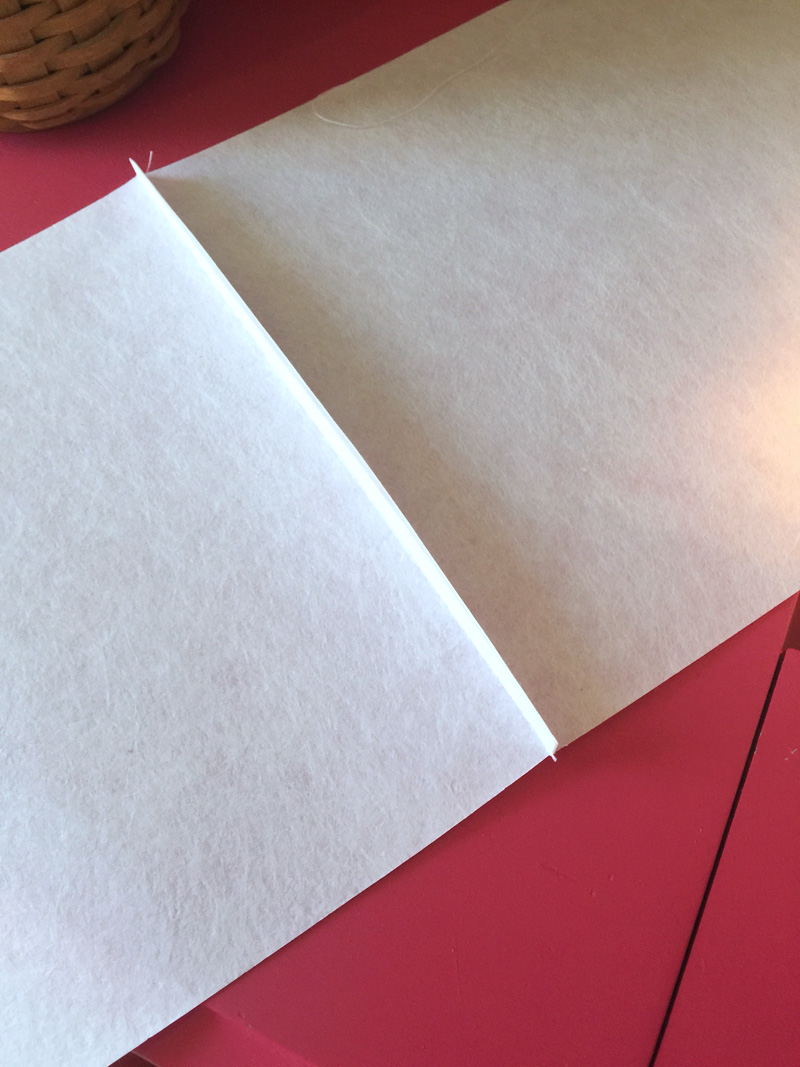 Step 1 – Cover
The first thing I did was sew two pieces of the mixed media sheets together so that I would have a piece large enough to cover my scrapbook.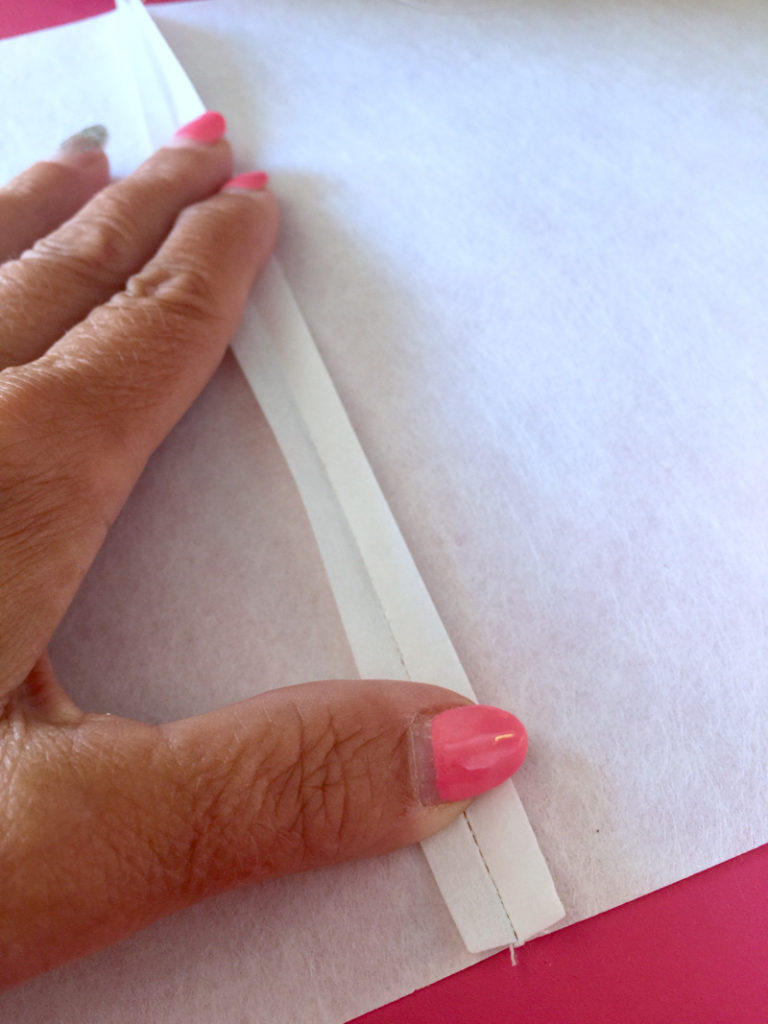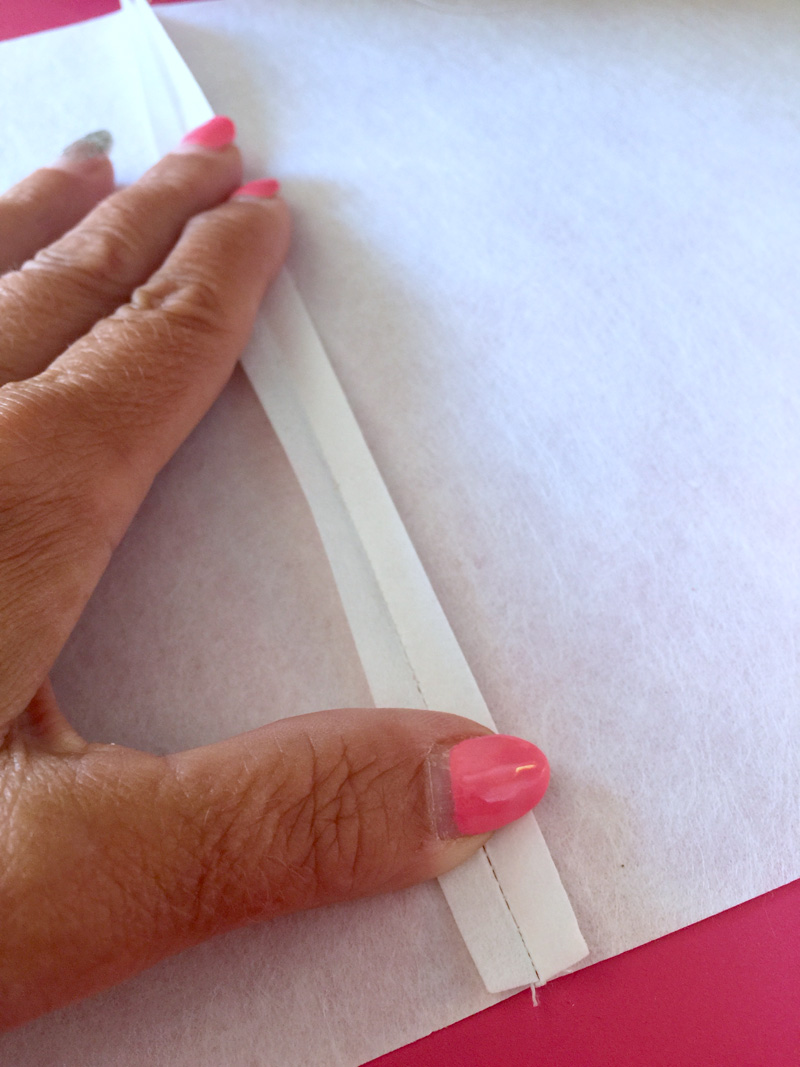 I pressed the seam open before attaching to the scrapbook cover.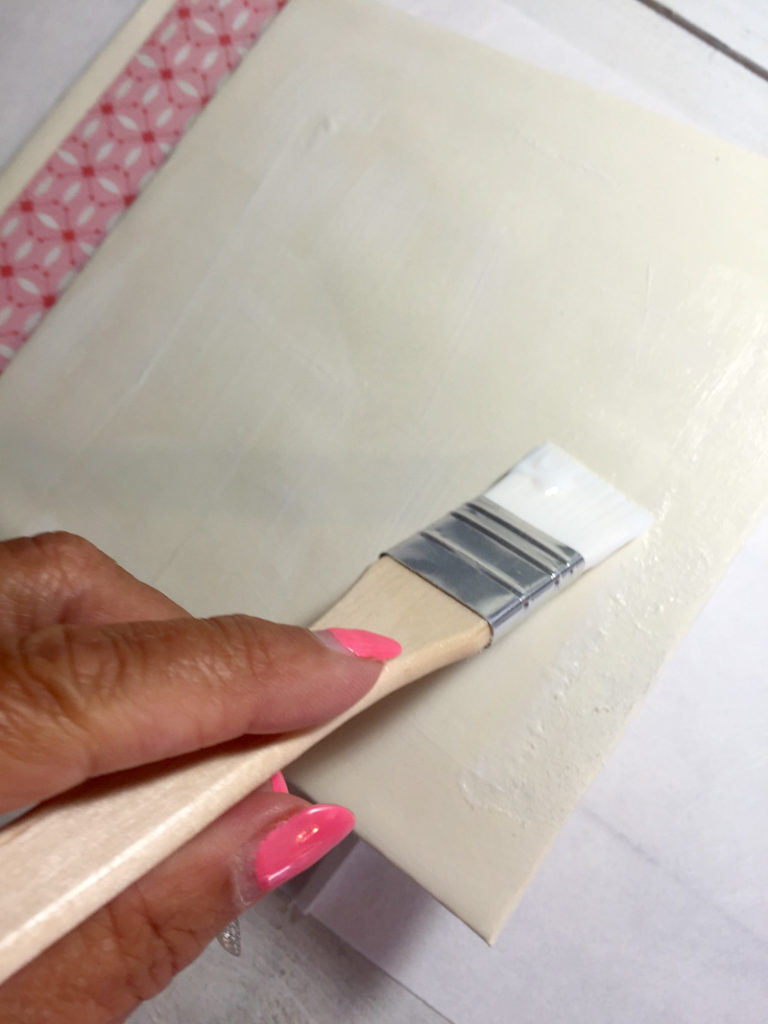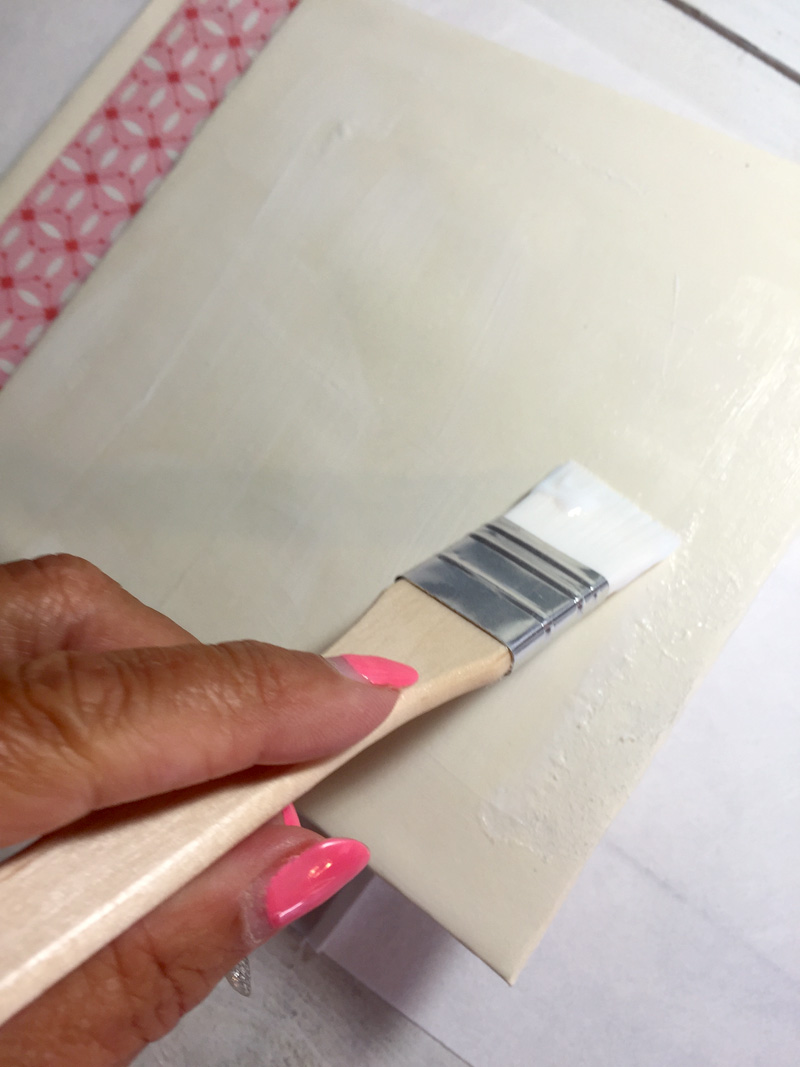 I brushed on a layer of the Mixed Media Adhesive onto the back of the sewn together sheet before attaching it to scrapbook cover.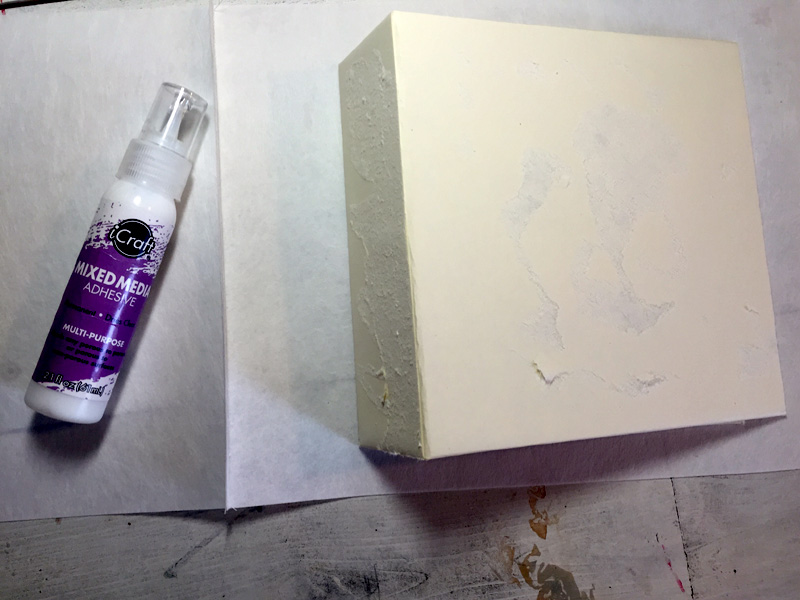 As you can see in the image above, there had been a paper cover on the scrapbook that I removed. You'll never know when this is done!
Step 2 – Watercolor!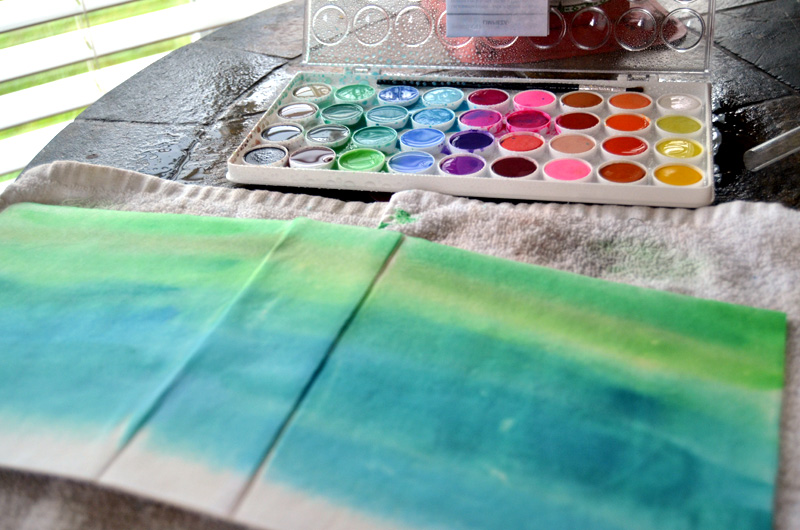 Using the spray bottle filled with water, I spritzed the entire cover (and also the paints) until they were damp. Then I just starting painting on the colors in stripes. I'm not an expert at watercoloring by any stretch.  I started with the green and just went from there! I used the arrangement of the watercolors in the case as a guide – going from light green to the blues.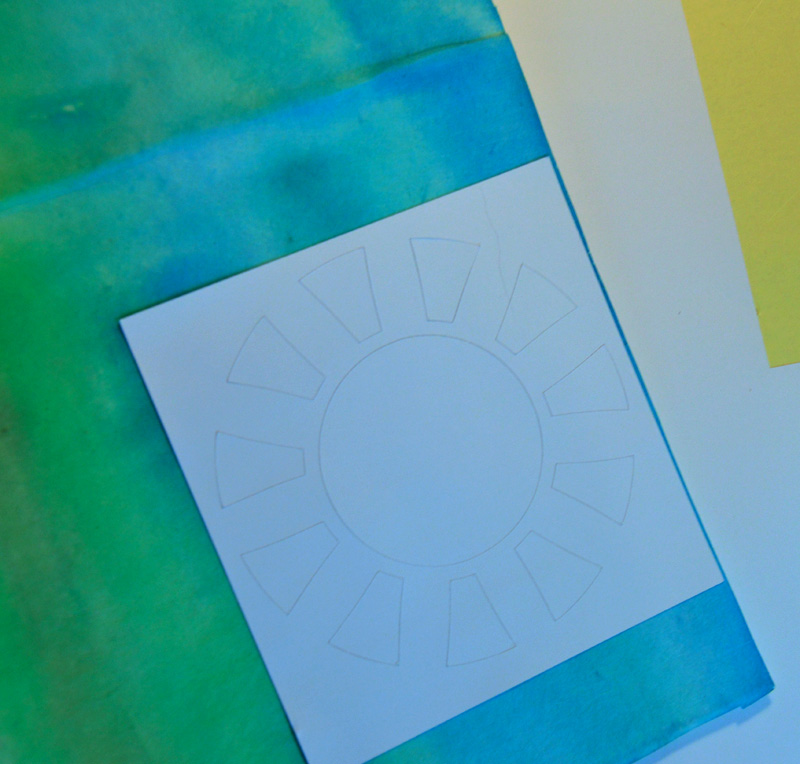 Step 3 – Add the Deco Foil
Next, I used my Silhouette Cameo to cut out the sun shape and letters out of doubled-sided adhesive.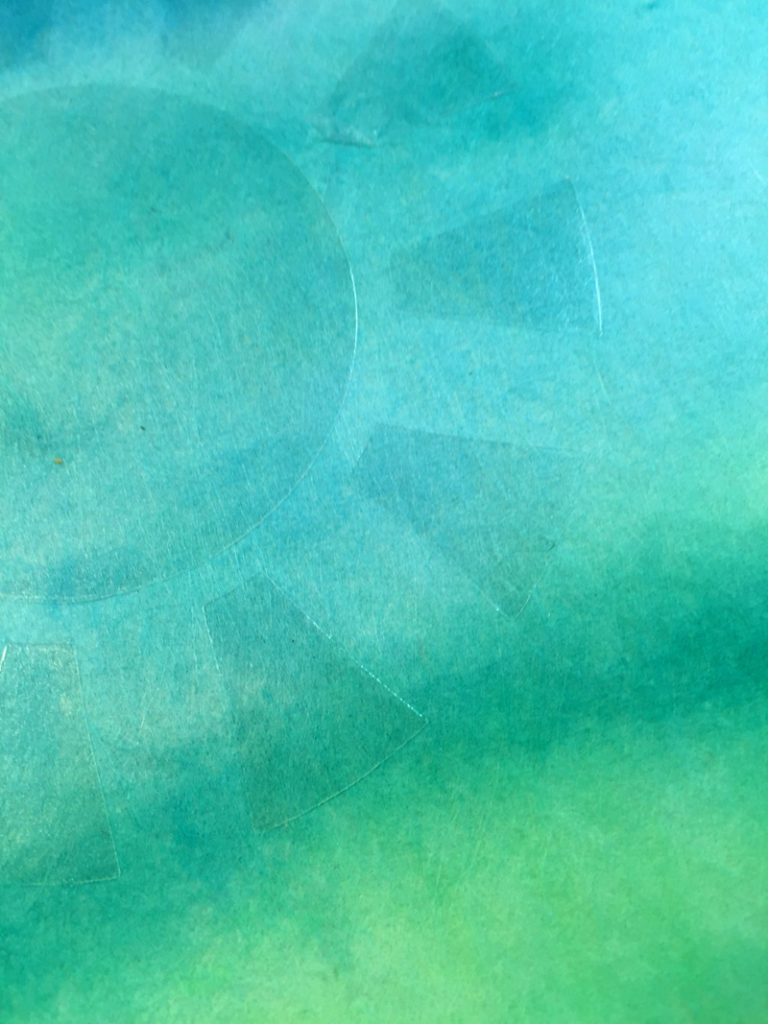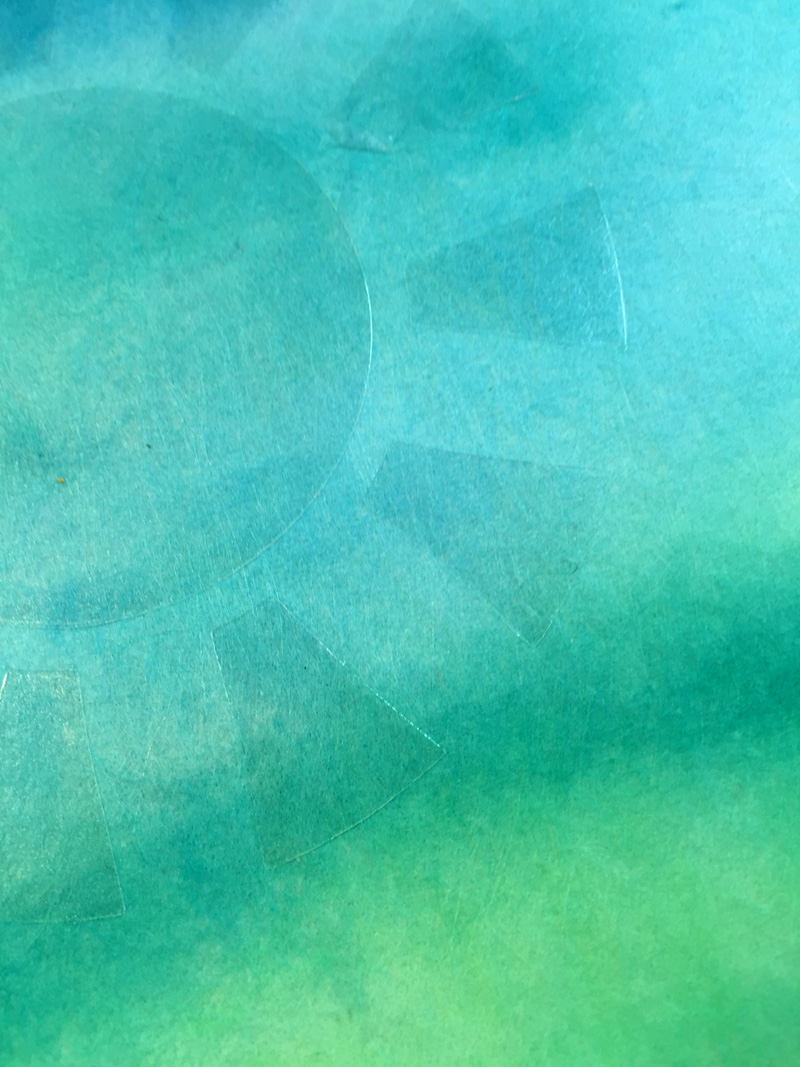 Once the backing is removed from the doubled-sided adhesive, you can see that the adhesive if left behind on the cover in the image above. This is what the DecoFoil™ will adhere to.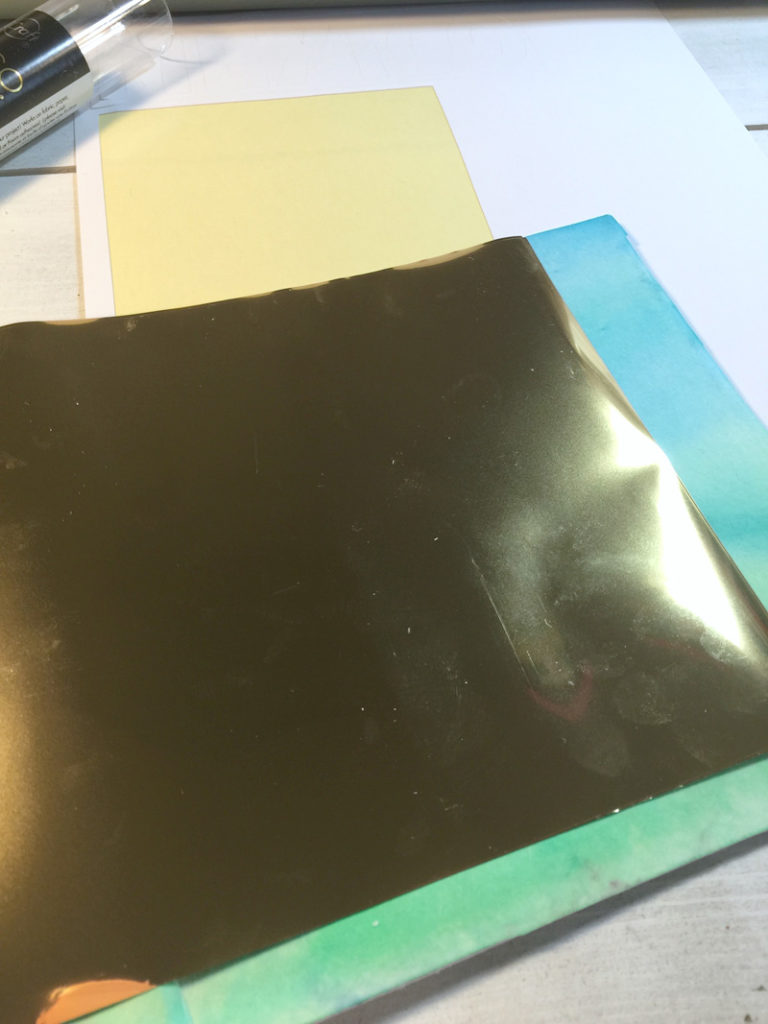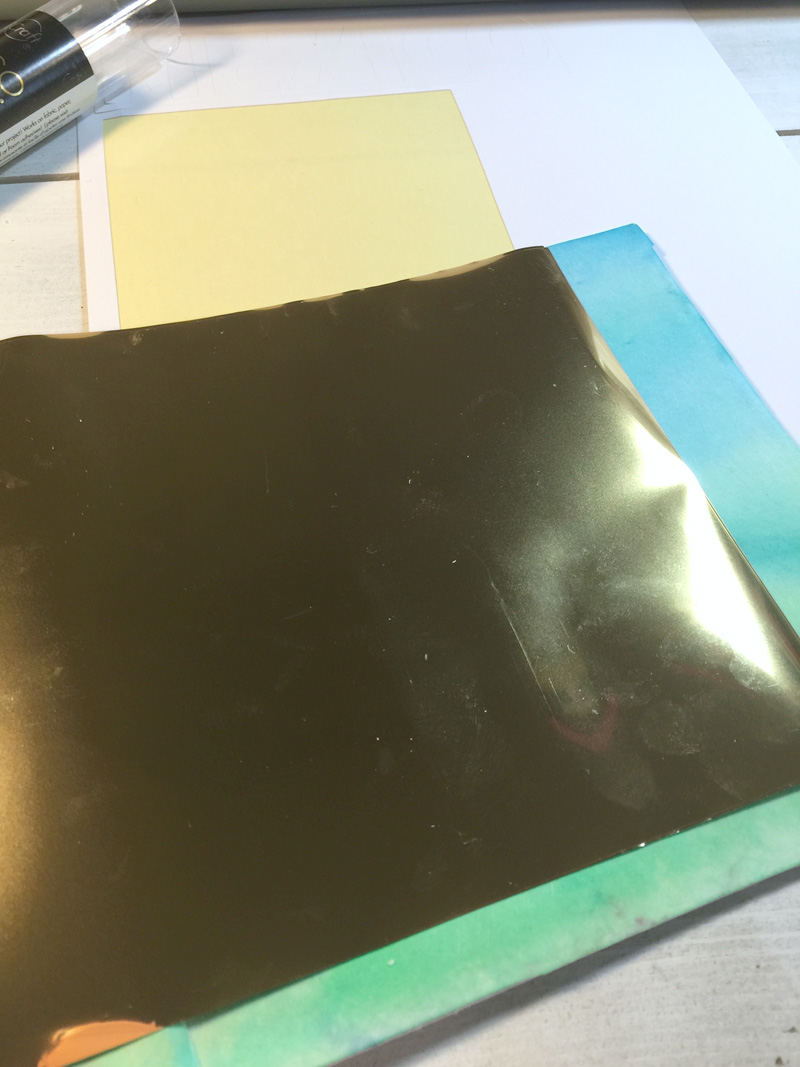 I placed a sheet of the gold DecoFoil™ over the sun shapes and rubbed it onto the adhesive.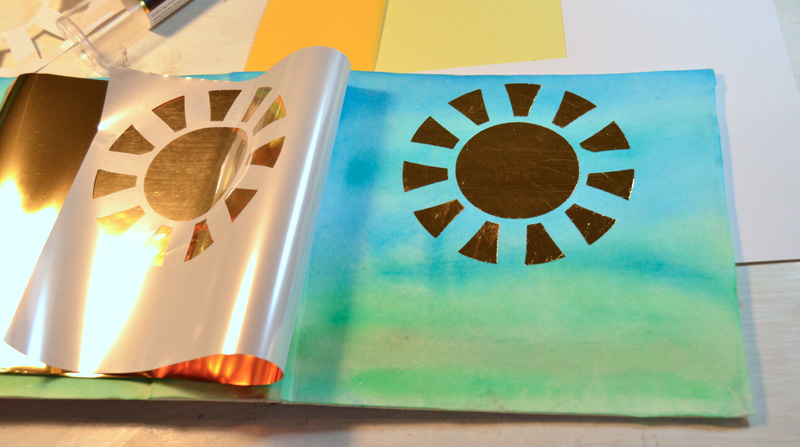 Then I peeled away the excess DecoFoil™ – leaving a shiny, bright sun with rays!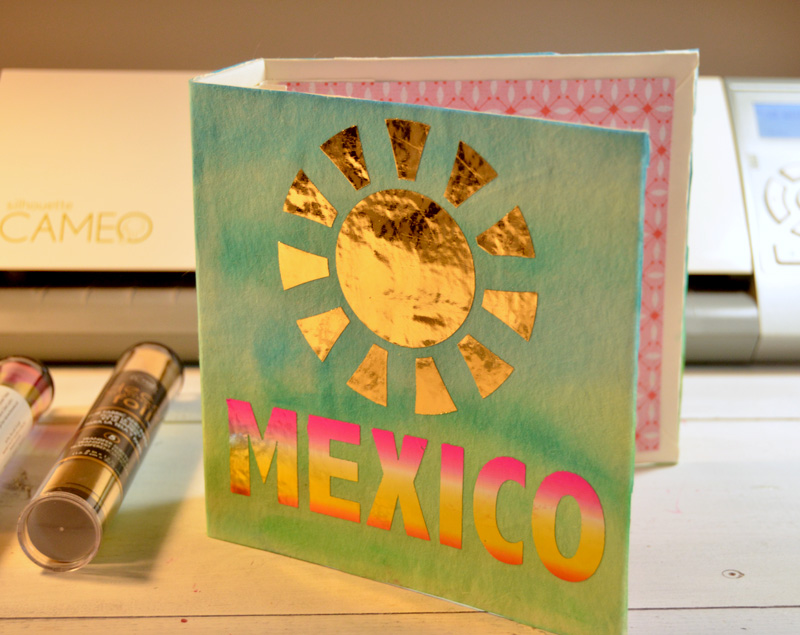 For the letters in Mexico, I used the Summer Rainbow DecoFoil™.
Here's a quick video showing all of the pages in this cute little scrapbook: