This post is about something very special. It's about love letters. Old love letters. Very old love letters. They are so old and so special that they deserved to be stored in a special vintage love letter box.

I'll show you how I turned a jewelry box into a lovely vintage-looking love letter box. But first take a look at the letters.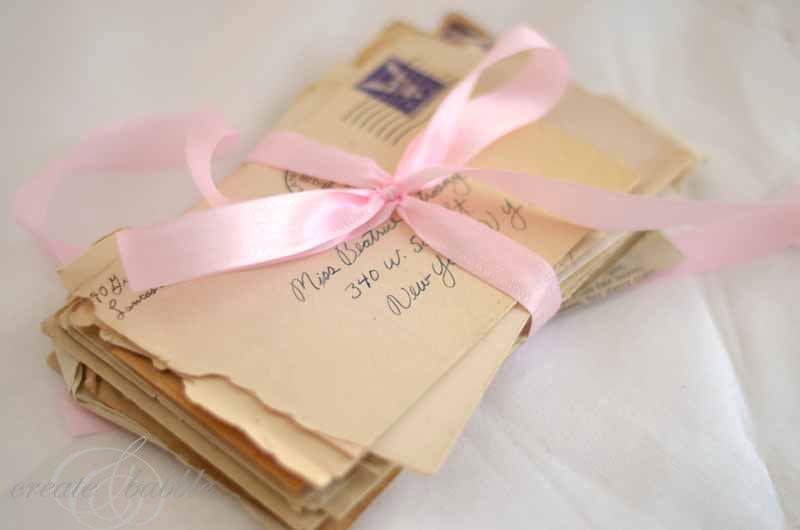 These love letters were written and exchanged by Dan's parents 70 years ago. Some were written before they were married, and some were even written after they were married. I think I can hear a collective: Awe!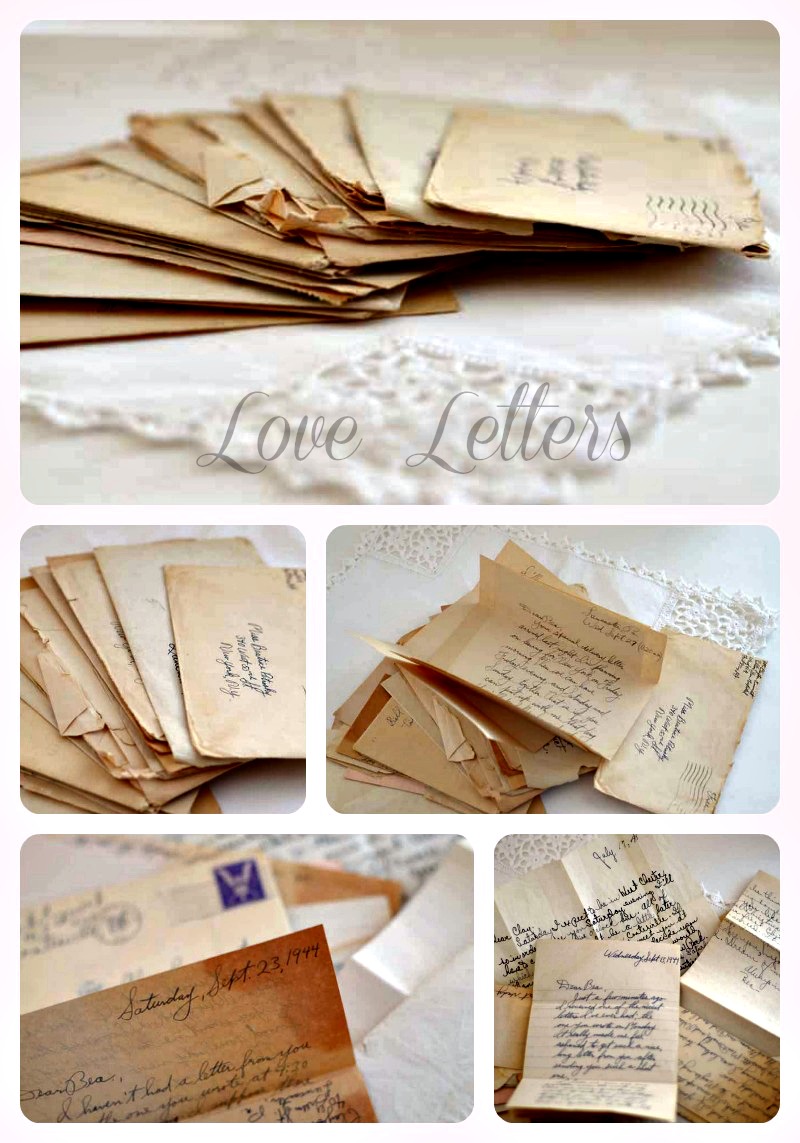 These letters were found, along with old photos, jammed in boxes that Dan brought over to our house after his father passed away a few years ago. Dan brought the boxes upstairs to sort through them this weekend and I knew immediately that I wanted to make a special box to hold these letters.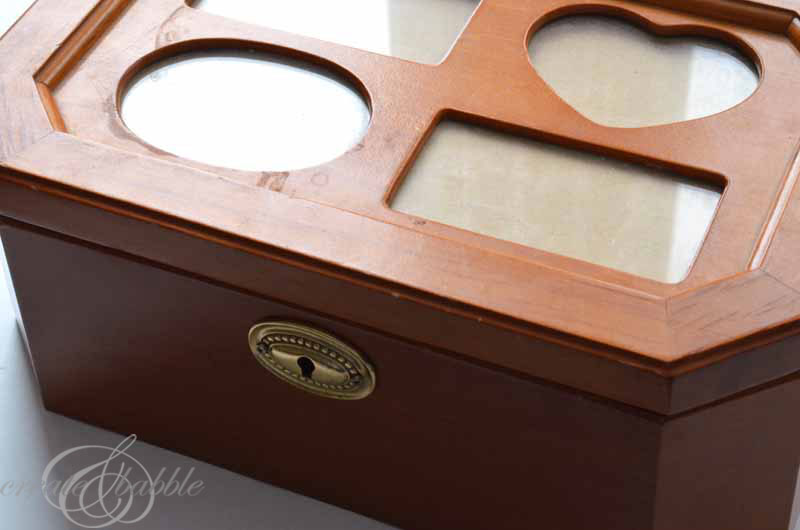 I remember seeing this jewelry box from when my daughter was getting ready to move out and was cleaning out her room. I rescued it from the throw-away pile knowing that someday I would do something with it.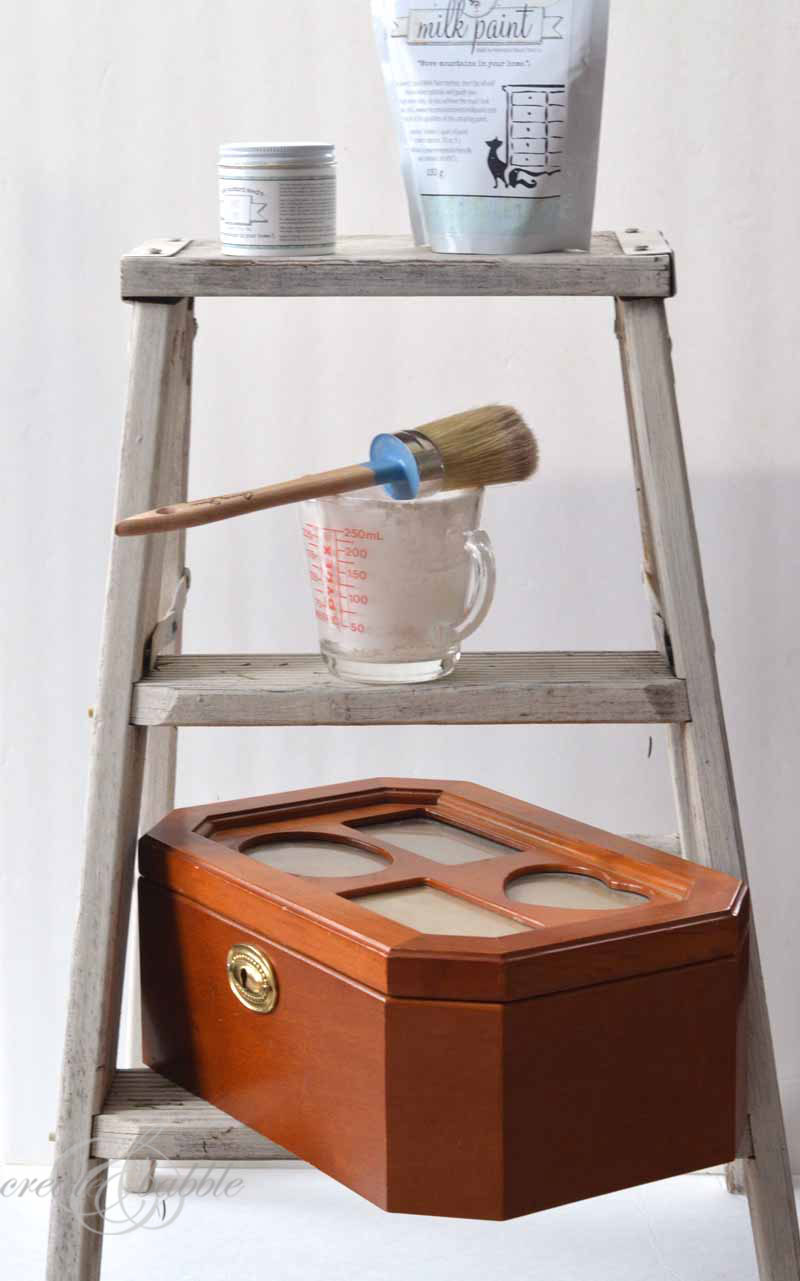 I have a bag of Miss Mustard Seed Milk Paint in Ironstone that I thought would be perfect for this box. I gathered the rest of my supplies and got to work. I'm a relatively new user of MMS Milk Paint and thought a small project like this would give me some practice before using it on a piece of furniture.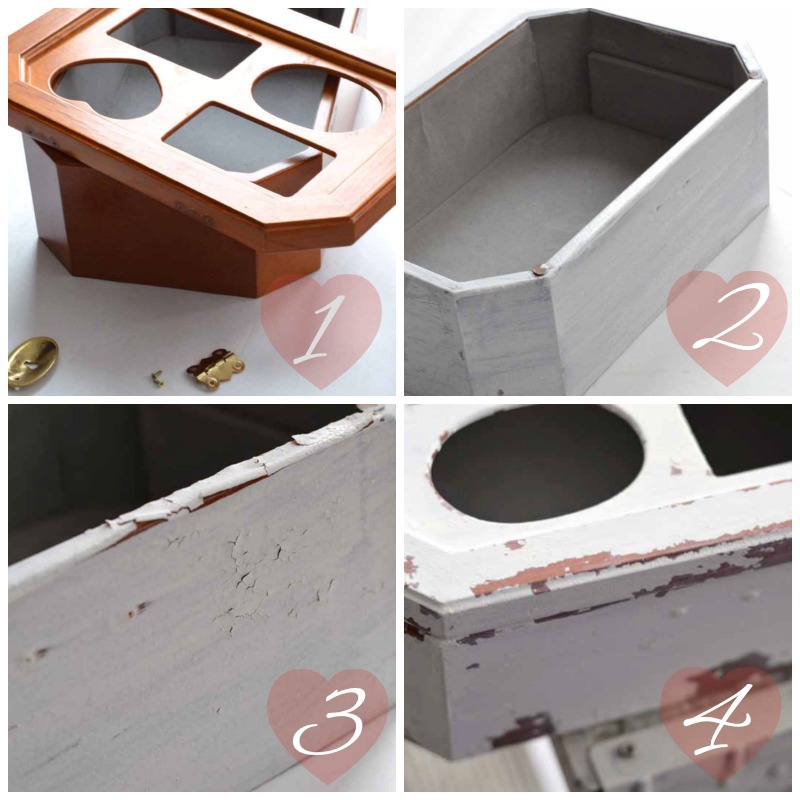 Here are the steps I took to converting a jewelry box into a vintage love letter box:
I removed the hardware and gave the dusty box a good cleaning with a damp rag.
Applied one coat of the milk paint and let it dry. I could still see some brush strokes, so…
I applied another coat of milk paint and look at that! Chippy, flaky paint. Perfect. Just the look I was going for.
After the paint was thoroughly dry (I waited a few hours), I ever so lightly went over the box with a sanding sponge. Just to remove the loose flakes. Then I brushed on some of Miss Mustard Seed White Wax and buffed.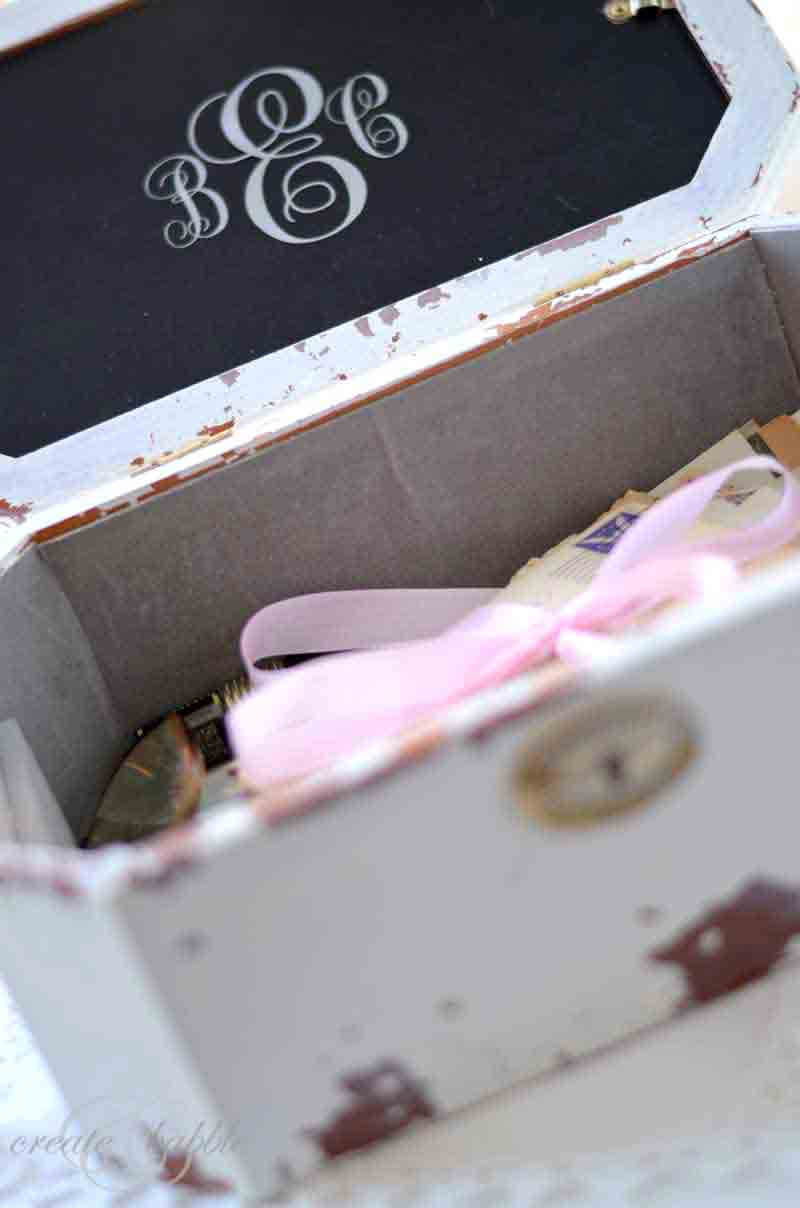 Inside of the lid, I placed a monogram of Dan's parents' initials. I used my Silhouette Cameo to cut the monogram out of Silhouette silver vinyl. On the outside of the lid, there are four cut-outs for photos. Using my iPhone, I snapped two pictures of old pictures and printed them to fit the size of the cut-outs. For the other two cut-outs, I browsed google images for free vintage valentine images. After cutting out the images, I antiqued them by rubbing the surface with an ink pad.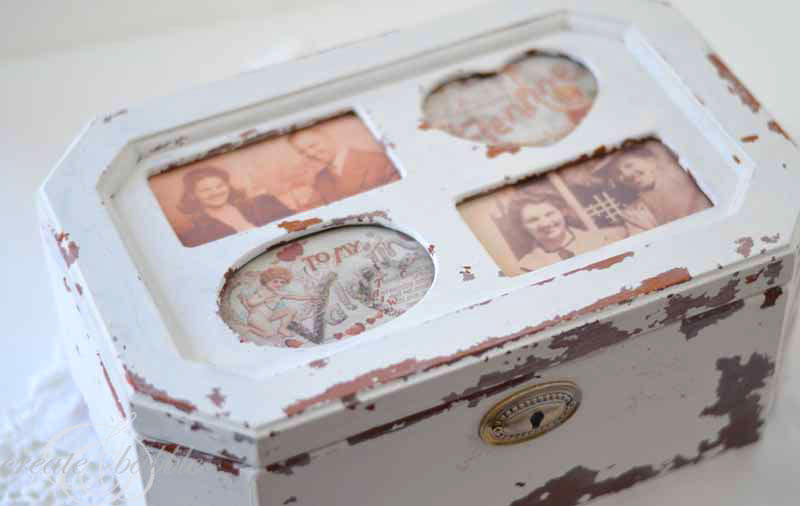 I tied a pink ribbon around the letters and placed them in the box.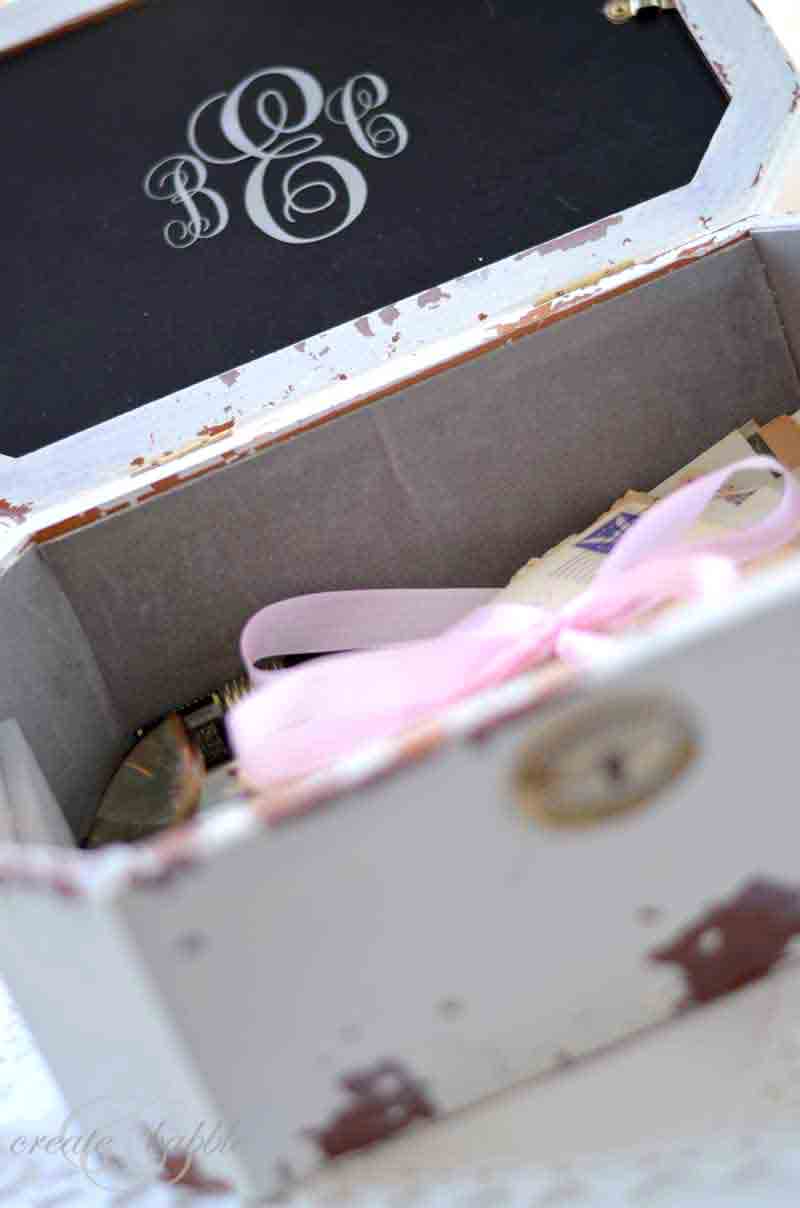 Writing this post has got me thinking about how we communicate today. Is writing love letters a thing of the past? I hope not. I think I just might write a love letter. On paper. With a pen. Do I have paper? Of course, but no stationery.  Do you have any love letters in your house?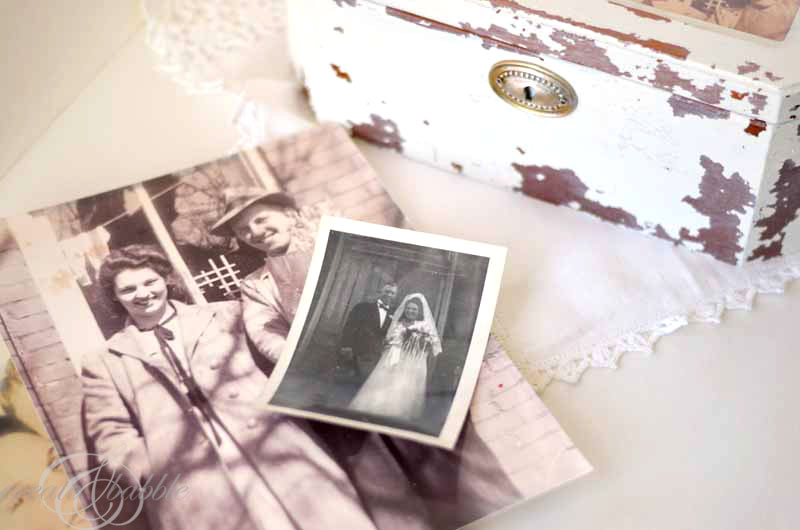 Maybe your parents or your grandparents? I have a vague memory of seeing love letters written by my grandparents or great-grandparents that my mom showed me many years ago. I wonder if they still exist. I'll have to ask my sister. I remember thinking how beautiful was the handwriting!