This shop has been compensated by Collective Bias, Inc. and its advertiser. All opinions are mine alone. #CraftedExperience #CollectiveBias
There are one or two chores around the house that I avoid. Like the bathroom vanity. I don't know why I avoid decluttering and cleaning the bathroom vanity. Well, I guess that's not exactly true. If I think about it, I know why. It's because it's never been properly organized from the start.
We moved in this house during one of the busiest times at my former job and and so we haphazardly threw things wherever. Unfortunately the bathroom vanity pretty much stayed that way for the next few years. Except for the outside of it. I did update that ; ) The vanity and adjoining cupboard were the standard builder-grade oak until I got a couple of coats of espresso colored paint on it!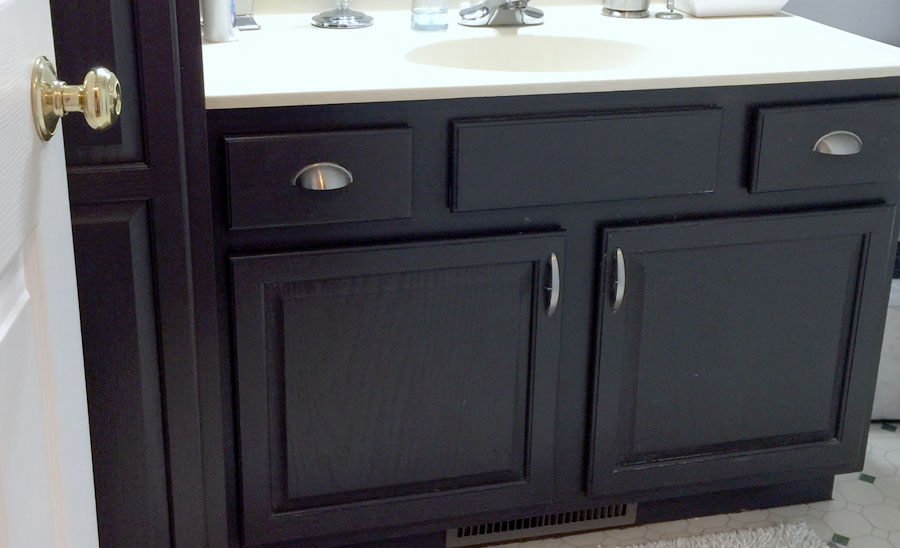 It looks pretty good, right?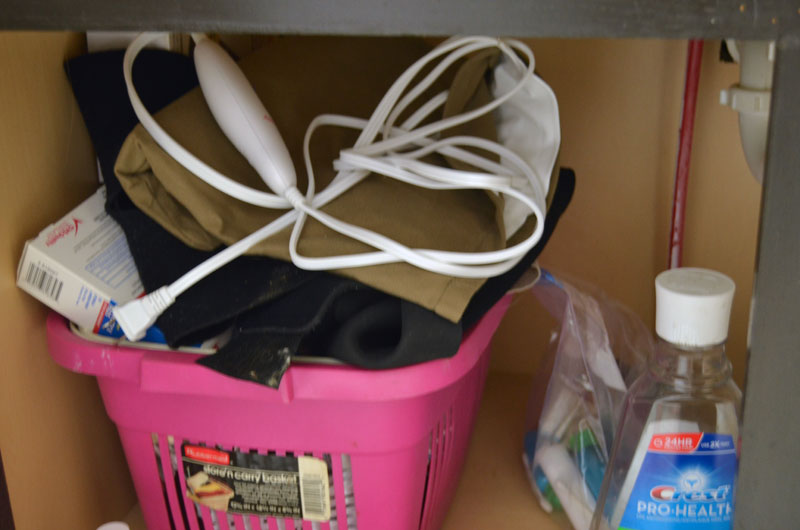 Until you open the left door and see the old, pink basket overflowing.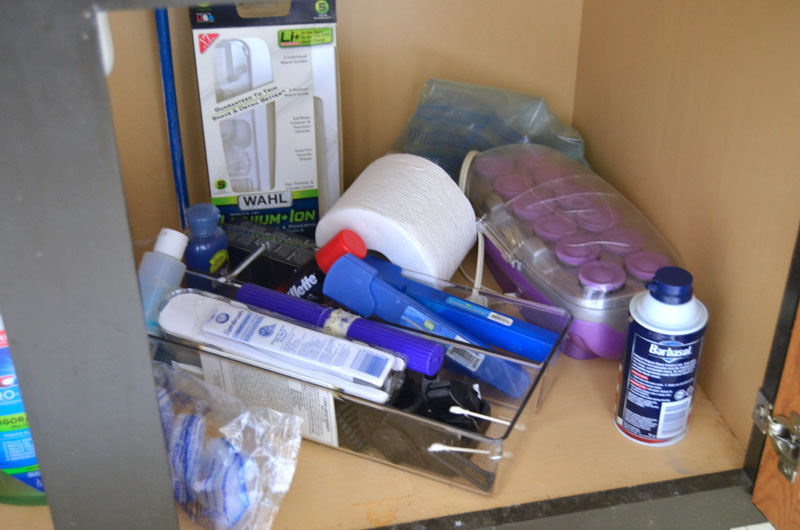 Or the right door and see this disaster! I can't believe I'm showing you all this mess. How embarrassing!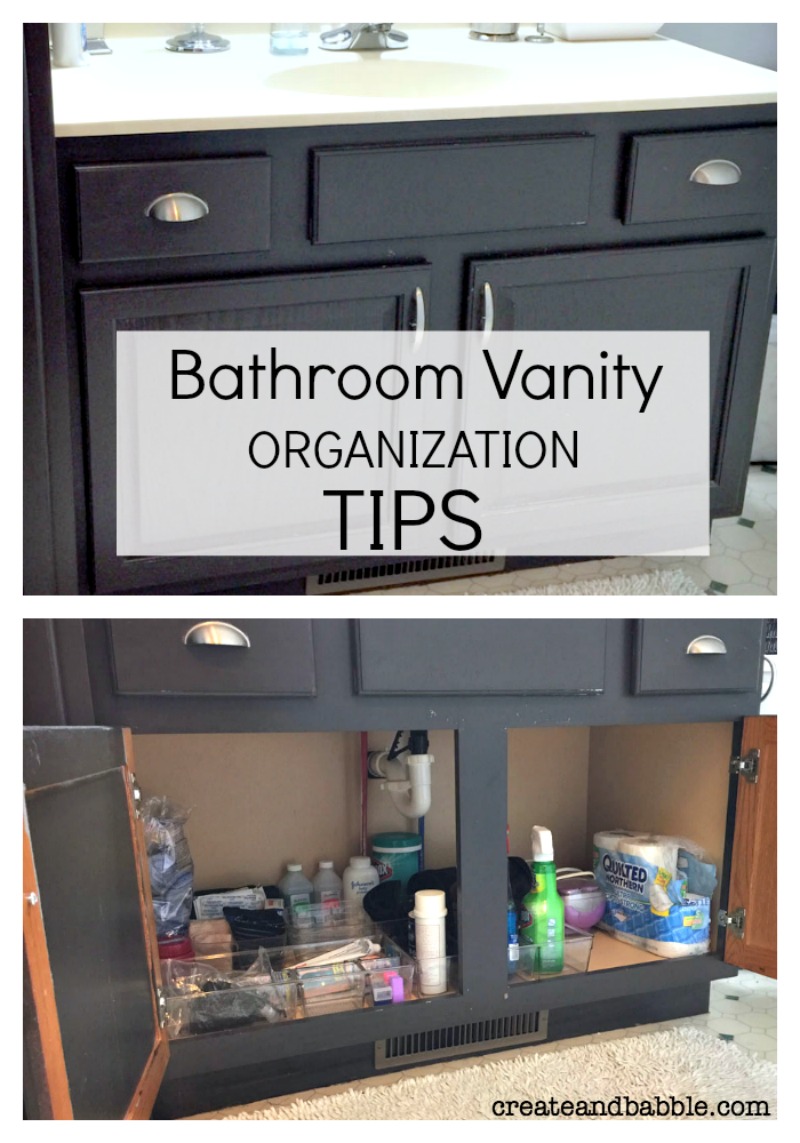 Until now! I spent only about an hour this morning clearing out and cleaning out that vanity and I used the following tips to get it done quickly and easily.
Toss expired and unused items as well as bulky packaging.
Use clear containers to hold items and supplies for easier visibility.
Only use drawers to store daily use items.
Make use of vertical space when needed. Think: hooks on the inside of the doors for hanging. SEE BOTTOM OF POST FOR INSTRUCTIONS FOR THIS TIP!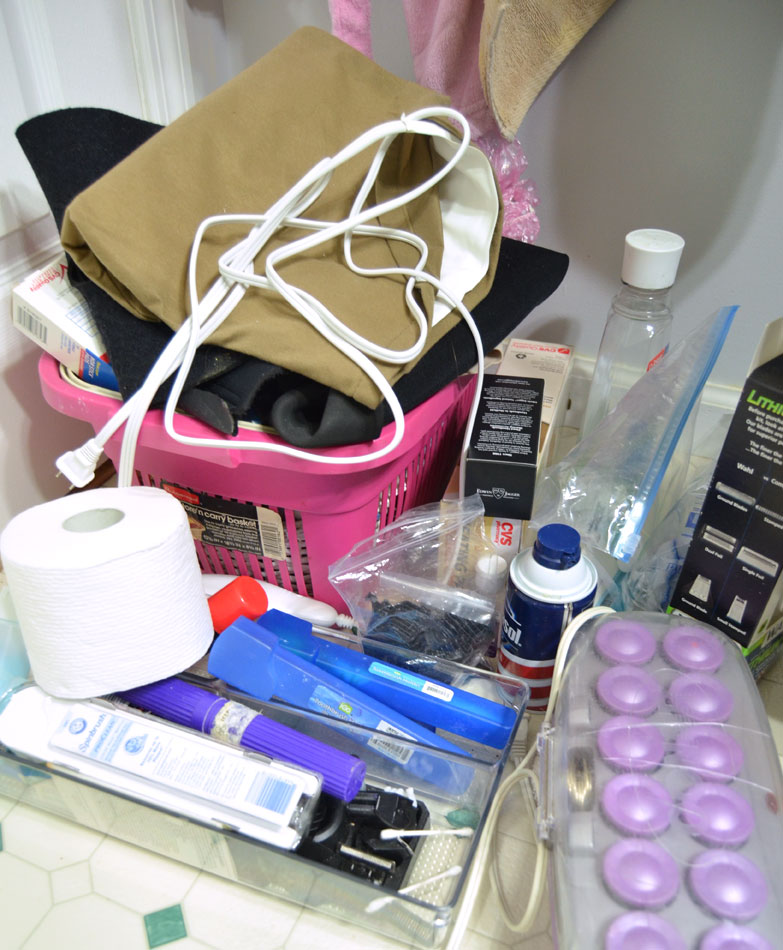 After pulling EVERYTHING out of the vanity, I quickly tossed (see tip #1)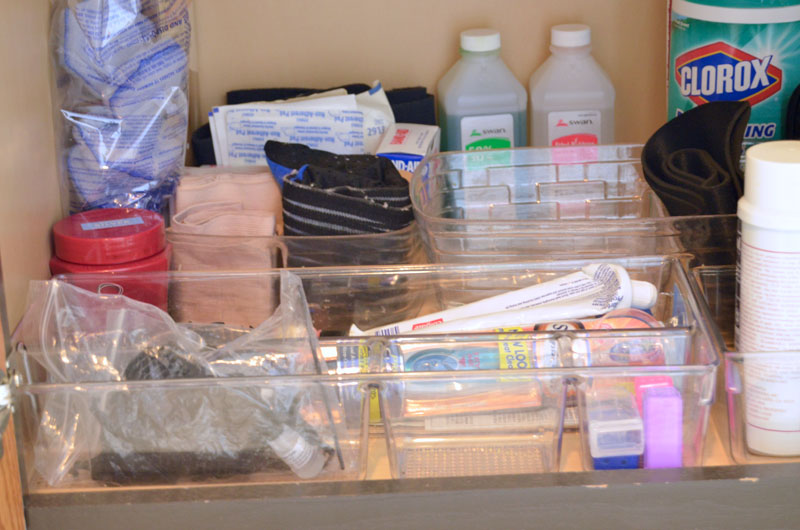 I "shopped" my house and found a few clear containers that could hold band-aids, ace bandages, nail polish, extra toothpaste, etc.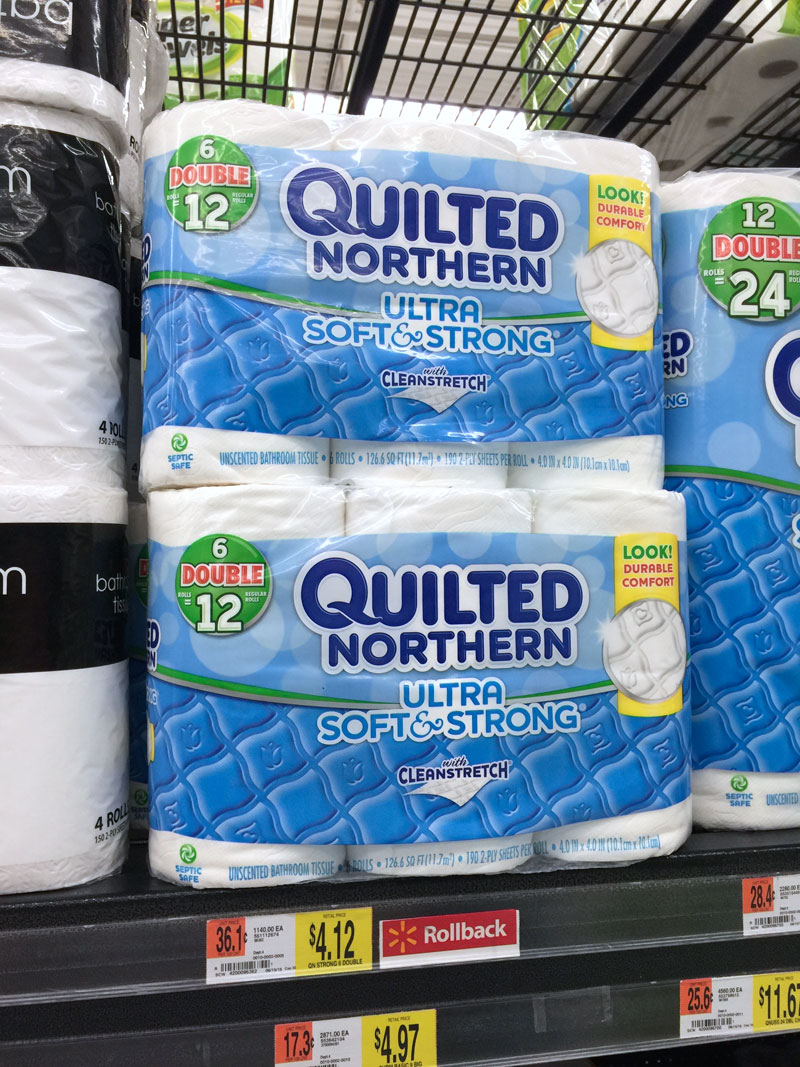 You could also find clear, plastic storage bins at stores like Walmart, which is where I stocked up on Quilted Northern Ultra Soft & Strong® Bath Tissue.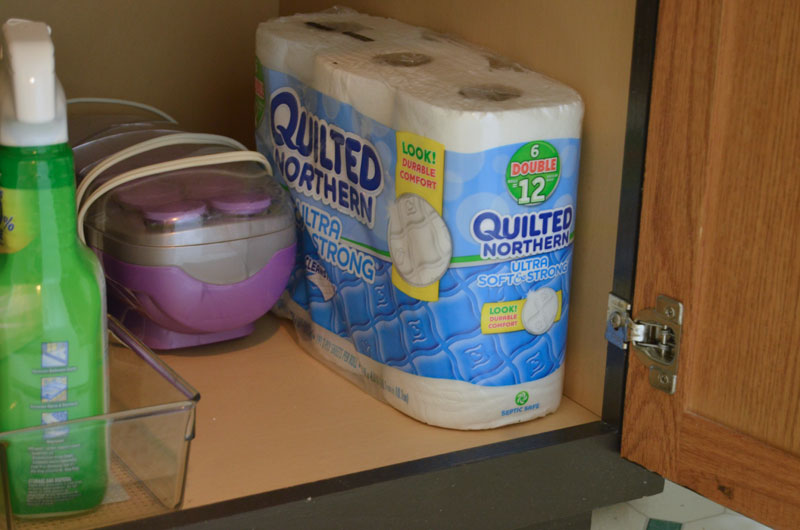 Once everything was cleaned out and organized, there was plenty of room left for the Quilted Northern Ultra Soft & Strong® Bath Tissue. And I won't be embarrassed if my guests have to look under the vanity for more tissue! Have you heard that the best bathroom experiences are the ones you don't remember? Haha! I don't want my guests remembering the sight of my cluttered bathroom vanity while looking for the tissue! And Quilted Northern® is also designed so you can forget your bathroom experience.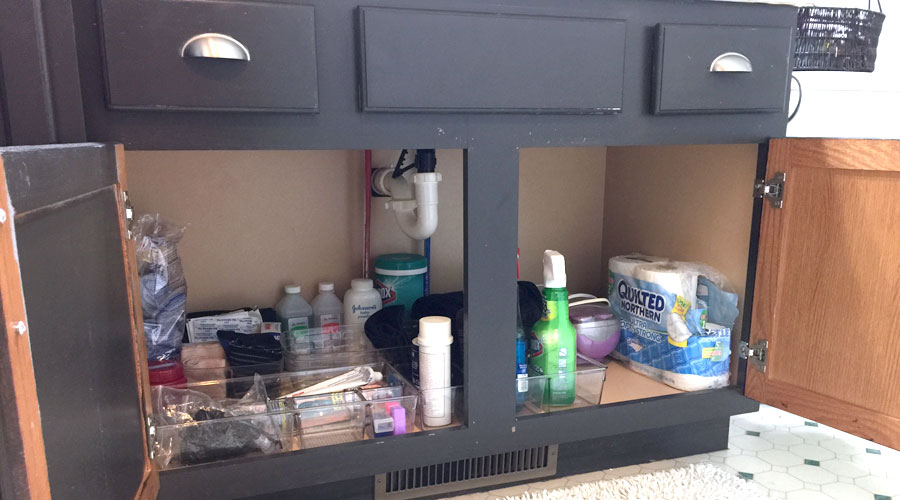 Ahh, what a difference. It should stay this uncluttered as long as everyone puts the items back where they belong!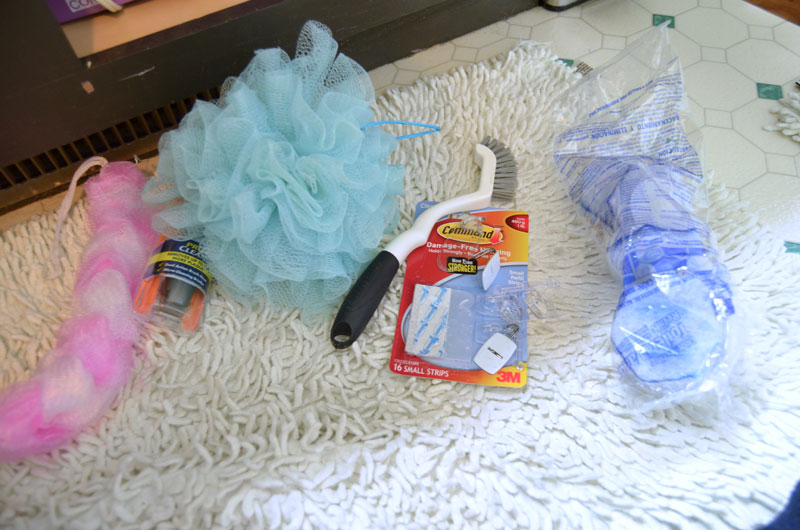 For Tip #4, gather loose items that can be hung inside the doors. I found some shower scrubbies, a scrub brush, toilet bowl cleaning pads, and a new toothbrush still in the packaging.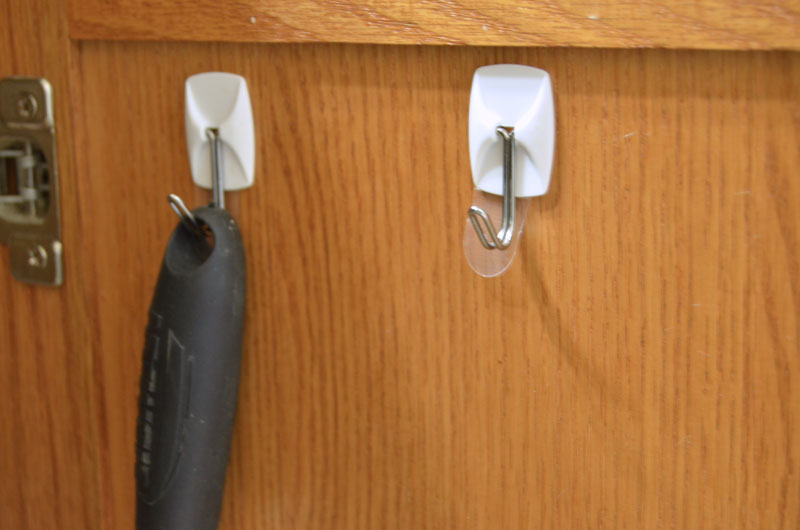 Simply adhere the adhesive hooks – following the manufacturer's instructions – on the inside of the vanity doors.
This tip frees up more precious real estate inside of the vanity ; )
If you have any more tips and ideas on how you keep your vanity organized, please share them in the comments!