I received Quick•Step® flooring and accessories free of charge to facilitate my review. All opinions are my own.

It has been two months since I installed the Quick•Step® Reclaimé White Wash Oak Plank laminate flooring in my family room and laundry room. Of all of the projects that I have made and improvements that I have done, this is by far the most dramatic change in my home.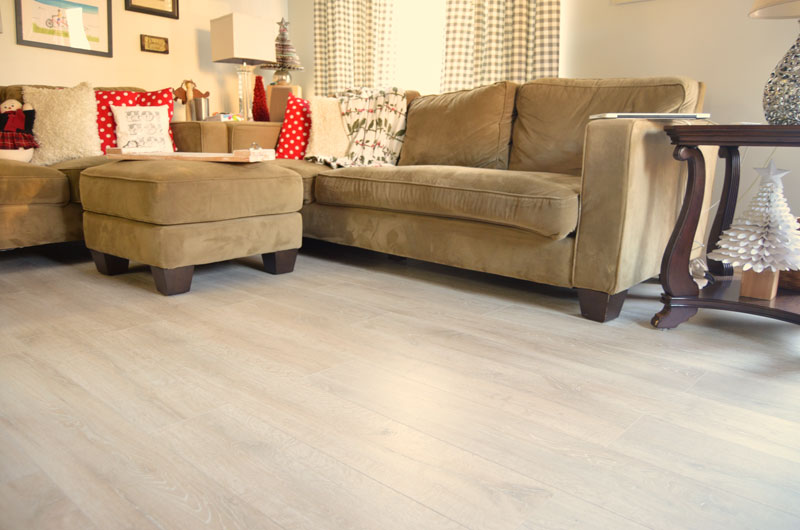 I get more comments and compliments on that flooring from family and friends than on any other project I have done. When you're a blogger, you quickly get used to the fact that your family and friends are not always your most loyal readers. I'm okay with that. I think it's because they're used to me. They know I'm always improving or making something so it's no big deal to them. So they rarely comment.
But not about this flooring. Whenever I see friends now, one of the first things they say? "Oh my gosh, that floor!". It's true! I went to lunch the other day with a bunch of former co-workers and every one of them brought up my new flooring and said how much they loved it!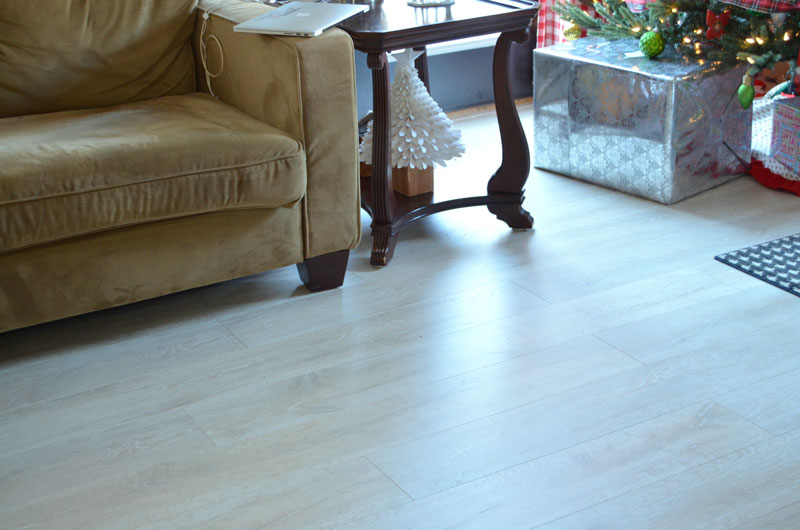 I must agree. Like I said, it's been two months since the flooring was installed and I love it. I feel like I'm in a new house! The change was so dramatic. My room feels so much bigger. And prettier. And if you know me just a little, you know that I'm all about prettier! After all it's in my tagline: making pretty things and making things pretty!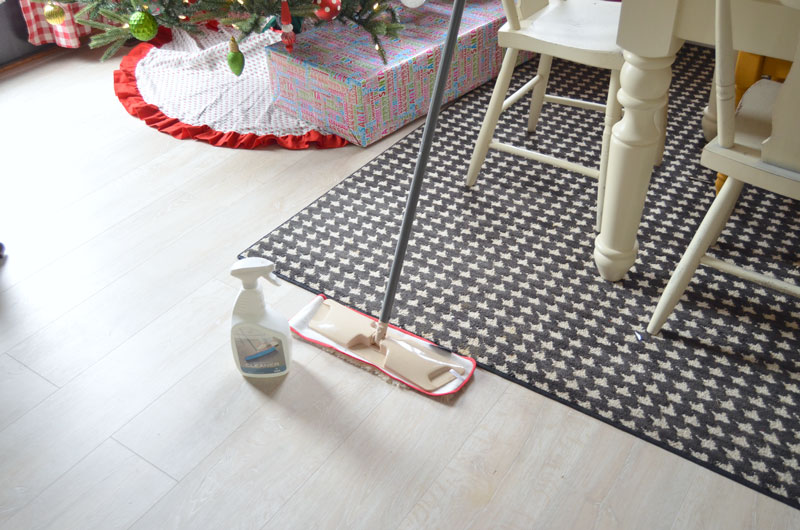 Keeping the flooring looking pretty is easy too. Today I'm talking about the cleaning and maintenance of Quick•Step® flooring. Well there really isn't any maintenance. Laminate flooring is virtually maintenance-free. Routine cleaning is all that's required – vacuum, use a dust mop, or a slightly damp (not wet) mop and dry with clean, cotton cloth.
Quick•Step® sent me their Performance Accessories™ Care Kit. The kit contains:
Mop and Wet Mop Cloth
32 oz. Performance Accessories Hardwood and Laminate Floor Cleaner
Dry Mop Cloth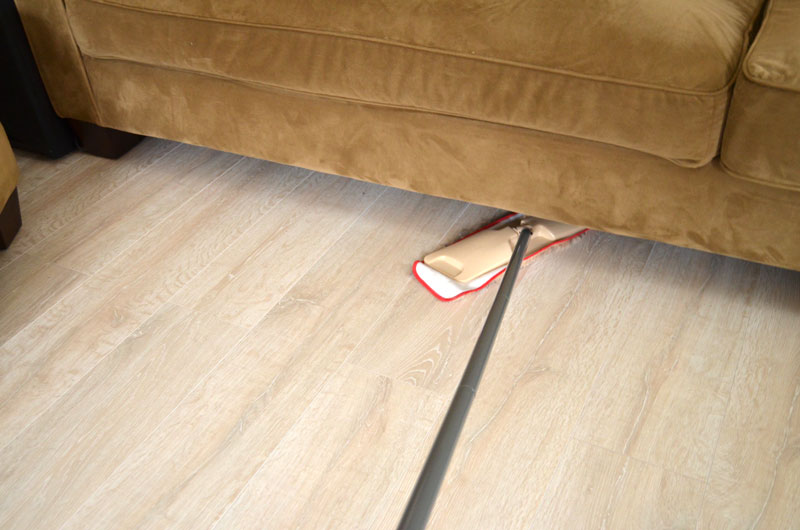 "Regular cleaning should be done with either Performance Accessories Hard Surface Cleaner or plain water (distilled if your area has particularly hard water). With its smooth surface, Quick Step flooring cannot retain dust or dirt. NEVER use a wax, polish, oil, or varnish coating on the floor. Do not use soap, detergents, oil soaps, shine enhancers/restorers, or one-step clean and shine type products, or any product that squirts liquid directly on the floor. Do not use any type of cleaning machine such as spray mops, steam cleaners, or power cleaners. For dry maintenance, use a dust mop, microfiber mop, or vacuum cleaner. Use only soft bristle attachments with your vacuum cleaner. Avoid vacuum attachments with 'beater bars', which could damage your floor. Ensure vacuum cleaner wheels are not impregnated with grit; plastic wheels may scratch your floor."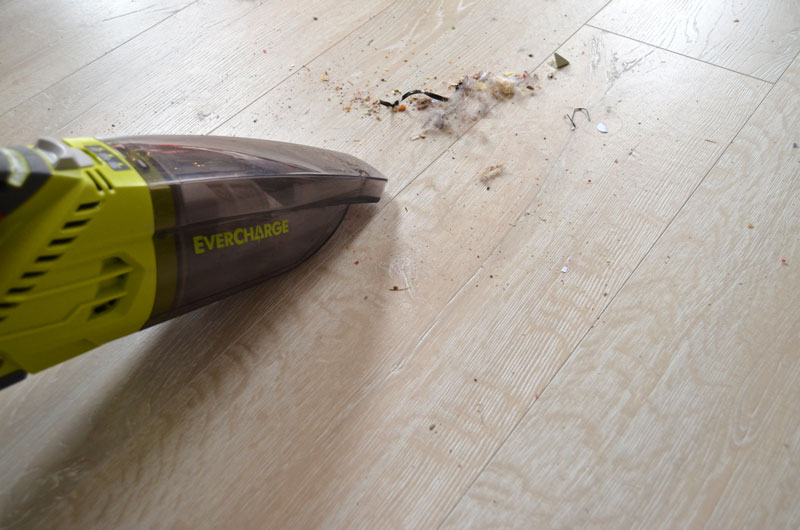 I normally only dry mop the floor but after Thanksgiving, it needed a little more cleaning.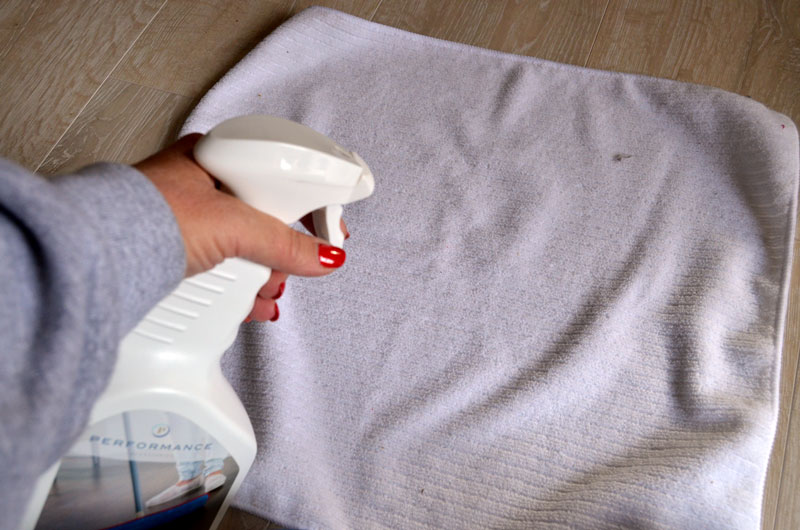 There were a few spots of dried on mud (someone didn't wipe their little feet ; ) and some dried up drips of an unknown substance – probably turkey gravy ; )
I simply sprayed on a little of the Accessories Performance Cleaner onto a soft cloth and quickly mopped the floor.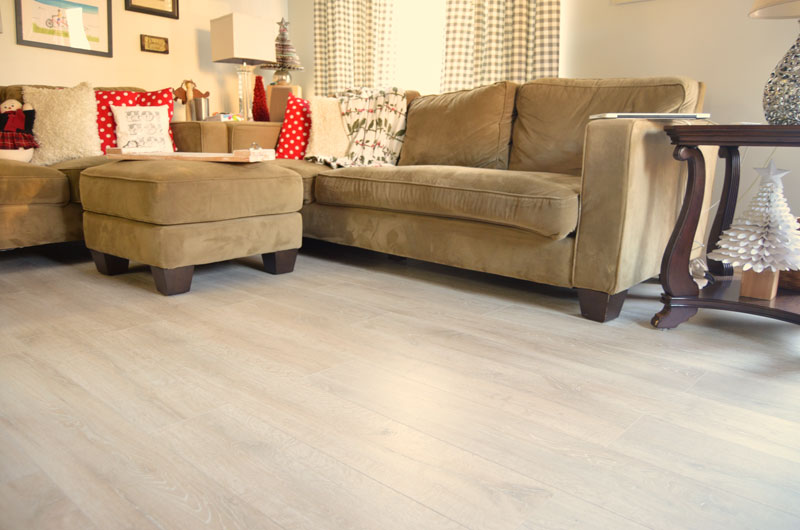 Good as new!
I have to say that I don't miss that carpeting one bit! I absolutely love my Quick•Step® Reclaime White Wash Oak Plank laminate flooring and would recommend it to anyone! It looks amazing and is a breeze to take care of.
For more information about Quick•Step® visit them on Facebook, Pinterest, YouTube, and Twitter. Quick also has a blog so you can keep up with the latest in home projects, design ideas, inspiration and trends, click here to check it out.