The wood scrap piles in the basement are getting a little out of hand so I want to make some quick, little DIY projects to use up some of that wood. The first thing I made was this DIY Farmhouse Bench. I've been wanting to make one and this was a good opportunity to challenge myself to use up some of that wood, but also to make a drawing in Sketchup so I could share the plans with you.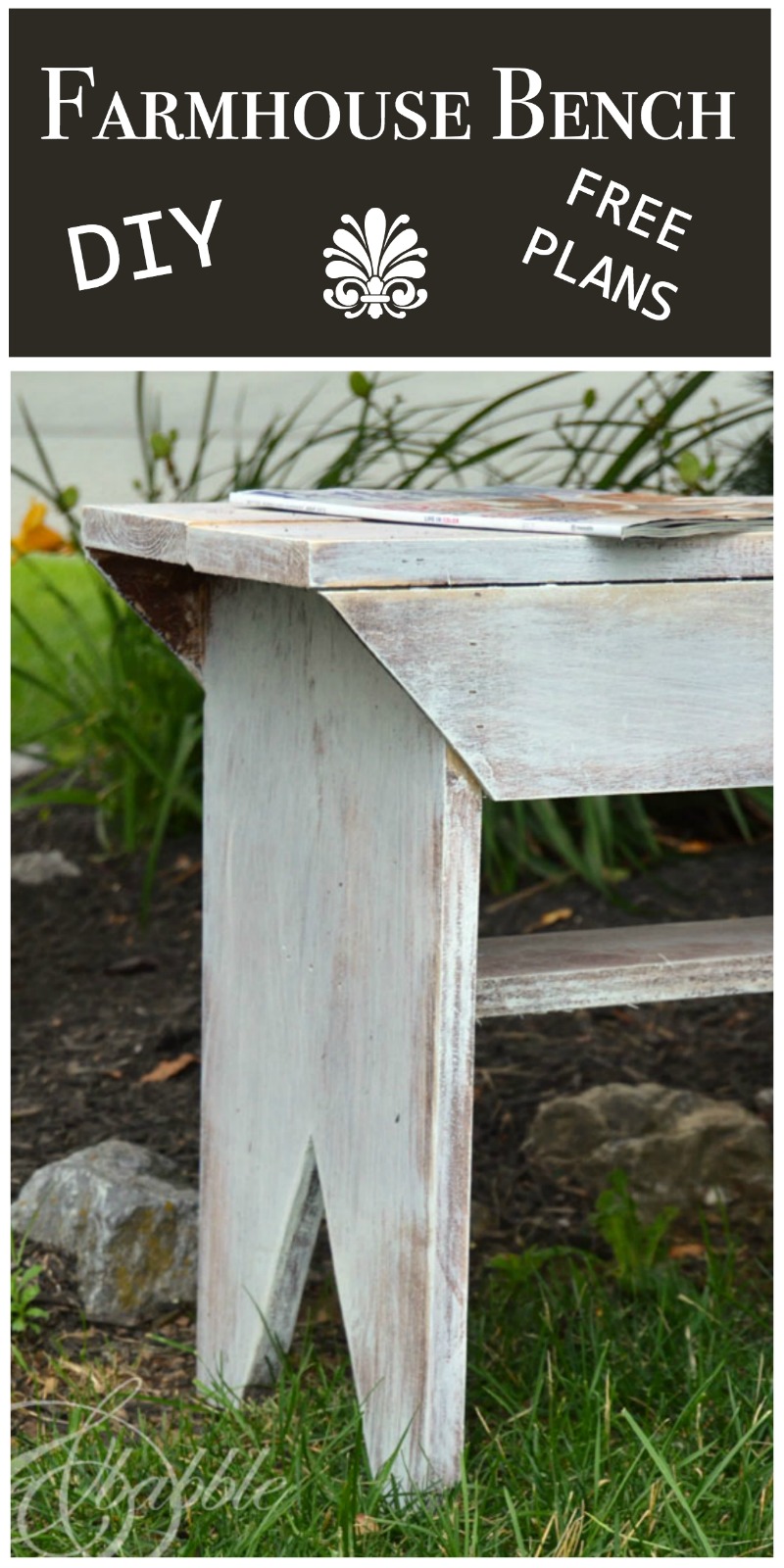 My plan is based on using 1 x 3's, 1 x 4's, and 1 x 12's because those are the sizes of the wood scraps that I had. Feel free to alter the plans to make your bench. Also, the plans are for a bench that is 48″ long. Again, these plans can be altered to make a shorter bench, too. In fact, I'm going to be making a 2-1/2′ bench next. *NOTE: I did not enough length of the 1 x 12 and 1 x 4 so I cut down some 3/4″ plywood that I had left over from other projects for the legs and brace.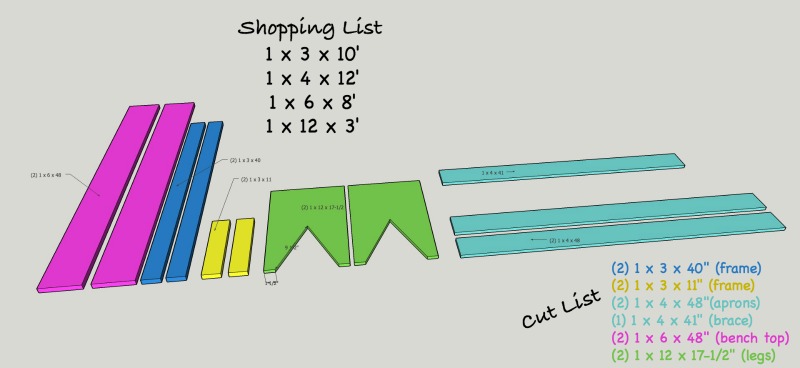 If you don't have any scrap wood, the image above has a shopping list for you.
 In addition to the wood, you will need:
wood glue
wood screws
brad nails
jig saw
wood filler
stain/paint or both
This post contains affiliate links. If you make a purchase using one of these links, I may make a small commission at no additional cost to you.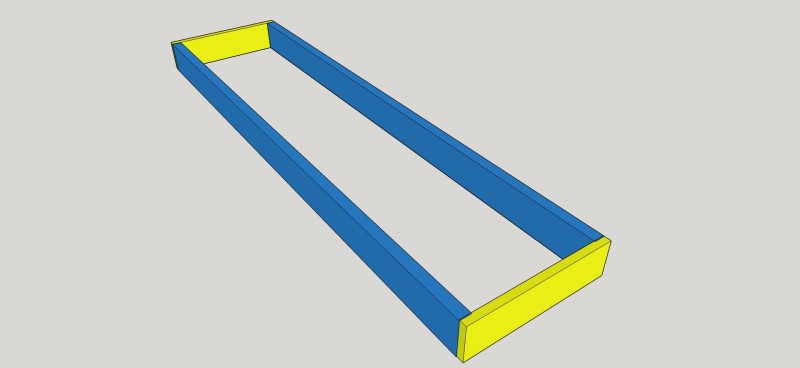 STEP 1: Assemble the frame using the 1 x 3's as shown above.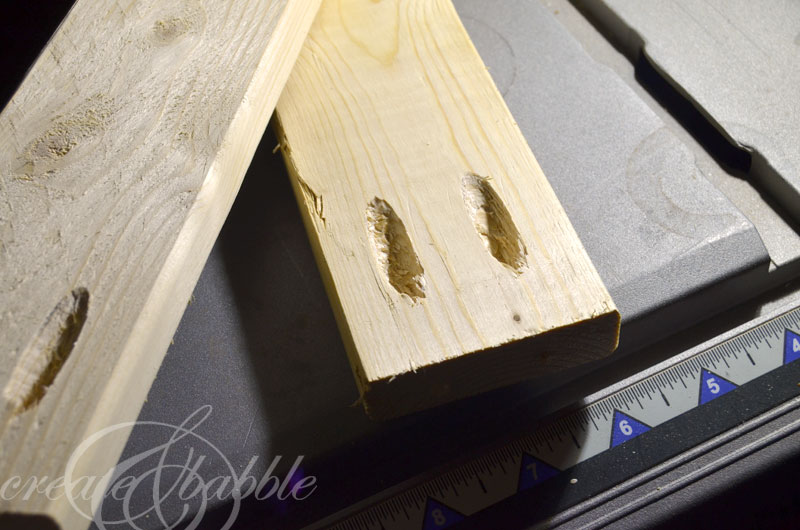 I put my frame together using wood glue and pocket holes with 1-1/2″ pocket screws.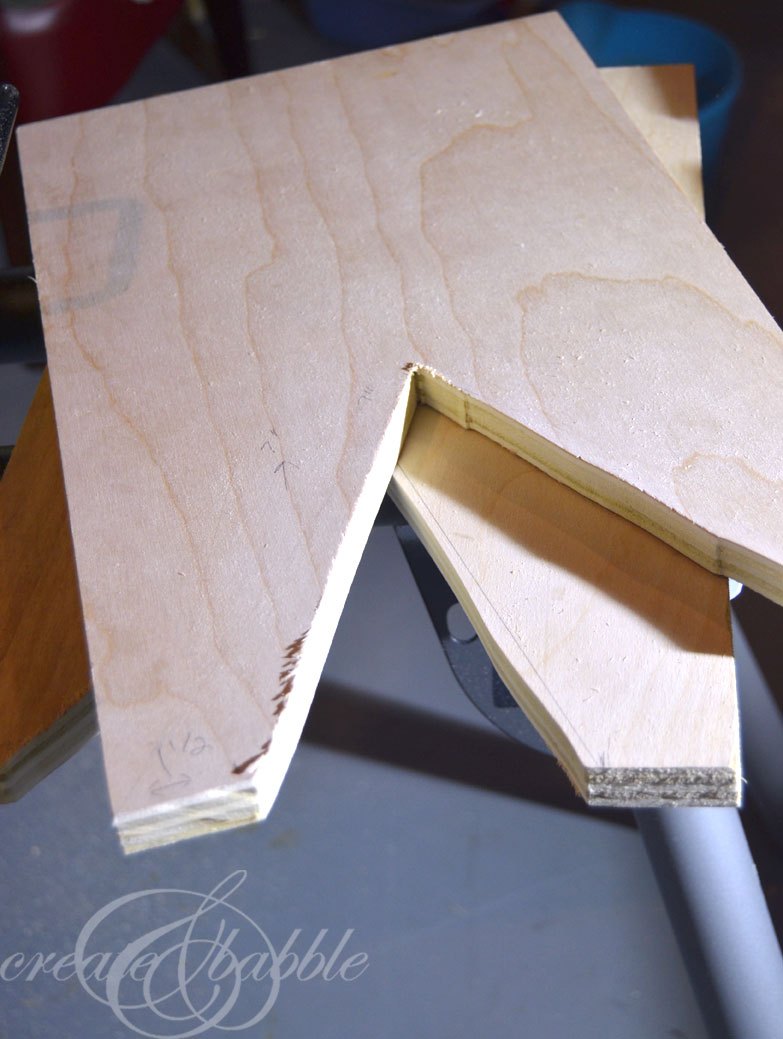 STEP 2: Cut inverted "V" shapes out of the two pieces of 1 x 12's using my Ryobi Jig Saw.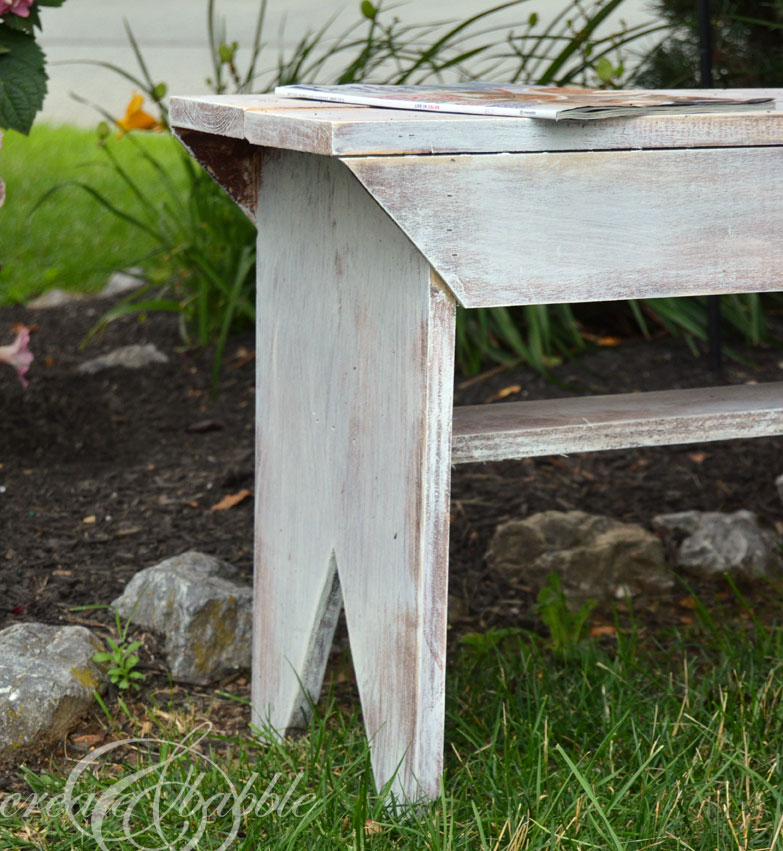 I definitely need to improve my jig saw cutting skills ; ) but after some sanding, it looks just fine.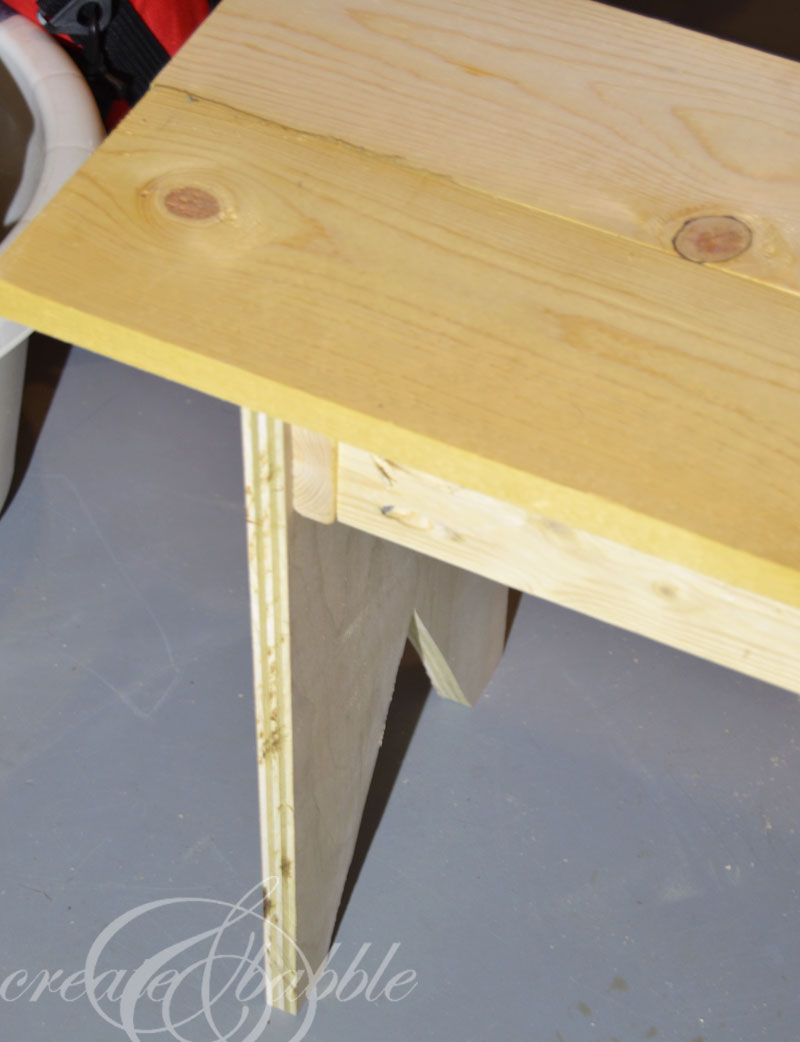 Step 3: Attach the 1 x 6″ boards with glue and nails.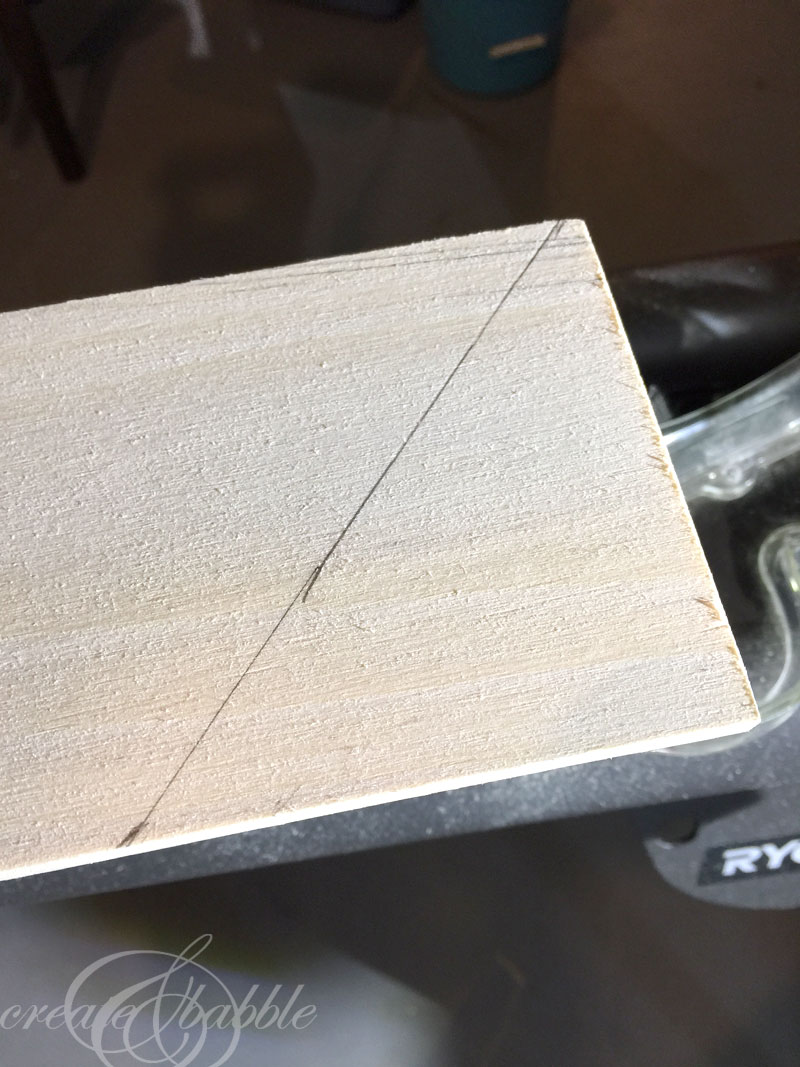 STEP 4: Make a angle cut at each end of the two 48″ 1 x 4's. These will be the front and back "aprons" of the bench.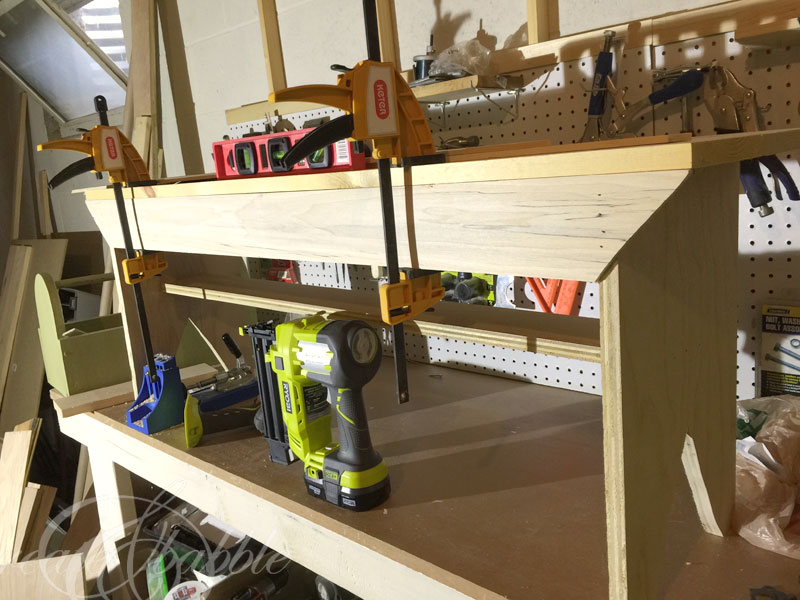 Step 5: Glue and nail the apron pieces to the front and back of the bench. I used my Ryobi Brad Nailer – what a time-saver! Also, glue and nail the brace in place as shown in the image above.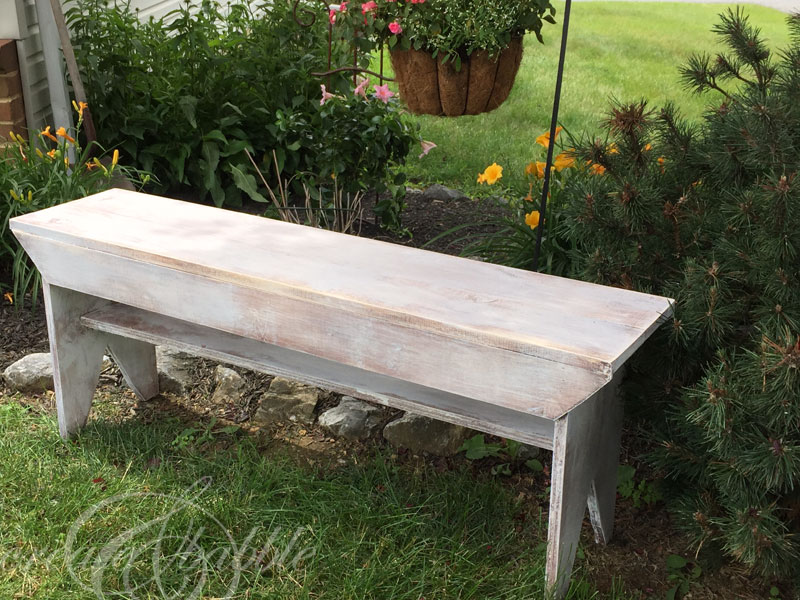 Step 6: Fill the nail holes, then stain or paint as desired.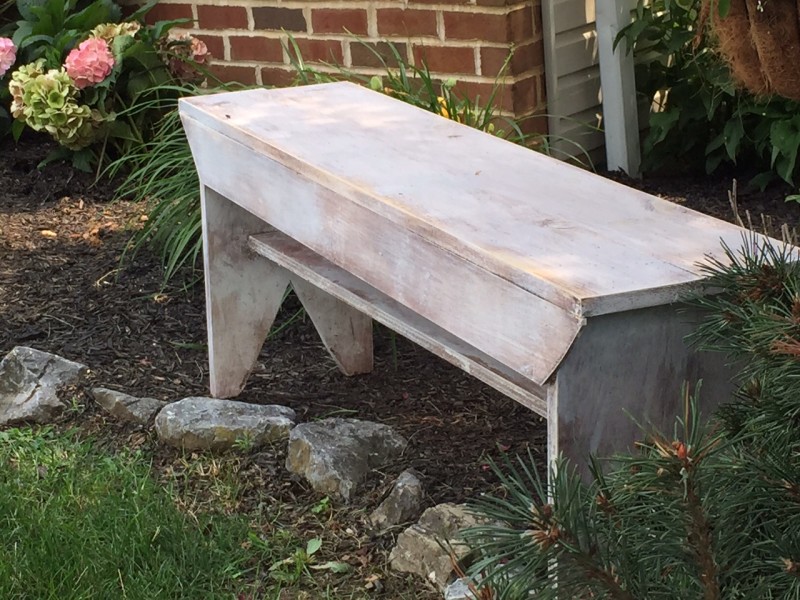 I was going for an, old, been-hanging-out-in-a-barn-for-years-look.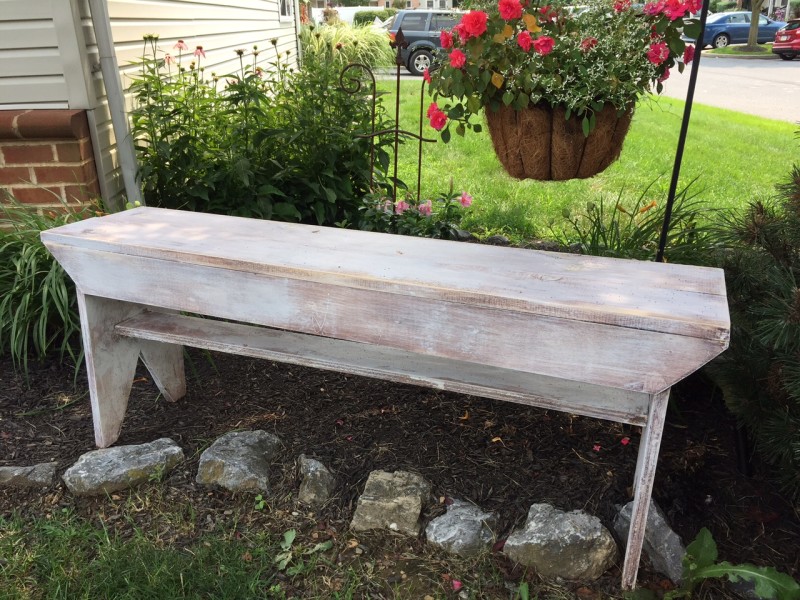 I think I nailed it. I sanded, stained, and sanded. Then I painted, sanded, and stained. Then sanded some more – in that order – to get the old, worn look ; )
What do you think? Could you use a little farmhouse bench at your house? I didn't actually know exactly where I would put mine, but I love it outside in the flower garden.
Please, feel free to pin this post to save for later.

I link to these great parties:
Monday Funday / Inspire Me Monday / Inspiration Monday  / Project Inspired  / Something to Talk About / Creative Spark / Tweak It Tuesday / The Scoop / Tutorials & Tips / Hit Me With Your Best Shot/ One Project at a Time / Show & Share / Whimsy Wednesday /  Wow Us Wednesdays / This Is How We Roll / Weekend Retreat / Creativity Unleashed / The Creative Circle / Freedom Fridays / Feathered Nest Friday / Link Party Palooza / Foodie Friends Friday / The Party Bunch / Furniture Feature Friday / Party Junk / Think Pink Sunday / Finding The Pretty & Delicious / Making Monday  /  That DIY Party /