This shop has been compensated by Collective Bias, Inc. and its advertiser. All opinions are mine alone. #showmetheshine #CollectiveBias
The original plan was to show you how to make pretty, etched glass, but I had to switch things up a little and show you how to make pretty, faux etched glass.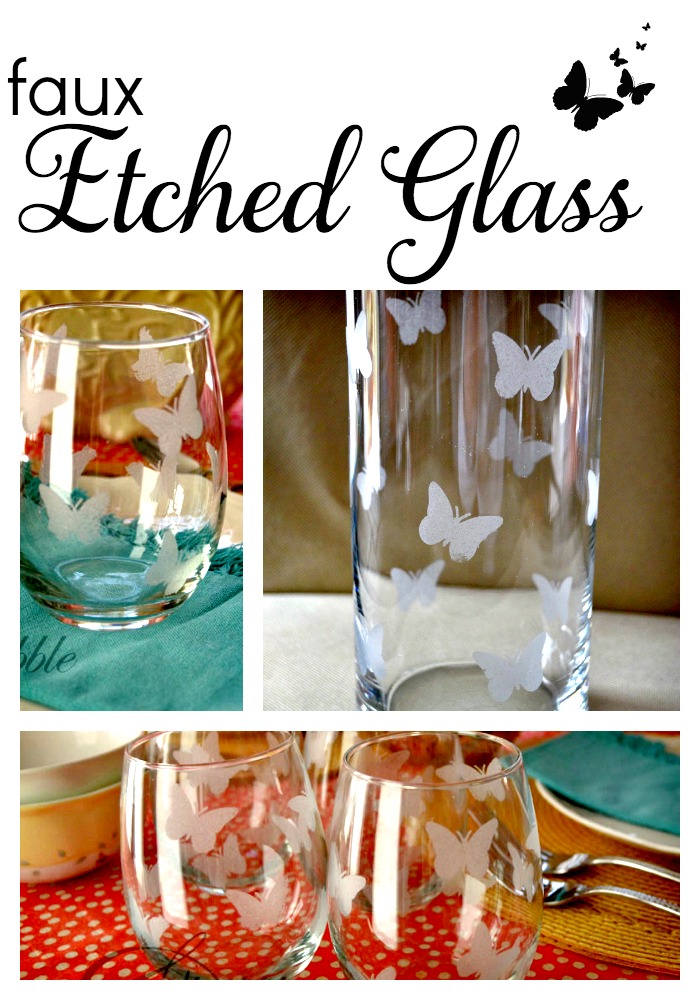 There's a very good reason for this switch: I bought the wrong etching cream! I thought I was buying regular etching cream. What I got instead was an etching effects paint!
Imagine my surprise after applying the "etching cream", waiting 30 minutes, and then rinsing off said "etching cream", when I looked at my perfectly smooth, non-etched glass!  What the what?!?! What did I do wrong?!?
It was then that I decided I needed to take a look at the instructions on the bottle of the "etching cream". Maybe I missed a step?? Or the "etching cream" was expired and no good??
And there it was. As plain as the nose on my face. frost effects paint!
I was just a wee bit embarrassed.  After all, I stood there like a fool wearing safety glasses and rubber gloves, waiting 30 minutes for this caustic, acid-containing, harmless, water-based "paint" to etch my glass! ;
Anyway, let's get to the part where I show you how I faux etched glass.
First, you need to find glass objects to etch. I had two dollar store vases hiding in the cabinet under the kitchen sink for who-knows-how-long. And I also had a set of glasses that I've been meaning to etch for the longest time.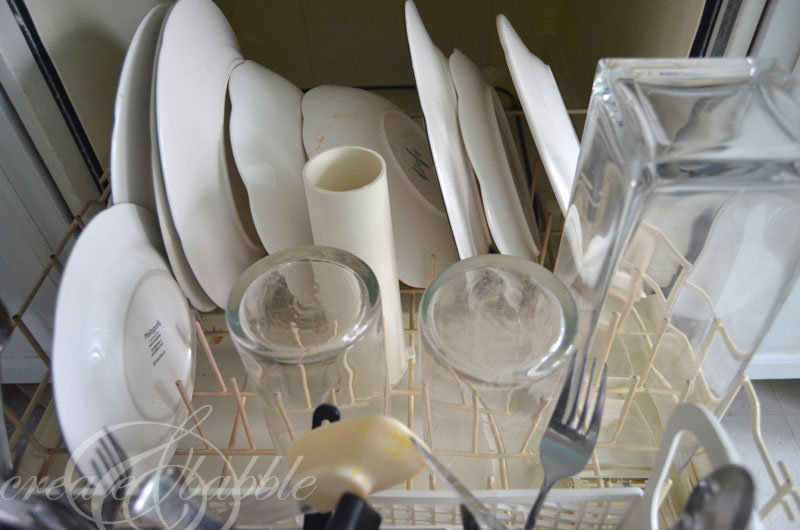 Now you need your glass vases, drinking glasses, whatever you want to faux etch, to be clean. I  mean really clean. Especially if they've been hiding out under your kitchen sink ; )
My glasses and vases were dirty, dusty and grimy so when I put them in the dishwasher with the spaghetti sauce-covered dishes, I used a Finish® Quantum Max™ tablet in the detergent compartment to make sure they came out clean and shiny so that the paint would adhere.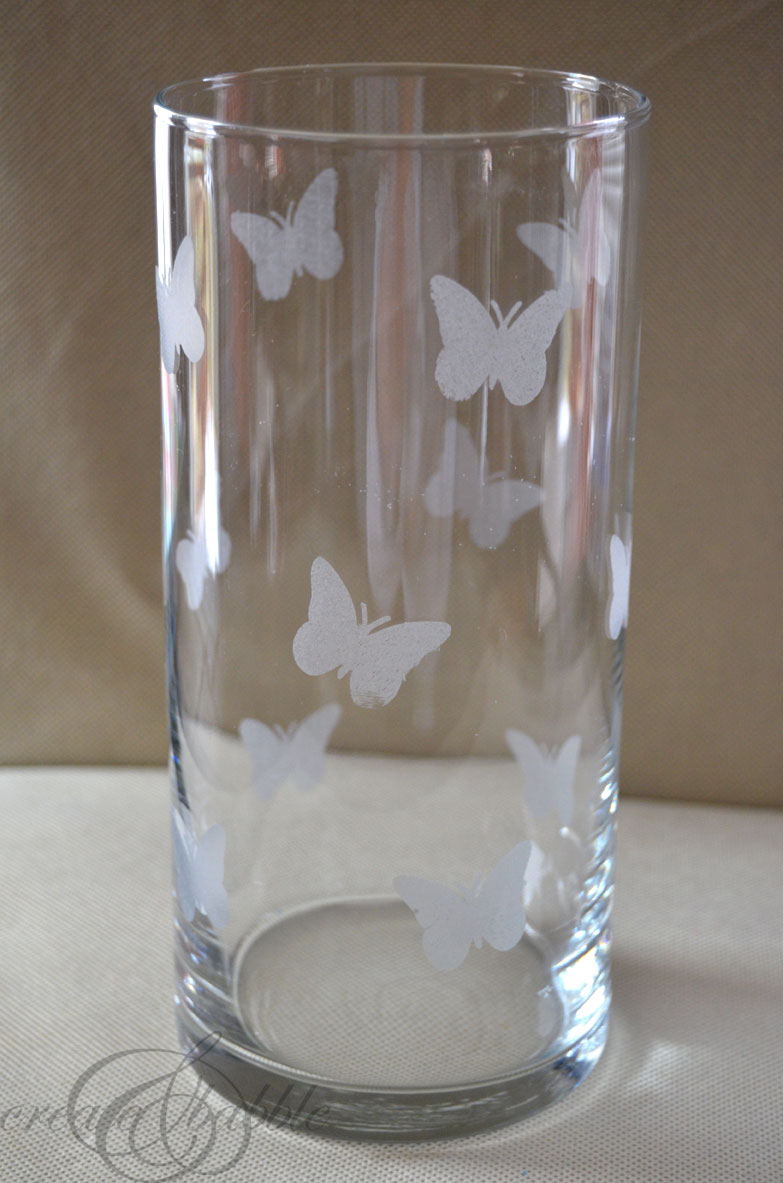 Now THAT does not look anything like the grimy vase that went into the dishwasher with a bunch of spaghetti sauce covered plates. Finish® Quantum Max™ didn't leave residue, film or water spots on the glasses or vases. They're  crystal clear, shiny, and ready to faux etch!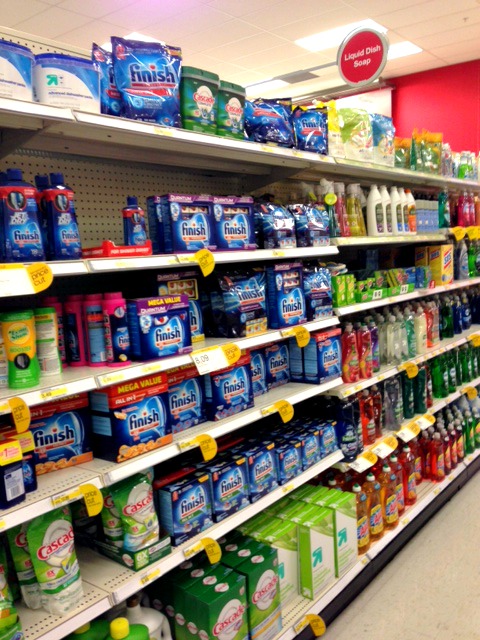 You can find the Finish® Quantum Max™ at Target. Use Target's Cartwheel App and Save 5% on NEW! Max in ONE & Quantum Max Small Size from March 29 through April 25.
Now you need a stencil. I made butterfly stencils by cutting butterfly shapes out of adhesive shelf lining paper using my electronic cutting machine.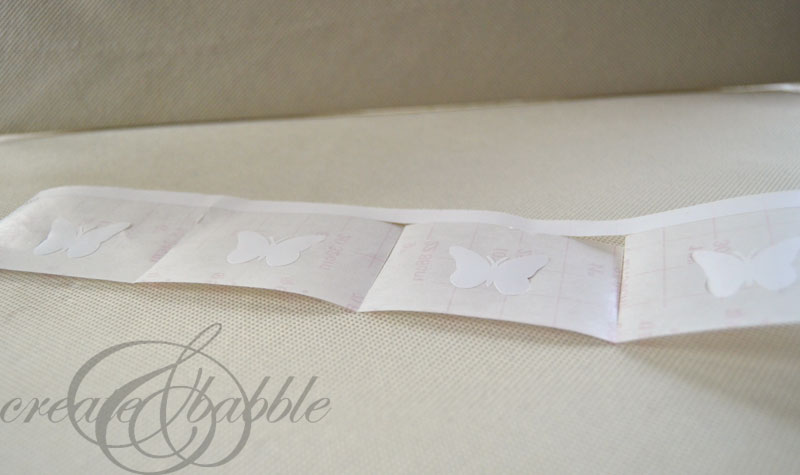 Don't worry if you don't have one of those machines because you could also use a paper punch. All of the craft stores sell many different shapes of paper punches that would work great.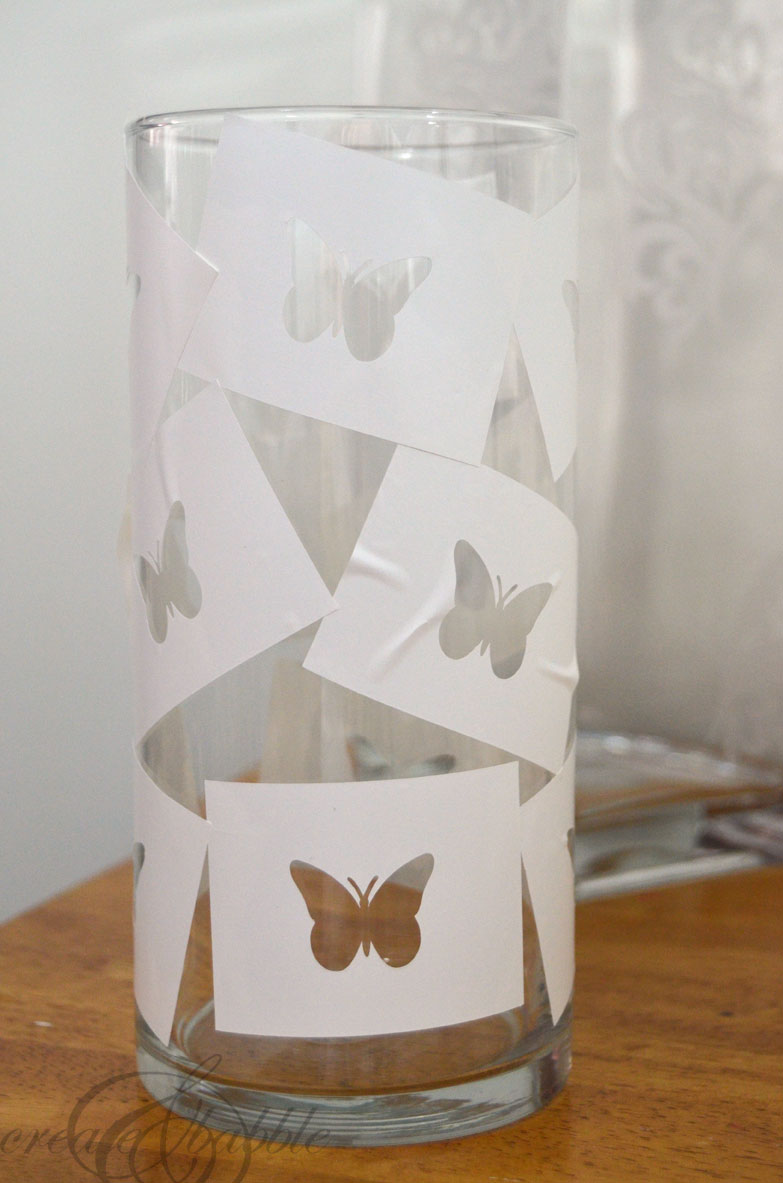 Apply the stencils to the glass or vase.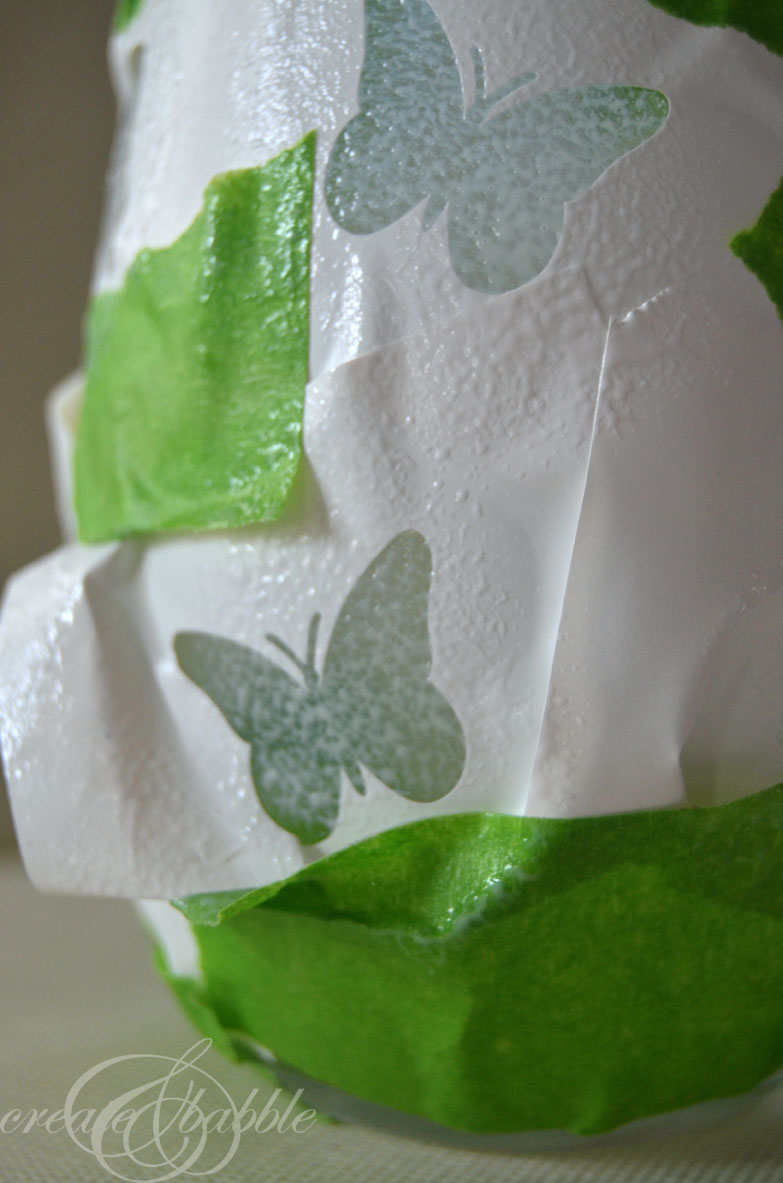 Cover the bare spots with painter's tape and then pounce on a very light amount of the faux etching paint. At first I used a sponge-tipped "brush", but I found that I got better results with a make-up sponge.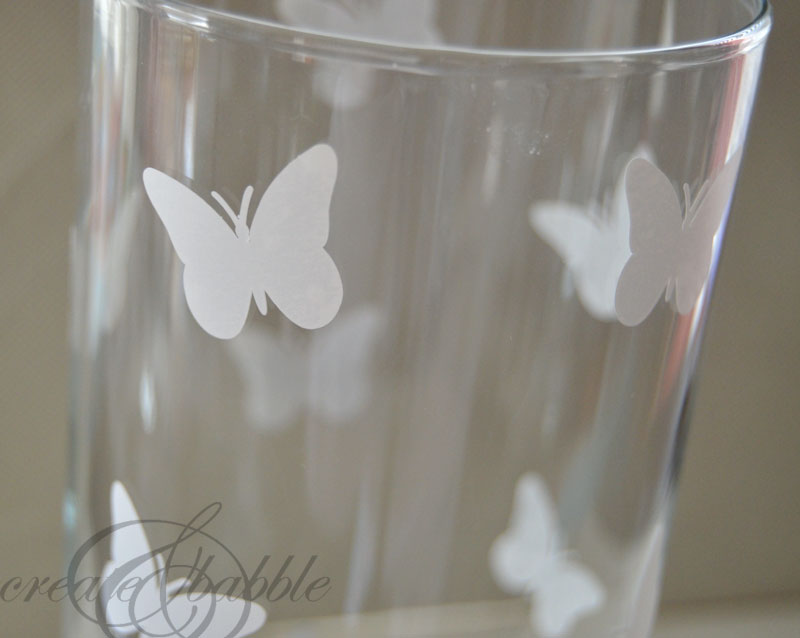 I thought it would be fun to try faux etching in reverse. Instead of the stencil of the butterfly, I put the butterflies on the vase in a random pattern and then painted over the entire vase with the paint.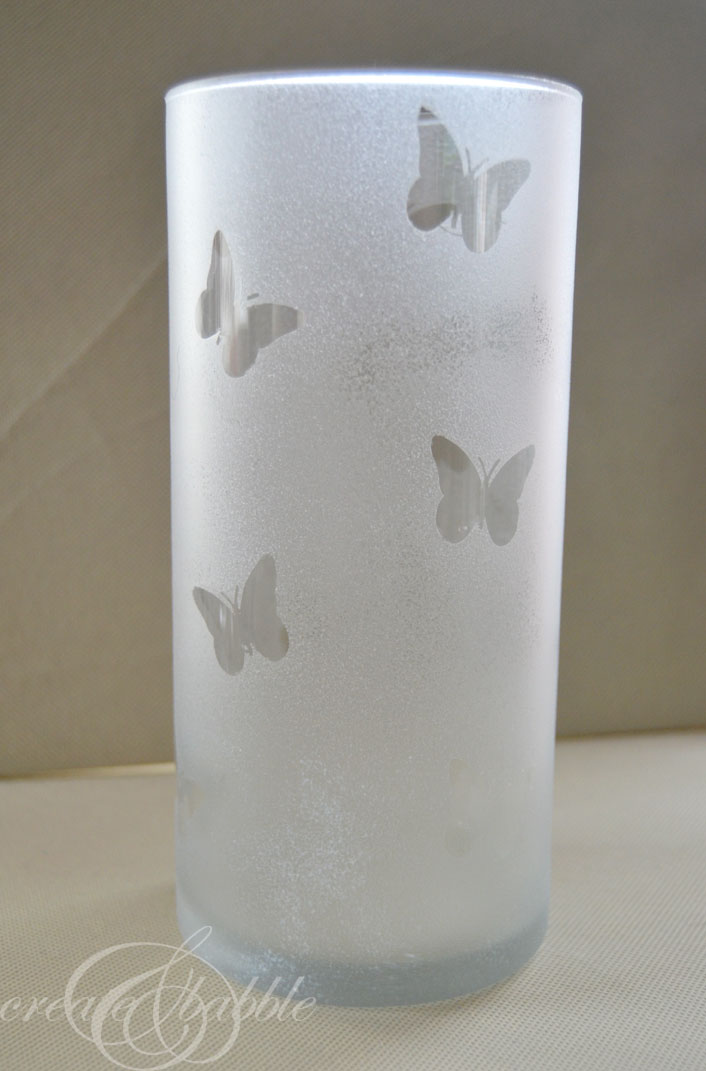 I really like how it turned out and thought that this would be a good idea for glass votives. How pretty that would look with candle light glowing though the butterfly shapes.
*Tip: remove the stencil while the paint is still wet, otherwise the paint may peel off when you remove the stencil.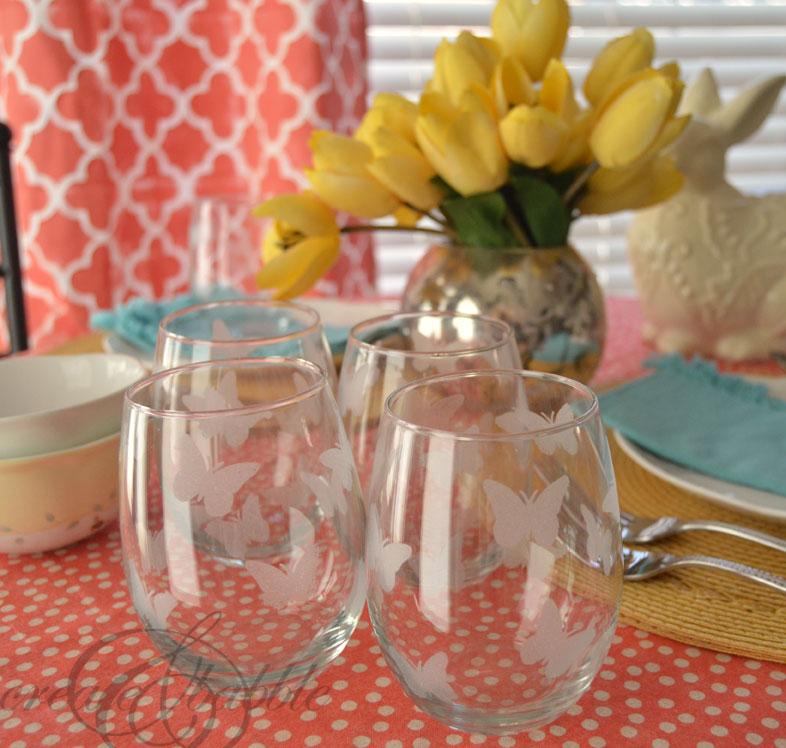 The glass tumblers turn out so pretty! I love how they look with my floral-patterned dinnerware.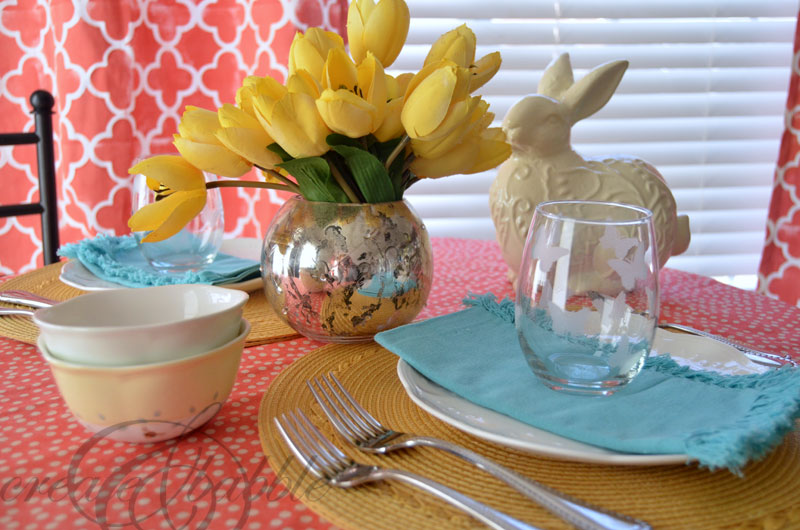 I couldn't wait to show off my pretty, "new" old glasses on the Easter table.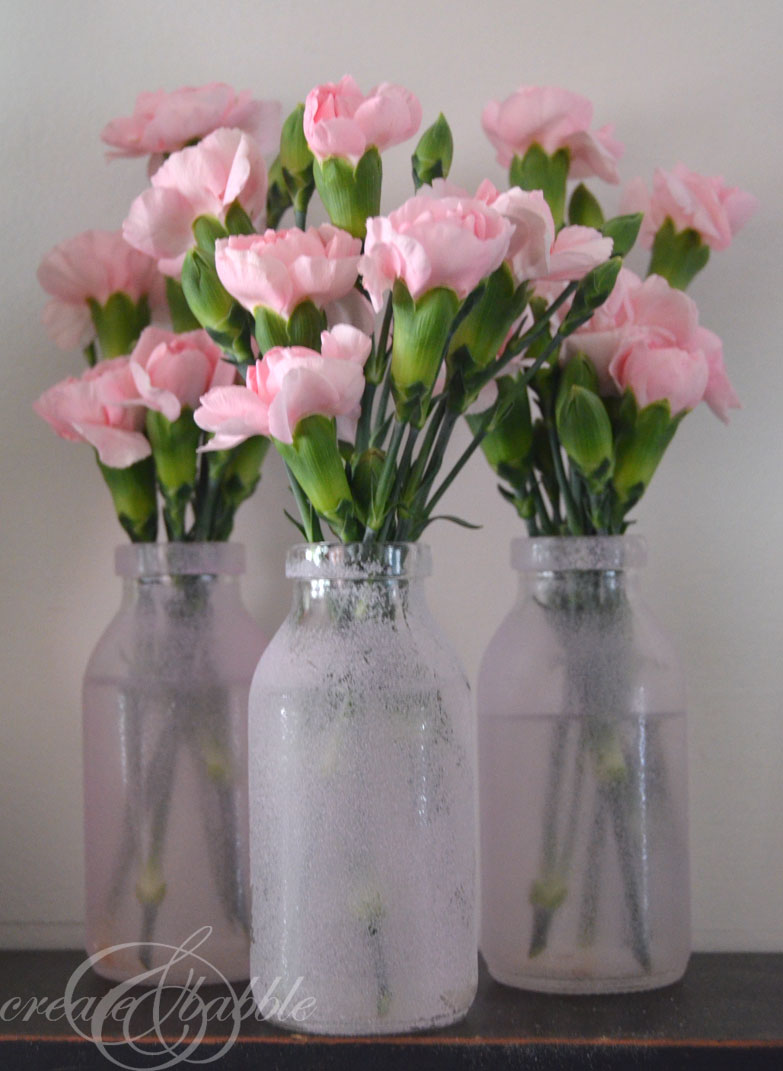 I also discovered that you can mix in colored paint with the faux etching paint. Just remember to only add a drop or two and mix it well.
According to the instructions on the faux etching paint, the painted glassware can be washed in the dishwasher after 21 days. Good to know!
Enter the giveaway below for a chance to win glass prizes that include a gift card to purchase Finish® at Target!