Painting upholstered furniture is not new. Bloggers have been doing it for years. However, this is my first attempt at a full-on paint job on a piece of upholstered furniture and I want to share what I learned and show you my five tips for painting upholstered furniture.
If you've been a reader of Create & Babble for a while you may remember this chair makeover. (I still want to tackle reupholstering that chair some day. But not today ; )
I loved how the chair looked after the stenciling. But it's been three years and it's time for another makeover. The chair has served us well in those three years but now it's part of the master bedroom makeover where there is major overhauling going on. (Did you see I'm participating in the One Room Challenge® and I'm in the middle of transforming that room).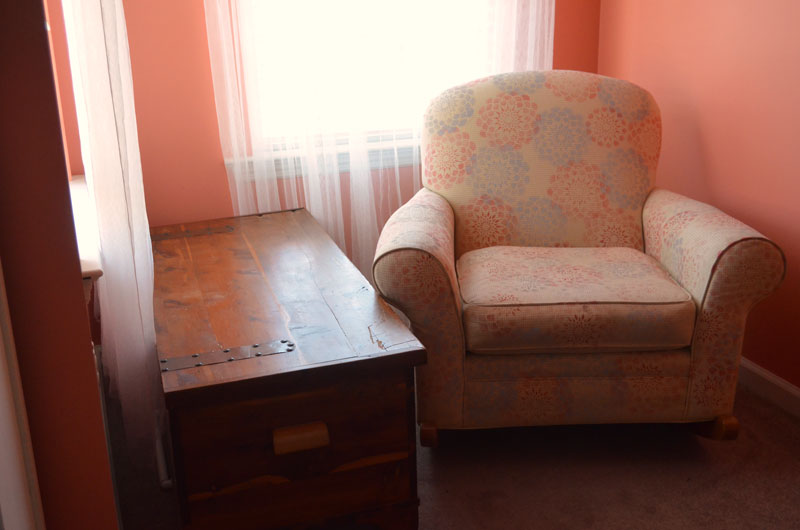 The orangey/coral is going away so this chair needs a completely new look.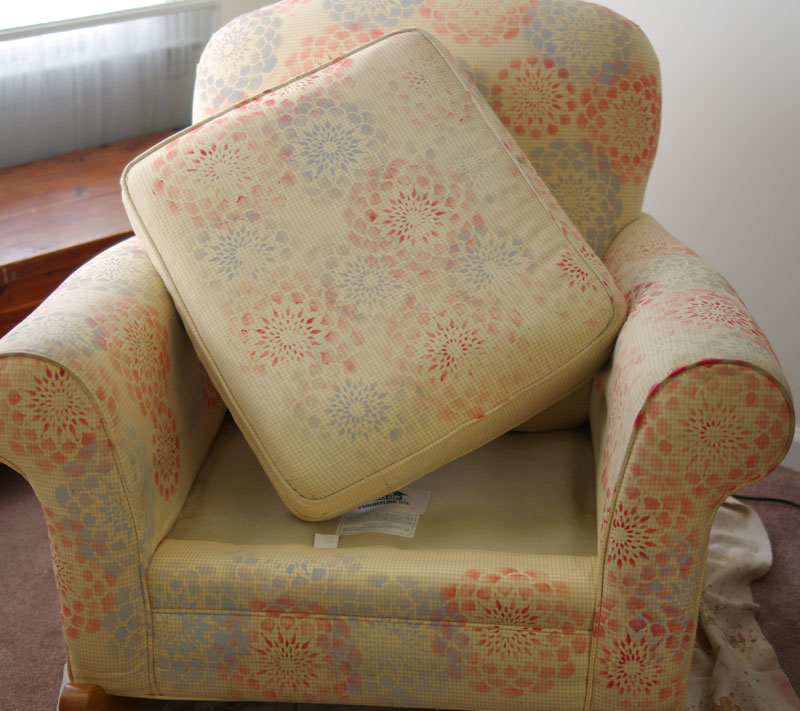 Before I get to the how-to's, let me show you how the chair looks today: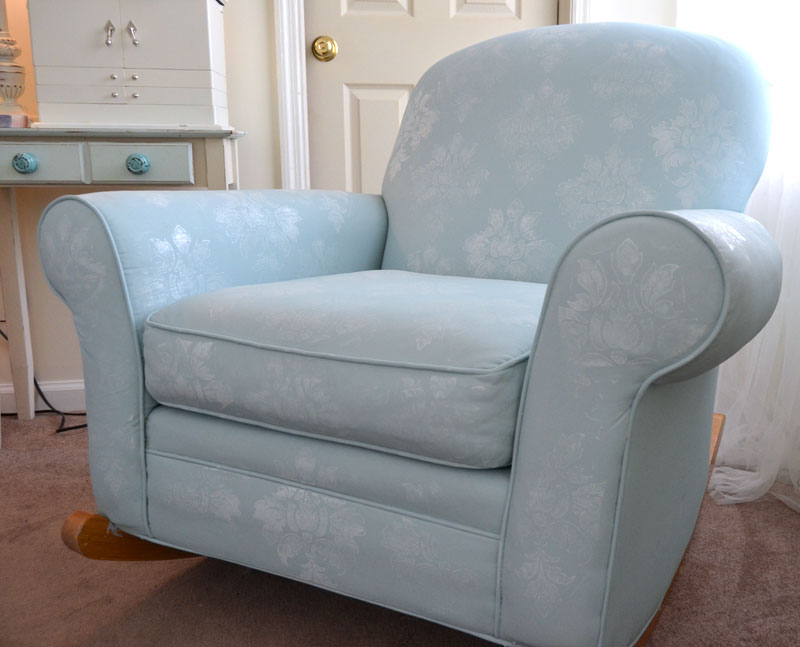 And just for funsies here are three faces of that chair ; )    so far!

And if you're thinking that the chair looks perfectly fine in the first photo, please read this! The photo above doesn't show all of the stains, but adding the stenciling really helped to mask those stains.
I love how the chair looks now. And I'll admit that this is the last "painting" makeover for this chair. The next time this chair needs made over I will be taking on an reupholstering job for the first time!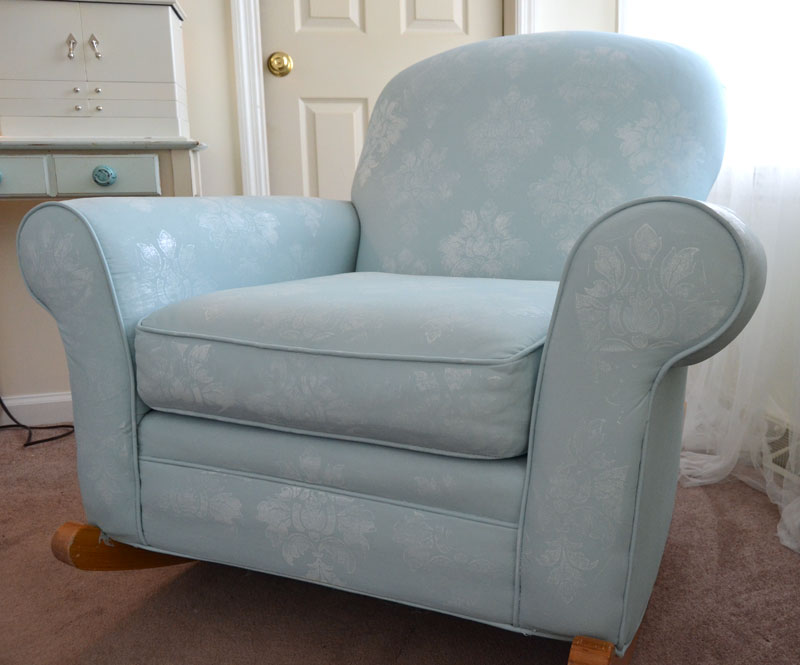 But in the meantime, I will enjoy this chair as it is now.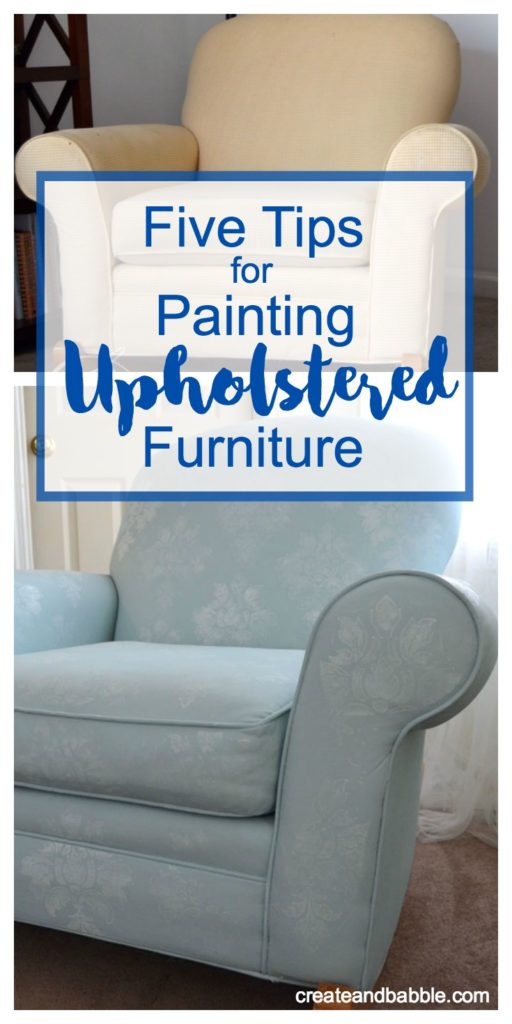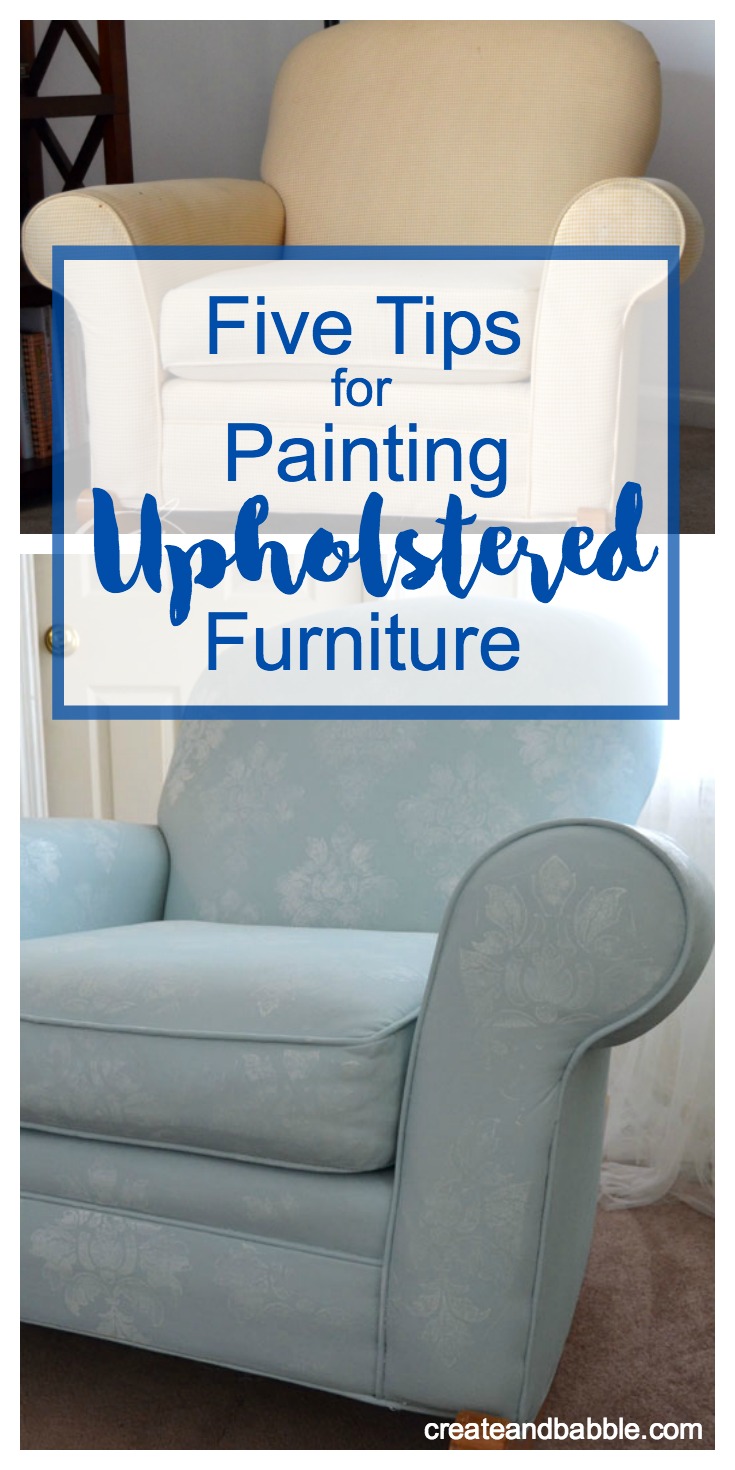 Do you have an upholstered piece of furniture that's in good shape but the fabric has seen better days? Or it's the wrong color? Don't throw it away! Paint it!
How to Paint Upholstered Furniture
Step One – Gather Materials:
I'm listing the materials that I used. I've included affiliate links for your convenience.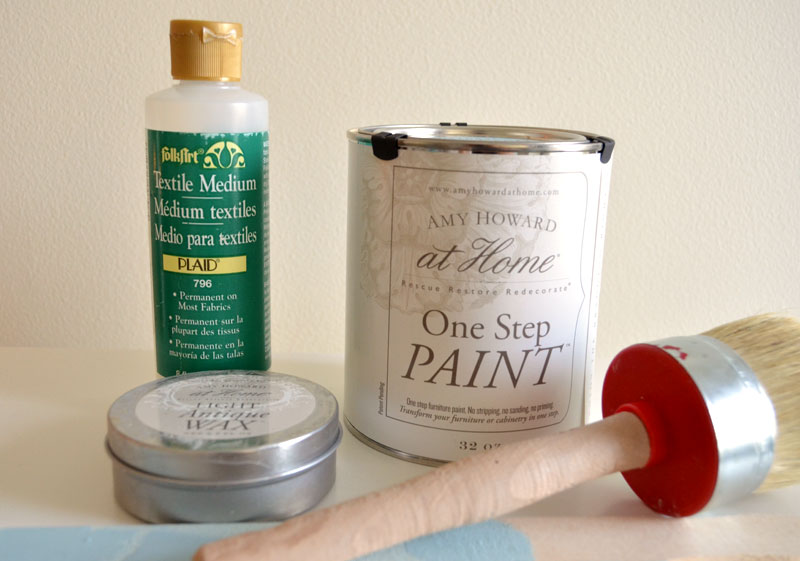 Step Two – Start with a piece of furniture free of dust and loose dirt.
In other words: vacuum the chair ; )
Step Three – Dilute the paint AND add textile medium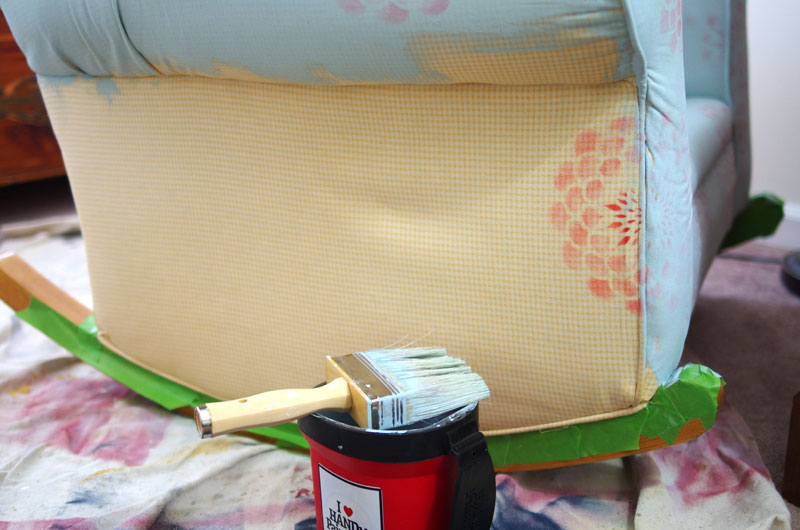 I used a ratio of about 50:50 water to paint and added about a few tablespoons of the textile medium to each batch of paint.
Step Four – Apply the paint in light coats with a wide staining or waterproofing brush.
I found that this brush made quick work of applying each coat of paint. The stiffer bristles really helped get the paint mixture into the fibers of the fabric. Lightly sand between each coat.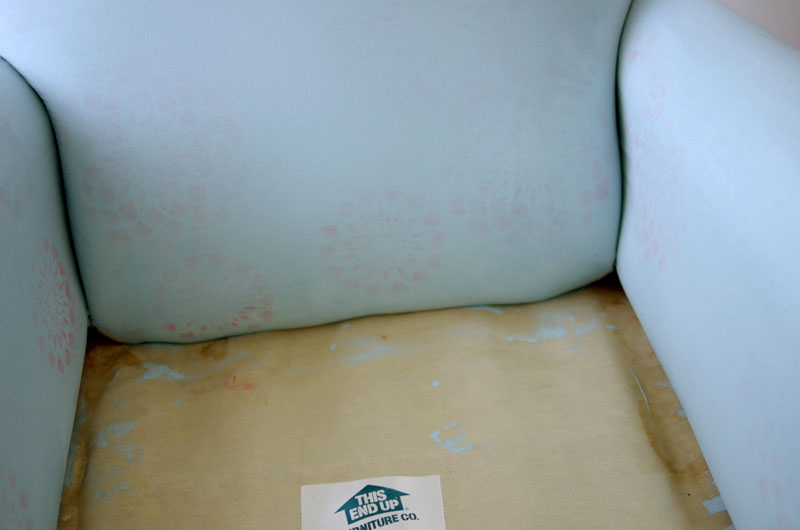 It took about four or five coats to completely cover my chair. The photo above is after two coats.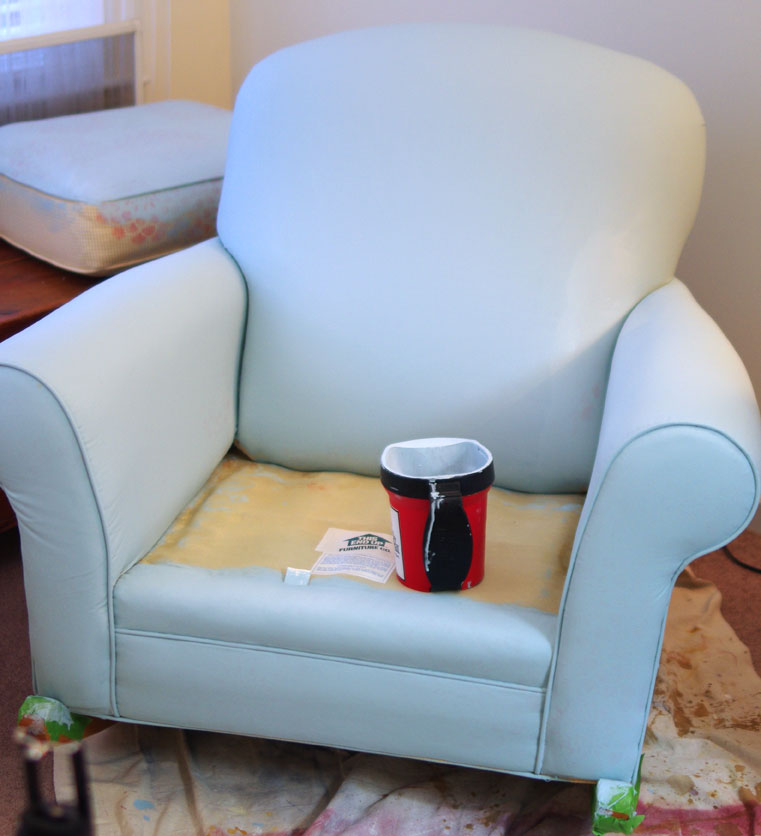 Step Five – Buff in a light coat of wax
This step really helps to soften up the fabric a bit. Before this step, the fabric feels stiff and a little "crunchy". The wax really does soften it up.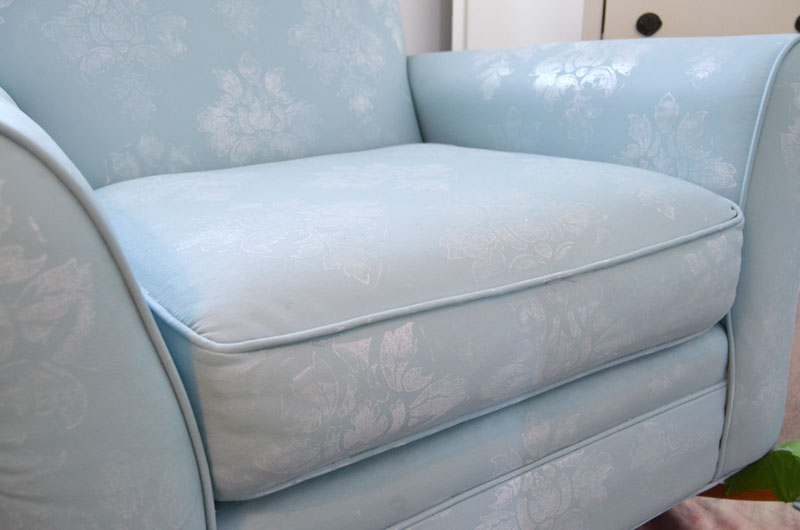 Since this chair is not going to be used a lot – mostly just for putting on socks and shoes or to sit and read for an hour or two – it's fine that it's not the softest chair in the house! Would I paint a room full of family room furniture that is used heavily? Probably not. But for an accent piece that's used mostly just for looks?  Absolutely! I think it's a great way to rescue a well-built piece of furniture that needs a little updating.
So in summary, here are my five tips to for painting upholstered furniture:
Dilute the paint
Add textile medium to diluted paint
Use a stain/waterproofing brush
Lightly sand after each coat of paint has dried
Wax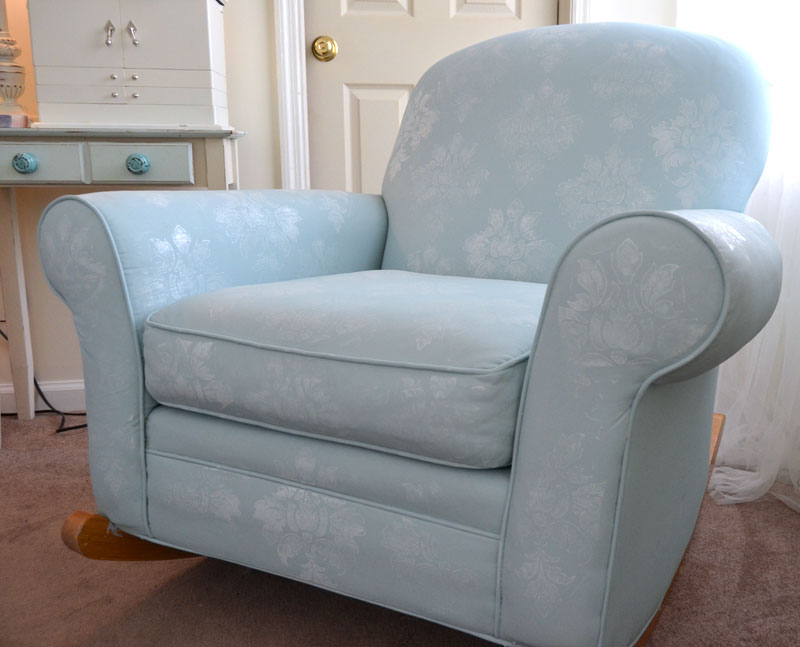 Are you curious as to how I got that awesome subtle faded pattern on the chair?
Come back next Tuesday and I'll show you how I did it. And no, it's not a stencil! Hmmm, what could it be????
Disclosure: I receive Amy Howard At Home One Step Paint for this post. The opinions and story are my own. I only recommend products that I use and love.