Do you have a favorite piece of furniture that you just can't part with? It's old. It's stained. It has seen better days. But you still love it even though you know it's kind of an eyesore. I do. Or I did. I can't wait to show you my favorite chair makeover.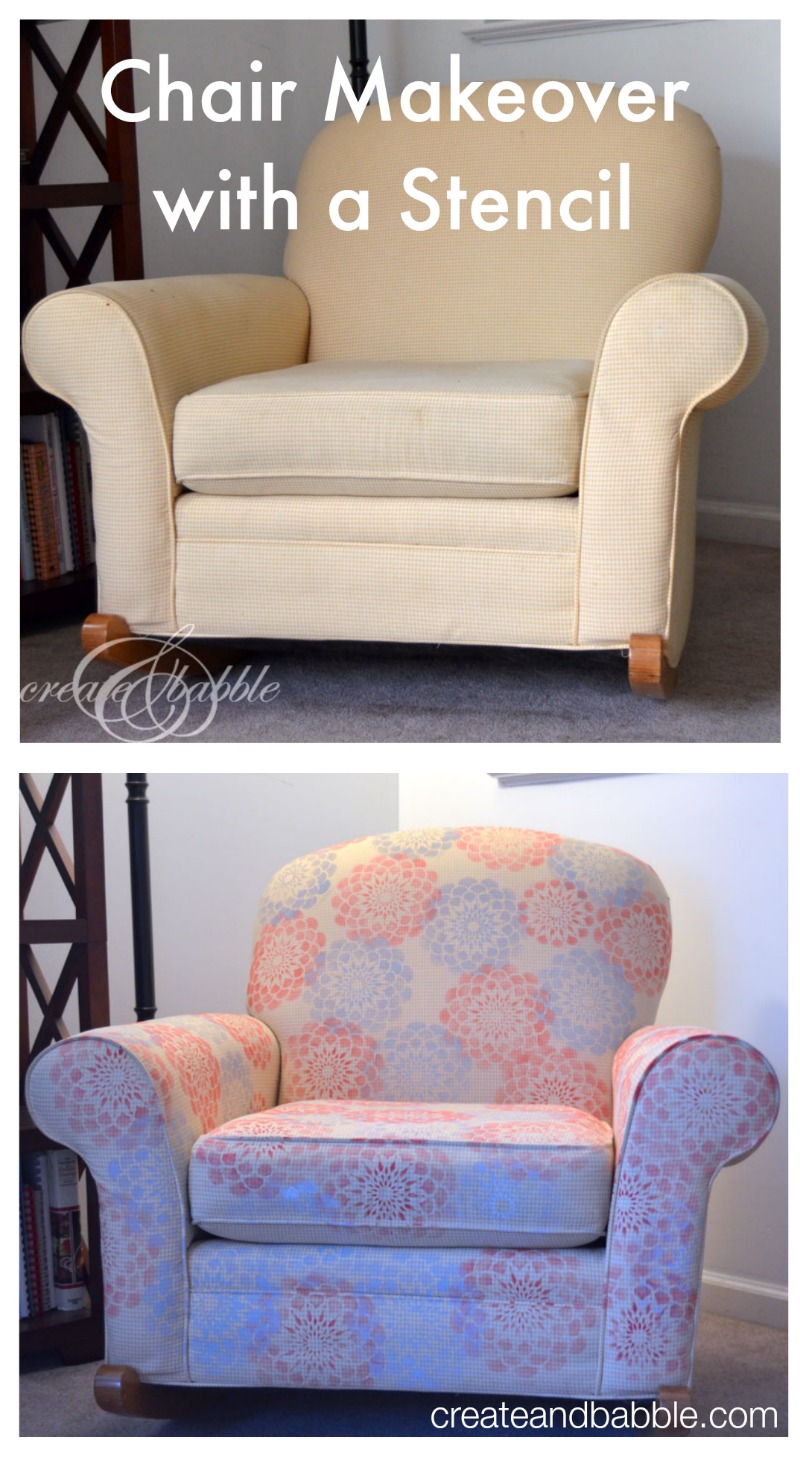 I had originally planned to reupholster this chair. There are some great tutorials online and since I do have some sewing skills, I wanted to give it a try. As I was searching online for fabric one evening, I told Dan my plans for reupholstering the chair.  He's the one who came up with the idea to stencil it. He really likes the pillow that I stenciled and said why don't you do something like that? Good idea! If it doesn't turn out or we don't like it, I'll just move forward with my plan to reupholster. And since I had everything on hand that I would need to stencil the chair, why not? I had nothing to lose!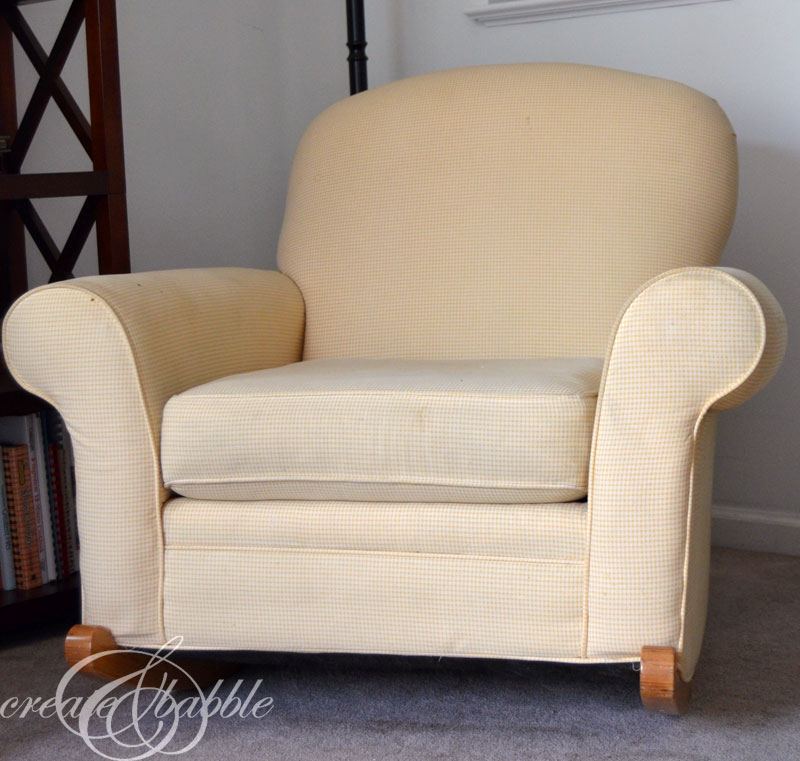 At first glance, you may think this chair looks pretty good. Don't be deceived.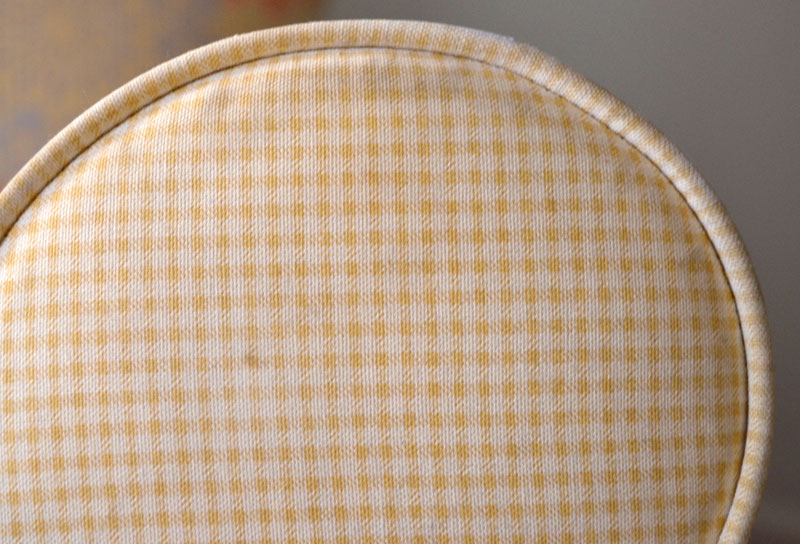 Upon closer look, you can see the small stains and wear and tear on this 20+ year old chair. I mean, it's not terribly dirty or stained, but since the fabric is so light every little mark shows.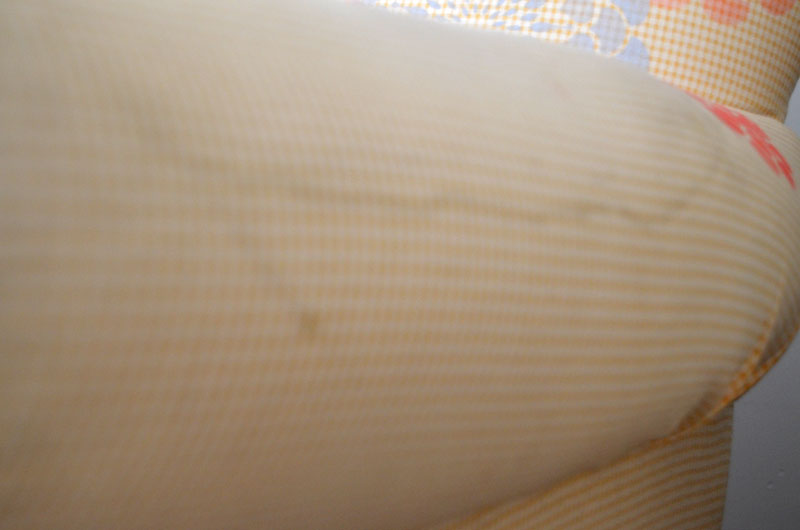 This chair has seen better days for sure. It's made many moves with me and although it's structurally very sound, the fabric has stains. I've tried everything over the years to get it clean and all I got for my efforts were watermarks and bleached-out looking spots.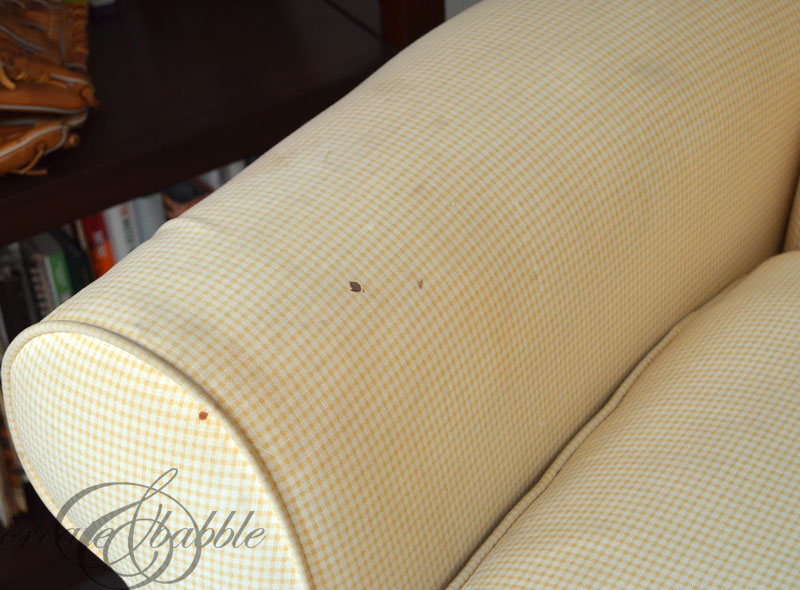 The latest stains were from a "boo boo" on my grandson's knee. I'm not sure what I was thinking when I bought this chair. I really liked the fabric but a pale yellow and white gingham was not my best decision, especially since I had three kiddos in the house when I bought it! That fabric is a magnet for dirt and stains.
Here's how I made over the chair using a stencil:
First, I made a stencil using my Silhouette Cameo. I just went to the online store and typed "stencil" in the search. There are pages and pages of stencil shapes to choose from.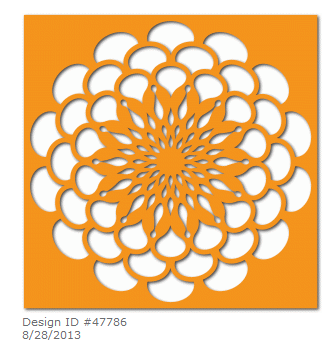 I resized the shape to about 8″ and cut it out using the Silhouette stencil material.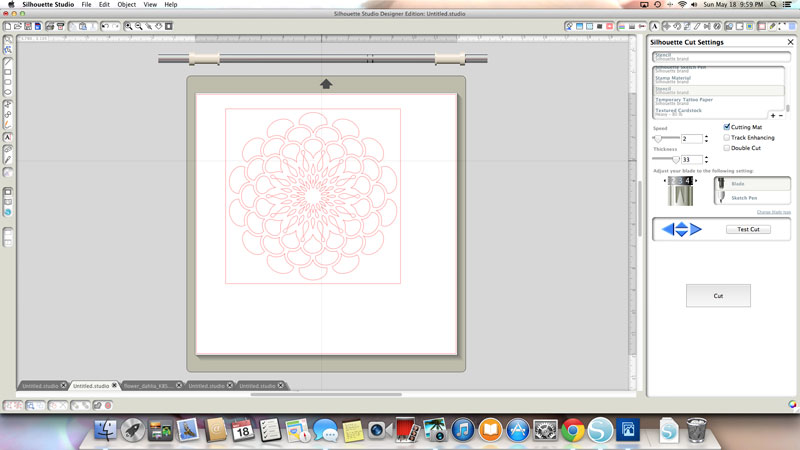 Next, I had to decide on colors. Since the background would be the yellow and white gingham fabric of the chair, I only wanted to use two colors. I wanted coral to be one of those colors since I stenciled my curtains using coral. Unfortunately, I didn't have any of that paint left over. So I went to my supply of Silhouette Fabric Inks. I didn't have coral. I had red, green, blue, yellow, tan, and magenta. No coral! So I "googled" it. Turns out that red, yellow and pink make coral. I didn't have pink, so magenta had to do!

And it turned out to be a perfect match!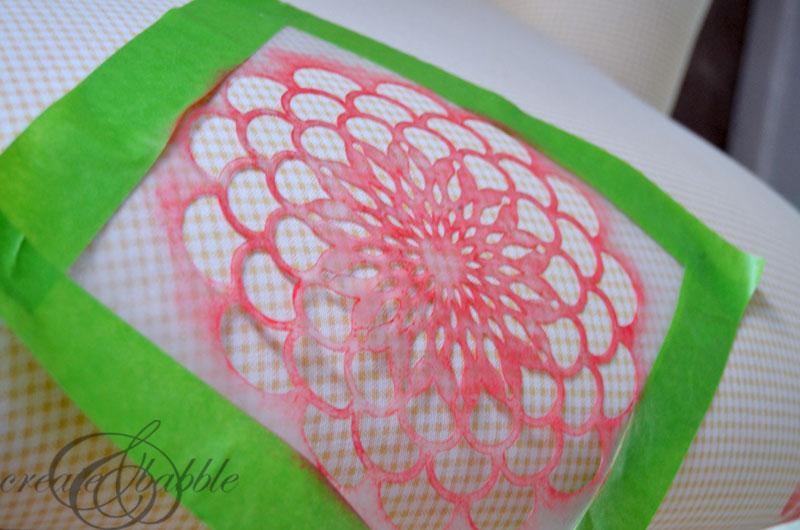 Since the Silhouette stencil material has adhesive on the back, I wouldn't have needed to use tape, except I didn't increase the margin around the design, so the painter's tape kept me from going over the edge of the stencil onto the fabric.
The idea of stenciling the chair was to hide and camouflage the imperfections on the chair. Mission accomplished! Take a look at these side-by-side comparisons: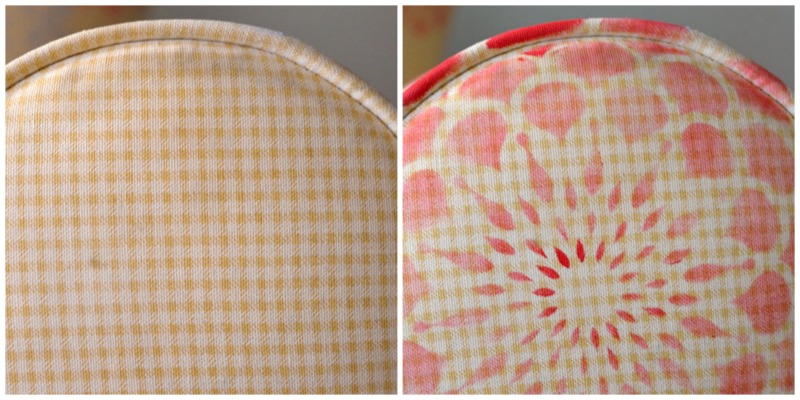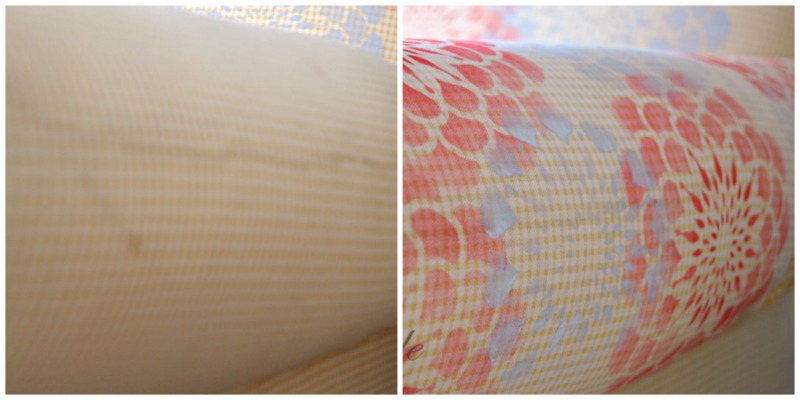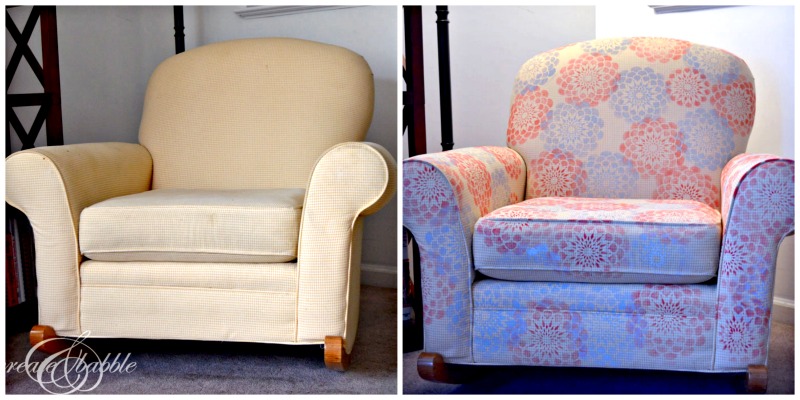 The other color I used is a medium gray. It's just plain, old, acrylic craft paint.

I'm in love with it! It turned out way better than I had even hoped! I'd love to hear what you think. I think that some day, when I grow tired of the pattern, I will reupholster the chair. But for now….I love it.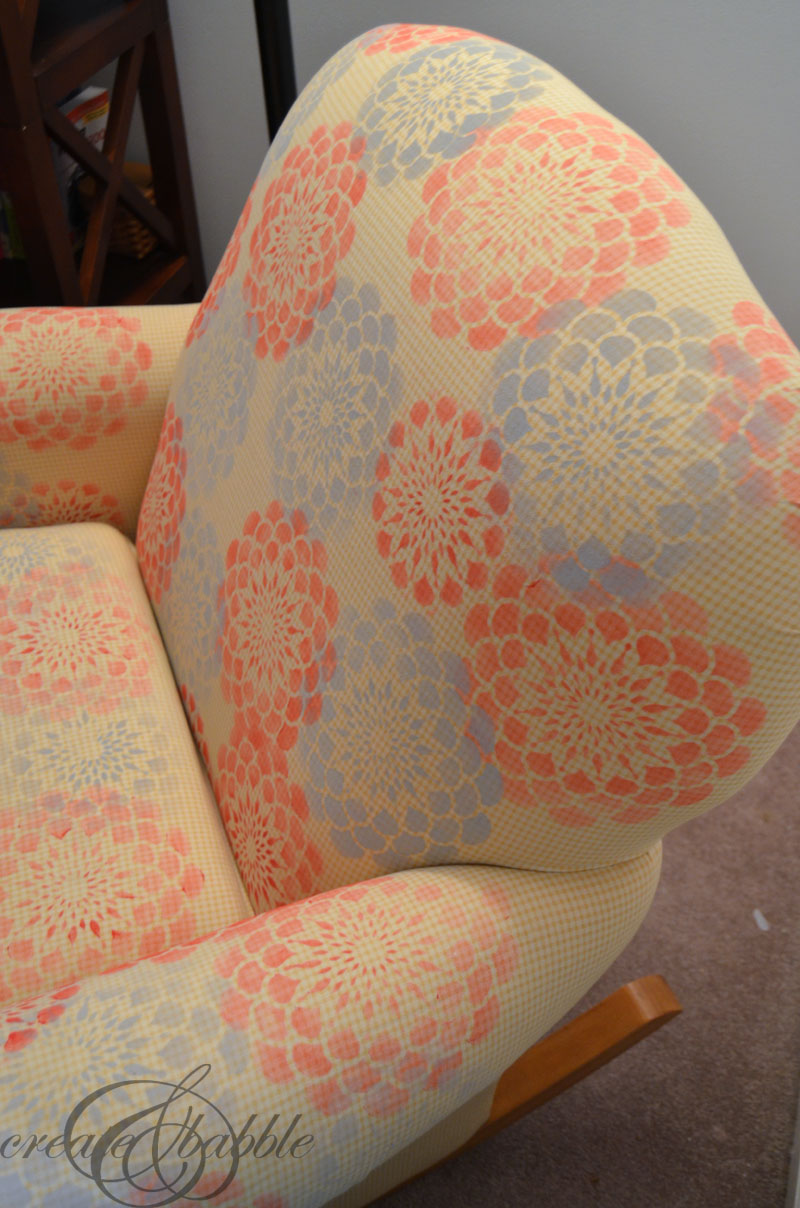 I'm calling this chair makeover a success!
When I get tired of this look (and I will – I know me), I'll probably paint it white following Kim's tutorial and leave it at that for a while – yes, I'm a glutton for punishment – a white chair with two grandchildren visiting – good idea – not! But after that I could reupholster it. I have plans!