This DIY Stenciled Honeycomb and Bee Pillow is sponsored by Plaid was sponsored by Ed Roth Stencil1 Stencils and FolkArt Multi-Surface Paints by Plaid Crafts.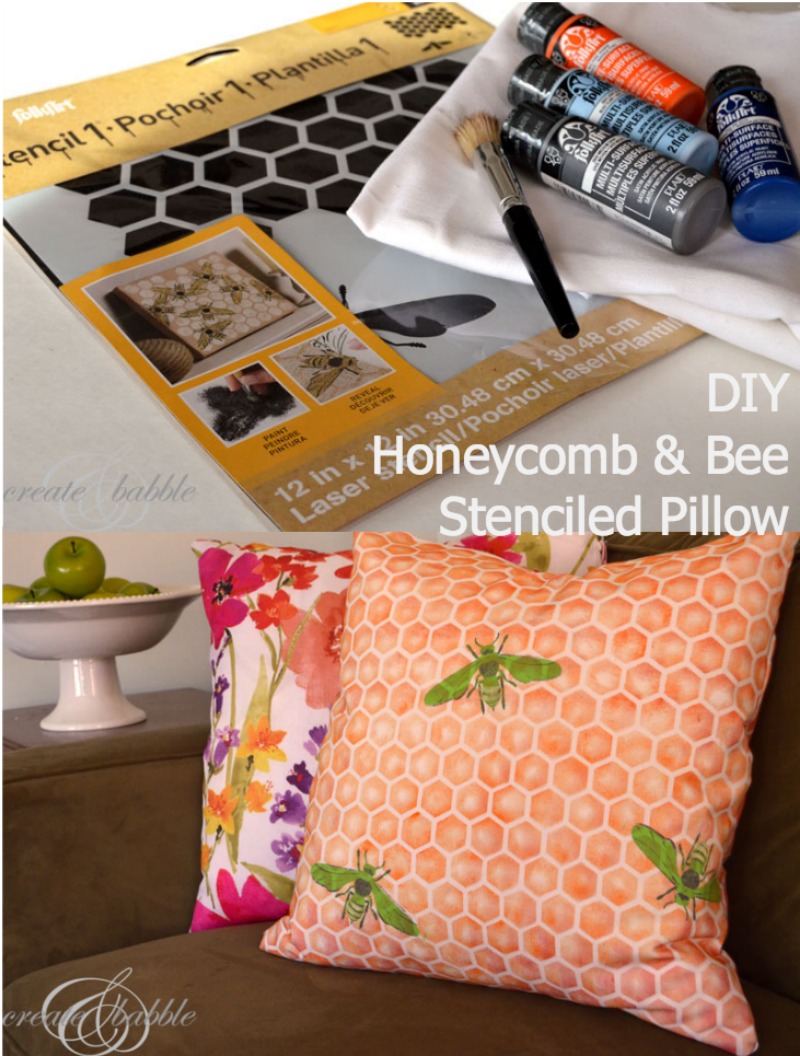 Since it is supposedly Spring (or so the calendar says, but not the weatherman!), I've been busy bringing some Spring-time decor into my home. Even if it doesn't feel like Spring outside, at least I can make it feel like Spring inside! I recently stenciled a white pillow cover using a new stencil from Stencil1 and FolkArt Multi-Surface Paints.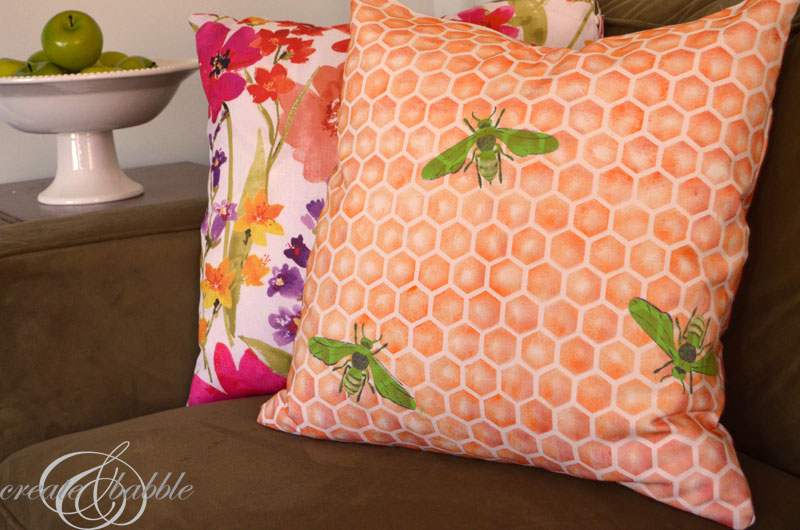 Now when I started using stencils many, many years ago, the stencil choices back then were, well…limited. And really not too original or inspiring. All of that has changed. These Stencil1 stencils are not your grandmother's mother's stencils! Stencil1 is a street art-inspired brand founded by artist, painter, graphic designer and DIY enthusiast Ed Roth.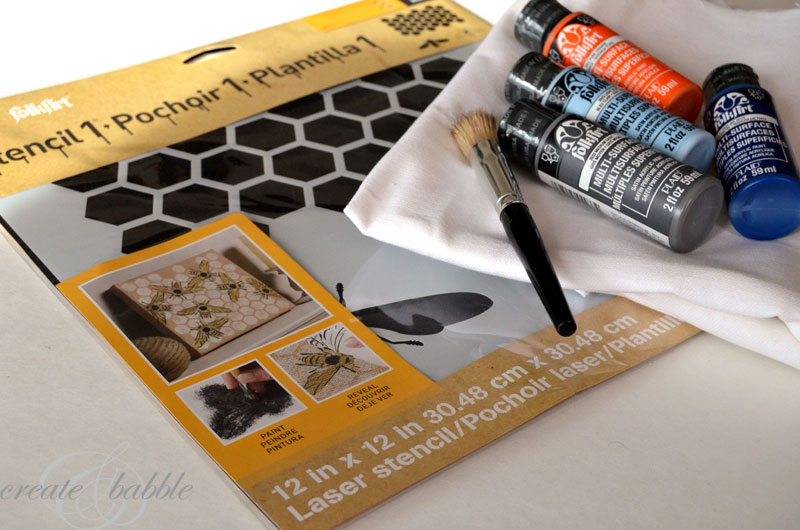 The Ed Roth designs are so unique. The sets include a background pattern, a silhouette, and a detailed design that make it easy to achieve a truly artistic look. The large size (12 x 12) is perfect for larger surfaces such as walls, floors and furniture. The 6×6 designs are great for adding accents to smaller projects. Each stencil is made from mylar that is easy to clean with soap and water.
Here's how I made my Stenciled Honeycomb and Bee Pillow:
Step One – Gather Supplies
Ed Roth Stencil1 Stencil
FolkArt Multi-Surface Paint
Stencil brushes
white broadcloth fabric for pillow cover
Painters Tape
Repositional spray adhesive
Sanding sponge
Paper towels
Paper plate
Step 2 – Stencil the Background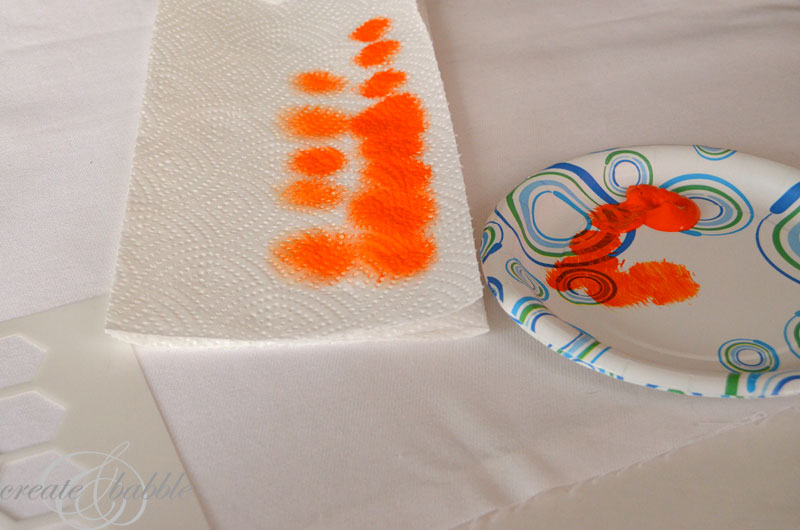 Dip the stencil brush into the paint and then dab and swirl the brush onto paper toweling until the brush seems dry and most of the paint has been removed.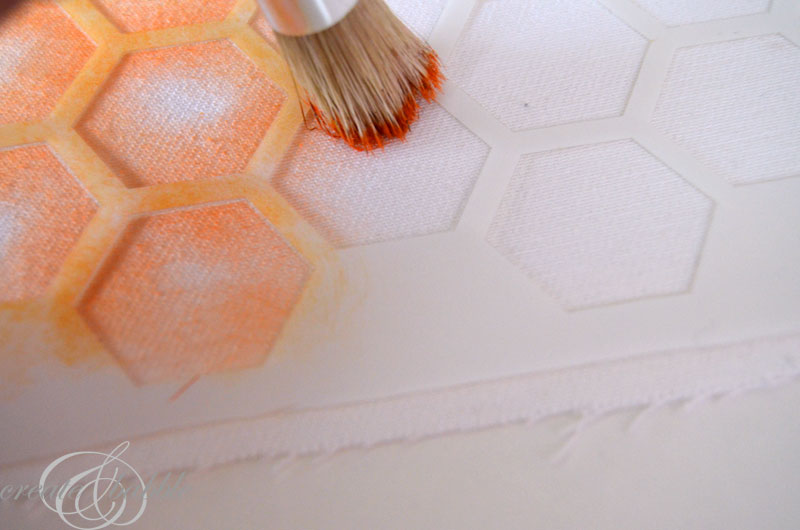 Using a circular motion, apply the paint over the stencil onto the fabric. I try not to fill in the entire shape to keep the design from looking flat.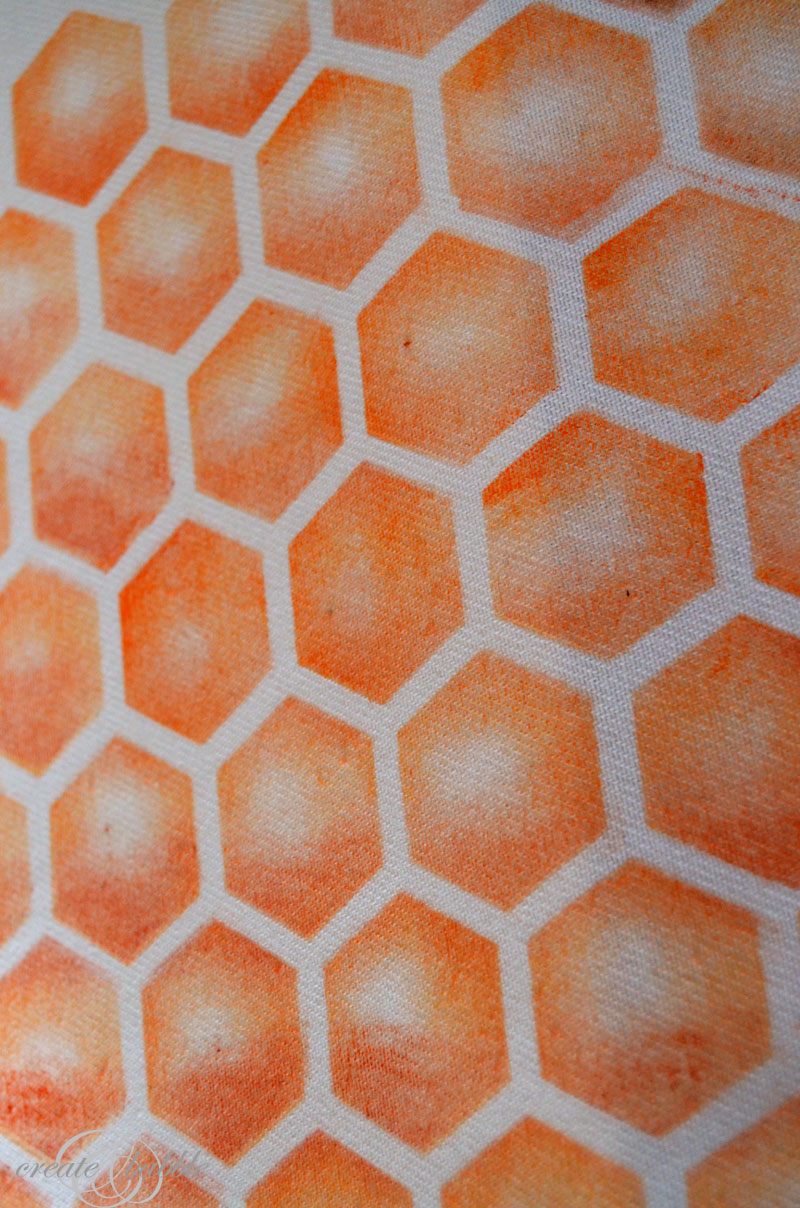 To add more dimension to the honeycomb shapes, I went back over the design with just a hint of pink paint. That's what I love about stenciling. You get to customize the look by using the paint colors of your choosing and match your decor!
Step 3 – Stencil the Bee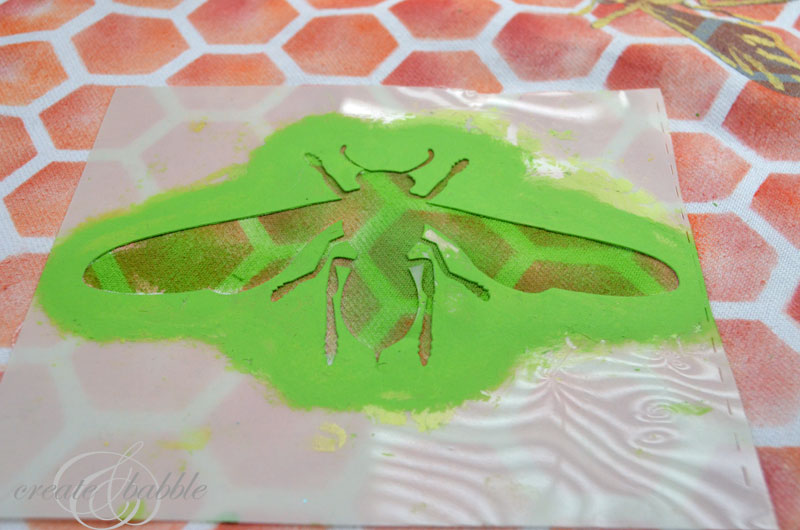 This where I got creative with the colors. Since I'm stenciling this pillow to coordinate with a floral pillow that I had previously made, I chose to pick up the colors in that pillow, so I used a bright green paint color for the silhouette of the bee. I sprayed some repositional adhesive to the back of the stencil to be sure the paint didn't seep under the stencil and then swirled on the green paint.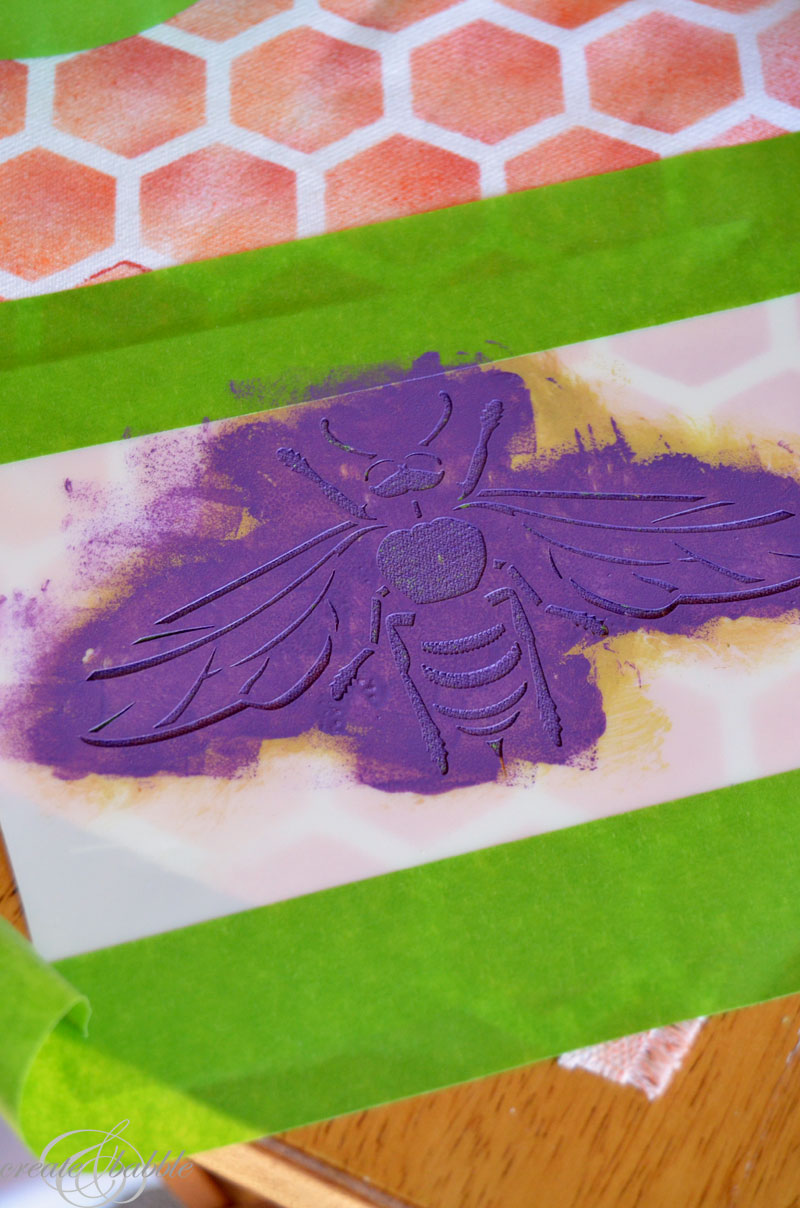 Then I taped the details of the bee over the previously stenciled silhouette and got extremely creative by using purple paint. Hey, it's your bee – you can make it any color you want! I do recommend FolkArt Multi-Surface Paint – they are great on any surface including both indoor and outdoor applications. They are even dishwasher safe!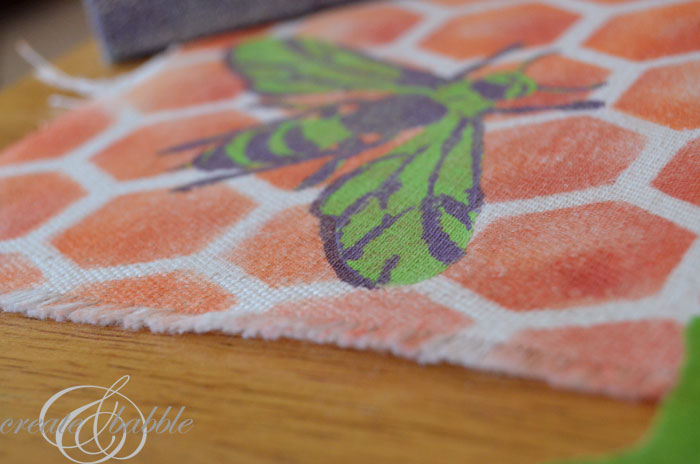 A little trick of mine was to go over the bee with a sanding sponge ever so lightly. I think it makes the design look less painted-on and more like it's woven into the fabric.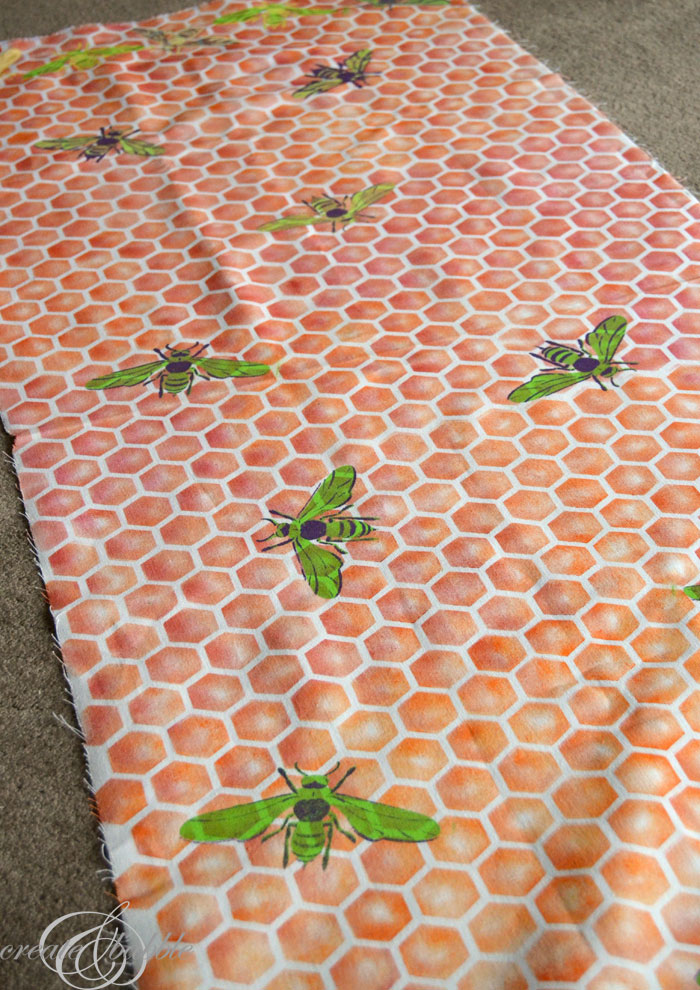 Now I have custom fabric to make my pillow cover. Look for a tutorial coming up soon on how I make pillow covers with a zipper! Gasp! Don't worry, it's not as hard as you think.
Step 4 – Stand back and admire your pretty pillow!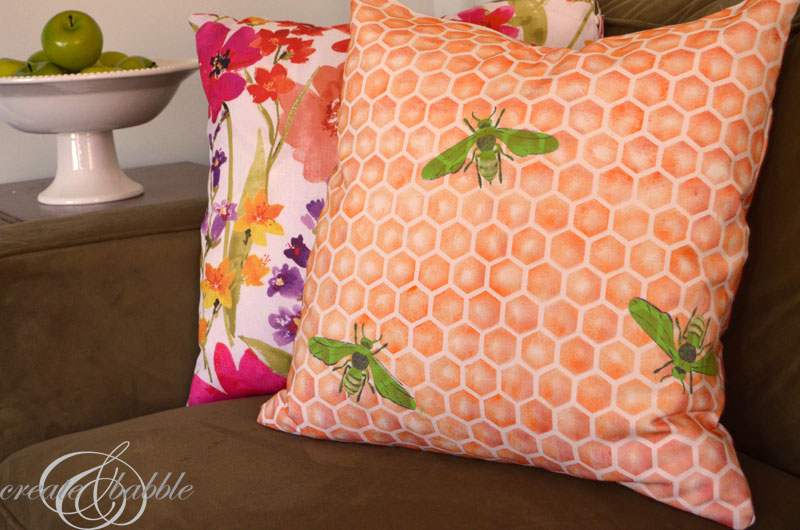 I love how it coordinates with the floral pillow and just screams Spring! That is what is so great about stenciling: making it your own. You can create beautiful things and customize them to work with your style and decor.
Whether you want to stencil a pillow cover, a wall, a canvas, placemat (well just about anything!), you can find the Ed Roth Stencil1 line at JoAnn Fabrics & Craft stores. To find more inspiring stencil and paint projects. visit Plaid Crafts on Facebook, Pinterest, Twitter, YouTube, and Instagram. For even more inspiring Stencil1 ideas, see the projects below made by some very creative bloggers:
*This is a sponsored post written by me on behalf of Blue Print Social for Ed Roth Stencil1 Stencils and FolkArt Multi-Surface Paint by Plaid Crafts.  All opinions are 100% mine. For more information, see my disclosures here.