Do you use your Silhouette® machine to make Christmas cards? If so, I'd love to see them. This year, for the first time, I made handmade Christmas cards using my new Silhouette Cameo 3. And since I am not a greeting card designer by any stretch of the imagination, I used help from some additional sources. Like the Silhouette® store for embellishment designs, Pinterest for overall Christmas card ideas, Michael's for the A2 blank cards and envelopes, and my friend Shalana.
Today's project is part of this quarter's Silhouette Challenge. In case you're new around here, a bunch of us Silhouette-loving bloggers get together every few months and create something that relates to a specified theme. This edition's theme is Christmas of course! To see my favorite Silhouette-made Christmas decor items, click right here! This includes the Christmas ornament that's been pinned over 3 million times!!!!
Besides all of the creative ideas and inspiration, there is something else in it for you, our wonderful readers. This time we are giving away two prizes! Please be sure to read all the way to bottom to find out all about it – you don't want to miss it!


Okay, back to my cards. Shalana is a Close To My Heart consultant and she offers greeting card making classes that I attend when I can. I went to her class in November where I got the idea for the circle shape with the words "All is calm, All is Bright".
I also loved the CTMH paper that Shalana used in that class so much that I ordered it. And lost it. How do you lose 2 packs of 12″ x 12″ double-sided card stock??? Leave it to me. I know I received it in the mail but I can't find it anywhere! I tore my craft room apart looking for it. I'm sure that some day after Christmas I will find it.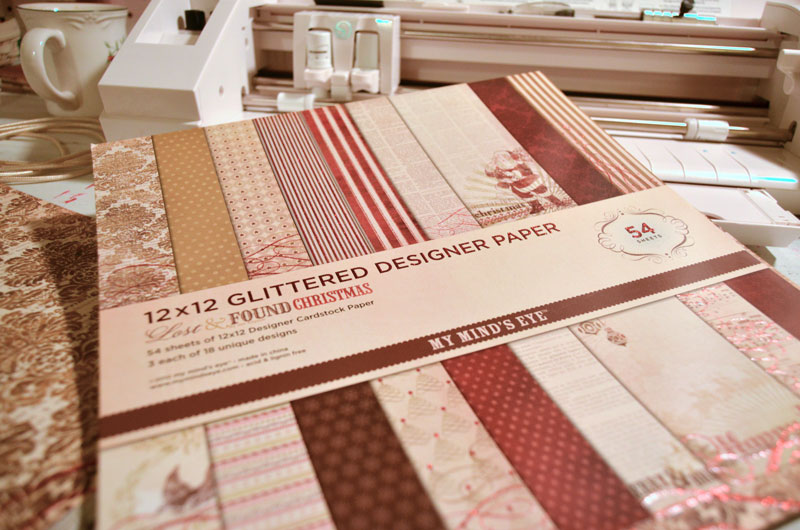 So I had to substitute. I found the above glittered paper in my stash. Along with that pretty patterned paper, I used solid green and solid red card stock as the base for my cards.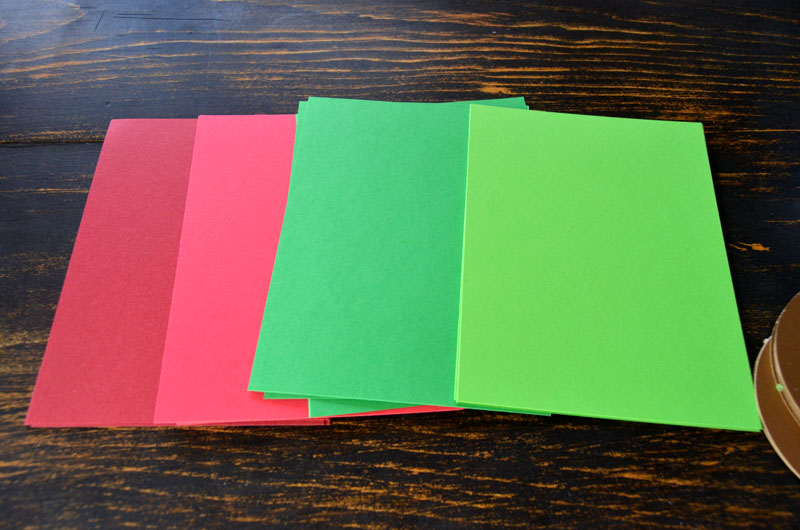 The first thing I did was cut down the solid card stock with a paper trimmer to just a bit smaller than my cards to use as mats.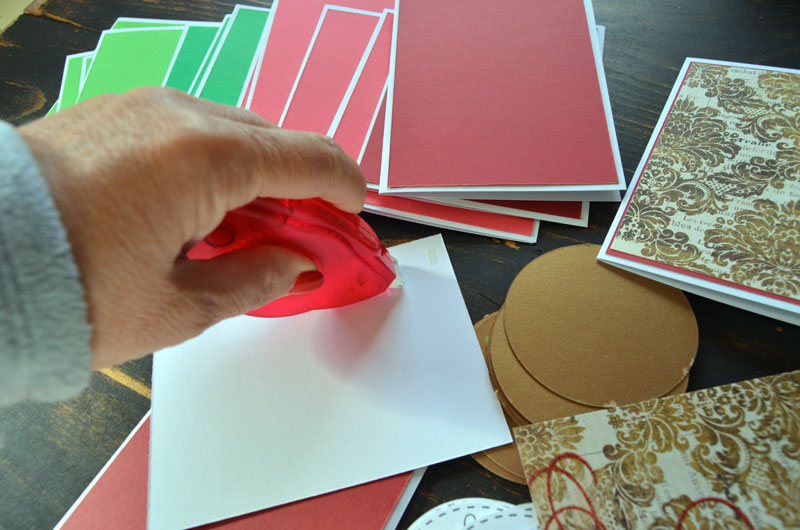 I attached the red and green mats with a tape runner. Next I cut down the patterned paper slightly smaller than the red and green matting and attached those again with the tape runner.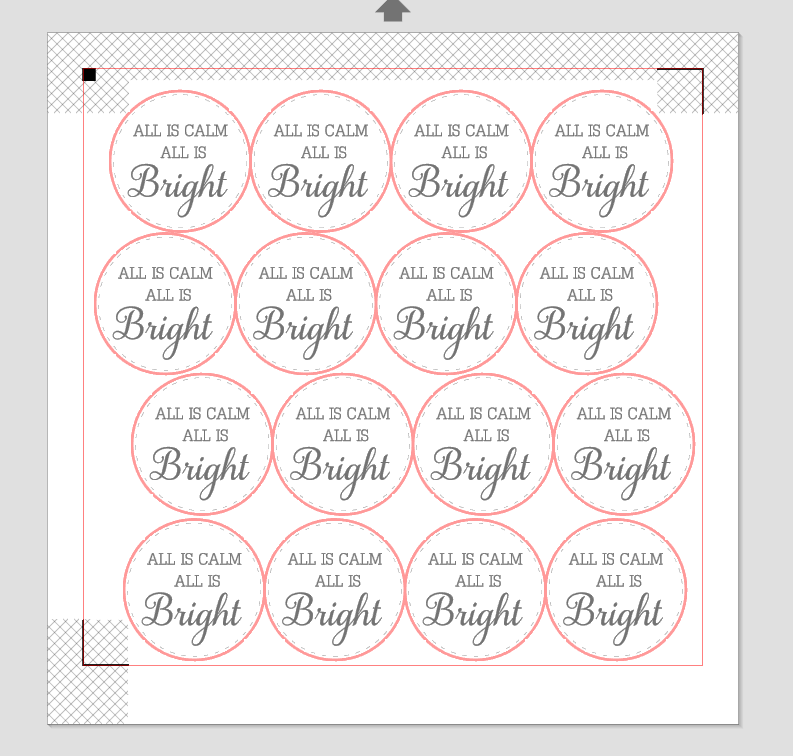 Now for the fun and creative part. Using Shalana's design idea, I drew a circle in Silhouette Studio and typed the test inside – making sure to make the text "no cut". To get the "stitch" line, I created an internal offset and changed the line style of the offset to a dotted line and made it "no cut". As you can see above, I turned on the registration marks to make this file a print and cut and filled the page with the design.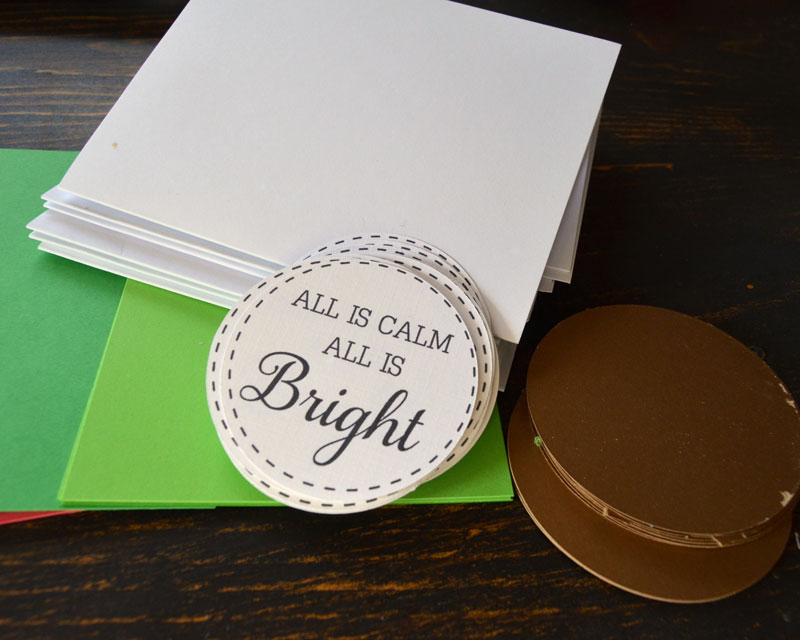 I cut out slightly larger circles in metallic gold card stock. Can you believe I still have leftover card stock from the butterfly place cards from my daughter's wedding??? That was almost five years ago!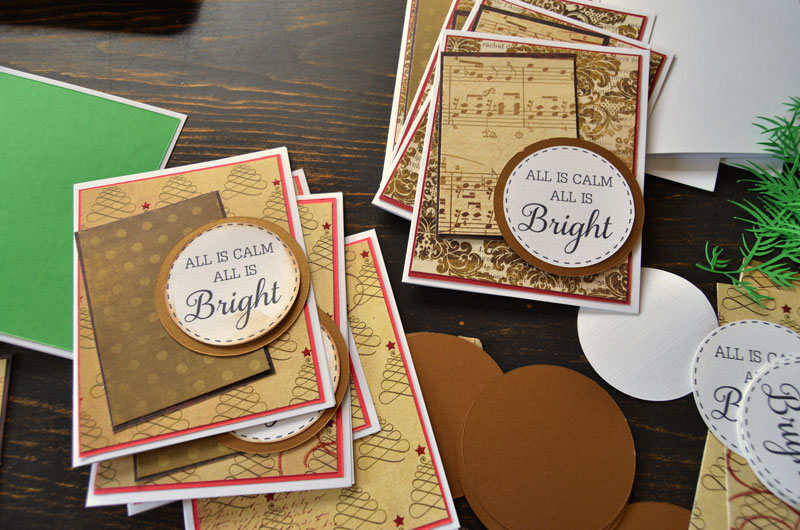 I used some distressing ink on some of the medallions. The cards shown above are done. I don't think they need any further embellishment. I'll put a handwritten note on the inside.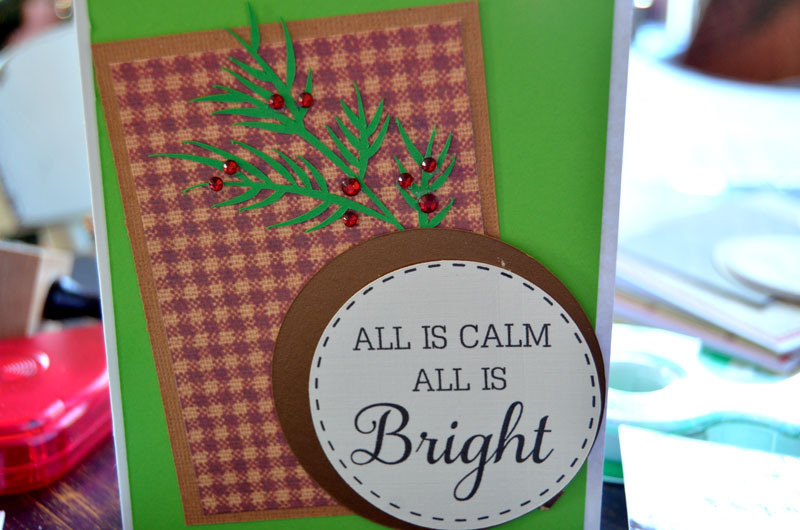 But this style needed something more.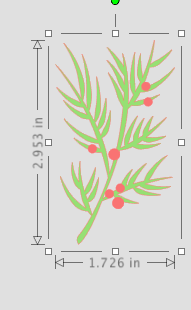 I wasn't sure how good of a job my new Cameo 3 would do on this delicate pine bough cut file from the Silhouette online store. I needn't have worried. It cut beautifully. Instead of trying to glue on those small berries, I used little red sparkly gems instead.


Want to Check Out More Silhouette Projects?
My Silhouette Challenge buddies and I are all sharing projects on our blogs today, so peruse the projects below for a wealth of Silhouette inspiration!
1. Small Stuff Counts // 2. My Paper Craze // 3. HaberdasheryFun // 4. Create & Babble // 5. Creative Ramblings // 6. Cutesy Crafts // 7. GiveMeAPaintbrush // 8. Architecture of a Mom // 9. The Crafting Nook // 10. Get Silvered // 11. Where The Smiles Have Been // 12. Curly Crafty Mom // 13. unOriginal Mom // 14. Ginger Snap Crafts // 15. Practically Functional // 16. Sisters, What! // 17. The Thinking Closet // 18. Dream a Little Bigger
Silhouette Giveaway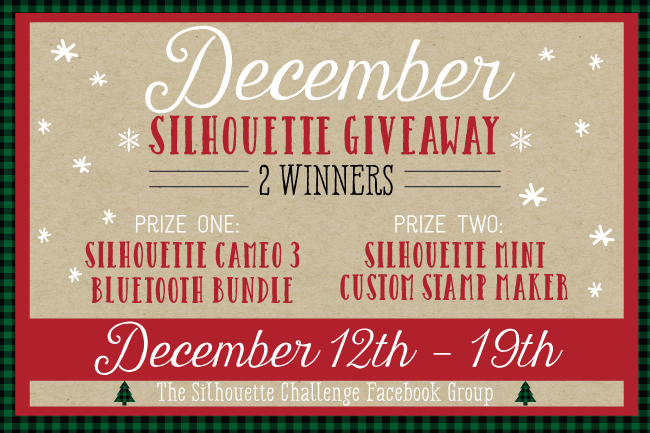 And I've saved the best for last. My Silhouette Challenge buddies and I in partnership with Silhouette America are hosting a mega-huge giveaway for TWO lucky winners! The prizes up for grabs?
Sweet, huh? To enter: just complete the entries in the Rafflecopter widget below. Because of my many blog friends who helped make this giveaway possible, you have 33 potential entries, which means a lot of winning power. So, hurry up and enter!
{This giveaway runs from today through Monday, December 19th at 11:59 p.m. eastern and is open to anyone 18 years of age or older with a U.S. or Canada mailing address. You can read the rest of the terms and conditions in the widget below.}