Welcome to the 2016 Ornament Exchange & Blog Hop! This is my first time participating in this event but the rules of this exchange were simple – create a handmade ornament for under $15 to exchange with a partner and share a tutorial for all of our readers. Sounds like fun!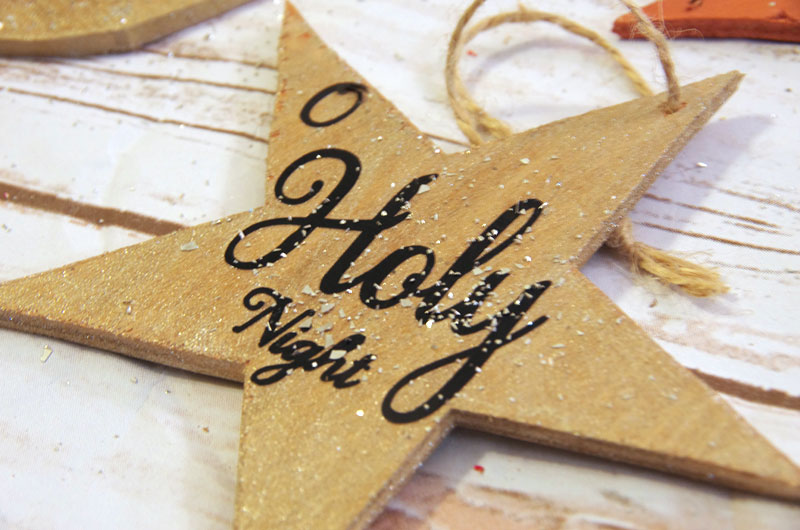 I made wooden Christmas Ornaments. The instructions for how to make these ornaments is below. But first meet the other bloggers in this event:
Erlene ⋅ My Pinterventures Kim · Made In A Day Amanda · The Kolb Corner
Shirley · Intelligent Domesticatons Michelle · Our Crafty Mom
Robin ·Redo It Yourself Inspirations Sherry · Olives-n-Okra
Nicki · Sweet Parrish Place Sherry · Savvy Apron Megan · C'mon Get Crafty
Jelica · A Pretty Fix Emily · Two Purple Couches Christene · Keys to Inspiration
Kati · Houseful of Handmade Beverly · Across the Blvd.
Jeanie · Create and Babble Erin · Suburban Simplicity
Terri · Christmas Tree Lane Maureen · Red Cottage Chronicles
Debra · Shoppe No. 5 Donna · Two Chicks and A Mom
Pamela · Home On The Corner
---
Now here's how I made my wooden Christmas ornaments:


How to make wooden Christmas ornaments Supplies:
(this post contains affiliate links)
1/4″ plywood scraps
ornament pattern
paint
glitter
twine
vinyl letters
stencils
The first thing I did was make the pattern or template for the ornaments. I created my ornament shapes in Silhouette Studio® and printed them out on copy paper. If you don't have Silhouette Studio®, you can simply free-hand these simple shapes or trace around a round object and add a small rectangle at the top for the round ornament. Or download the PDFs for these shapes by clicking here for the star and here for the ball.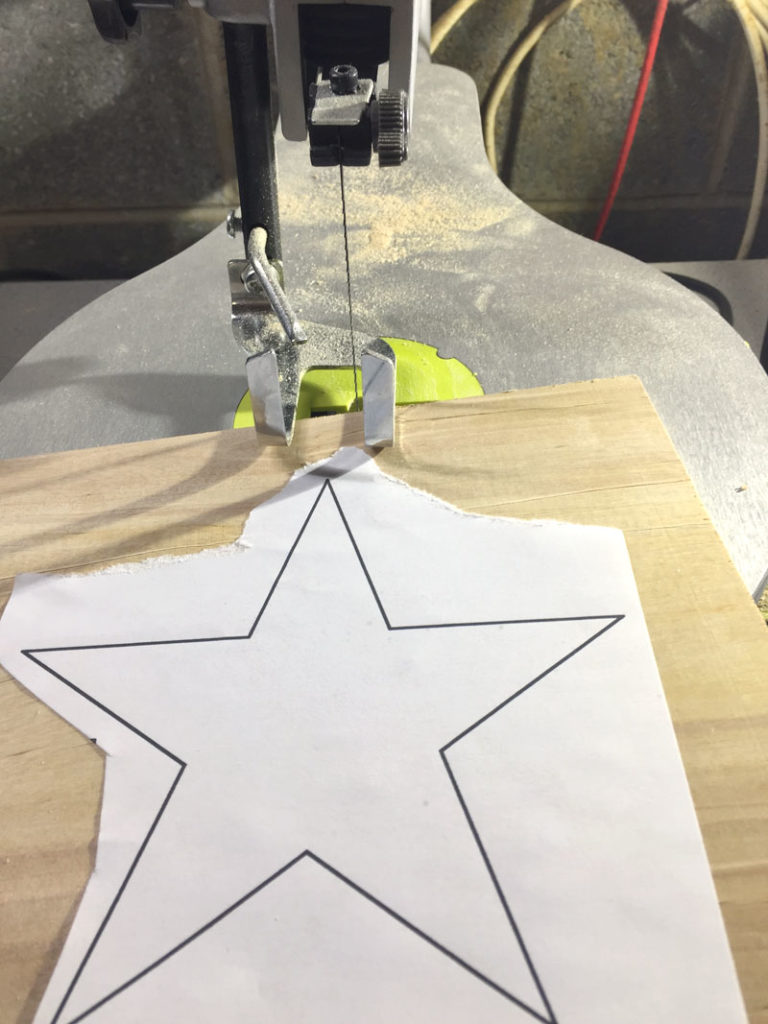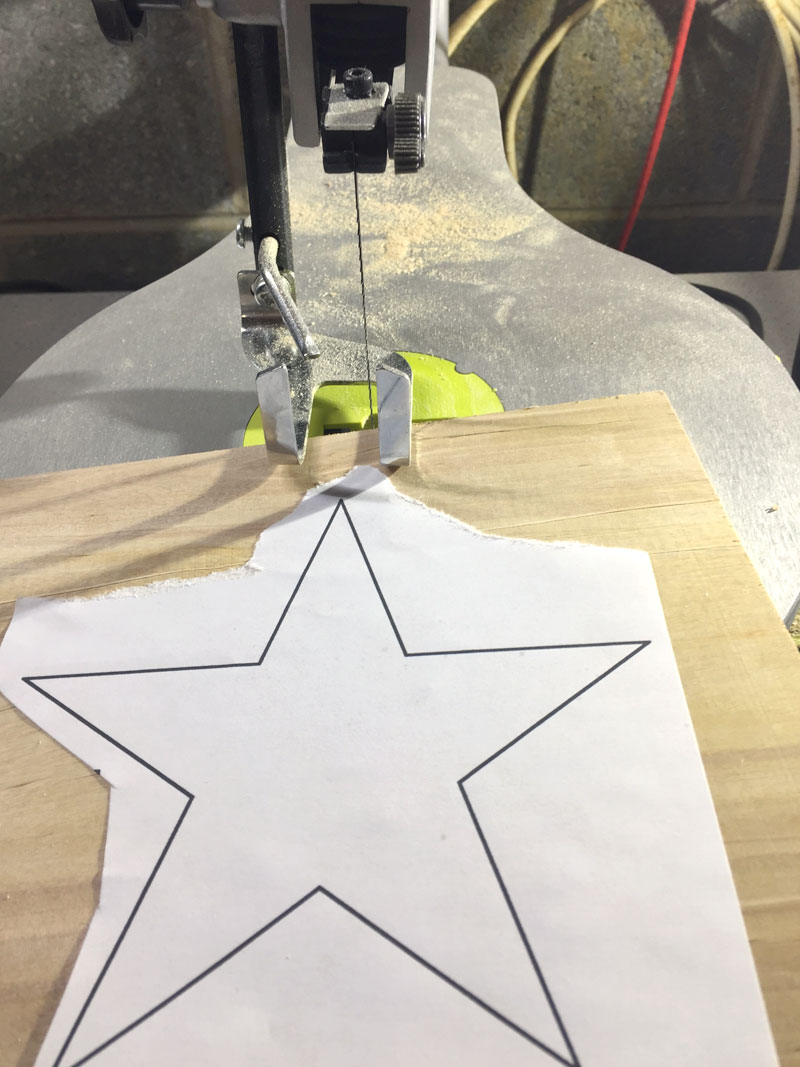 Next, I adhered the paper pattern to the scrap piece of plywood with repositionable spray adhesive. This keeps the pattern in place as you maneuver the wood through the scroll saw.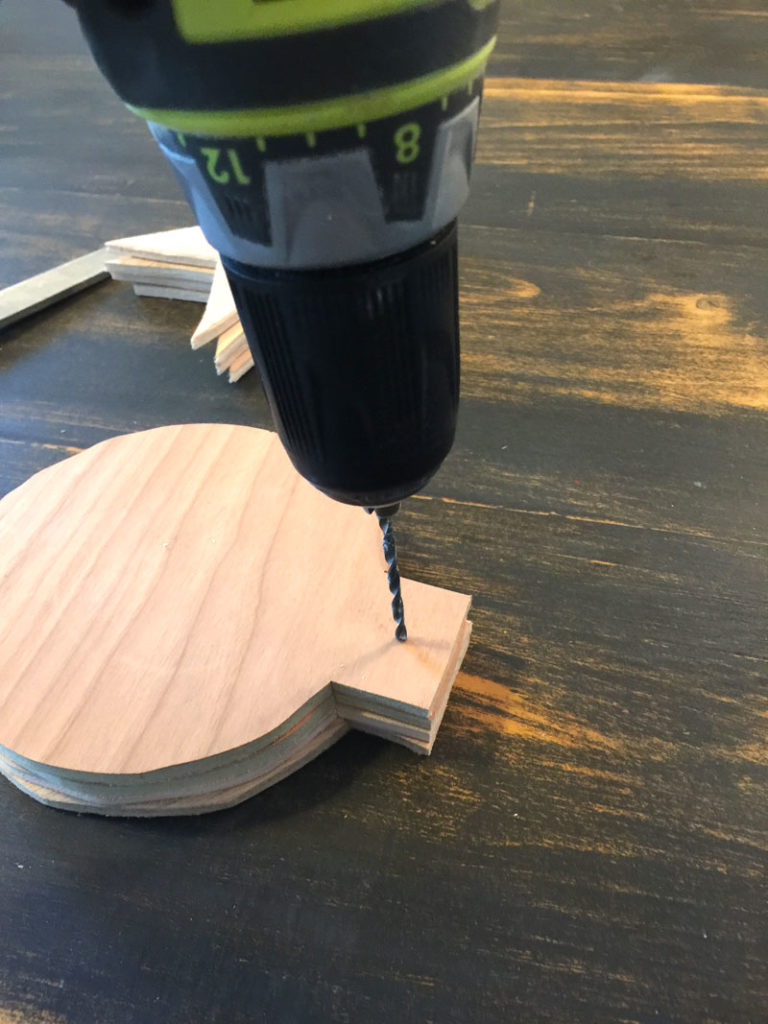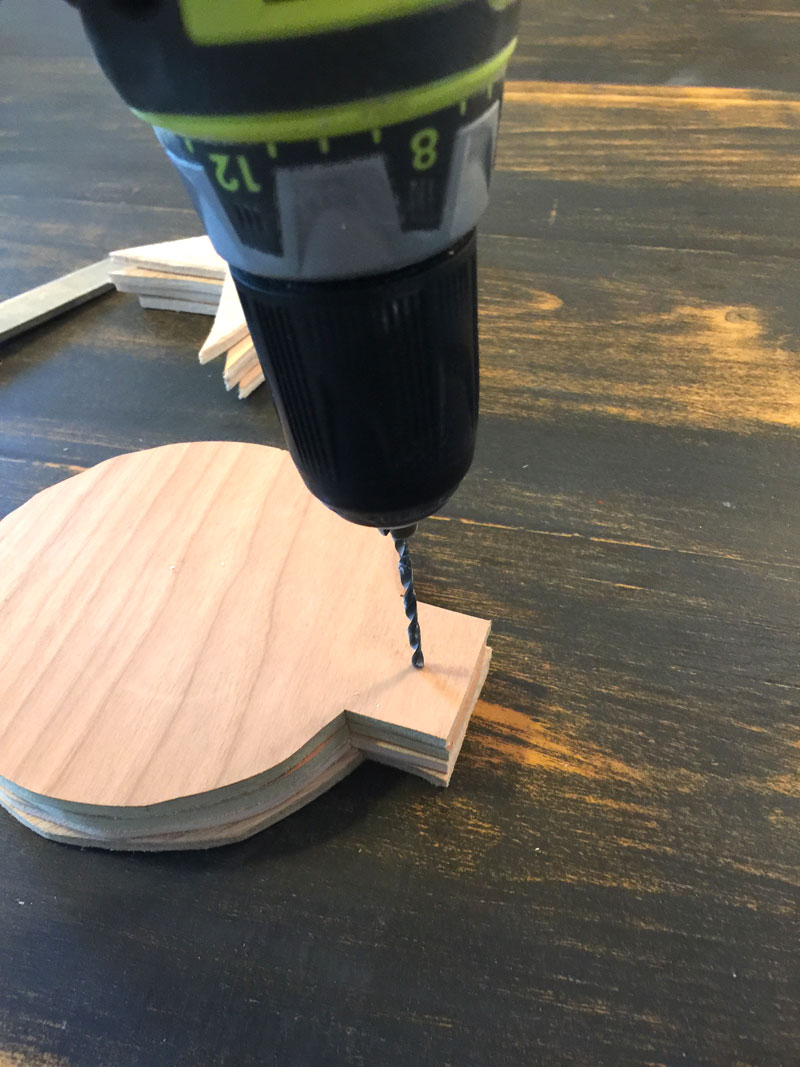 After the shapes are cut out, I drilled a small hole in the top of the ornaments for the twine to pass through that will hold the hook.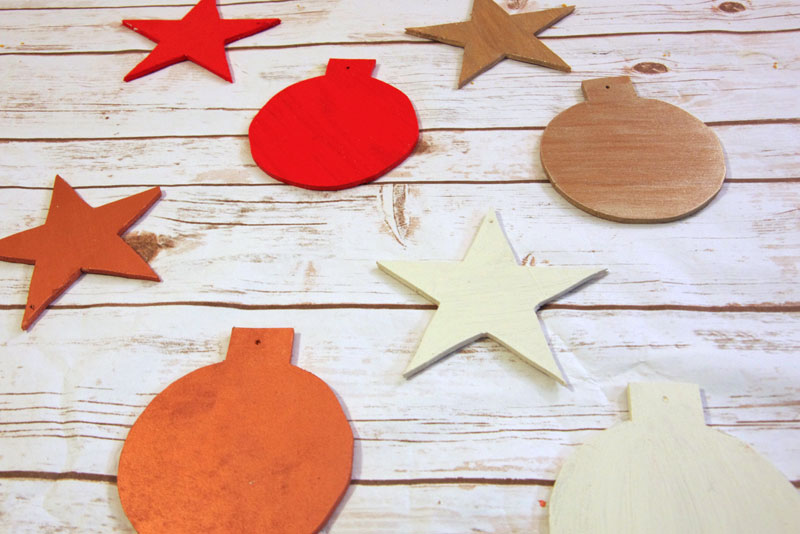 Now here's where you get to be as creative as you want. I painted my ornament shapes with various colors of DecoArt Americana craft paints. I used Dazzling Metallic Gold and Dazzling Metallic Bright Copper. These have a wonderful shimmer. The red ornaments were painted with American Decor Maxx Gloss™ Candle Apple. If you haven't tried the Maxx Gloss™ paints yet, you are in for a treat. I adore this paint!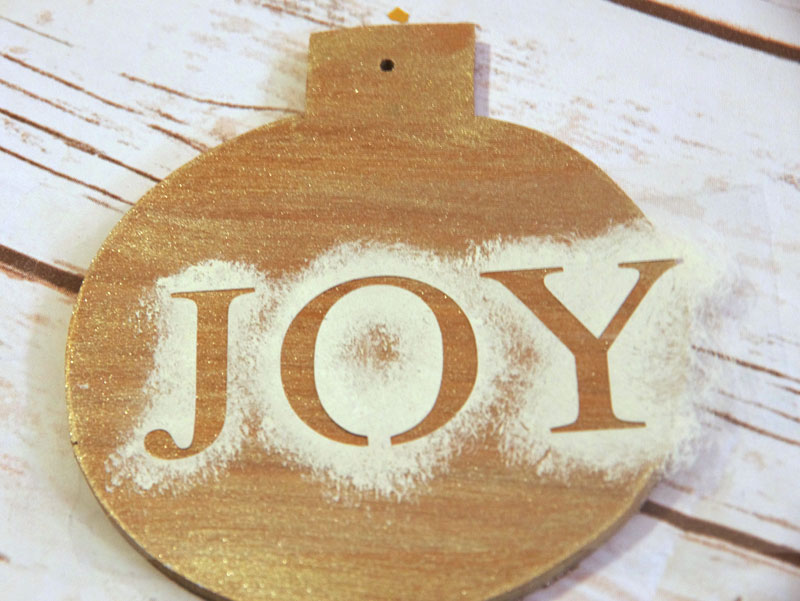 The next step is up to you. If your handwriting and artistry skills are better than mine, then go ahead and write on your ornaments with markers, paint pens or paint. I have no such skills so I made a stencil that spells out Joy, and I also cut some vinyl words, again using my Silhouette Cameo. You could also use letter stickers and stencils from the craft store.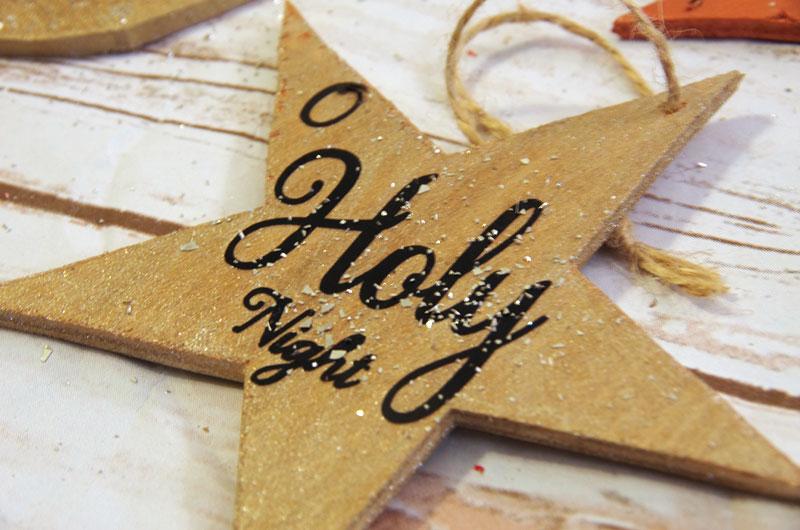 My husband and I both tried our hand at writing on the ornaments. That didn't go well. But the vinyl stickers look great!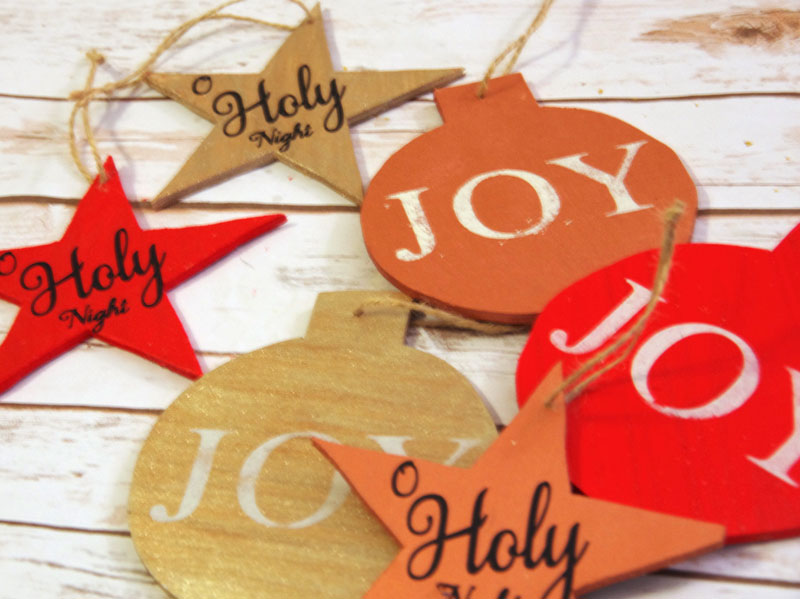 Time to add the twine through the previously drilled holes.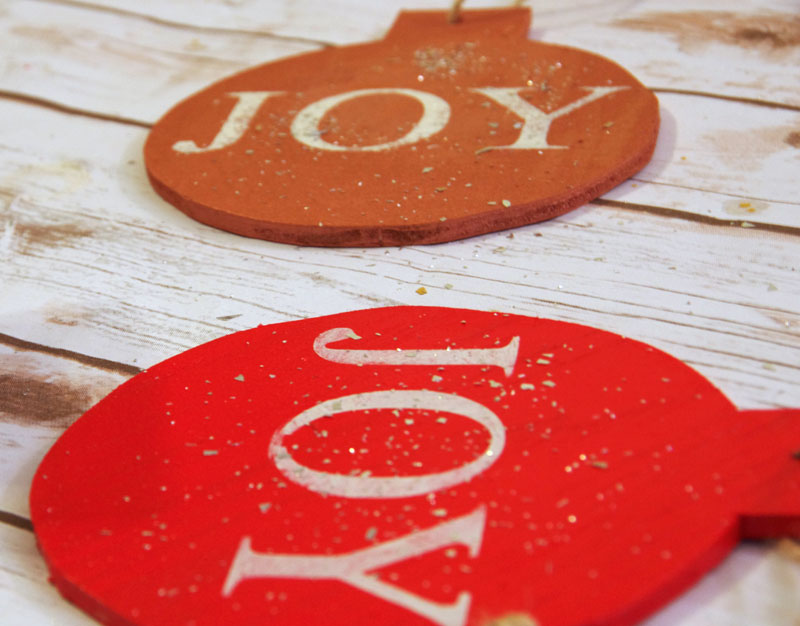 I brushed on a light coat of Americana Triple Thick. Triple Thick is a gloss glaze. While the glaze was still wet, I sprinkled on a little bit of german glass glitter.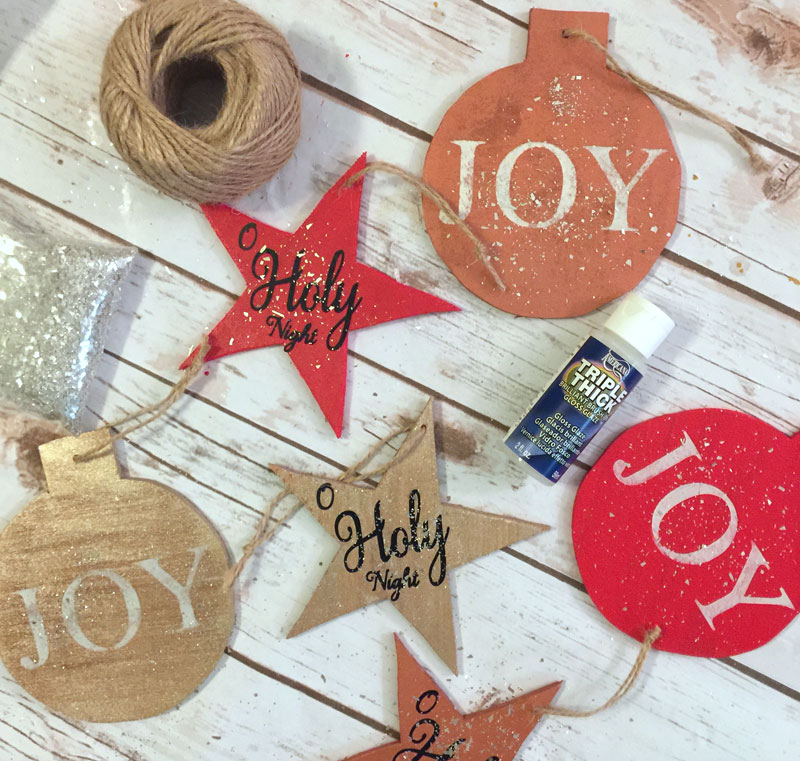 After all is set and dry, protect the ornaments with a clear sealer.
---
FIND MORE HANDMADE ORNAMENT TUTORIALS BELOW AND SHARE YOURS TOO!