I don't know why I didn't think of sharing this idea with you sooner. This idea came to me about 100 years ago when I got my first apartment that had about 100 windows.
I'm exaggerating. There were only about 9 windows. ; )
It was a cute, little apartment above a jewelry store in a cute, little, one-traffic-light town. My mom made all the curtains for me using sheets. I can still picture that fabric in my mind.  Funny how that works….I don't remember what I was doing five minutes ago but I recall the pattern of those curtains.
Being young, naive and IMPATIENT, I wanted to get those curtains up in a hurry. And being young, naive and MEASURING TAPELESS, I came up with a way of marking each window so that each curtain rod was installed at the same distance from each side of the window.  I still use that method to this day and now I'm going to show you.
All you need is a piece of cardboard, chipboard, or even a thicker piece of scrapbook paper will do in a pinch. (Back in that apartment, I ripped a flap off a cardboard box)
The size of the cardboard will determine how far away from the window your curtain rod hardware will be:
the WIDTH of the cardboard will be the distance the curtain rod hardware will be away from the SIDE of the window
the HEIGHT of the cardboard will be the distance  the curtain rod hardware will be away from the TOP of the window
Now because I'm lazy OR always in a hurry (depends on how you look at it), I rarely measure when it comes to stuff like this. My curtain rods don't have to be exactly 6.8778135″ above each window.  I eyeball it. BUT if measuring is your thing, I say do what makes you happy!
For the curtains rods that I installed last night, I cut an 8-1/2 x 11″ chip board in half. That meant my curtain rod hardware would be 5-1/2″ away from the sides and 8-1/2″ away from the tops of my windows. Works for me.
So once you have the correctly sized cardboard, tape it to the wall at the corner of your window: corner to corner. I just eyeball it to make sure it's straight. You could also place a small level along the side if you don't trust your eyeballing skills.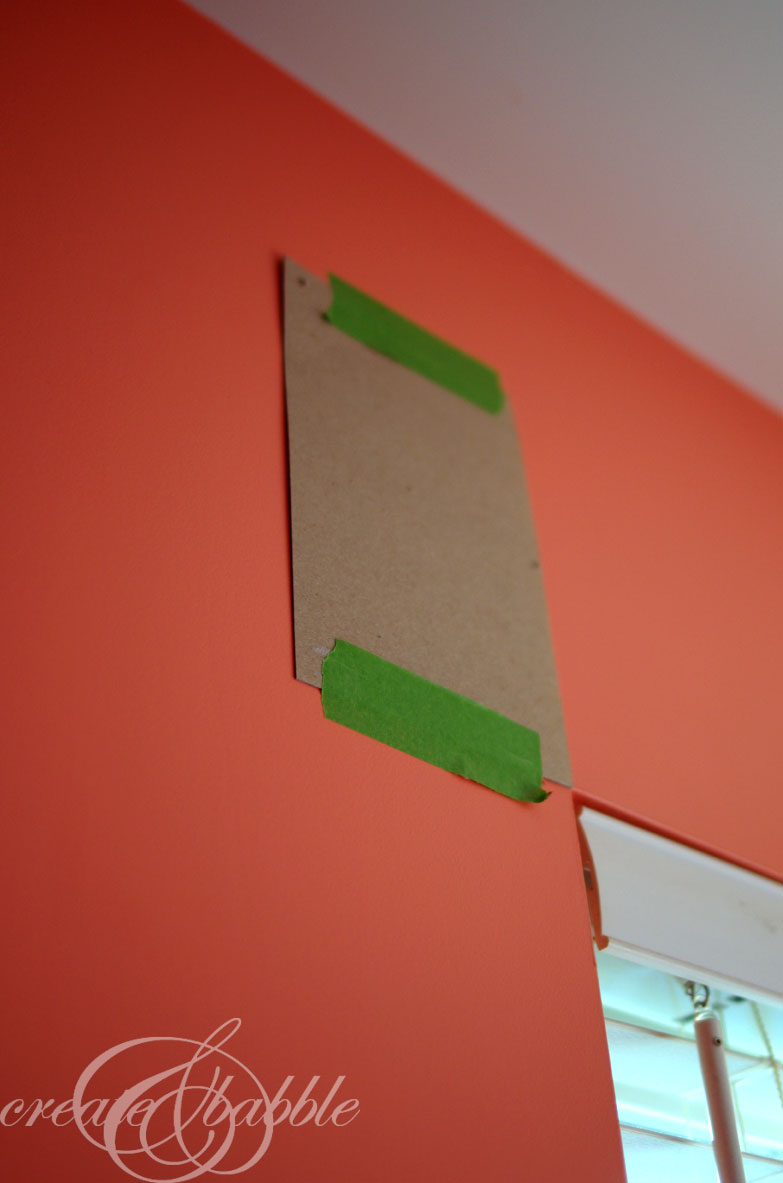 Drill the screw (or in my case: hammer the tip of the drywall anchor) right through chipboard (or cardboard) into the wall just enough to mark the spot.
Remove the screw or drywall anchor and the chipboard. Put the screw or anchor back in the hole and finish tapping the anchor  into the wall.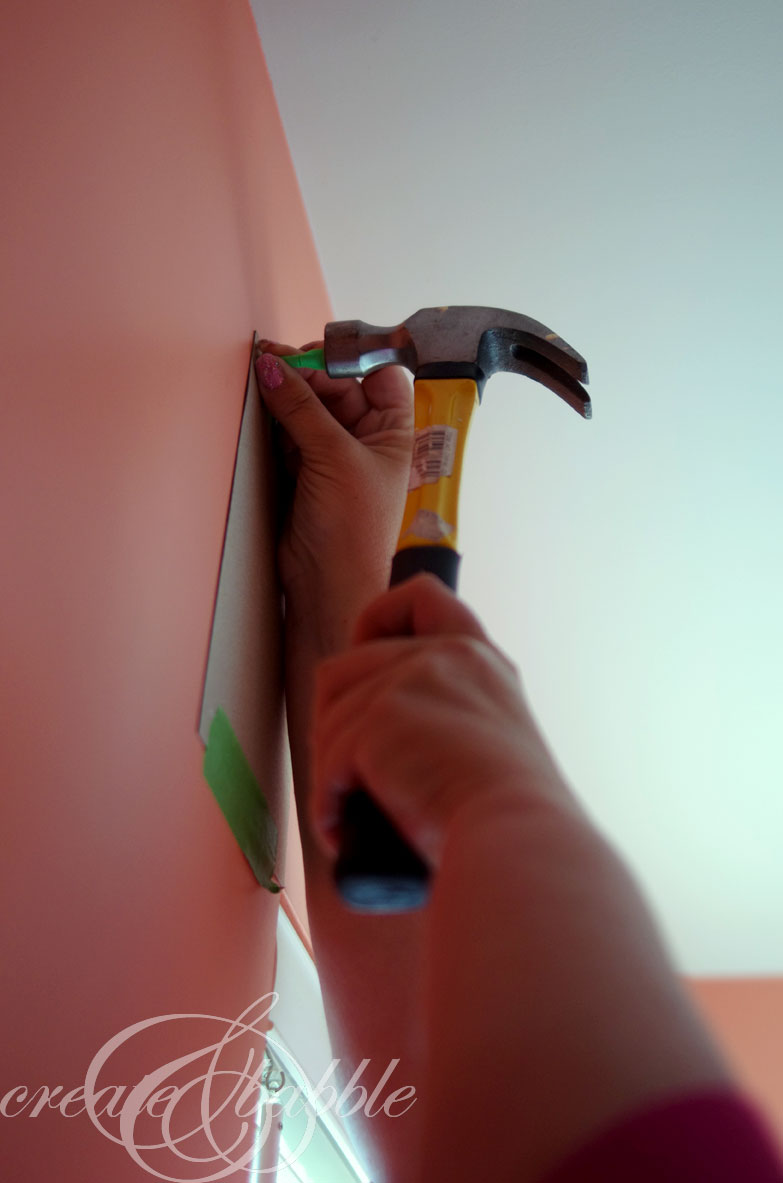 Now take that same piece of chipboard (or cardboard) and flip it onto the opposite corner of the window and repeat using the hold that you made on the first side.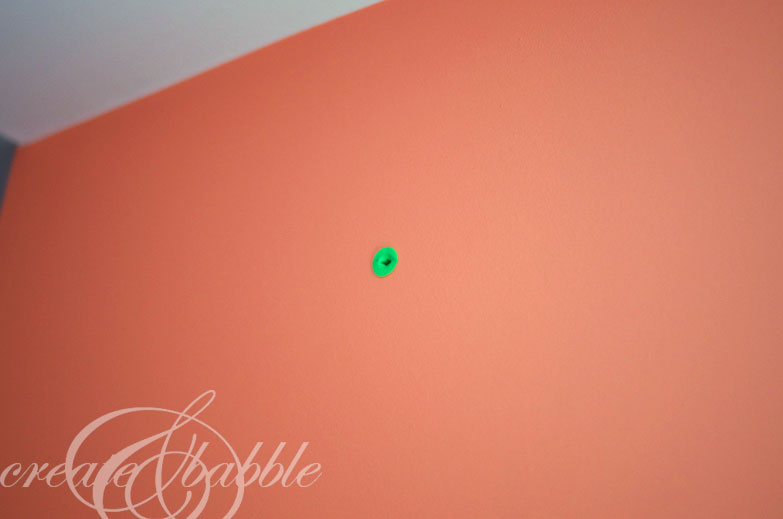 Finish attaching the hardware and that's it. Now you have perfectly symmetrical curtain rod hardware installed.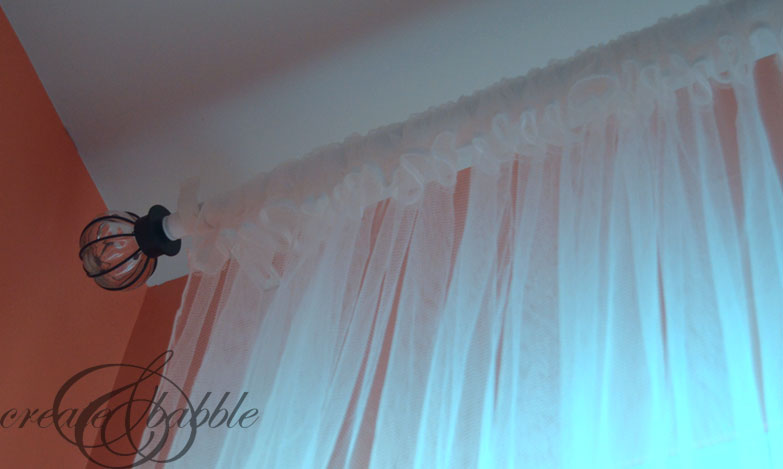 Now after only six years, there are curtains hanging in my bedroom!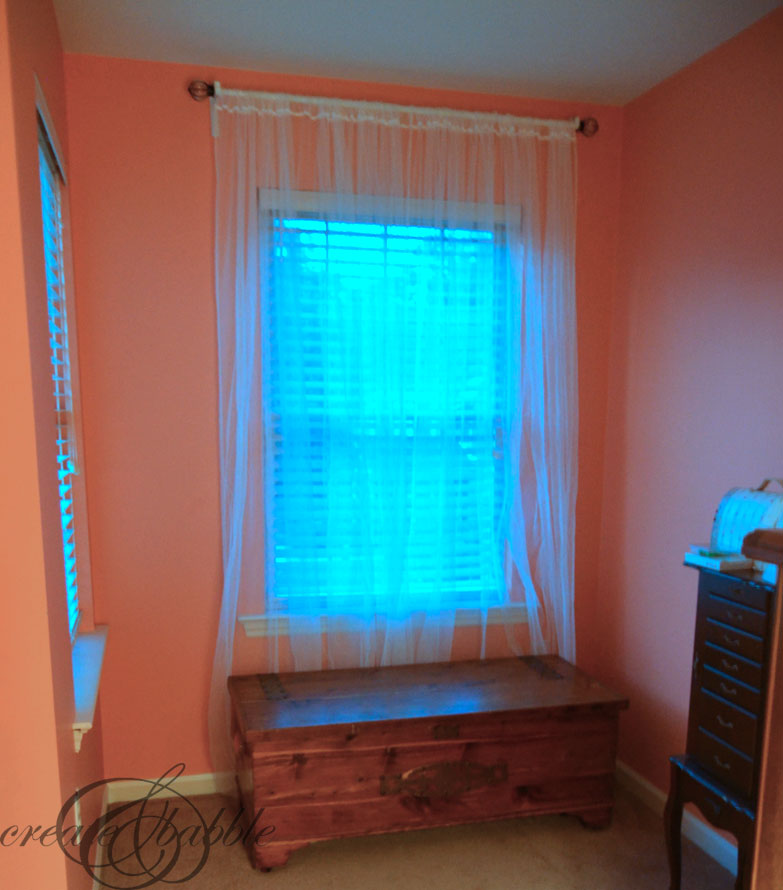 And yes, my bedroom is still orange….but let's call it Apricot! I've got big plans for this little nook….I just don't know what they are yet. Maybe a window seat? I'd love to hear your thoughts on it.