Is it a cart or a table? If it's called a cart, must it have wheels??? Or is it a sand and water play table?
Here's the funny thing: the plans that I followed to build this outdoor serving table or serving cart calls it a Sand & Water Play Table. So I guess this should be called an Outdoor Serving Table.

How the sand & water table got turned into an outdoor serving table is another story! My daughter came to me and asked if I would help her with her idea of fixing up her husband's fire pit area in their backyard. She asked if I would build a table that would be used to hold the food and drinks that they use when family and friends come over. Of course I would. In fact I told her that she had just posted a sand and water play table that Jaime built to the Create & Babble Facebook page that I thought would work perfectly for this very purpose because the table holds two plastic storage bins. One could be used to hold the drinks and food that needed to be kept cold with ice in it. And the other could hold the non-perishable food like the marshmallows, crackers, etc!
She agreed that the sand & water play table would be perfect as an outdoor serving table. The best part of all is that I had most of the wood that I would need to build this table. The rest I picked up at Home Depot where we had to get the two 28 quart bins that fit into the table.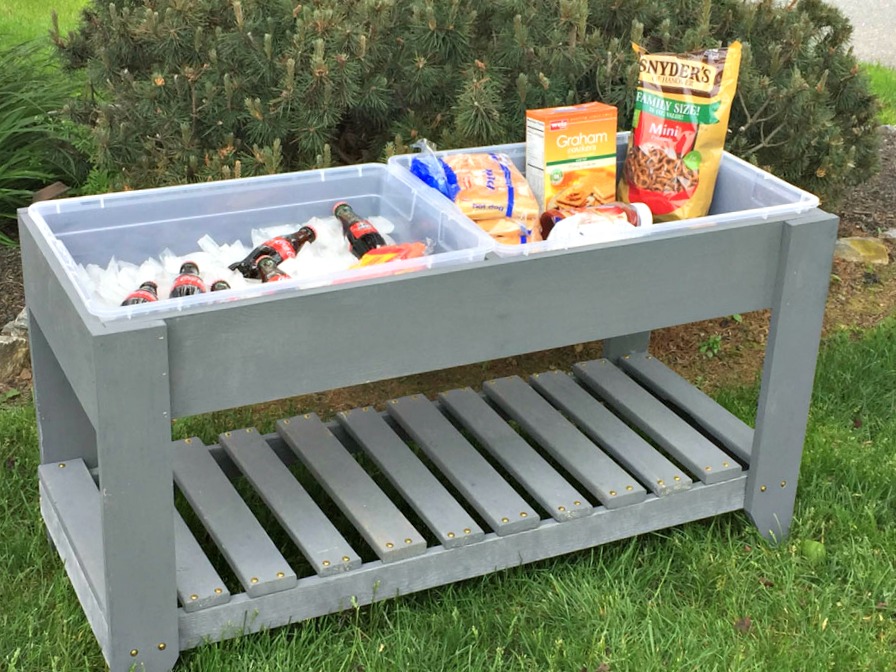 I followed the plans on Ana White's site to build the table almost exactly and it took me just two afternoons to complete.
These are the power tools that I used: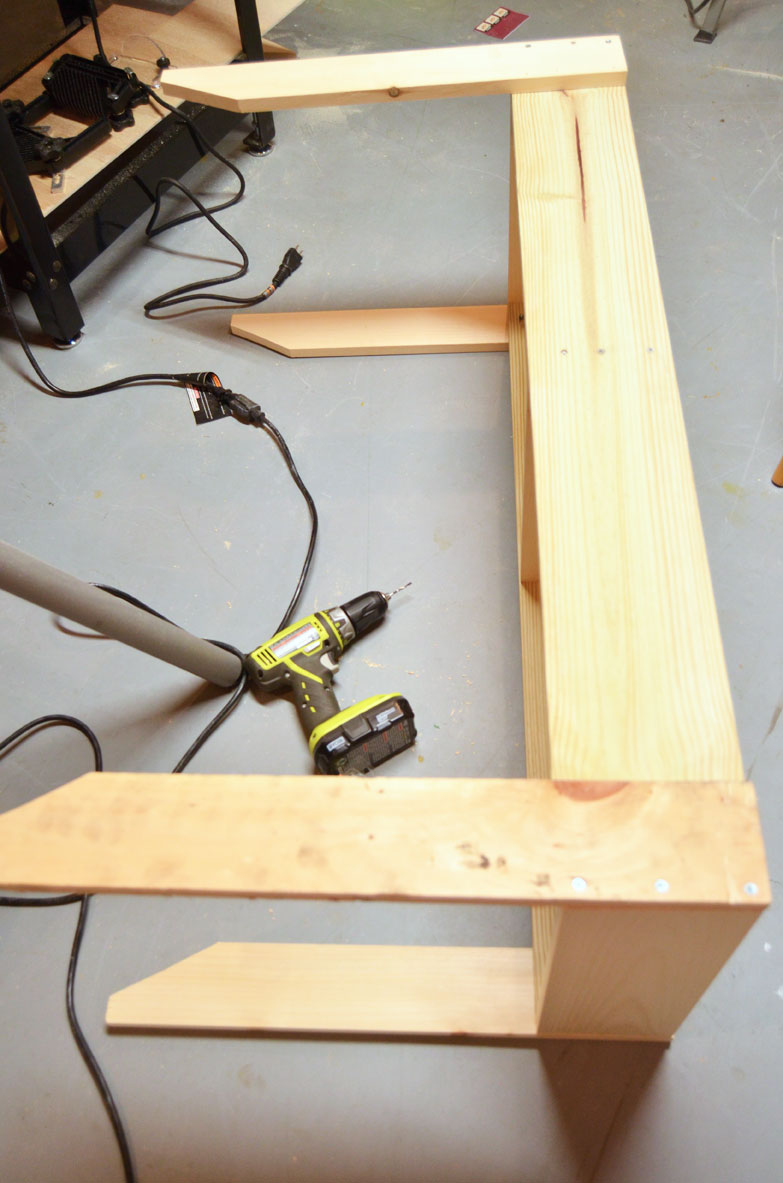 The frame of the table went together fairly quickly. Although you can't tell by looking at the image above, I put my top and bottom frames together with pocket screws. And instead of 1 x 3s for the legs, I used 1 x 4's for a chunkier look.
To get the angled bottom on the legs, I marked the wood for one of the legs with a pencil dot 2″ in from the edge and 4″ up from the bottom and drew a line connecting the dots. I used a circular saw to cut along the line. I then used that leg as a template for the three remaining legs.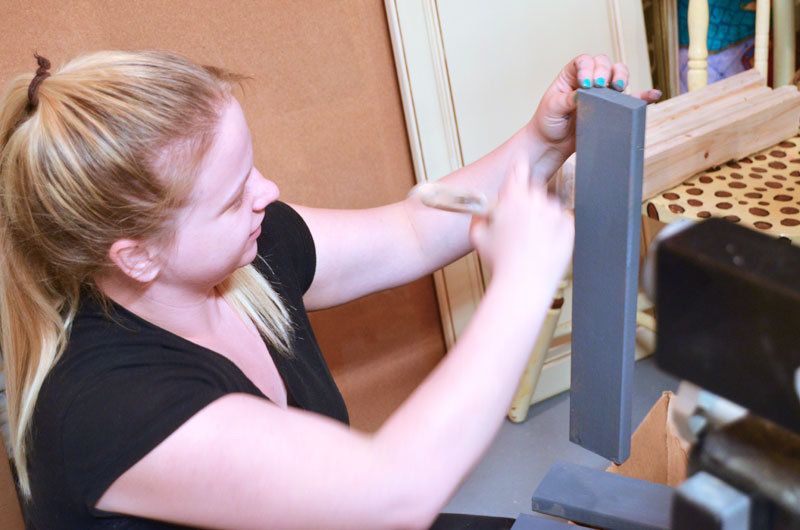 I decided it would be better to paint the slats for the bottom shelf before attaching them so I put my daughter to work with the paint brush and a can of Amy Howard at Home One Step Paint in A Good Man is Hard to Find. I love this dark gray color. It's going to coordinate so nicely with everything else we have planned for this backyard fire pit renovation. I'll be sharing the projects as we go along.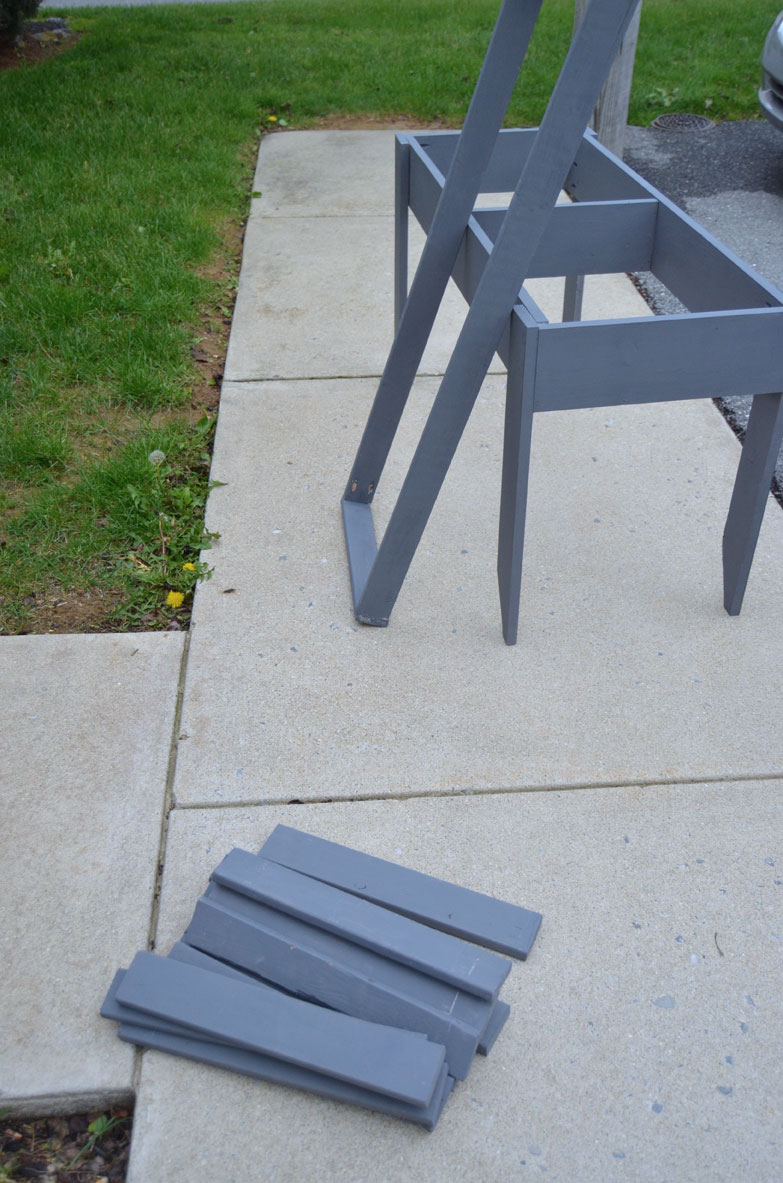 By the next day, I was tired of working in the dark basement and since it wasn't raining yet I brought up all of the pieces to the front yard for assembly and touch up painting.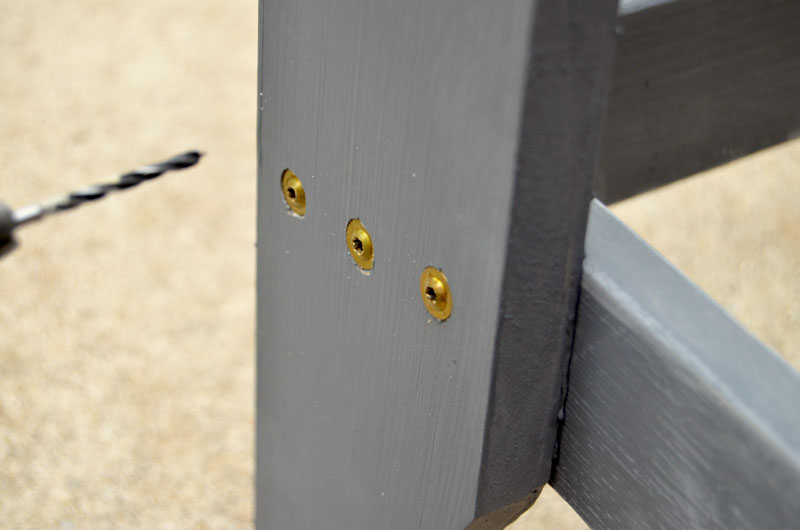 I attached the bottom shelf frame and slats with wood glue  . . .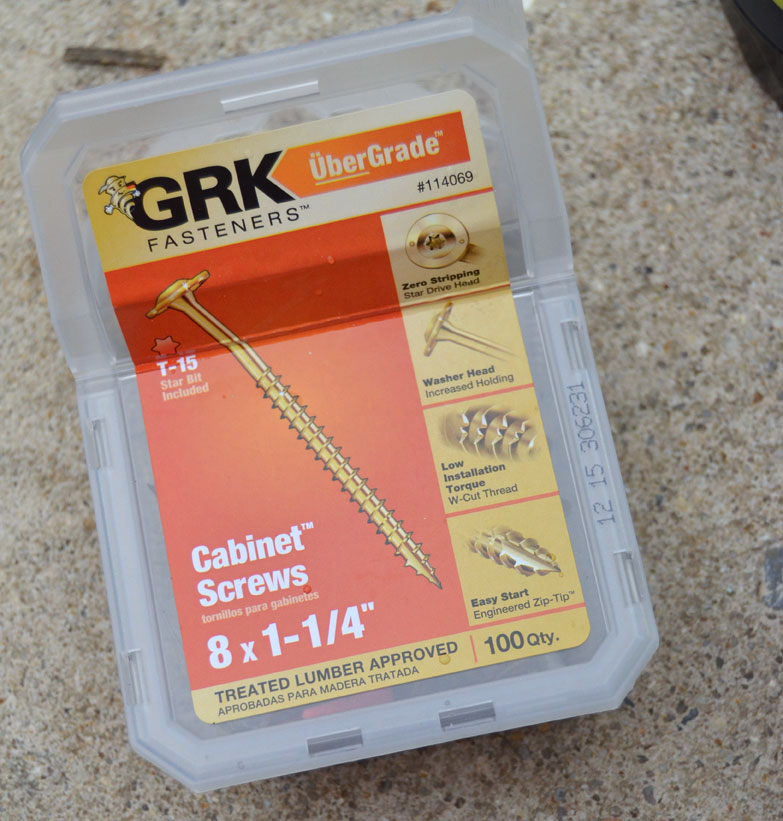 . . . and these are the screws that I used. I got them at Home Depot. I like how they look against the dark gray paint.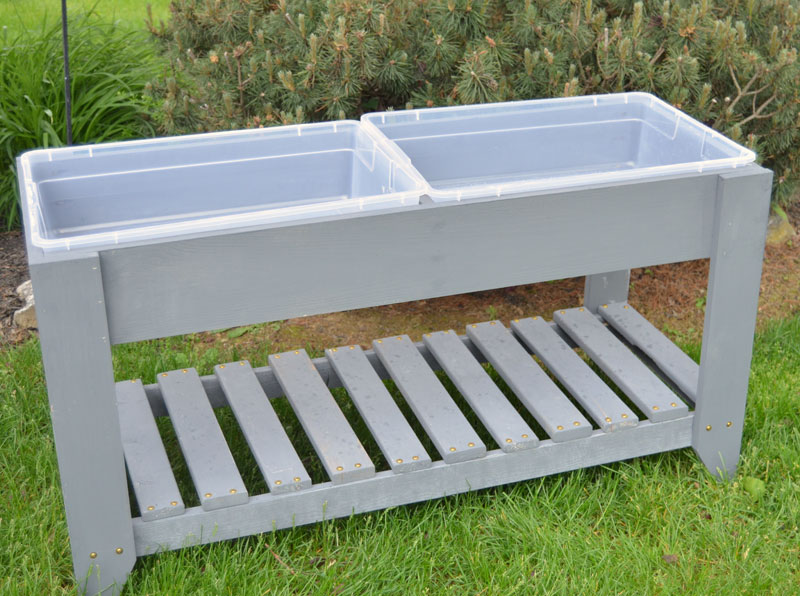 It started to drizzle just as I put the bins in the table. I had to move quickly to set up for the photo shoot.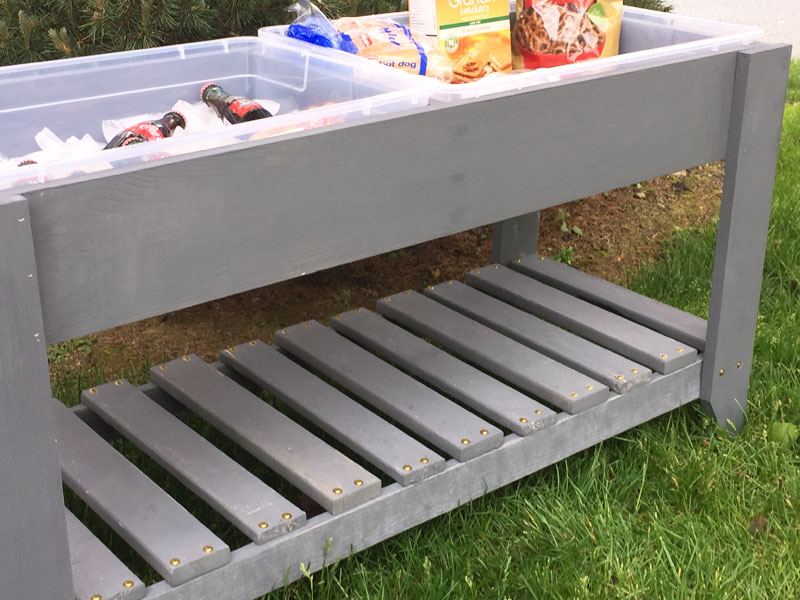 That bottom shelf is going to come in handy to hold outdoor party and fire pit supplies. I'm sure it will be filled in no time!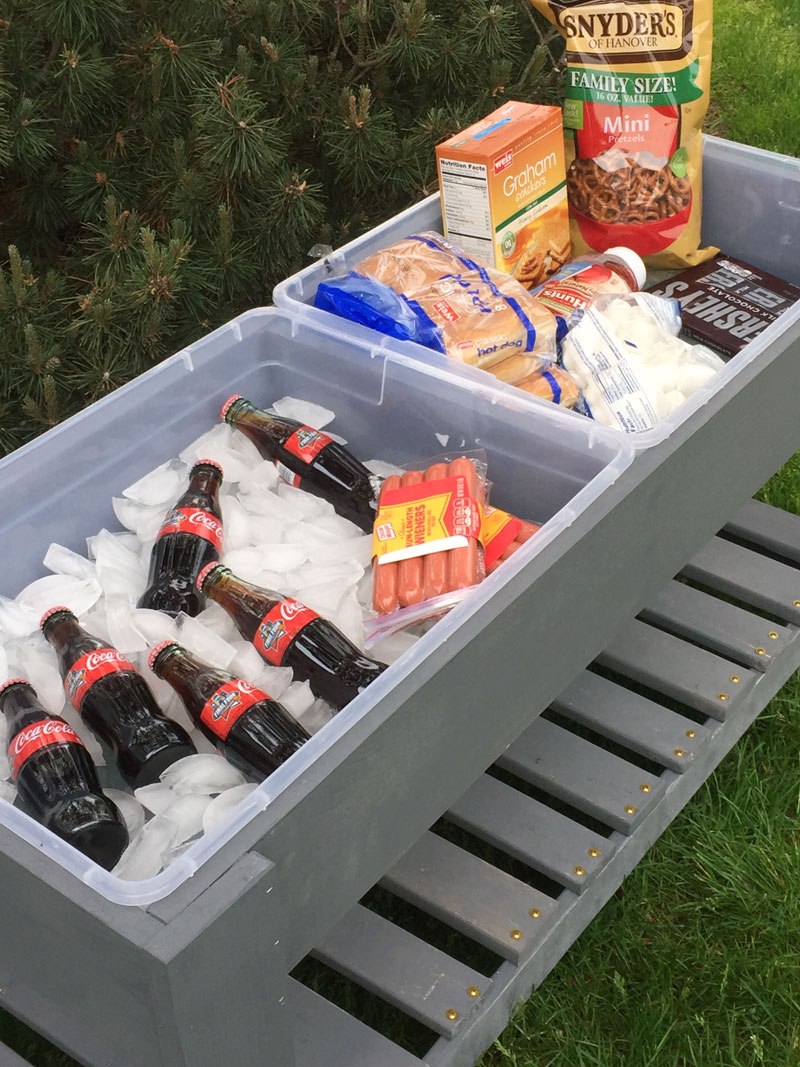 Isn't the two-tub idea perfect for this use? Fill one side with ice and add your drinks and anything else that needs to be kept cold. Then fill the other side with plates, cups, crackers, etc. – anything that doesn't need to be kept cold. Fire-roasted hot dog anyone?
So that's the story of how a sand and water play table got turned into an outdoor serving table!
Todays is Power Tool Challenge Day. My blogging friends and I get together once a month and we all build something using power tools. The goal is to encourage, motivate, and inspire all of you that working with power tools is totally doable! Our theme this month is Patio & Porch. Let's see what everyone has made:

1. Long Porch Planters by My Love To Create
2. DIY Flower Pot Plant Stand by Her Tool Belt
3. DIY Easy Swinging Bed by Domestically Speaking
4. PVC Pipe Vertical Garden by Kim Six
5. How to Build An Outdoor Serving Table by Create and Babble
6. Repurposed Window Garden Shelf by Refresh Restyle
7. Trimming Out Porch Posts by My Repurposed Life
8. Stenciled Concrete Topped Table by Designs By Studio C
9. 2 X 4 DIY Bench by Virginia Sweet Pea
10. DIY Outdoor Sofa Table Tutorial by H2OBungalow
11. Repurposed Electrical Spool Holder Table by Designed Decor
12. DIY Outside Standing Plant Hanger by Confessions of A Serial DIYer
Linking up here, at Wow Us Wednesday, and at Remodelaholic Anonymous.