Welcome to a special edition of the Power Tool Challenge. This month's challenge is to build something for $10 or less. I will show you how to build S shelves for under $10 and then you get to show me what you can make for less than $10!
If your project is chosen as the favorite by the Power Tool Challenge Team, you will win a fabulous power tool package from Ryobi Power Power Tools. I'll have more details at the bottom of this post.
But first, let me show you how to build "S" shelves for less than $10: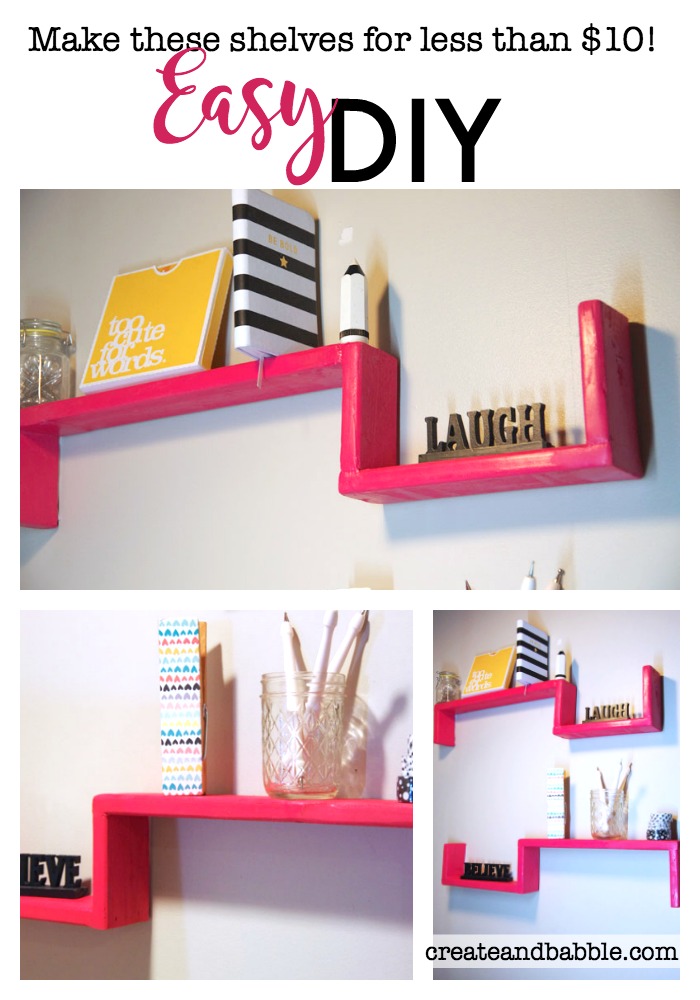 To make these shelves you will need a 1″ x 3″ x 6′. I used a cheap one that I already had in the basement. It's not one of the "prime" boards so the edges are rounded and the finish is kind of rough. You know the ones I mean. I could have gone out and bought one of the "prime" boards, but decided to just use what I already had on hand. I just sanded a lot and used a lot of wood filler to give them a smoother finish in the end. But we'll get to that.
You will also need (affiliate links):
brad nailer w/1-1/4″ brads
paint
Command strips for hanging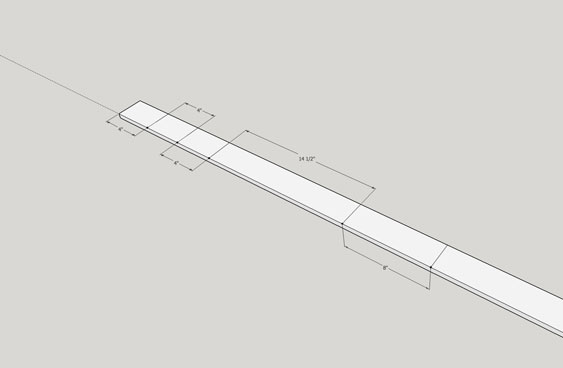 First we want to cut the 1″ x 3″ down. You will need to cut the board into three 4″ lengths, one 8″ length, and one 14-1/2″ length.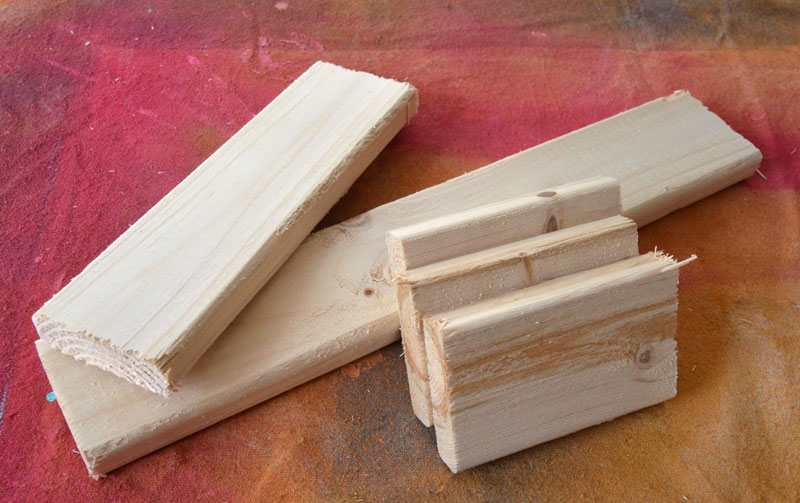 Now sand those pieces smooth. I used my Ryobi sander.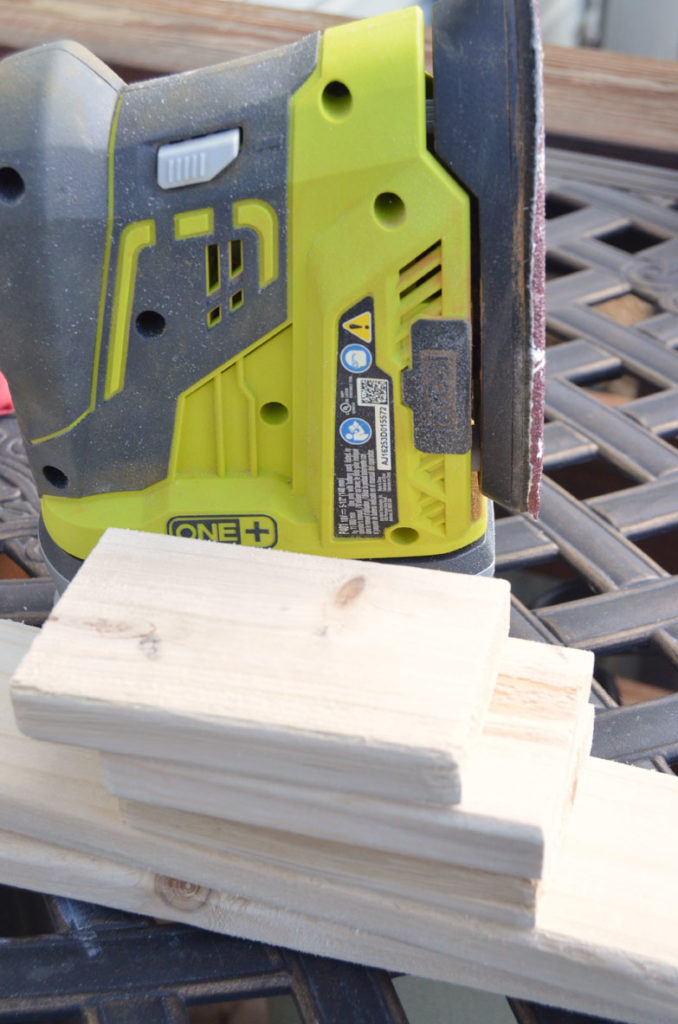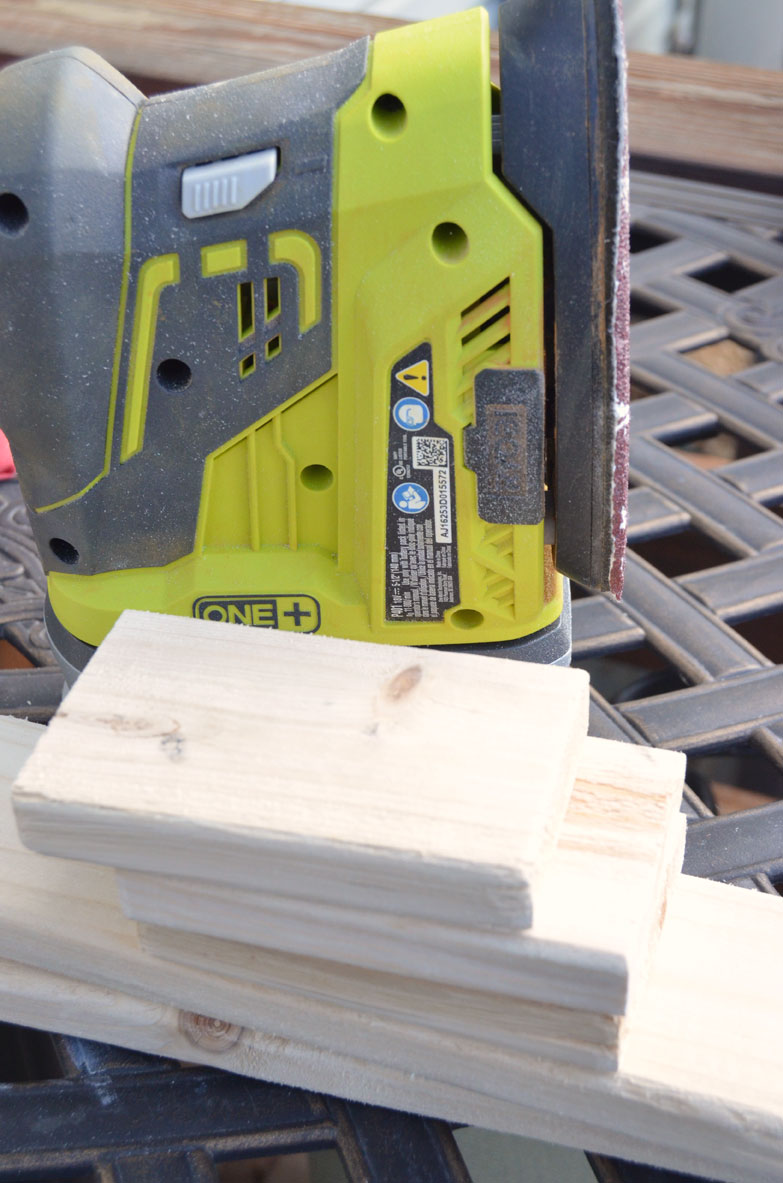 Dry-fit the pieces together to form the shelves.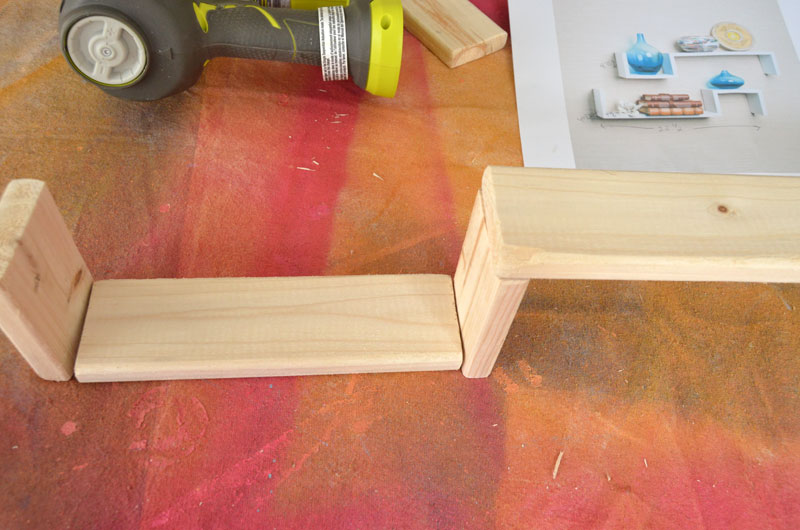 Attach the pieces using wood glue and brad nails.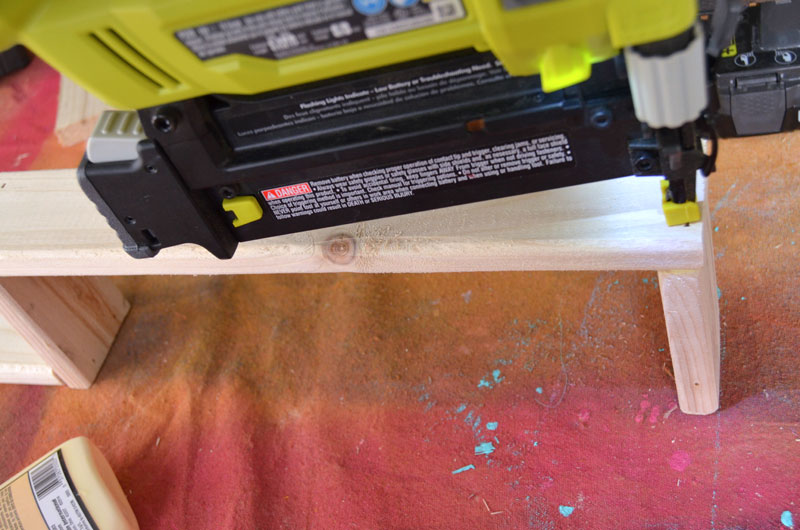 Fill the holes, seams, and gaps with wood filler and allow to dry before sanding.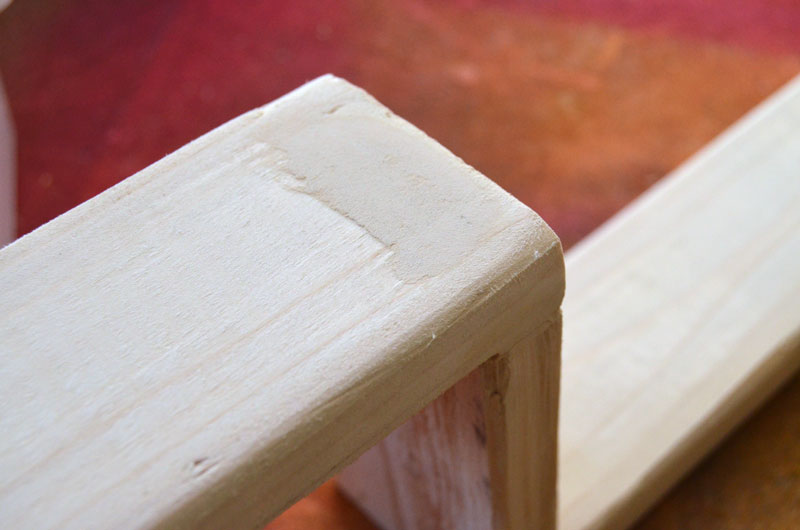 Sand entire shelf smooth before painting.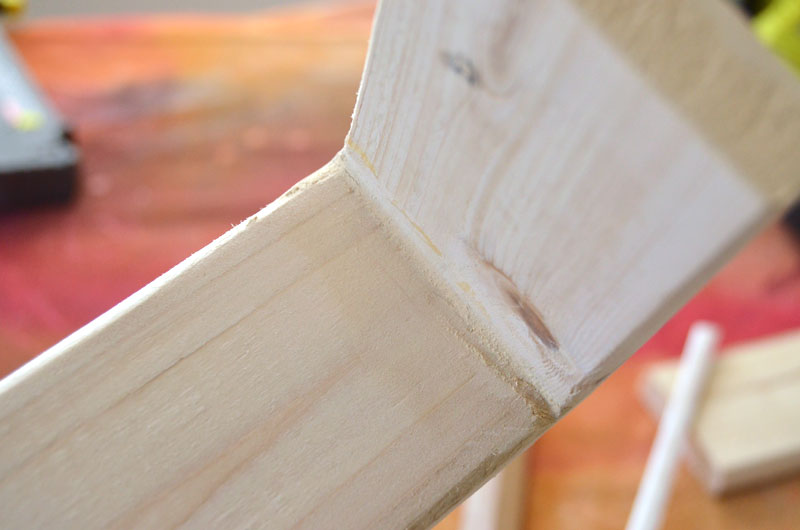 Now it's time to paint. I used one of my favorite spray paints: Amy Howard Furniture Lacquer. This stuff is the bomb.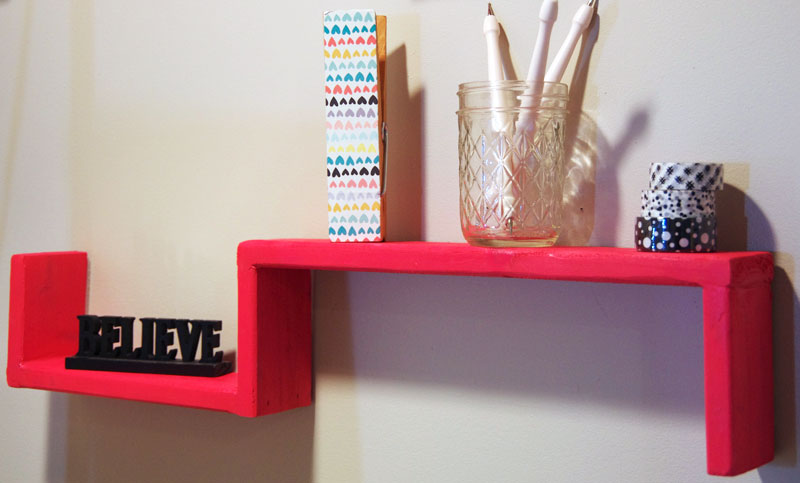 You've seen me use it in the laundry room makeover on the cabinet and my all-time favorite painted furniture piece: the sewing desk. I had just a little bit left from those two projects – just enough for these two shelves! I'm in love with that color: it's called Begonia and I think it's so bright and pretty!
TIP: I just have light-weight items on my shelf so I hang it up using Command Strips that I cut in half length-wise so they wouldn't show.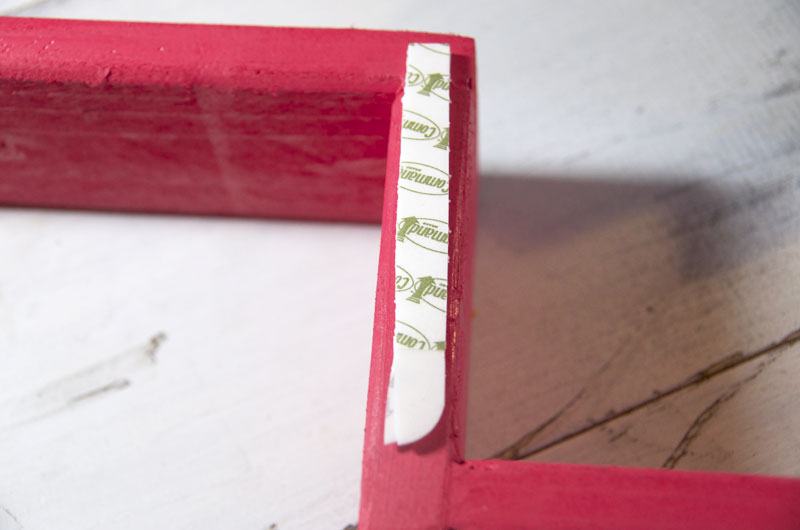 Pretty cute, right? I love having that bright, fun pop of color next to me as I sit at computer.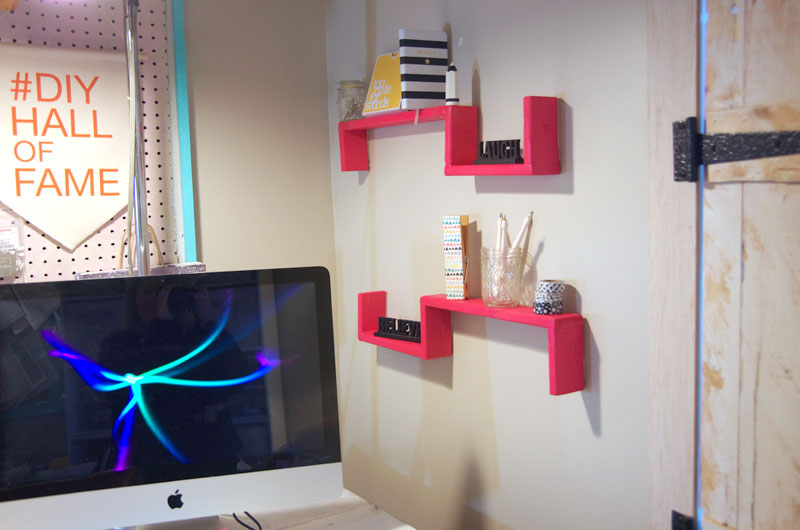 Now, as promised, here is the information about the $10 or Less Reader Challenge: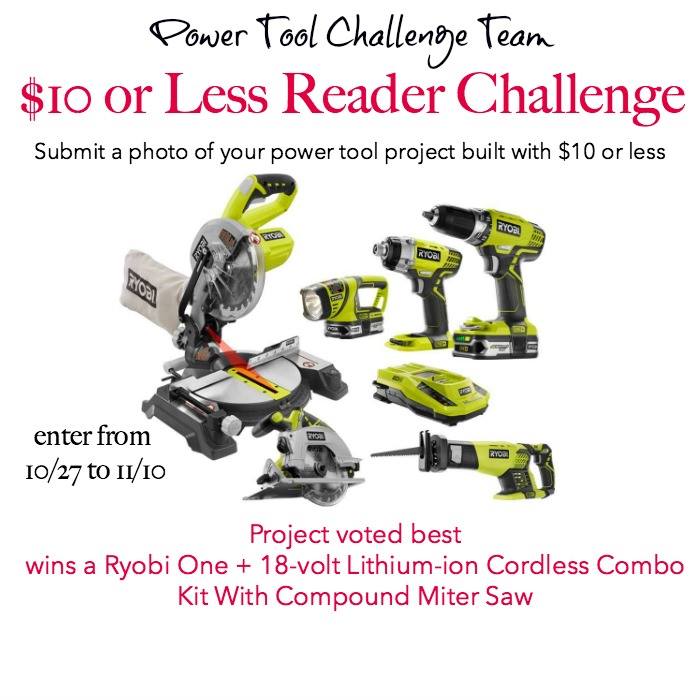 Reader Challenge Rules:
The project can be made from a free item, reclaimed wood, anything as long as less than $10 was spent on it including hardware.
At least one power tool has to be used to build it.
The $10 Power Tool Project Challenge is open for entries from 10/27 through 11/10 with a linky. Upload a picture of your project. (If you need help uploading your project photo, send me an email at (add your own email address) and I will upload it for you

🙂

Submit an old or new project as long as it was under $10 to build.
Anyone can enter, the more the merrier

🙂

Each participant can enter up to 3 projects.
Winners must be 18 or older and live in the US.
The Power Tool Challenge Team will vote on the best project and one winner will be selected. The winner will receive the Ryobi ONE+ 18-Volt Lithium-Ion Cordless Com

bo Kit with Miter Saw 6 tool package shown above.

Void where prohibited.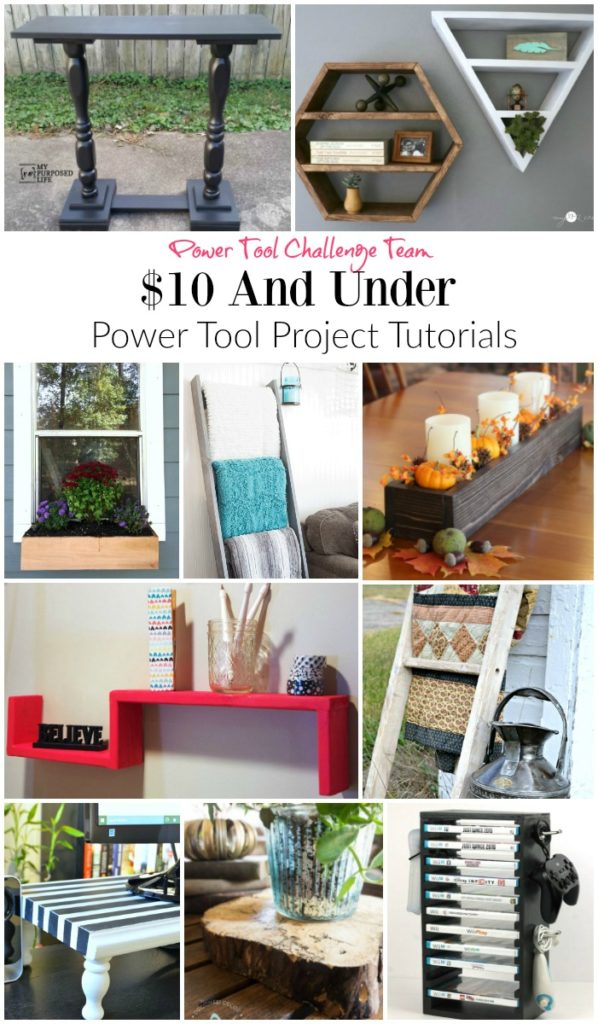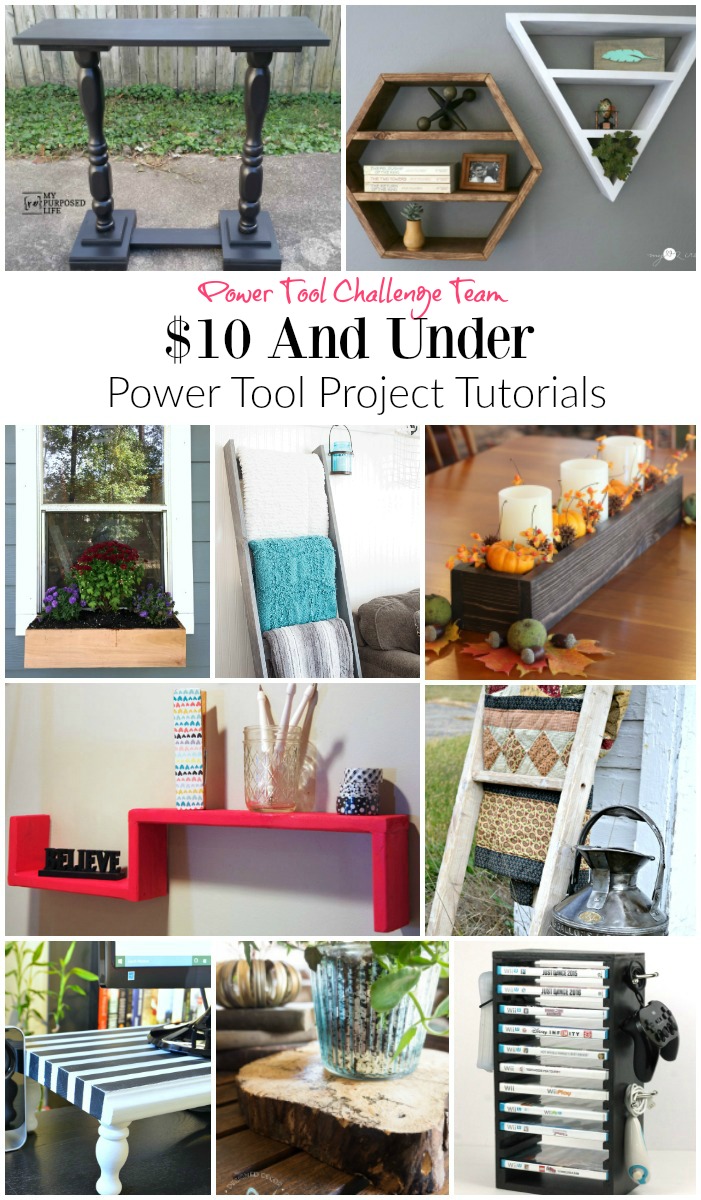 Double Pedestal Scrap Wood Table by My Repurposed Life
Hexagon and Triangle Shelves by My Love 2 Create
Window Box by Dogs Don't Eat Pizza
Blanket Ladder by Domestically Speaking
DIY Wood Centerpiece Box by Virginia Sweet Pea
Easy DIY Shelves by Create and Babble
Vintage Peg Blanket Ladder by H2OBungalow
Computer Monitor Stand by Interior Frugalista
Wood Slice Plant Stand by Designed Decor
DIY Video Game Organization Station Holder by Kim Six Fix