Have you heard? Tree skirts are out and tree boxes are in. Don't have one? Don't know where to get one? No problem. I'll show you how to make a Christmas Tree box so you don't have to use a skirt either!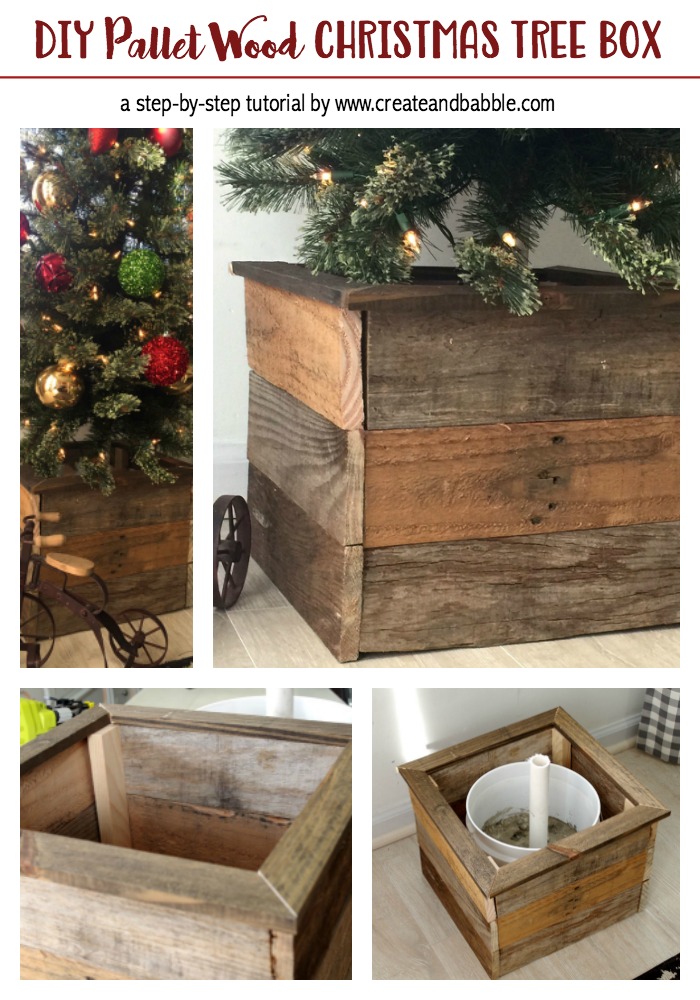 But first . . .  today is the TWELFTH DAY OF THE CHRISTMAS BLOG HOP!!!!! WOOT WOOT! I MADE IT!!!! Posting a project every day for 12 days was fun but it was a lot of work! But I'm so glad I did it and I really hope you enjoyed it too.
---
Welcome to the third annual 12 Days of Christmas Blog Hop!
Stop by every day from December first through the twelfth for new ideas you can use to make your season brighter!
Meet Your Hosts
They have all been busy as Elves creating, decorating, cooking and crafting tons of new ideas for you to try this holiday season!
Shirley~Intelligent Domestications I Alli~An Alli Event I Michelle~Our Crafty Mom I Marie~DIY Adulation 
Erlene~My Pinterventures I Beverly~Across The Blvd. I Debra~Shoppe No. 5 I Victoria~Dazzle While Frazzled
Megan~C'mon Get Crafty I Michelle~Michelle James Designs I Amanda~Domestically Creative
Deborah~Salvage Sister & Mister I Jeanie~Create & Babble I Sherry~Olives & Okra
Jenny~Cookies Coffee & Crafts I Emily~Domestic Deadline I Bonbon~Farmhouse 40
Leanna~Of Faeries & Fauna I Pam Larmore~P.S. I Love You Crafts I Kelly~North Country Nest I Marie~The Inspiration Vault
Gail~Purple Hues and Me I Lynne~My Family Thyme I Karen~Dragonfly and Lily Pads I Trisha~Blowing Away Out West
I Lorrin~Embrace The Perfect Mess I Terri~Christmas Tree Lane I Sam~Raggedy Bits I Cyn~Creative Cynchronicity Valeria~Val Event Gal
Yami~The Latina Next Door I Tania~Little Vintage Cottage I Lauren~Wonderfully Made I Vanessa~DIY 180
 Kimberly~A Wonderful Thought I Kim~Everyday Parties I Dru~Polka Dot Poplars
---
My decision to make a Christmas Tree box was not only because it's "in" and I detest tree skirts that just get rumpled up anyway. Two of my best blogging friends were talking about theirs and I got inspired to get make one too. Gail from My Repurposed Life made one with hinges for easy storage. How smart is that? And Kim from The Kim Six Fix shows how to handle putting the tree in the box without having to use the big, awkward tree stand that comes with the tree.

My Christmas Tree box is made out of pallet wood boards and pieces of 1 x 2's. I won't bother with the dimensions because every tree is going to need a different sized box. I made my box to fit a pencil tree.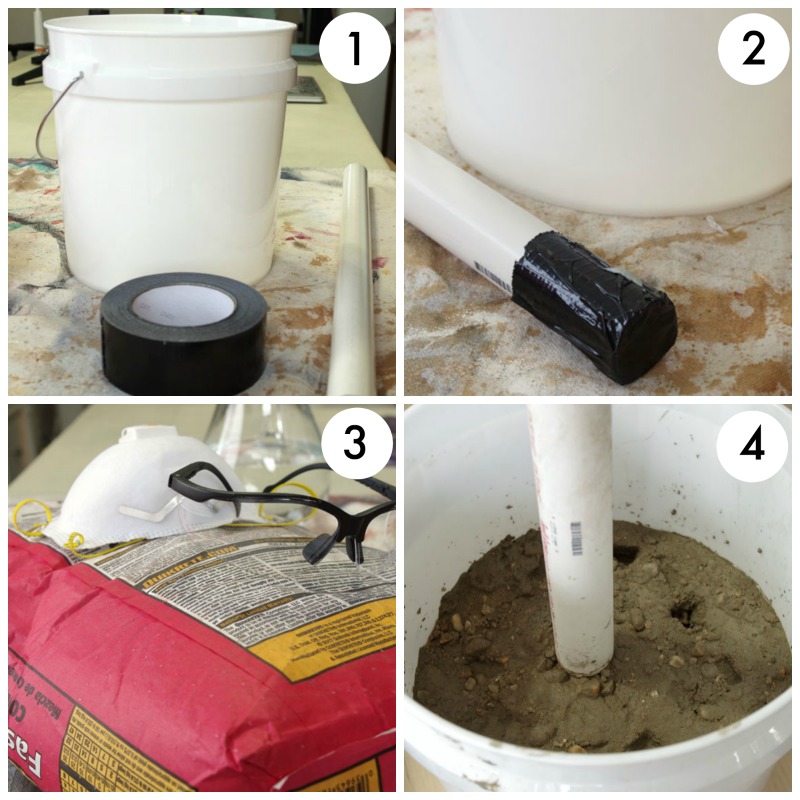 But before we start building the box, we need deal with how the tree is going to stand in the box. The metal stand is far too big. So I followed Kim's instructions and set a piece of one inch PVC pipe into a bucket of mortar mix. This was the very first time I worked with cement.
No worries! It was easy. All I did was dump some mortar mix into the bucket. Then I taped one end of the PVC pipe and pushed it into the middle of the mortar mix. Next I poured a small amount of water over the mortar mix and let it sit. I didn't even bother stirring it.
Once the mortar was set, I used my RYOBI reciprocating saw to cut the PVC pipe down. That's it!
Home Depot time-saving TIP: I always order online and pick up at the store. It's free! Well, I don't pick up. My husband does.  He works right behind our Home Depot Store. ?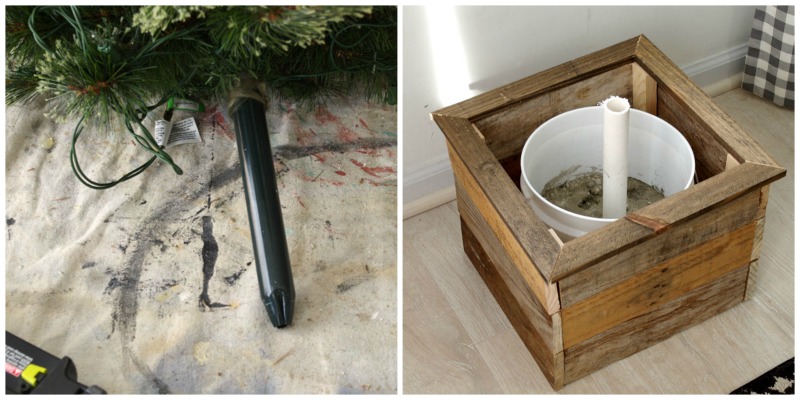 The artificial tree center post measured 1″ and the PVC pipe was 1″ but it fit together perfectly. I was a little worried about that.
Okay, now it's time to make the Christmas Tree box.
I simply attached the pallet boards to two 1 x 2″ boards with my RYOBI Narrow Crown Stapler
.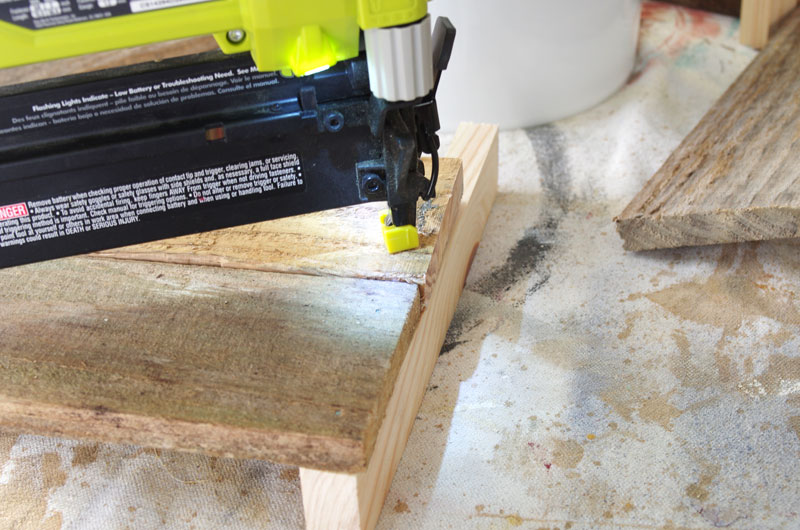 I made two sides, each side consisting of three pallet wood planks and two 1 x 2″ boards.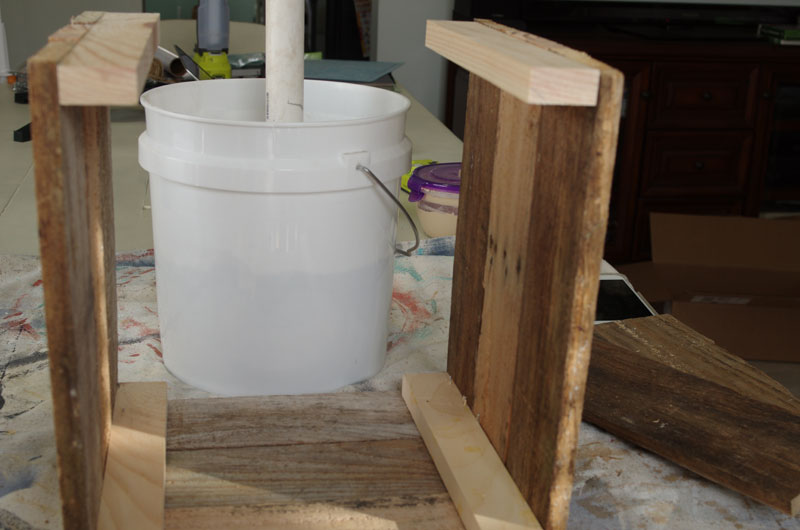 I then put the two sides together with two more sides of pallet wood planks to create the box. (See image above) As you can see, there is no top or bottom.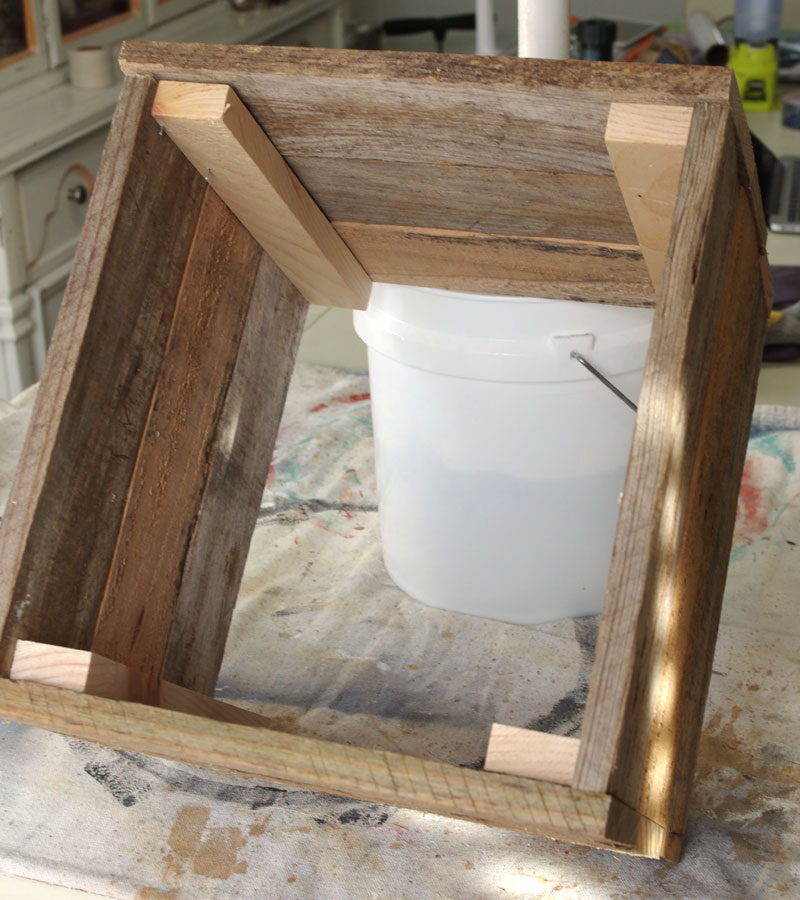 I'll just simply slip this box over the bucket.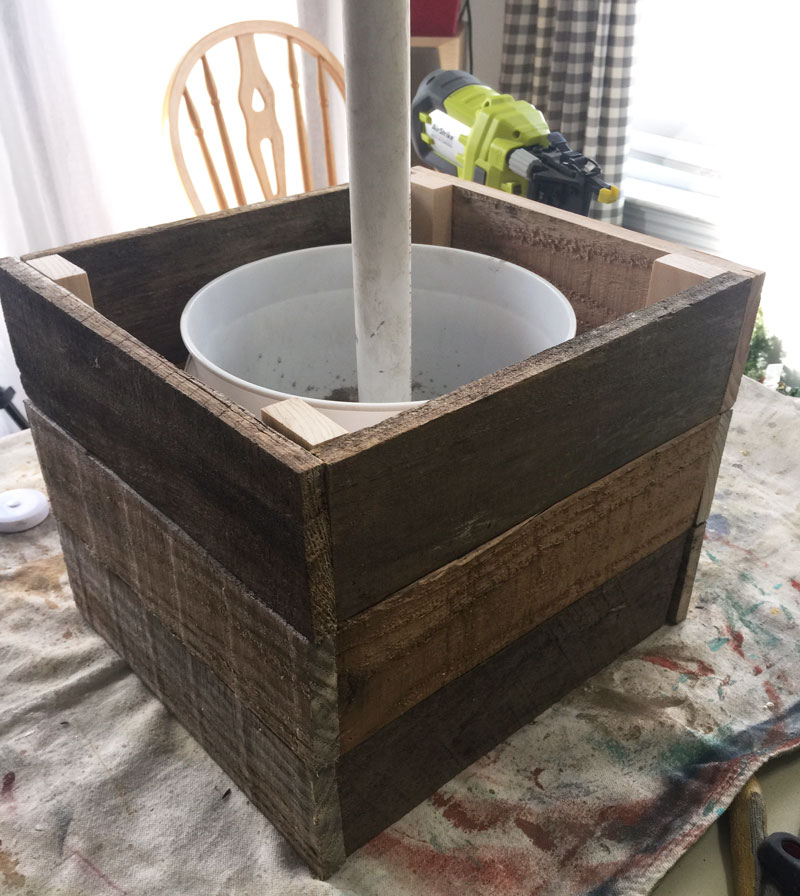 But it's missing something, don't you think?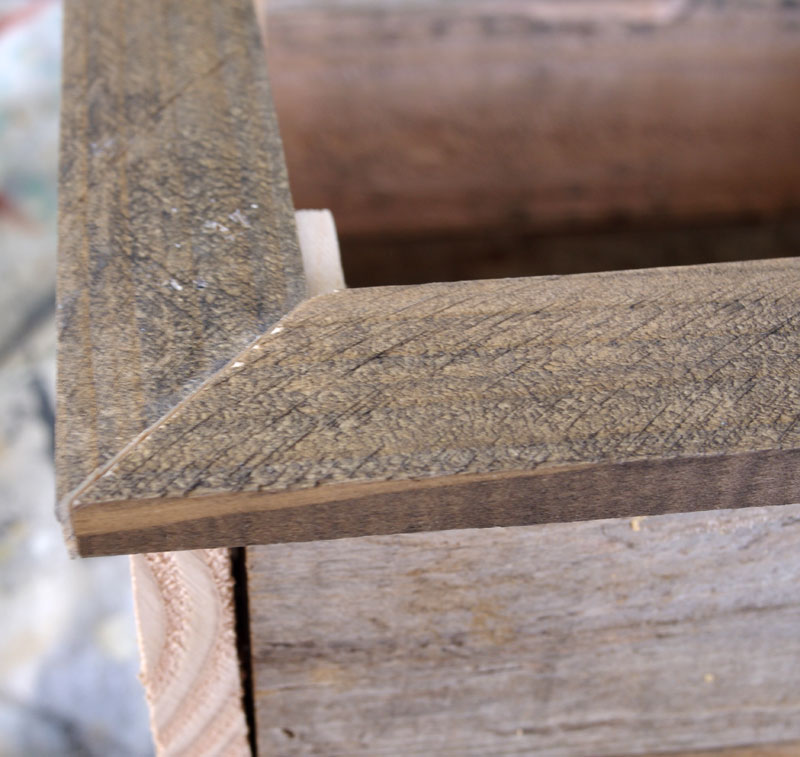 Yes. Trim. That's better.
I cut some more pieces of the pallet wood at a 45 degree angle with my RYOBI Miter Saw
for mitered corners.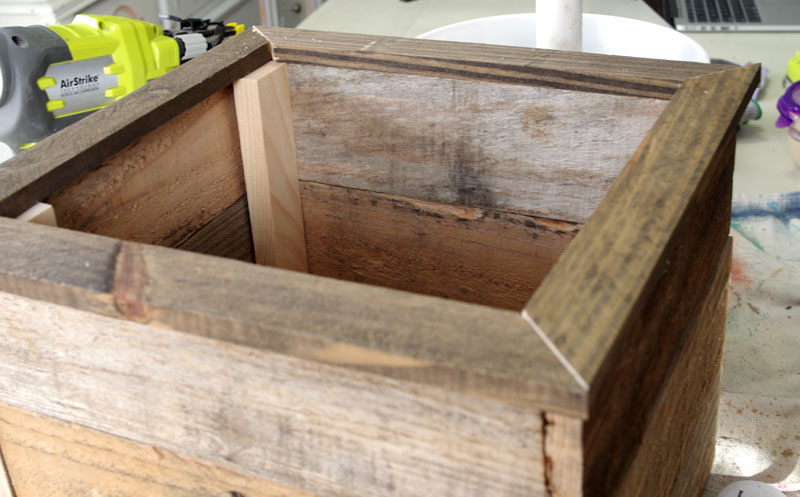 Now my Christmas Tree Box has a more finished look.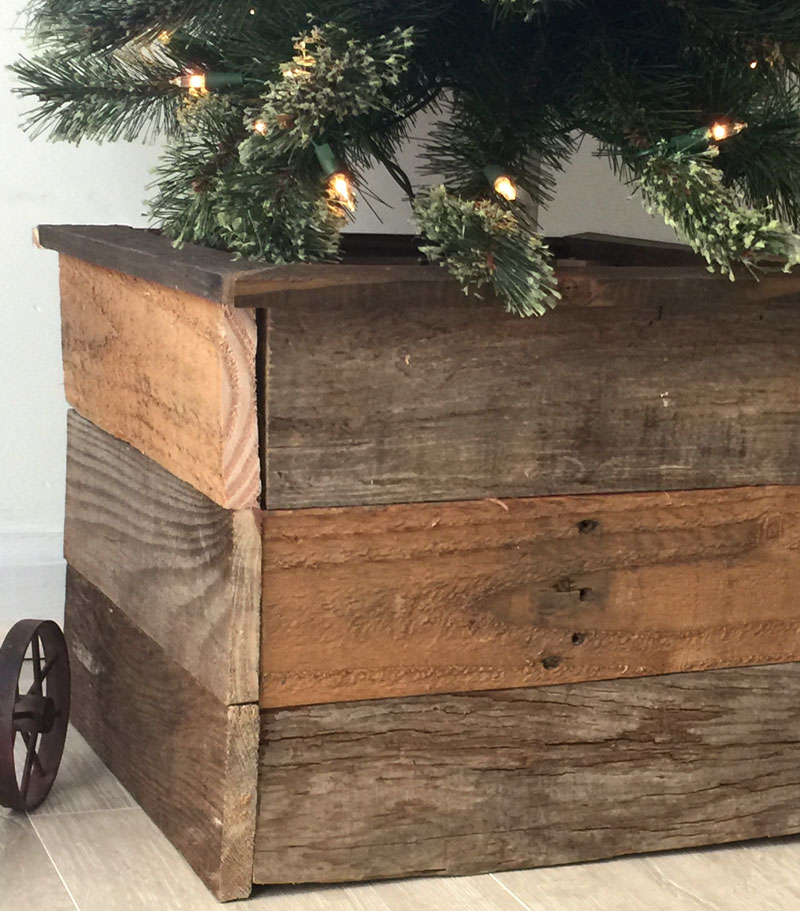 I love how it looks. What do you think? Will you build a box for your tree? Did you notice there's more room for presents now ; )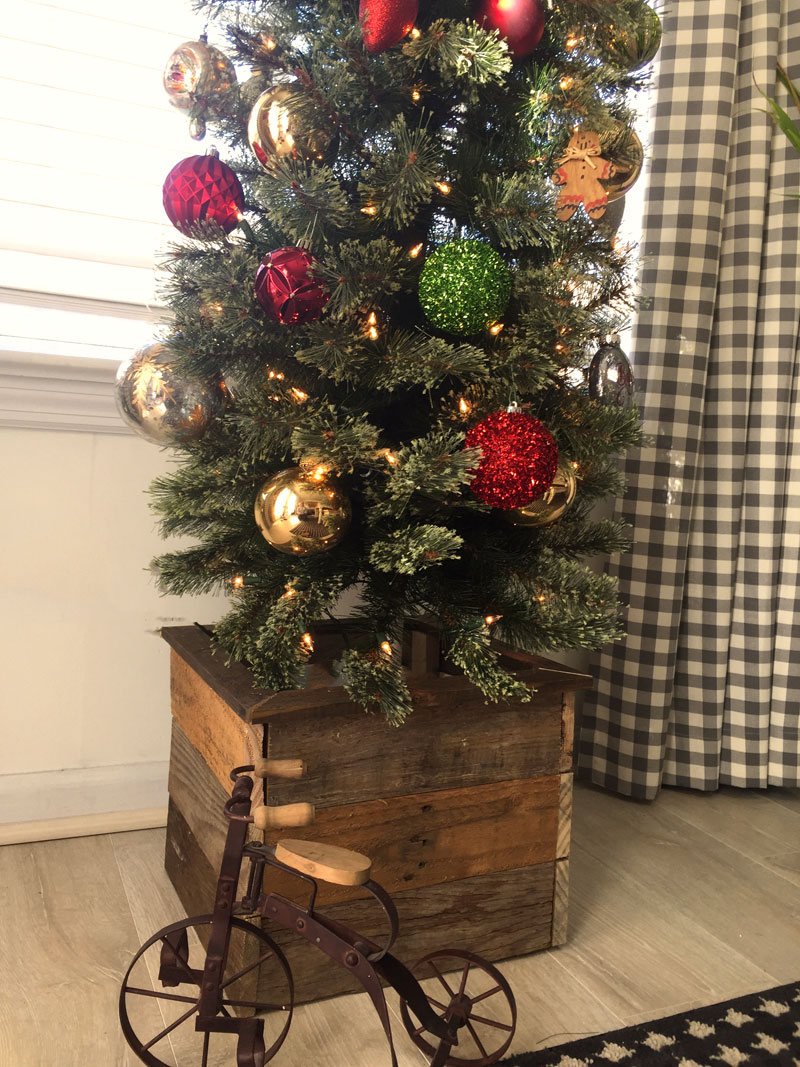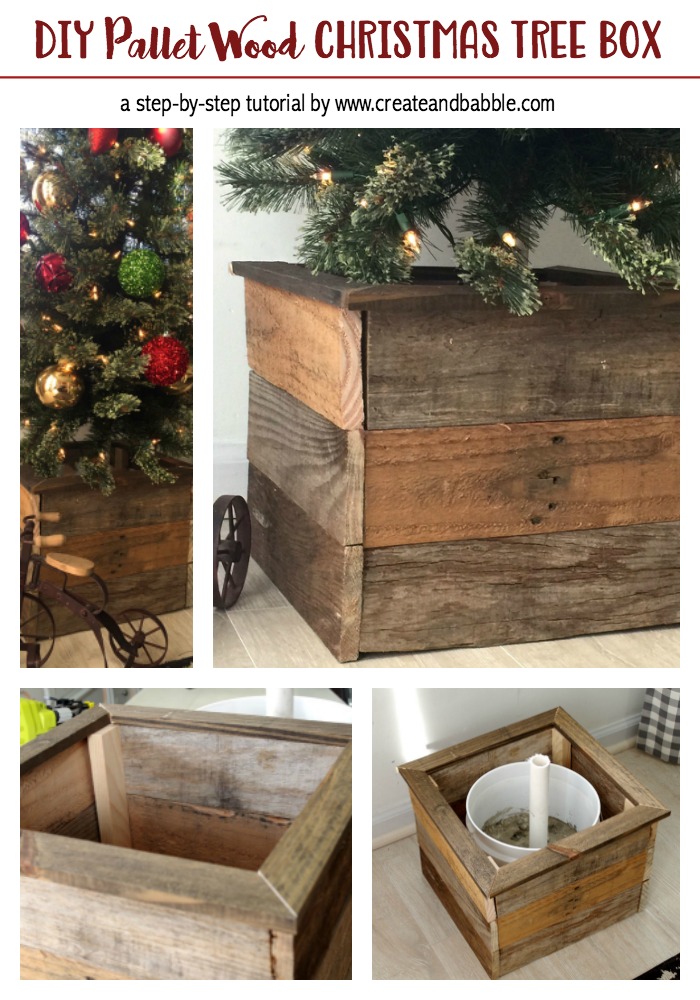 ---
Be sure to visit our fellow 12 Days of Christmas Bloggers below for even more creative ideas this holiday season!