While I was in the middle of painting my kitchen cabinets white, I had some down time when I was watching paint dry. This was a good time to figure out how to paint the kitchen cabinet hardware. If you have priced kitchen cabinet hardware, you know it isn't cheap! I was okay with the style of the hardware that I had. I just wanted a darker color. Here's how I painted my kitchen cabinet hardware.

How to paint kitchen cabinet hardware
Here's what you'll need to paint your kitchen cabinet hardware (this list includes affiliate links – if you make purchase using one of these links, I may earn a small commission at no additional cost to you):
Steps:
clean and sand the hardware
poke holes in the cardboard with a skewer, scissors, or knife
attach the cabinet hardware onto cardboard using the poked holes
carry cardboard holding hardware outside and spray (several light coats is better than one thick coat)
I'm sure that someone somewhere already thought of this idea, but I thought I was pretty clever to come up with this way of spray painting the handles.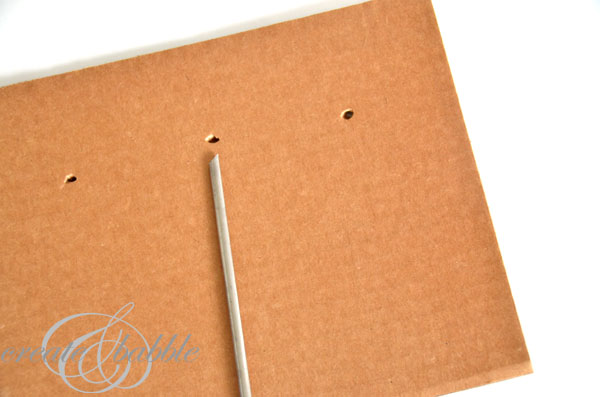 I made holes in a piece of cardboard with a skewer and screwed in each handle on just one end. If you don't have a skewer, use a knife or other sharp object. Just be careful!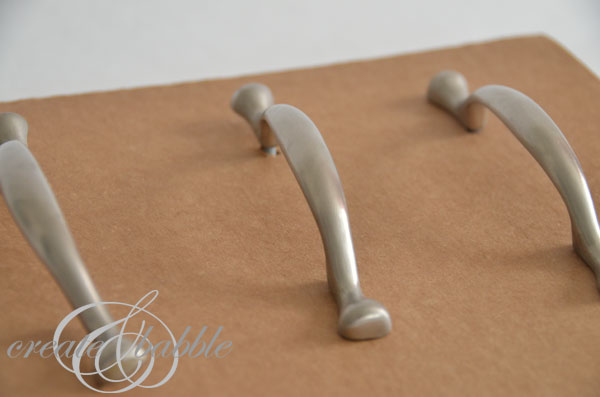 Once the handles were screwed into the piece of cardboard, I could then just carry the cardboard outside and spray away. Pretty smart, right??? Once in while I come up with a good one ; )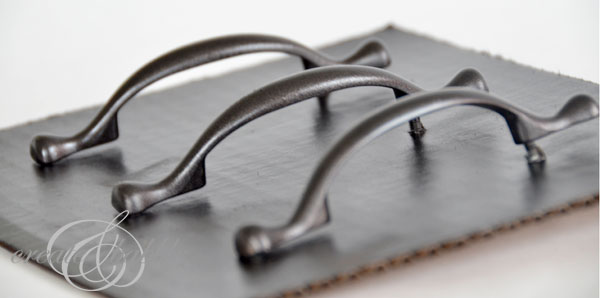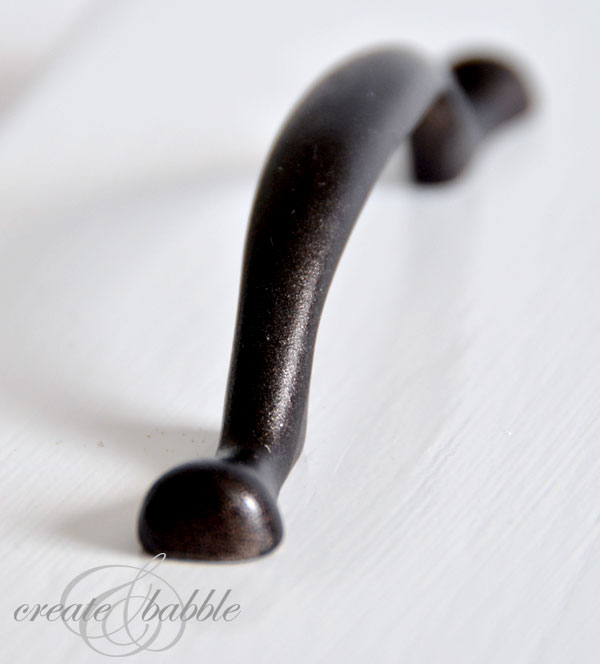 I love how the handles turned out! They look new don't they? Spray painting them saved more than a few dollars!
I also used this method to paint the hinges and door knobs on the pantry door.
UPDATE: It has been three years and the handles are showing a little wear. I can just take them down, sand, and spray them again. This time I will remember to use a few light coats instead of one heavy coat! I think the finish will last longer.
Linking up here and also at Wow Us Wednesdays