How to paint kitchen cabinets
I have been wanting to update my kitchen ever since I bought my house five years ago. You can read about why my kitchen needs an update here.

The first thing I decided to tackle was painting the builder-grade oak cabinets. I spent weeks searching the internet, looking for inspiration and DIY instructions on painting kitchen cabinets. There is so much information out there! My head was spinning! There are so many different opinions and options for painting kitchen cabinets: "use oil-based paint", "use latex", "use a sprayer", "don't use a sprayer", clean with TSP", "don't clean with TSP", "one coat of primer", "two coats of primer", "paint with a brush", "paint with a roller" and on and on and on. Now you know why my head was spinning!
So what did I do? I went to my neighborhood paint store. A real paint store, where they sell nothing but paint. High end paint. That was the best advice I read. The owner was very knowledgable, has been in the paint business for decades and so I decided to trust his opinion. For paint, he recommended  Muralo Ultra Waterborne Semi-Gloss Enamel. His reasons:
it's water-based (easy clean-up)

no odor
won't yellow
levels perfectly
hardens to a nice sheen (not too glossy)
I was a little surprised. I thought for sure he was going to recommend Benjamin Moore (he carries Benjamin Moore) because I had read a lot of good reviews from bloggers that had used it on their kitchen cabinets. While he said that the Benjamin Moore was a good option, he believed that the Muralo was a little better. That they have been making it longer and was best in his opinion. So off I went with my gallon of the 757 Ultra White Muralo Ultra Waterborne Scrubbable Semi-Gloss Enamel!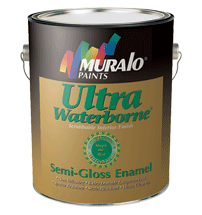 I'll share how I painted my kitchen cabinets white, but first here is a "before" photo: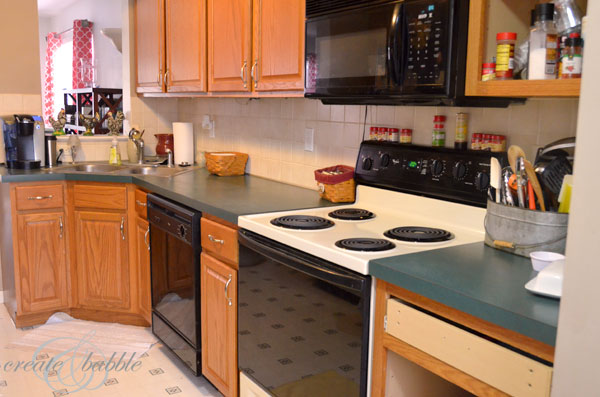 As you can see, it's a small kitchen. Besides those cabinets that you can see in the photo, there is one above and beside the refrigerator on the opposite wall. So not a lot cabinets. I should get this done pretty quick, right? WRONG!
I am in week THREE and I'm not done yet! Keep in mind that I work full time and am doing this completely by myself. Dan is NOT into home improvements AT ALL. No interest whatsoever. I knew this going in, so I'm fine with it.
But he has to put up with weeks of cabinet doors on tomato cans all over the living room floor!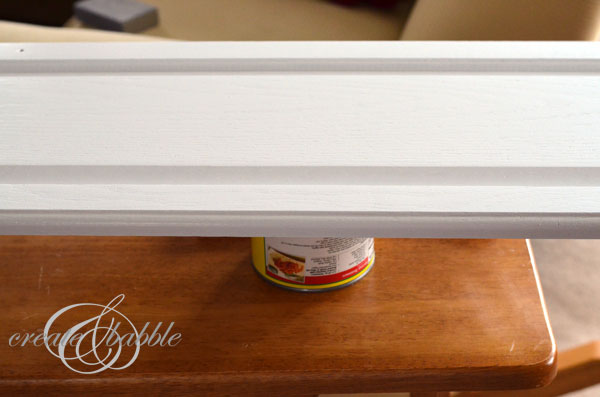 How to paint kitchen cabinets
remove doors and hardware

clean doors and cabinet boxes with a cleaner/degreaser (such as Simple Green)
lightly sand doors and cabinet boxes
wipe with damp lint-free cloth
apply a coat of Klean-Strip Deglosser and let dry for 10 minutes
apply a coat of latex primer (with a good brush, I use Purdy brushes)
after primer is dry, lightly sand
apply a second coat of latex primer
sand again ; )
paint on three coats of paint, lightly sanding between each coat and letting each coat dry 12 hours
TRUTH: This is a long, tedious process. If you are contemplating doing this, please know that this will take a long time. Especially, if you work full-time outside the home and are doing it by yourself. If you have a bigger kitchen than mine, I feel sorry for you! Just kidding, I'm envious, but have help!
I did paint both sides of the cabinet doors and the inside edge of each cabinet box. I just think it looks better that way.

Want to see a photo of how my cabinets look now?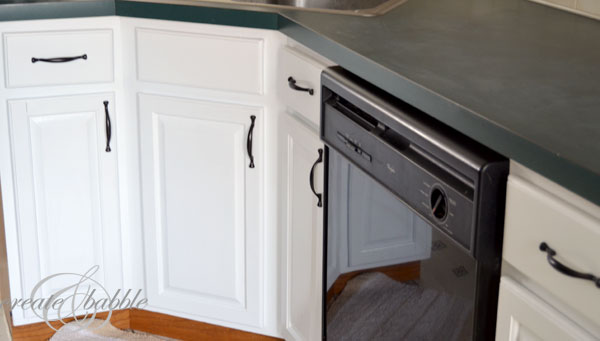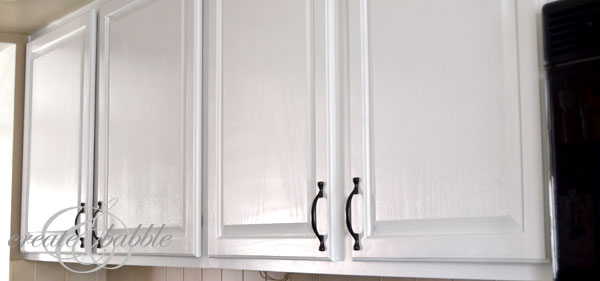 Once the cabinet painting is done, I'll move on to removing the wall paper border that's on the bulkhead above the cabinets.
There is still much to do and decisions to be made regarding the counter, backsplash, appliances and flooring. But for now, I'm going to focus on finishing the cabinets!
UPDATE: Cabinets painting is done!
Linking up here and also at Wow Us Wednesdays