This year's "While Dan is Outatown" project is just about done! You may remember when I shared with you how Dan goes out of town on business every March and I start a DIY project while he's away. Last year I painted the kitchen cabinets. This year I tackled the staircase. It was in dire need of a makeover. It was especially evident after I renewed the grout lines on the slate floor. Since the floor looked so new, it made the tired, old staircase look even worse. The carpet on the steps was matted and stained and the wood trim needed repaired and painted. This project actually got started when I restained the bannister. Dan was still home when I did the bannister but had no idea what I was going to do when he went away on his trip!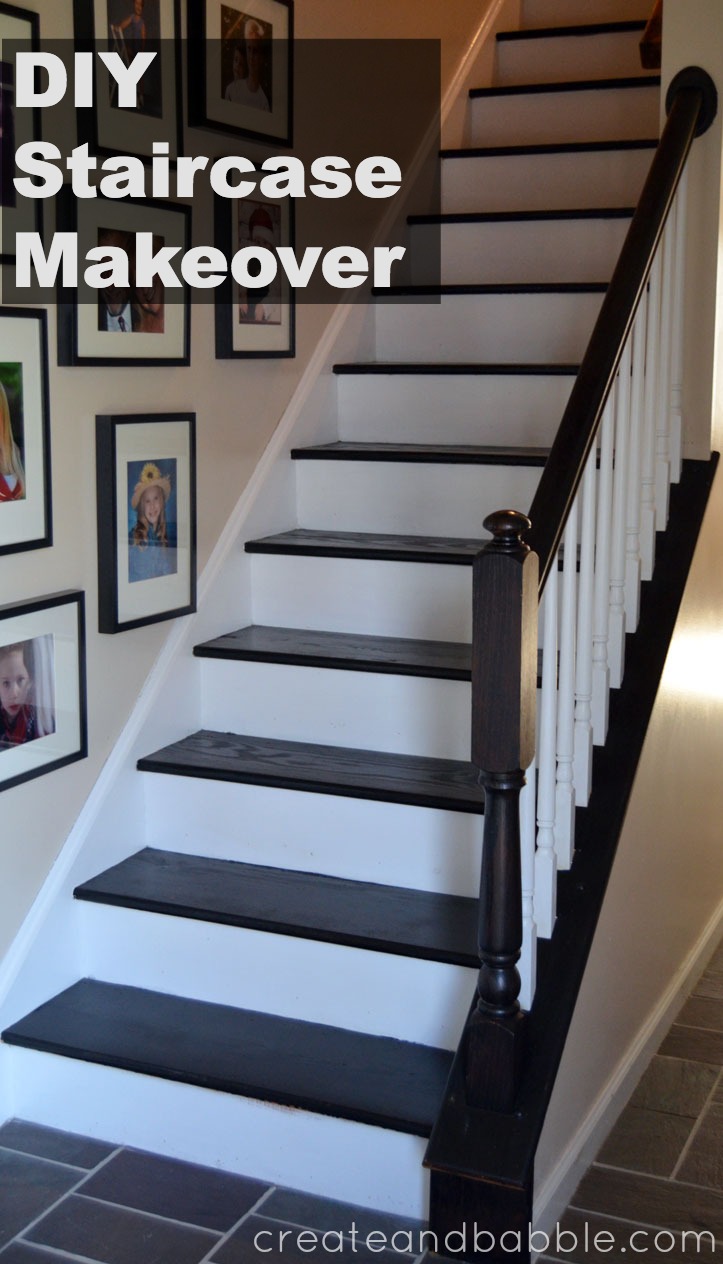 Want to see how I did it? I admit it took some time, but it wasn't hard at all.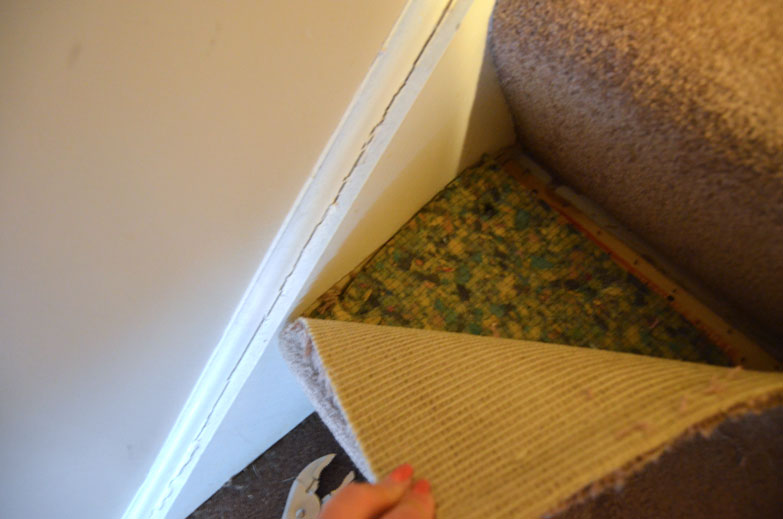 As soon as Dan was out the door, I grabbed a pair of plyers and pulled back a corner of carpet on the top step to see what was underneath: padding. No surprise there. Thankfully the carpet came off very easily. No horror story here about thousands of staples.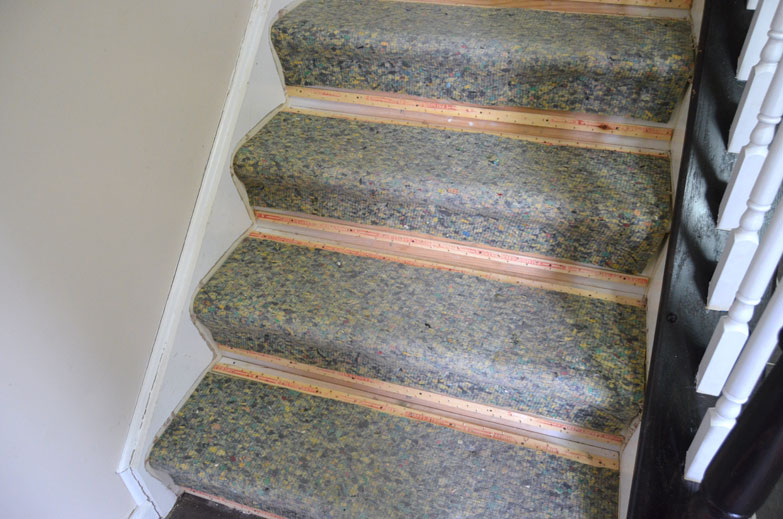 Even removing the tack strip wasn't as bad as I had thought it would be. Just a few taps of a hammer onto a small crow bar did the trick.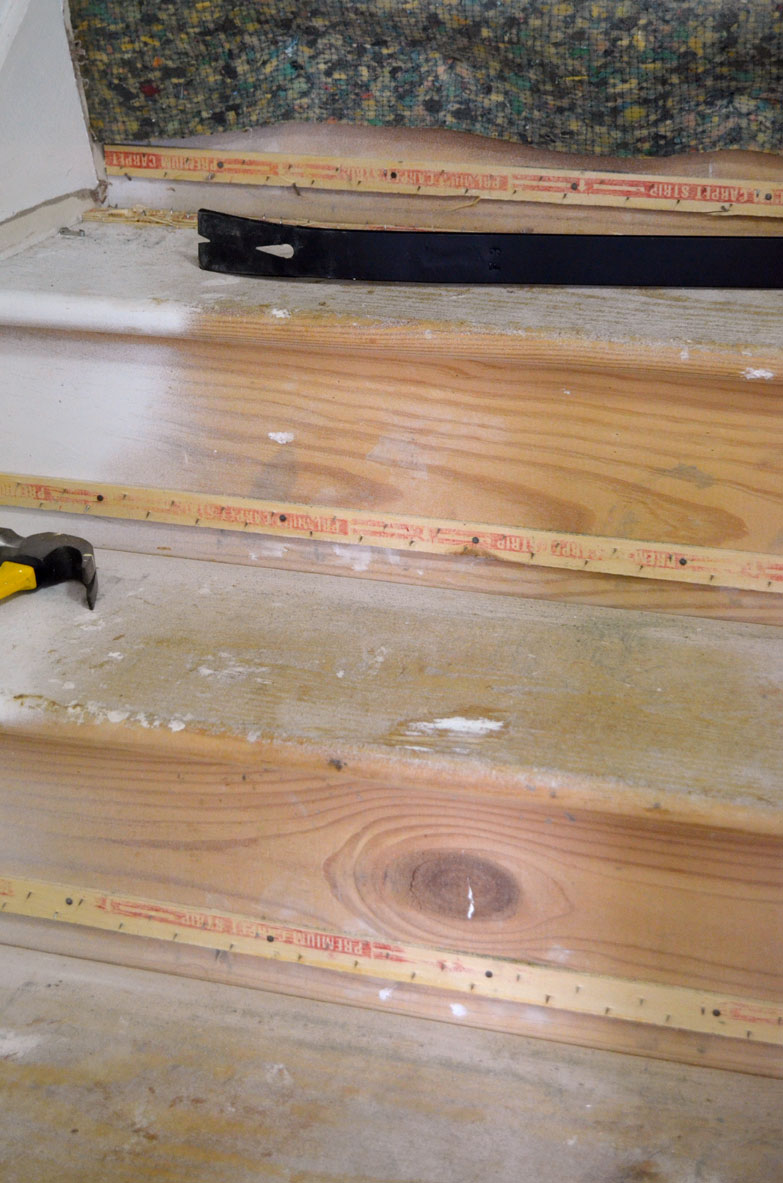 There were a few staples to remove, but that part went quickly, too. I had read horror stories about this part, but I was lucky. It seems that whomever installed that carpet didn't go crazy with stapling.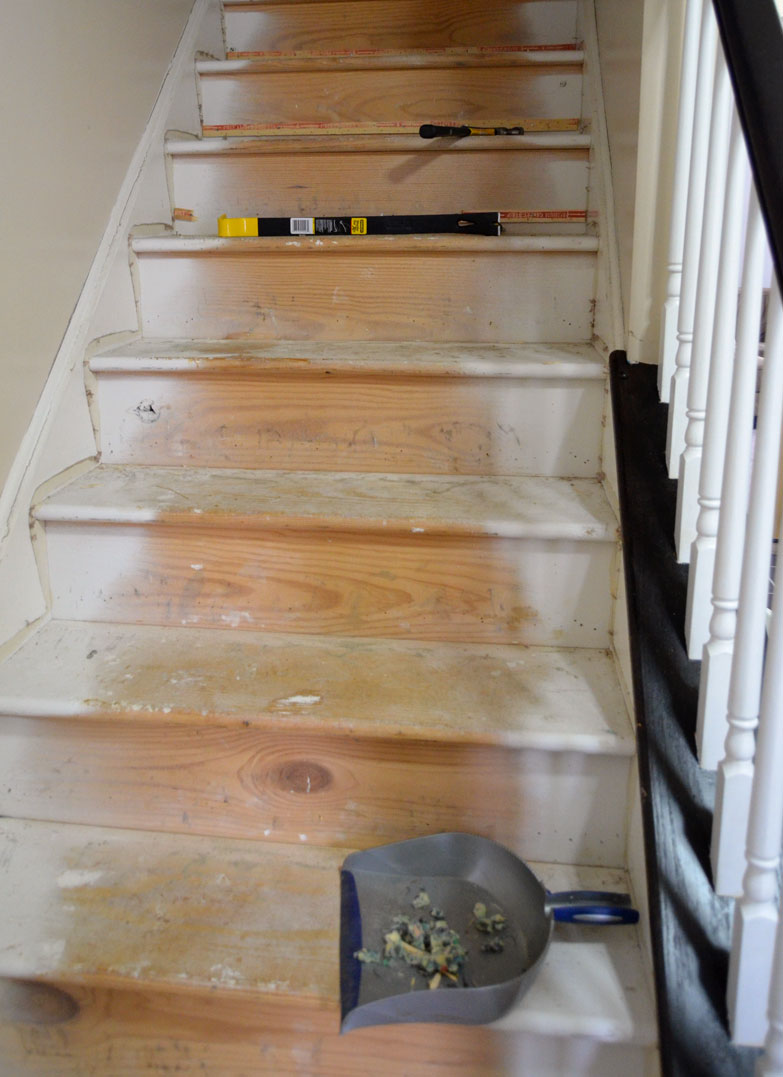 This photo shows what I hadn't planned on. It seems that a paint sprayer was used when the house was built and there was overspray on the ends of the steps. Now what?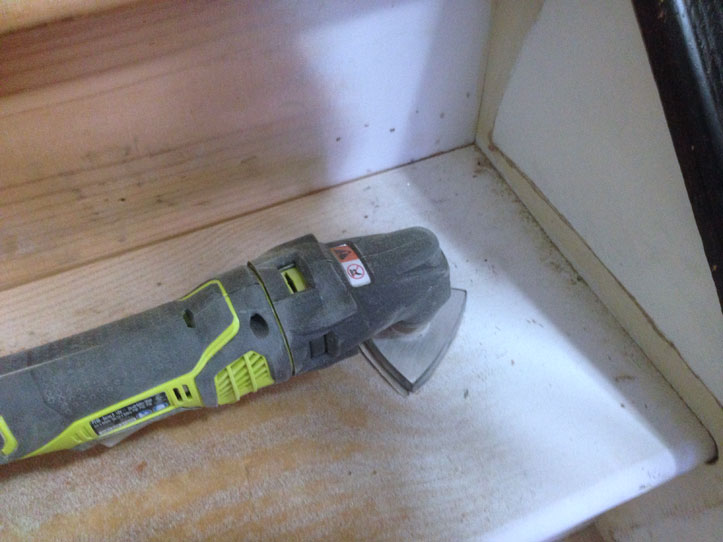 So I was off to Home Depot to get a sander. Even though the layer of paint was light, it was too much for a sanding sponge. I needed a little power behind some sand paper. I got the Ryobi Job Plus base that came with a triangle shaped sanding head: perfect! It took a few hours to sand off the pained and smooth out the finish on the walls.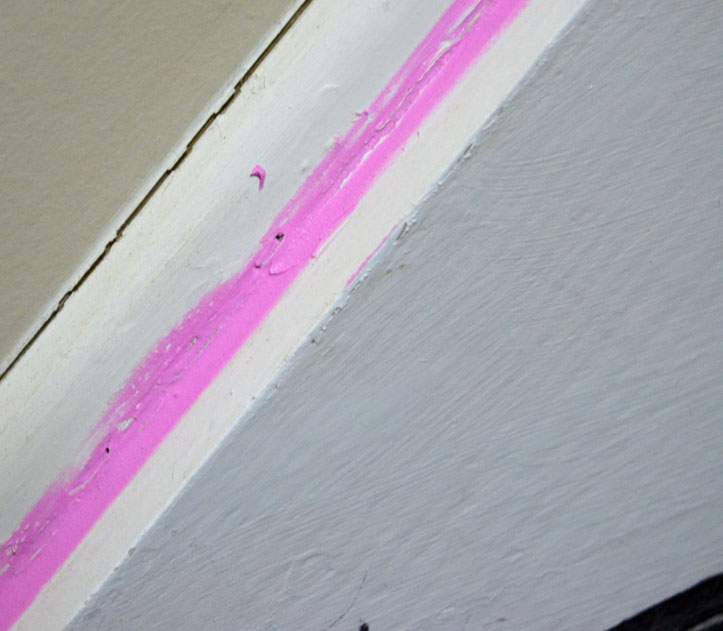 I found a tube of spackle at Home Depot that goes on pink and turns white once it dries. I used that to fill  all the nail holes, staples holes and cracked molding. Now I don't know if there's a "right" way to do this. Paint first? Stain first? I decided to paint first. Since the side moldings were already white, they only needed one coat of paint. I used the same paint that I used on the kitchen cabinets because it goes on so nicely, plus it's durable.
Since the risers were bare wood, I gave them two coats of primer first, then two coats of the white paint. I waited a few days before I started staining the treads. I used Minwax Wood Finish Ebony. Since these steps are used every day, I went with the every other step method. This part took a few days because I only worked on them about an hour a day. Once the staining was done, I added two coats of polycrylic to seal them.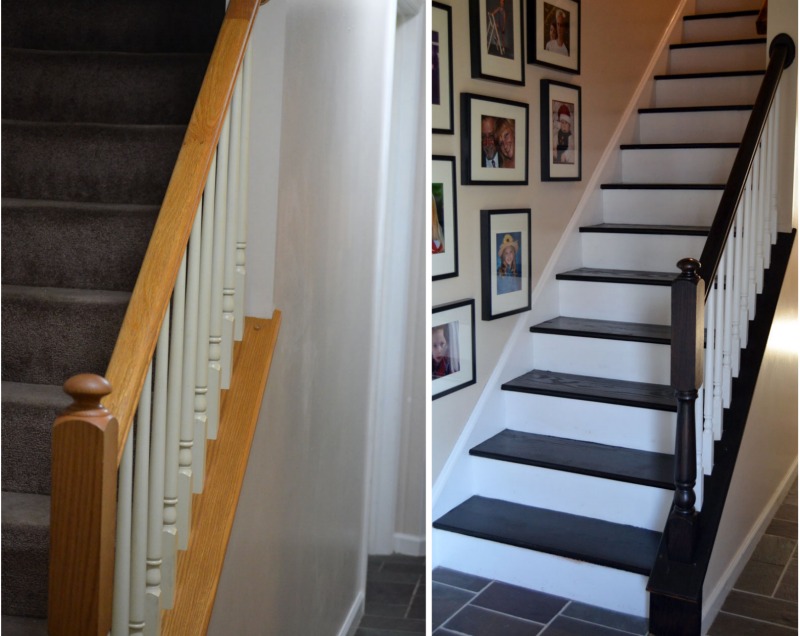 Here's a before and after to show what a difference this had made to my hallway!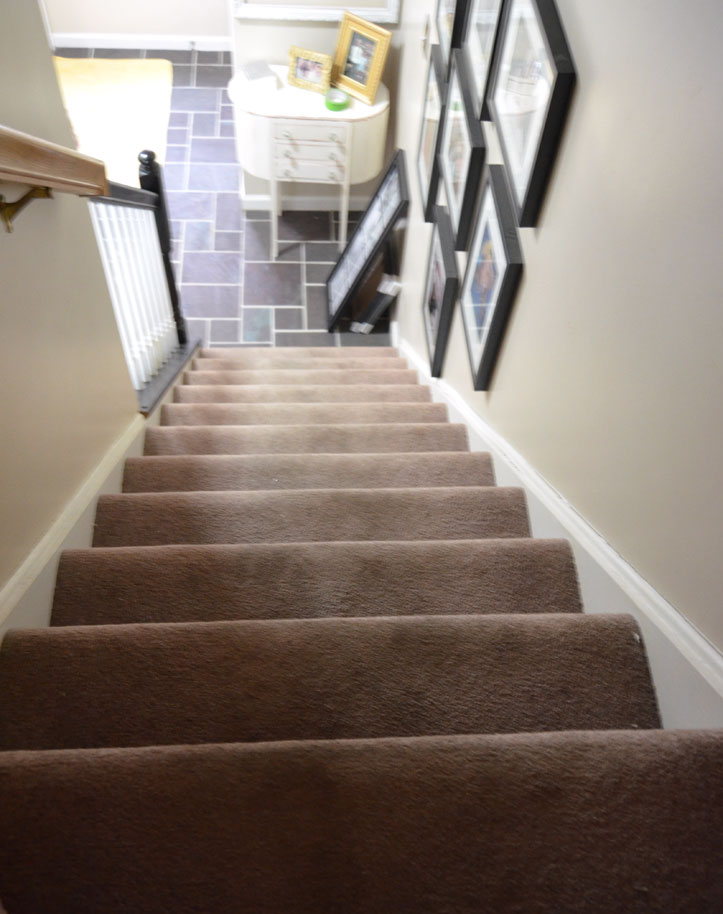 Before…
And now! I still have a few touchups to make but I'm so pleased with how this turned out! Since I don't get a lot of natural light in this space, it's hard to capture how much brighter this space is after the makeover, so you'll have to take my word for it ; )
Tell me, have you removed carpet from a staircase? Was it a staple horror story? We removed the carpet off the steps in my daughter's house and it was a nighmare! It took four of us all day to remove all those staples. I got lucky with this one!
Disclosure: This posts contains affiliate links meaning that if you make a purchase through one of these links, I may earn a small commission at no additional cost to you.
Sharing at Remodelaholic.