I love to read blogs. I wish I had more time to read my favorites more often.  I learn a lot from them. Here's a good example. By luck,  I happened to read a post on Young House Love about how they restored the grout on their slate floor. Hey! I have a slate floor! It also has the most disgusting, dirty grout that I couldn't get clean. Take a look at that before: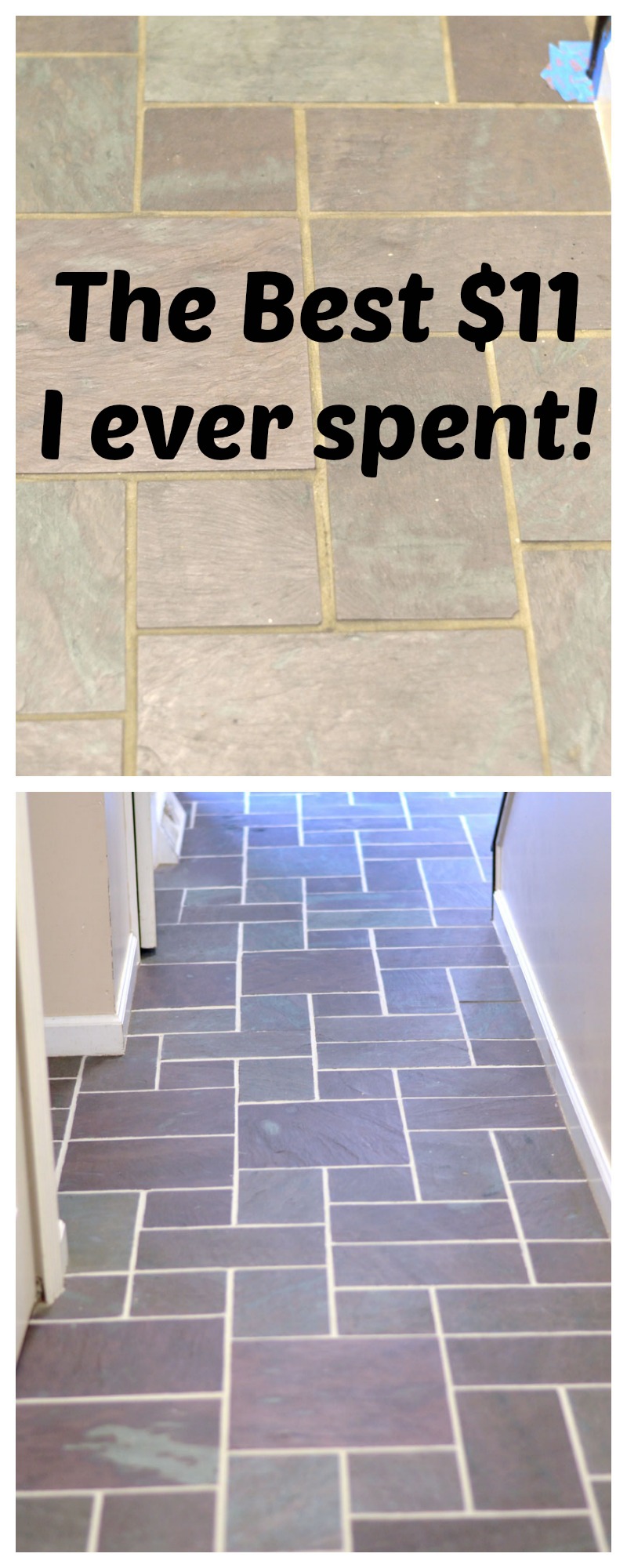 I learned that for about $11 I could make my slate floor look like new! I am absolutely thrilled with the results.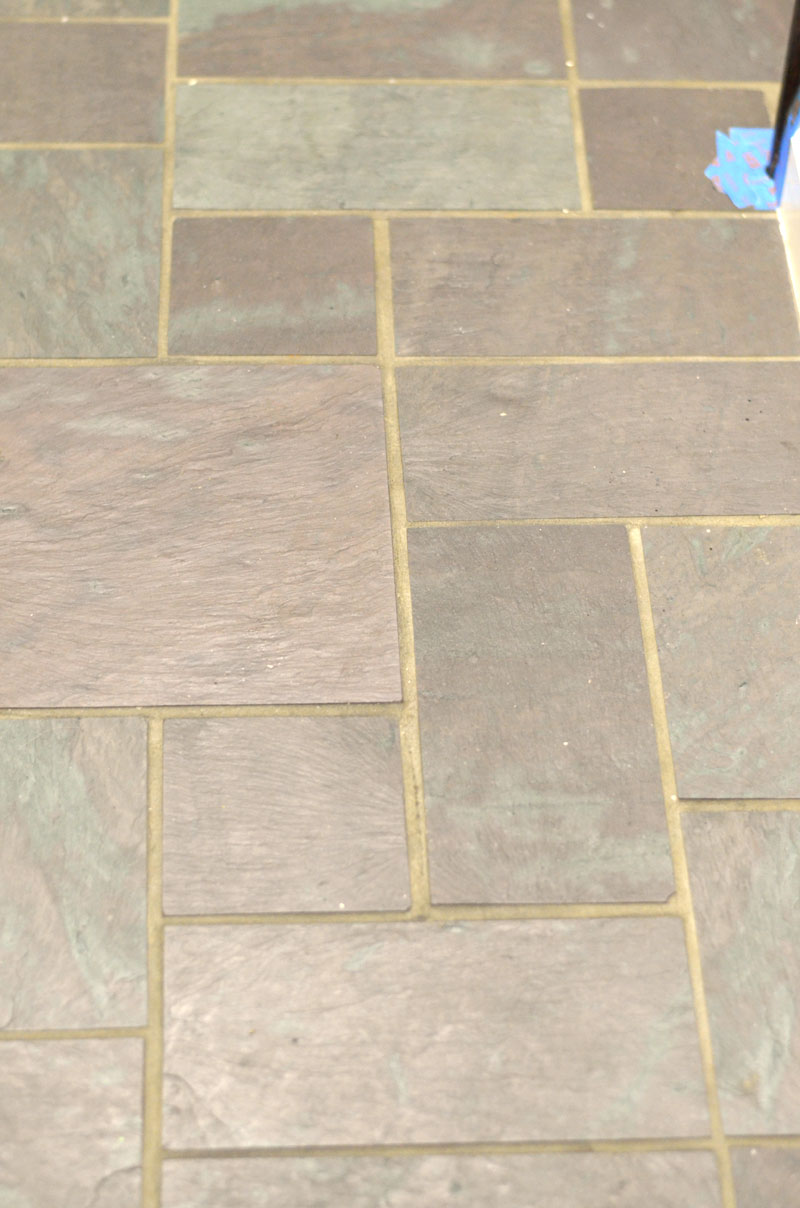 Seriously, look at the above before shot.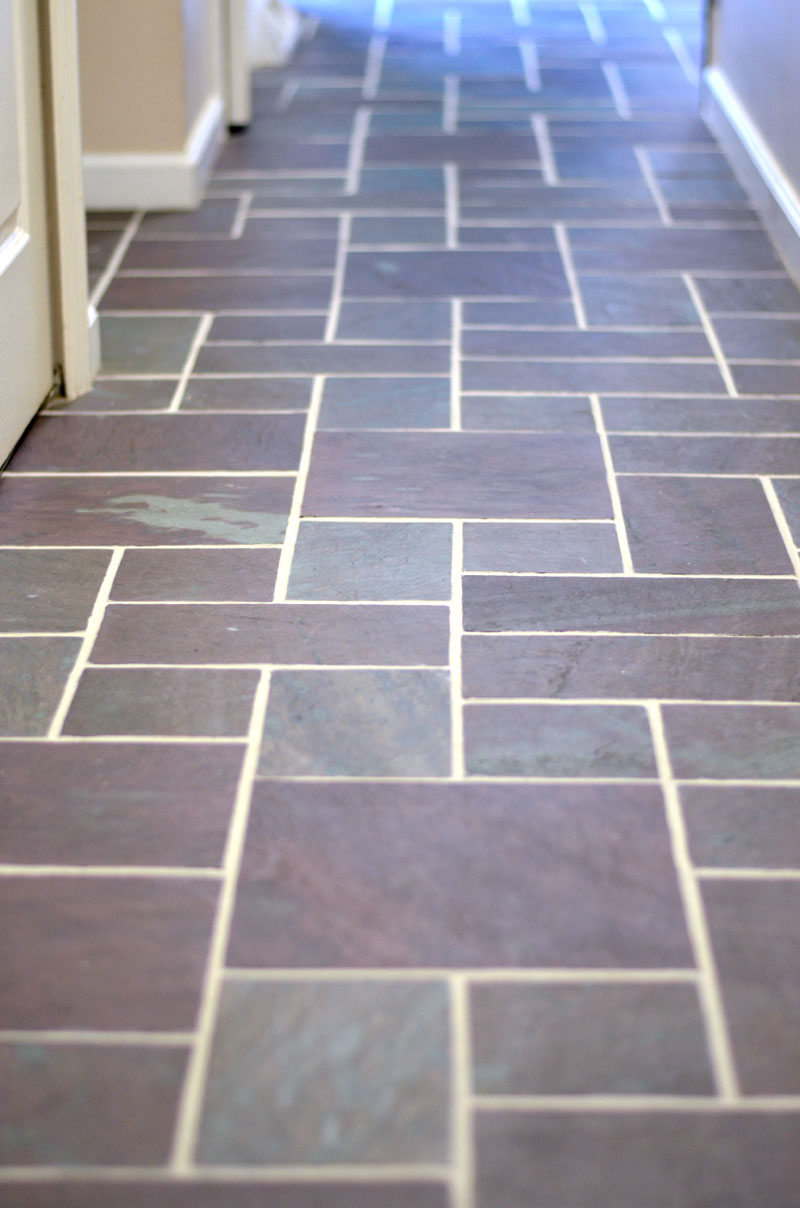 Isn't that amazing! I now love my slate floor. And I NEVER thought I would say that. There was a time when I was googling how to get rid of it! I had visions of guys with jack hammers, breaking up the floor. I have no idea how to get rid of slate flooring, but now I don't care! I love my slate floor!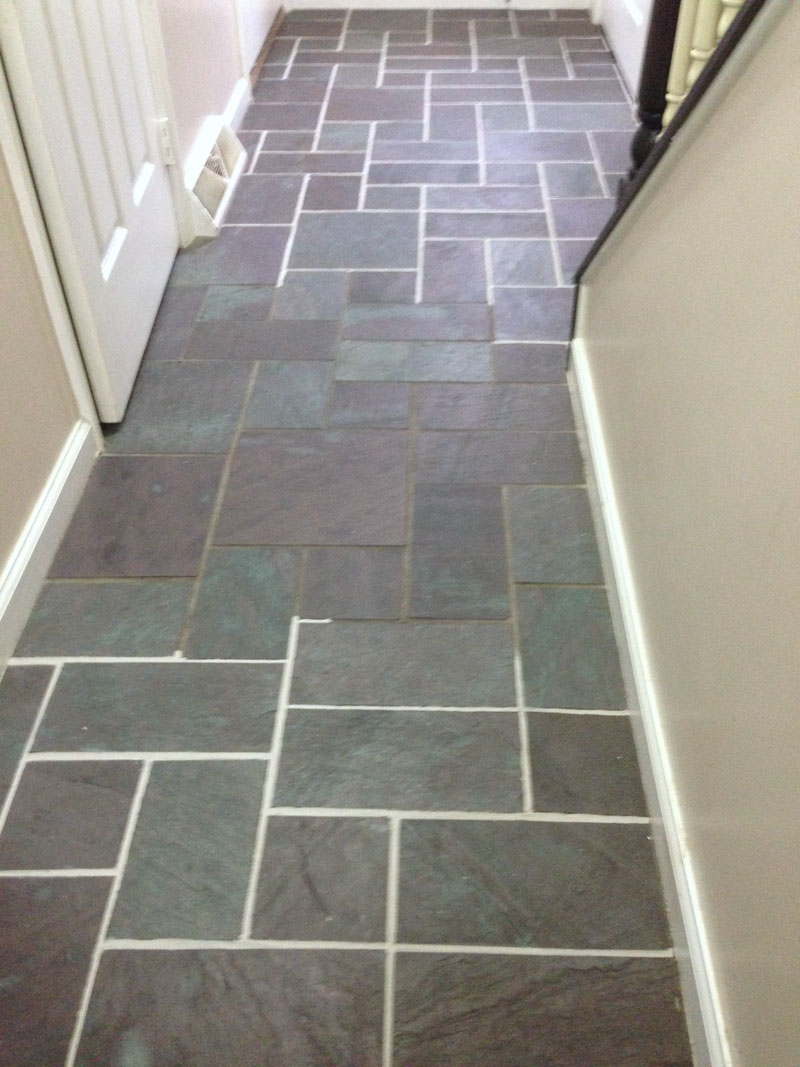 The bottle of Polyblend Grout Renew only costs about $11, but it DOES take some time to apply it. I did it over a couple of weekends and it probably took about 20 hours. It's a long hallway that goes from the front door back to the living room.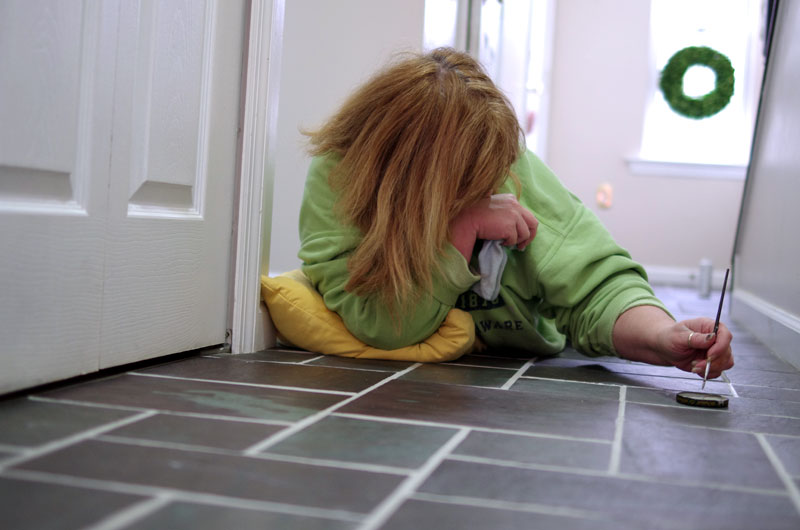 Wasn't it nice of Dan to take this most unflattering photo of me painstakingly painting all of the grout lines. I think the bruise on my forearm is finally gone.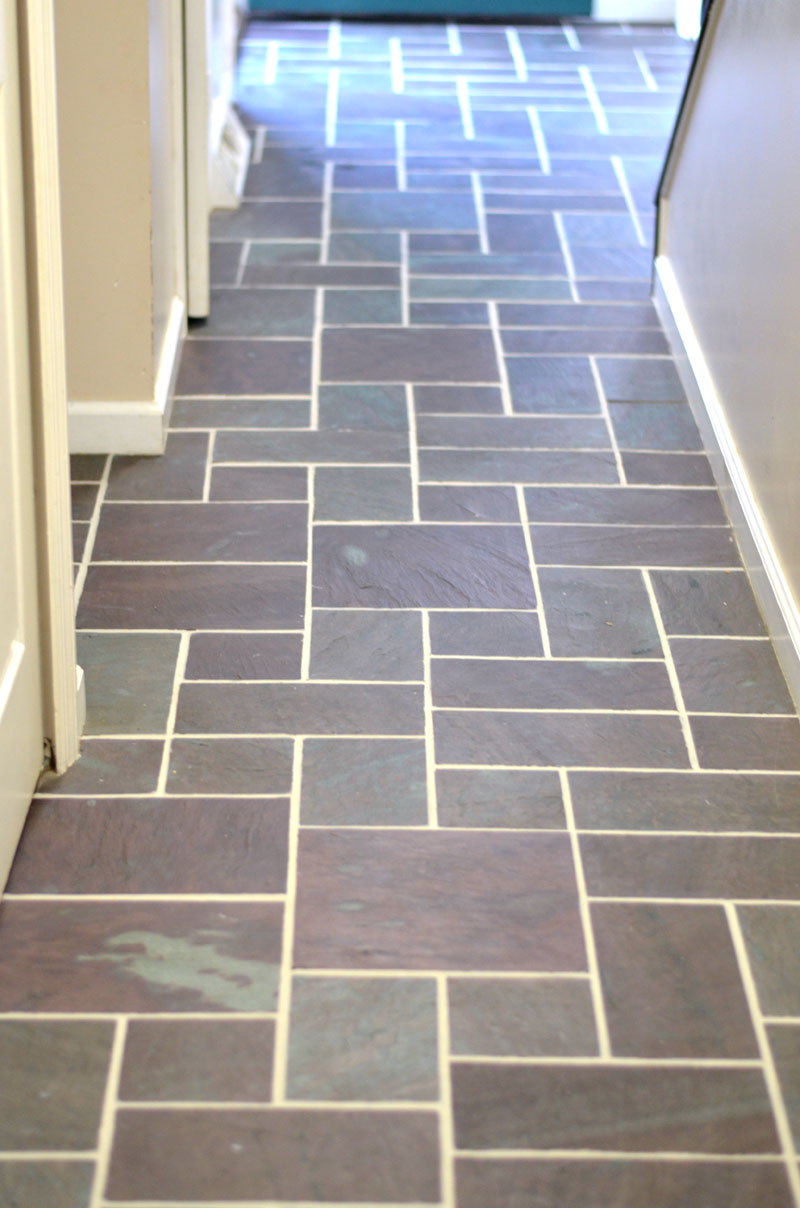 It was worth every uncomfortable minute (and scar tissue on my elbow)!
Every year at about this time, I start planning a home improvement project. It all started three years ago when Dan was given an account at work that takes him out of town for a couple of weeks every March. Since Dan does not enjoy DIY projects, this is a good time for me to start a project because he's not here to talk me out of it. That first year, I painted the main bathroom, including the vanity. It was before I started blogging, so there are no photos of that.
The second year, (which was last year) is when I started updating the kitchen. I painted the cabinets, the walls, ceiling and pantry door. I also made roman shades, replaced the sink, installed a new faucet and upgraded the countertop. We also got a new stove.  There are a few more things to do before it's completely finished.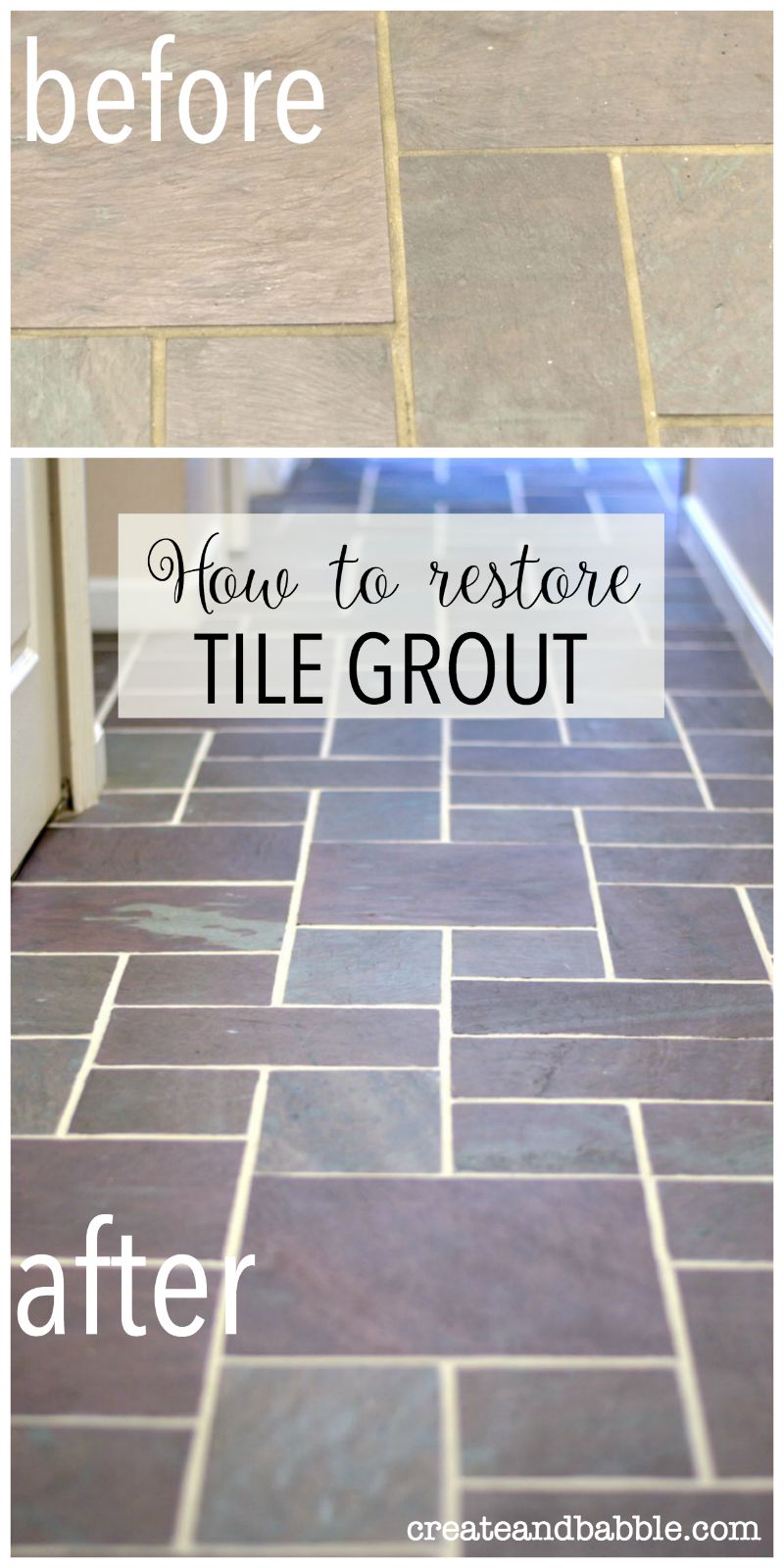 This year I've decided to take on the hallway. Since I painted the grout with Grout Renew, I have a head start. I'm working on staining the railing a darker color and painting the spindles white. I have a few more ideas up my sleeve, but since I never tell Dan what I plan on doing before he leaves, that's all I can say for now. That poor man never knows what he's going to come home to!