Hello crafty folks!  Thanks again for having me.
It's Week 2 of my I've Never Made… series, and with Valentine's Day around the corner, what better way to surprise your sweetheart than with a plate of homemade GNOCCHI?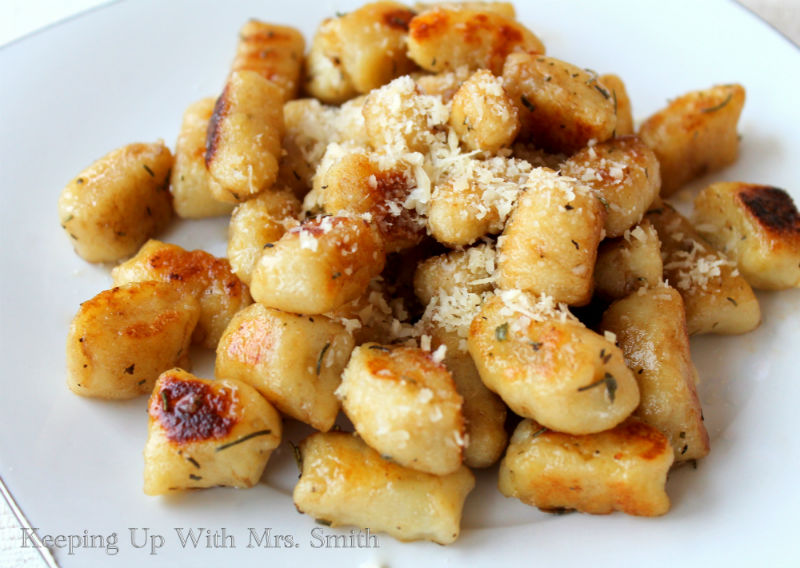 Gnocchi are light and airy potato dumplings that you can toss in all sorts of wonderful sauces.
Now, you may be asking, "With all the pre-made products in the store, why make your own?"
Well, I have a few reasons:
The texture and freshness of homemade are unbeatable.

The stuff in the store tends to be dry and gummy.
You're slightly crazy (But who cares? You just made your own friggin gnocchi!)
Sure…there are a few steps, but none of them are tedious.  But Valentine's Day is a good excuse to pour a little extra time and love into dinner.  🙂
Soft, Fluffy Gnocchi
(Recipe from Fine Cooking Magazine)
Making the Gnocchi
First up, place 4 medium potatoes in a large pot and cover with 2 inches of water.  Bring to a simmer over medium-high heat, then partially cover pot and reduce heat to medium.  Simmer potatoes for 30-35 minutes until tender and easily skewered.  Drain.
Allow spuds to cool just enough to handle, then cut them in half and put them through a ricer.
OR…if you do not own a ricer, peel potatoes and mash with a fork until all the lumps are gone.  Then fluff with the fork until light and airy.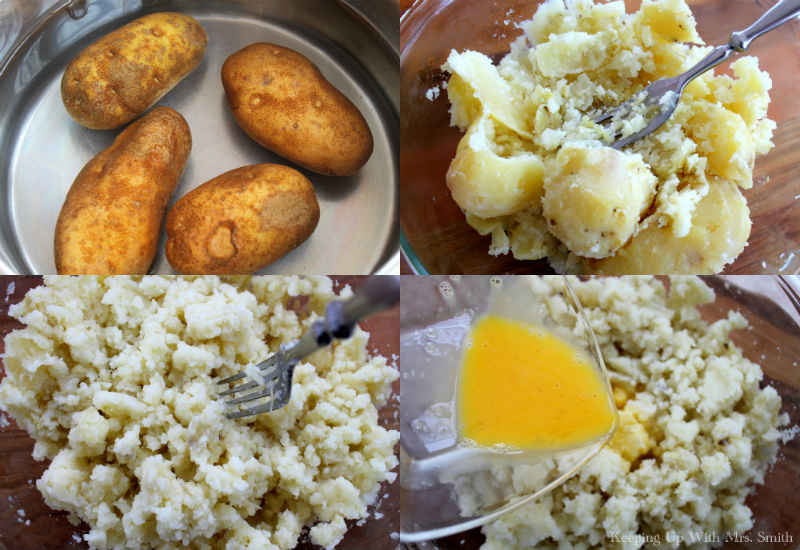 Cook's Note: Do not puree potatoes in a blender or food processor as this will make the potatoes too pasty and gloppy for gnocchi.

Allow the potatoes to cool for at least 20-30 minutes and then add one large beaten egg.  (If the potatoes are still hot they will start cooking the egg!) 
Next, whisk together 1 teaspoon of salt and 1-1/2 cups sifted flour and add to potatoes.  Lightly stir until flour is mostly incorporated.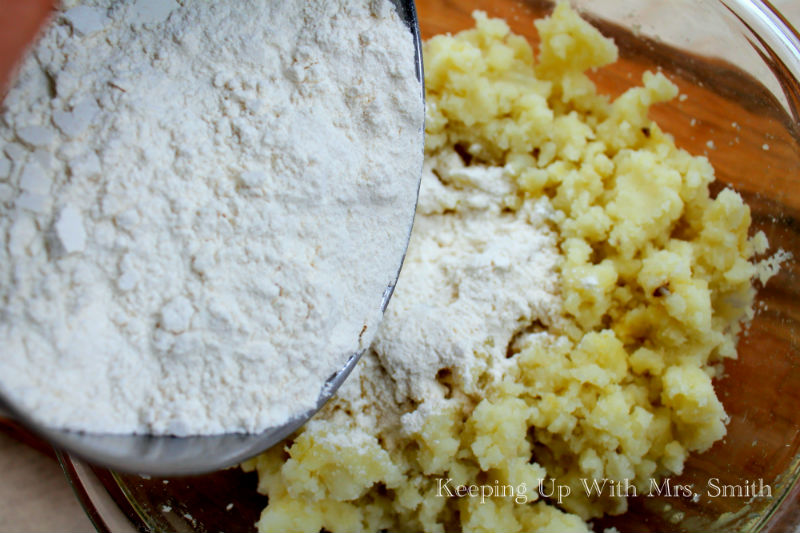 Finish mixing the dough with your hands until the flour is moistened and the dough starts to come together.
Gather the dough together and press is against the bottom of the bowl until it just forms a uniform ball.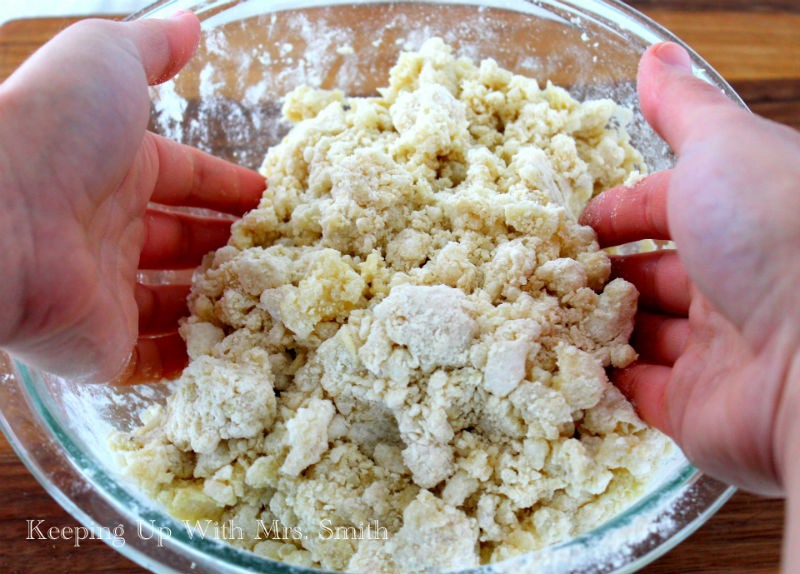 On a floured work surface, knead the dough until it is soft and smooth but still a little sticky (about 30-60 seconds).  Do not over-knead!
Cover dough with towel to prevent drying.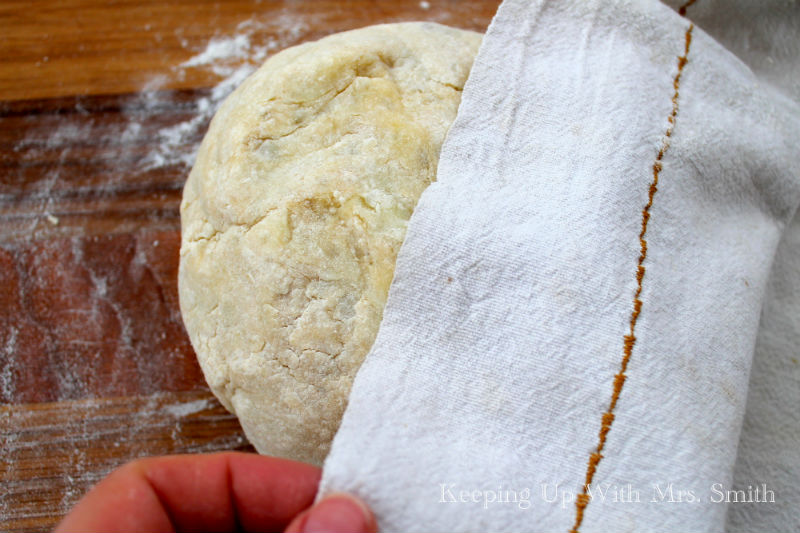 Give your counter another dusting of flour and pull off a chunk of dough roughly the size of a large lemon.
Roll dough into a long rope about 3/4″ in diameter.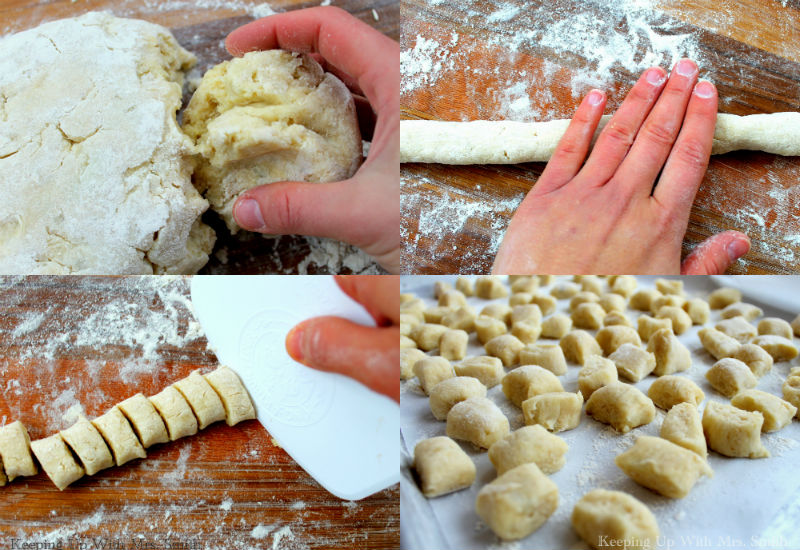 Using a sharp knife or bench scraper, cut the rope into 3/4-in squares (this was my first round so they looked more like rectangles *giggle*).
Place gnocchi on two baking sheets that have been lined in parchment and dusted with flour.
At this point, you can either roll the gnocchi along fork tines to create the signature ridges or you can go easy on yourself and skip this step!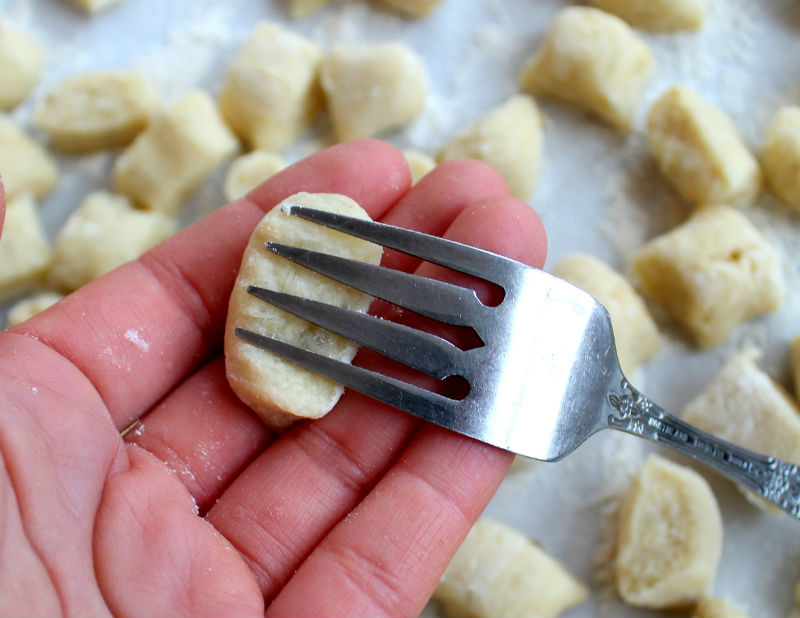 Cook's Note: To freeze, place gnocchi in the freezer while they are still on the baking sheet for at least one hour until each piece is hard to the touch.  Transfer to ziploc bags and freeze for up to two months.
Cooking the Gnocchi
Bring a large pot of water to a boil over medium-high heat and add a tablespoon of salt.
Add one-third of the gnocchi to the water and gently stir once.  Cook for 1 minute or until the gnocchi float to the top.
Remove with a slotted spoon or spider, gently shake off the excess water and transfer to a plate.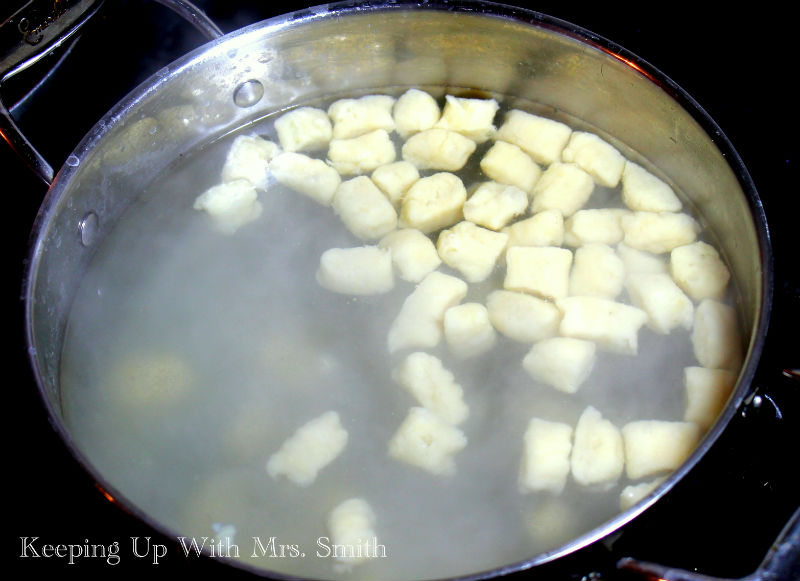 Bring water back to a boil before cooking the remaining two batches.
**********
To brown, melt one tablespoon of butter in a large, non-stick skillet over medium-high heat.
Add one-third of the gnocchi and saute until golden brown, shaking the pan occasionally to turn.  Transfer to a plate and repeat this process with the next two batches.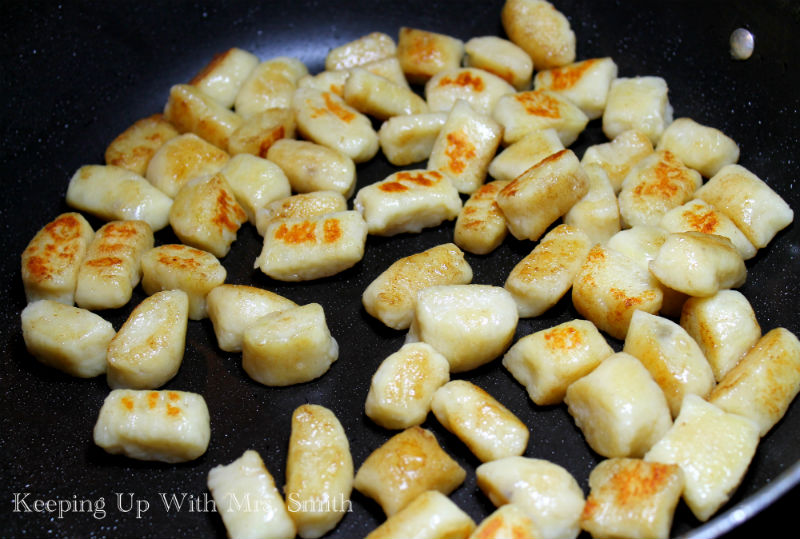 Dressing the Gnocchi
According to my wonderful Italian friend, the best ways to enjoy gnocchi are in simple sauces such as browned butter and herbs…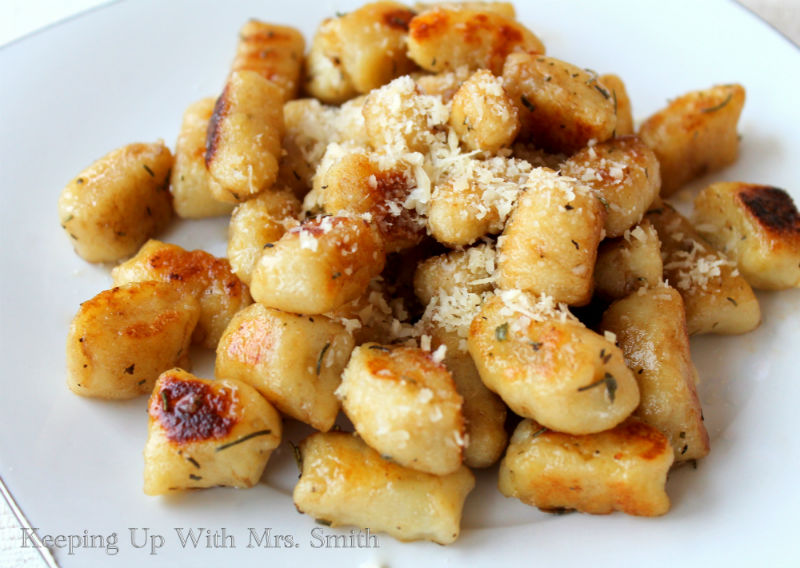 …or tomato ragout.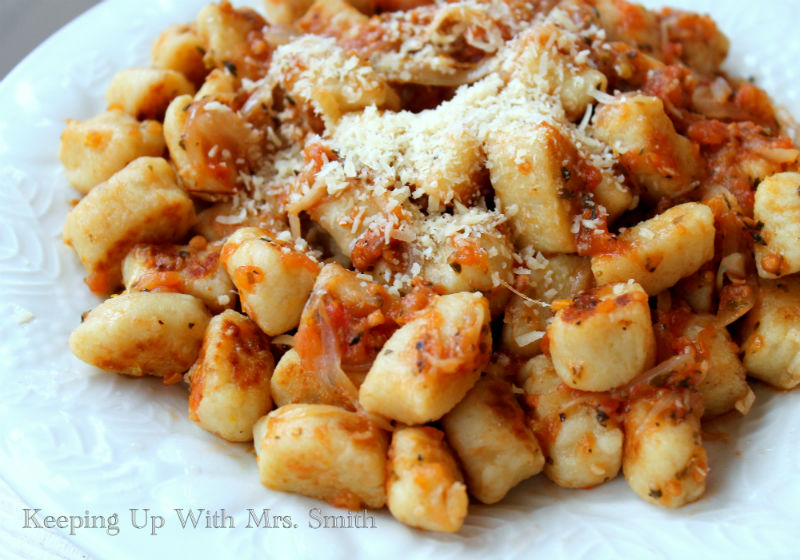 For how-tos on each of these delicious sauces, visit my page today at Keeping Up With Mrs. Smith.
Warning: Once you start nibbling hot, buttery, herb-kissed gnocchi, it's hard to stop!
Thanks again for allowing me to share today! 
Join me next week for another adventure with a delicious food I have yet to make…