This post is a definite departure from what you're used to seeing here on Create & Babble. We're almost always about all things crafty and DIY. Maybe a few of you have even gotten used to an occasional story about bicycle riding. But I thought it might be fun to post about what else I do besides making pretty things.
And since I live in a somewhat touristy area – Lancaster County, Pennsylvania – there's probably at least a few of you who might enjoy these behind the scenes posts. I hope.
We all are probably somewhat guilty of not enjoying what is "in our own backyards" so I'm going to call this little series "In My Own Backyard". I really do hope you enjoy these little glimpses into my personal life as we pull back the curtain a little here at Create & Babble.
In My Own Backyard – Kayaking in Lancaster County, Pennsylvania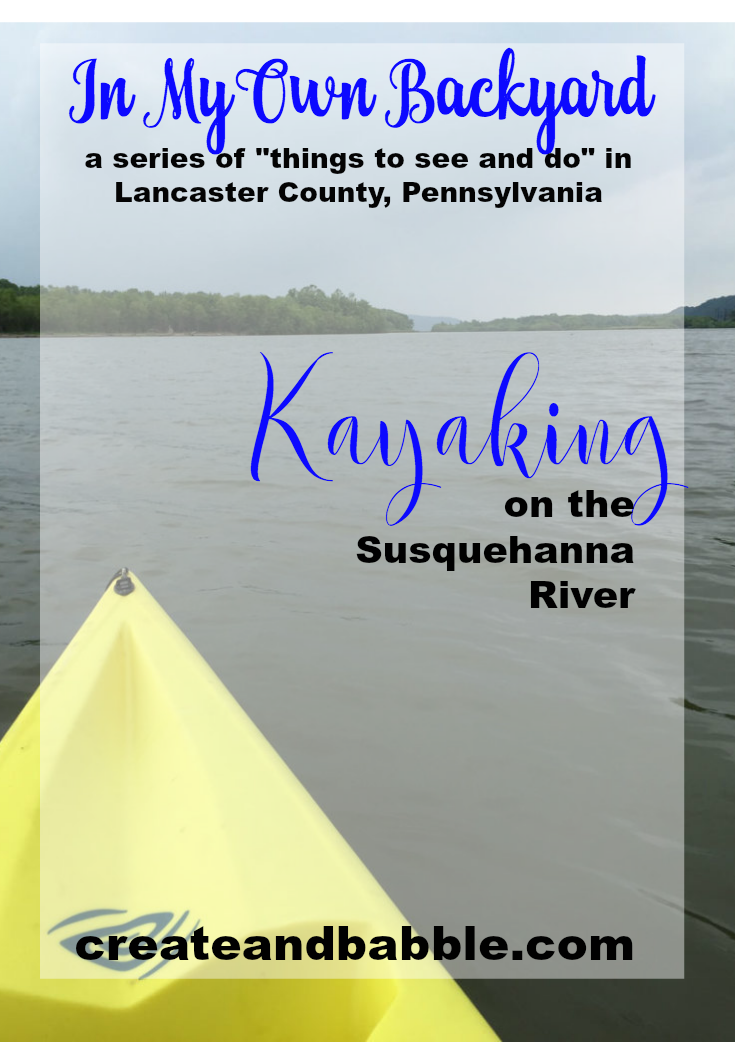 Dan introduced me to kayaking when we first met over 10 years ago. We used to kayak pretty often back in those early days. But lately? Not so much. Until now. Ever since I "got healthy" (meaning I quit smoking and lost a bunch of weight) I've been wanting to do more things that I felt uncomfortable doing before. GUYS! I even signed up for paddle board lessons! Is this a midlife crisis? Nah. I am just way less self-conscientious since "getting healthy"!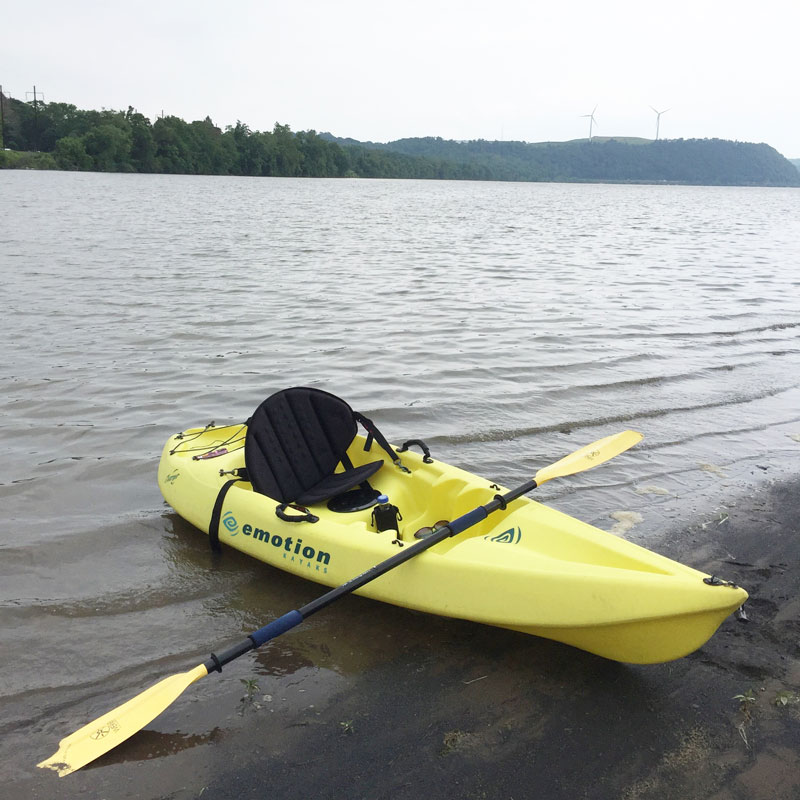 We just recently found out about a launch site not far from us. It's actually located on the portion of the Susquehanna River that is called Lake Clarke. This section of the river became a lake when the Safe Harbor Dam was built. This area is also known as Conejohela Flats where many bird watchers come to see and photograph the wildlife. There is also another attraction here for boaters. It's called The Sandbar. And that's where Dan and I spent a couple of hours paddling on Sunday. The water was very calm so it made for a very smooth and relaxing paddle.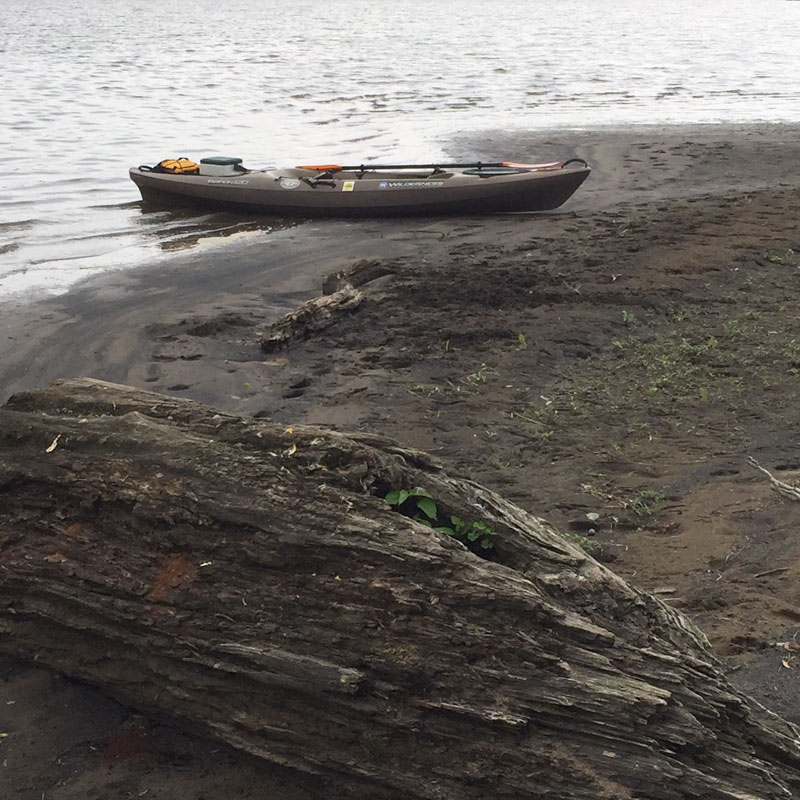 If you are a follower of Create & Babble on Facebook, then maybe you saw the live video that I posted. I was so impressed with the experience that I just had to show everyone! We so enjoyed paddling from island to island. It was so peaceful and serene.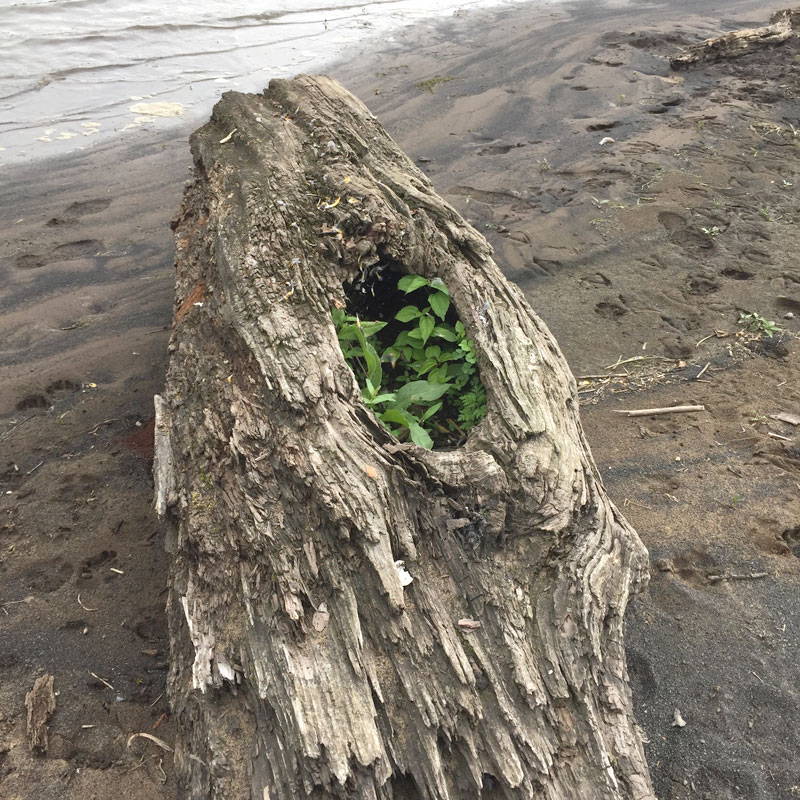 I had to take a picture of this log. Nature's centerpiece on this island ; )
There is definitely an advantage of kayaking. You get to go where bigger boats just can't!

This week kayaking. Next week paddle boarding! I'll let you know how the paddle board lessons go!
In the meantime, if any of you are paddle boarders and have any advice, I'm all ears!
I link up at the following parties:
Tutorials & Tips / Monday Funday / Creative Corner / Merry Monday / Bewitchin' Projects Block Party /That DIY Party / Inspiration Monday  / Project Inspired  / Creative Spark / The Scoop / Grand Social /  From Dream to Reality / DIY & Recipe Linky / Dream.Create.Inspire / You're Going to Love It Tuesday  / Show & Tell / Moonlight & Mason Jars / Create & Share / Talk of the Town /  Whimsy Wednesday /  Wow Us Wednesdays / Welcome Home Wednesdays / Lovely Little Link Party / Create It Thursday / Thursday Favorite Things / Creative Spark / The DIY Collective / This Is How We Roll / Weekend Retreat / Party Junk / Celebrate It / Foodie Friends Friday / Friday's Furniture Fix / Creativity Unleashed / The Creative Circle / Freedom Fridays / Shabbilicious Friday / Remodelaholic Anonymous / Feathered Nest Friday / Sweet Inspiration / Link Party Palooza / The Party Bunch  / Best of the Weekend / Party Junk / Share it One More Time / DIY Sunday Showcase / Sundays at Home /