Why should bread machines have all the fun?….
Hello, everyone!  Today I am picking back up on my series I've Never Made… and this week it's sourdough bread from scratch.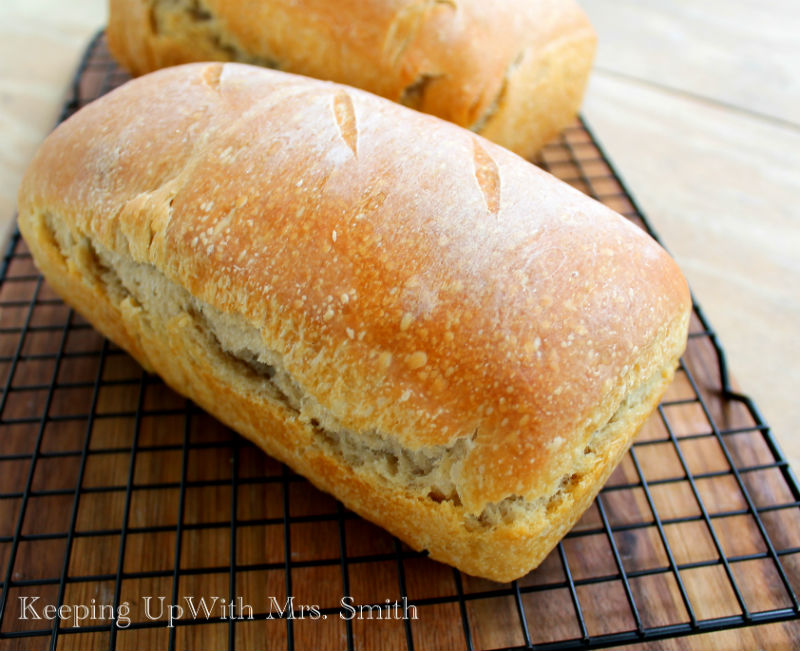 Growing up, we always had homemade bread around thanks to Momma.  In keeping up with the tradition, I've been making homemade bread since college but have never tried sourdough because this was one type Momma did not make.  Fluffy loaves of French bread, yes.  Pillow soft dinner rolls, yes.  Crusty boules of sourdough, no.  And after going through the process, I can see how a mother of five would have chosen quicker yeast breads instead.
This is because sourdough is a romance.
You must tend to it, nurture it, wait for it.
And wait for it.
And then wait some more for it.
But in the end, you produce a beautiful thing:  A fresh, hot loaf of crusty-on-the-outside, chewy-on-the-inside sourdough bread: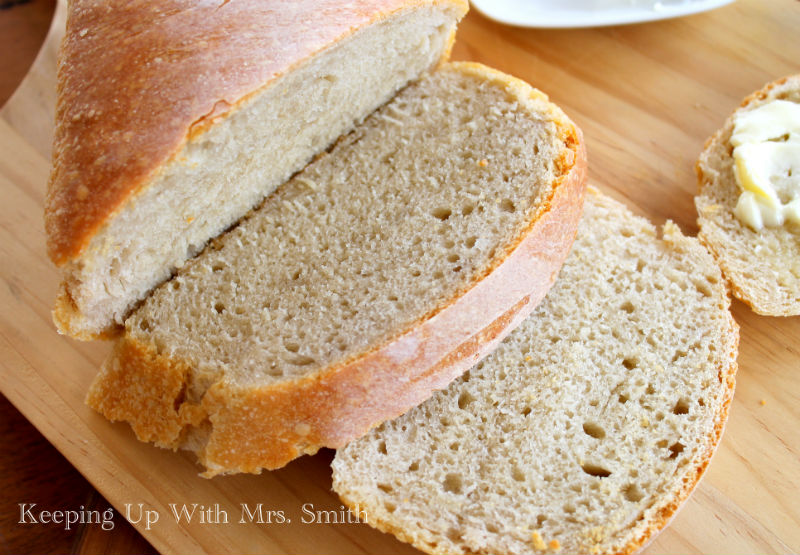 Do you enjoy the process of nurturing a recipe from start to finish?
Then follow me on the journey of how this loaf of bread came about…
Beginner Sourdough Loaf
The two sources I used were Holly Hammersmith Blog and The Kitchn.  Holly shared how she used the starter and bread recipe from The Kitchn, and since her results looked promising, I decided to do the same.
MAKING THE STARTER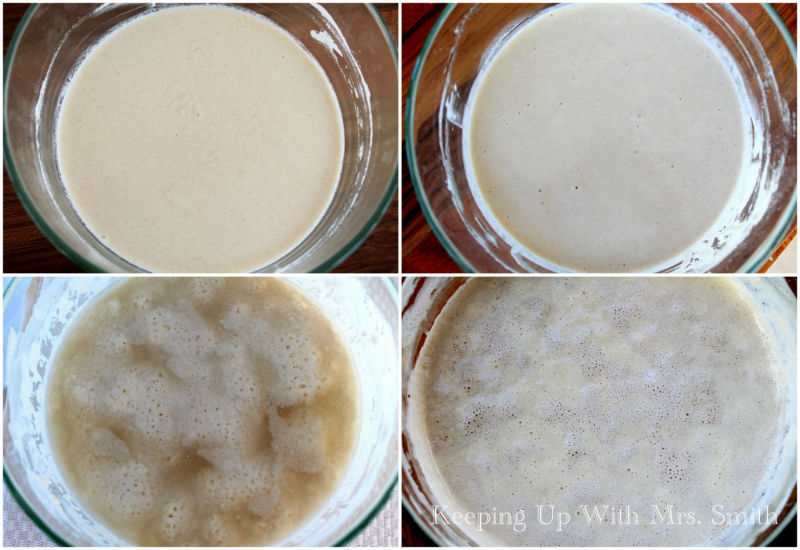 Sourdough, as I learned last week, does not happen overnight.  Give yourself 4-5 days to build your starter.
Day 1: In a 2-3 quart glass container, add 1/2 cup unbleached, high-quality all-purpose or bread flour and 1/2 cup filtered water.  Mix with a wooden spoon until smooth.  Lightly cover and leave in a spot of consistent room temperature (70-75 degrees).
Day 2:Add another 1/2 cup flour and 1/2 cup water to your starter and stir until smooth.
Day 3: Your starter should smell sour and have lots of little bubbles on top.  This is good.  Reward your starter with another 1/2 cup flour and 1/2 cup water.  (If the mixture is green or tinged with orange, toss it and start again.)
Day 4: Your starter should be even more foamy today.  Add 1/2 cup flour and 1/2 cup water.
Day 5: Your starter should be twice the size as it was one Day 1.  Now it is ready to use.  Scoop out 2 cups for use in the bread and place the rest in the fridge.
Maintaining your starter: Continue to feed your starter, only this time just once a week with 1/2 cup flour and 1/2 cup water.  Cover it tightly and place it in the fridge.
PREPARING THE DOUGH
In a large bowl, dissolve 1-1/2 teaspoons active-dry yeast with 2 cups warm water.  Pour in 2 cups of sourdough starter and stir in 1 cup of unbleached, high-quality flour until smooth.
Add another cup of flour and stir until full incorporated.  Repeat with another 2-3 cups of flour until your dough forms a ball and looks like this: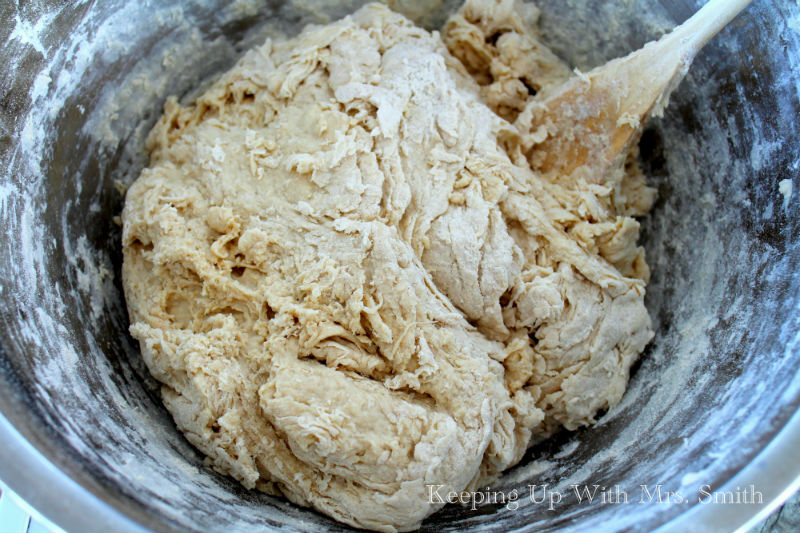 Dump dough onto a lightly floured surface and knead a few times until smooth.
Flatten the dough with your hand and sprinkle with 1 tablespoon of sea salt.  Fold dough over and sprinkle with 1/2 tablespoon sea salt and knead dough for ten minutes.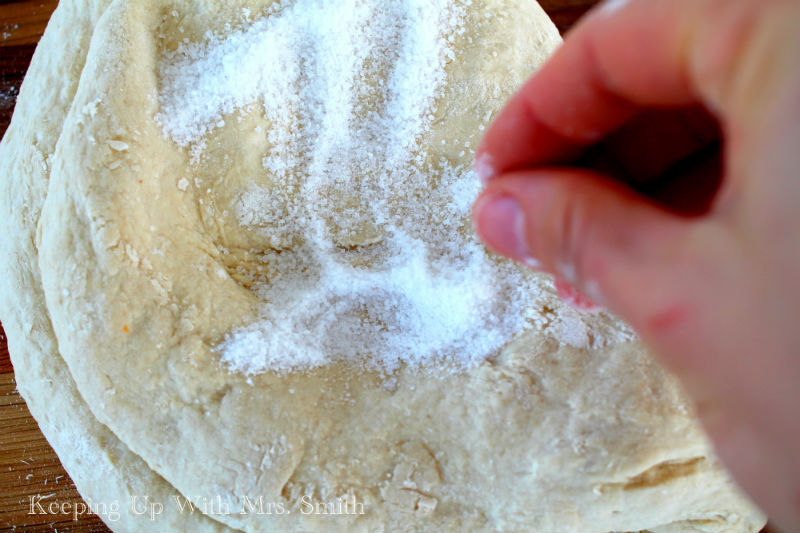 Allow dough to rest for 5 minutes and then knead the dough for another 10 minutes.
Cook's Note: 20 minutes of kneading??  Yes.  Just skip doing arms at the gym this day.
The dough is properly kneaded when it springs back immediately when lightly poked: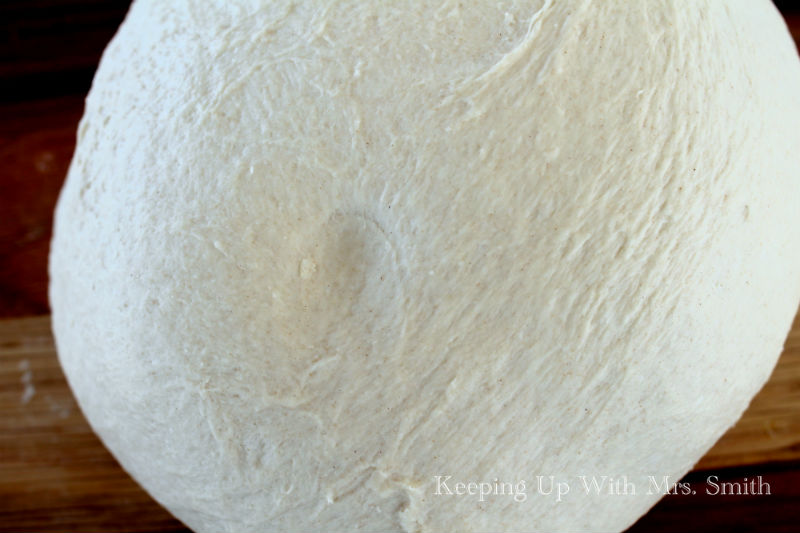 Wash the bowl, dry and add 1 tablespoon of olive oil.  Place dough in bowl and turn to coat.
Cover bowl with a damp towel and allow dough to rise in a warm place for 2 hours.  Once it's risen, punch all the air out of the dough and allow to rest 5 minutes before shaping into loaves.
I actually did not have time to shape and bake the loaves the day I made the dough so after punching the dough, I tightly wrapped the bowl and set in the fridge until I could get to it the next day.
Grease two loaf pans.  Divide dough in half and shape into loaves.  Place in pans and allow to rise in a warm place for 1-1/2 to 2 hours or until dough has crested the top of the pan.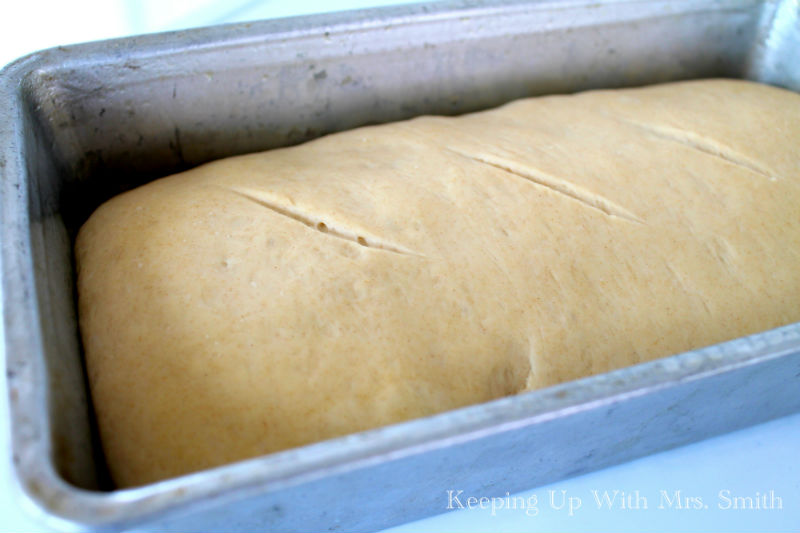 Cook's Note: After 2 hours, my loaves still had not "crested" so I went ahead and baked them as is.  I'm thinking the night in the fridge stunted the yeast a bit. :/
BAKING THE BREAD
Preheat your oven to 450 degrees and place the rack in the center.  Meanwhile, bring 4 cups of water to a boil.
When the oven is ready, place a pan in the bottom of the oven and carefully pour the boiling water into it.
Immediately place the bread in the oven so as not to lose too much steam from the water.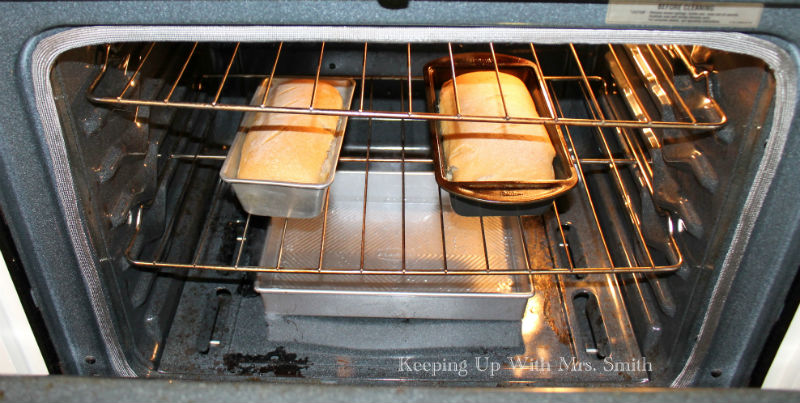 Bake for 10 minutes, then rotate the pans 180 degrees and bake until the loaves are lightly golden on top (about 5-10 more minutes).
Once golden, reduce heat to 400 and bake another 25-30 minutes until the loaves are deep golden and make a hollow thump when tapped.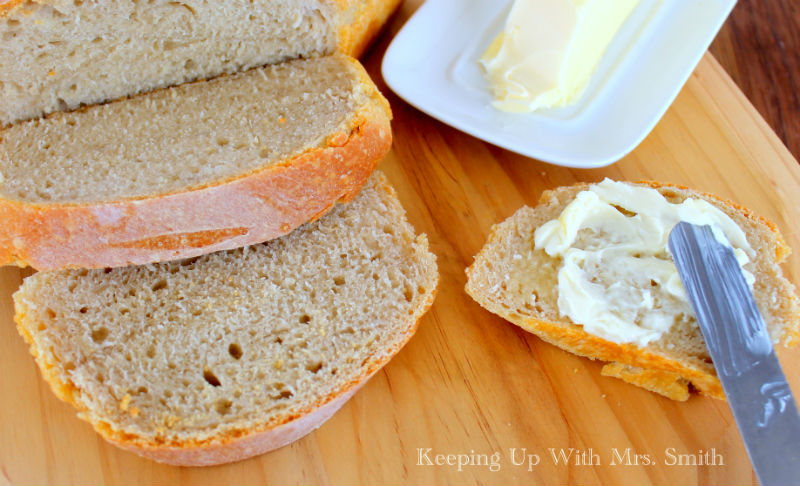 Cool on racks, slice and serve.
This was such a fun little adventure that I plan on experimenting further with different recipes.
NOTE: Oddly enough, the original recipe I used from The Kitchn is no longer be available as of today.  It has been replaced by a new recipe that uses less water, replaces the sea salt with kosher and the results seem softer and fluffier.  Okay, then.  Guess I have a new recipe to try.  🙂
Thank you all for letting me share with you this month!!
Since there are so many foods I have yet to try, this will not be the last of this series so please feel free to follow me at Keeping Up With Mrs. Smith!