My grandson will be attending his first Adventure Camp later this month and I'm not sure who is more excited! Our favorite outdoor outfitter has a Discovery/Adventure Camp every summer and this is the first year that my grandson is old enough to go. There will be kayaking, fishing, caving, hiking, and exploring. He's going to love it! And he's going to need a bag to haul some of his "stuff" to camp. Of course, he'll carry a backpack for his daily supplies but he'll also need a tote bag for the extra change of clothes and essentials that won't go in the backpack. This is the perfect opportunity to use the July Club Couture Transfer!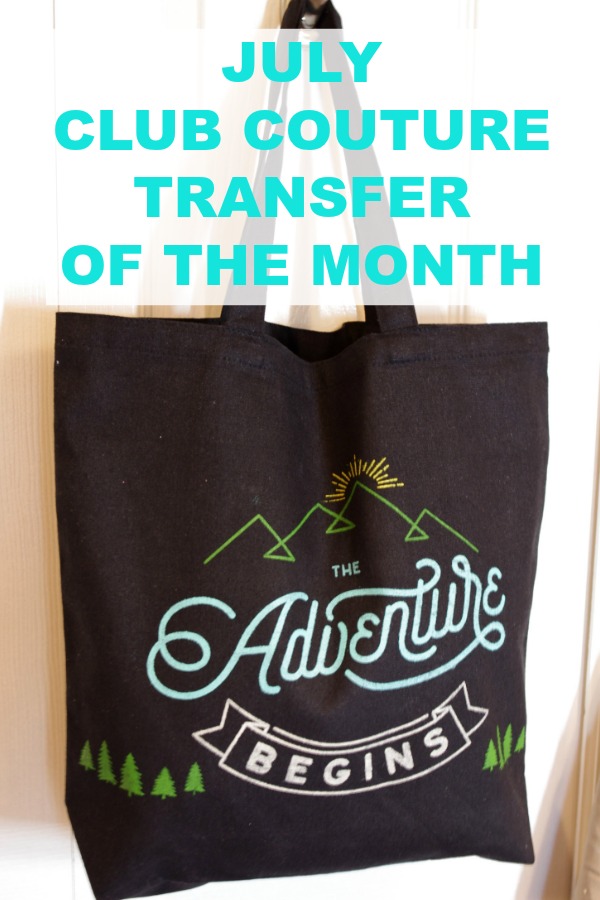 The July Club Couture Transfer is called Adventure Begins and it's perfect for this project.
What is Club Couture?
Each month, Chalk Couture releases a new Transfer specifically for Club Couture. Club Couture Transfers are always B-sized (8.5″ × 11″), and they are designed with both simplicity and seasonality in mind. These are always "on trend" with mass appeal. If you would like to join my Couture Club and receive a new Club Couture transfer every month, please send an email to me at jeanie@createandbabble.com and I will get you signed up!
Once you are in the Club, I will provide a video, supply list and step-by-step instructions for the next Club Couture Transfer.
What are Club Couture projects like?
I will provide plenty of ideas, but you create whatever you like! Each Club Couture project varies but as a general rule, I recommend using no more than 3 Paste colors + White. Or use just one color. This it keeps it affordable! You can choose a new color each month and that is a great way of building up your rainbow of Pastes and Inks! I also encourage you to invest in one Chalk Couture Surface and update it each month for the upcoming holiday or season. Occasionally, I'll mix it up by creating a gift item or will suggest an alternate surface.
July Club Couture Transfer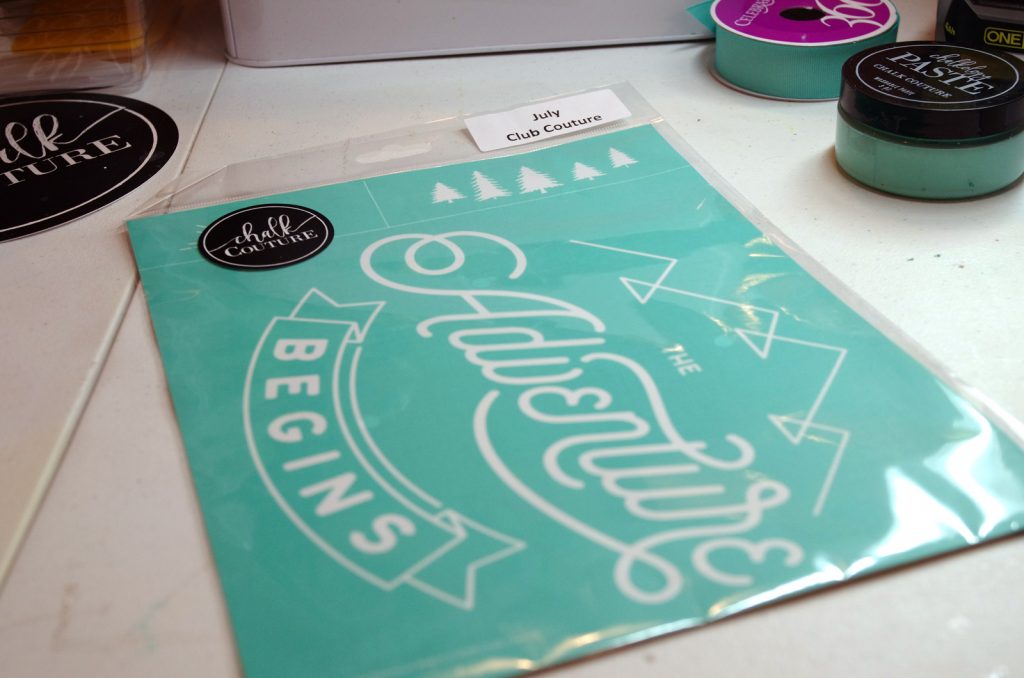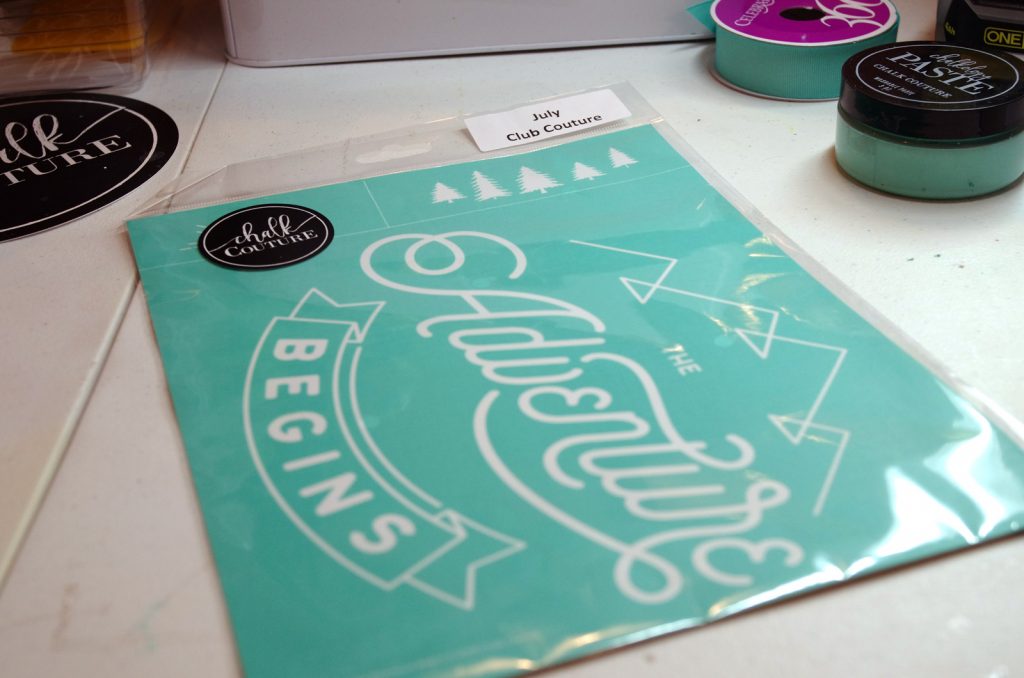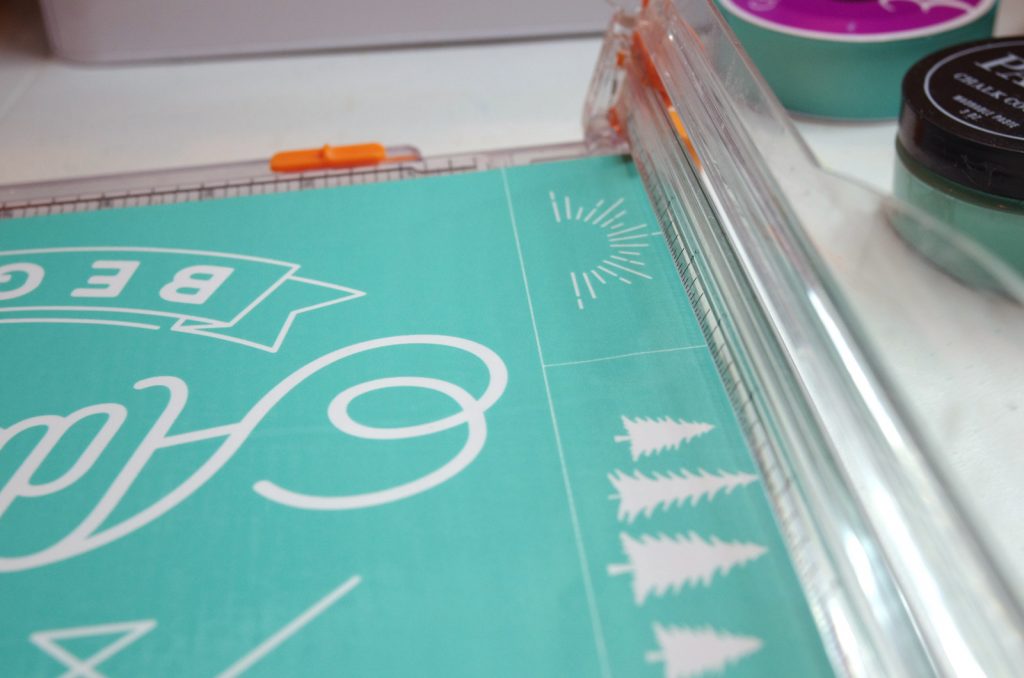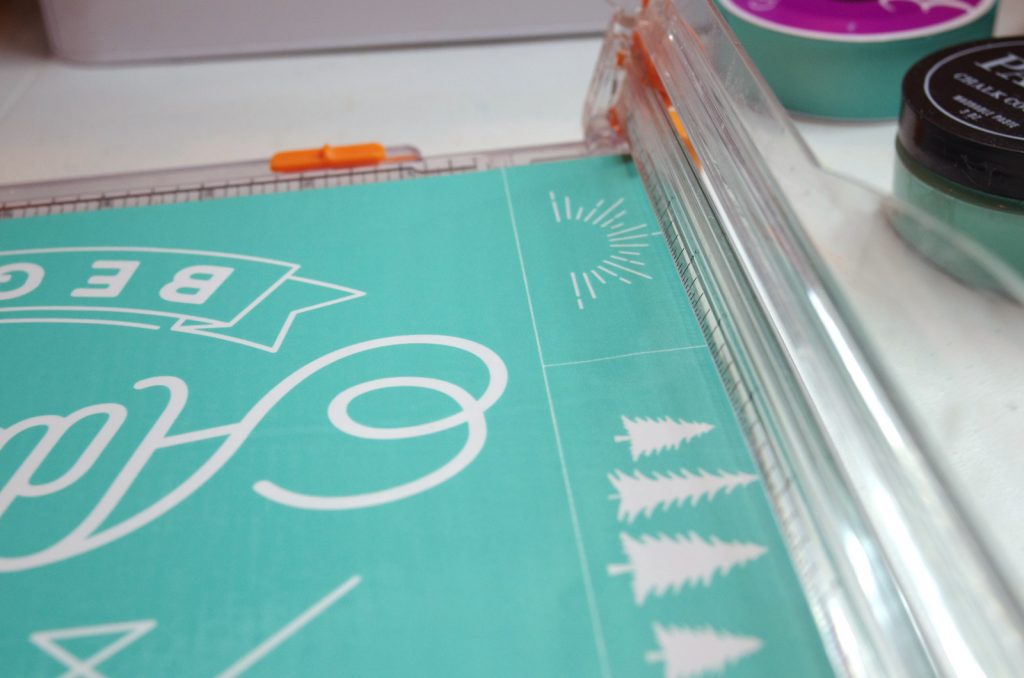 Step One – Remove transfer from packaging
Write a "B" on the back of the transfer before removing from the backing. Use a paper trimmer
or scissors if there are separate "parts" to the transfer. Use the white lines as cutting guides.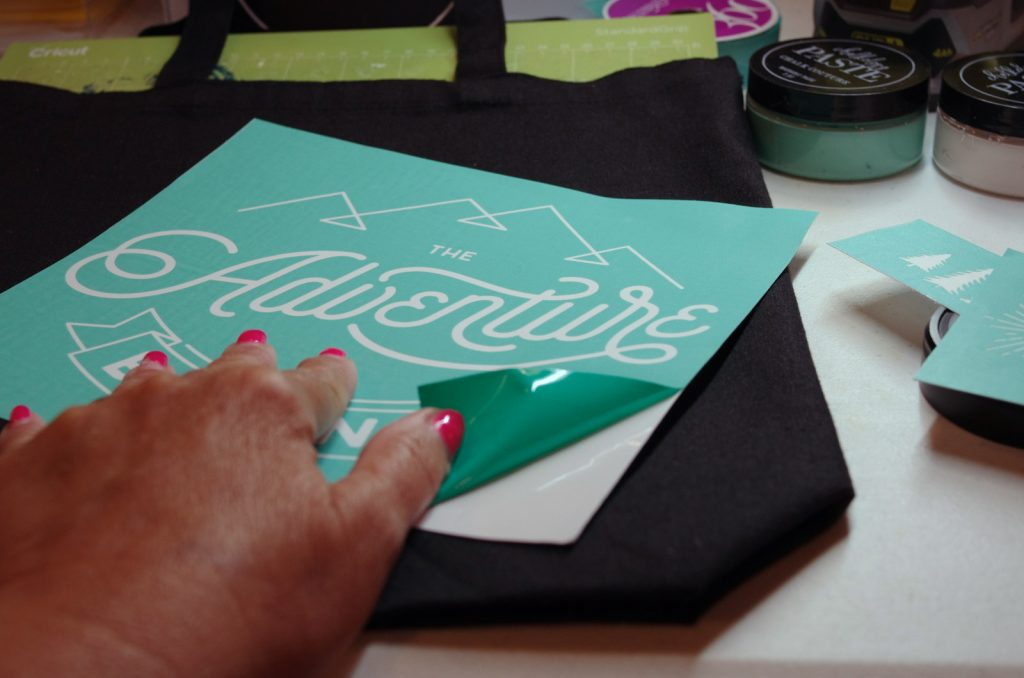 Step Two – Remove transfer from backing carefully
Slowly remove the transfer from the backing, being careful not let the transfer fold upon itself. Set backing aside to replace transfer back onto when you are done with it.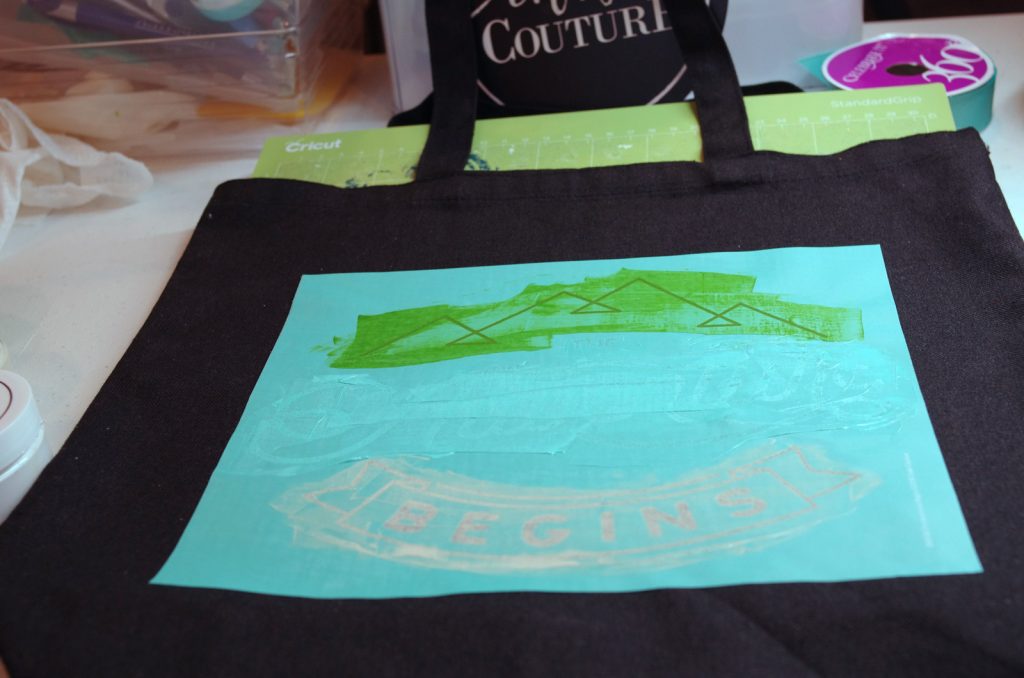 Step Three – Place transfer onto the surface
If you are placing on a fabric surface such as a canvas tote bag
like I did, place the transfer with the sticky side down where you want the design to be. If you are using a hard surface, such as a chalkboard, wood, ceramic, etc., be sure to "fuzz" the sticky side of the transfer by placing and removing from a towel a few times. This makes the transfer less sticky and easier to remove from a hard surface. (Also place a barrier inside the bag to keep the ink from bleeding through to the back of the bag – I used a Cricut mat and Chalk Couture sells an Ink Mat)
For this tote bag, I used the following Couture Ink colors: Fawn, Bright White, Bumblebee, Meadow, and Couture Teal. I think it would look awesome in just one or two colors, too!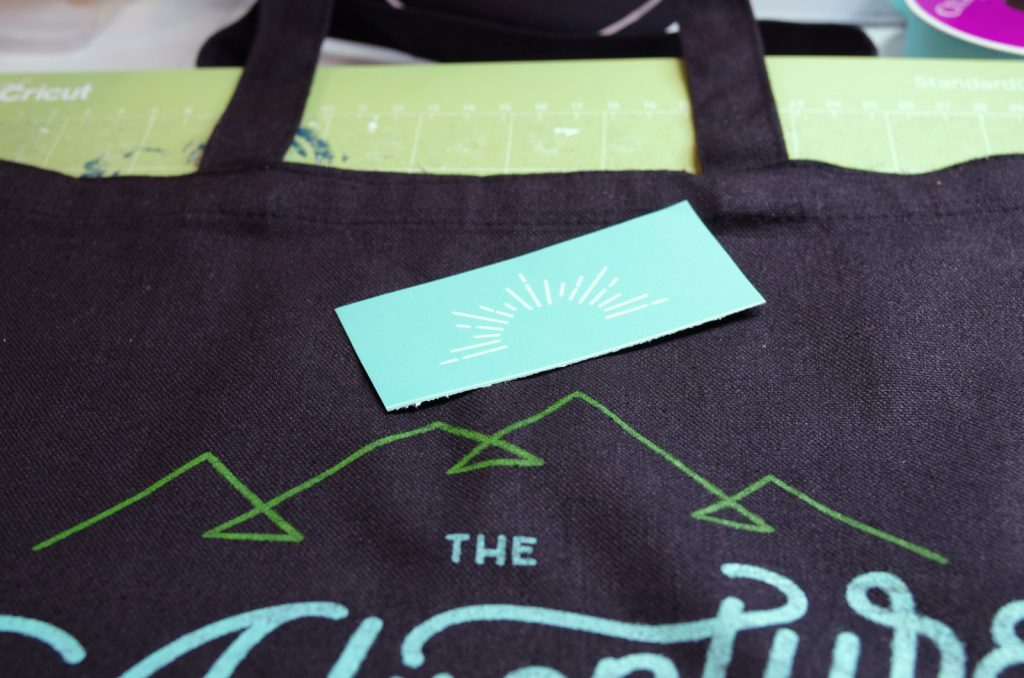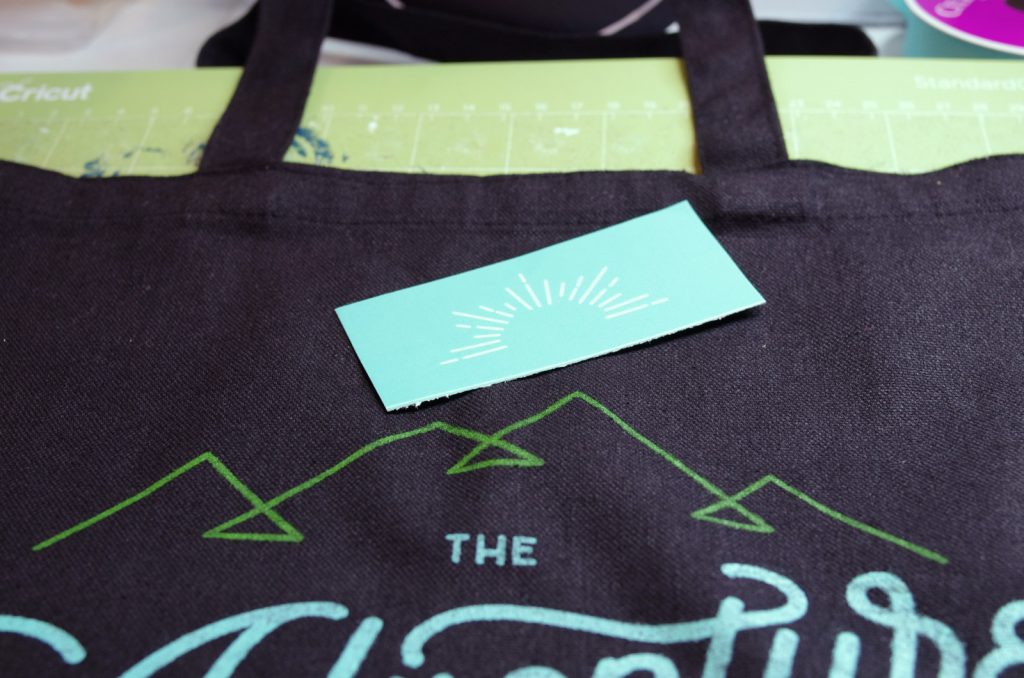 Step Four – Apply Ink
Using a squeegee, apply the Couture Ink over the open areas (silkscreen) of the transfer, removing the excess ink and scraping it back into the jar as you go along.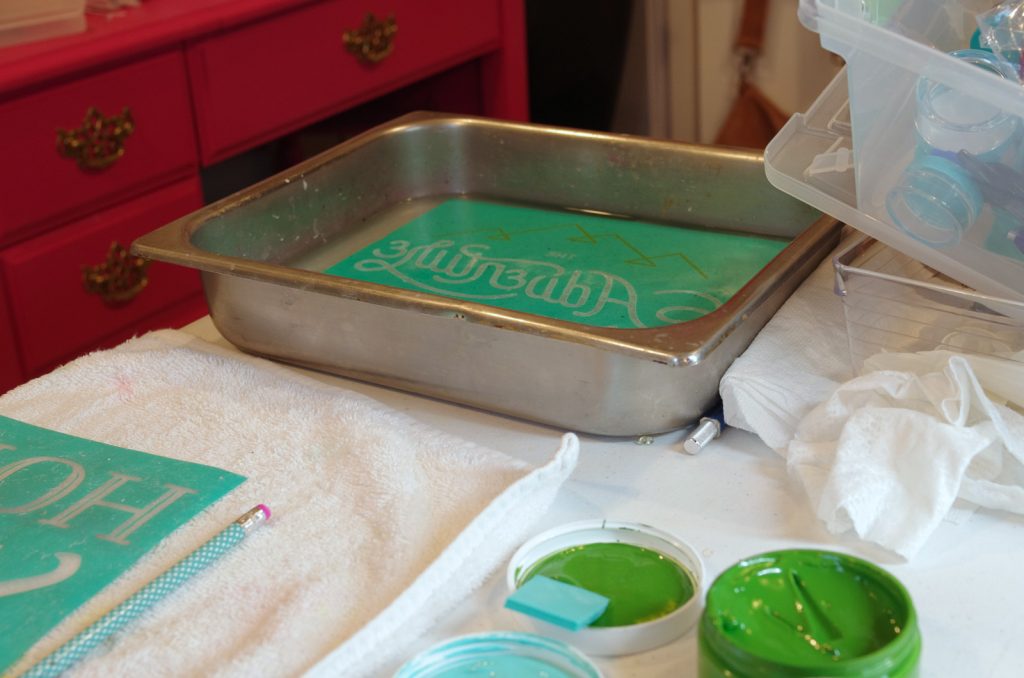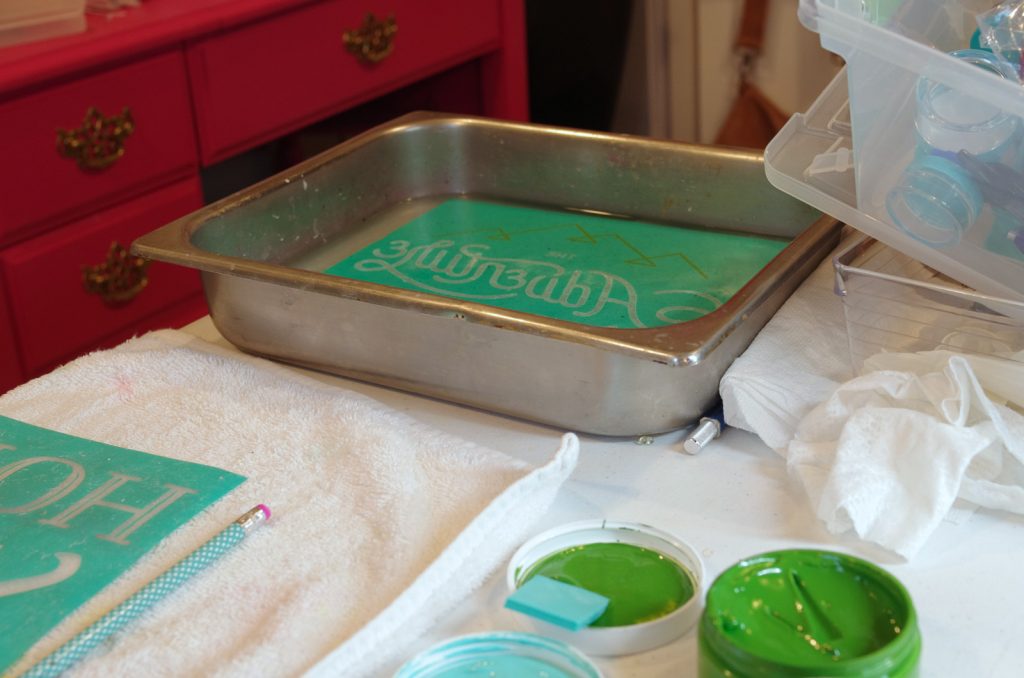 Step Five – Remove transfer
Remove the transfer while the ink is still wet, and place the transfer into a pan of water. Allow this design to dry before adding the other small transfers so it doesn't get smudged.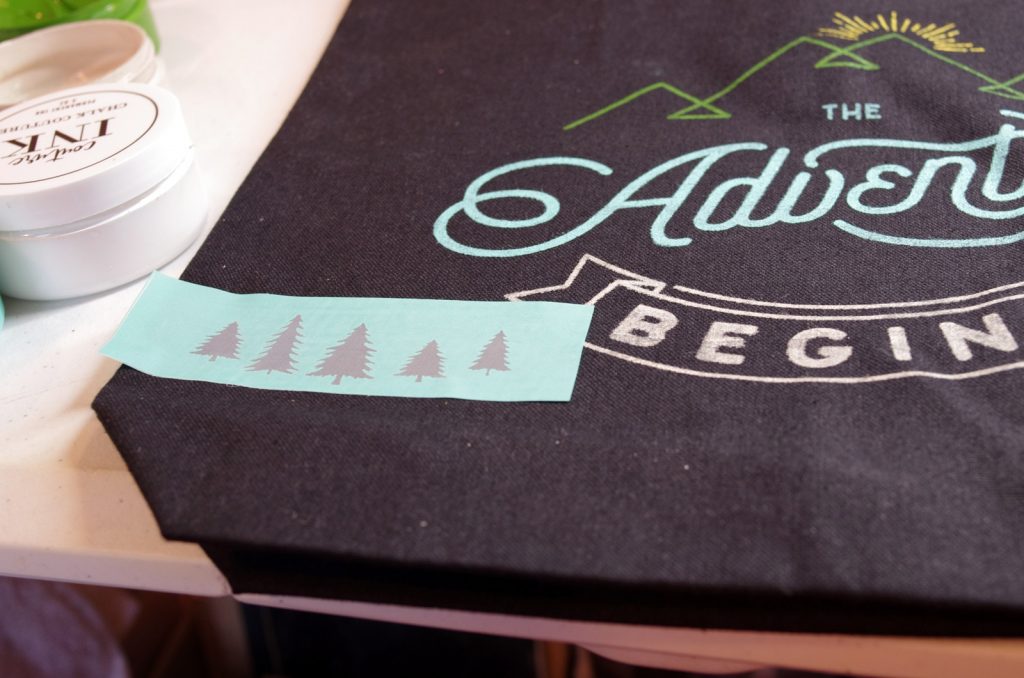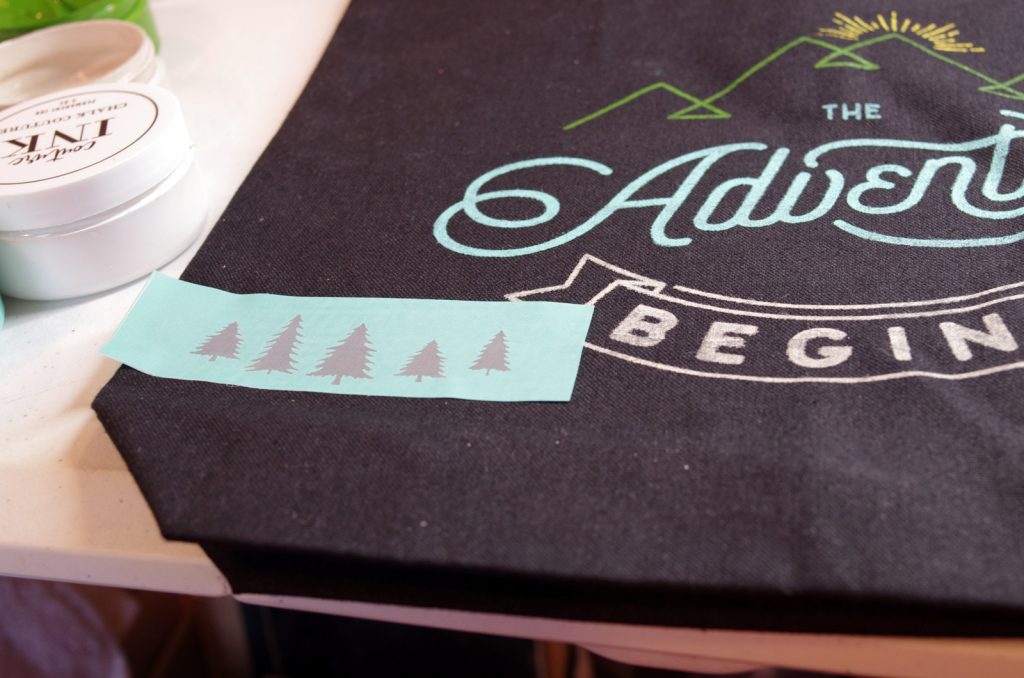 I add the trees to the bottom and the sun to the top of one of the "mountains".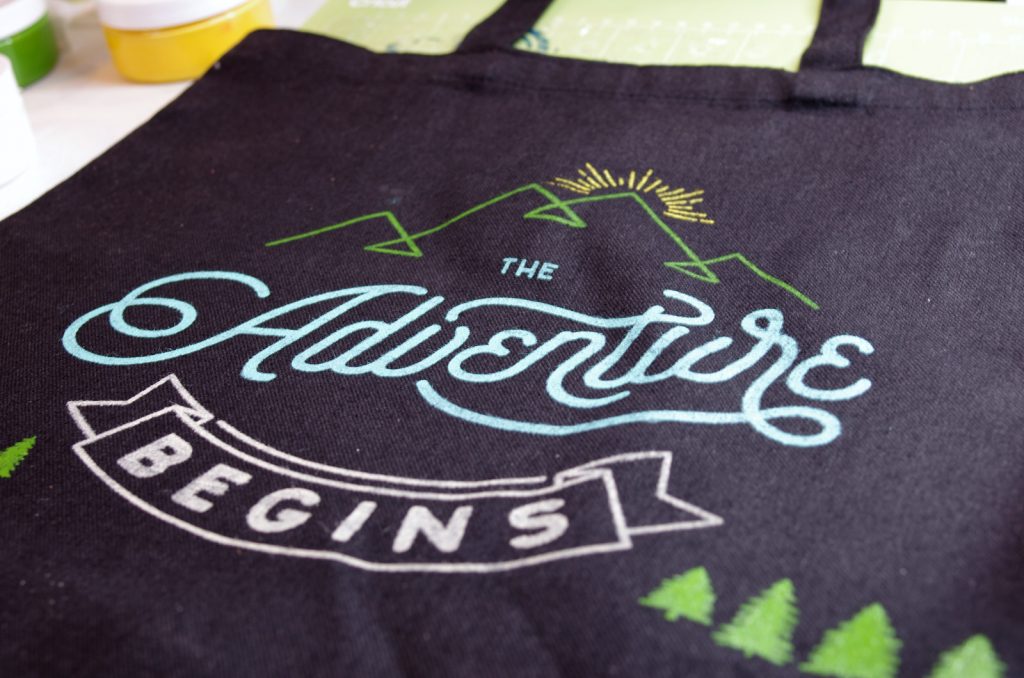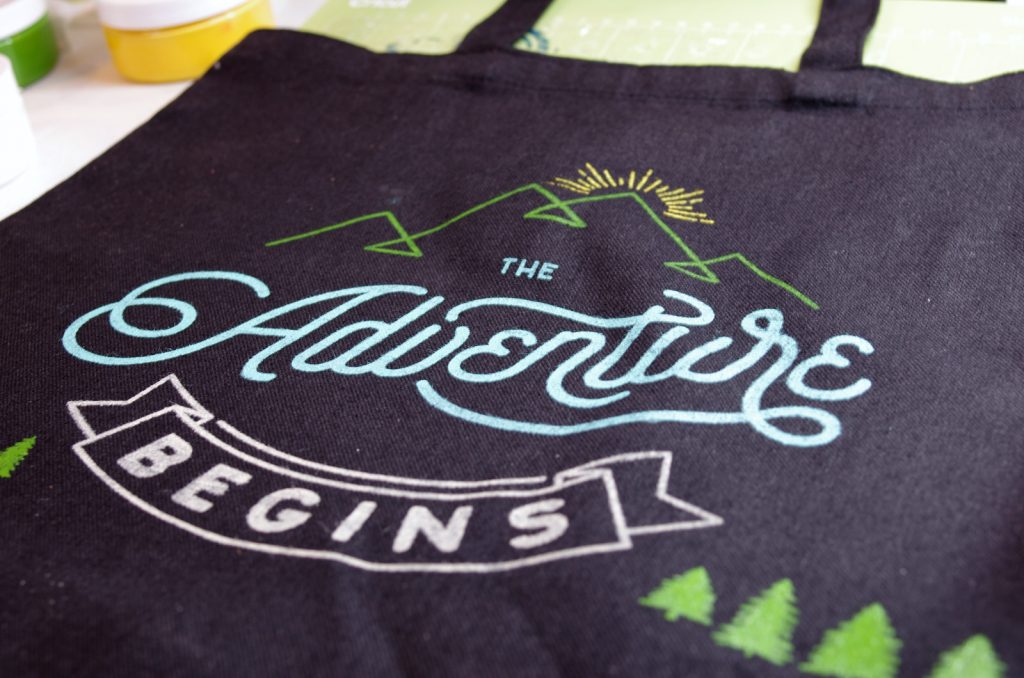 I love how it turned out! Do you have a camper or adventurer in your life who could use a bag like this?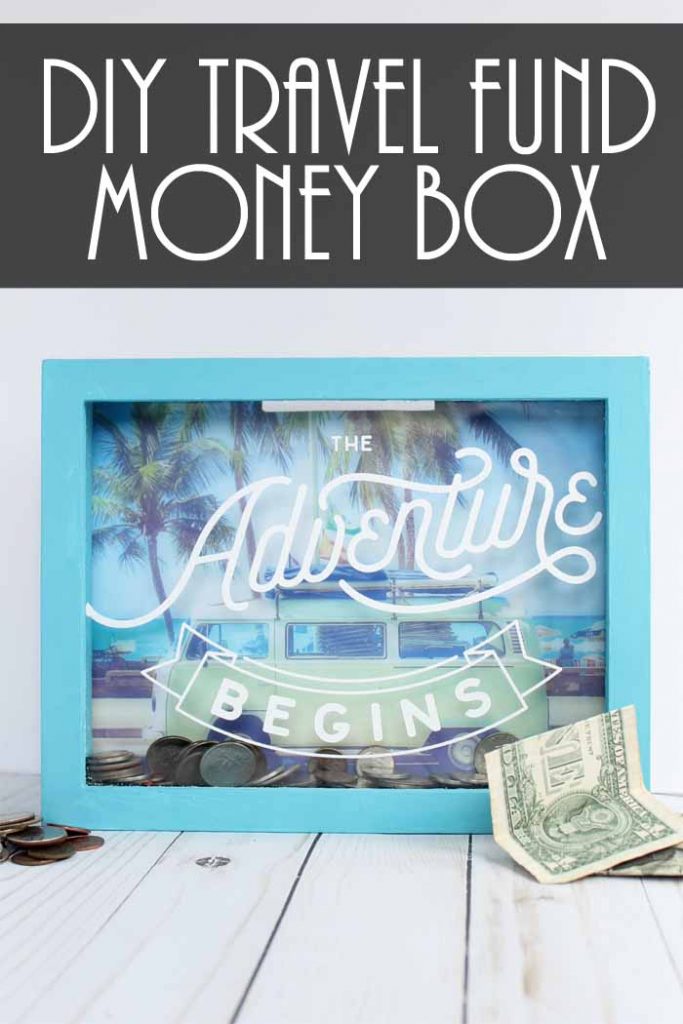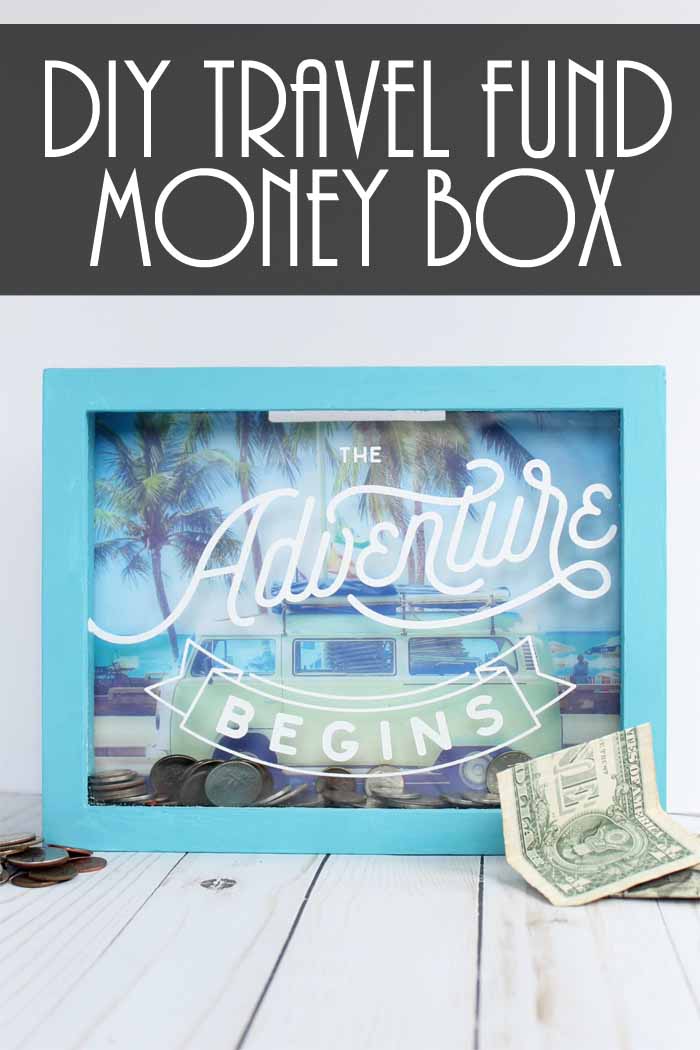 Click here for another fun idea on how to use this Adventure transfer from my friend Angie!
Here is Where I Party!