Hello everyone!  I am Maureen, and I blog over at Red Cottage Chronicles where I share recipes, DIY projects, organization and decorating our small cottage home!  I am so pleased to be here at Create & Babble today. I have been a fan of Jeanie for a very long time and am thrilled she asked me to share my recipe for Lavender Lemon Sweet Tea with you.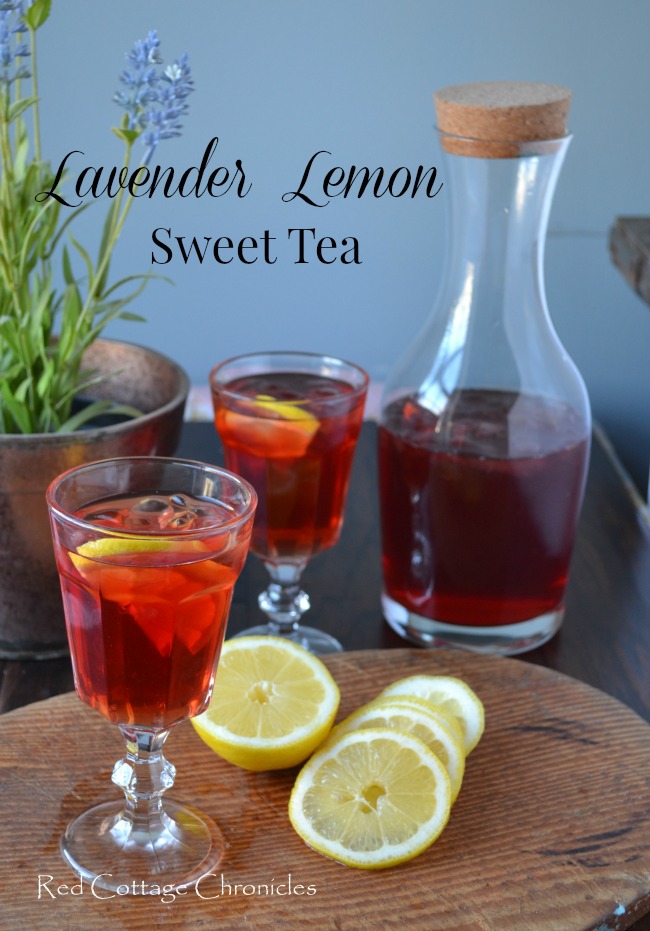 Sometimes I think secretly I was born in the South.  There are so many things I absolutely love that the Southerner's do so well.  Sweet tea is at the top of my list.  I discovered a classic recipe a couple of years ago and have to admit I make it every single day come summertime.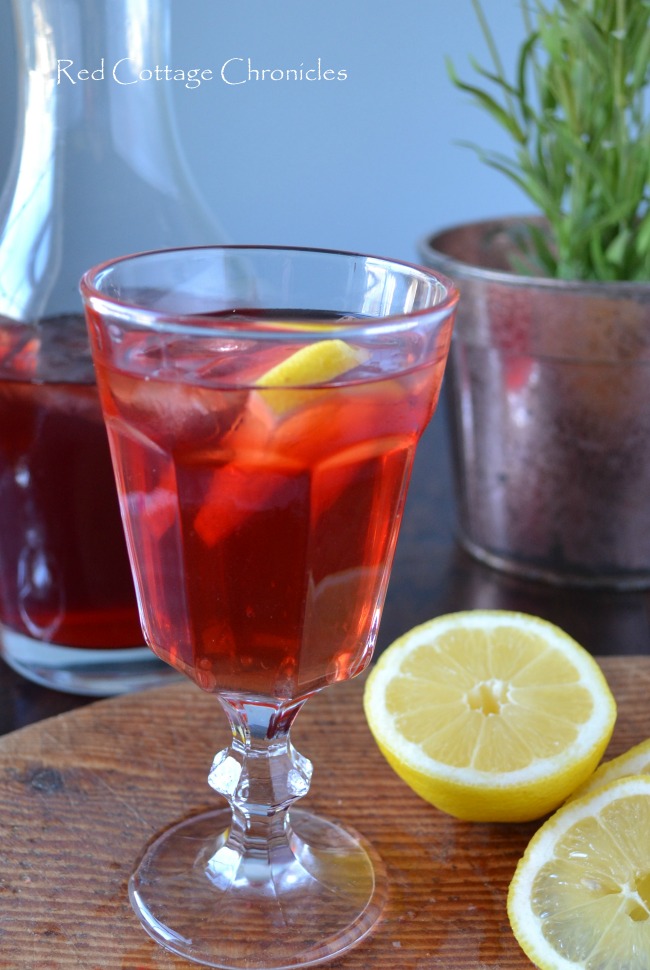 Anyone who knows me well, knows how much I love baking with lavender.  And the combination of lavender and lemon is a favorite.  These lemon and lavender squares are just one example.
One day while I was in the kitchen to bake some cookies,  I got distracted by some fresh lemons on the counter and somehow got to thinking how refreshing lavender lemon iced tea would be.  It was still snowing and -12 degrees. My mind works in mysterious ways!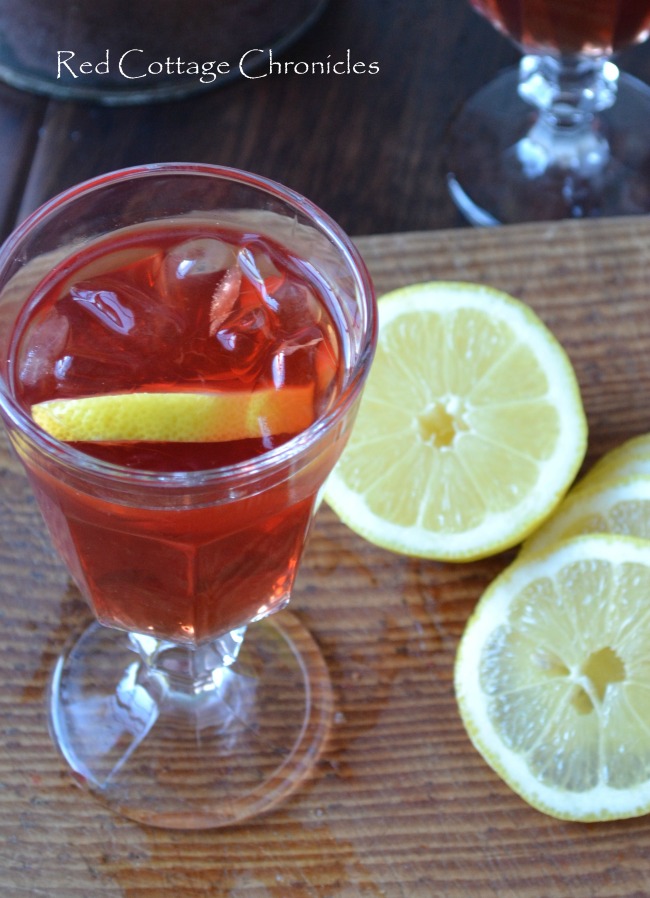 As luck would have it I had Lemon Zinger teabags and some lavender buds in the pantry.  I just used the lemon tea bags instead of the regular Lipton black tea bags, and made a lavender simple syrup.  What resulted was a refreshing, slightly floral flavoured lemon tea.
While I normally would have sweetened the whole batch, serving the lavender syrup on the side allows everyone to add just the right amount of sweetness that they prefer.  Serve with some fresh slices of lemon and ice.  How fancy is that?!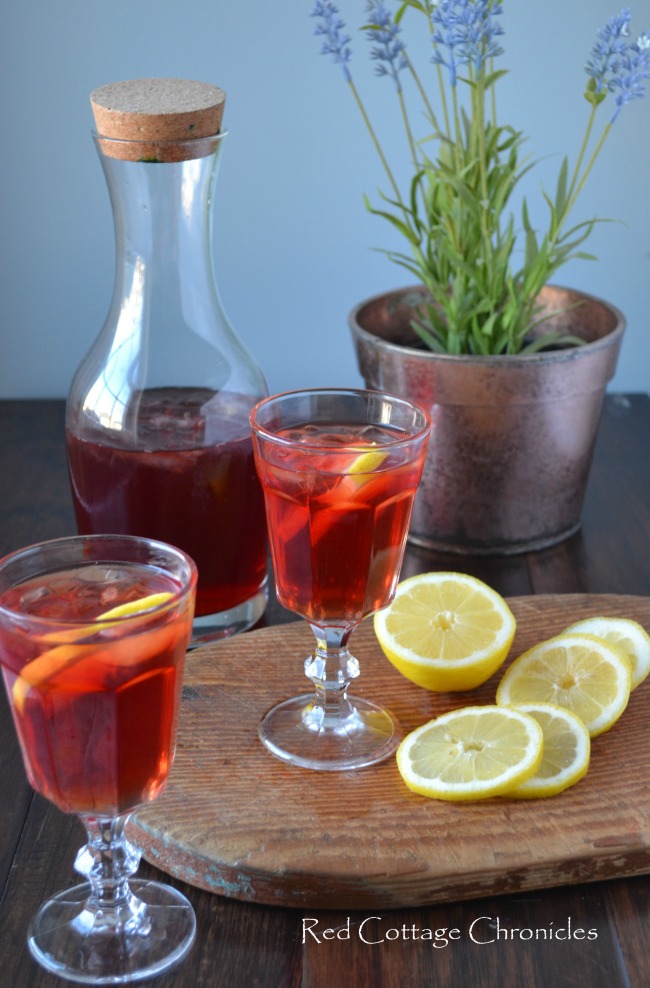 Since spring is finally starting to make itself known here in Canada after a very long snowy winter, we are starting to bring our screen porch and deck back to life.  I am already dreaming of a  tall glass of iced tea, feet up, birds chirping, moss hanging from the trees….oh, wait where am I again? No chance of moss hanging from the trees around here. Sigh!
But, I do have the lavender lemon sweet tea and the birds.
A girl can dream!
Maureen
LAVENDER LEMON TEA
Bring 1 quart of cold water to a full rolling boil.
Pour over 5 lemon tea bags, cover and steep for 5 minutes.  Remove tea bags.
Fill an 8 cup (2 quart) heat safe glass bowl with ice cubes.  Pour steeped tea over the ice and stir a bit.
Make a simple lavender syrup by adding 1 cup water, 1/2 cup granulated sugar, and 1 tablespoon dried lavender buds to a small sauce pan.  Bring to a boil and then reduce heat and simmer for about two minutes.  Remove from heat and allow to steep for 5 minutes.  Strain through a fine sieve and discard lavender.  (Syrup can be stored in the refrigerator for about 3 weeks if covered tightly)
In a large glass add some ice cups, fill with tea and add 2 to 3 tablespoons of lavender syrup.  Stir well and serve with fresh lemon slices.
—————-
Thanks Maureen, for sharing this sweet tea recipe! I'm looking forward to making this soon. I have never used lavender in cooking or baking but now I have to try it.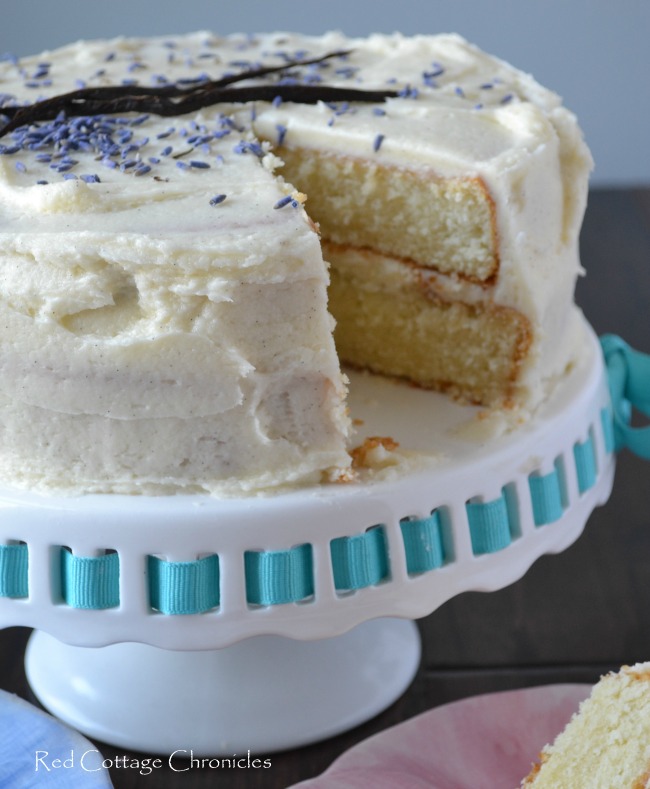 Maureen also has a recipe for Vanilla Lavender Cake that you must see.
I am such a fan of Maureen's blog, Red Cottage Chronicles. I love to read about the latest DIY projects going on in her home. And her recipes are so different and unique. You will droll over the photos. She's an artist when it comes to baking!