Black is the new Black. At least for me! I don't think it was intentional at first, but black seems to be the accent color in my home.
So when I found this dresser in serious need of a makeover, I immediately knew I wanted to paint it with Miss Mustard Seek Milk Paint in Typewriter.
Miss Mustard Seed describes Typewriter as an off-black or soft black.  It is named for the black color traditionally found on antique typewriters.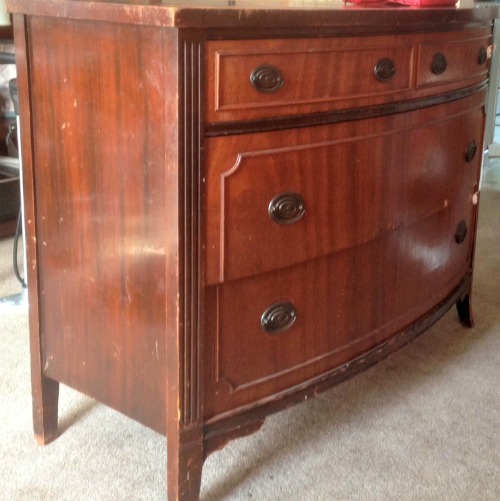 Let's get right to the after photo and then I'll tell you about my tips for working with MMS (Miss Mustard Seed) Milk Paint.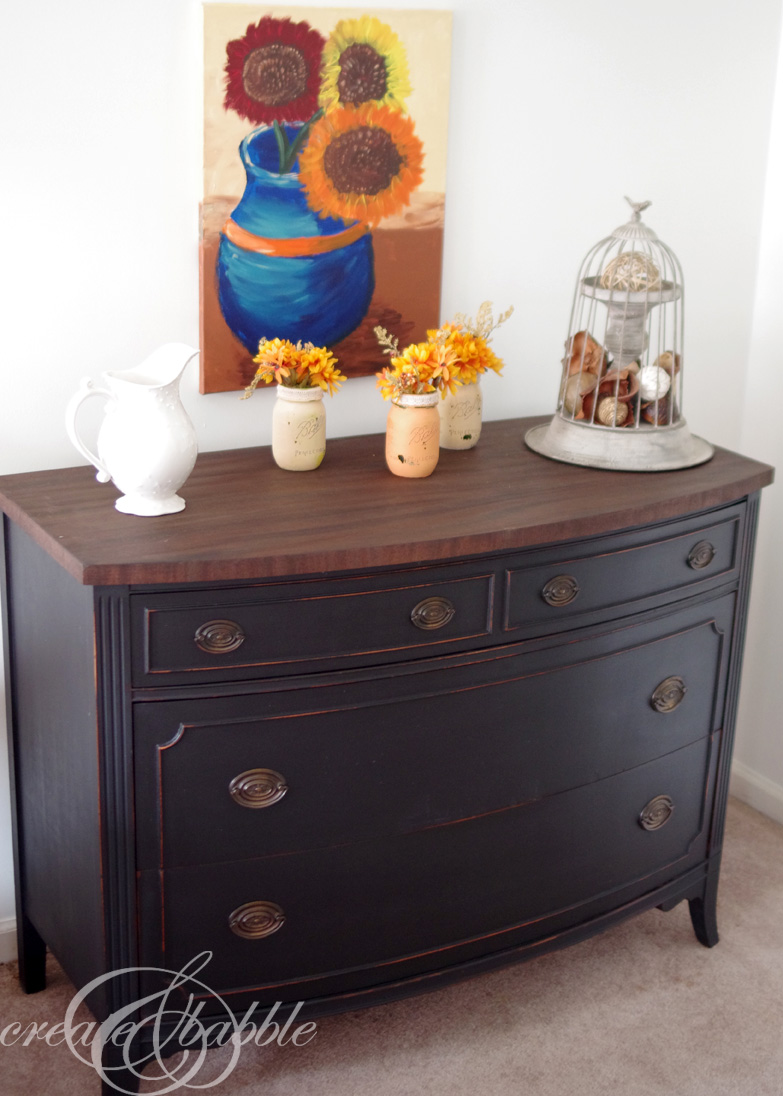 First of all, I decided that since the top of the dresser was in pretty good shape I would just sand off what was left of the finish and then restain it. I used Dark Walnut by Minwax.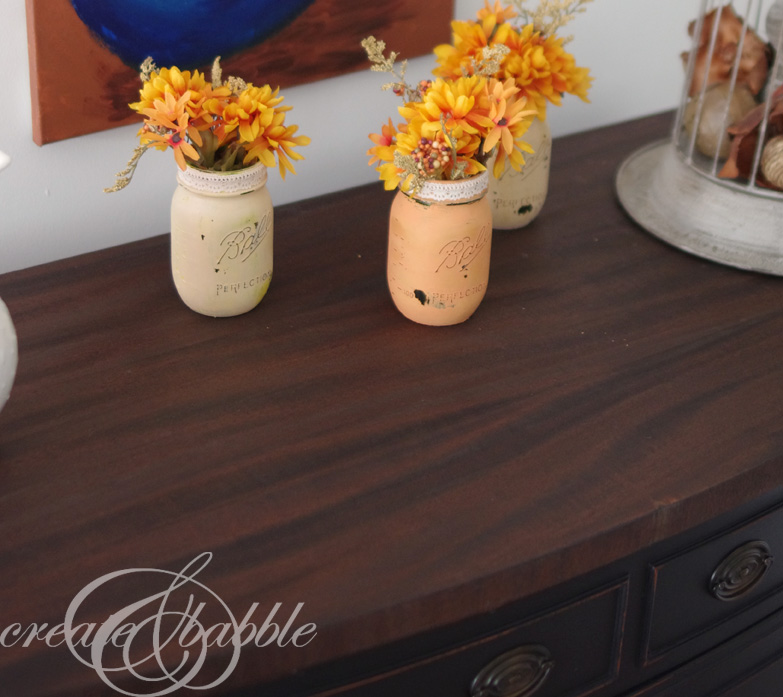 The rest of the dresser got a good cleaning with TSP followed by a thorough rinsing and drying.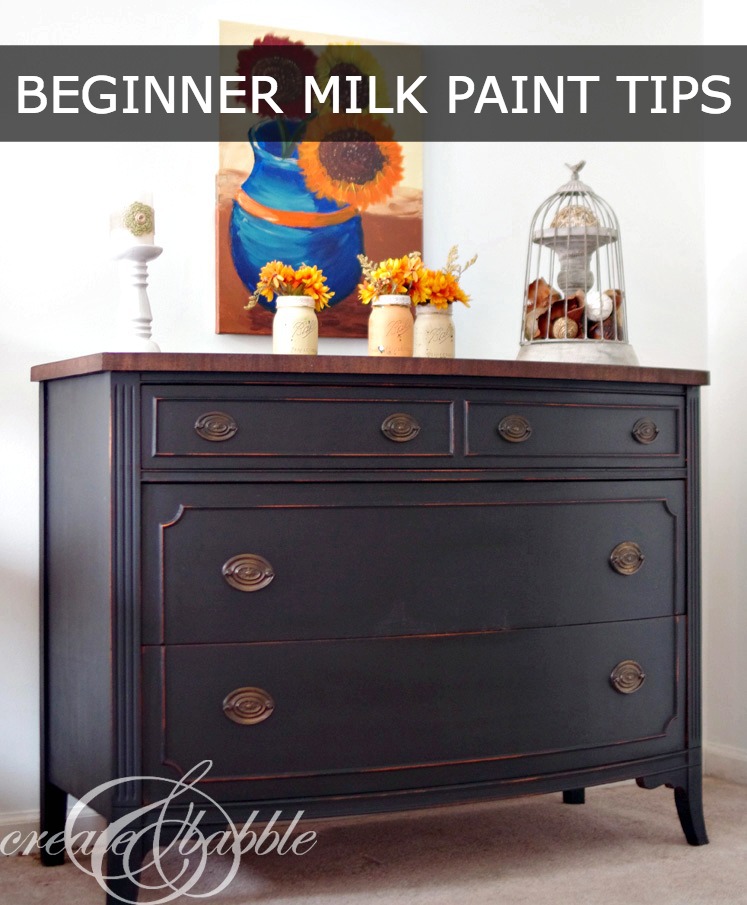 TIP 1
If you don't want a "chippy" look (which I didn't), the MMS Milk Paint line has a Milk Paint Bonding Agent that you add to the milk paint mixture.
The Milk Paint Bonding Agent allows Milk Paint to adhere to metal, glass and painted, varnished or lacquered surfaces.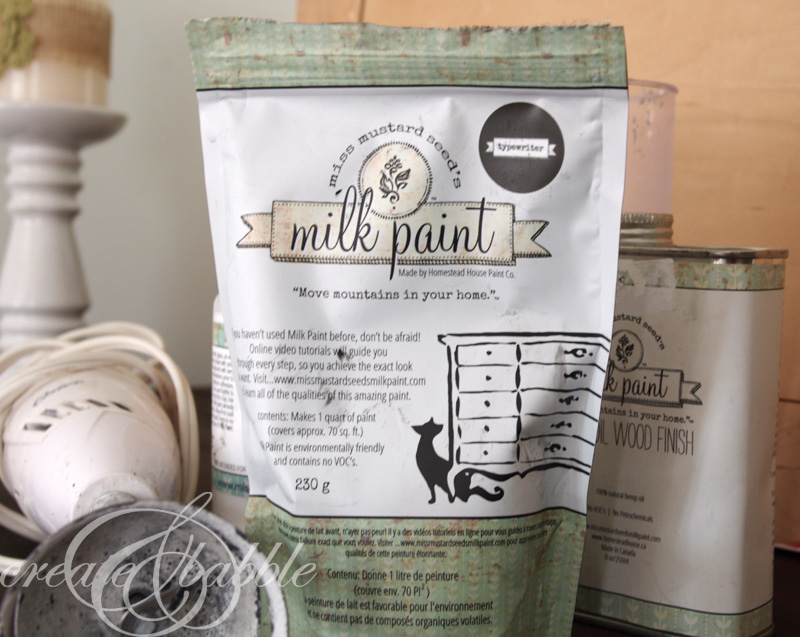 Even though I would distress the edges of the dresser, I did not want an overall chippy appearance. The sides of the dresser were a just a bit glossy and I was afraid the paint might not adhere well  there and turn out flaky and chippy, so I added the bonding agent to the first coat of milk paint.
TIP 2
Use a mixer or blender of some sort to mix the milk paint. Stirring with a spoon or using a whisk didn't get out all of the lumps for me. I have an old immersion style blender that is dedicated for paint mixing.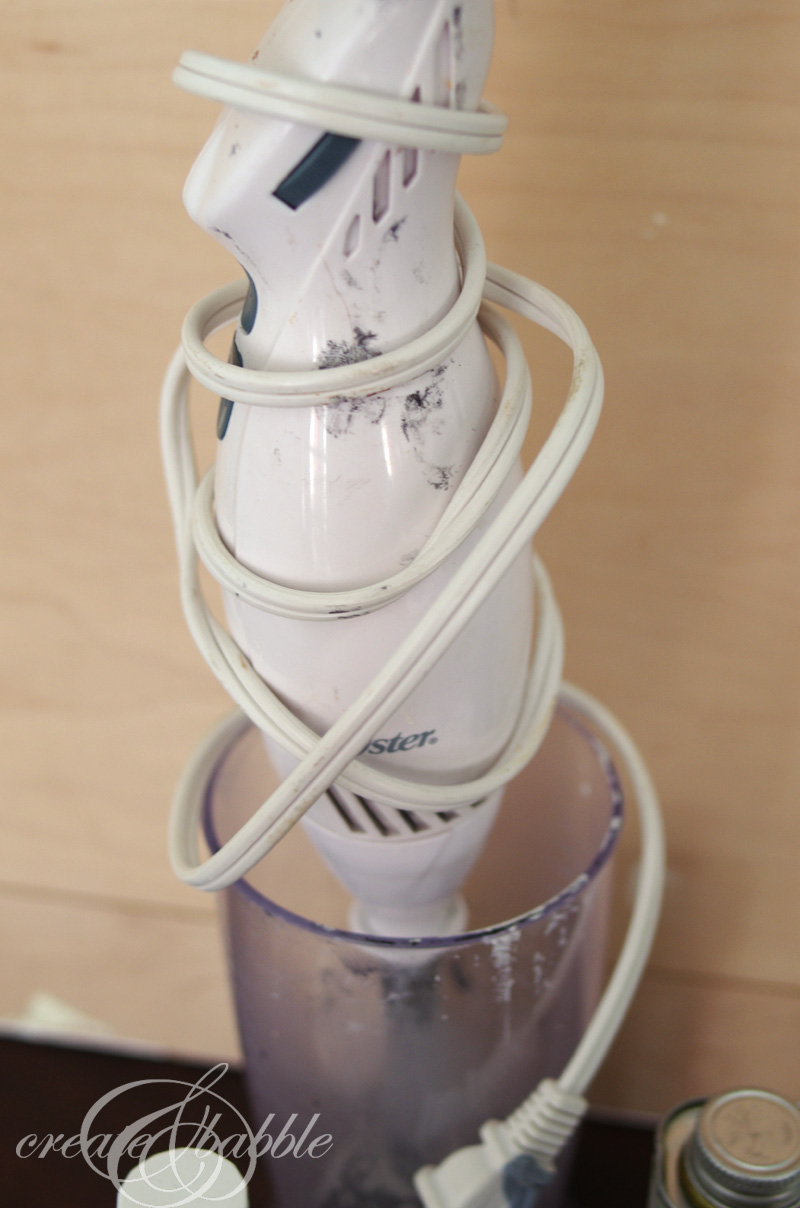 If you don't have an old one, maybe keep an eye out for one at your local thrift store.
TIP 3
As you are painting, stir the milk paint with your paint brush as the paint tends to separate as it sits.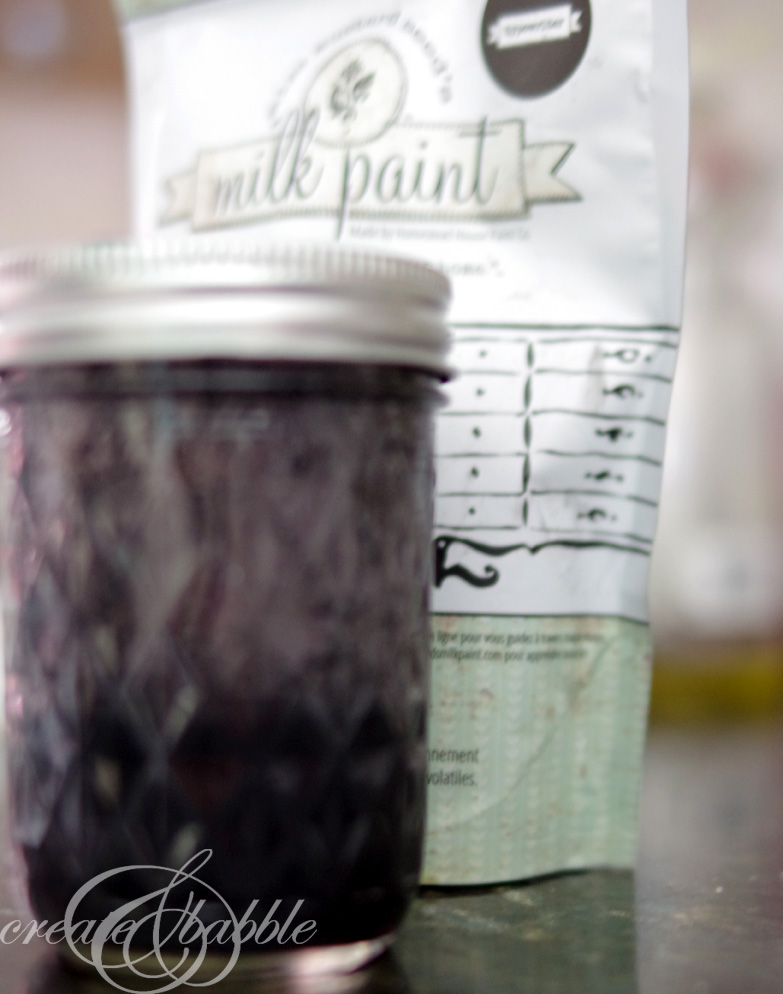 Also, since I can rarely finish painting a piece of furniture in one sitting, I store any leftover mixed paint in a little mason jar with a securely closed lid.
After the second coat was dry, I distressed the edges a bit with a sanding sponge.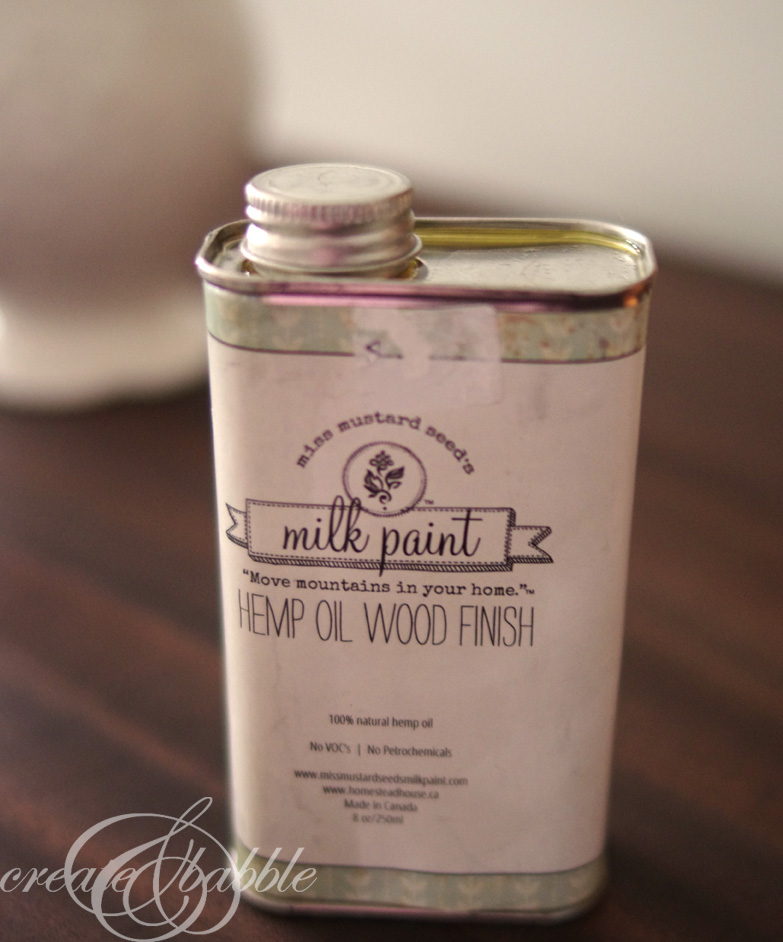 Instead of wax, I decided to try out the MMS Hemp Oil to finish the dresser. MMS Hemp Oil is all natural, so it's great for to use if  you are sensitive to chemicals. MMS Hemp Oil will absorb into the painted surface and give it a durable finish.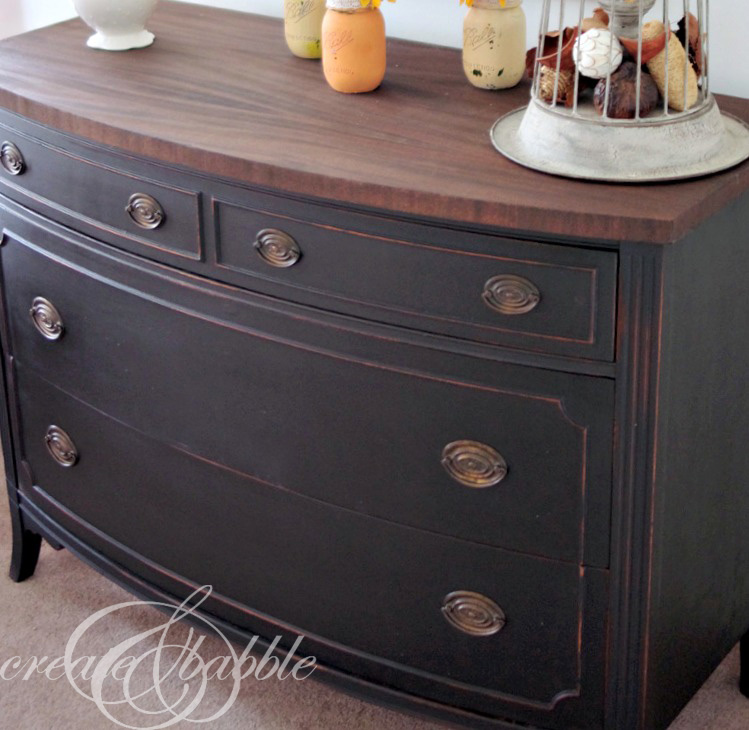 I simply just wiped on with a clean cloth and wiped away the excess.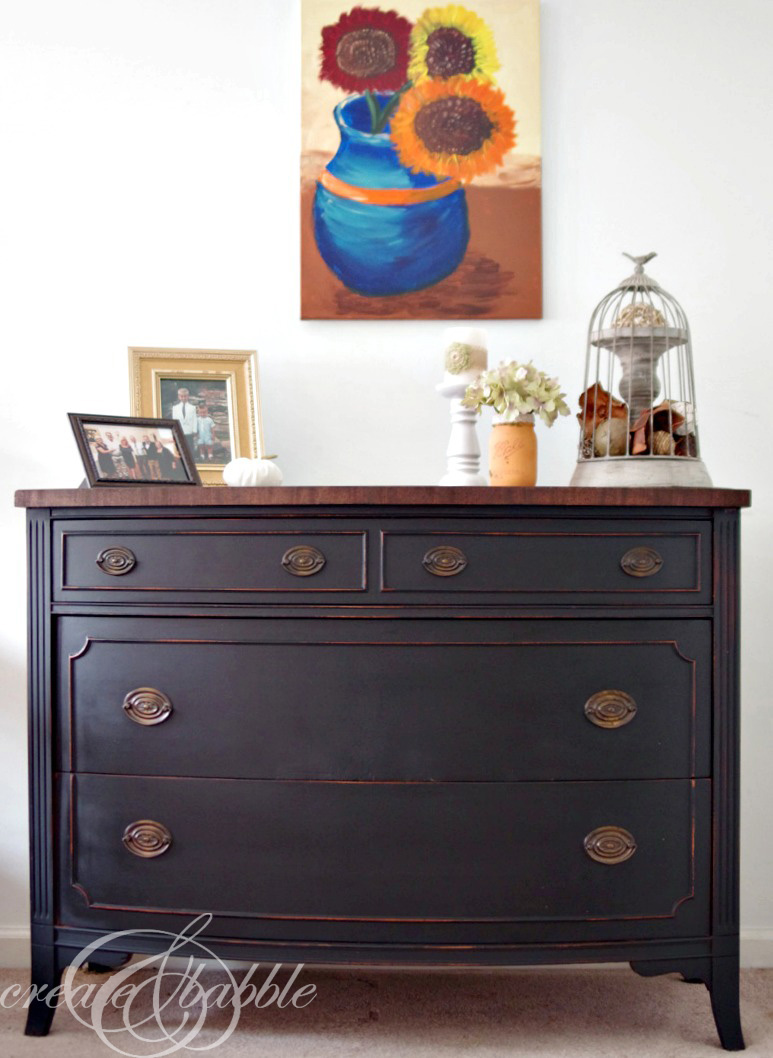 I just love how this dresser turned out. Dan was a little jealous when I said it was going to my daughter's house for my grandson's bedroom.  "Typewriter" by Miss Mustard Seed Milk Paint is definitely my new favorite and I'm sure I'll find more furniture pieces to makeover with this paint.
Have you used MMS Milk paint? What is your favorite color?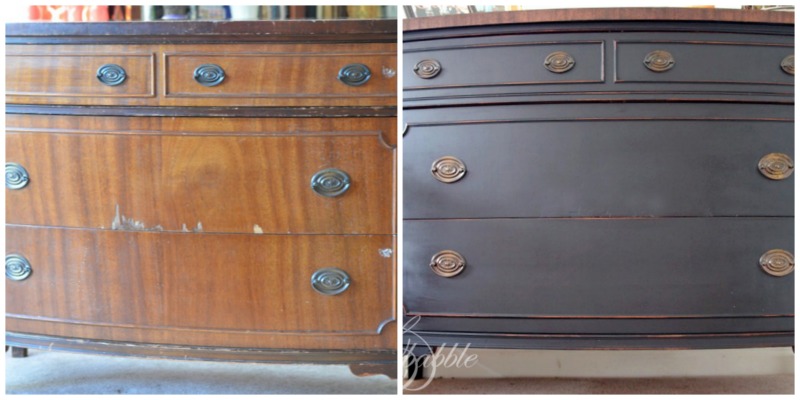 I link to these great parties:
Inspiration Monday  / Project Inspired  / The Scoop / Inspire Me Monday / Inspire Me Tuesday / From Dream to Reality / Hit Me With Your Best Shot/ One Project at a Time / Twirl and Take a Bow / The Fun in Functional / Show and Share /  Whimsy Wednesday /  Whatever Goes Wednesday /  Wow Us Wednesdays / Inspire Us Thursday / Creativity Unleashed / Creative Spark / Handmade Hangout / Weekly Creative /  Freedom Fridays / Feathered Nest Friday / Link Party Palooza / The Party Bunch / Furniture Feature Friday / Party Junk / Anything Blue Friday / Think Pink Sunday / Finding The Pretty & Delicious / Making Monday  /  That DIY Party / Bewitch Me & Titi / nifty thrifty Sunday / Share It Sunday / Remodelaholic