As I was browsing through some on-line catalogs looking for fall decorating inspiration I spotted this pillow for Halloween from Pottery Barn and knew right away that I could duplicate the look of this pillow. And better yet, I could make my version using fabric I had in my stash, heat transfer vinyl and my Silhouette Cameo. So instead of paying over $35 for a pillow that would be used for such a short period of time, mine was free!

Upon taking a closer look at Pottery Barn's pillow, I noticed the black piping around the edge. Hmmm. Having never sewn piping onto a pillow, I decided to try something else to get the black edging. Something quick and easy. One of these days, I will try sewing cording onto a pillow, but I was short on time (as usual) and wanted to get this pillow made quickly.
Here's my version of the Pottery Barn pillow: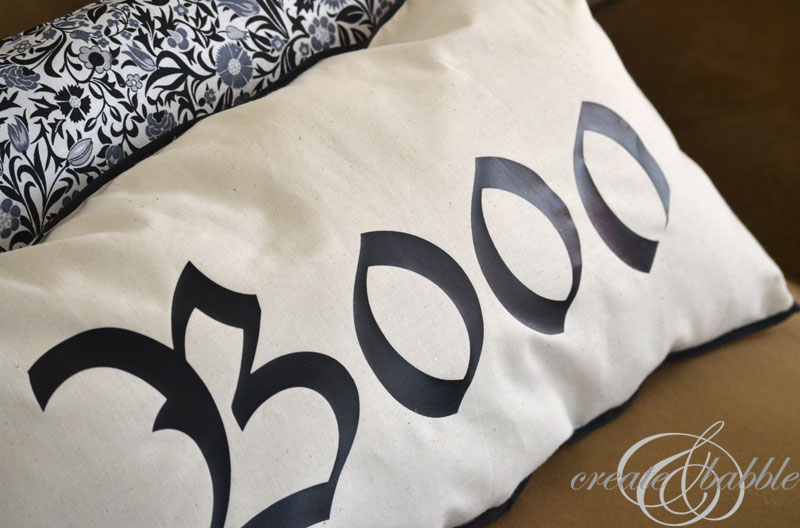 The letters were made by cutting them out of heat transfer vinyl – I used the font Lucida Blackletter. To me, that font has the gothic feeling like the one used on the PB pillow. Once they were cut, I ironed them onto my fabric.
I used two pieces of muslin cut into 24″ x 12″ rectangles for the pillow. To get the black edging, I just lined up the raw edges of the fabric, covered the edge with the bias tape and sewed around the pillow, leaving an opening to stuff with fiberfill. Once it was stuffed, I sewed the opening shut.
I think this pillow would also look great made out of burlap and painting the letters using a stencil.

I like how it turned out. And while I really like the PB pillow, it's only used for a short amount of time, so I'll take free!
Linking up to Simply The Best Fall Edition!