I needed a scarf storage solution.
Desperately. Is anyone else like this: I have lots of scarfs I never wear because I don't think about them when I'm busy getting ready in the morning. Or if I do think about them, I can't find the one I want. They're either in a closet, a drawer, my car (don't ask) or heavens knows where. Well, I took care of that problem and another problem at the same time. The other problem? Too much stuff! Crafting stuff!
These metal wall hooks came from a Pick Your Plum Grab Box that I got months ago. They've been laying around my craft room along with a bunch of other stuff just waiting for the right project to come along. In an effort to use the crafting supplies and also to get some organization done around here, I made these vinyl-decorated scarf hooks.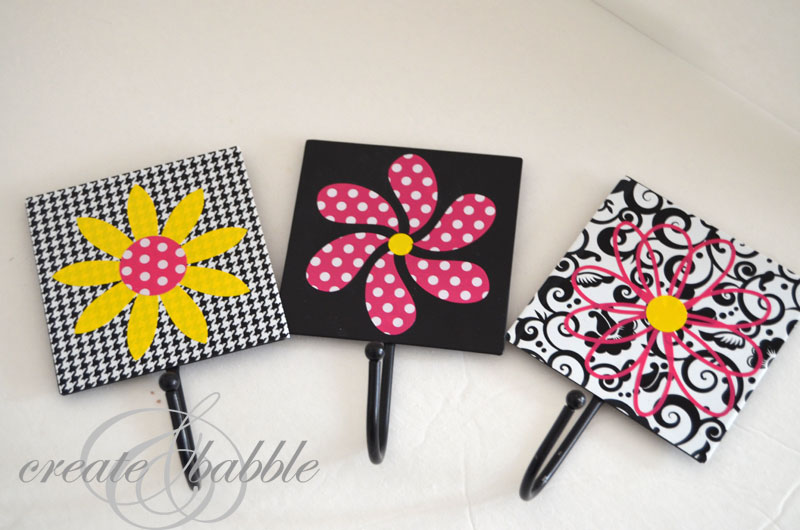 And the bonus is I used up some my of ever-growing vinyl supply.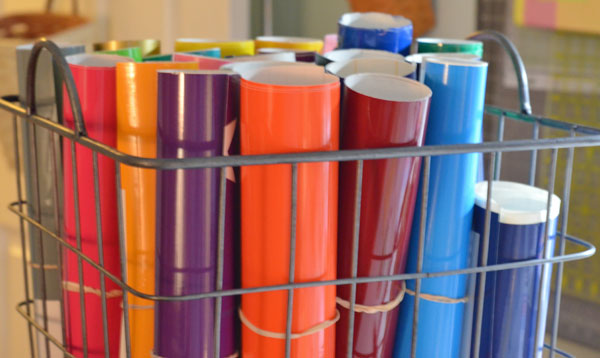 The back plate of the hooks measure 4″ square, so I just cut some patterned vinyl to that size and then added flowers that I cut with my Silhouette Cameo. Maybe for winter scarves, I'll peel off the flowers and add snowflakes! Ugh, no winter talk!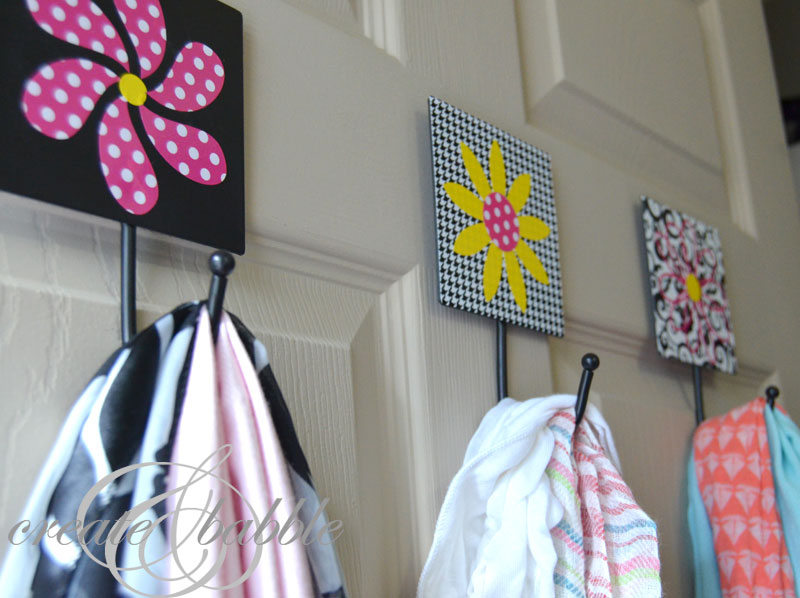 I hung them up in my downstairs guest closet. Now I know where all my scarves are located. All in one place.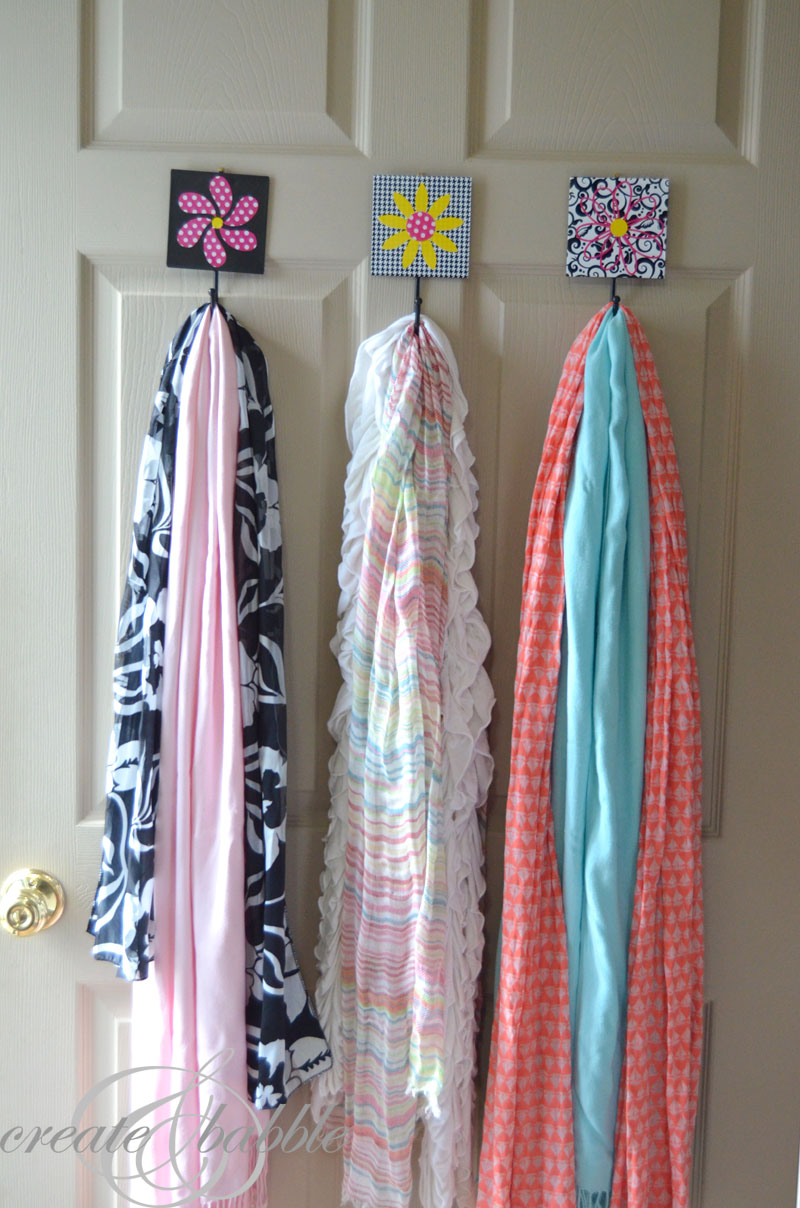 One problem solved. A bajillion others to go!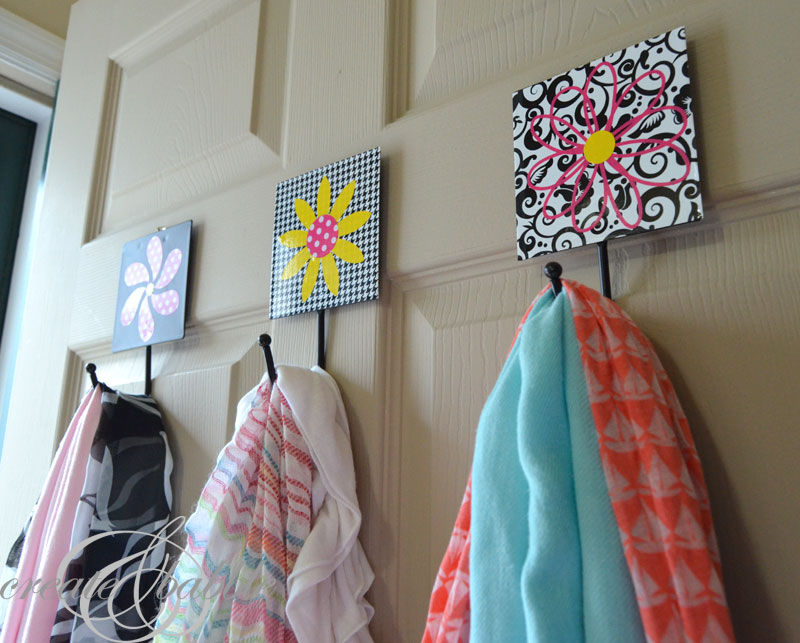 And they look pretty, too! What about you? Want to share your latest storage solution? Or your latest craft project that used up some of your crafting stash? I'd love to hear! Which brings me to this. I'm thinking of starting a series here on Create & Babble. A series about using what we have. Whatever that might be: craft supplies, scrapbooking supplies, recipes you've been wanting to try, or anything that you've been wanting to do but have been putting off for whatever reason. I could add a link tool where you can link up what you've made. I was trying to think of a name and the best I came up with so far is "Use It or Lose It". So what do you think? If you're a blogger, would you be interested in linking up? Or even joining me in this venture? Or if you're not a blogger, is this something that you would like to see or find useful as a reader? Please let me know in the comments! Or send me an email: jeanie @ createandbabble dot com.
Now I'm off to find my favorite scarf; the one that has umbrellas on it. I wonder where it is??? Maybe in my gym bag!!!
Linking up at Link Party Palooza