Hi friend. As you may know, I'm in the middle of a cleanup and reorganization challenge for the month of January. Here's last week's update.  This week I built a simple DIY workbench for the workshop.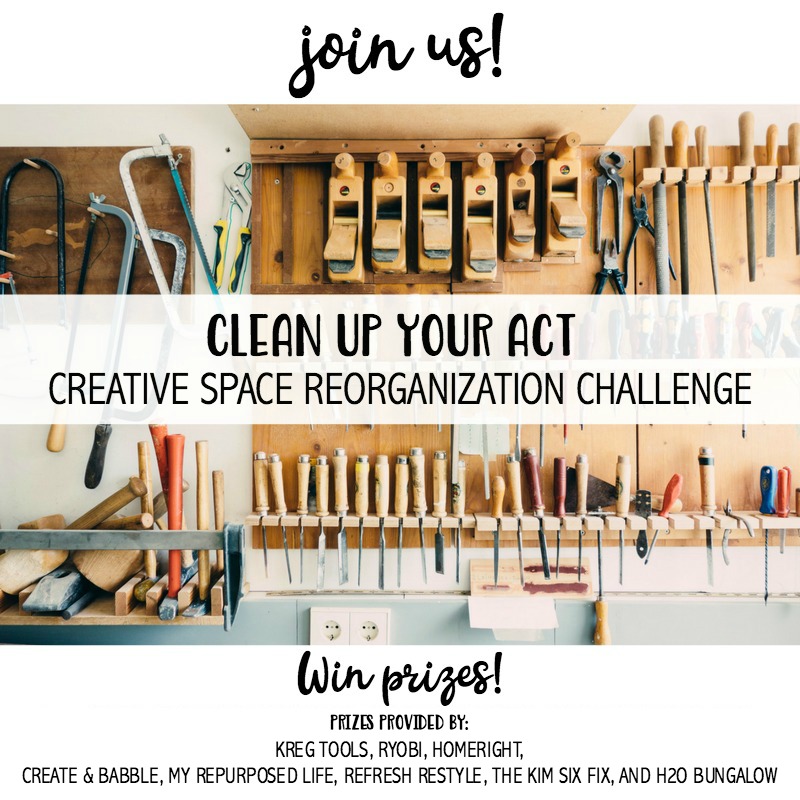 By the way, if you have a creative space that needs cleaned up and organized you should join us (if you haven't already)! There are some pretty awesome prizes to win! More information can be found at the bottom of this post and here. I am working in my office/craft room and my basement workshop area. The office/craft room is just about done. I just have one thing to build for it and it probably won't get built until February. But I'm okay with that. The room is cleaned up and organized and that was the goal!
Now the basement workshop is a completely different matter. Did you see this video? Lots of work still going on down there!
But one thing that has a made big difference is putting all of the wood in one place. It's not in a cart yet – that has yet to be built – but it is gathered all in one place. And wow. The workshop area looks so much bigger and less cluttered!
I'm going to build some of the rolling carts from the RYOBI Nation Dream Workshop to help keep it organized. I'm hoping that I'll have them done by the end of the month!
Okay, so that's why I'm going to do. Here's what I've done this past week:
A Simple DIY Workbench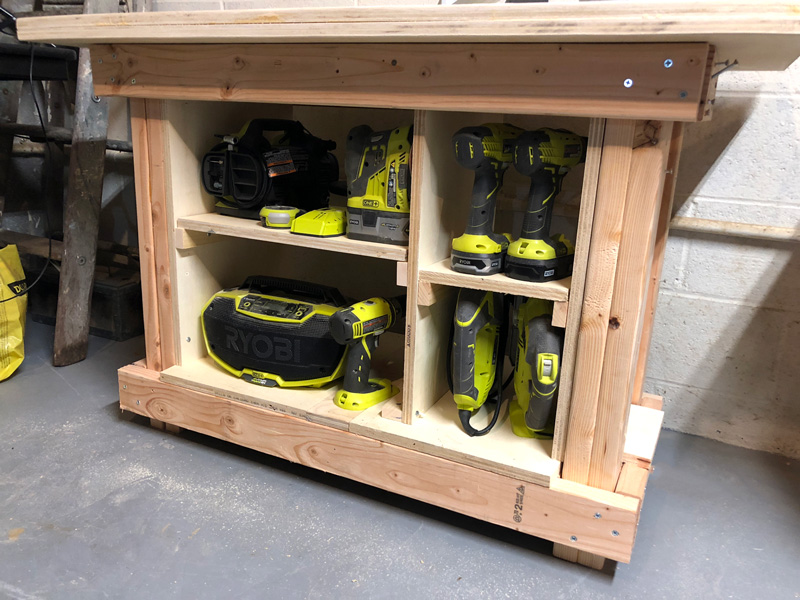 This is such a nice, little, compact, portable workbench. I got the plans for the workbench from Steve Ramsey, Woodworking for Mere Mortals.
There are so many things I like about this workbench: the size, the storage capacity, and the portability. At least once I get the wheels on it!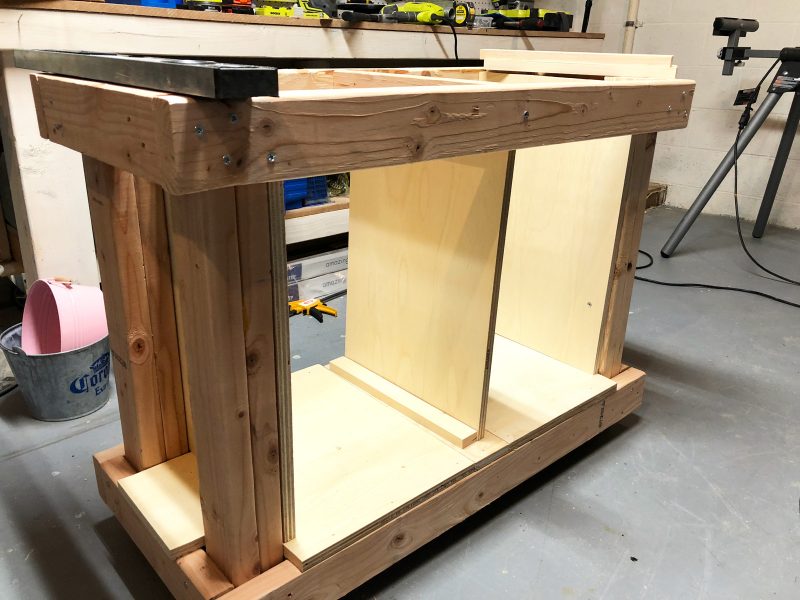 I also like that's it built out of 2 x 4's and 3/4″ plywood. There's no fancy joinery and the only power tools you need to build it are a table saw or circular saw, a miter saw, a sander, and a drill/driver set.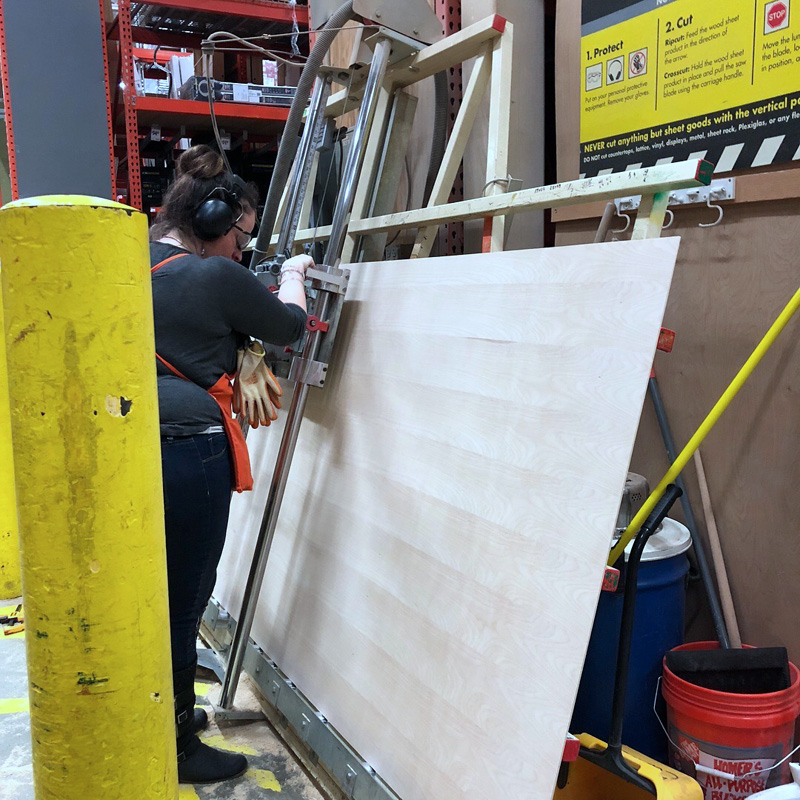 If you don't have a way of cutting down the plywood and/or you don't have a truck (like me), Home Depot will do it for you.
Steve offers a beginner's woodworking course and the plans for this workbench were made available last week for a limited time. I think he makes does this every so often when he re-releases his course. Since these plans aren't mine, I can't share them with you but if you subscribe to Steve's YouTube channel, you will get notified of any new offers.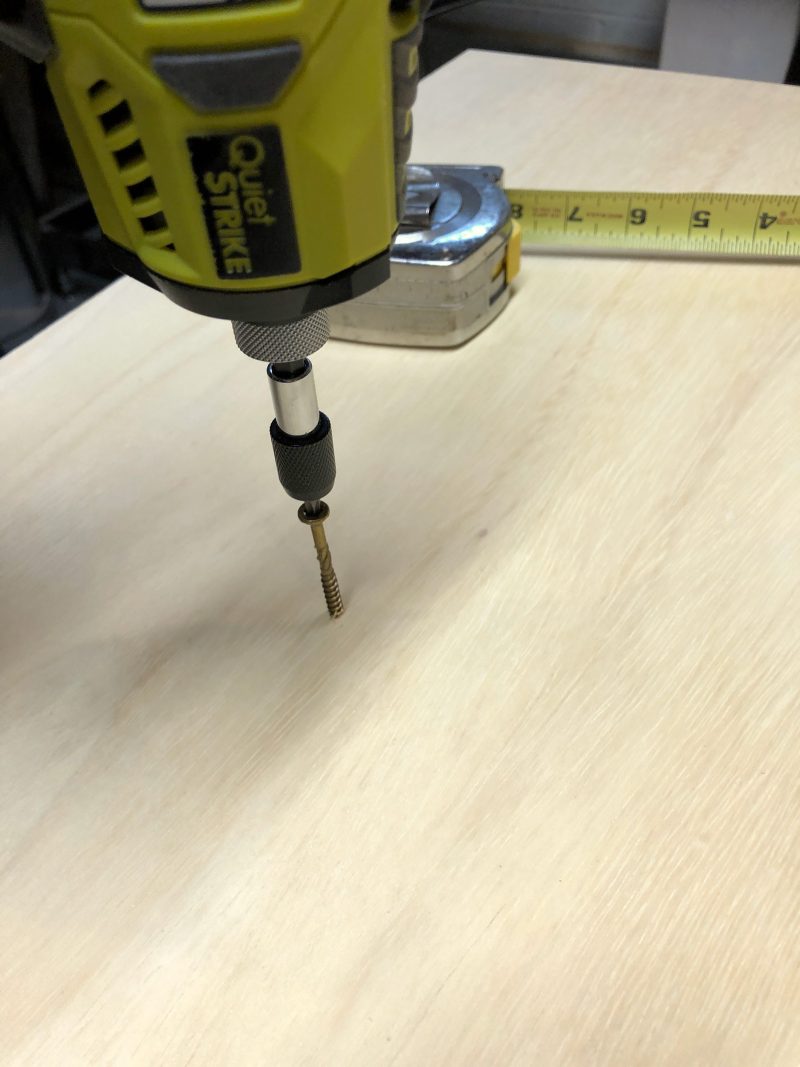 One more thing I like about this workbench is the top. It is a double layer of 3/4″ plywood sheets.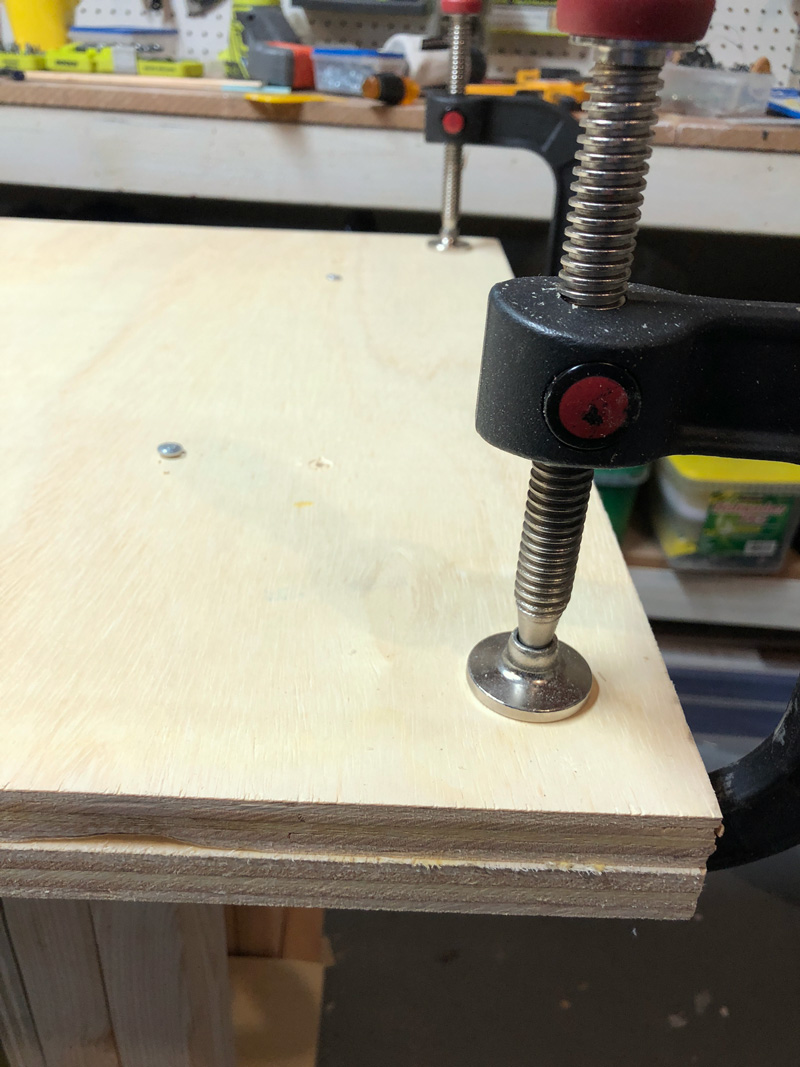 The sheets are glued and screwed together making for an extremely sturdy workbench top.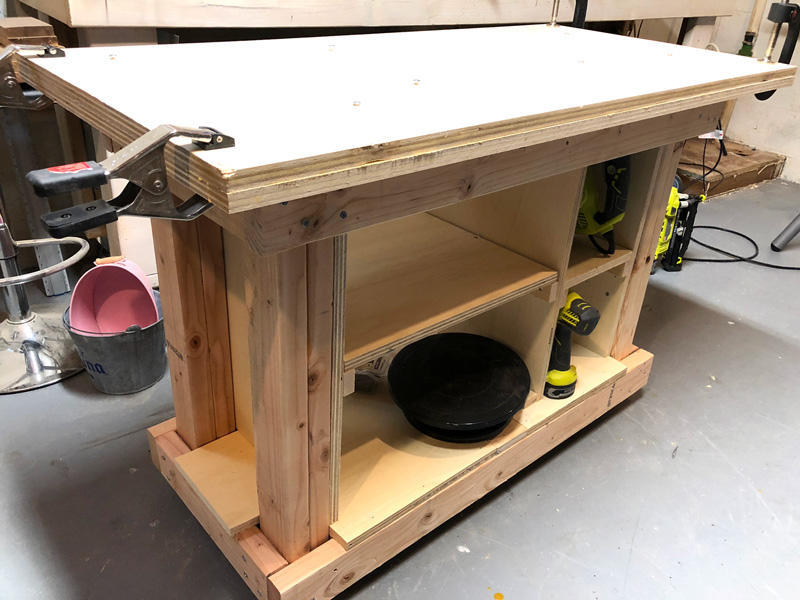 I was so excited to have organized storage that I couldn't wait until it was finished to start loading it up!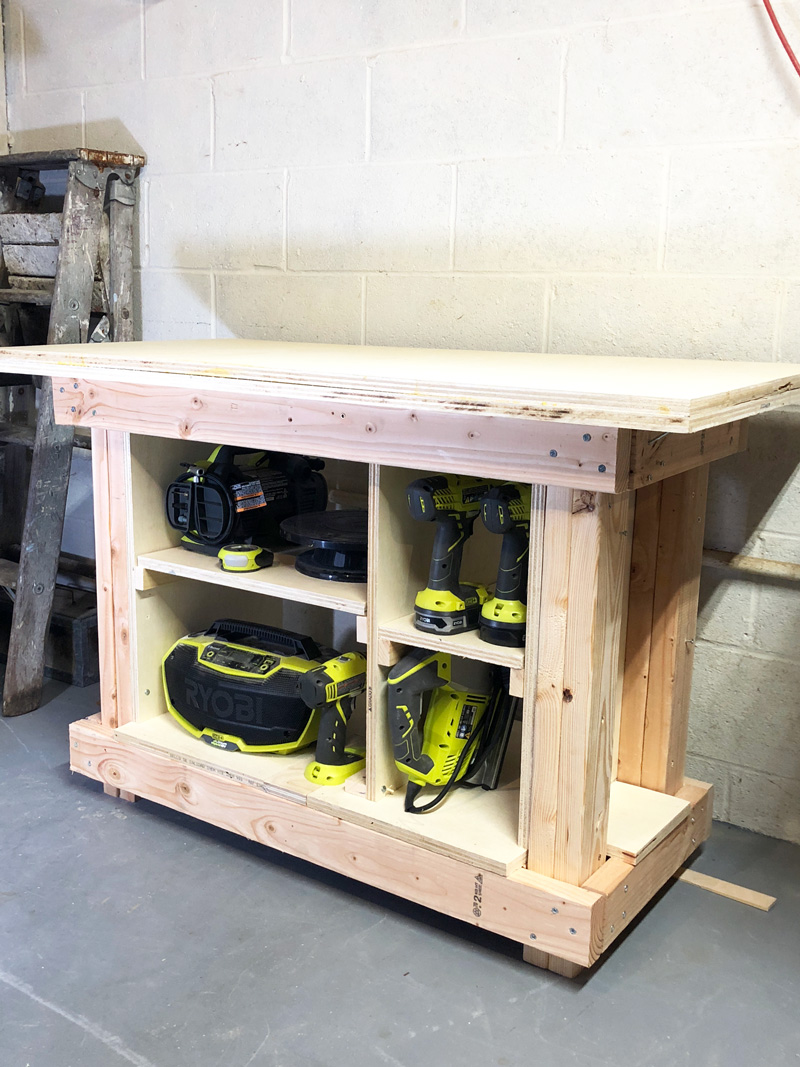 It's coming together!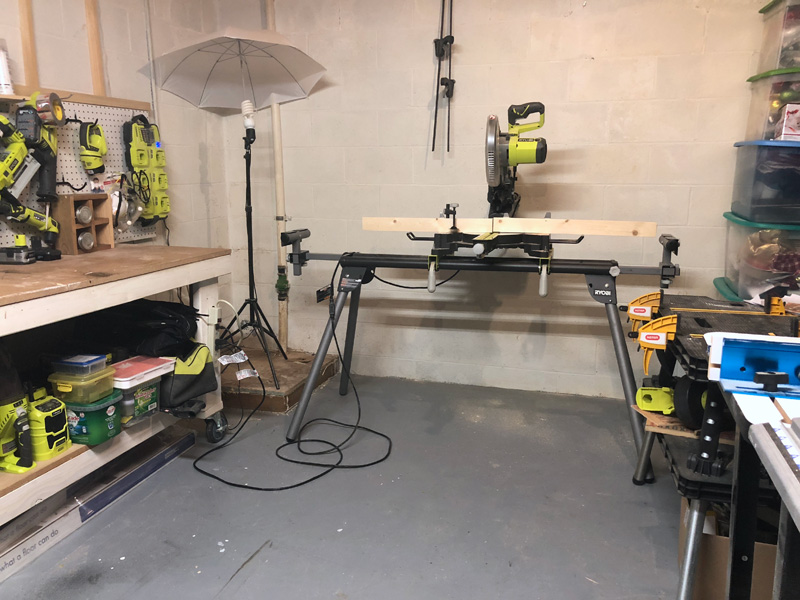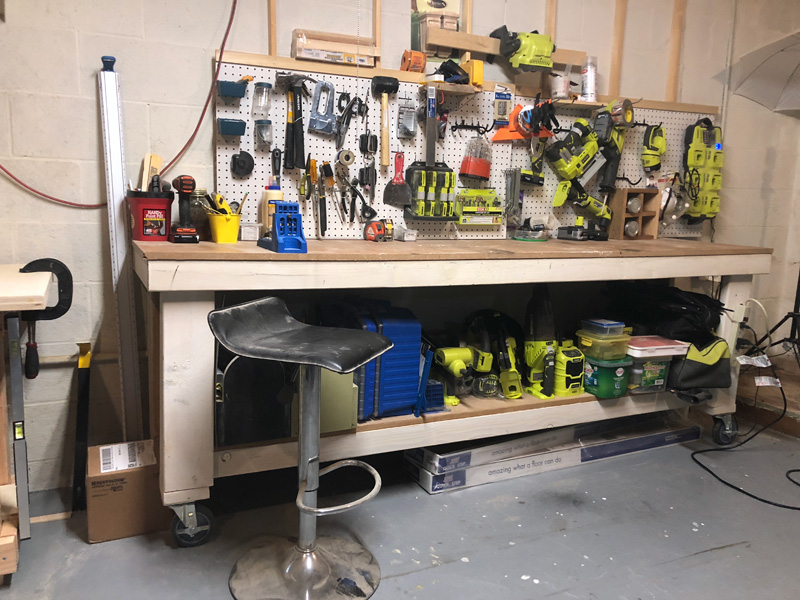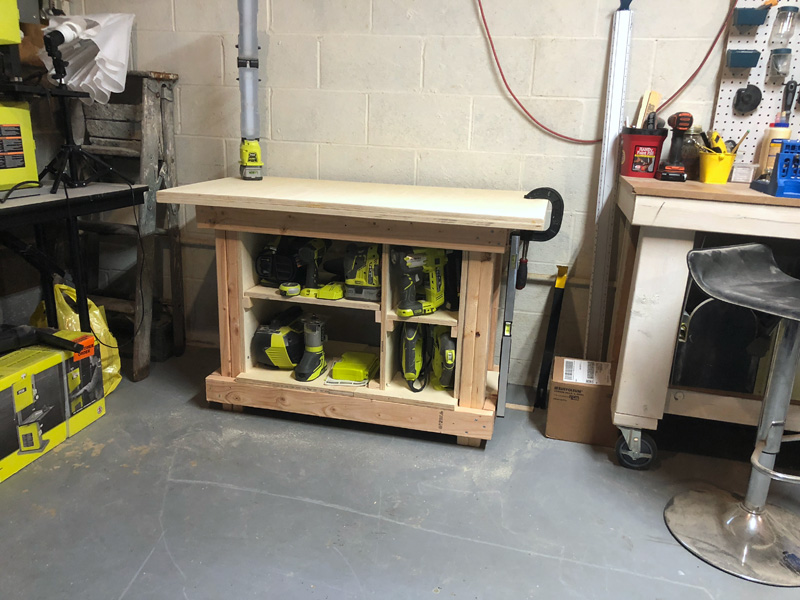 Now let's see what my friends have made this month:
Virginia Sweet Pea – DIY Under Bed Storage Drawer
H2OBungalow – How to Build Built In Bookcases with Cabinets
Designed Decor – Puzzle Game Table
My Repurposed Life – Easy Build Storage Shelf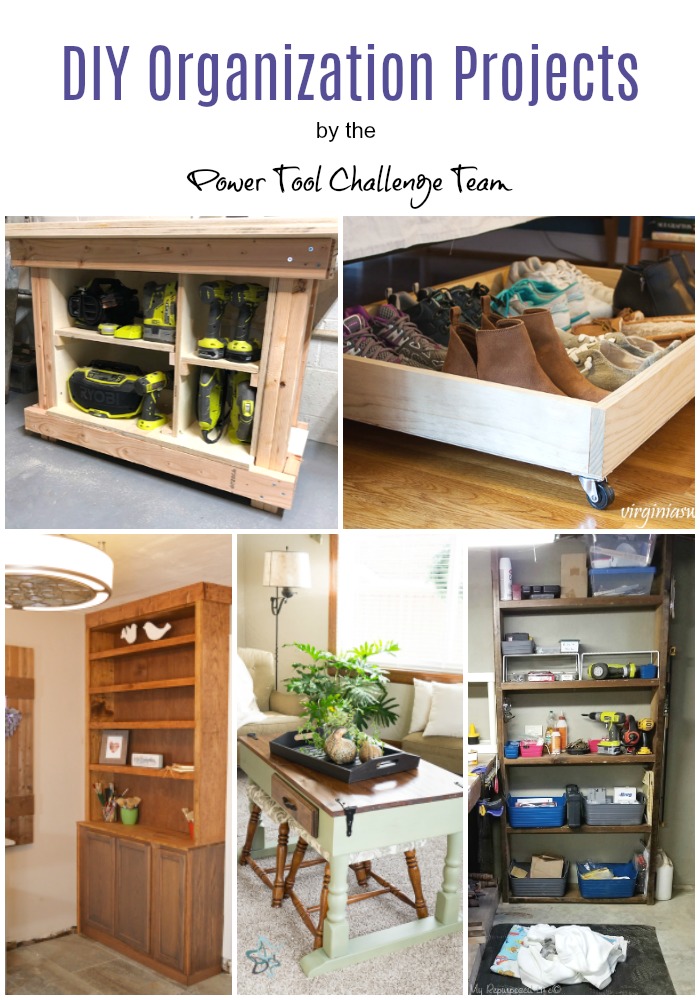 My blogging besties and I are also hosting the Clean Up Your Act; Creative Space Reorganization Challenge. Gail from My Repurposed Life, Debbie from Refresh Restyle, Kim from The Kim Six Fix, and Wendi from H2O Bungalow and I are all going to reorganize a creative space(s) in our homes and we are inviting you to join us!
Here's how you can join us . Take a photo of a space in your home that needs cleaned up and reorganized and submit it to the linky party at the bottom of this post. This photo needs to be a "before" photo. Don't worry – no judging! We're all going to be keeping it real! Now go clean up your space during the month of January. Follow along as we provide weekly updates on our spaces. Then on January 30, we will all reveal our cleaned up and organized creative spaces including you! You will have until Noon EST on February 3 to submit a photo of your cleaned up and organized space. We will announce the winners on February 5.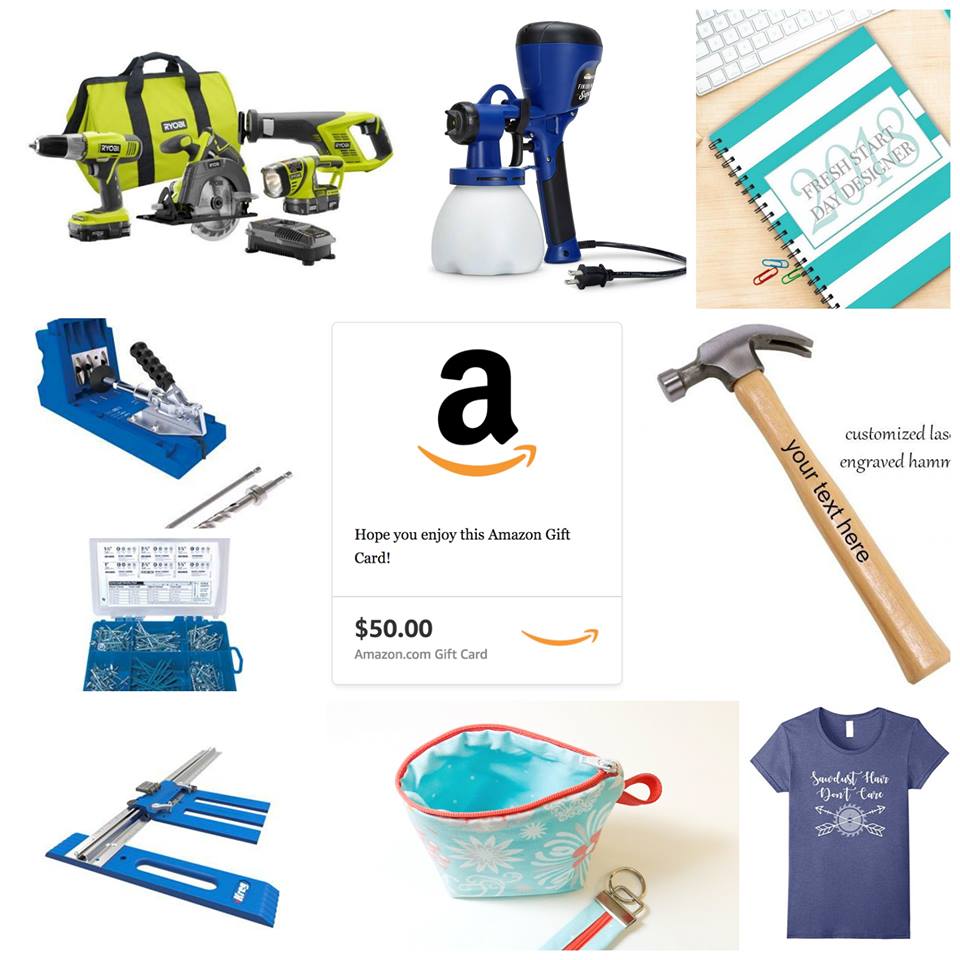 .