Thrift stores are full of 80's decor. As a repurposer/upcycler/DIYer, I love the challenge of turning one of these outdated decor pieces into something updated, cute, and useful. Something that will fit in with my decorating style. I am thrilled to be joining in with a bunch of my blogging friends for today's Thrift Store Makeover for the Thrift Store Decor Upcycle Challenge!
The Rules:
Upcycle an item(s) from a thrift store, resale store, or garage sale into a new piece of decor.
There's no monthly theme.
There's no budget to stick to.
Meet the Hosts
Michelle | Our Crafty Mom
Vicki and Jennifer | 2 Bees in a Pod Pili | My Sweet Things
Angela | Simply Beautiful by Angela Kim | Made in a Day
Lindsay | Crazy Organized Marie | DIY Adulation Ann | Duct Tape and Denim
Denise | My Thrifty House Jeanie | Create and Babble Debra | Shoppe No. 5
Shirley | Intelligent Domestications Victoria | Dazzle While Frazzled Lora | Craftivity Designs
Jeanee | Centsably Creative
Florence | Vintage Southern Picks Deborah | Salvage Sister & Mister
Make sure you follow our board on Pinterest for more upcycled decor inspiration!
---
For $1.99 I become the proud owners of this blast from the past: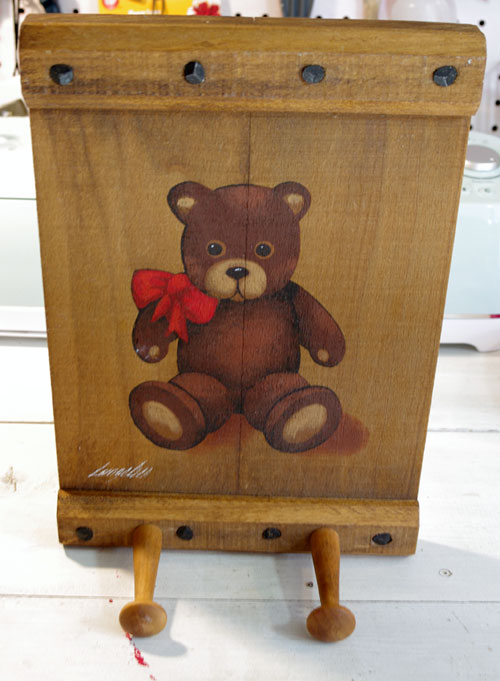 Remember these types of wall hangers with the pegs??? They were so popular in the 80's. And the bear! I remember decorating with wooden bears, ducks and geese! This piece was probably hung on a hunter green wall ?.
Here's how I turned that thrift store find into a cute farmhouse style sign.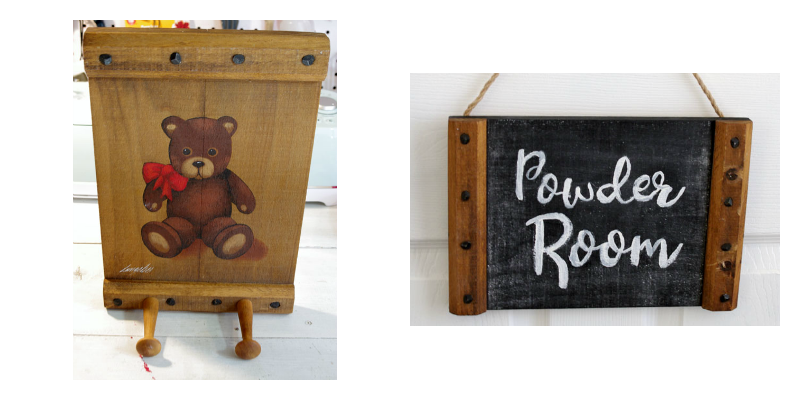 The first thing I did was remove those wooden pegs. At first I thought they would just twist off. I was wrong. They were glued on with a very strong type of adhesive.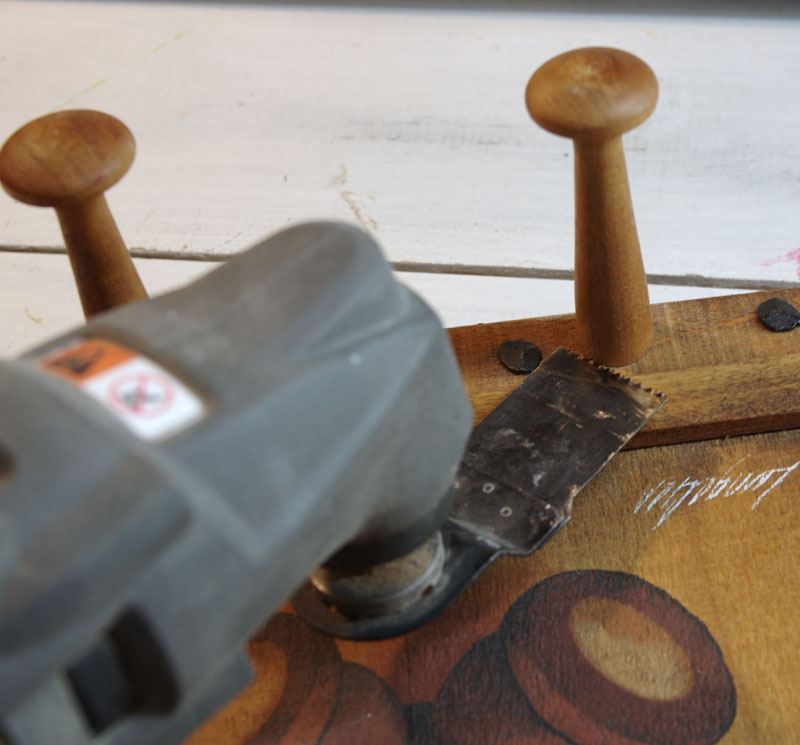 I had to use my RYOBI Multi Tool but I got them off!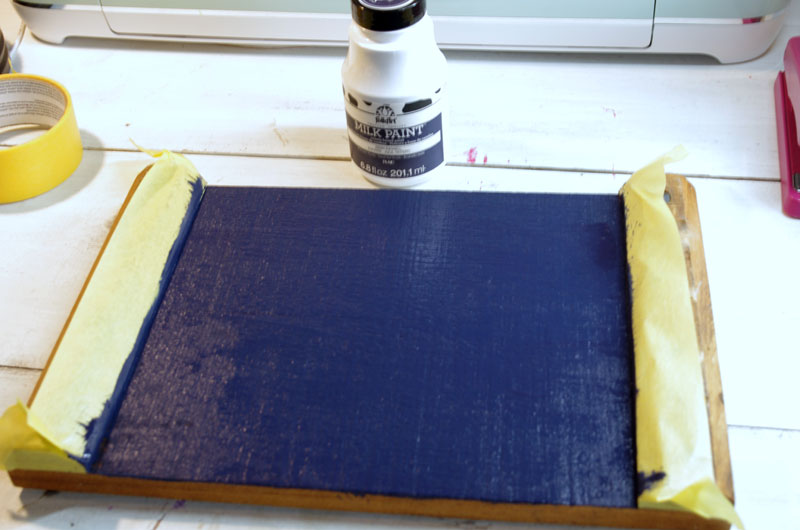 Next I painted one coat of a dark paint over the surface of the plaque. I taped the edges to keep the wooden sides free of paint. Then I brushed on a one coat of a blackboard black paint.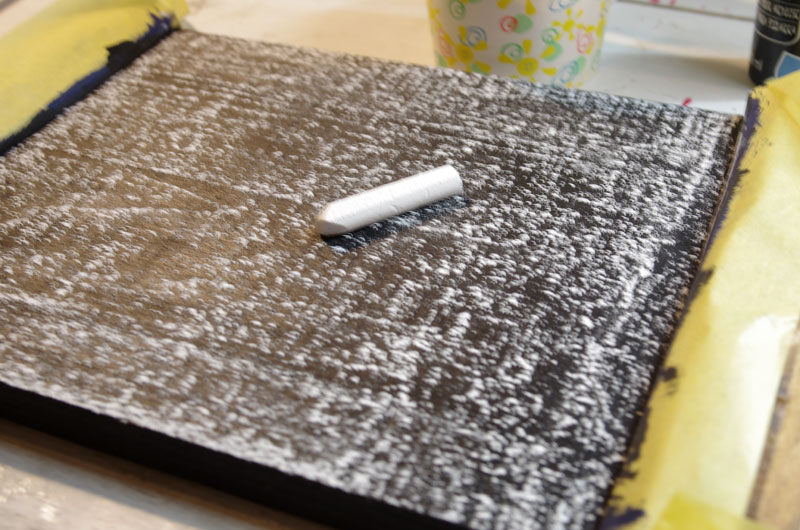 After the blackboard paint was dry, I rubbed a piece of white chalk over the surface and then wiped with a clean cloth.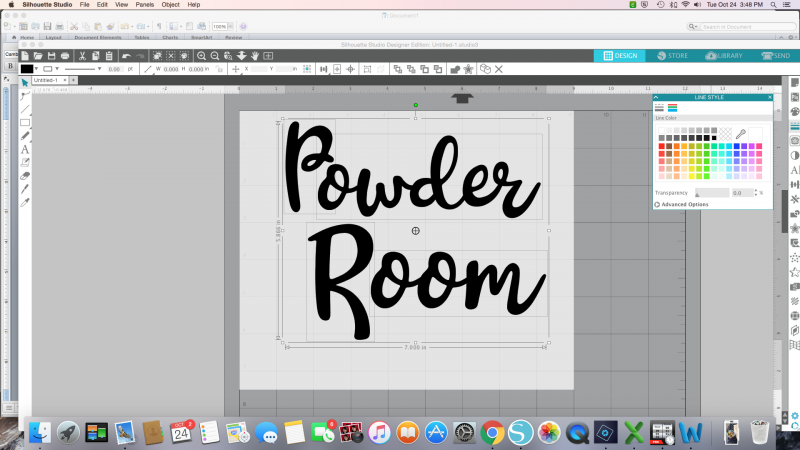 Next, I created a design in Silhouette Studio (you could also use Word or any other word processing platform that you like).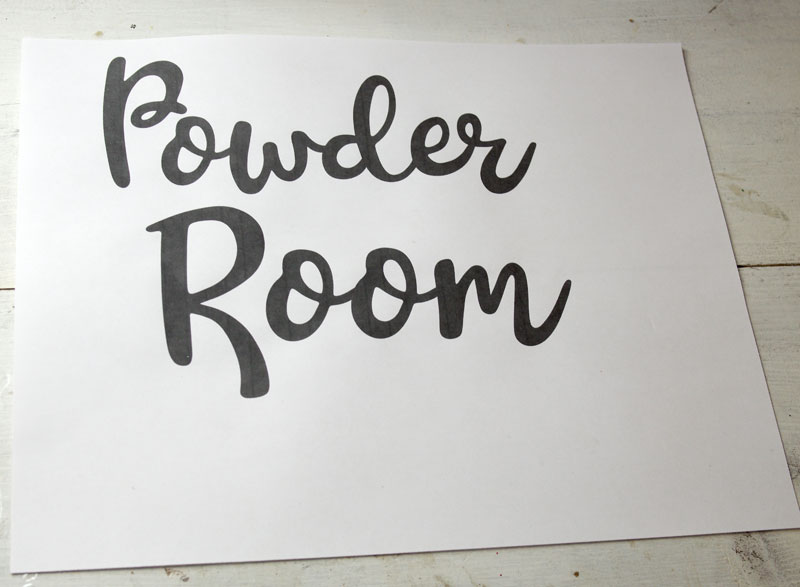 I printed out my design on white printer paper.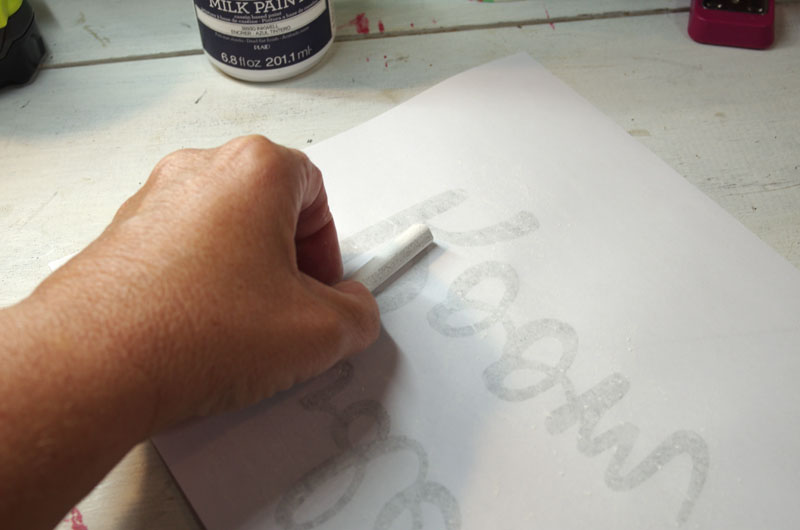 I rubbed a piece of chalk over the back of the design. (I used this chalk method instead of using carbon paper since the black from the carbon paper would not show up on the black chalkboard surface.)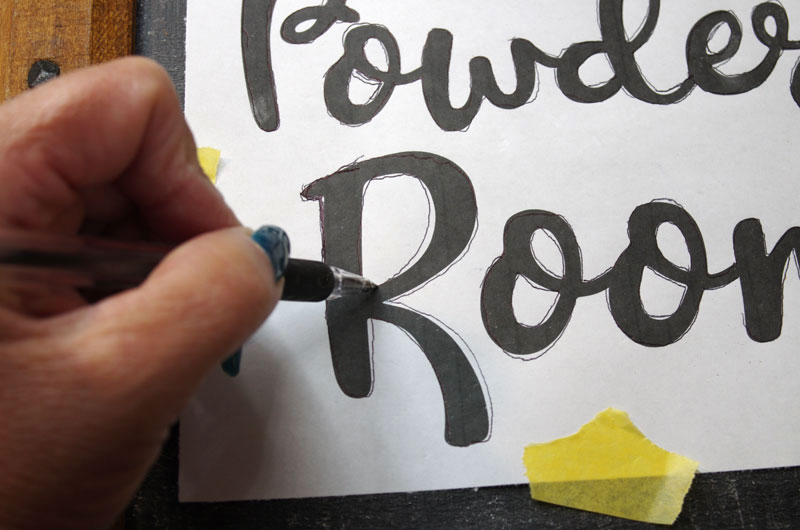 After trimming the printed design and taping it to the surface of the sign, I trace over the edges of each letter on the design as shown above.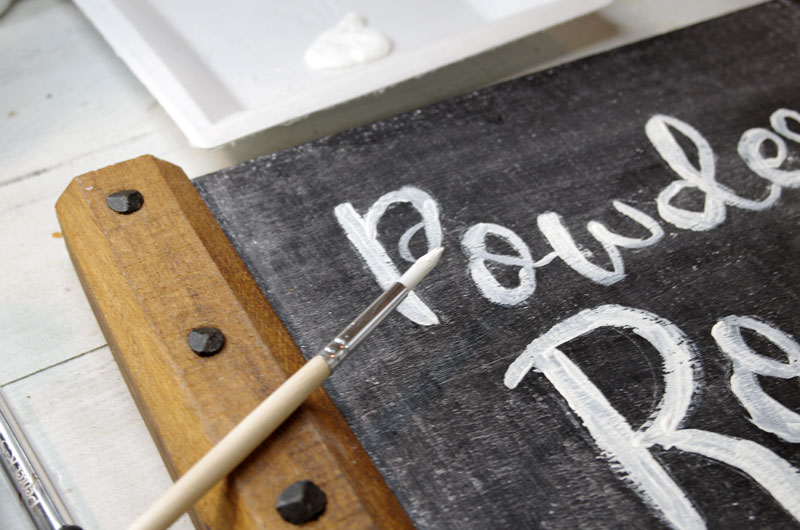 Then using a small pointed paint brush, I filled in the chalk outline with white craft paint.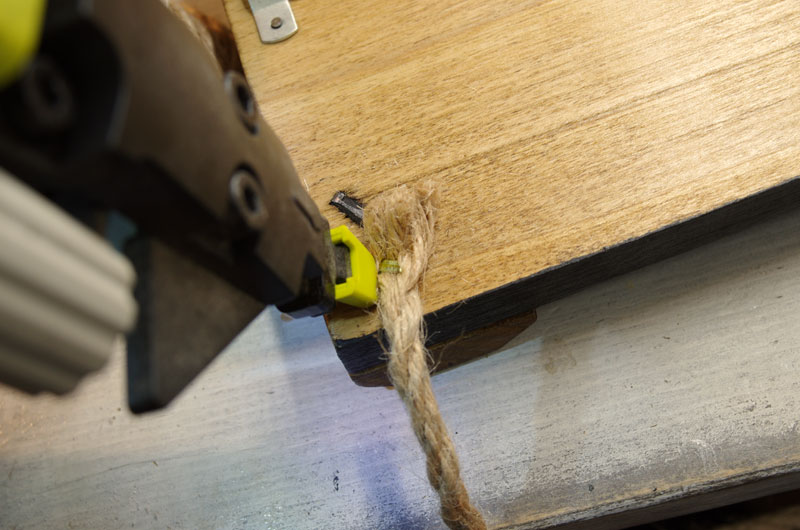 Lastly, I stapled a piece of rope to the top corner on the back of the piece for hanging.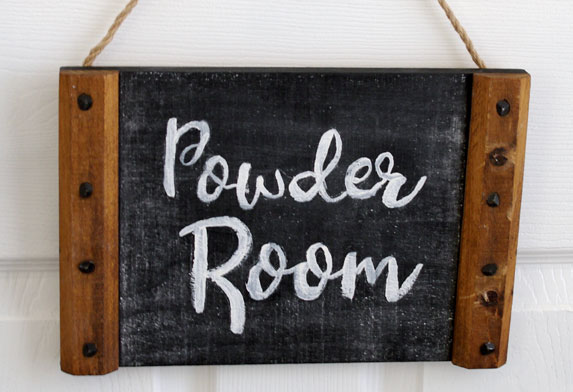 And that's it! Just hang and admire!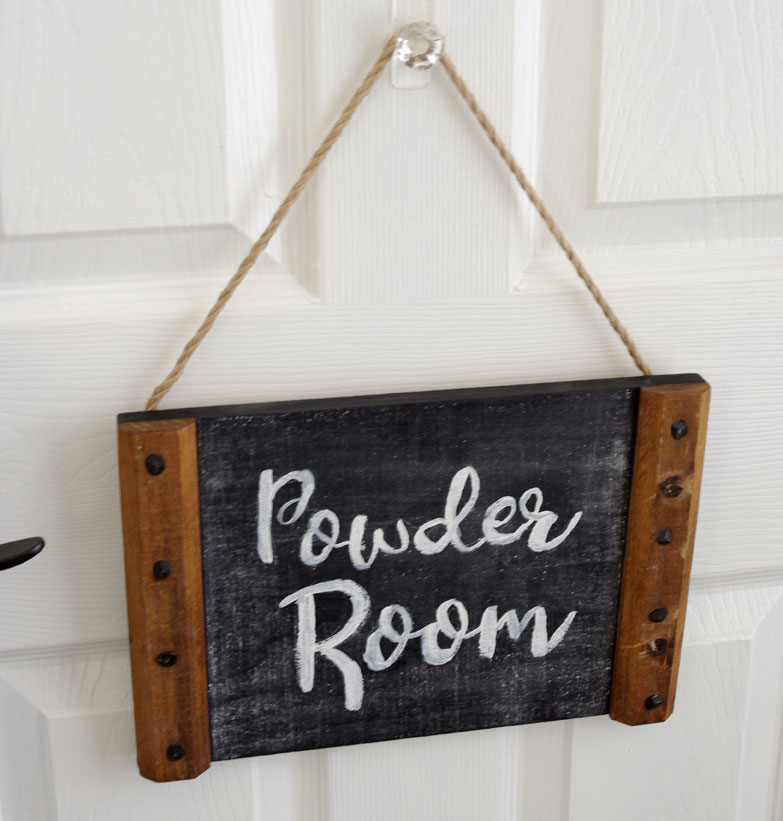 The next time you're in thrift store, don't be so quick to pass on the 80's decor!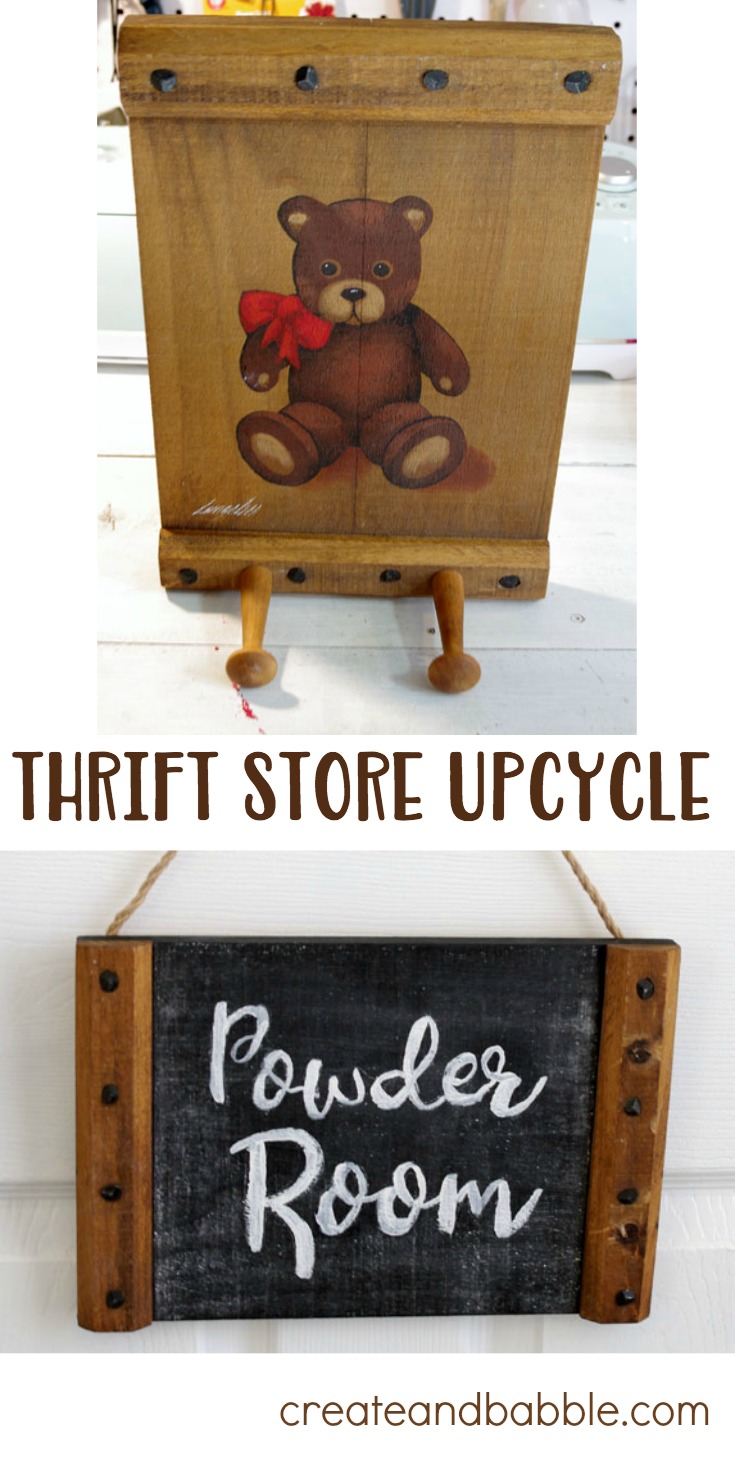 ---
And now for more thrifty goodness!
Check out what my fellow upcyclers created below!